With the Dubai-based buy-now-pay-later (BNPL) fintech Tabby app, you can shop now, pay later, and earn cash — with no interest, fees, or hidden costs of any kind.
Over the last few years, there has been a global evolution of "buy now, pay later" services, with top players investing large sums of money to satisfy an insatiable young adult population that does not like credit cards or paying interest. Today, Buy Now, Pay Later apps are the most popular trend in the online market.
One such app that saw tremendous growth is Tabby. Since joining the market in 2020, the Tabby payment app has continued to deliver customers and retailers an interest-free payment solution. Tabby Payment is a Dubai-based buy now, pay later service provider in the UAE and Saudi Arabia. The platform permits users to shop anytime but pay later. The Tabby Card is a Visa card that gives you the freedom to split your purchases into 4 payments at participating in-store locations, with no interest or fees. You can add your Tabby Card to your Apple Wallet or Google Pay and use it easily by tapping your phone at checkout.
Safe and secure, the shop now, pay later method has been seeing a lot of popularity in the UAE and KSA, as it creates financial freedom in the way people shop, earn, and save by reshaping their relationship with money. Over 4 million active users choose Tabby to stay in control of their spending and make the most of their money. Over 5,000 global brands and small businesses, including H&M, Adidas, IKEA, SHEIN, Bloomingdale's, and many more, use Tabby's technologies to accelerate growth and gain loyal customers by offering flexible payments online and in stores.
Why are people choosing Tabby?
Convenience and Flexibility:
Tabby's emphasis on convenience and flexibility is one of its strongest points. Recognizing the changing dynamics of consumer behaviour, the app allows customers to make purchases and pay in interest-free installments. Tabby offers a wide range of products and services by integrating with numerous retail partners across various industries, making it an all-in-one platform for consumers. This flexibility enables customers to manage their finances more effectively, encouraging responsible spending and budgeting.
Simplified User Experience:
Tabby's user-friendly interface and simpler payment process have contributed to its quick popularity. The app simplifies the payment process by eliminating the need for traditional credit cards and lengthy paperwork. After downloading the app, customers may quickly register an account, go through a basic verification process, and have access to a credit limit. This smooth experience boosts customer satisfaction, encourages repeat purchases, and cultivates loyalty.
Retailer Benefits:
Tabby's success can be attributed not only to its consumer-centric approach but also to its emphasis on retailers. Sellers can reach a larger customer base by partnering with Tabby, attracting people who prefer flexible payment options. Furthermore, the app assumes the financial risk of customer defaults or late payments, ensuring that retailers are paid on time for their goods and services. This mutually beneficial relationship has boosted Tabby's adoption among retailers, allowing it to expand its presence across a wide range of businesses in Dubai.
Financial Inclusion:
Tabby has been vital in enhancing financial inclusion in Dubai. The app has removed numerous barriers to entry, particularly for people who may not have access to traditional credit facilities. Tabby enables individuals with limited credit histories or lower incomes to make previously inaccessible purchases by offering interest-free installment plans and simplified eligibility criteria. This retail finance democratization promotes economic growth and social empowerment, resulting in a more inclusive society.
Safeguarding Consumer Interests:
Consumer protection is critical in a rapidly changing digital landscape. Tabby recognizes this and has put in place strong security measures and transparent policies to protect user information and financial transactions. The app follows strict data privacy regulations, which instill confidence and trust in its users. Tabby also provides clear and concise terms and conditions, ensuring that customers understand their rights and obligations. Tabby has established itself as a reliable and trustworthy platform by prioritizing consumer interests.
Words from the Founder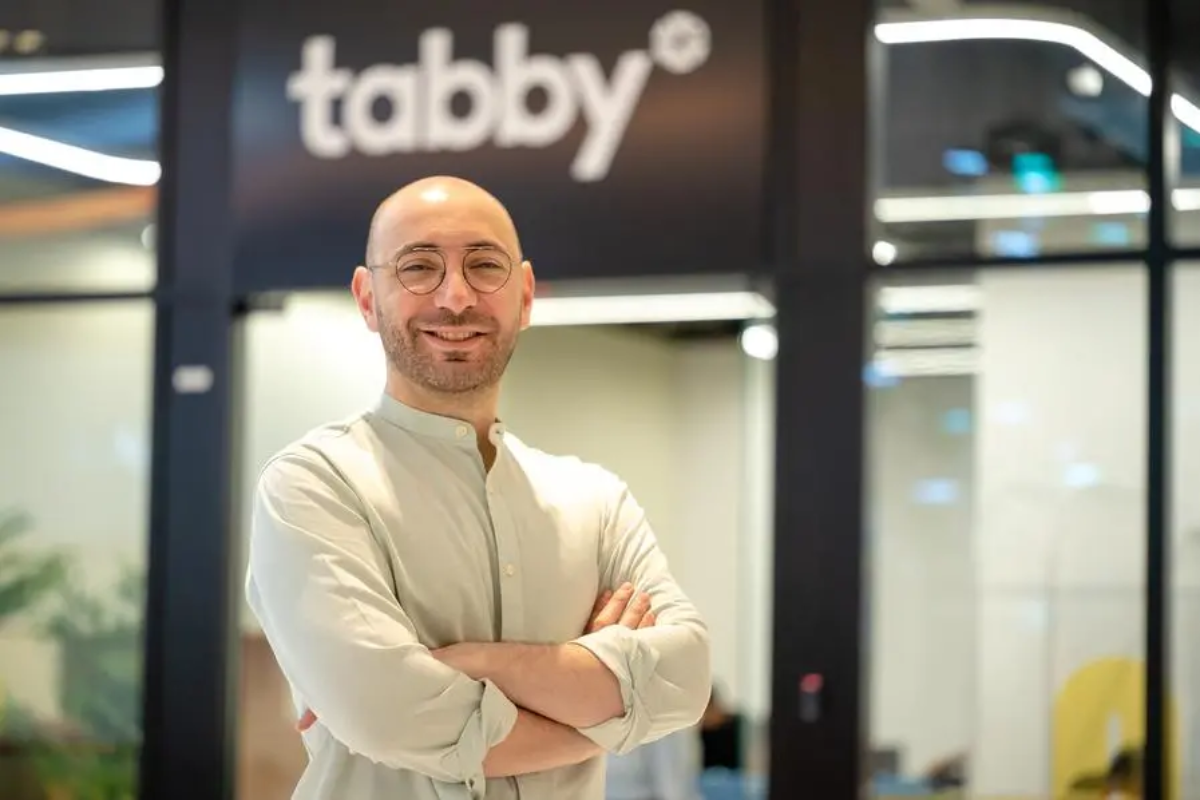 "With rising interest rates and growing inflation, it has never been more important for people to have access to payment flexibility to stay in control of their finances. Despite downward pressure on fintech valuations, our business continues to sustainably scale as we lead the generational shift towards fair and transparent financial products in MENA."

"We're excited to grow with an incredible set of investors who believe in the opportunity to create a healthier relationship with money for consumers in a region that's ripe for change."
Hosam Arab, CEO and Co-Founder of Tabby, said.
How to apply for the Tabby Card
1. Open the Tabby app
2. Tap on 'Get your card' on the home screen.
3. Scan your Emirates ID, front and back.
4. Scan the chip on your Emirates ID by holding your phone near your Emirates ID for approximately 10 seconds.
5. Take a picture of yourself to confirm your identity.
6. Add your Tabby Card to your wallet.
Steps to set up Tabby Dubai – UAE
1. Fill your cart, then choose to pay through Tabby at checkout.
2. Check your mobile number and email, then choose 'Sign up with Tabby'.
3. Enter the verification code you obtain on your mobile via SMS.
4. You will get a successful purchase notice.
5. You now own a Tabby account! and you can complete and check payments on the Tabby app.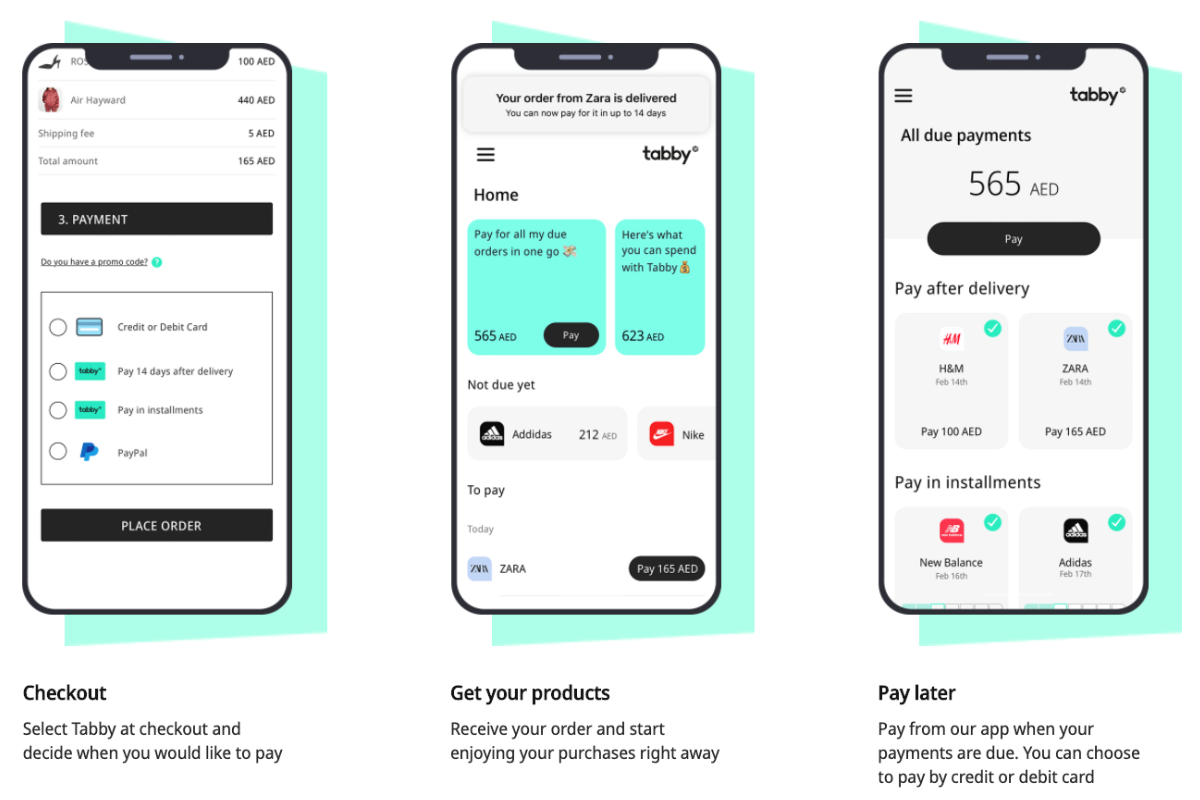 Frequently Asked Question About Tabby UAE
Any citizen of the UAE and KSA who's over the age of 18 can use Tabby.
Yes, it is! Tabby does not levy interest or fees for any payments that are made on time.
What occurs if you don't pay Tabby?
You will receive regular reminders via email and SMS before any due payments to avoid missing them. If Tabby is unable to collect payments on the scheduled day, you will no longer be able to make purchases with Tabby until dues are paid.
UAE: A collection charge of 15 AED is charged a day after a payment is due. If you have not repaid for another two weeks, an additional collection charge of 30 AED is applied.
Conclusion
Tabby's rise to prominence as a leading retail finance app in Dubai has had a profound impact on how consumers shop and manage their finances. Its emphasis on convenience, flexibility, and financial inclusion has transformed the retail landscape, allowing users to have effortless shopping experiences while also providing them with responsible financial options. Tabby's global expansion and recognition serve as a shining example of Dubai's commitment to technological innovation and its ability to reshape traditional industries for the better.
Also Read: