Dubai is a city filled with unique towers, luxurious hotels, tall buildings, and skyscrapers. It is home to the tallest building in the world which is also the city's iconic landmark – the Burj Khalifa. Dubai is a city that has an ever-growing list of new, exciting, and one-of-a-kind attractions. The city never bores you! Adding to its list of one-of a kind luxurious five-star hotels is the Address Grand Creek Harbor that has recently opened in Dubai. It is the first five-star hotel in Dubai's newest waterfront location – Dubai Creek Harbor. Let's learn more about this one-of-a-kind hotel in Dubai.
About Address Hotels + Resorts
Address Hotels + Resorts is the first brand introduced by the Emaar Hospitality Group. This premium luxury hotel chain has established itself as the ideal option for business, leisure, and group travelers. Address Hotels + Resorts, positions itself as 'Where life happens,' and offers a more personal and engaging experience to guests in a premium lifestyle environment, enriching the lives of its guests with luxury, style, and elegance. Its properties are in some of the most desirable locations. Address Residences, a leader in serviced and branded residences, is also owned and operated by the brand. Its new Creek Harbor hotel is an architectural marvel that will captivate you as you take in the scenic views of old Dubai on one side and the majestic skyline of new Dubai on the other.
About Address Grand Creek Harbor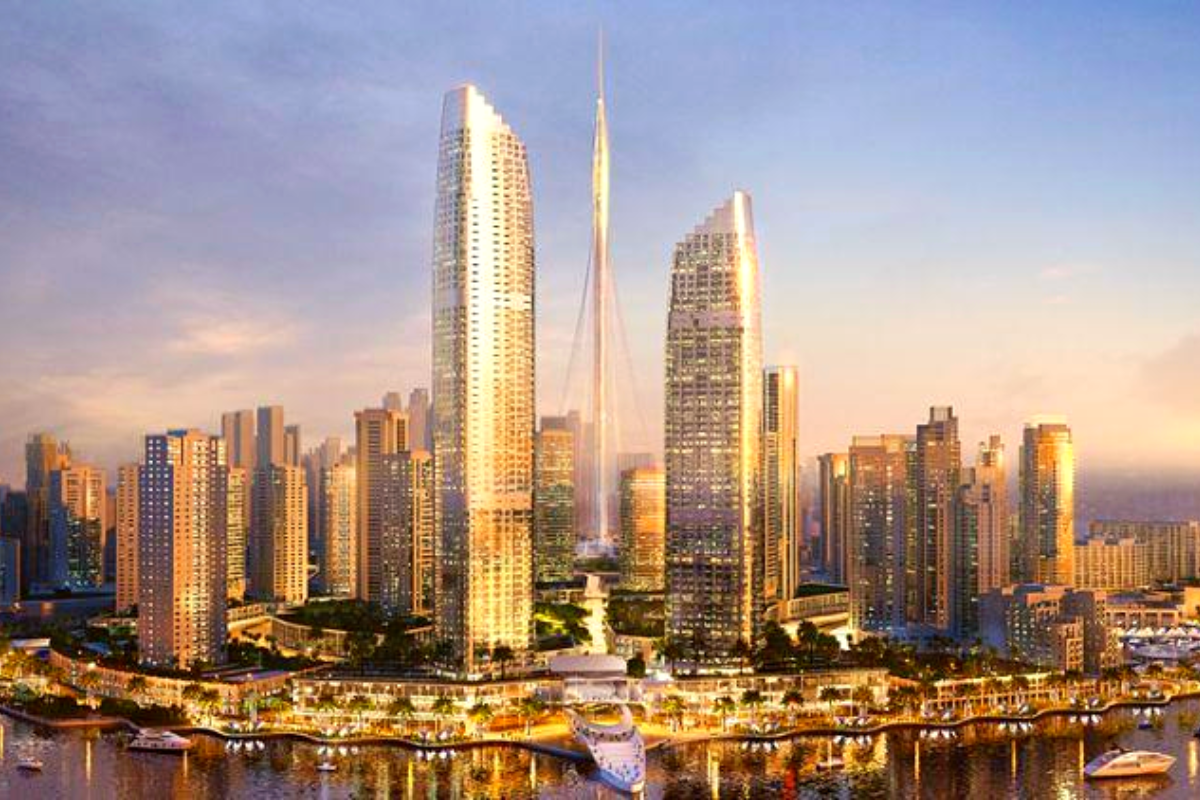 Address Grand Creek Harbor's structure is magnificent, standing majestically on the shoreline of the beautiful harbor. The hotel is housed in two tall towers of 53 and 65 floors, respectively, and has a total of 223 luxury rooms and suites as well as 794 serviced apartments. The iconic observation bridge designed by the Spanish architect Santiago Calatrava connects these two towers. This magnificent bridge creates an architectural marvel on the edge of Dubai Creek Harbor, providing spectacular views of Dubai. The hotel is perfectly situated to enjoy panoramic views of Dubai Creek, the brilliant scenery of Old Dubai, and the iconic views of Dubai's marvelous skyline. Each of the hotel's rooms provides breathtaking views while you relax within its luxurious interiors that are designed keeping your comfort in mind. The Spa, Fitness Center, and an infinity pool cater to all levels of activity, while the Qix Club, Qix Teens, Kids Pool, and Splash Pad allow the entire family to enjoy their time away.
Building Specifications:
Area: Creek Island
Sub-buildings: The Hotel contains two individual buildings: Address Grand Creek Harbour Tower 1 and Address Grand Creek Harbour Tower 2.
The developer: The Hotel is developed by Emaar Properties through its subsidiary The Lagoons Phase One.
Timeline: The development was completed by December 2022.
The architect: the architectural consultant was KEO International Consultants.
The Observation Deck:
The new observation deck is located between the two towers of the Address Grand Hotel. It is designed by Spanish architect Santiago Calatrava and is an architectural marvel at the edge of the Dubai Creek Harbor. The best part is that it is FREE to visit for Dubai residents and tourists giving them the chance to breathe in the breathtaking and picturesque views of the Dubai Creek, stunning views of Old Dubai and the spectacular view of Dubai's iconic skyline. Since it is fairly new, not many people are aware of this new attraction in Dubai that is absolutely free! There are two free parking spaces available near the deck, one besides the sales pavilion and other near the marina. Since it is located between the two towers, there is a little bit of walk to reach the deck. This new observation Deck is  a great place to visit with your family, breathe in mesmerizing views all around you and take fab pictures for your Instagram feed. The best time to visit would be before sunset so that you can take in the scenic sunset of Dubai mixed with the spectacular views around you.
Rooms & Suites: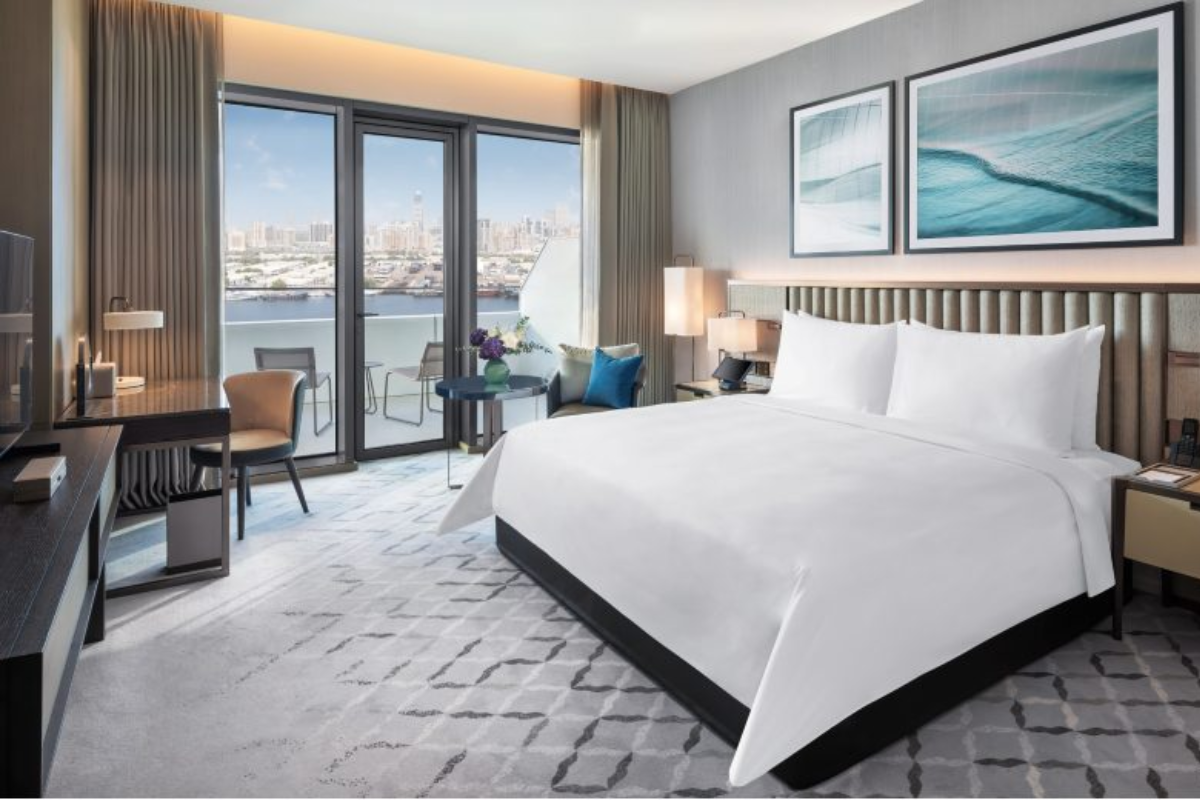 The rooms at this stunning waterside retreat have been exquisitely designed to provide the highest levels of comfort and convenience during your stay. The décor exudes modern opulence, while smart technology puts every guest request at their fingertips - all while keeping sustainability in mind. You can gaze out the window and be enchanted by the sun setting behind the Burj Khalifa or the delight of boats passing by on the water. Here are some of the rooms and suites options provided by the hotel:
• Deluxe City Views Room (King/Twin)
• Deluxe Creek View Room (King / Twin)
• Premier Creek Room with Balcony
• Club Room City View (King/ Twin)
• Club Creek View Room
• Executive Suite with Balcony
• Sky Live Suite with Balcony
• 2 Bedroom Panoramic Suite
• 3 Bedroom Panoramic Suite
Some of the amenities you can find in each room includes – Automated in-room iPad service, built in closet, complimentary high speed Wi-Fi, interactive flat screen TV, Nespresso coffee machine, separate shower & bath tub, coffee & tea making facilities, in-room security safe, iron and ironing board and other luxury amenities that depends on the type of room selected.
Dining at Address Grand Creek Harbor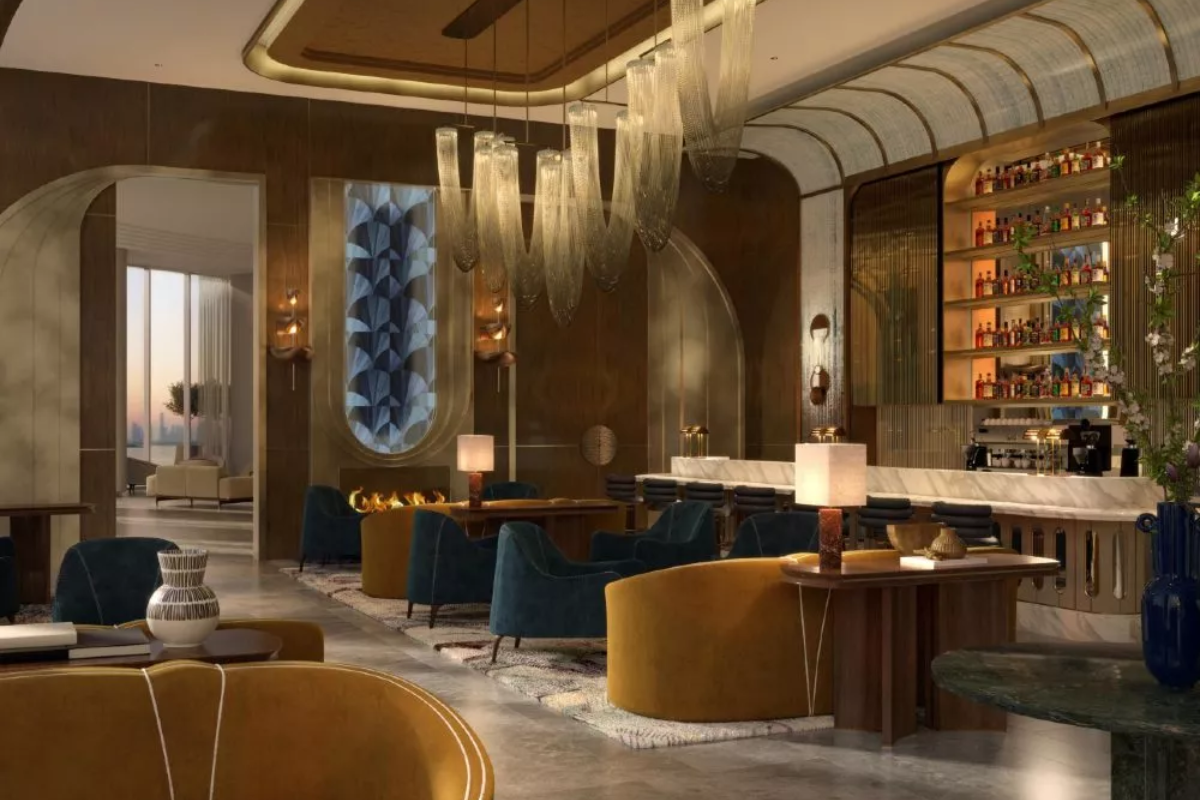 The Address Grand Creek Harbor's dining options are diverse, providing a one-of-a-kind experience for all tastes. The Restaurant, which oozes refinement and luxury, serves a wide range of internationally inspired dishes, while the Cigar Lounge provides an opportunity to enjoy premium beverages in a relaxed, social setting. At Luma Pool Lounge, enjoy light bites and nibbles alongside fresh coffee, or spend the day relaxing in the sun with the most extraordinary backdrop.
• Luma Pool Lounge: A pool lounge serving Mediterranean fusion cuisine on the third floor of the hotel. Throughout the day, as you swim in the stunning infinity pool, the skilled chefs will delight you with juicy and Mediterranean flavors, serving refined snacks and handcrafted beverages. After sunset, the lounge transforms into a breezy evening venue. Before sunset, the dress code is casual, and after sunset, the dress code is smart casual.
Timings: 08:00 am – 02:00 am (Beverage Service till 01:00 am) | 12:00 pm – 12:00 am (Food service) | 03:00 pm – 02:00 am (Hubbly Bubbly Service)
• The Patisserie: As soon as you walk in, you are greeted by the tantalizing aroma of freshly brewed coffee and bakery. It is located on the hotel's lobby level and serves delectable treats and refreshing beverages. To appeal to all foodies The Patisserie serves afternoon tea every day and presents beautifully crafted delicacies that pair perfectly with a warm cup of tea. Sit al fresco or inside this lovely venue to take in the breathtaking views of Dubai Creek. Smart casual is the dress code.
Timings: 08:00 am – 10:00 pm
• The Restaurant: It is an international cuisine eatery on the hotel's lobby level. Address Hotels + Resorts' signature dining concept includes a variety of dining areas and is distinctively designed as a luxury home. The lavishly appointed bar is an unrivaled highlight of this venue. It serves timeless culinary classics as well as innovative cocktails; The Restaurant will take you on a sensory journey while you admire the majestic views of Dubai Creek.
Timings: Breakfast – 06:30 am – 11:00 am | Lunch – 12:30 pm – 04:00 pm | Dinner – 06:30 pm – 02:00 am
Offers:
WINTER AT ADDRESS:
The Address Grand Creek Harbor is currently running a fantastic staycation deal. Embrace Dubai's pleasant winter climate with this new waterfront luxury hotel and save 30% off the best available rate with complimentary breakfast when you book before February 28th, 2023. This promotion is valid until March 22, 2023. In addition, if you are a member of U by Emaar, you will receive a 35% discount on your stay. So don't delay in booking your room to enjoy a relaxing stay at this one-of-a-kind hotel in Dubai.
Location:
The Address Grand Creek Harbor is located in Ras Al Khor in the Dubai Creek Harbor. It is a short ride away from the Dubai International Airport.
Also Read: