Al Ramsa Institute is a language centre dedicated to Emirati dialect and culture. Hanan Alfardan, Managing Director at Al Ramsa Institute, shares details about the learning centre.
Which industry does your business belong to?
Training & Learning Centres.
What is your business type?
Services.
How old is your business?
5-10 years.
Who are your customers?
People (B2C).
Which customer segments are you targeting?
Regional customers.
How many employees do you have?
1-9 employees.
How did you initially come up with the idea or concept for the business?
Hanan Alfardan used to work with non Arabs and people around her got interested in speaking Arabic (Emirati Arabic) to get along with Arabs in UAE, she started teaching her colleagues simple sentences until she got more demands from different people. Someone advised her to make an institute to teach more people about Emirates' culture, tradition and dialect.
Tell us about some of the major turning points in the history of your business.
Hanan Alfardan used to work in KHDA (Government) where she has a lot of privileges' and good salary, but she resigned and starting working full time on AlRamsa. It started with only Hanan Alfardan & Abdulla Alkaabi with 1 book to teach their students. They tried to seek for sponsorship from other organization but there was no luck. They tried to work on their own until they were able to create 30 books (and counting) and they were able to develop 10 curriculum and now AlRamsa is still growing. When you give your time and effort in something, it will grow.
What made you choose Dubai as a location to setup your business?
Because this is where Hanan was born and raised. Also, Dubai has the most expats living in compare to other Emirates. Dubai is the fastest developing city, innovation plays a huge role in Dubai, and I want to keep Dubai innovative at the same time, preserving the culture, tradition and it's mother tongue.
Finally, what sets your business apart from the competition?
Al Ramsa Institute is the only training center that is focused in teaching how to speak the Emirati dialect, and the trainers are guaranteed Emirati - native speakers. We ensure that people learn the correct accent and pronunciation of Emirati Arabic words and we make our learning in a fun and interactive ways.
Can you name some of your clients?
Some of our major clients: Duty Free, Dubai Petroleum Corporation, Sharjah International Book Fair, Sharjah Book Authority, American University of Sharjah, University of Dubai, Ca' Foscari University of Venice, Hamdan Bin Mohammed Smart University, Sajaya - Young ladies of Sharjah, Choithrams, Dubai Holding, United Arab Emirates Government of Fujairah, Emirates Association for Social Development, DEWA, Abu Dhabi Tourism Authority, Hamdan Bin Mohammed Heritage Center, New Zealand Consulate, Switzerland Consulate, SkyDive Dubai, Natixis DIFC.
What service(s) or product(s) do you offer/manufacture?
Al Ramsa Institute is offering courses on learning how to speak the Emirati Dialect.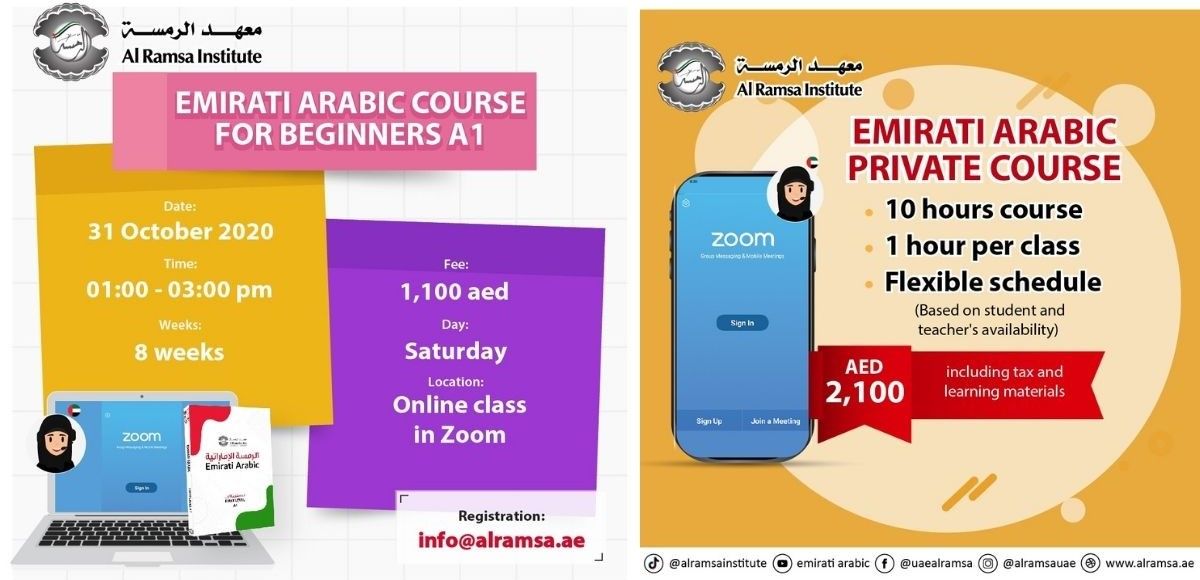 What are the key strengths of your products/services?
Our courses are mainly focused in spoken Emirati Arabic, no reading and writing, and the teachers are Emirati - Native speaker.
Are there any exclusive products/services that you offer (not offered anywhere else in Dubai)?
A speaking course focused in Emirati Dialect taught by Emirati - Native speakers.
Can you share some of your products and pricing?
Online Group course - AED 1100, Online Private course AED 2100
What are the best ways for your customers to contact your company?
Via Phone.
Do you have multiple branch offices, facilities or stores in Dubai?
No, we have just one branch in Al Quoz, Dubai.
You can find us here - https://www.hidubai.com/businesses/alramsa-institute-education-training-learning-centres-al-quoz-1-dubai-2
Is there anything else you want to convey to your potential customers?
At Al Ramsa Institute we want you to be heard. Its sad how great ideas and strong bonds cannot be created due to the language gap. At Al Ramsa Institute we aim to get rid of this gap. Helping expats, students and tourists to understand the essence and beauty of UAE better. Striving heard to make UAE home like for all the individuals who often feel left out. The famous Mr James Humes once said: The art of communication is the art of leadership. At Al Ramsa Institute we aim on creating leaders.