The summer sun is slowly hitting the coast of Dubai. Outdoor fun activities goes out of trend during this season. It is best to be in the waters to enjoy the summer sun. The city houses a range of water parks and water-based activities. From the waterpark with the greatest number of water slides to other award-winning water theme parks, you will surely be able to have a great time if you love to splash water all over. Dubai is also home to Aqua Fun, the largest inflatable waterpark in the world.
If you are in the city for a leisurely time, you must head out to this water park to have the least common waterpark experience in the region. Here is the ultimate guide to Aqua Fun Dubai.
Aqua Fun Dubai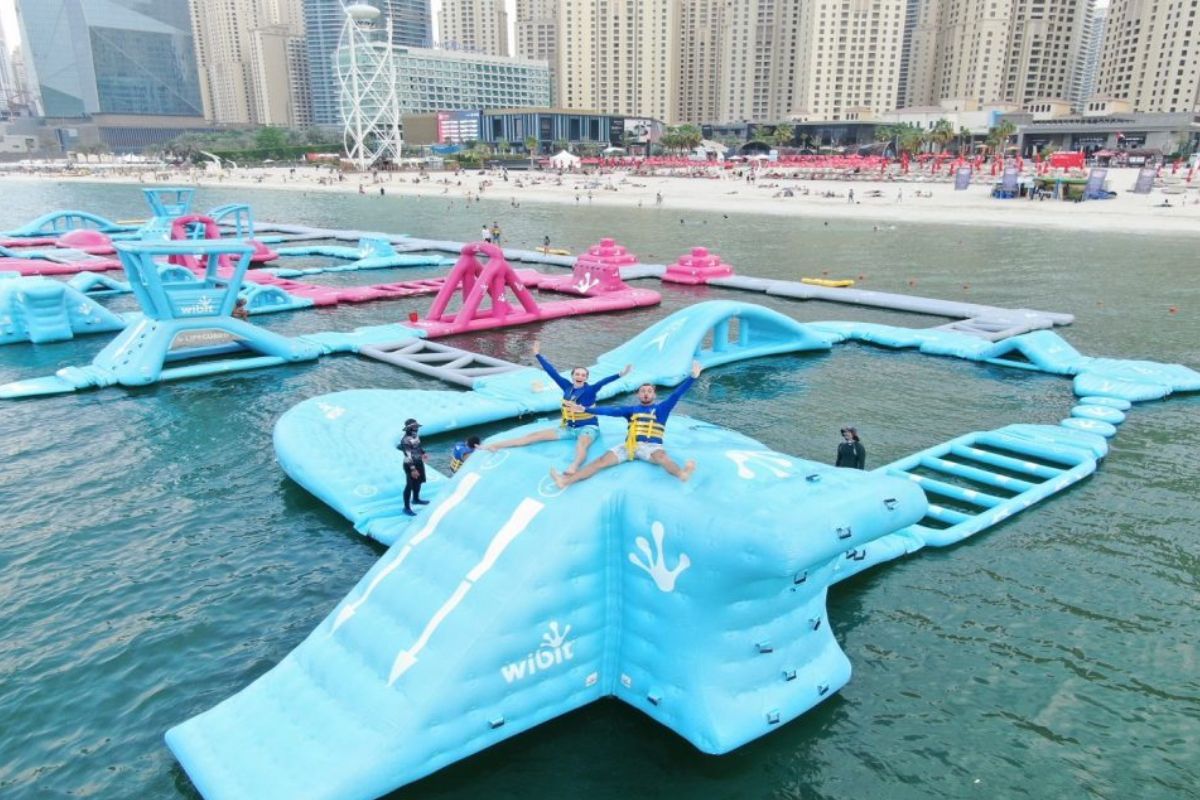 Aqua Fun is an award-winning water park in the heart of Dubai's most popular beach, Jumeirah Beach Residence (JBR). This unique waterpark floats on the surface of the water, unlike the conventional waterparks in the region. The first of its kind in the region, Aqua Fun boasts obstacles stretched over 25 meters on the surface of the sea. The attraction features a variety of inflatable obstacles and structures that you may jump, slide, and climb on while taking in the endless sea. This inflatable park is for visitors of all ages.
The park spans around 2700 square meters and can accommodate up to over 1000 visitors. You can indulge in the 110 games set up on the spot. The vibrant color of the floating obstacles offers a perfect visual appeal to the visitors. This large inflatable playground on the water has obstacles like balance beams, slides, and swings on which you can move around or fall into the water beneath. The aerial view of this inflatable park reads Dubai.
Aqua Fun has found its space on Dubai's 'must-visit' lists. You can bring your family or friends to enjoy a great time together while racing against each other or showing off your skills. If you are a fan of both the sea and the sun, this place is for you.
Things to do at Aqua Fun Dubai
Bounce over inflatable obstacles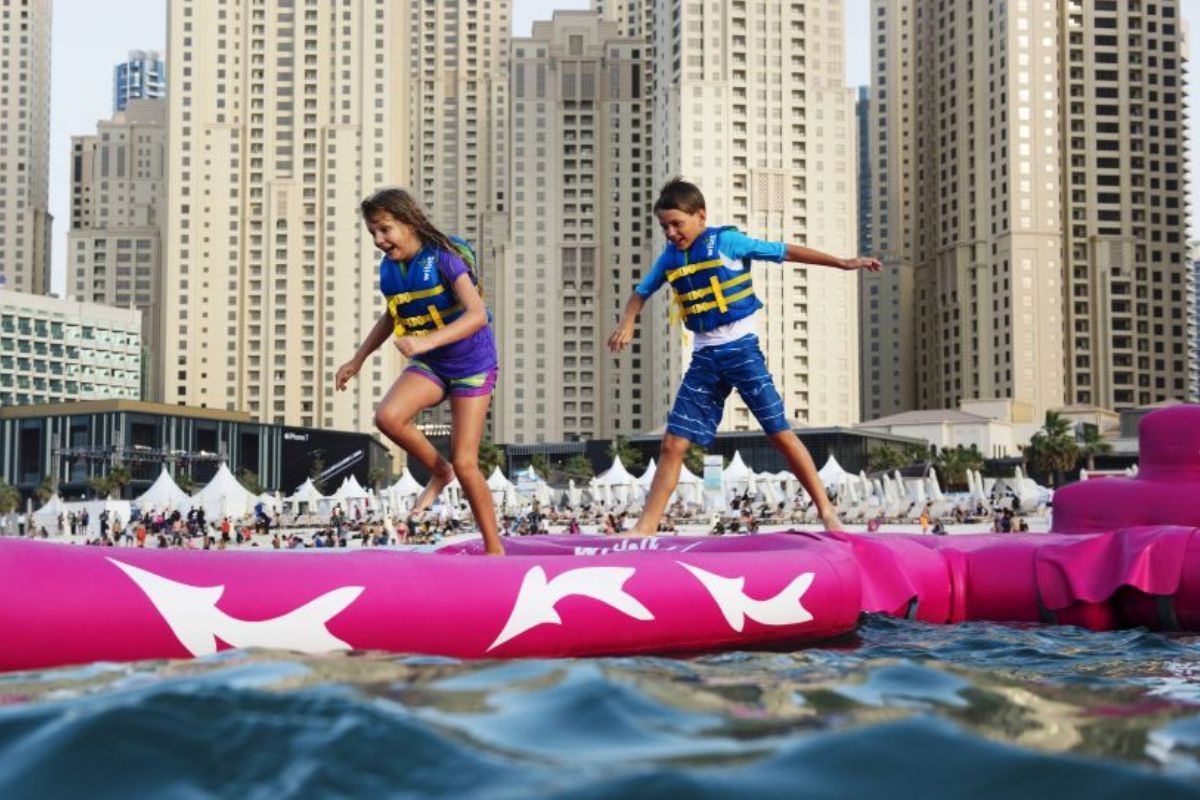 Aqua Fun water park features an extensive range of activities including giant slides, trampolines, climbing walls, balance beams, and bridges. You can bounce, climb, slide, and jump from one inflatable obstacle to another to move around the water park. You can enjoy the human-sized hamster wheel for a more fun experience. You will be provided with all the necessary safety equipment including life jackets and helmets. Trained lifeguards are appointed at the park to ensure the safety of all visitors. The water park also has amenities like changing rooms, showers, and lockers for visitors to use.
Enjoy mesmerizing views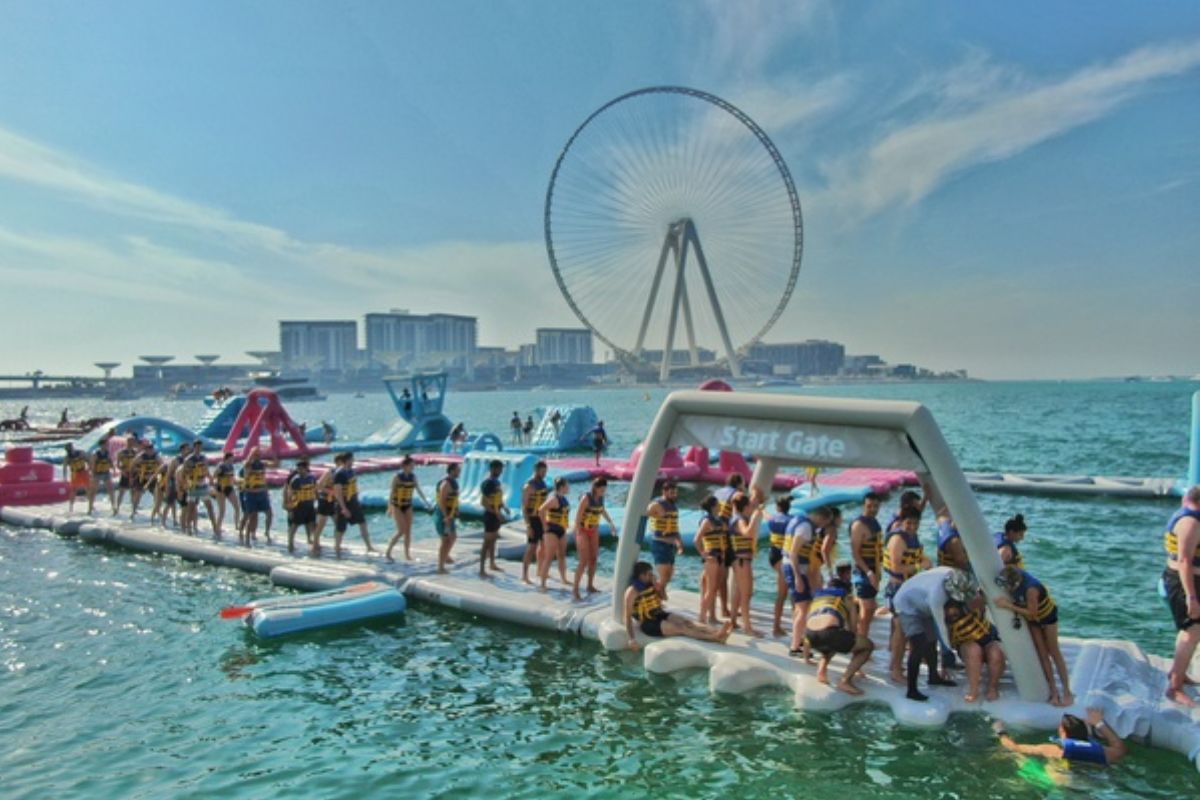 Aqua Fun is situated in JBR which has an excellent view of Bluewaters Island. You can enjoy the beauty of the island and the installations there. From the shore, you can also see the world's largest observation wheel, Ain Dubai. You can also watch a calming sunset from the water park. While at the park, look out for spectacular vistas of Dubai's modern skyline including the towering skyscrapers of the Dubai Marina.
Organize corporate events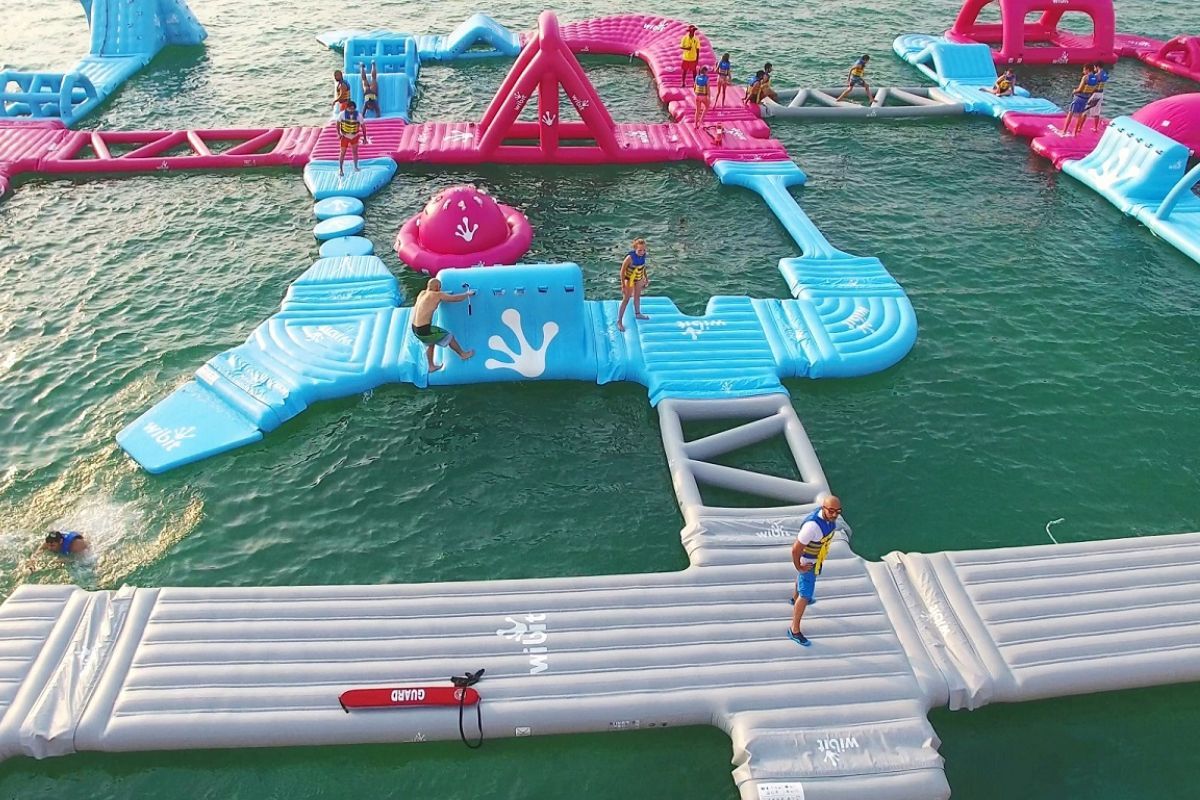 Aqua Fun Dubai offers team-building packages for corporates to come together outside of the office. The package includes different challenges and activities for everyone to work together. Their team will set up everything you need for your corporate event including the games and seating arrangements. Aqua Fun makes sure that you feel refreshed after the experience, the thrills, and the laughter. The package includes all day pass entry ticket thereby offering unlimited fun for the entire day. However, food, refreshments, decors, and photography services will not be provided by them.
Host a birthday party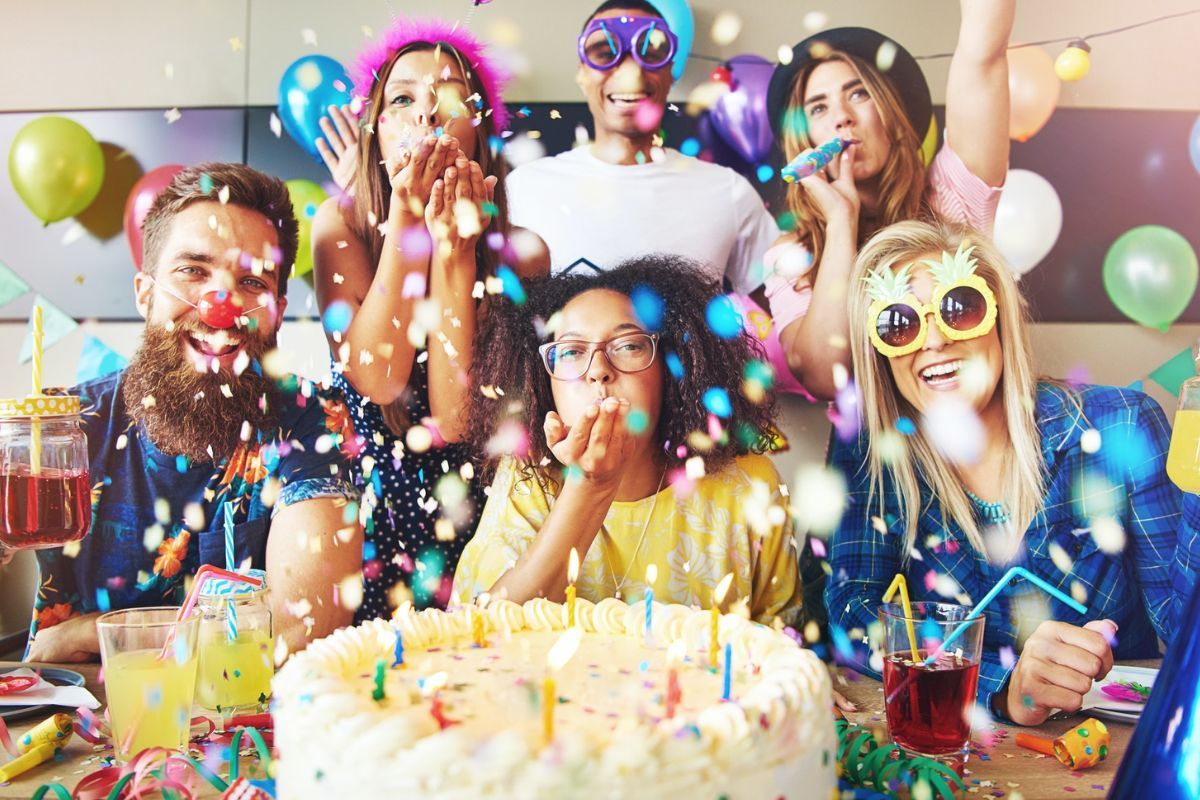 Aqua Fun offers an opportunity to have an unparalleled party experience with them. You can host up to 50 guests for your party. The team will set up the party games directly for you. They will also set up a tent for you where you can sway to your music and chill. You can have fascinating views as the backdrop while you blow out the candles. The birthday package also offers special discounts on individual tickets. You can choose from the Waves and Aqua Fun packages for your birthday.
Eat at nearby al fresco eateries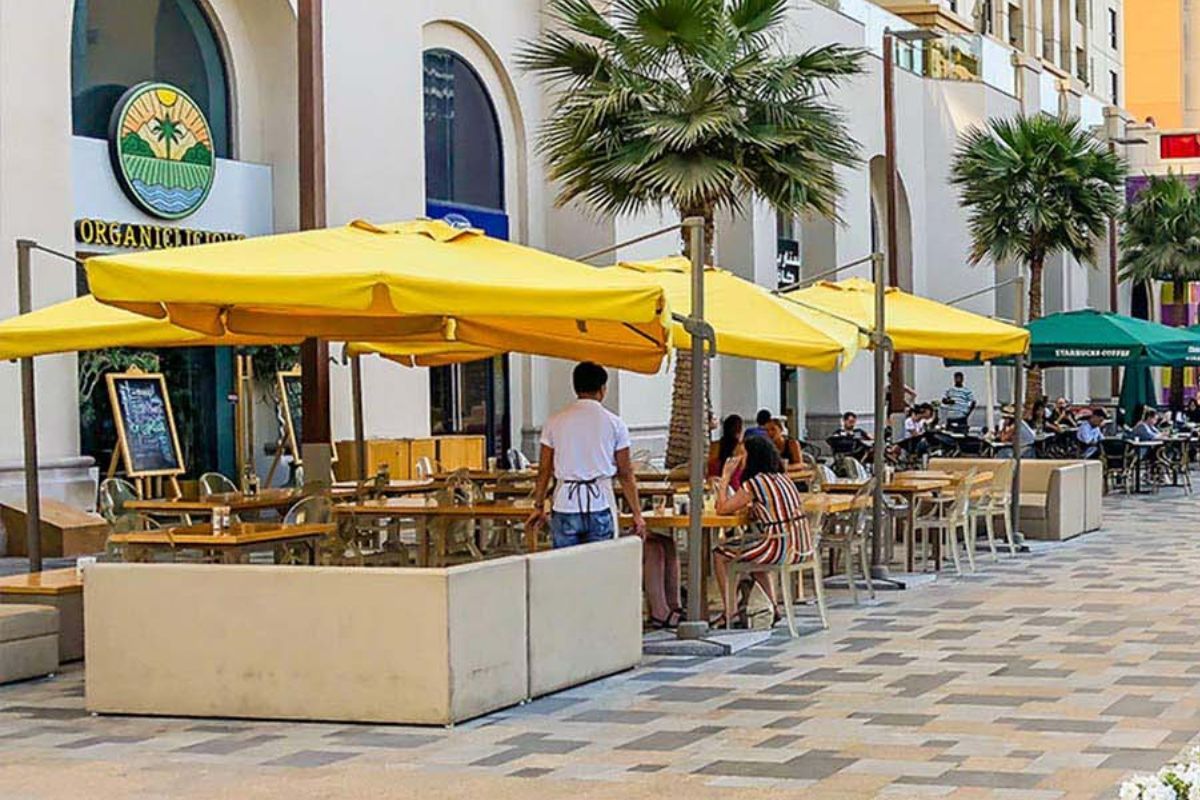 There are many cafes and restaurants located near Aqua Fun. Aqua Fun does not serve food. You can visit these restaurants to enjoy yummy sandwiches while having a beautiful beach view in front of you. Some of the popular restaurants in JBR you can try while at Aqua Fun are Eggspectation, Catch 22, and Yingsu. You can also take a stroll along The Walk to see the restaurants located there.
Ticket Pricing at Aqua Fun Dubai
All Day Ticket – AED155
Group Ticket – AED125
Birthday Packages:
The Sand Package – AED300
Waves Package – AED500
Aqua Fun – AED800
You need to purchase individual tickets after the purchase of the birthday package. With every ticket, each guest gains unlimited access to the park along with a life jacket. Adults and kids do not have separate entry tickets. For group tickets, you need to have 5 or more people in the group.
Opening hours of Aqua Fun Dubai
The inflatable water park is open from 9 am to 5:30 pm daily. However, try to reach in the morning to make the most out of the ticket and also to avoid the crowds.
How to reach Aqua Fun Dubai
Aqua Fun Dubai is located in Jumeirah Beach Residence (JBR) area in Dubai. The neighborhood is located close to the center of Dubai and therefore getting there is easier. The spot is easily accessible by Sheikh Zayed Road/E11. If you are planning to travel by Dubai metro, take the red line and get down at Sobha Realty metro station. From there take the tram and get down at Jumeirah Beach Residence 2 tram station. The water park is at a walkable distance from the station. There are a few RTA buses that take you directly to the location. Visit the RTA Journey Planner to plan your public transport travel route.
Nearby Attractions
Jumeirah Beach Residence is a happening place in Dubai and therefore, there are many tourist attractions in the neighborhood. After having your time at Aqua Fun, you can walk around the area to visit the nearby attractions. Here are some of the places you can visit near Aqua Fun Dubai.
Madame Tussauds Dubai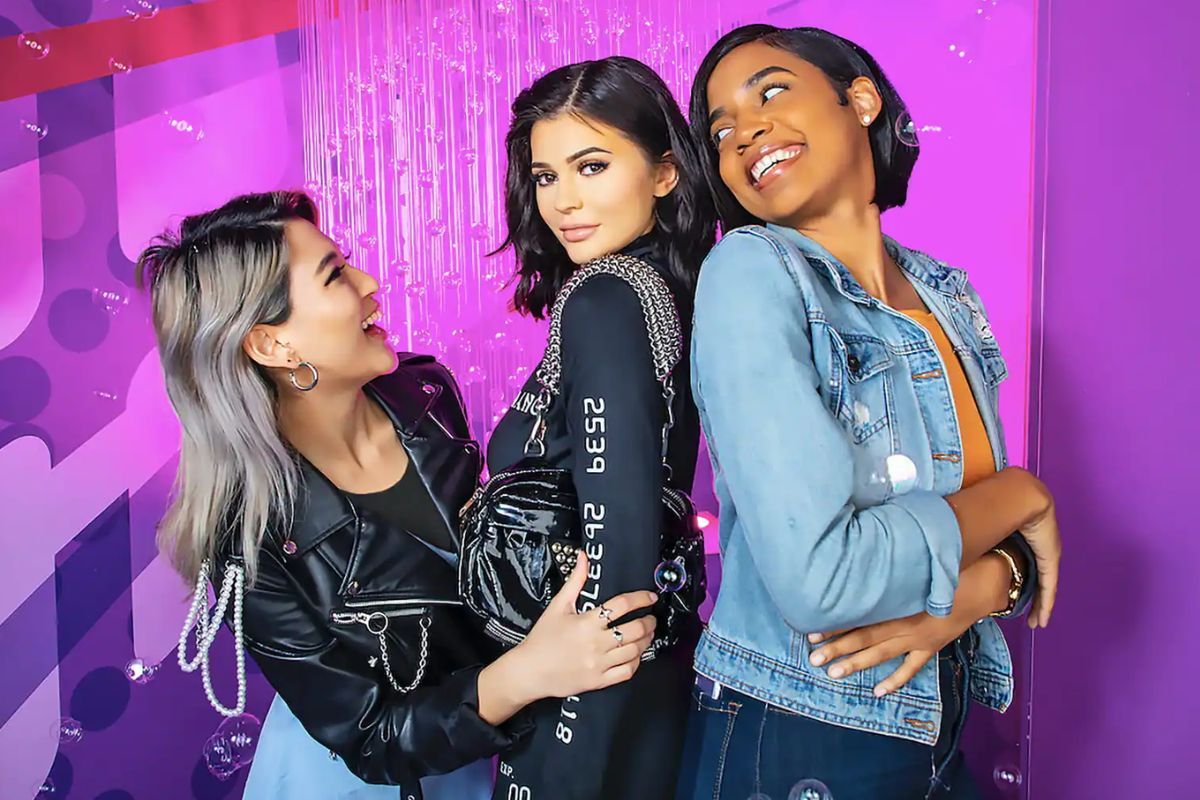 Madame Tussauds Dubai is a part of the Bluewaters Island development and is a well-liked destination for both tourists and residents. Madame Tussauds is a famous wax museum chain that has opened a branch recently in Dubai. The museum displays lifelike wax replicas of well-known historical figures, celebrities, and other significant people. You can interact with the figures and take pictures with them.
Bluewaters Island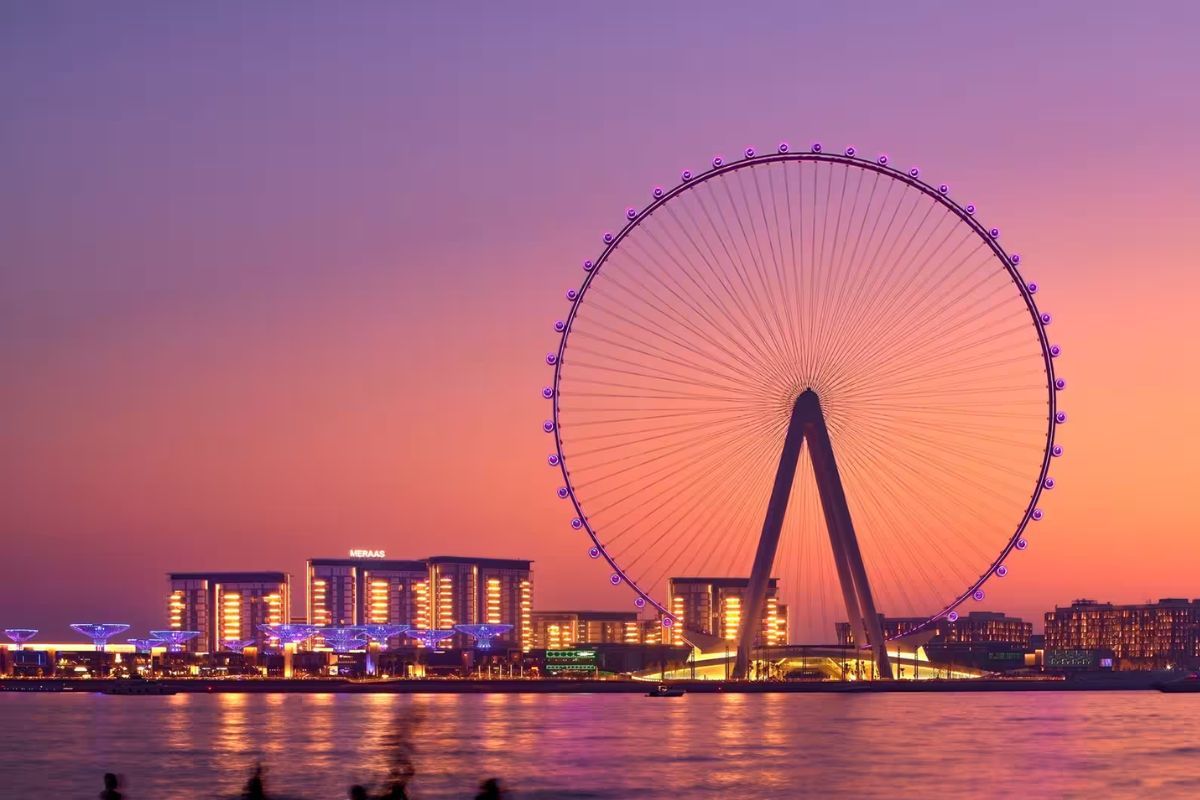 Bluewaters Island is a man-made island located off the coast of Dubai. This popular tourist destination offers luxurious living, entertainment, and hospitality. The island features Ain Dubai, the world's largest observation wheel standing at over 250 meters tall, which offers stunning views of Dubai's skyline. The island has a number of entertainment, shopping, and dining options, ranging from laid-back cafes to upmarket restaurants serving a variety of cuisines.
The Walk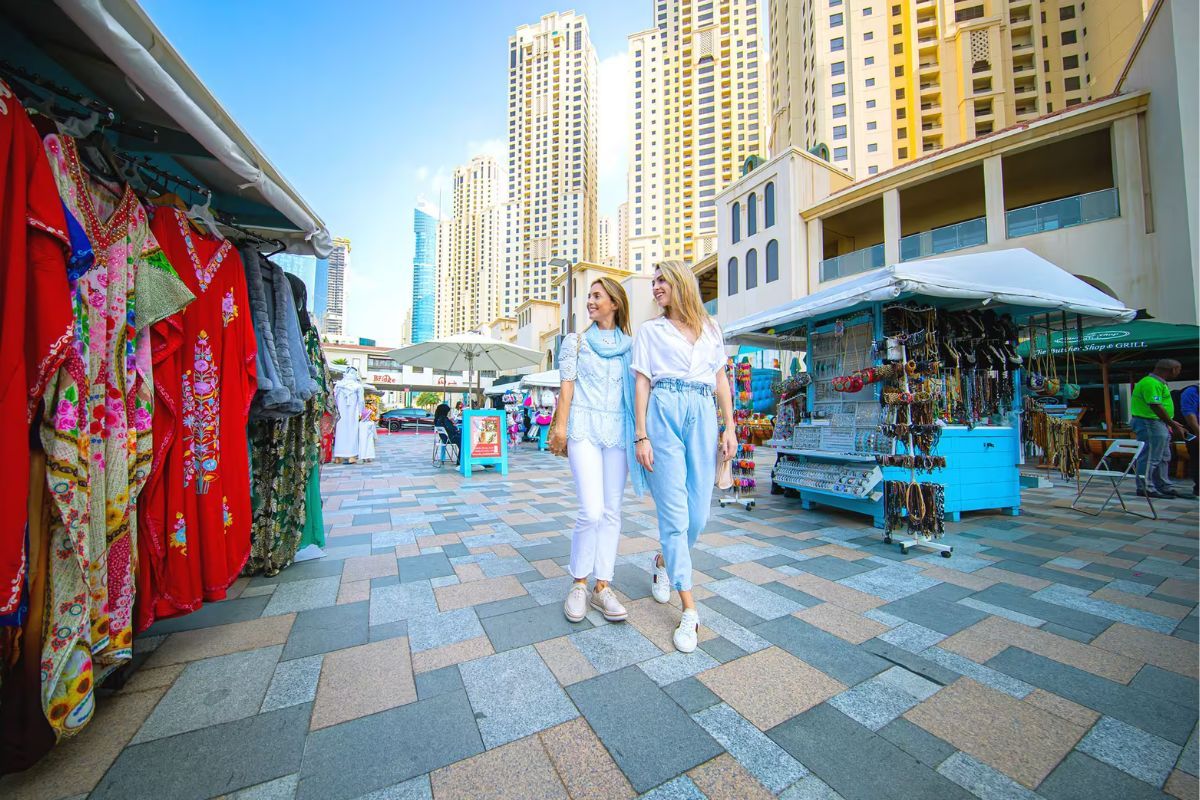 The Walk at Jumeirah Beach Residence (JBR) is a bustling outdoor promenade located in Dubai. The palm-lined walkway is dotted with shops selling anything from high-end clothing to trinkets. Many cafes and restaurants here offer a variety of foods, including Middle Eastern, European, and Asian cuisines. With its picturesque setting and lively atmosphere, The Walk is slowly becoming the residents' go-to spot.
Sky Dive Dubai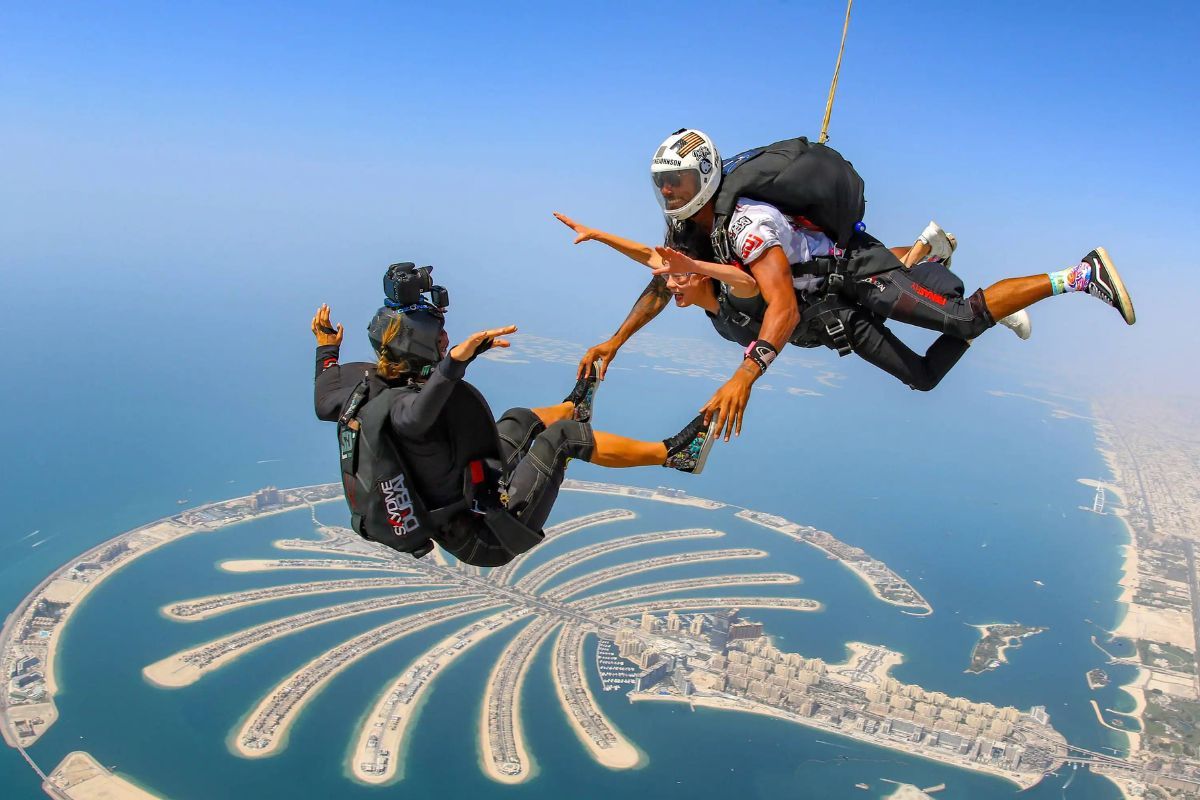 Adventure junkies around the world have added this to their bucket lists already. Skydive Dubai is a leading adventure sports company located in Dubai. It offers tandem skydiving, solo jumps, training courses, and other skydiving activities. Divers may enjoy breathtaking views of the city and the surrounding desert at the company's two drop zones in Dubai according to their choice of the drop zone. Skydive Dubai uses state-of-the-art equipment and employs highly experienced instructors to ensure a safe and thrilling experience for its customers. All you need to have before signing up for this experience is courage.
Dubai Harbour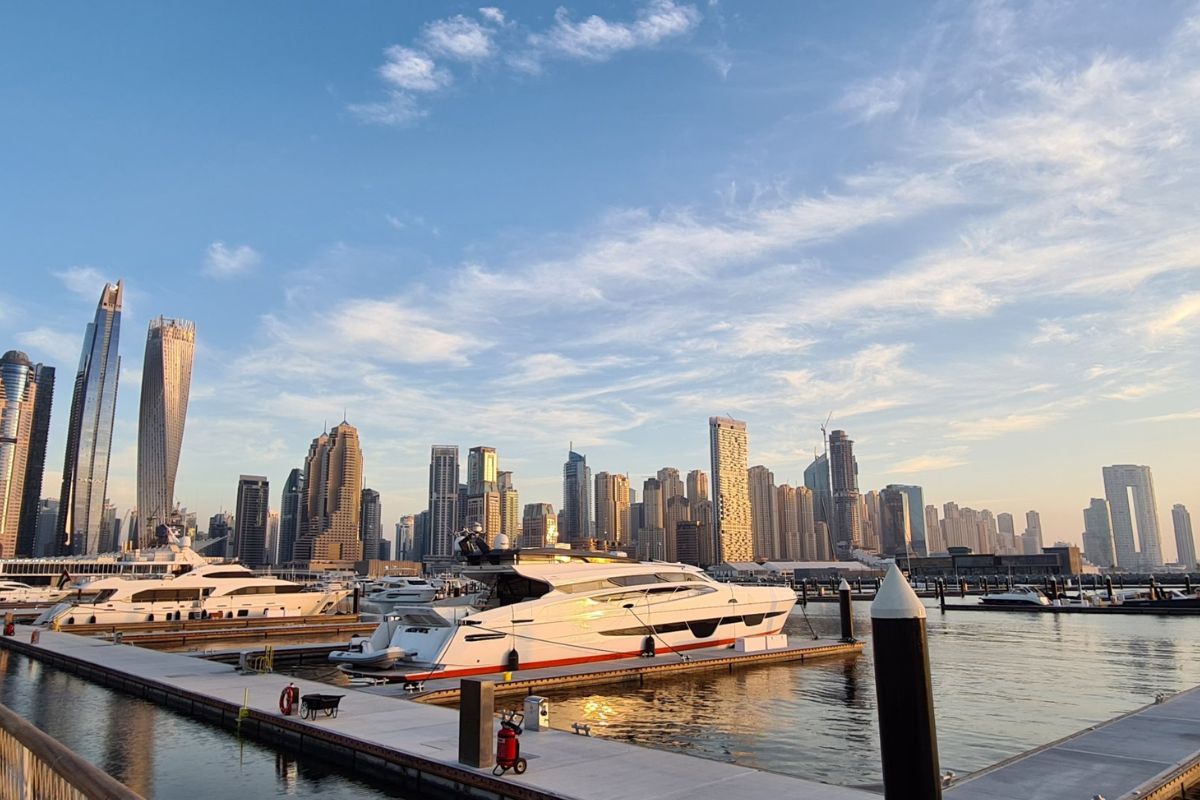 Dubai Harbour is a new waterfront development located in the city. The project spans over 20 million square feet and is located between Palm Jumeirah and Jumeirah Beach Residences. Dubai Harbour features a range of attractions like luxury hotels, shopping malls, restaurants, and entertainment venues. It is set to become a major tourist destination in Dubai. Dubai Harbour also has a cruise terminal that will port major cruise ships.
Also read: