Dubai is a city that has an ever-growing list of new, exciting, and one-of-a-kind attractions. It has all kinds of attractions from extreme thrill inducing rides to family-friendly adventures, you're sure to be entertained. Are you a thrill-seeking adventurer? Feeling the need for epic speed? Then, head over to Dubai Kartdrome to indulge in some seriously swift go-kart racing that will get your adrenalin pumping!
The Dubai Kartdrome is a world-class racing circuit that allows you to experience the rush of speed in a safe and controlled setting. With a fleet of high-performance karts and a world-class motorsports circuit, Dubai Kartdrome is the city's most popular go-karting venue, ensuring you an unforgettable experience! In this article, we will provide you with a complete guide to experiencing the thrill of speed at the Dubai Kartdrome.
About Dubai Kartdrome
The Dubai Kartdrome is a place where you can experience super speed, fast revving engine sounds, and racing excitement all in one place. It is the most exciting section of the Dubai Autodrome, the city's vibrant motorsports complex in Dubai Motor City. This exciting karting complex features a 1.2 km outdoor circuit as well as 620 meters of indoor track. The facility has a fleet of high-end go-karts that are are suitable for all visitors over the age of seven and can be ridden on both the outdoor and indoor race tracks. These world-class karts, equipped with powerful engines, will undoubtedly satisfy your need for speed in Dubai.
Since its establishment in 2003, the Dubai Kartdrome has grown to be one of the city's most well-liked attractions. The Kartdrome offers a range of karting activities, including competitive racing competitions as well as leisurely fun rides. The 1.2 km long track has 17 turns, making it one of the area's most challenging circuits. Drivers can track their lap times and compete with other drivers thanks to the timing system that is installed at the raceway.
What to expect?
You will have to sign a waiver and give some basic information when you get to the Kartdrome. A safety briefing will follow the helmet installation. All drivers are required to attend the safety briefing because it is crucial. You will learn about the track's regulations, how to drive the kart, and safety precautions during the briefing. You will be prepared to start the race once the safety briefing is over. The go-karts are simple to use, and you will pick them up quickly. Although the track is difficult, it's also a lot of fun, and you'll end up loving every second of it.
It is advised that you begin with the Arrive & Drive experience if you are new to karting. This will allow you to become accustomed to the karts and the track before progressing to more difficult experiences.
The Dubai Kartdrome is open seven days a week, and reservations can be made online or over the phone. You can select a time that works for you because they have flexible scheduling. To avoid disappointment, it is advised that you reserve your experience in advance, especially during the busiest season.
Experiences at Dubai Kartdrome: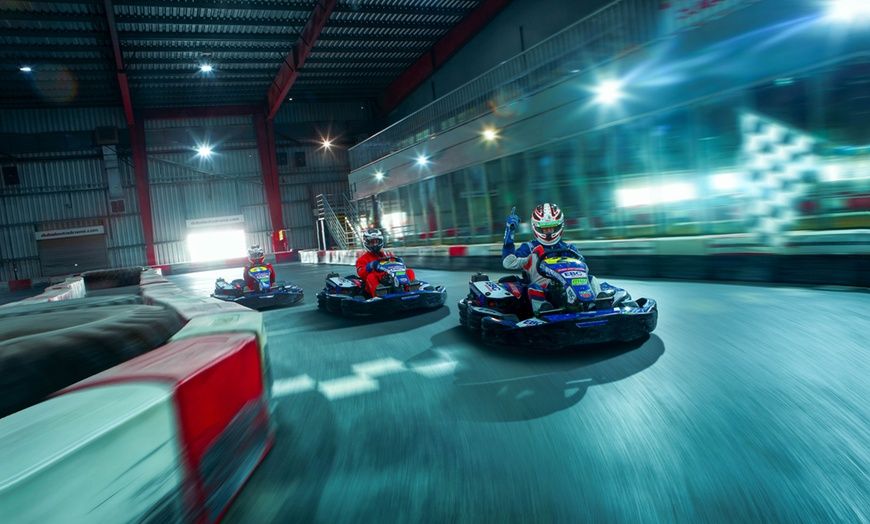 Dubai Kartdrome is suitable for all skill levels, whether you are a beginner or an experienced driver, there is a karting experience for you. They offer a range of options, from individual experiences to group events. Here are some of the experiences that the Kartdrome offers:
1. Arrive and Drive Karting:
This is an excellent choice for those who want to try karting for the first time. Simply show up at the Kartdrome and rent a kart for a specified period. It provides sessions on a first-come, first-served basis, but you can also book 48 hours in advance via their website. This experience is suitable for both adults and children and can be completed either outside or indoors.
Outdoor karting: The outdoor karting lasts 15 minutes. It includes three minutes of pace kart laps and twelve minutes of self-driving. It is a 1.2-kilometer outdoor circuit designed for people aged 13 and up. Outdoor karting costs AED 137, with an additional annual registration fee of AED 11 for newcomers.
Indoor Kart Racing: Indoor Karting lasts 15 minutes. It includes three minutes of pace kart laps and twelve minutes of self-driving. It is a 620m indoor circuit suitable for children aged 7 and up. This experience requires a minimum height of 1m 25 cm. The cost is AED 105, plus AED 11 for annual registration for newcomers.
2. Kart Racing: The Dubai Kartdrome provides a variety of racing activities. Practice sessions for adults and children, separate races for children, races for professional races, races for racing enthusiasts and beginners, and exclusive racing sessions and championship rounds are all available. Each of these races includes all necessary equipment such as racing suits, helmets, sodi karts, gloves, and more. Here is a list of the various racing options offered by Dubai Kartdrome:
· Ironman Open:
· SWS Sprint Race
· Rookie Race Nights
· Dubai Bambino Cup
· Dubai O-Plate
· ESKC
· SWS Mini Endro Cup
· Endurance Championship
· IAME X30 Challenge
· Rotax MAX Challenge
· SWS Drift Races
· DAMC Karting Championship
3. Corporate Events: The Dubai Kartdrome provides excellent opportunities for team building. It is a reliable option for entertaining important guests or clients. It provides several packages for employees to compete in a race. Mini-Prix, Grand Prix, Super-Prix, and Endurance Race are the packages available. The Endurance Race package can accommodate 30 or more guests and includes a 3-hour race track. While the other packages do not include an exclusive track, they do allow up to 12 guests at a time for a 2-hour duration. You can choose the best one based on your group's strength and ability. They even have a conference room, catering options, and other amenities to make your team building event a complete experience.
4. Birthday Parties: Your birthday party will be unlike any other if you celebrate it at the Dubai Kartdrome. The Dubai Kartdrome has developed into a hub for children's parties and teen activities, offering a variety of birthday party packages that will add some adrenaline-filled excitement to your child's special day. Helmets, overalls, gloves, marshals, mechanics, safety crews, medical support, timing, and a coordinator are all included in all kid and teen packages at the Indoor Kartdrome. They also have other birthday party package options including – Kids Laser Package, RaceRoom Sim Package, Kids Kart & RaceRoom Package and Kids Shoot and RaceRoom package. The prices vary for each package, but the starting price is AED 51 per child.
5. Karting Academy: The Dubai Karting Academy (DAKA) is a one-stop shop for children. It is intended for children who want to learn everything necessary to become a globally recognized professional race driver. DAKA provides a 10-week program for children aged 7 and up, mentored by championship winners and drivers. The course covers both fundamental and advanced kart racing techniques. Children can learn about circuit layouts, proper steering techniques, overtaking, defending, kart maintenance, and much more! Their hands on mechanical tutorials make the kids more fascinated with racing giving hem a lasting experience for life.
Other Activities at Dubai Kartdrome:
Laser Tag: The Laserdrome, a 400 square meter Laser Tag arena created to resemble a medieval labyrinth of glowing dungeon ramparts and manufactured fog, is a special feature of the Indoor Kartdrome complex. It is ideal for groups, kids parties and corporate events and is performed in two teams – each with 10 players.
Cost: AED 65 for a 15-minute session
Race Room: With Race Room, you can race online! You can race your friends simultaneously using a sim console connected by Race Room Event Automation Software! A session can also be scheduled online.
Cost: AED 21 for a 15-minute session
Holiday Camps: Dubai Kartdrome also offers exciting holiday camp sessions for kids. These one-week camp sessions are available throughout the year on all schools breaks like spring, summer, winter, and half terms. These sessions are suitable for kids aged 7 years and above and is known as the most high adrenalin kids camps in Dubai. The camp offers various activities for kids including – Indoor and outdoor karting, Laser tag in a mediaeval maze, race room sim racing, team games, certificates and prizes, billiards competitions and Sony PlayStation zone. These camps are operational from 9 am to 1 am, Monday to Friday.
Location and timings of Dubai Kartdrome:

Dubai Kartdrome is located in Dubai Motor City.
Timings of Dubai Kartdrome are 09:00 am – 12:00 am, Daily.
Things To Know Before You Visit Dubai Kartdrome:
· Although walk-ins are accepted, purchasing your tickets for the Dubai Kartdrome in advance is highly advised.
· Bring a valid form of identification, such as a passport, Emirates ID, or driver's license, to complete the registration process.
· Put on relaxed clothing that is neither too baggy nor too tight and finish off your look with a comfy pair of fully enclosed shoes.
· For the "Arrive and Drive" experience, participants must be at least 13 years old.
· The disclaimer form needs to be signed. However, if you're under 18, your parent or legal guardian must sign it.
· Wear gloves that cover your fingers and thumbs, a helmet that is completely covered, etc. during the experience.
· Be sure to pay close attention to the professional safety instructions before you get in the car and start driving down the tracks.
· Choose the right circuit (indoor or outdoor) and racing package to get the most enjoyment out of your karting experience.
· For any session that you have already paid for, there will be no refund given.
· Before you sign up for any race or event, make sure you meet the height and weight requirements. The maximum weight you should be is 135 kilograms.
· Avoid participating in this racing activity if you are intoxicated from drinking.
Also Read: