Dubai is known for its opulence and extravagance. It is home to some of the most extravagant hotels, restaurants, towers, shopping malls, and experiences in the world. The AURA Sky Pool stands out as a shining beacon of indulgence among this opulence. The world's highest 360-degree infinity pool promises to transport you to a world of luxury and relaxation. The AURA Sky Pool offers breathtaking views of Dubai's skyline and the Arabian Gulf, cutting-edge facilities, and exceptional service making it a must-visit location for anyone looking for a truly extraordinary experience in the city.
If you are looking for an experience that will make you feel as though you've traveled to another planet, AURA sky pool is the place to go! Read more to find out all you need to know about this luxury experience in Dubai.
About AURA Sky Pool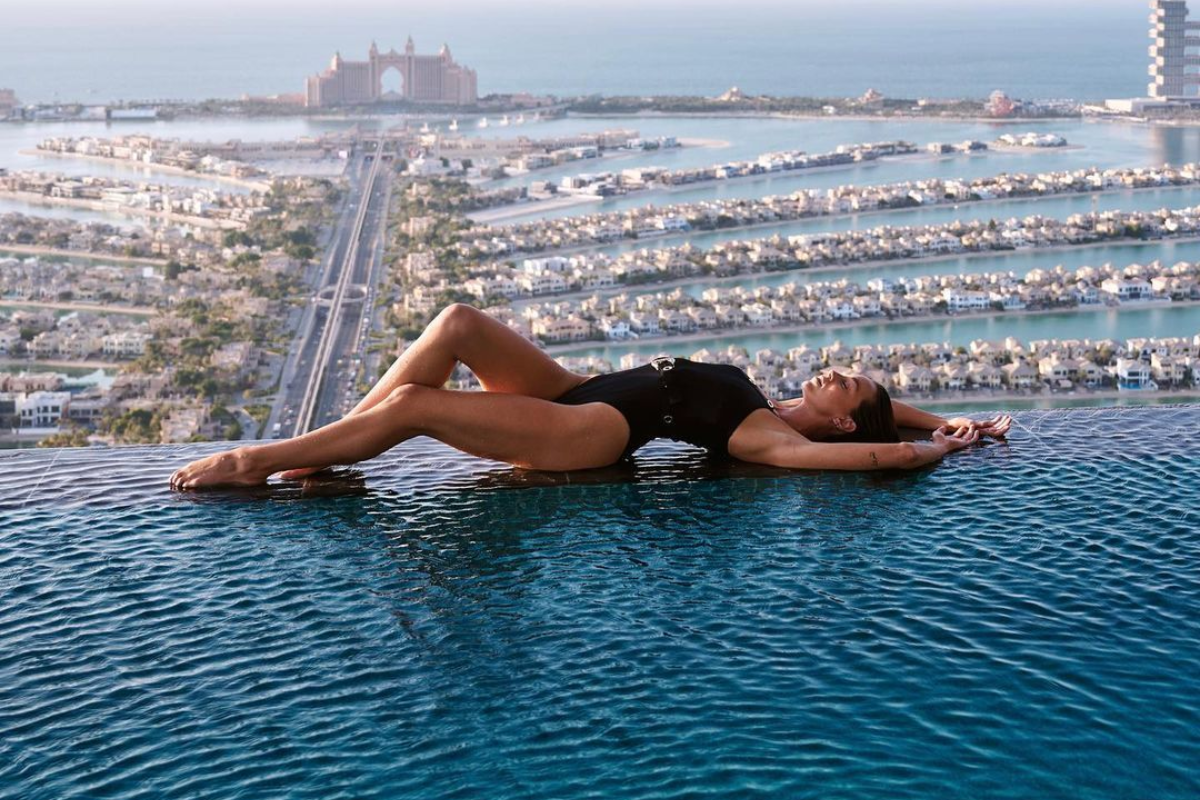 You'll find the AURA Sky Pool on the 50th floor of the Palm Tower which is located on Dubai's iconic manmade island – Palm Jumeirah. It provides incredible views of the city and an elegant and welcoming atmosphere, making it a standout stop on your trip to Dubai. Ever since it opened its doors in 2021, the AURA Sky pool has become a popular destination. The pool's 700 square meter deck is suspended 200 meters in the air, giving the impression that it is floating over the city, also making it the highest 360-degree infinity pool in the world. You can be sure that swimming in this infinity pool will be an experience you'll never forget!
The structure is divided into three zones that surround the common space. You can take advantage of various services and amenities, as well as unobstructed views of the Burj Al Arab, the Palm, Marina & Ain Dubai, and the city skyline, depending on the zone you select. A truly unmissable location to capture Dubai at its best, AURA is a one-of-a-kind experience that awakens all the senses.
What to expect
The Pool Deck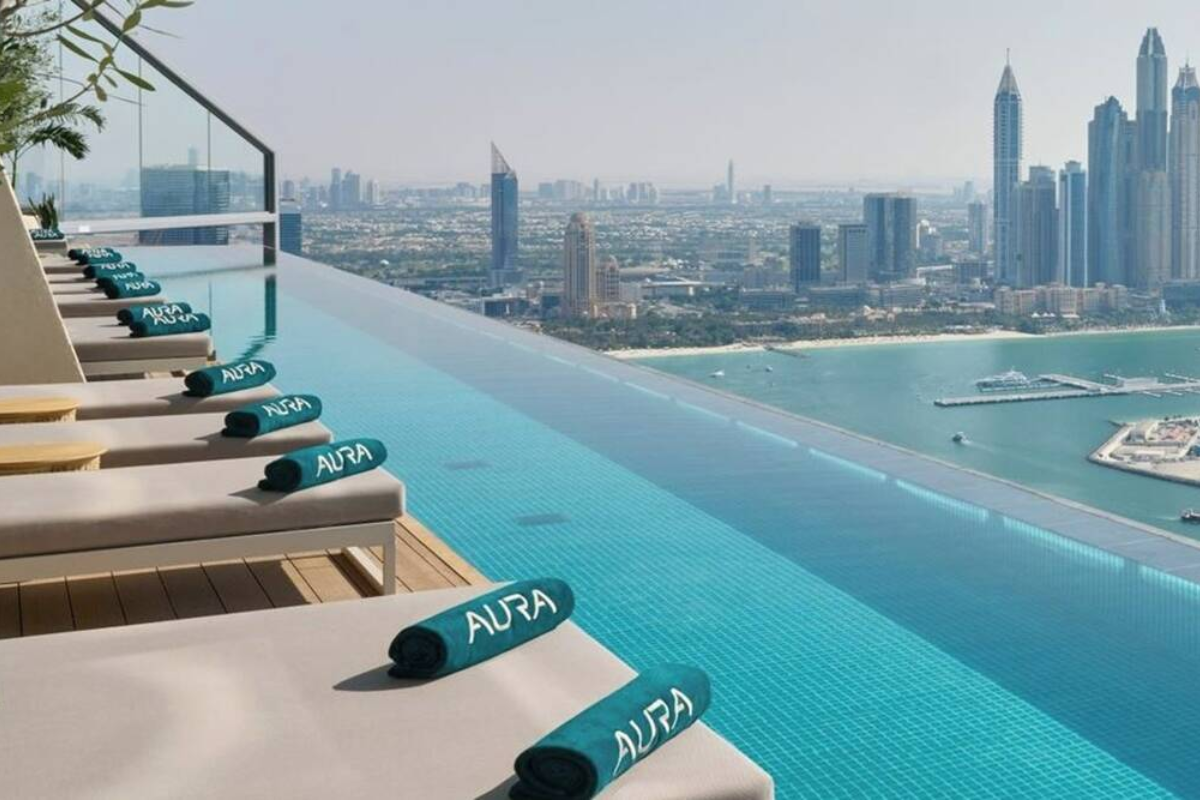 The AURA experience comes to life here. Dive into an uninterrupted 360° swimming experience. The deck is an elegant oasis fueled by a socially active atmosphere. It is enclosed by lush greenery, natural design elements, and high-end finishing. Custom-made single or double sunbeds provide the ideal place to unwind while taking in unobstructed panoramic views of Dubai's iconic landmarks such as the Palm Jumeirah, the Burj Al Arab, the Burj Khalifa, and more. Immerse yourself in a world-class experience unlike any other!
The Lounge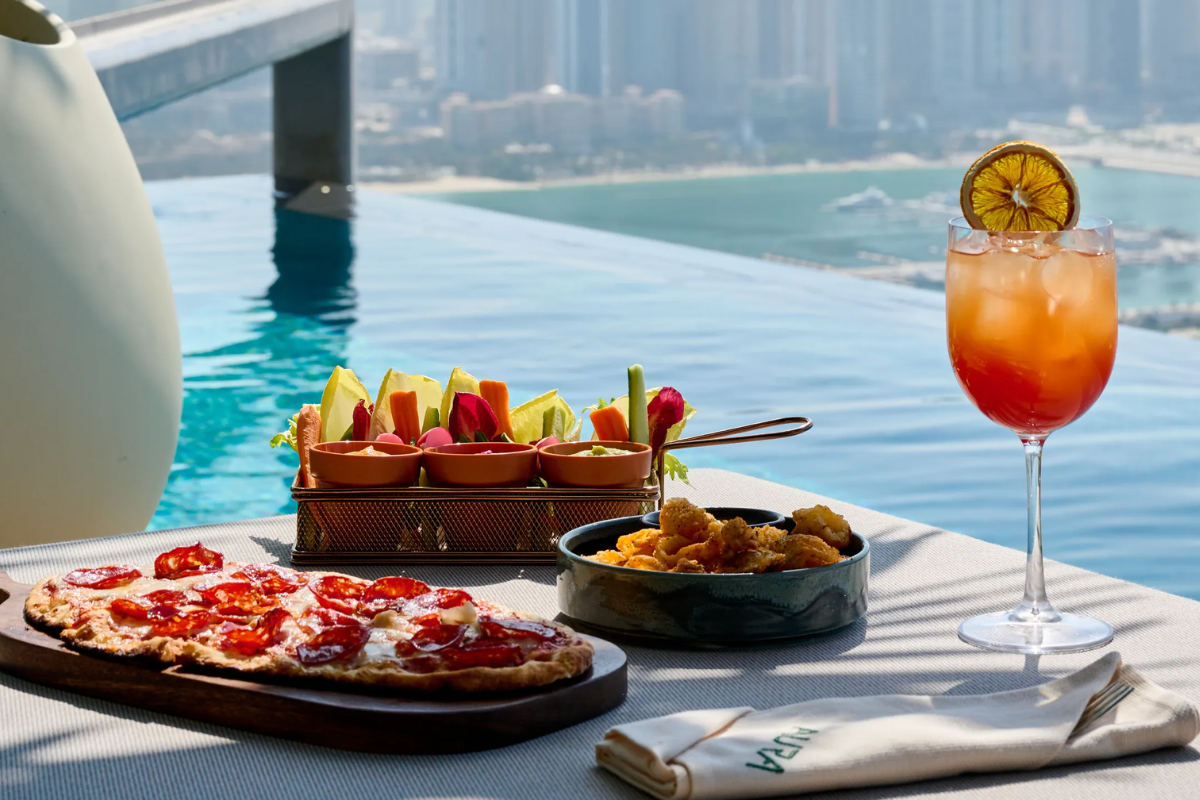 The lounge area of the AURA Sky pool includes a fantastic sun terrace with lounge chairs, cabanas, a bar that serves fantastic cocktails and snacks, and a restaurant. With luxurious sun loungers, pillows, spa towels, and more, the service is excellent. You will have access to the restrooms, showers, and other amenities you require. This experience of being at the poolside is delightful: you can lie in the shade, sip your cocktail, and take in the scenery before cooling off in the pool.
A few floors above the AURA Sky pool is another popular attraction, The View at The Palm which is the only viewing point in Dubai that gives visitors a spectacular view of the Palm Jumeirah, the Arabian Gulf, and the Dubai skyline, all at once.
Read more about - The View at the Palm
AURA in the Metaverse
AURA Sky pool Lounge, the world's highest 360° infinity pool, is also now available to everyone through a digital space created in the Metaverse. You can watch celebratory fireworks, experience the sunrise or sunset, take engaging wellness classes, and take amazing selfies with unrestricted panoramic views thanks to the move into the Metaverse curated by Rare City. Experience AURA in the metaverse!
Experiences
Whether you want to spend a few hours or the entire day at AURA Sky pool Lounge, you'll find an AURA experience package to suit your needs.
Pool Experiences
Rise with AURA
Visit AURA Sky pool Dubai every Thursday and Sunday for a leisurely swim followed by a gourmet breakfast in the indoor lounge. Glide your eyes across the city as the sun rises.
Price: From AED 200
Timings: Thursday and Sunday | 06:00 am – 09:00 am
Morning
Want to go swimming and unwind before work? Then choose a morning activity. You'll feel upbeat thanks to the 360-degree infinity pool's morning synergy and soft music. Even lunch can be enjoyed by the pool.
Price: From AED 250
Timings: 10:00 am – 02:00 pm
Afternoon
Imagine sipping your favorite cocktails while taking in the stunning infinity pool's sunset views over some of the most picturesque terrain the city has to offer. With the afternoon experience at AURA, you can encounter that and more.
Price: From AED 275
Timings: 03:00 pm – 07:00 pm
Evening
Every Tuesday, relax in the temperature-controlled pool at AURA. While listening to the resident DJ's tunes, take in the sparkling Dubai skyline.
Price: From AED 225
Timings: Tuesday | 08:00 pm – 11:00 pm
Full Day
It sounds like the perfect day to spend lounging by the pool while enjoying delectable food, refreshing drinks, and breathtaking views. This fantasy comes true if you purchase a full-day package at AURA Sky pool Lounge.
Price: From AED 525
Timings: 10:00 am – 07:00 pm
AURA Sky Pool Lounge Experiences
Morning Lunch and Afternoon
For a fine breakfast, lunch, or sundowner drink, visit the AURA Skypool Lounge. The lounge's modern decor and stunning city views are advantages.
Night Brunch
Looking for a brunch spot? Nothing compares to unlimited drinks, a pan-Asian inspired menu, and 360-degree views. Beginning March 3, 2023, the brunch will be available every Friday night.
Price: From AED 480
Timings: Friday | 08:00 pm – 11:00 pm
Wellness Experience
A hearty breakfast is served in the lounge each morning at AURA, along with exclusive yoga classes. As you breathe in and out to relax yourself, picture yourself in an environment filled with peace. Particularly for fans of yoga, it is a legendary location. The AURA Yogi Club offers unlimited yoga sessions, an AURA water bottle, an AURA yoga mat, two breakfast vouchers, as well as special discounted rates for one-time wellness classes and workshops over the course of a 30-day membership.
Introductory Price: AED1,800 per person
Timings: Monday, Wednesday, Friday, and Saturday 08:00 am – 09:00 am
Private Events

AURA is the ideal venue for a variety of private events. From birthday celebrations to product launches or weddings, they assist you in creating mesmerizing moments by combining opulent settings, privileged views, chef-crafted menus, and personalized service. Their skilled event team guarantees a once-in-a-lifetime trip through the air, creating custom itineraries to suit every occasion and outdo your expectations.
Dine at AURA
A menu that exudes classy, yet casual vibes has been specially created by head chef Craig Best. Some of the world's most famous cities served as the inspiration for the menu. Visitors can choose from a wide selection of international dishes and drinks that complement the AURA Sky Lounge's distinctive design. The menu offers Pan Asian cuisine including breakfast, lunch, and drinks which is what makes it among Dubai's best pool bars. A few of the items on their extensive menu include sushi, salads, and sliders. You might think about stopping by just for the food, which includes Satay chicken, Bok Choy, and Kung Pao. A variety of desserts are also available here.
Price: From AED 150
Location and timings
AURA Sky pool is located on Palm Jumeirah Island, on the 50th floor of the Palm Tower, just above the Nakheel Mall. It is just a couple of minutes away from Palm Jumeirah and is located 5-7 minutes away from Sheikh Zayed Road and 35 minutes away from Dubai International Airport.
The AURA Sky Pool timings are – Mon – Wed 10:00 am – 07:00 pm, Thru and Sun 06:00 am – 07:00 pm and Fri-Sat 10:00 am – 11:00 pm
How to reach AURA Sky pool
The easiest way to reach the Palm Tower through public transportation is by using the Palm Monorail. While the Palm Monorail is not directly connected to the metro, the Dubai Tram can connect you to the monorail via the Jumeirah Lakes Towers or Dubai Marina tram stations. You can also get down at Dubai Internet City Metro Station or Nakheel Metro Station which are the closest to Jumeriah. From there you can take a tram towards Gateway Station. There are no direct bus routes available to reach the Palm Tower. You can also reach there by a self-drive car, taxi, or Uber. Tourists can get on the hop-on-hop-off bus tours to explore this iconic district of Dubai.
Some popular reviews of AURA Sky Pool
Also Read: