One of Dubai's most picturesque leisure activities is visiting a rooftop lounge. Visit a night party or sip a martini on a rooftop lounge bar. Or enjoy a great dinner with good company after a long work day. Here is a list of some of Dubai's most favoured rooftop lounges.

Mott 32
Mott 32 is a restaurant established on the 73rd floor of Beach Resort in Jumeirah Beach Residency. A branch of a Chinese restaurant in New York that has been working since 1891. Mott 32 celebrates Chinese and Hong Kong cultures through its exquisite dishes.
Even before the food arrives, you'll understand how special Mott 32 is in Dubai. Guests can choose to either be seated indoors or on a lofty terrace. The layout of the balcony dining area, with neatly set tables next to the panoramic view of the shining night city.
Chinese lanterns illuminate all. The decor, a mix of traditional east Asian and modern minimalist, is also reflected in their cuisine.  
Location: Al Mamsha St, Dubai Marina, Dubai, United Arab Emirates
Opening hours: 7 Pm - 1 Am (Daily)

Mercury Lounge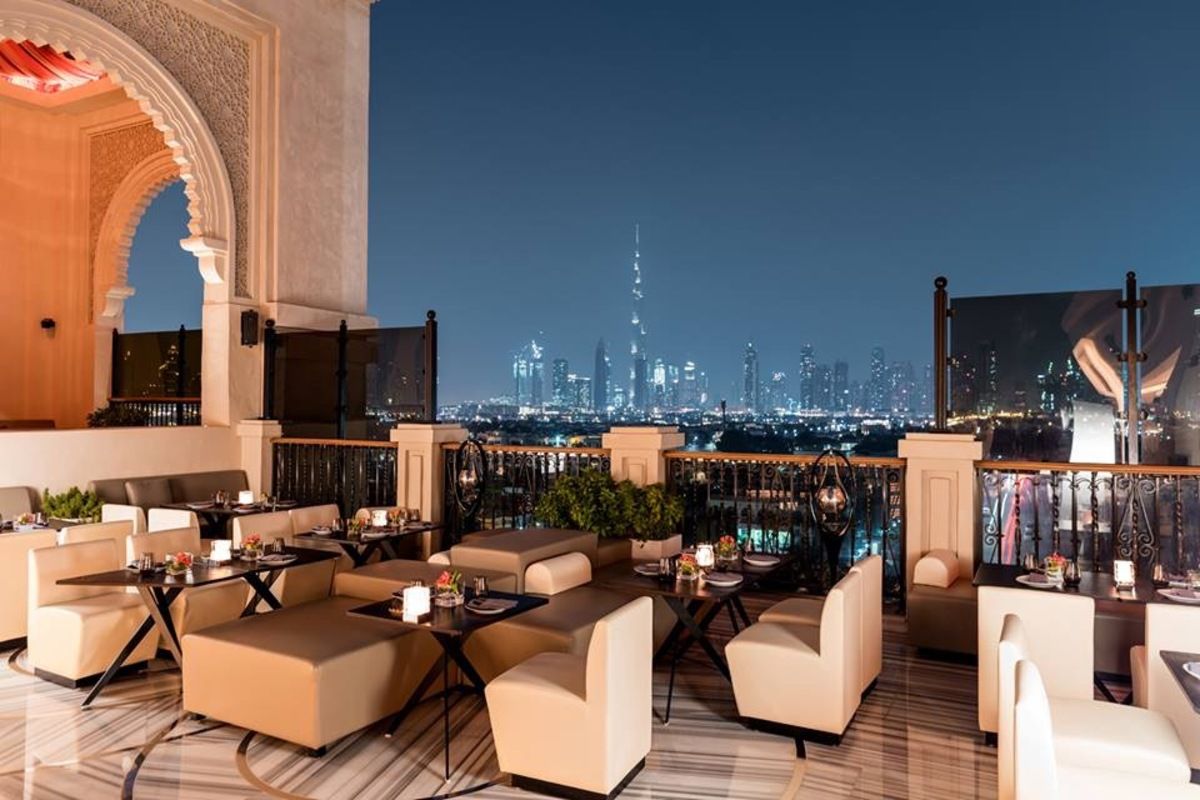 Mercury lounge is as whimsical as it sounds. Located on top of the  Four Seasons five-star resort in Jumeirah. This charming Italian restaurant offers breathtaking views of the Gulf country.
Offers dishes that are both classic and traditional. The combination does justice to the essence of the Italian dishes, but unlike a conventional menu, Mercury provides a modern trust curated by their best cooks.
Location: Four Seasons Resort Dubai at Jumeirah Beach, Jumeirah Beach Road, Jumeirah
Opening hours: 6 Pm to 3 Am (Daily)

Folly
The folly restaurant is beyond any other you have ever dinned at. Folly begins with a unique entrance with secret tunnels and a narrow staircase into the restaurant. Everything about Folly shows an m modern and relaxed look to everything from the decor to the food menu. The restaurant is massive.
The indoor dining area includes a kitchen bar, with eight seats overlooking the kitchen for curious diners to take a peek at the cooking process. At the same time, the more nice diners can even strike up a conversation with the cooks while preparing every comforting dish.
On the floor on top of the main restaurant, you will be led to the rooftop with views of Burj Al Arab and Arabian Gulf. There you can take your time, gaze at the view as you casually sip from your drink and snack on a side dish of your choosing. The rooftop hours start daily from 3 pm. Come early to take advantage of the captivating sunset.
Location: Unit 27, Souk Madinat Jumeriah - Dubai
Opening hours: Sunday - Saturday, 1 pm to 12 am.  Monday - Friday, 5 pm to 12 am
Atelier M
Atelier M is an elegant restaurant with an interior that blends in with the nighttime hours of the city. Atelier M is made for glamour and ultimate luxury. Bold and stylish, the rooftop Atelier M is on the top floor of pier 7. Skyline and lagoon. The glamorous Atelier M is designed to accommodate.
Location: Marina Mall - Floor 7/7M, Pier 7, next to - Dubai
Opening hours: the restaurant is open 6 pm - 12 am—rooftop hours: 5 pm - 2 am, Monday, Wednesday, Thursday, and Sunday.
Tomo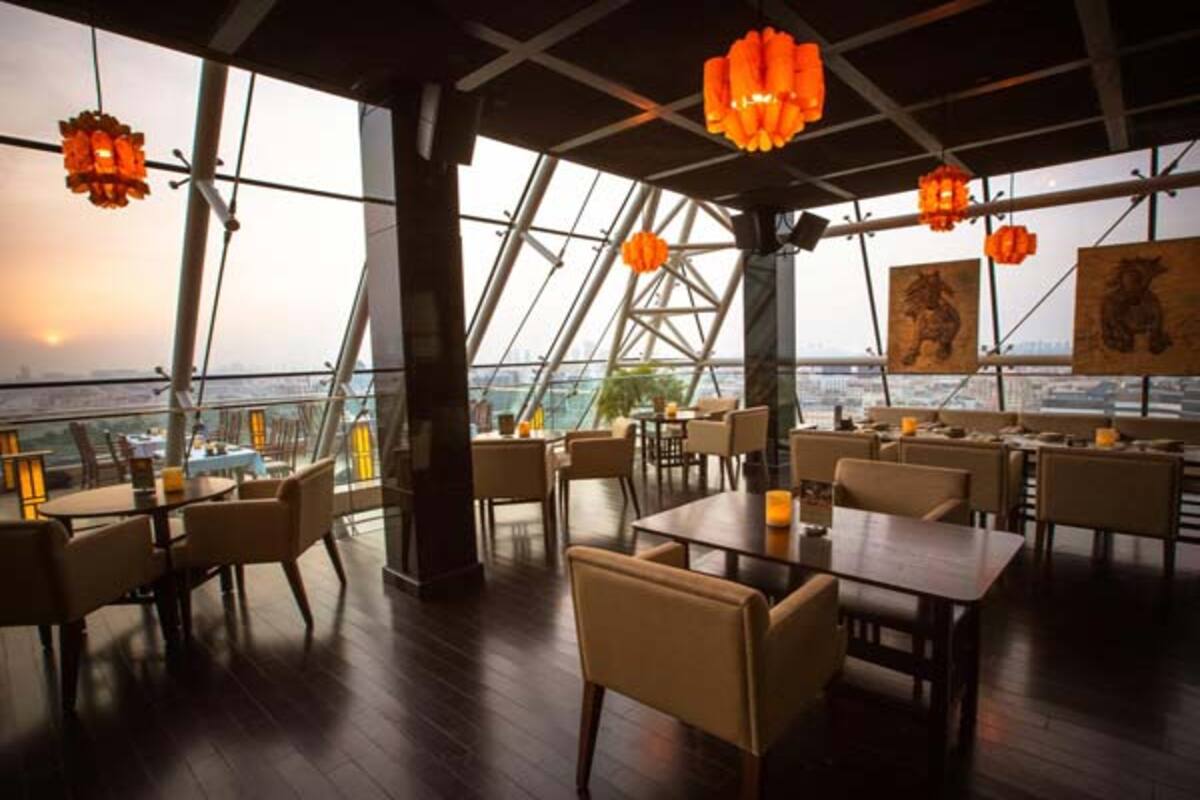 Tomo is an innovative Japanese restaurant named after the phrase long-time friend. The restaurant has grown in appreciation by the residents of Dubai. Winning the 2013 Best Newcomer award, this Modern restaurant has a lot to offer.
After being seated on a rooftop with a view of the Burj Khalifa, experiment with your menu choices, and order an appetiser of sliced cuttlefish with fermented soybeans and pickled squid. Follow it with a main course of wagyu sukiyaki, cooked tableside with soy sauce, followed by Japanese fried chicken.
Aside from dining at TOMO for the well-made Japanese dishes, this restaurant, with a rooftop section, is perfect for quiet night diners with a loved one or as an impressive business consultation dining experience.
Location: Exit 56, Umm Hurair 2, Raffles Hotel, Dubai
Opening hours: 12:30 - 2:45, 6:30 - 1:30 daily
CE LA VI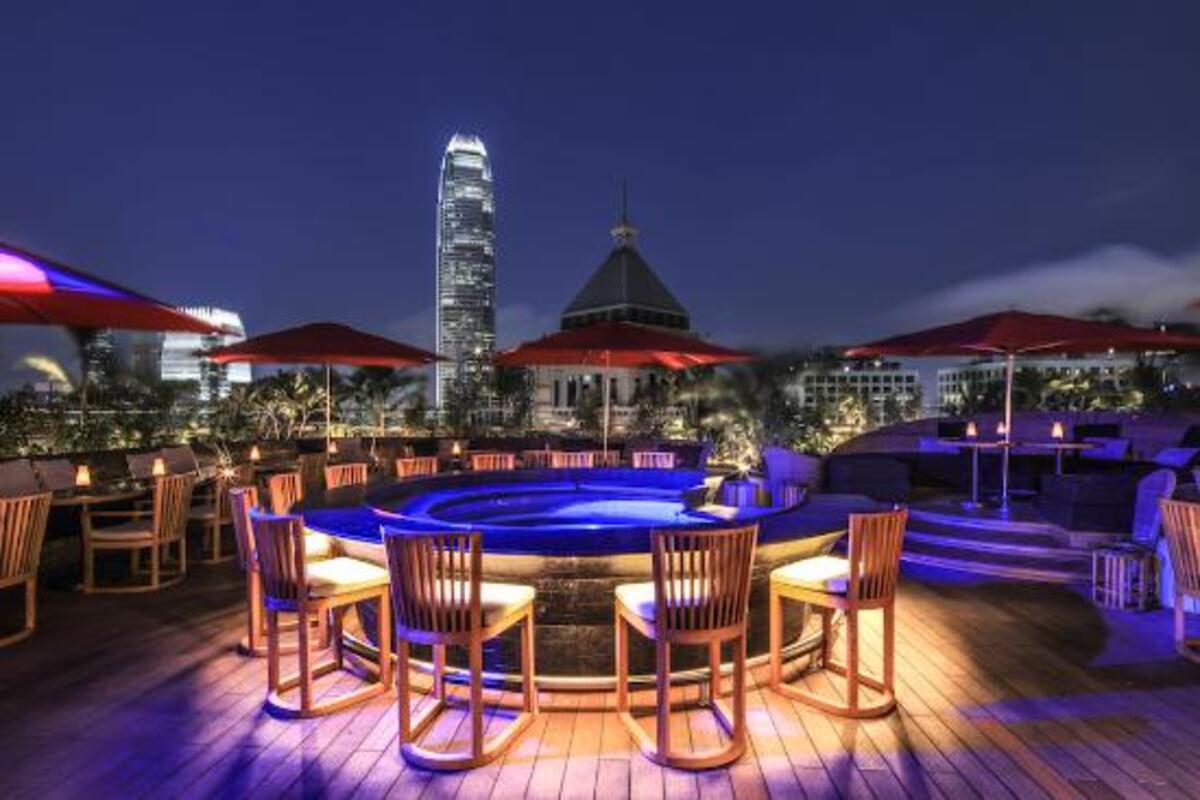 CE LA VI's rooftop lounge takes the form of a Skybar. With flooring that resembles street tiles giving a feeling of floating on top of pedestrians below. There is an elegant but also casual ambience around the place. Enjoy the three coursed meal made by a talented team, with a view of the metropolitan city that never sleeps.

Location: Level 54, Address Sky View Hotel, Sheikh Mohammed bin Rashid Blvd, Tower 2, Dubai
Opening hours :  (Lunch hour) 12 pm to 4 pm - (Dinner hour) 6 pm to 12:30 pm

Wane by Somiya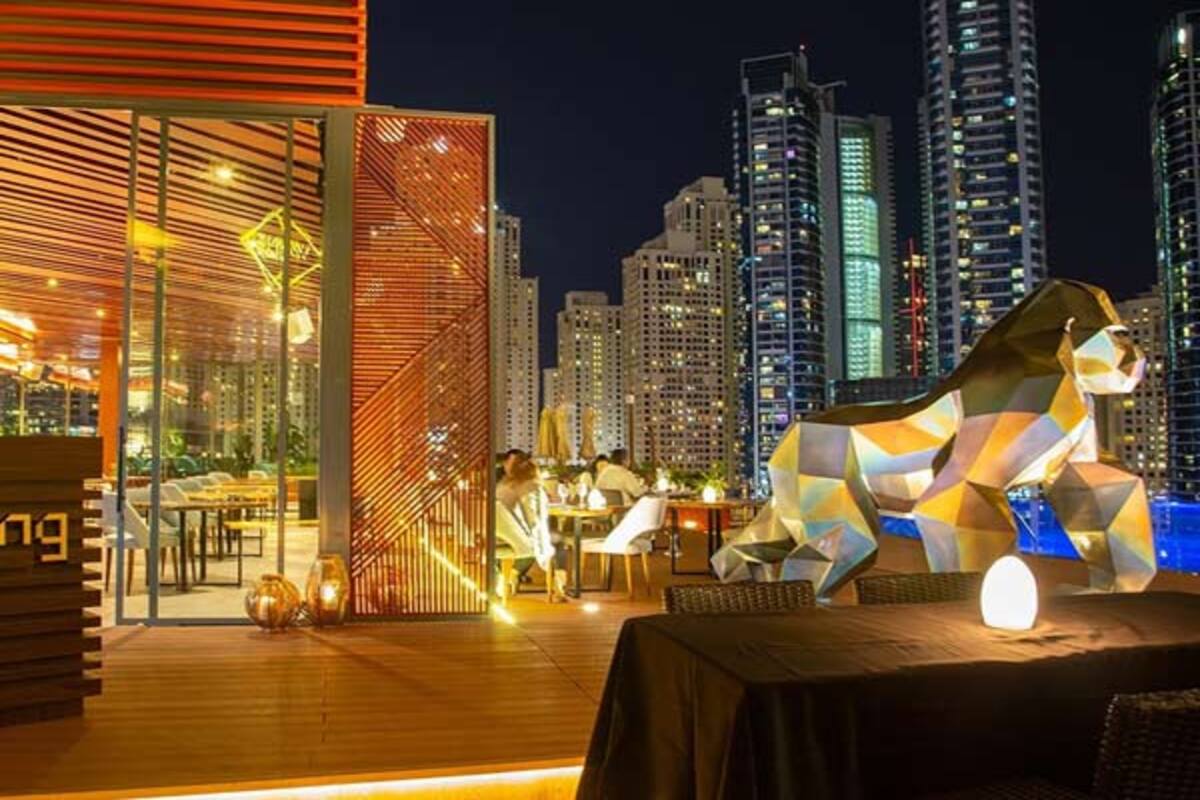 Wane by Somiya is a pool club and lounge that offers a relaxed European summer style. Through the pool, the lounge overlooks the beautiful views of the Marina skyline. There you can take a dip in the 45-metre infinity pool.
In hot weather, day tries its refreshing drinks along with a high Mediterranean and Asian cuisine. All these services are often accompanied by displays of modern art and live music. The vibrancy of Wane by Somiya is contagious, so make sure to bring someone to share the fun.
Location: Dubai Marina - Dubai
Opening hours: 8 Am - 4 Am

Luna
Designed by the well-known luxury interior designer Tihamy Design. The rooftop lounge is designed to take in the most captivating views and an extensive Asian cuisine menu. Luna is a lovely place to celebrate a special event or lay down and gaze at the lovely rooftop lounge views that are always captivating.
Location: Building 9, Gate Village, Building 3 - Four Seasons Hotel - 8th floor, DIFC, Dubai, United Arab Emirates
Opening hours: 5 Pm to 3 Am
Zeta Seventy Seven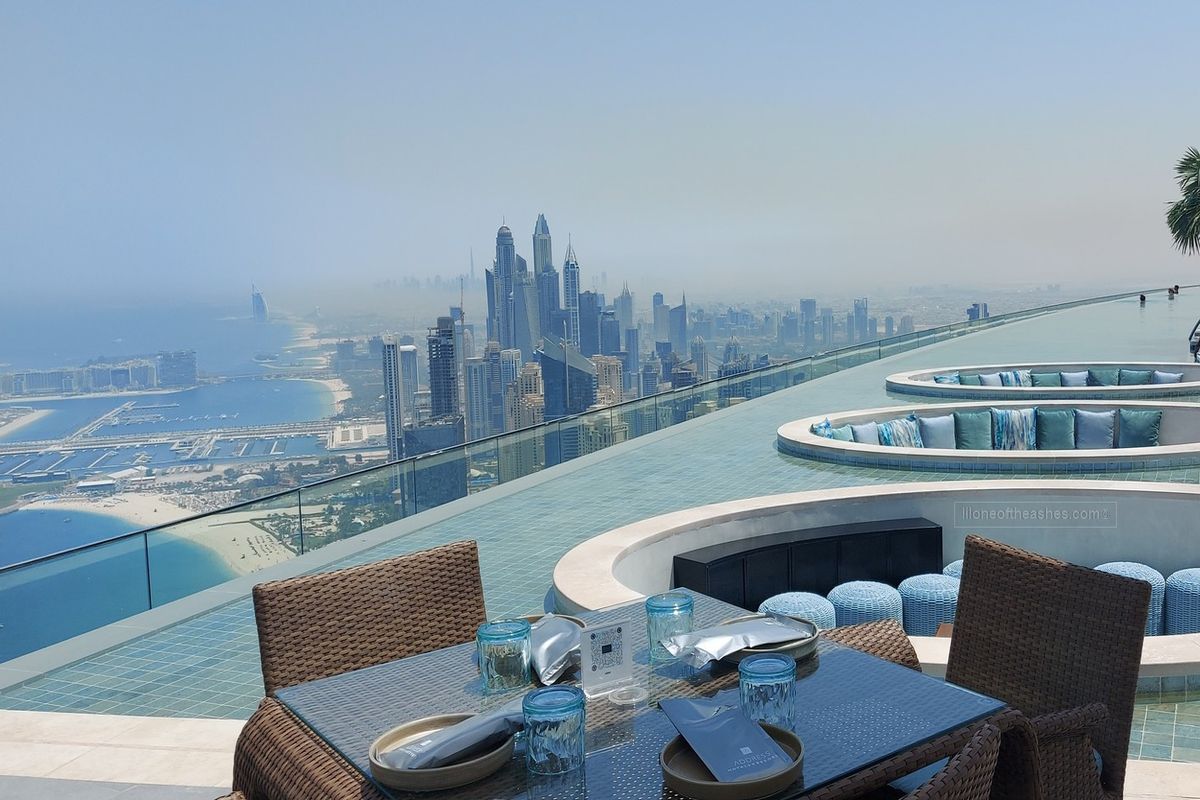 Located in the outdoor oasis on level 77 of the Ultimate Beach Address. ZETA's Seventy-Seven Asian fusion menu includes hybrid recipes inspired by traditional Asian cuisine.
You can enjoy the panoramic view of the rooftop lounge or the infinity pool. Enjoy dining at the open terrace for fresh air in good weather, or stay indoors in the elegant main dining area.
There are weekly packages and offers, so make sure to ask before placing your menu order. Despite the elegance of Zeta Seventy-Seven, the ambience is calm and casual, so you can enjoy a planned hangout with your friends without looking out of place or underdressed.
Make sure to pre-book through a phone call at 04 879 8866 or email: DineAtBeachResort@addresshotels.com.
Location: Gate Village Building 9, Dubai, United Arab Emirates
Opening hours: 12 Pm - 2 Am, 6 Pm - 11:30 Pm (daily)

Cielo Sky Lounge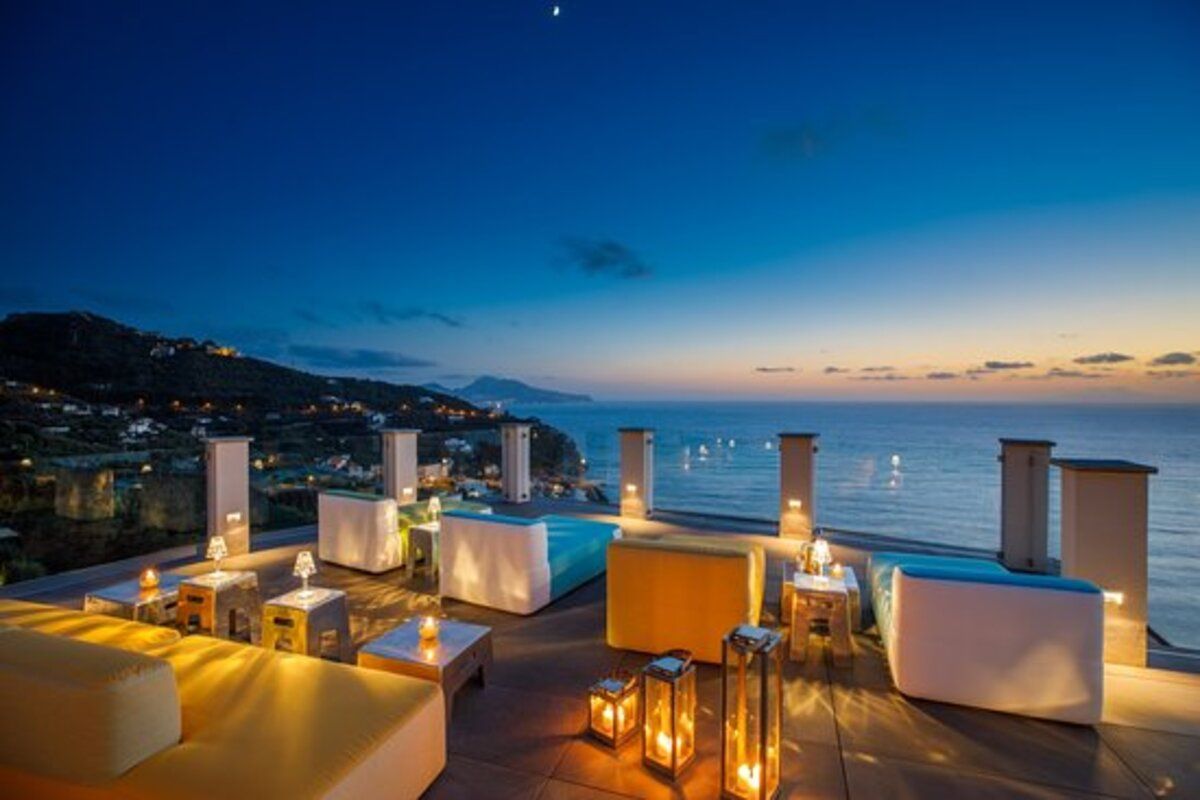 Cielo Sky Lounge is a rooftop bar located n Dubai Creek Yacht Club. The lounge is shaped like a boat and spacious enough to hold a vibrant party. You can enjoy creative cocktail drinks, listen to live DJ music and let loose after a long day of work.
Cielo Sky Lounge is designed to have fun and meet new people in a casual setting. You can get a panoramic view of the city from all angles to enjoy and contemplate the scenic vistas.
Location: The Dubai Creek Golf & Yacht Club, Next To The Park Hyatt - Dubai - United Arab Emirates
Opening hours:  5:30 Pm - 2:00 Am

AURA Skypool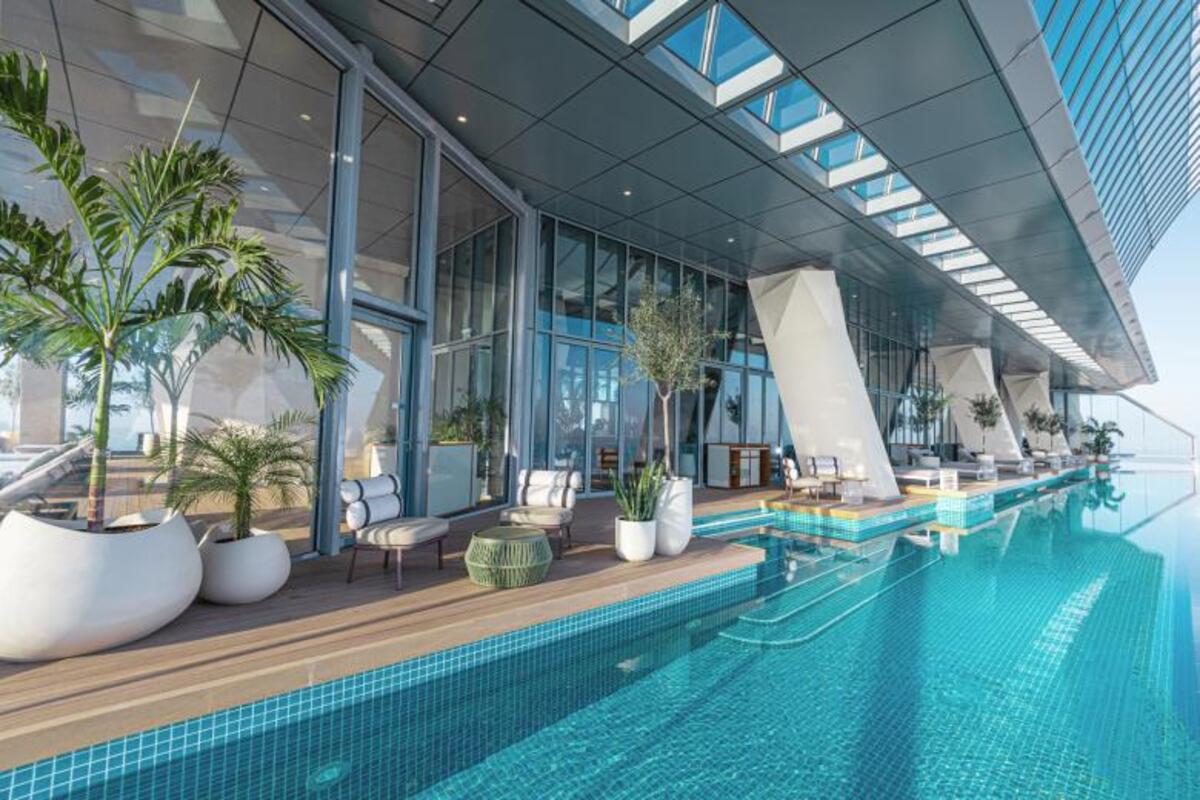 AURA Skypool lounge is home to the highest 360 infinity pool. Providing views of iconic landmarks in Dubai. Some of which are Palm Jumeirah, Dubai Skyline, Burj Al Arab and the vast land of the Arabain Gulf. The lounge in AURA Skypool is admired for its hybrid blends of the sky's natural elements and lush greenery framed with a minimalist and modern decore of the seating areas. The lounge brings the sensation of floating in mid-air above the vibrant city—a great place for creating good memories and enjoying a calm and relaxing time to unwind and recharge.
Aside from casual visits, the AURA Skypool is designed to accommodate private celebrations or corporate events. From private birthday parties to anniversary diner or bride showers, AURA Skypool can tailor each experience to their customers, all of which will exceed your expectations. When it comes to food and drinks, the menu of AURA Skylounge is inspired by dishes from Asian cities. The book is through their official website.  https://auraskypool.com/
Location: St. Regis Hotel, The Palm Tower, 50th floor Palm Jumeirah, Dubai, United Arab Emirate
Opening hours: Sunday, 6 Am - 7 Pm. Monday to Saturday, 10 Am - 7 Pm
Mi Amie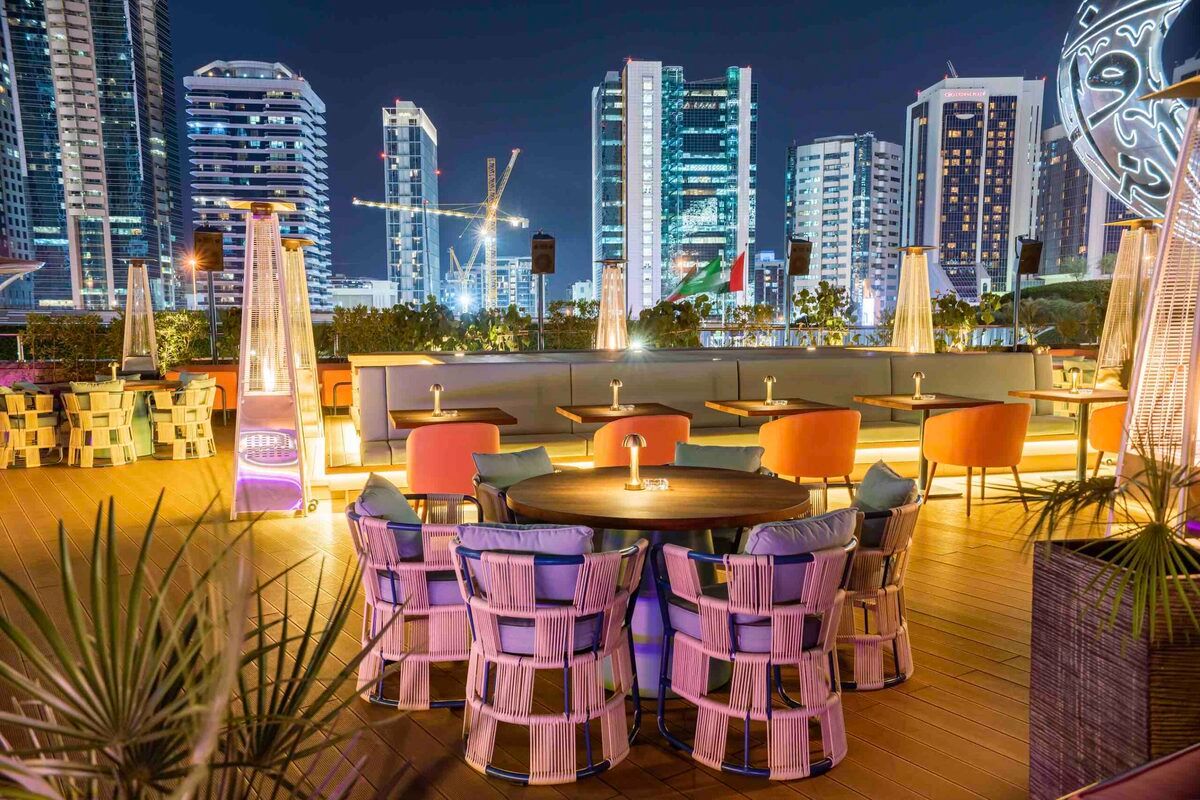 The magic appears after sunset when the city is brought back to light through its glimmering skyscrapers and the mesmerising view of the museum of the future.  Mi Amie is at the peak of elegance and sophistication. The dress wear must be between elegant and formal.
Mi Amie has a chaotic element, clasping lights and close to many magnificent buildings, giving it an otherworldly effect. Be aware of their age policy, as ages below 21 are not allowed in the lounge. Their bar offers an array of cocktails and refreshing drinks. Listen to the hottest DJ tracks that play in the evening up until the crack of dawn.

Location: Level 1, Jumeirah Emirates Towers Hotel, Trade Centre, Trade Centre 2, Dubai, Emirate Arab Emirates
Opening hours:  Monday - Sunday: 5 pm - 2 am
READ MORE