Dubai is a city that is filled with thrill and adventure everywhere you go. Whether its family fun or hair-raising thrills you're looking for, Dubai's theme parks has a ride for you. Each ride is worth the experience, even though some transport you through the air at insane speeds, while others drop you from the highest points or make you queasy with their many twists and turns. Scream at the top of your lungs for a heart-pounding experience unlike any other as you feel your stomach drop and your blood pump through your veins while you are strapped into your seat and the vehicle hurdles through epic turns.
Experience epic twists, turns, spins and loops at Dubai's famous theme parks. Here are the 10 best roller coasters in Dubai.
1. The Velociraptor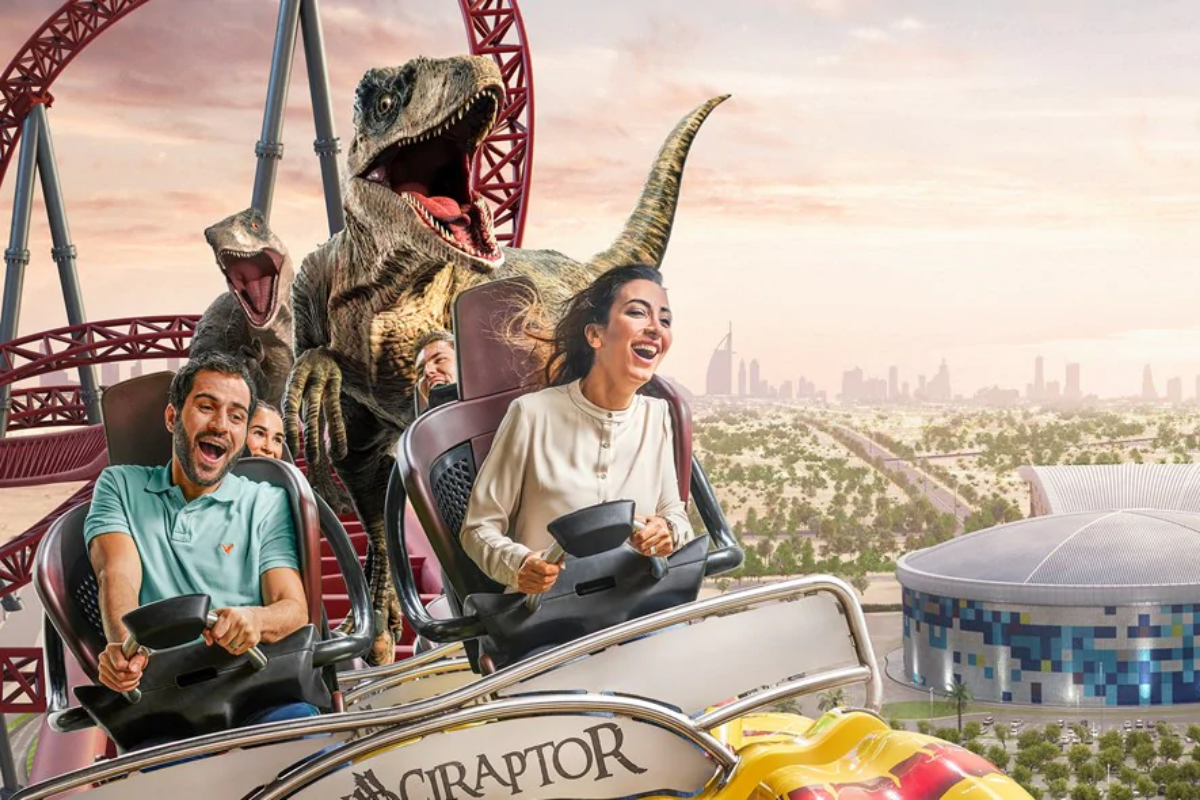 In the enigmatic Lost valley zone at IMG Worlds of Adventure, you'll find the Velociraptor, Dubai's tallest and fastest rollercoaster. Blast past Before turning into the Dubai desert and safely pulling back into the docking station, fly past dinosaurs and prehistoric foliage. This ride has more than a kilometer of heart-pounding drops and whiplash-quick turns, reaching 100 km/h in only 2.5 seconds! The roller coaster is 3465 feet long and 105 feet tall, with a warped horseshoe that moves, dives, and dips at high speeds. IMG Worlds of Adventure is the world's largest indoor theme park that is spread across 1.5 million square feet. There are 4 adventure zones and 22 rides, so it is the perfect place for you to unlock your imagination and have fun like never before.
Location: IMG Worlds of Adventure, Sheikh Mohammed Bin Zayed Road
Minimum Height: 130cm
Fear Factor: 4/5
2. Spider Man Doc Ock's Revenge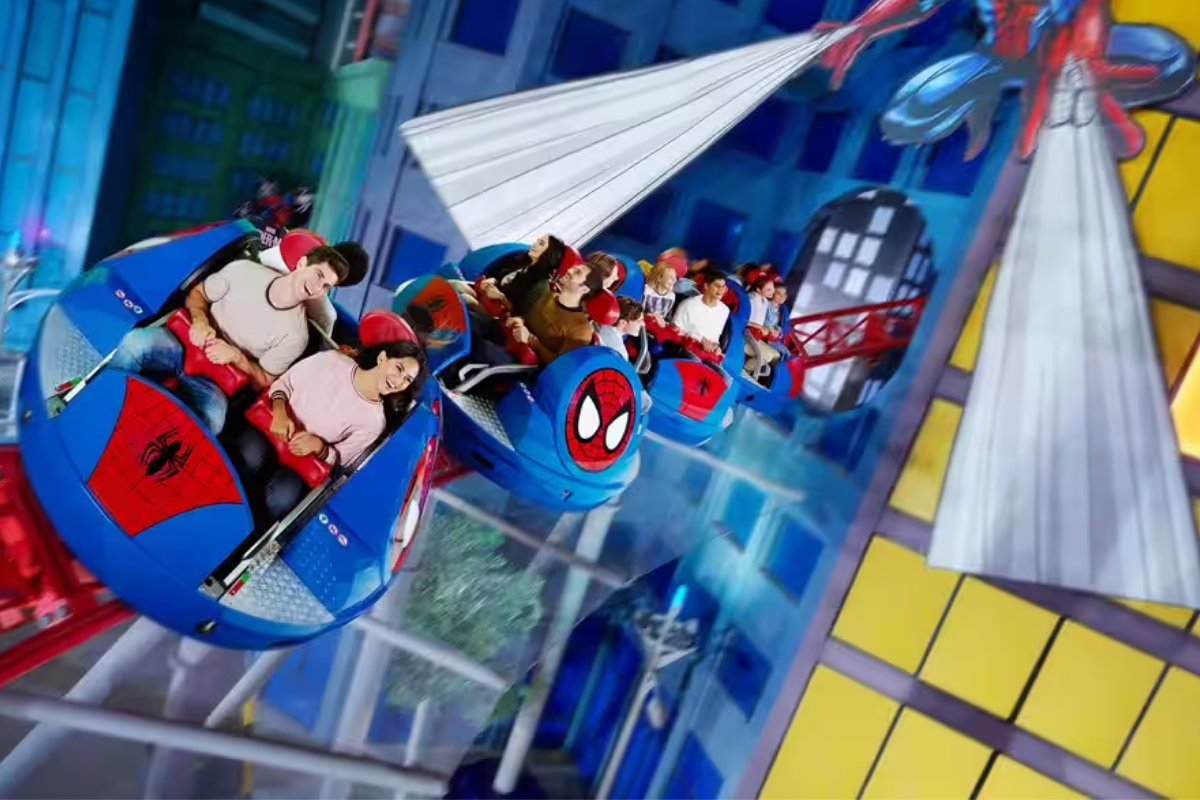 Are you a fan of Spider-Man? Then you must not miss this thrilling ride at IMG Worlds of Adventure. This frantic rollercoaster, inspired by the successful Marvel superhero film franchise, will literally twist you in your seat. The dizzying ride whisks you across the famous New York City skyline as you join Spider-Man in his superhero pursuit of the evil Doctor Octopus and help stop him from stealing the city's energy supply. Prepare to be swept off your feet as the ride spins and turns over a 400 m-long track, providing plenty of thrills. This is one of Dubai's electrifying roller coaster rides. IMG has many cartoon and Marvel themed rides and attractions which is why it is the favorite destination of every kid.
Location: IMG Worlds of Adventure, Sheikh Mohammed Bin Zayed Road
Minimum Height: 1.20m or 1.05m if accompanied
Fear Factor: 4/5
3. Capitol Bullet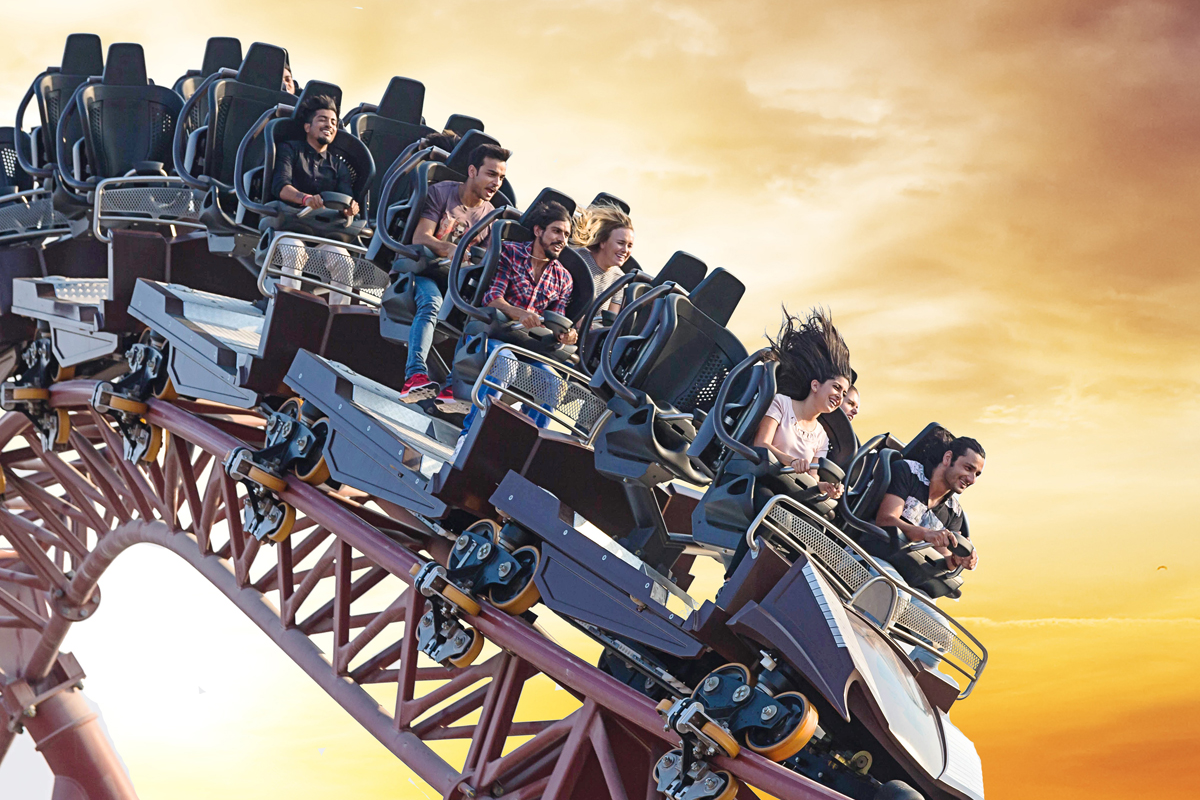 Plunge into the world of Panem from the mega-hit film The Hunger Games by taking the high-speed, gravity-defying Capitol Bullet Train. This brand-new, futuristic half-pipe rollercoaster, which was inspired by Katniss's journey, will transport you on a heart-stopping, adrenaline-inducing ride. As you make your way through the Districts to the intimidating Capitol, prepare for plenty of turns and twists. This thrilling cinematic ride can be found at Motion Gate which is Dubai's first ever Hollywood inspired theme park. This park has 27 Hollywood themed rides allowing you to get a sneak peek at how films come to life and make unforgettable memories along the way.
Location: Motion Gate, Dubai Park and Resort, Sheikh Zayed Road
Minimum Height: 130cm
Fear Factor: 3/5
4. Now You See Me: High Roller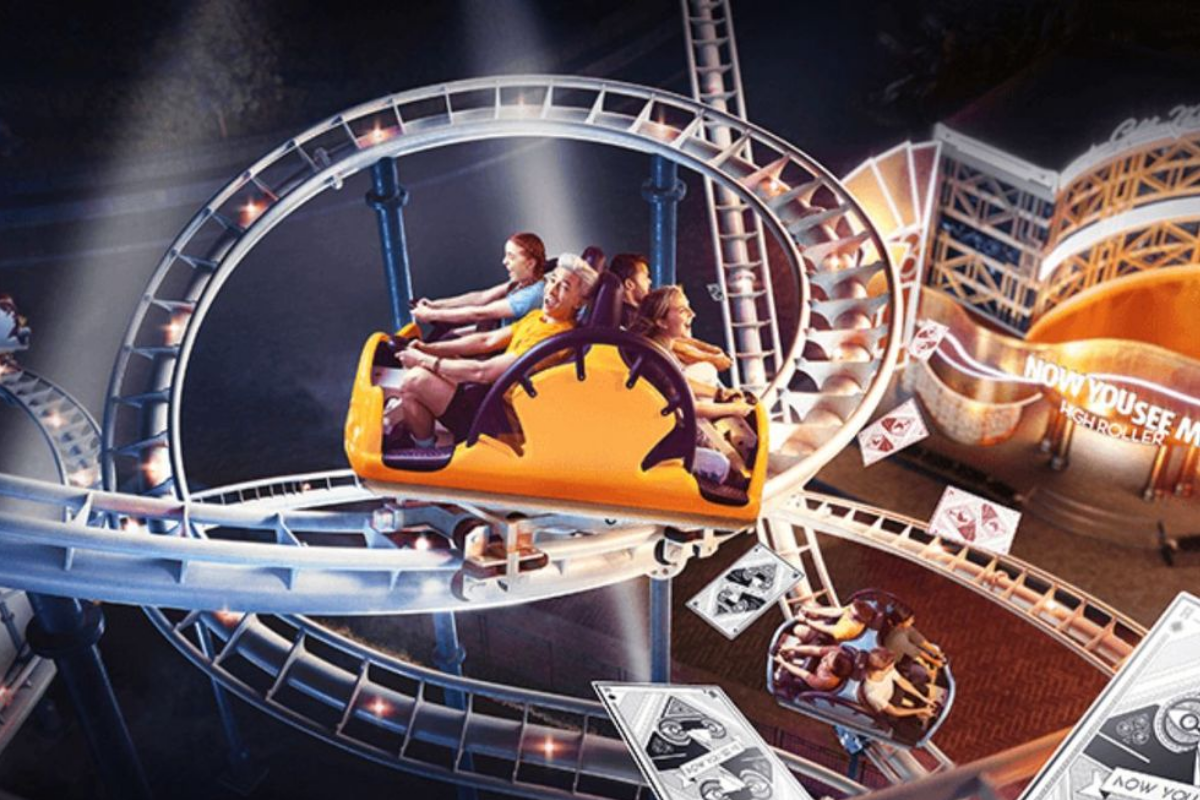 For those looking to test their limits, this world-record-breaking ride is a must. It captures the turns and twists of the "Now You See Me" film series. The movie follows four magicians as they pull off a creative heist, and if you make it through this thrilling ride, you'll feel like you deserve a prize too. This ride is the fastest single-car spinning rollercoaster in the world, has a seven-story drop, reaches speeds of up to 70 km/h over a 500-meter track, and has unbelievable twists, half loops, obscenely terrifying turns, and non-inverted loops. If you are a fan of the 'Now You See Me' movie and love scarily fun rides, then you cannot miss this ride at Motion Gate Dubai.
Location: Motion Gate, Dubai Park and Resort, Sheikh Zayed Road
Minimum Height: 120cm
Fear Factor: 4/5
5. Madagascar Mad Pursuit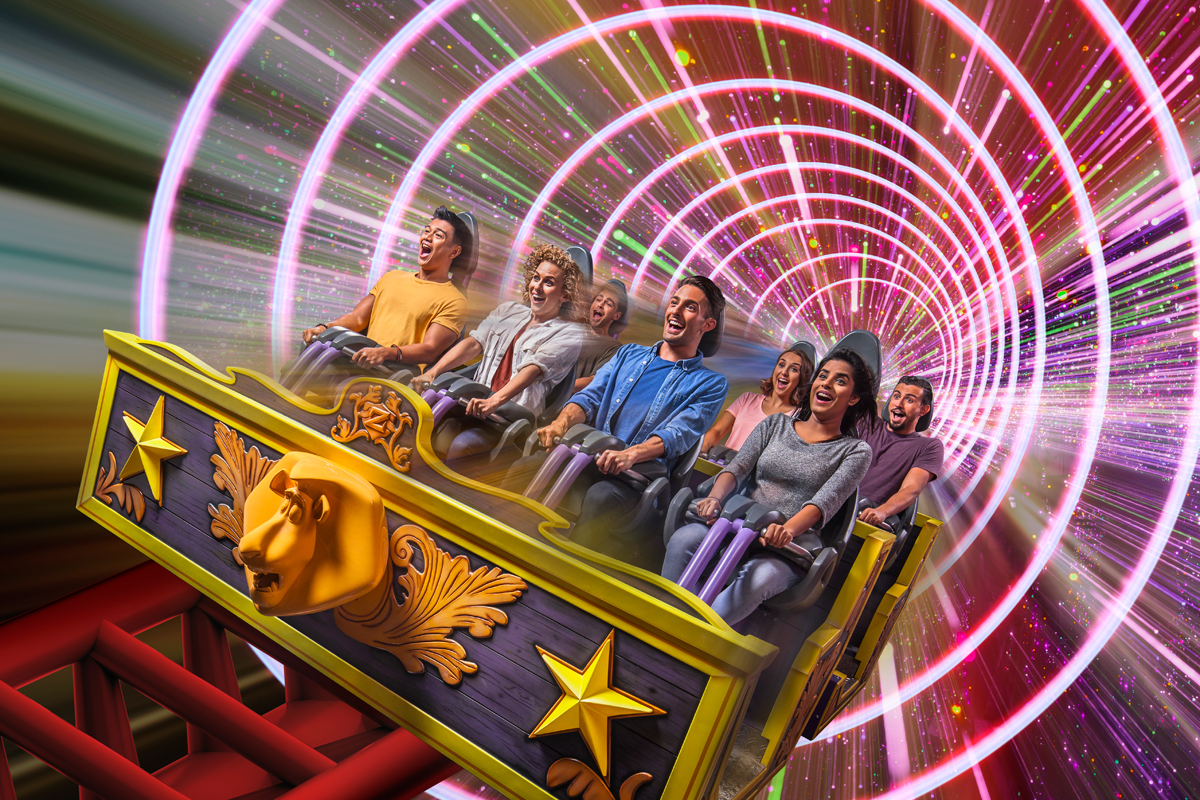 The Madagascar Mad Pursuit, which is based on the third film in the Madagascar series, is for those who like to move it!  This rollercoaster is unquestionably the craziest and fastest one to ride. You'll recognize all your favorite characters, including Marty the zebra, Melman the giraffe, and the valiant lion Alex, as the ride is based on the well-known DreamWorks series. You'll gain speed as you twist and turn to avoid Caption DuBois's clutches, who is determined to capture the 'Zoosters,' but maybe the biggest surprise is that it all takes place in the dark!
Location: Motion Gate, Dubai Park and Resort, Sheikh Zayed Road
Minimum Height: 120cm
Fear Factor: 3/5
6. John Wick: Open Contract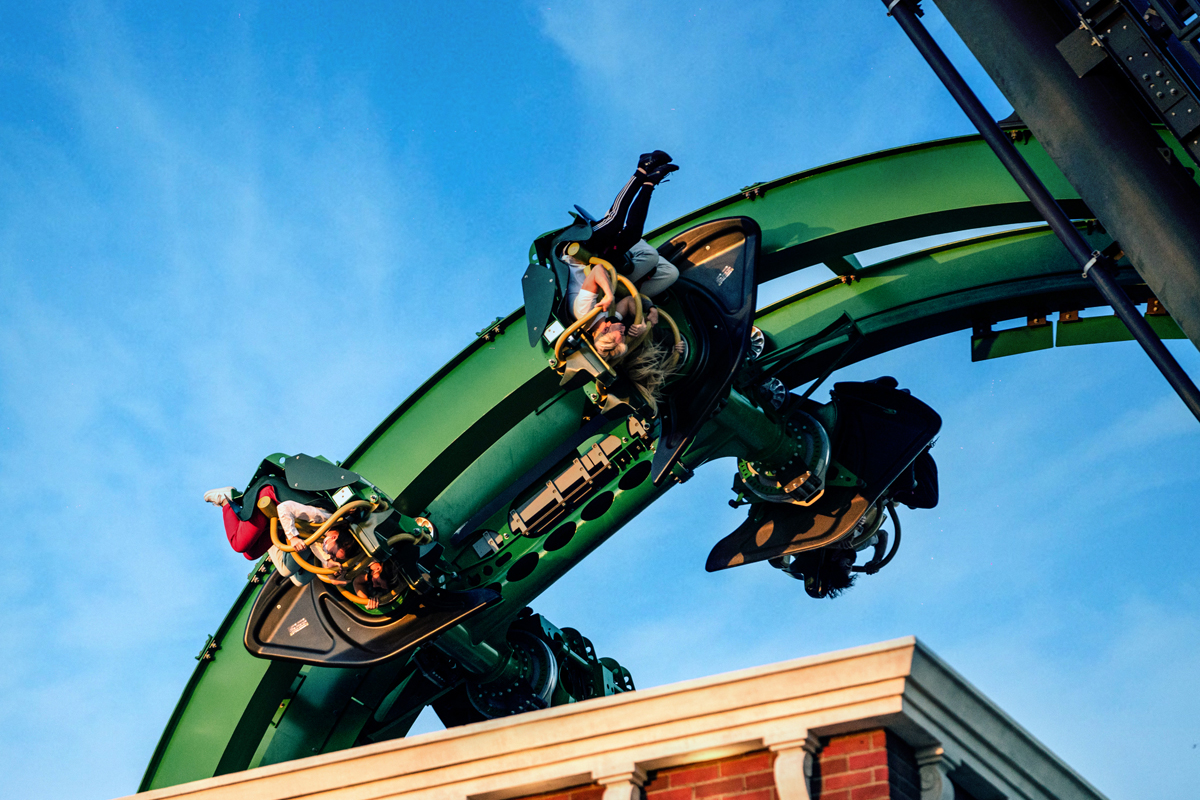 John Wick: Open Contract, as the name suggests, is a 4D roller coaster based on the John Wick film franchise. This 10-story ride, which opened in 2022, is as intense and action-packed as the film it was inspired by. It spins around the 310 m track at an unbelievable speed of up to 2.8 Gs! The roller coaster will travel through a mock-up version of the Continental hotel, providing a glimpse into the John Wick movie paraphernalia. This roller coaster is also known as the "world's fastest single car spinning roller coaster." So, buckle up and prepare for the rush.
Location: Motion Gate, Dubai Park and Resort, Sheikh Zayed Road
Minimum Height: 125cm
Fear Factor: 4.5/5
7. The Predator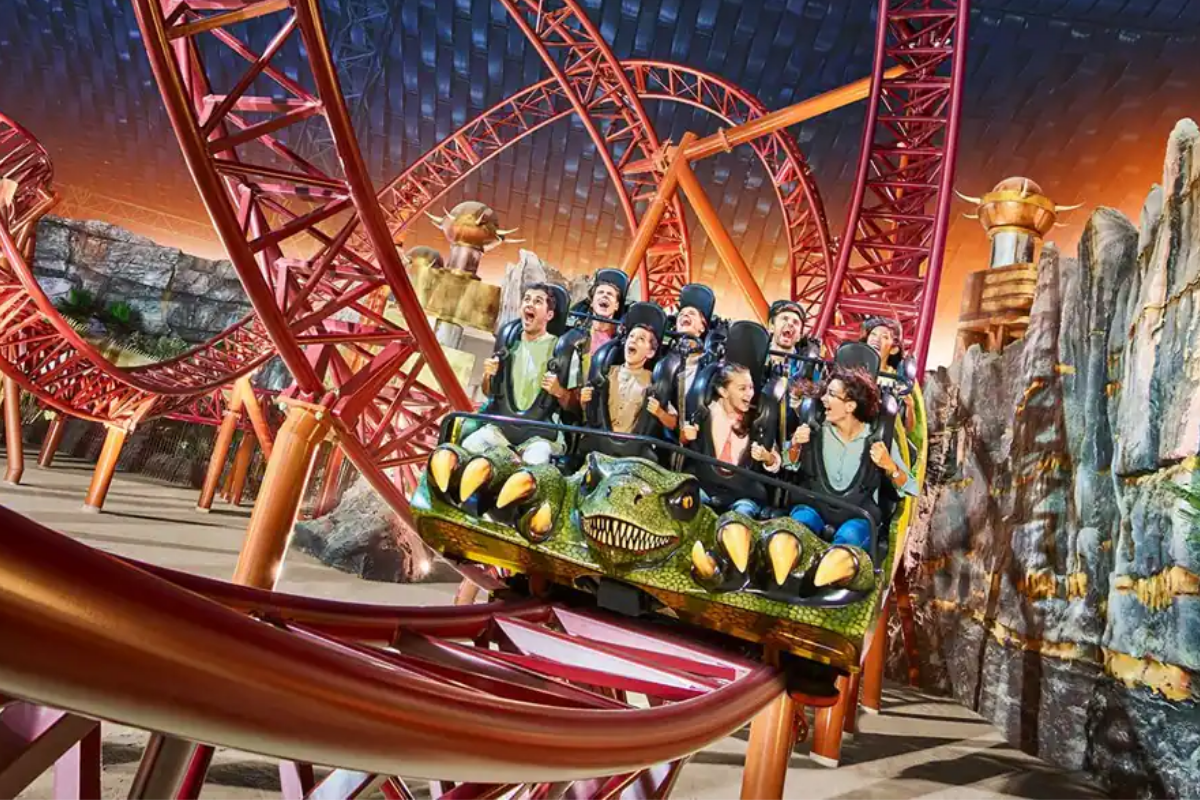 This indoor ride in IMG Worlds of Adventure is themed around a journey to the lost land of the dinosaurs, and it features a huge drop at a 90-degree angle to increase the fear factor. The biggest thrill here, unlike many other rollercoasters, is at the beginning, so the adrenaline rush begins right away with plenty of loops and rolls to take your breath away. This exciting ride can be found at IMG's Lost Valley zone which is a zone that is filled with dinosaur adventure. There are many other varieties of dinosaur themed activities, rides, and restaurants all over the zone. So, get ready to be transported into a dinosaur park and enjoy rides that will take you back into the prehistoric era.
Location: Lost Valley, IMG Worlds of Adventure
Minimum Height: 125 cm
Fear Factor: 3.5/5
8. The Storm Coaster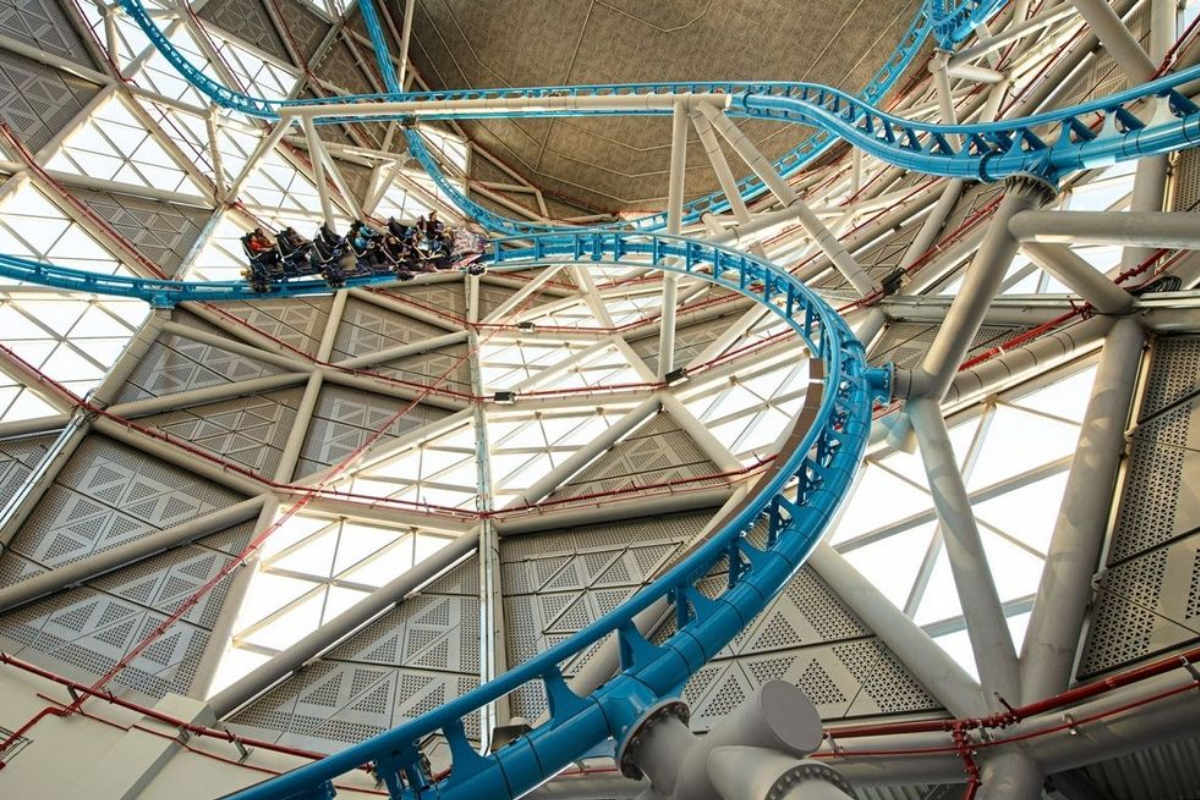 A rollercoaster inside a mall? Why not! The Storm Coaster is a record-breaking indoor roller coaster located in the Dubai Hills Mall. This immersive and adrenaline pumping-coaster shoots up to over 50 meters for a breath-taking vertical drop. This exciting ride is rumored to be the fastest indoor rollercoaster in the world with a top speed of 77 km/h. The Storm Coaster wraps around the entire building it's built in giving you can view of the entire mall. This thrilling state-of-the-art immersive adventure will get your adrenaline levels soaring! This two-and-a-half-minute adventure begins with an immersive pre-show experience that introduces you to the pursuit before strapping you in for nonstop thrills. As real-world footage and special effects are combined, an enormous storm is raging all around you. The twists and turns include a vertical launch, two inversions, a vertical nose dive, and a block break. Get ready for a ride of a lifetime!
Location: Dubai Hills Mall, Dubai Hills Estate
Minimum Height: 130cm
Fear Factor: 4.8/5
9. Dragon's Apprentice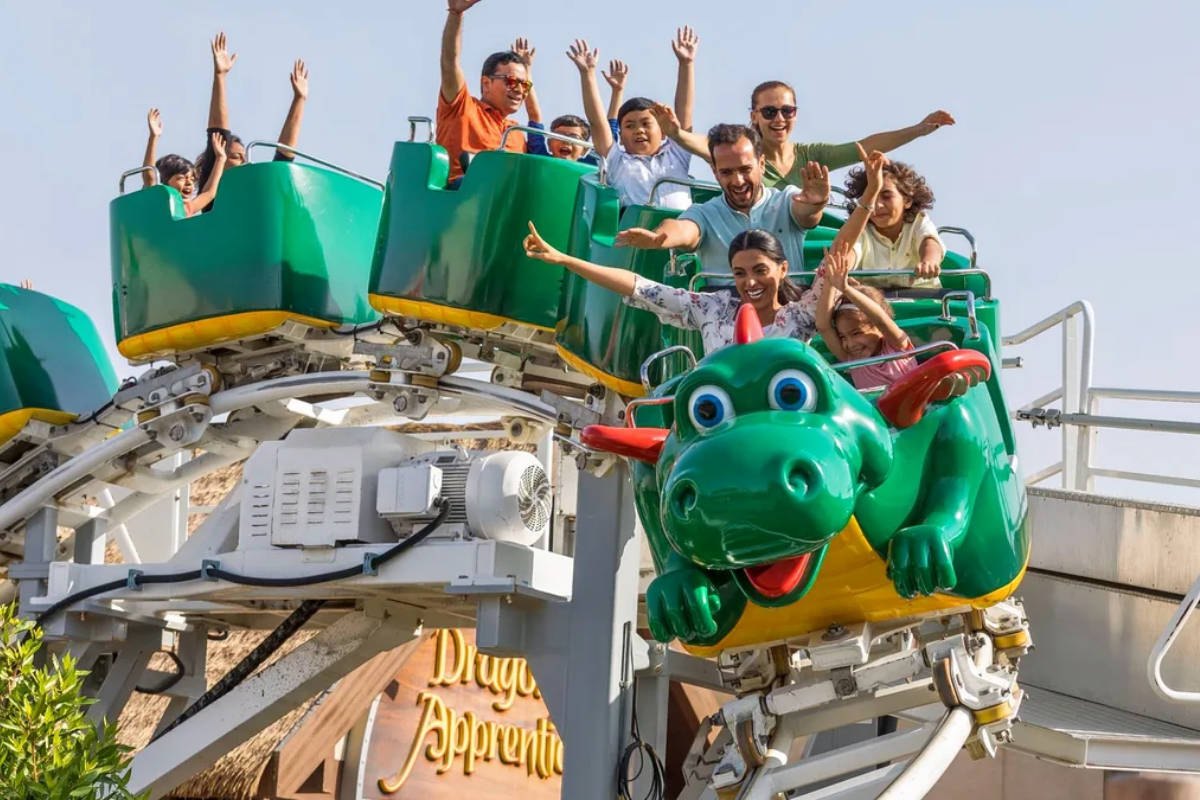 One of the most distinctive roller coasters, the Dragon's Apprentice, is the main attraction at LEGOLAND. This ride ascends to the top of the castle before throwing you down in slow motion while twirling. This ride is for those who have always wished they could soar above the earth like a dragon. To ride this ride, you must be 90 to 130 centimeters tall. Additionally, maintain your posture to get the most out of riding the circuit twice. The Dragon is another ride at Legoland which cannot be missed.
Location: LEGOLAND, Dubai Park and Resort, Sheikh Zayed Road
Minimum Height: 105 cm
Fear Factor: 3/5
10. Smurf Village Express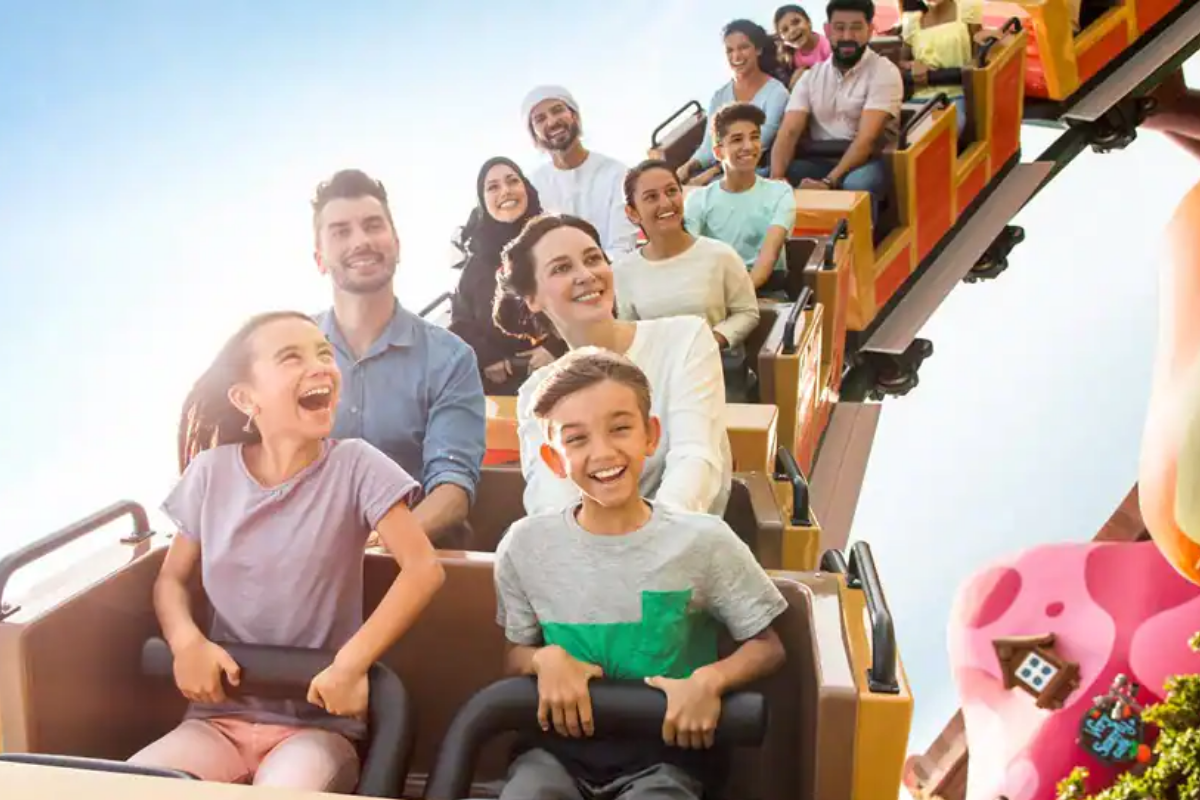 Who says a rollercoaster must be frightening to be enjoyable? The Smurfs' own adaptation errs on the side of being family-friendly, with just enough oomph to make kids have a blast. Parents will enjoy the more relaxed, elevated track ride on the leisurely Smurf Village Express, which offers views of the Smurf Town Square, farmland, and forests. On this family-friendly roller coaster ride in Dubai, parents and children can have the time of their lives.
Location: Motion gate, Dubai Park and Resorts, Sheik Zayed Road,
Minimum Height: 100 cm or taller
Fear Factor: 2/5
Also Read: