Dubai Electricity and Water Authority (DEWA) has successfully completed over 7 million smart transactions between January and September 2020. This achievement helped reduce over 24,000 tonnes of carbon emissions. This is equal to planting over 27,000 trees over a distance equal to 52 football pitches, and achieving savings of over AED285 million.
HE Saeed Mohammed Al Tayer, MD & CEO of DEWA, said that all DEWA's services are available on its website and smart app, so customers can complete their transactions anytime and anywhere, easily and securely. This also protects the environment and natural resources. Al Tayer added that DEWA's commitment to enrich the customer experience with smart services in turn saves them time and effort. These include using the latest disruptive technologies and Artificial Intelligence (AI) tools.
This achieves the Dubai 10X initiative, which mandates the Government of Dubai to be a global leader that is 10 years ahead of all other cities through government innovation and the reworking of traditional work mechanisms. It also achieves the Smart Dubai initiative, to make Dubai the smartest and happiest city in the world. DEWA is one of the leading organizations in digital transformation. Smart adoption of DEWA's services reached 98.56% in Q3 of 2020.
DEWA also launched Rammas, DEWA's virtual employee. It uses artificial intelligence to provide services round the clock on DEWA's smart channels and platforms to the highest standards of availability, reliability, and efficiency. Rammas responds to customers' written and audible enquiries in Arabic and English on DEWA's smart app, website (www.dewa.gov.ae), Facebook page, Amazon's Alexa, Google Home, robots, and DEWA's verified account on WhatsApp Business on (04 601 9999). Rammas answered about 3.9 million enquiries from January 2017 to the end of September 2020, including 200,000 responses through WhatsApp.
It completed 5,688 bill payment transactions. As of the end of Q1 2020, DEWA transformed all its customer happiness centres into self-service centres. DEWA has become the first government organization to allow its customers to conduct all their transactions themselves using smart devices at the customer happiness centres. Customers can also communicate with DEWA staff from different sectors using video calls.
The evaluation by the Dubai Model Centre of the General Secretariat of the Executive Council of Dubai placed DEWA's website first amongst the Government of Dubai. DEWA's smart app came second. DEWA's smart application gives customers a smooth experience, as it combines ease and efficiency. This simplifies many prerequisites into one simple step, making life easier for customers. DEWA's website also offers a seamless experience and enables customers to access services, information and transactions with ease, demonstrating its corporate identity.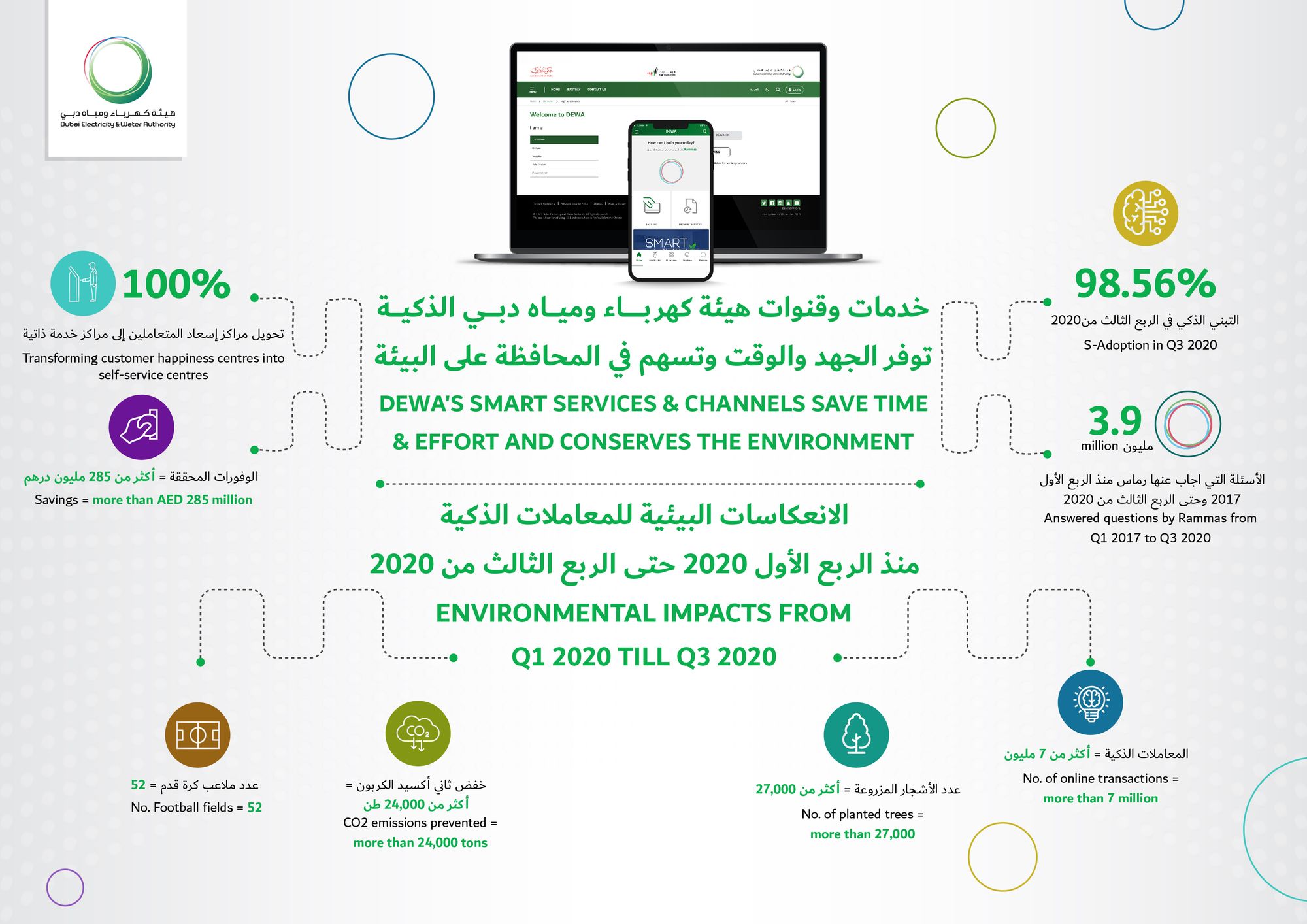 Smart Living
Thanks to its Smart Living initiative, DEWA helps customers who have smart electricity and water meters to monitor their consumption and get daily, monthly, and annual reports. Customers can log into their DEWA accounts on the website or smart app, check their digital dashboards to monitor consumption, learn about residential customer tariff slabs, get conservation tips, and develop their conservation plans. Customers can also benefit from the 'My Sustainable Living' programme, by comparing consumption with similar homes. They can also make use of DEWA Store offers to purchase energy- and water-saving devices.
DEWA Store
DEWA launched DEWA Store on its smart app to provide exclusive offers and discounts to DEWA's customers, in cooperation with several public and private sector companies. DEWA Store provided over 300 different offers from its inception in 2018 to August 2020. This is part of DEWA's efforts to make its customers happier by providing value-added smart services and to provide a better experience.
Smart Response
DEWA offers the Smart Response Service for electricity and water technical notifications in 5 different languages. The Smart Response Service includes several features that empower customers, such as early self-diagnosis of technical interruptions in homes; reducing the necessary steps to deal with complaints and follow-ups, while resolving issues through DEWA's smart app and website. This provides a better experience and a more efficient services to customers.
The service also reduces the number of steps to fix interruptions from 10 steps to 1, in addition to raising trust levels to 94%, and overall happiness with the initiative to 96%.
High-Water Usage Alert
DEWA also provides, through the Smart Response service, the High-Water Usage Alert initiative. It helps customers discover possible leaks in their water connections after the meter. The system sends instant notifications to the customer if there is an unusual increase in consumption, to check the internal connections and repair any leaks with the help of a specialist technician. This contributes to reducing incurred costs by limiting water wastage. The initiative reduces the 'Recovery Average Time' goal of minor notifications from 3 hours to 2 hours, and the major notifications from 6 hours to 4 hours.
Bill Payment
In addition to its smart app and website, DEWA provides bill payment through Smart Dubai Government's channels, including DubaiNow, ApplePay, Etisalat Public Payment Machines, Tayseer payment platform for cheques issued from different banks via Emirates NBD's Cheque Deposit Machines all over the UAE, as well as banks' smart and electronic channels and ENOC and EPPCO stations.
Digital communication channels (Ash'ir and Hayak)
DEWA enables its Customers of Determination who have hearing difficulties to directly communicate with the Customer Care centre staff via video chat using sign language round the clock, called Ash'ir. DEWA also provides the Hayak written and visual communication service through its website around the clock.
News Source: https://mediaoffice.ae/en/news/2020/December/23-12/DEWAs-smart-services-and-channels-save-time