Dubai is one of the most luxury-oriented tourist destinations in the world. With the city's shopping malls, luxury hotels and resorts, and tourist attractions, Dubai attracts thousands of tourists every year. The golden deserts and pristine beaches form a significant part of the tourism map of Dubai. The stunning beaches of Dubai offer visitors an opportunity to relax and soak up the sun. Drift Beach Dubai is one of the popular beaches in the city that stands out as a unique and luxurious destination offering visitors an unparalleled beach experience.
Enjoy a wholesome beach experience in Dubai with top-notch facilities. Here is all you need to know about Drift Beach Dubai.
Drift Beach Dubai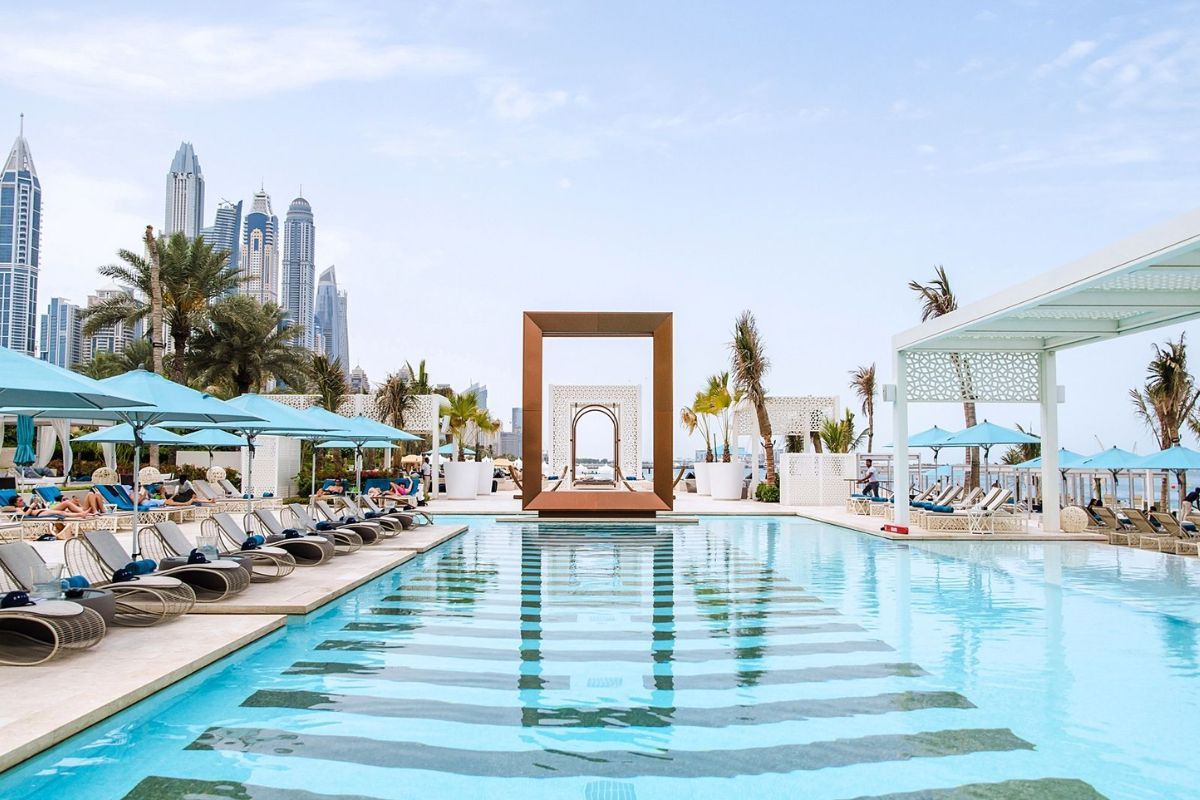 Drift Beach Dubai is a luxurious beach club located on Palm Jumeirah, one of Dubai's most iconic man-made islands. The beach extends to 1-kilometer-long private beach on the coast of Dubai. The place offers a wide range of facilities and attractions for visitors of all ages. At Drift Beach Dubai, you can enjoy everything from pristine white sand beaches to its crystal-clear waters and world-class restaurants. You can enjoy the rhythmic waves at the sea which offers a perfect escape from the hustle and bustle of city life.
Drift Beach Dubai was established in 2017 as a project of Dubai-based developer Nakheel and luxury hotel group Accor. The beach club has won several awards for its hospitality, facilities, and ambiance. Drift Beach has become a go-to spot for visitors looking for exclusivity, a relaxed urban vibe, and opulent amenities. The beach club also commits to sustainable tourism by employing several sustainable practices.
Drift Beach Dubai is ideal for both a laid-back day in the sun and an exciting night out. You can enjoy the amazing views of Palm Jumeirah and Dubai's famous skyline. The beach club is also home to a restaurant where you can taste authentic European cuisine.
Looking forward to a day at Drift Beach Dubai? Here are some of the best things to do while at the place.
Things to do at Drift Beach Dubai
Relax at the private beach club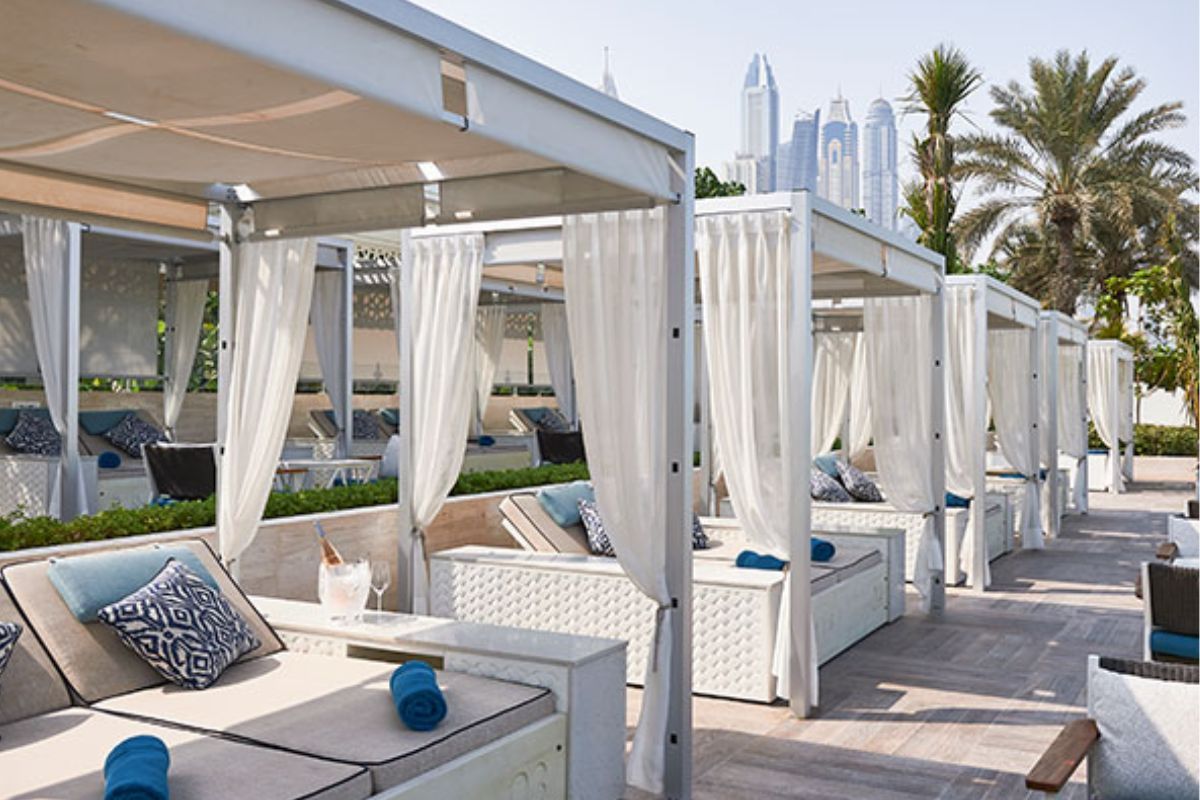 Drift Beach has a private beach club with facilities like an incredible infinity pool, one kilometer of excellent beachfront, and lush landscaping that provides panoramic views of Palm Island Bay and Dubai's renowned skyline. The beach club will surely meet the high standards of the guests with its modern day amenities. You can reserve a sun lounger to bask in the golden sun. They provide four types of sun loungers for the visitors.
Drift Sun Loungers are located around the pool and beach and provide minimal comfort compared to their other packages. Drift Island Beds are luxury sun loungers near the pool. This package includes a limited selection of drinks. VIP Drift Beds are comfortable luxury cabanas enhanced with cushions and shades. The Private Beach Cabana is the most luxurious sun lounge package you can get at Drift Beach. You will be offered a dedicated private cabana waiter, full access to all Drift facilities, state of the art sound system, and a high level of privacy and seclusion. You can also enjoy the welcome fruit platter along with access to all Drift menus. Treat yourself to the pool day offers at Drift Beach.
Eat at Drift Restaurant and bar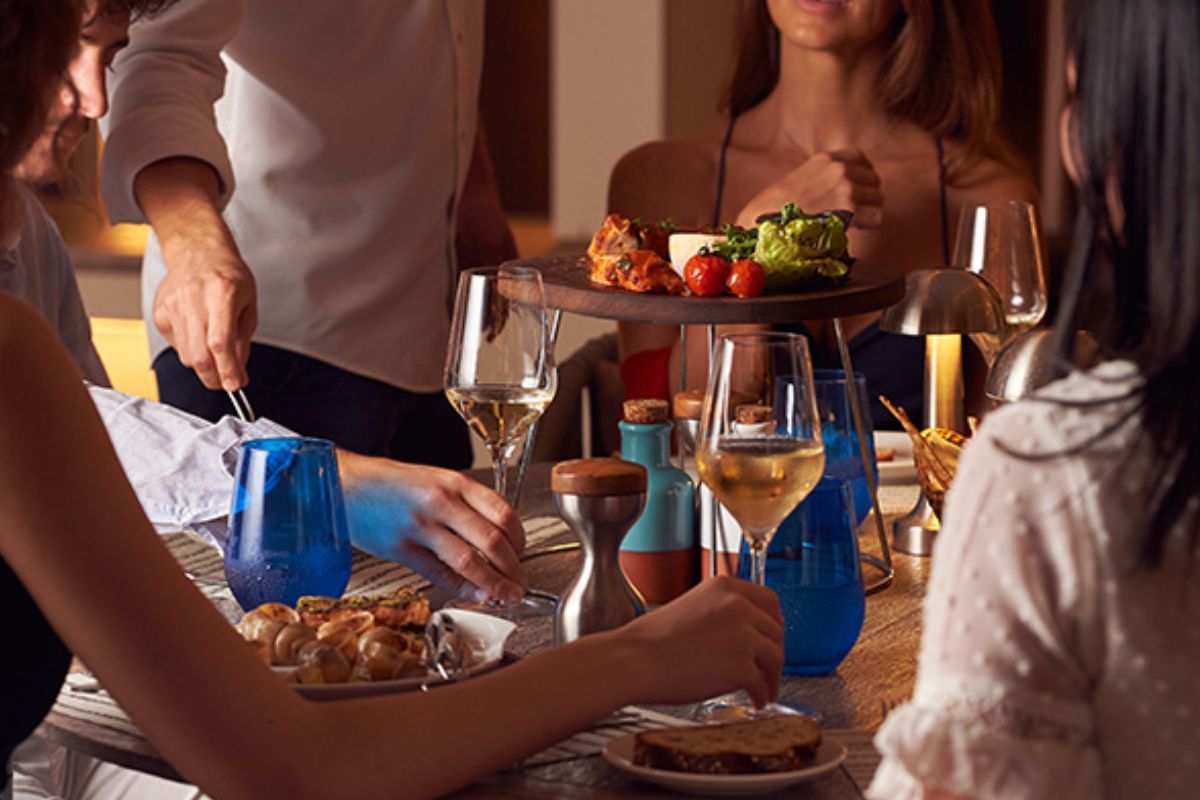 Drift Beach is home to a great restaurant that serves a unique blend of traditional Provençal cuisine. The restaurant is led by Chef de Cuisine Sylvain Noël who is popular for his authentic southern French dishes. The menu focuses on using the highest quality organic ingredients with an emphasis on freshness and simplicity. Banoffee Pancake and Drift Omlette are the popular items on their breakfast menu. They have separate sections for starters, flatbreads, and side dishes on their menu. You can also check out their extensive dessert menu. They also have an in-house mixologist who is an expert in creating a magical cocktail menu that perfectly complements the food served at the restaurant. They have an exclusive wine menu that you can try. Check out the exciting lunch offers at Drift Beach.
Enjoy the vibe of a beach event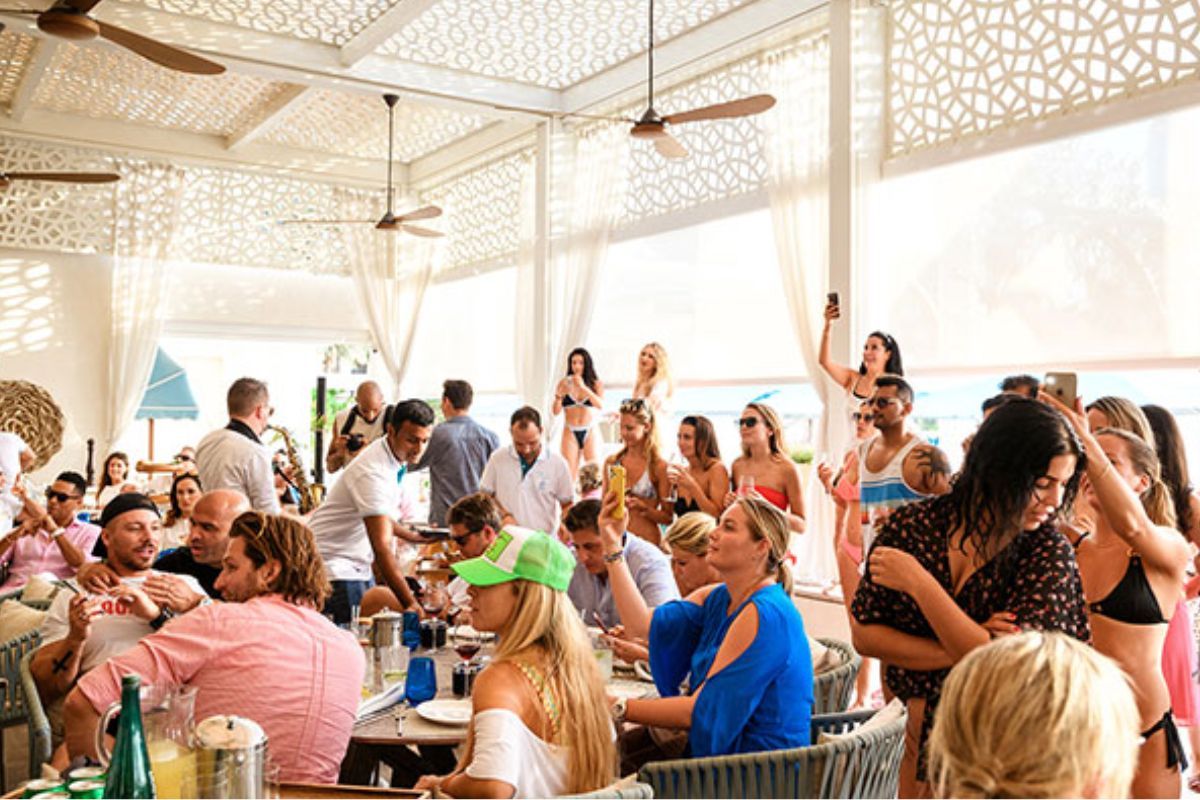 Drift Beach Dubai hosts many events every month. You can take your friends to the events to have a great experience at the beach. Some of the popular events at Drift Beach are L'Aperitif, Chic Wednesdays, and Ladies Day offers. L'Aperitif lets you immerse in a 'South of France' summer setting where you can have a beach picnic vibe with their exclusive picnic dishes and music. Take your girl gang out to have a relaxing day by the beach with their special ladies day offers.
Host a beach party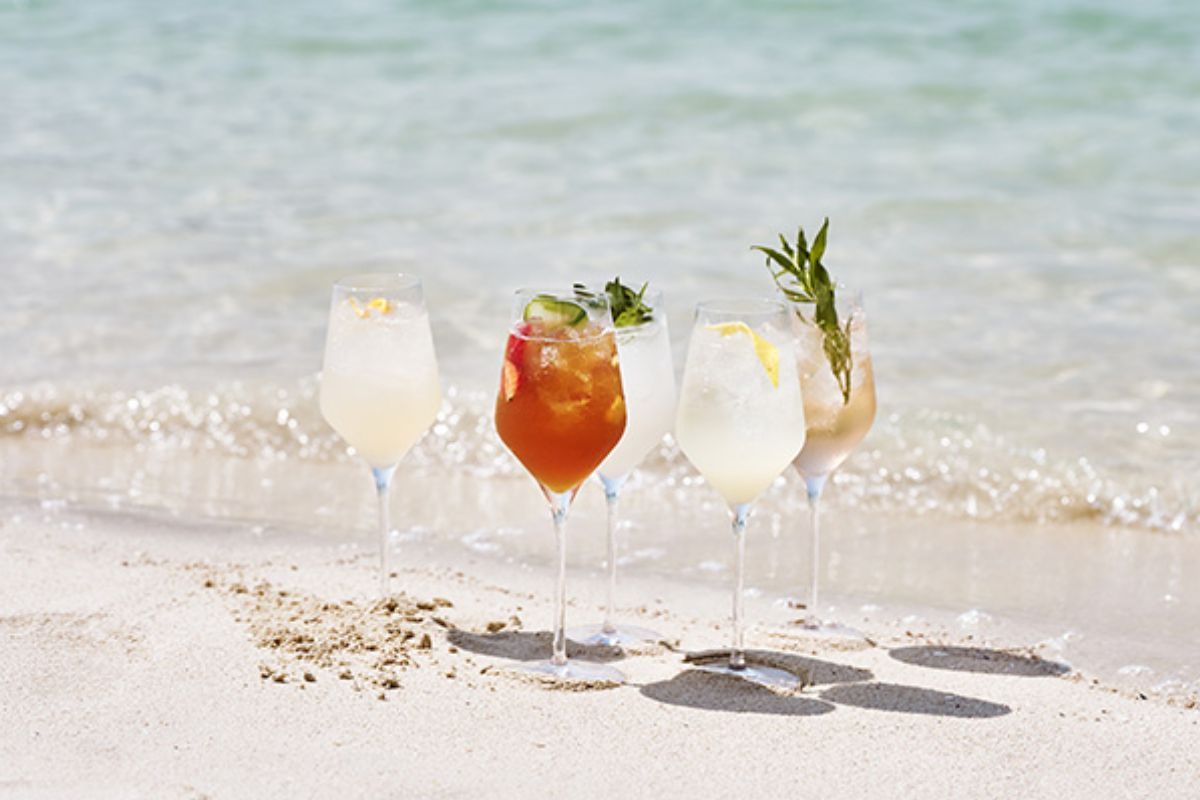 Drift Beach offers a chance to host your private event at their place. You can create a unique and unforgettable event setting for your special occasion. Be it a birthday party or a wedding, the Drift Beach settings will offer the perfect backdrop to your special day. You can enjoy a stunning seaside setting with Dubai Marina's iconic skyline in the background. You can also book their expert team to make sure you get the best food and service.
You can also book the venue for your corporate events. From big parties to product launches and fashion shows to small gatherings like cocktail receptions and work celebrations, their luxury space is sure to brighten up your experience. The team will make your event extra special with their custom menus, unique setup options, and personalized service.
How to reach Drift Beach Dubai
Drift Beach Dubai is located at One & Only Royal Mirage on the West Crescent of Palm Jumeirah, a man-made island off the coast of Dubai. It is easily accessible by private vehicle, taxi, or public transportation. If you are planning to travel by Dubai metro, take the red line and get down at Sobha Realty metro station and take the tram from Dubai Marina and get down at Palm Jumeirah. From here you can hire a cab or walk for less than one kilometer to reach the spot. There are many buses that take you near the location. Visit RTA Journey Planner to know which bus to take from your desired location.
Opening hours of Drift Beach Dubai
Pool & Beach: 10 am to 7 pm
Restaurant: Monday to Thursday – 9 am to 8 pm and Friday to Sunday – 9 am to 9 pm
Contact Drift Beach Dubai
For more information: info@driftbeachdubai.com
For event bookings: events@driftbeachdubai.com
For reservations: Drift Beach website
Phone: +97143152200
Popular attractions near Drift Beach Dubai
Drift Beach Dubai is located on Palm Jumeirah, one of Dubai's most iconic landmarks. Palm Jumeirah is home to many tourist attractions like Atlantis and The Pointe. When you visit Drift Beach, try to visit the nearby attractions to make your day better. Here are some of the few spots you can visit near Drift Beach in Dubai.
Atlantis, The Palm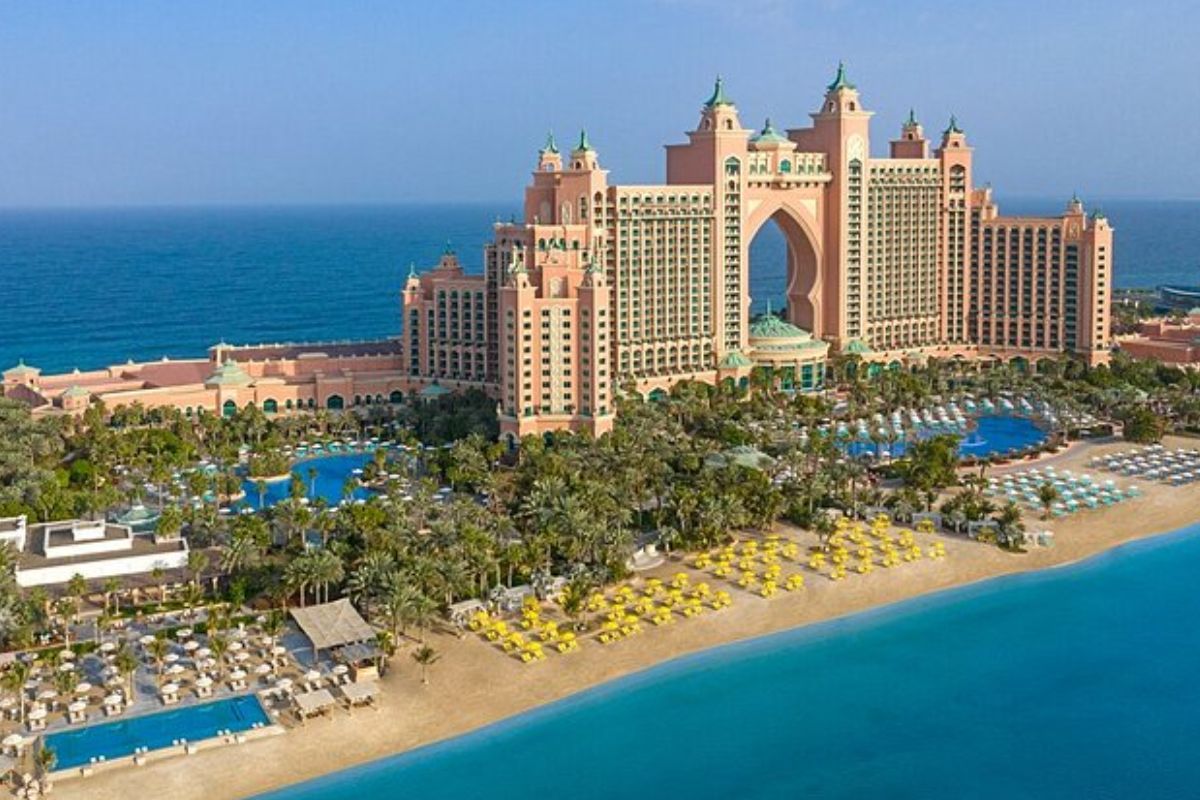 Atlantis, The Palm is a luxurious resort located on the tip of Palm Jumeirah. The resort offers a variety of dining, entertainment, and activity options. You can book an aquarium tour, splash water at the waterpark, or dine at the fine dining restaurants to experience world-class hospitality.
The Pointe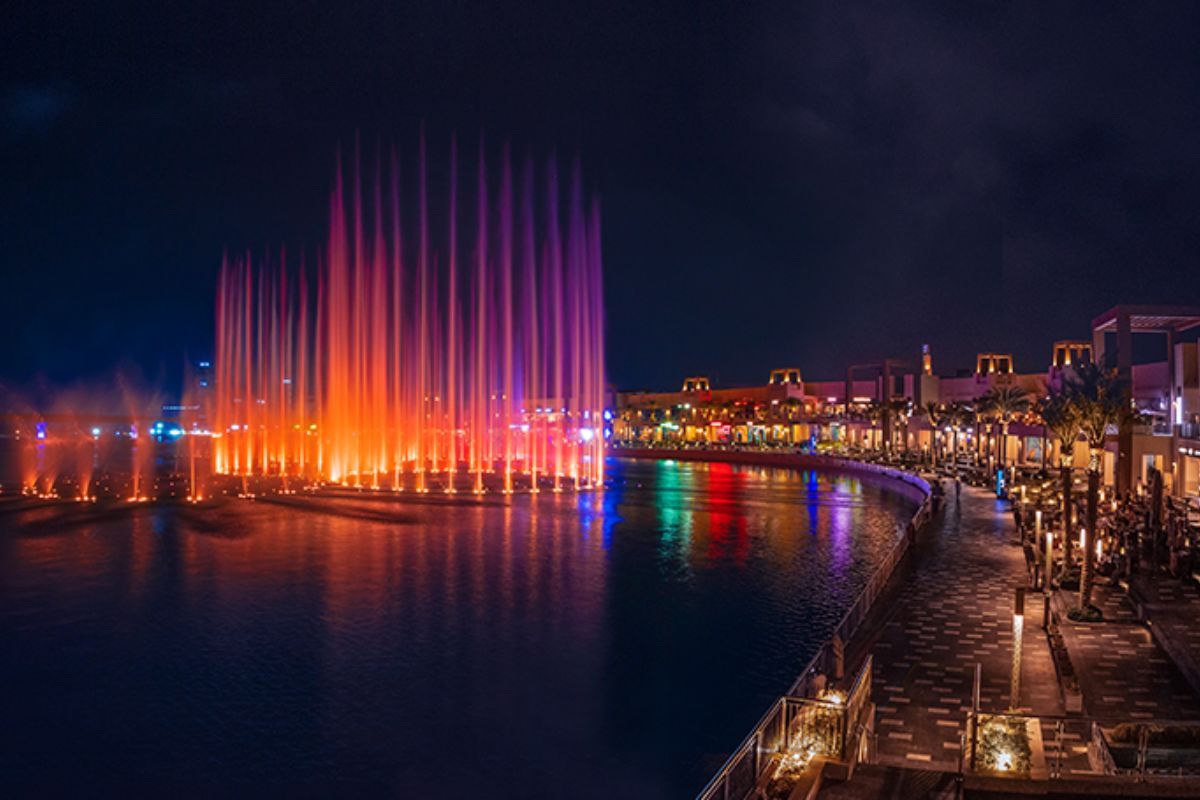 The Pointe is an outdoor waterfront destination that offers panoramic views of the Arabian Gulf and the iconic Atlantis Hotel. From fine dining to casual eateries, you can indulge in a unique gastronomical experience at The Pointe. The spot also features retail shops, a cinema, a supermarket, a children's play area, and a fountain show. The Pointe also hosts fireworks on special days.
Skydive Dubai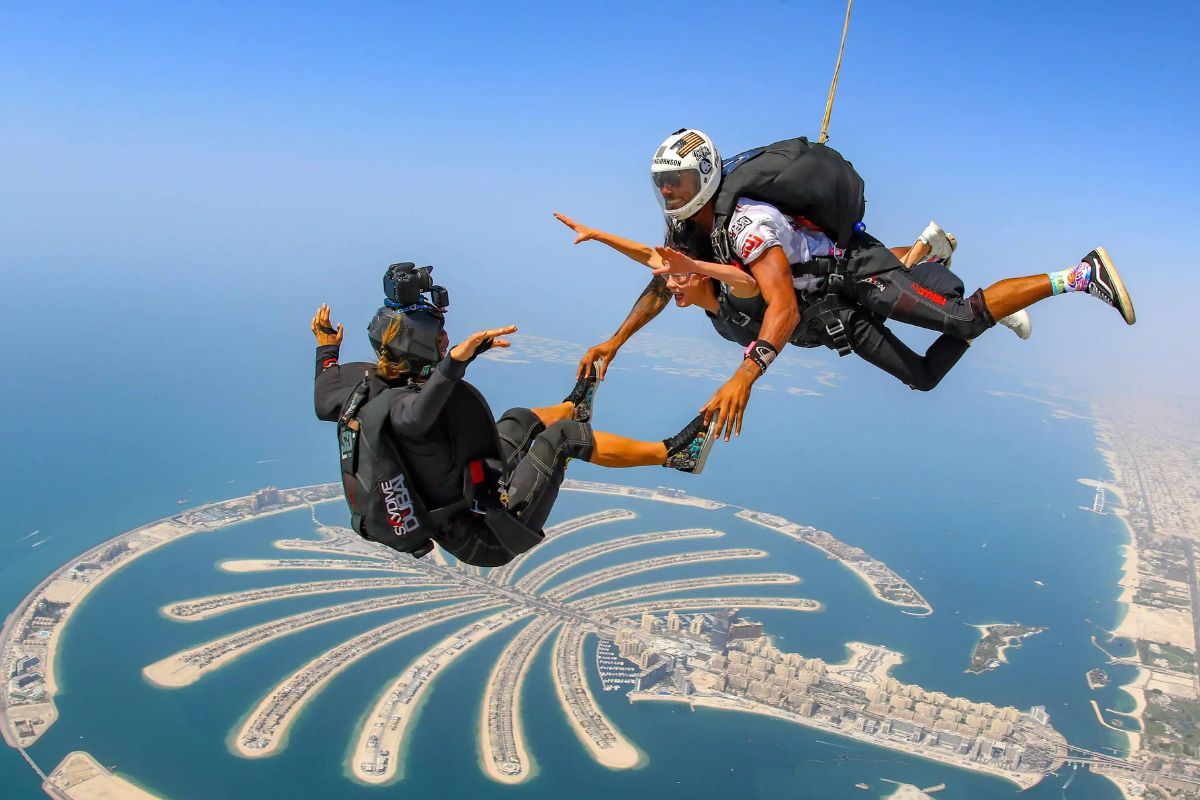 Skydive Dubai is a very popular tourist attraction in Dubai. This one-of-a-kind activity will offer you a unique experience of jumping from a high altitude. The jump will offer you to an exceptional view of Dubai from above. You can also choose from the drop-point options they offer to suit your taste better. Skydive Dubai offers tandem skydiving for first-time jumpers and advanced training for experienced skydivers.
Also read: