Dubai is undoubtedly one of the most preferred tourist destinations in the world. The unique attractions in the city have attracted a huge number of tourists every year. To mark a convenient visit for tourists, Dubai makes its hospitality top-notch with luxury hotels, restaurants, transportation services, and more.
Dubai's luxurious lifestyle and architectural wonders are popular with the world. When it comes to luxurious hotels, Dubai maintains international standards in terms of hospitality, infrastructure, and design. The city is home to some of the world's most luxurious hotels, offering guests unparalleled comfort, stunning views, and exceptional service.
Jumeirah Beach Hotel is an excellent destination if you want to enjoy luxury, bask in the sunshine, or indulge in delectable global cuisines. The hotel has a long-standing reputation for providing high-quality hospitality, and it symbolizes Dubai's dedication to this field.
Here is the perfect guide to Jumeirah Beach Hotel, a premier luxury resort in Dubai.
Jumeirah Beach Hotel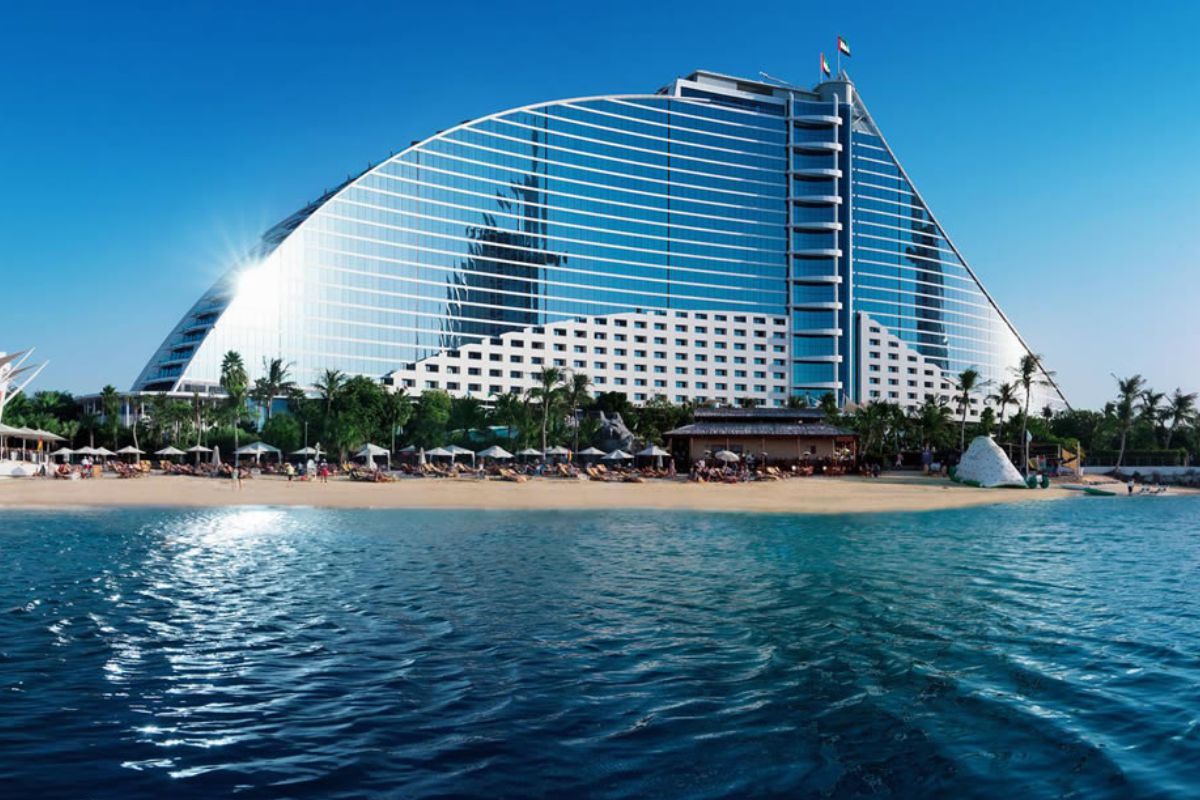 Jumeirah Beach Hotel is a popular luxury resort located in the heart of Dubai. The hotel is situated on the shores of the Arabian Gulf providing guests with breathtaking views of the sea. One of the hotel's outstanding features is the sweeping architecture that mimics the shape of a wave and makes it stand out. This premier hotel houses 599 rooms and suites that define luxury in Dubai. Most of the rooms have brilliant views of either the Arabian Gulf or Dubai's famous skyline.
Jumeirah Beach Hotel features different entertainment options for the guests to have their best time here. Wild Wadi Waterpark, one of the largest water parks in the United Arab Emirates, is a part of this beach hotel in Dubai. The rooms are well equipped with modern-day amenities like flat-screen TVs and minibars. The premium suites at Jumeirah Beach Hotel feature spacious living rooms and private balconies that open to the sea. At the hotel, you can also indulge in various activities like leisure, wellness and fitness, and dining experiences.
Confused about how to spend your best time at Jumeirah Beach Hotel in Dubai? Here is what to expect at the popular landmark in the city.
Leisure facilities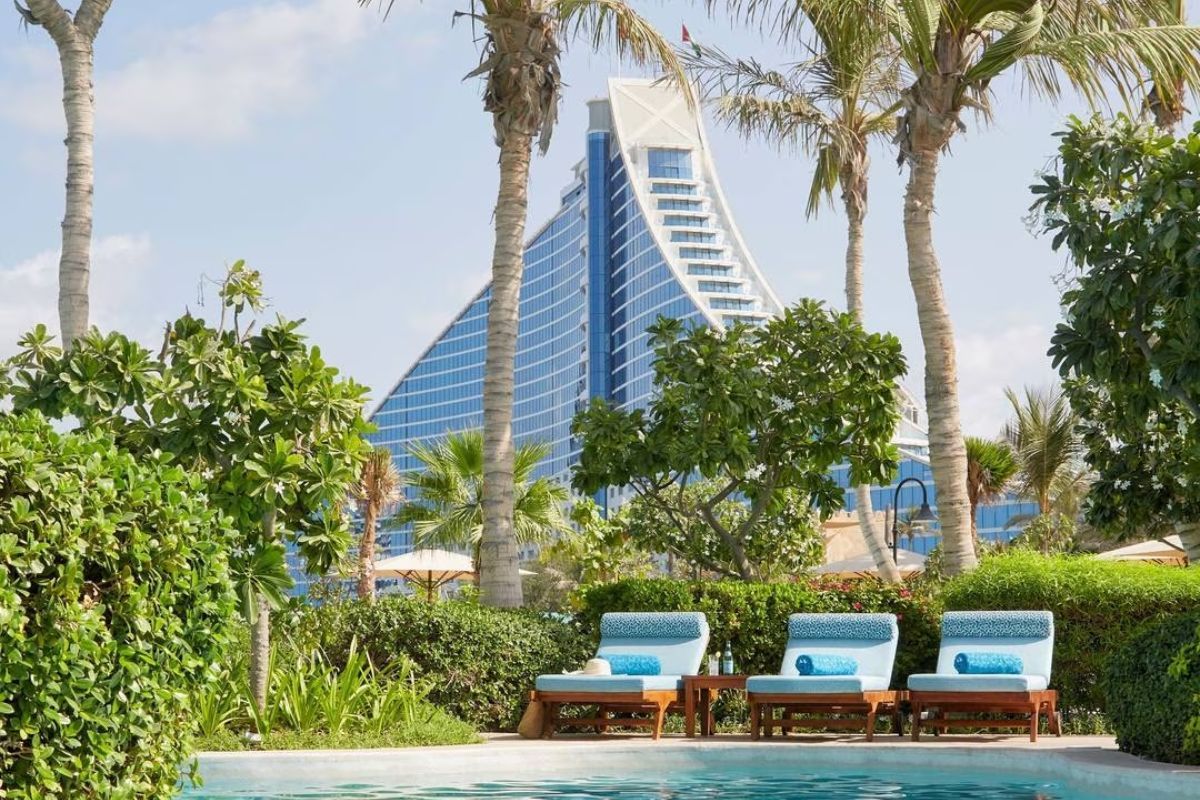 You can expect a wide range of leisure facilities for guests at Jumeirah Beach Hotel Dubai. From private beaches to temperature-controlled swimming pools, experience a thrilling day at this beach hotel in Dubai.
Private beach: The hotel has a private beach that stretches over 1.7 kilometers along the Arabian Gulf. The beach is well-equipped with amenities like sun loungers, umbrellas, and towels to provide the guests with everything they need to enjoy a day in the sun. You can also engage in a range of water sports activities, including jet skiing, parasailing, and water skiing at the beach.
Swimming pools: Jumeirah Beach Hotel has five temperature-controlled pools for its guests. This includes an infinity pool, a saltwater pool, and a children's pool. The pools are surrounded by lush greenery where you can chill in a relaxing atmosphere. The pool area also features a pool bar and restaurant.
Wild Wadi Water Park: Wild Wadi water park is one of the largest water parks in the country featuring over 30 rides and attractions. This is also a popular tourist attraction in Dubai. It is located next to Jumeirah Beach Hotel and is easily accessible by the guests at the resort. You can enjoy the wave pool, lazy river, and water slides, including the Jumeirah Sceirah, which is the tallest and fastest free-fall water slide outside of North America. (The water park is temporarily closed)
The Club Lounges: Jumeirah Beach Hotel offers its guests a unique opportunity to experience a world of added privileges by gaining access to its exclusive lounges and clubs. With four types of clubs available, guests can choose the one that suits their preference.
KiDS Club: KiDS Club is a lively entertainment zone at the hotel designed specifically for young children. The club offers both indoor and outdoor play areas, with colorful and engaging facilities that cater to kids' interests. The club offers a variety of activities for children, including face painting, balloon bending, gaming, singing, and puppet making.
Wellness and Fitness facilities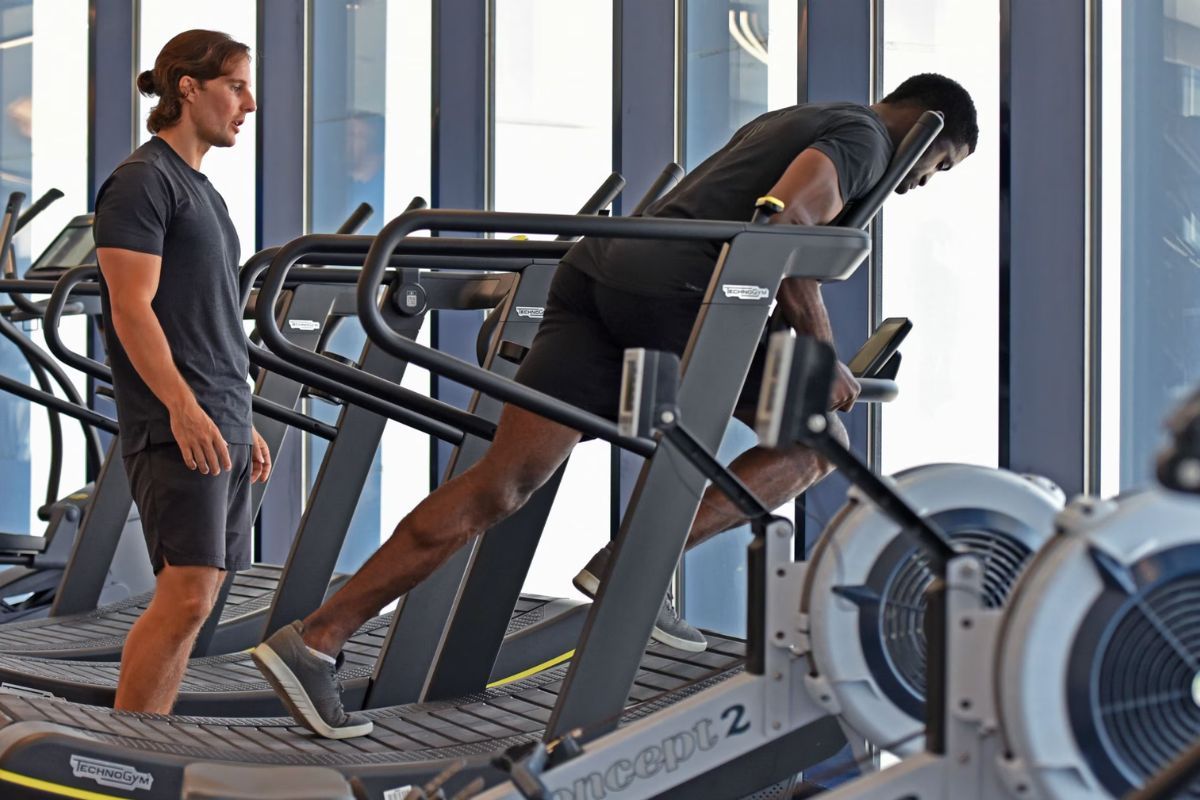 Being on vacation does not mean you have to go out of shape. You can work on your physical fitness while enjoying your stay at Jumeirah Beach Hotel in Dubai. They offer a range of wellness and fitness facilities for its guests.
Talise Spa: Jumeirah Beach Hotel is home to this world-class wellness centre. At Talise Spa, you can indulge in therapeutic messages. The spa also offers a number of organic and signature treatments like massages, facials, and cryotherapy. The spa also has a sauna, steam room, and private treatment rooms.
J Club: J Club is a luxurious fitness and wellness center located within the Jumeirah Beach Hotel in Dubai. The club offers a range of facilities and services, including a state-of-the-art gym, fitness classes, a stunning infinity pool overlooking the Arabian Gulf, a sauna, and steam rooms.
Event spaces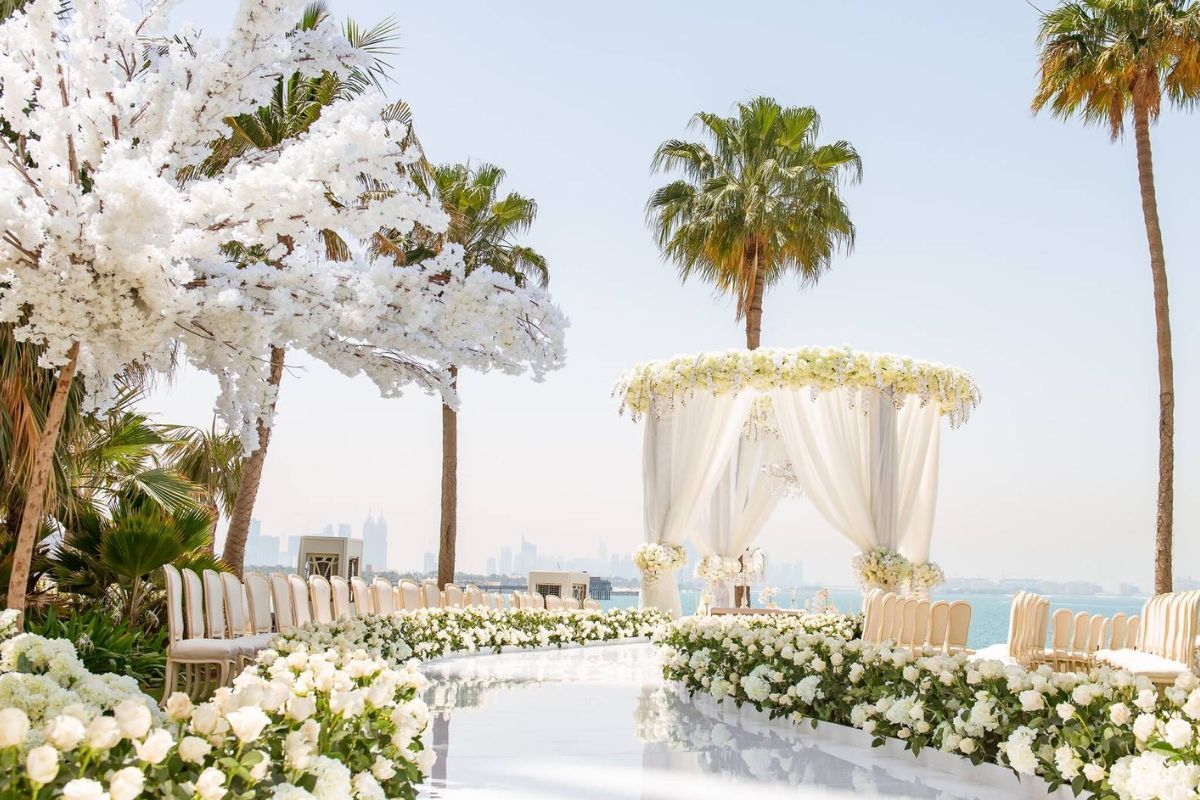 The Jumeirah Beach Hotel in Dubai offers a range of event spaces that are suitable for both corporate and social events. The beach hotel features various venues such as boardrooms, meeting rooms, ballrooms, and an auditorium to accommodate private or corporate events.
Jumeirah Beach Hotel is a popular venue for destination weddings. The pristine blue ocean behind you will serve as the perfect backdrop to your special occasion. Book the venue ahead to make sure of the availability of the beach venue. You can also book an in-house team to help you with event planning and catering.
Luxurious rooms, suites, and villas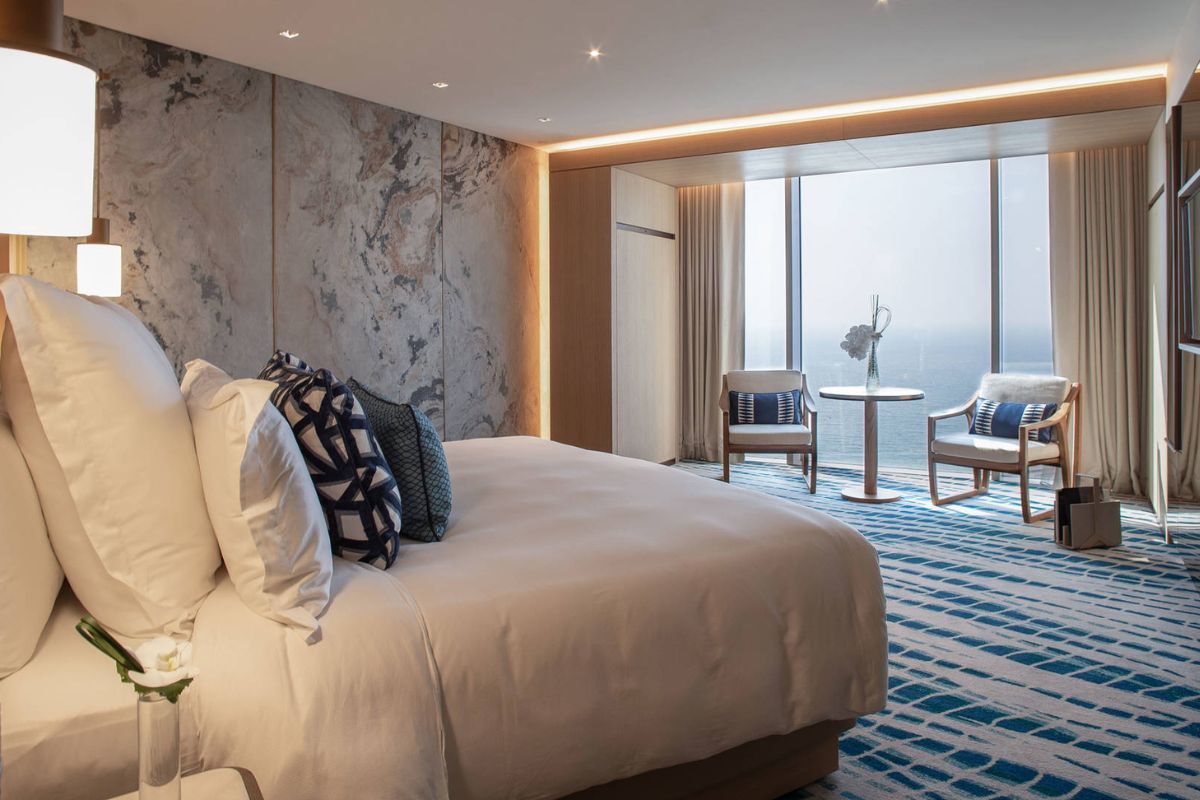 You have a wide variety of options to choose from in terms of your stay at Jumeirah Beach Hotel in Dubai. Each accommodation option offers stunning views of the Arabian Gulf and is equipped with world-class amenities.
Ocean Deluxe rooms: The Ocean Deluxe Rooms at Jumeirah Beach Hotel provide magnificent vistas of the Arabian Gulf. The rooms are equipped with essential features such as a king-size bed, flat-screen TV, and high-speed internet. These rooms also feature a personal balcony for guests to unwind and appreciate the scenery.
Ocean Club rooms: The Ocean Club rooms are located on Jumeirah Beach hotel's highest floors. They offer stunning views of the Arabian Gulf. These rooms are designed for guests who want to enjoy a luxurious stay and are equipped with a range of amenities, including access to the hotel's executive lounge, personalized check-in, and check-out, and a private balcony.
Ocean suites: There are many options of suites to choose from stay at the Jumeirah Beach Hotel in Dubai. You can choose from 1-bed, 2-bed, or 3-bed suites according to your needs and budget. These suites come with exclusive comfort and privileges.
The hotel also has Al Marsa suite for guests who need a luxurious and spacious living and dining area. This suite also features a walk-in wardrobe, a bathroom, a private pantry, a private terrace, and a powder room.
The Family Garden suite offers exclusive access to the garden and pool while the presidential suite is ideal for VVIPs. The presidential suite features a duplex penthouse experience.
Villas: The beach hotel offers a range of villas, including the Beit Al Bahar Royal Villa, Beit Al Bahar Two-Bedroom Villa, and Oceanfront Villa. These villas are equipped with a range of amenities, including a private swimming pool, outdoor shower, and a private terrace.
Unique dining options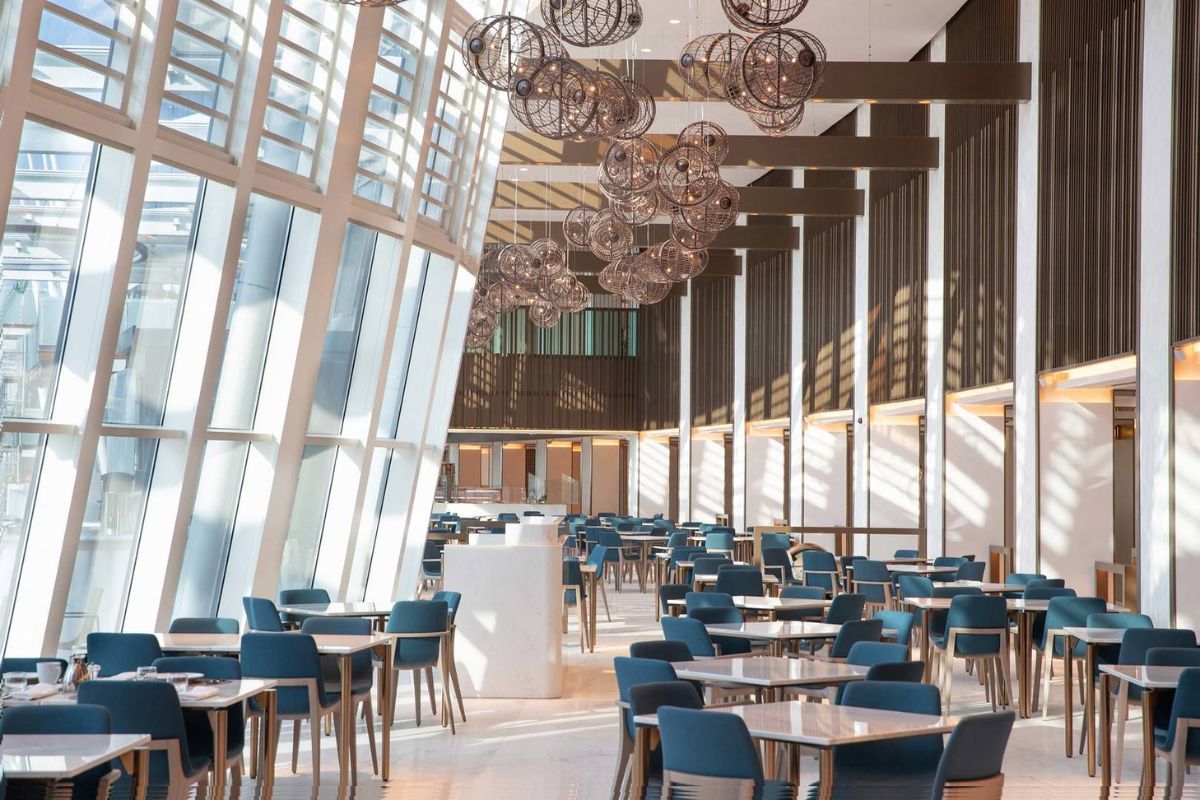 This premier hotel is not just about stays and plays. They have some of the best restaurants up their sleeve. These restaurants offer yummy dishes from around the world. From fine dining experiences to casual cafes, you can visit restaurants to indulge in extravagant culinary tastes.
La Parrilla: La Parrilla is an award-winning Argentinian steakhouse featuring a selection of prime cuts of meat, as well as seafood and vegetarian options. This Argentinian restaurant also has an extensive wine list. La Parilla is a perfect choice for a romantic date because of its mesmerizing views.
Kitchen Connection: Kitchen Connection is the hotel's all-day dining restaurant that offers a selection of international dishes. The restaurant has an open kitchen, and guests can watch the chefs prepare their meals. Kitchen Connection also offers a variety of themed dinner nights, including seafood night and barbecue night.
Nuska Beach: Nuska Beach is a restaurant that specializes in wood-fired grilling which draws inspiration from the Mediterranean Sea and the Middle East. Their menu offers a range of delectable dishes such as tuna tartare, grilled calamari, sauteed clams, wagyu tenderloin, and tomahawk steaks, all of which are available a la carte.
Check-in and check-out timings at Jumeirah Beach Hotel
At Jumeirah Beach Hotel, you need to check in at 3 pm while the check-out time is at 12 pm. Visit their website to book their luxury apartments for your vacation in  Dubai.
How to reach Jumeirah Beach Hotel
This premier hotel is located in one of the most happening locations in Dubai, Jumeirah Beach. The beach hotel is just a few minutes away from major Dubai landmarks like Burj Al Arab, Madinat Jumeirah, and Bluewaters Island. The beach hotel is just 25 minute drive from Dubai International Airport. The location is easily accessible via major highways like Sheikh Zayed Rd/ E11.  
If you are traveling by Dubai metro, you can take the red line and get down at the Mashreq metro station. From the metro station, you can either hire a cab or take the bus to the hotel. There are buses that take you near to Jumeirah Beach Hotel. Visit RTA Journey Planner App to know which bus to take from your desired location.
Also read: