Dubai has a lot to offer in terms of entertainment. This city is one of the most desired tourist destinations in the world. From the tallest building in the world to the deepest swimming pool in the world, Dubai has it all. Dubai Parks and Resorts has a significant share of the entertainment attractions in Dubai. This is a go-to option if you are looking for a thrilling evening with your loved ones. Know more about this world-class entertainment destination in Dubai.
Dubai Parks and Resorts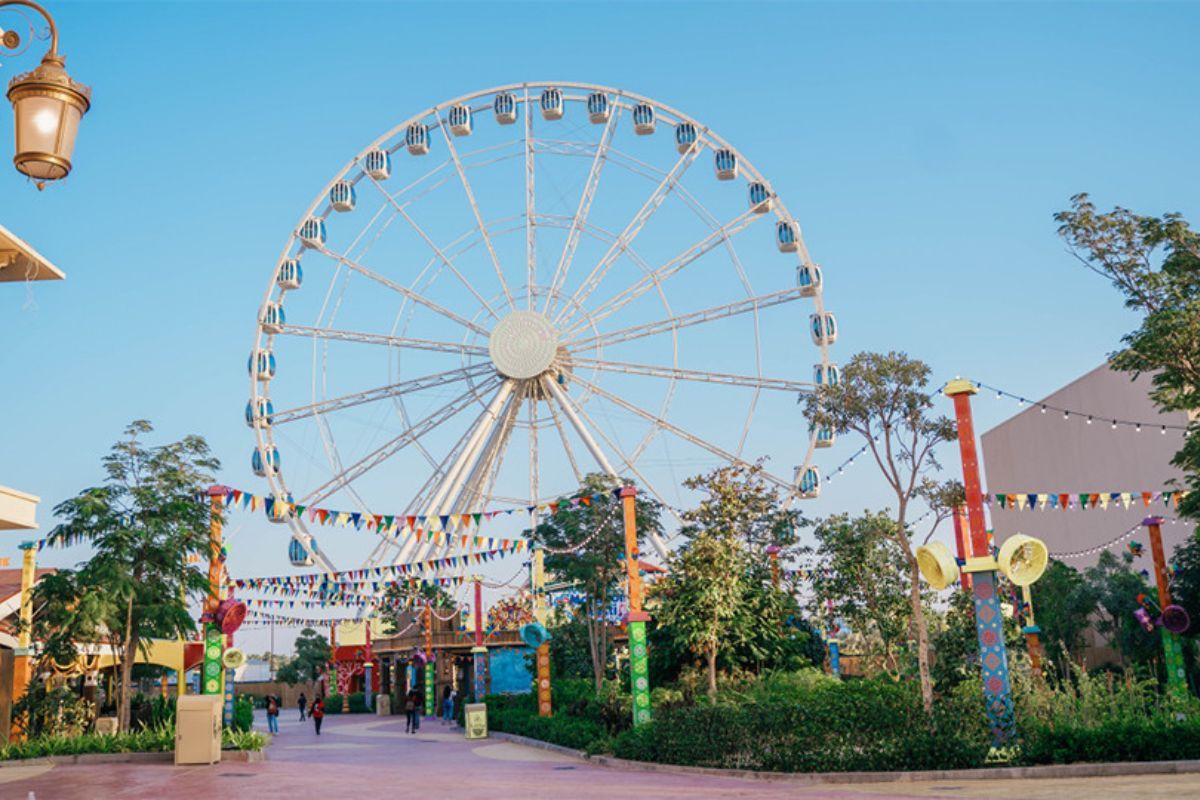 Dubai Parks and Resorts provides unlimited fun options through its theme parks and hotels in Dubai. Each theme park offers a different immersive experience making it an ideal spot for you to enjoy a family or friends day out. Both adults and children can have their share of entertainment at Dubai Parks and Resorts.
Dubai Parks and Resorts was opened to the public in October 2016 becoming Middle East's largest multi-themed leisure and entertainment destination. At first, only Riverland Dubai and Legoland Dubai were opened. Bollywood Parks Dubai was opened in November 2016 followed by the opening of motiongate Dubai in December 2016. The official inauguration of Dubai Parks and Resorts was in December 2016.
Dubai Parks and Resorts houses some of the best theme parks in Dubai. This destination has grown popular over the years with the annual events and fun-packed attractions it has to offer the visitors. The park attractions offered by Dubai Parks and Resorts are:
Legoland Dubai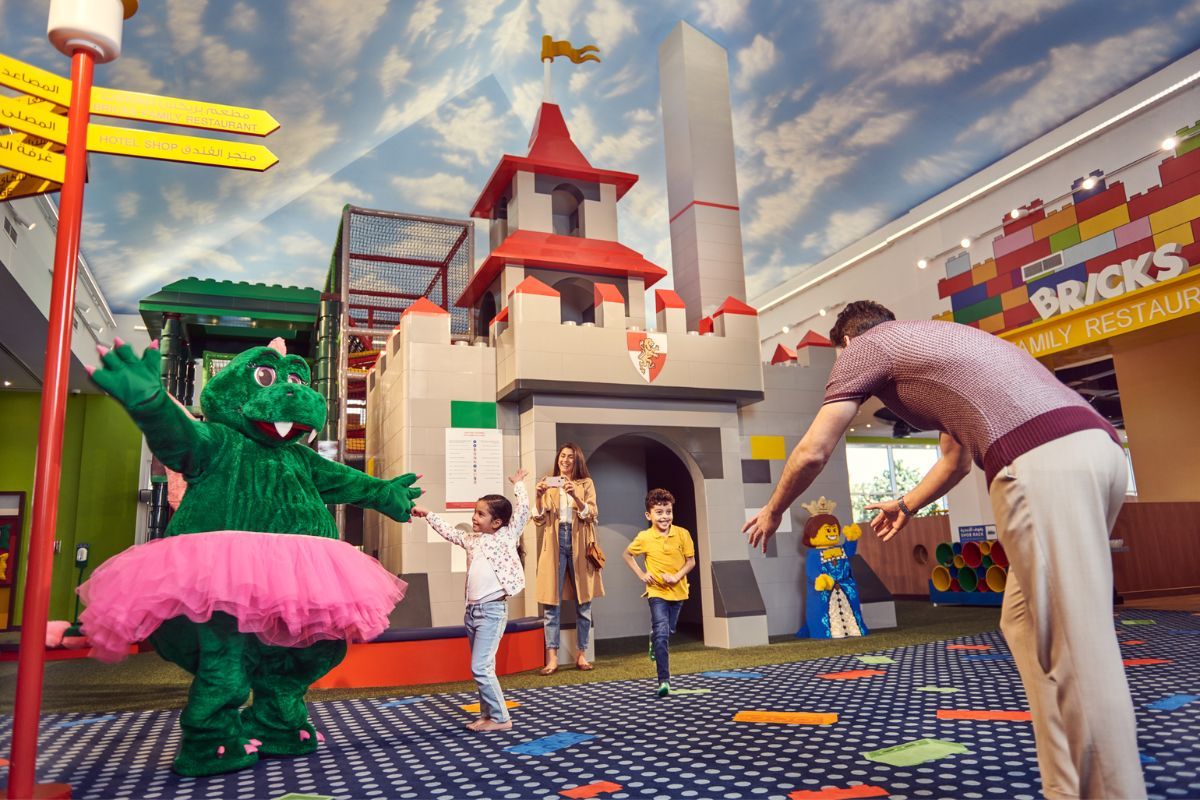 Legoland Dubai is a popular kids' attraction that is built with 60 million bricks. This family-friendly theme park in Dubai is home to over 40 Lego-themed rides and attractions. Legoland is an ideal destination for families with children aged between 2 to 12 years. You can have non-stop interactive fun building your dream. Legoland attractions are divided into six themed lands.
The Factory is where visitors can learn about the Lego brick-making process.  This themed land is also home to The BIG Shop, which is the largest LEGO store in the Middle East. Lego City offers a unique experience of being in real-life scenarios where you can fly a plane, steer a boat, save a burning building, or get your driving license from their driving school. Imagination is a section where you can build or race Lego cars or build with Lego Mindstorms robotics. You can also see interactive exhibitions and 4D cinema experiences here. Experience a gentle free fall from the Kid Power Towers. Kingdom is themed around medieval times where you can save the day by conquering the Dragon coaster in the King's Castle. Adventure is for young explorers who would like to go on a captivating underwater submarine adventure. View the beautiful Dubai skyline made with 20 million Lego bricks at the Miniland. Your kids can also make their dream city skyline on a ten-meter play table.
Legoland also has a Lego-themed water park. This water park features 20 water slides and attractions specifically designed for kids aged between 2 to 12 years. Your kids can enjoy a day splashing water, dipping themselves in the Lazy river, or on a safari at this water park.
Visit their website to book tickets for a fun and interactive experience.
Ticket Pricing: General admission – AED296, Two-park pass – AED355
Opening Hours: Monday to Thursday – 10 am to 6 pm, Friday to Sunday – 10 am to 7 pm
Motiongate Dubai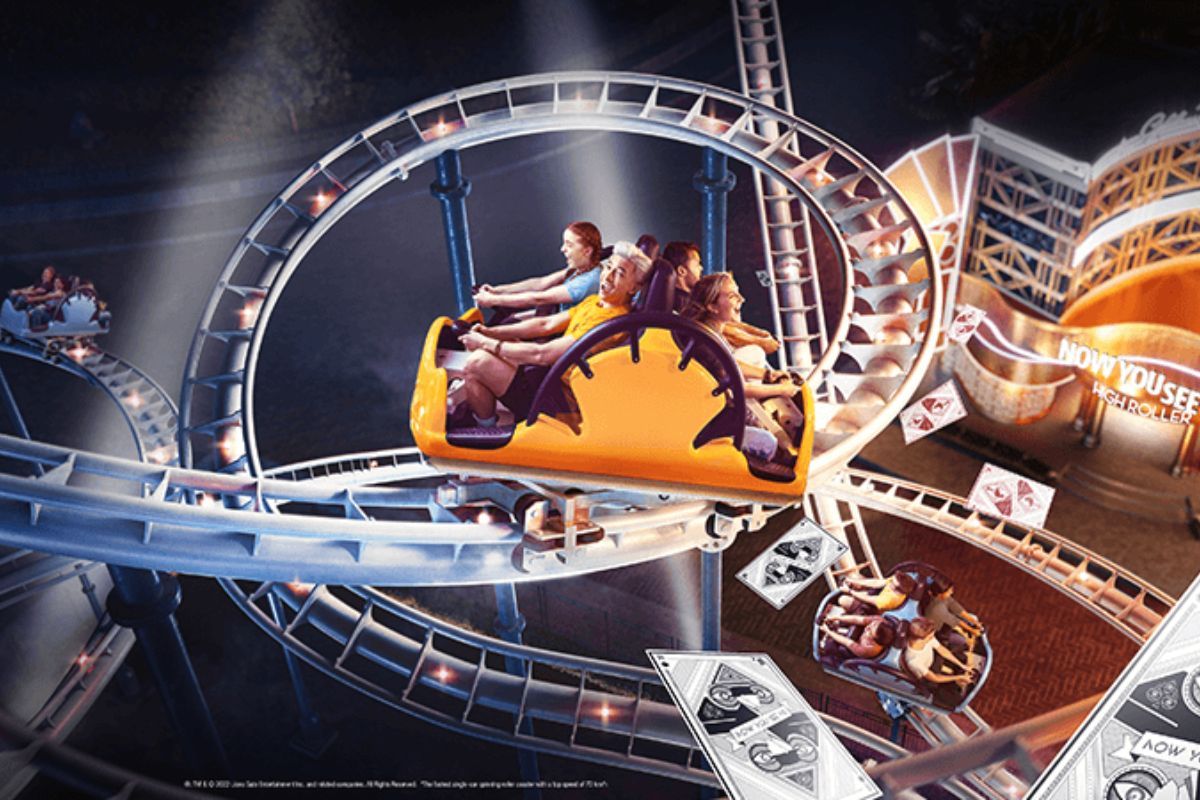 Motiongate Dubai is a theme park inspired by Hollywood. This theme park features fun attractions and rides based on popular movie franchises like Shrek, The Hunger Games, and Ghostbusters. Witness your favorite Hollywood characters coming to life at this theme park in Dubai. The park is turned into five main fun zones, namely, Columbia Pictures, Smurfs Village, Dreamworks, Lionsgate, and Studio Central. You can experience diverse rides and attractions at these zones.
Studio Central acts as a gateway to Motiongate. It is designed to resemble a movie set. Columbia Pictures features attractions based on movie franchises like Ghostbusters, Hotel Transylvania, and Zombieland. Underworld 4D, Zombieland Blastoff, The Green Hornett, and Flint's Imagination Lab are some of the popular rides in this zone. The Smurfs fans can head to The Smurfs Village to experience attractions like Smurf Village Express, Smurfs Studio Tours, and Woodland Play Park. You can embark on rides based on your favorite animate movies like Kung Fu Panda, Shrek, and Madagascar at Dreamworks zone. The Lionsgate zone is home to exciting attractions for The Hunger Games fans like Capitol Bullet Train and Panem Aerial Tour.
To experience this surreal Hollywood attraction in Dubai, head to their website to buy your tickets.
Ticket Pricing: Day Ticket – AED330, Gold Annual Pass – AED595, Platinum Annual Pass – AED795
Opening Hours: Sunday to Thursday – 11 am to 8 pm, Friday and Saturday – 11 am to 9 pm
Bollywood Parks Dubai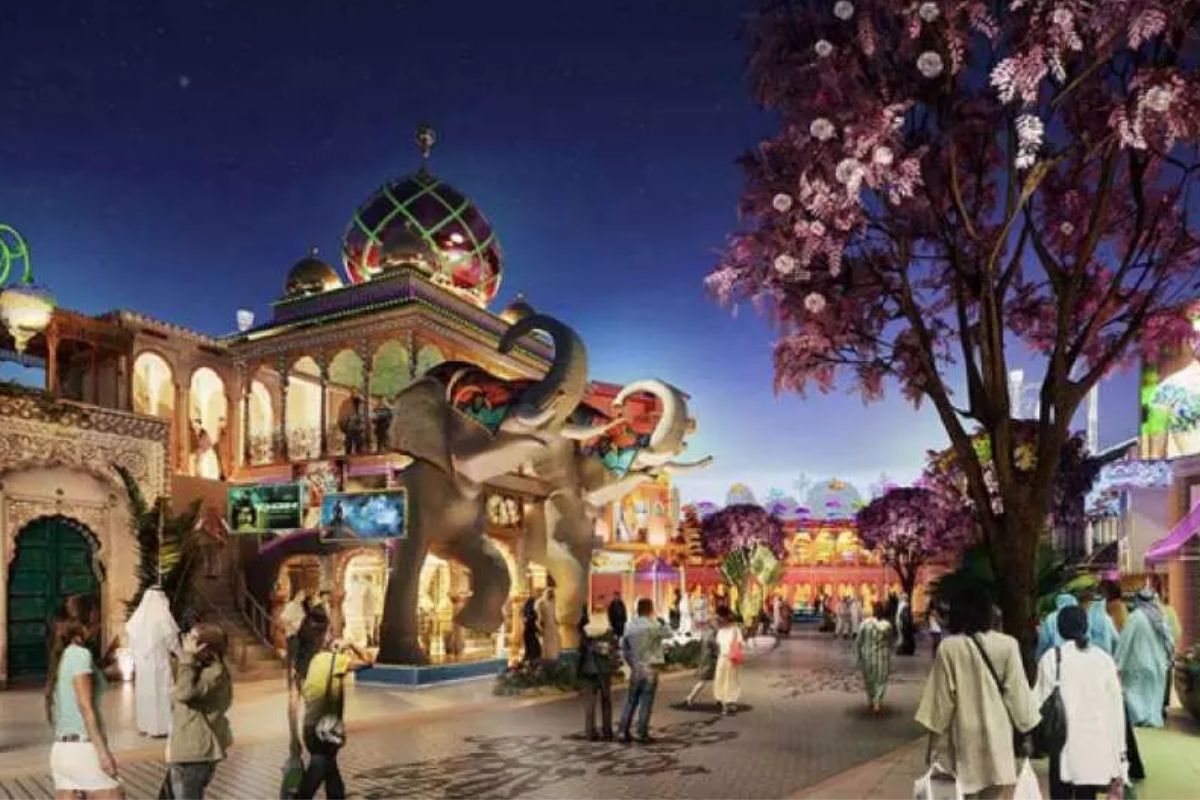 Bollywood Parks Dubai is a popular destination among Bollywood movie fanatics. This theme park is based on the Indian film industry with every ride and attraction inspired by Bollywood movies and characters. It is divided into six different zones to provide a diverse experience to visitors. Bollywood Parks feature live shows and dining options other than the variety of rides and attractions.
Bollywood Boulevard offers a unique experience of understanding the diverse culture of India like the dance styles, music, and explosion of colors. You can stroll the streets of Mumbai with its famous food, shopping vibe, and party spirit at Mumbai Chowk. At Rustic Ravine, the spirit of rural India comes to life through the fascinating setting. You can be a part of the unending adventures played out in Lagaan and Sholay. This zone also features exciting rides and installations. Royal Plaza awaits you with visual splendor at the Rajmahal Theatre, the region's first Broadway-style Bollywood musical. You can explore the world of the creation of brilliant movies like Zindagi Na Milegi Dobaara at Bollywood Film Studios. If you want to visit an Indian fair, go to the Mela, the latest addition to Bollywood Parks Dubai where you can enjoy the carnival vibe with vibrant colors and décor.
Check out the tickets to this dream Bollywood world on their website.
Ticket Pricing: 1-Day Park Pass – AED330, Silver Annual Pass – AED496, Gold Annual Pass – AED595, Platinum Annual Pass – AED795
Opening Hours: Sunday to Thursday – 2 pm to 10 pm, Friday and Saturday – 2 pm to 11 pm
Riverland Dubai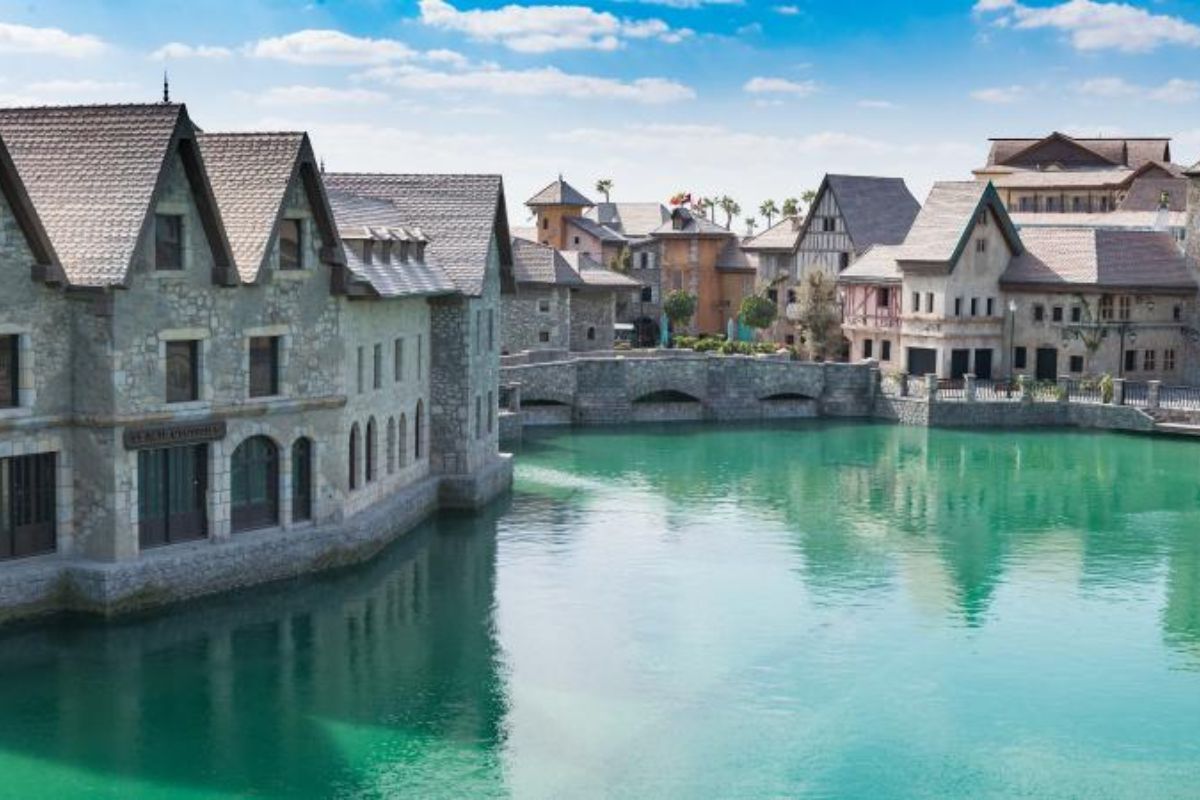 Riverland Dubai is a popular Instagram-worthy place in Dubai. This neighborhood is designed to resemble European architecture. Riverland acts as a gateway to Dubai Parks and Resorts. It is home to many dining and retail destinations with beautiful interiors. The area is divided into four different zones giving a glimpse into the greatest eras of the past.
The Boardwalk will teleport you to a 1950s American town with neon signages. You can walk through the urban streets while enjoying the jugglers and entertainment. India Gate gives you a royal Asian welcome with musicians and acrobats to the Bollywood Parks. You can also enjoy the artistic sculpture signifying Indian dance culture. The French Village will take you to the medieval French town where you can soak in historic European architecture. The towers and the water wheel offer a great backdrop for your photos. At the center of the Riverland is The Peninsula surrounded by the river. You can enjoy various performances at this large outdoor venue. This 19th-century architectural theme enhances your experience at this piazza.
This attraction by Dubai Parks and Resorts is open to the public and does not require any tickets.
Ticket Pricing: Free of charge
Opening Hours: 10 am to 11 pm
JumpX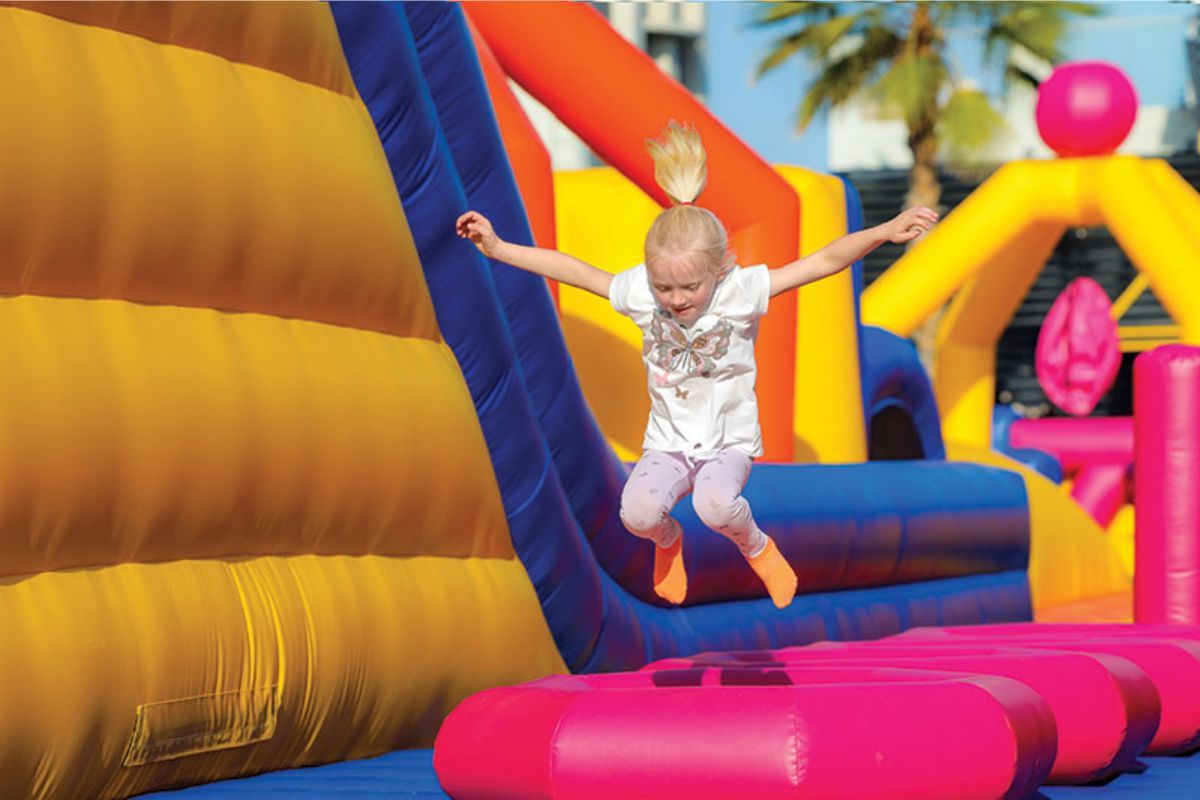 JumpX brought another Guinness World Record title to Dubai. It is the world's largest inflatable park. This is the latest addition to the Dubai Parks and Resorts attractions. The park spans 1200 square meters with a range of adventure zones, climbable walls, tunnels, obstacles, and sensory environments across multiple levels. This inflatable park is an ideal destination for kids aged 5 and above.
Ticket Pricing: 1-hour pass – AED60, All-day pass – AED100, 1-hour family pass – AED180, All-day family pass – AED300
Opening Hours: Sunday to Thursday – 4 pm to 8 pm, Friday and Saturday – 4 pm to 9 pm
Other than the theme parks, Dubai Parks and Resorts offers wonderful staycation options at their hotels. The resorts operated at Dubai Parks and Resorts are:
Lapita Hotel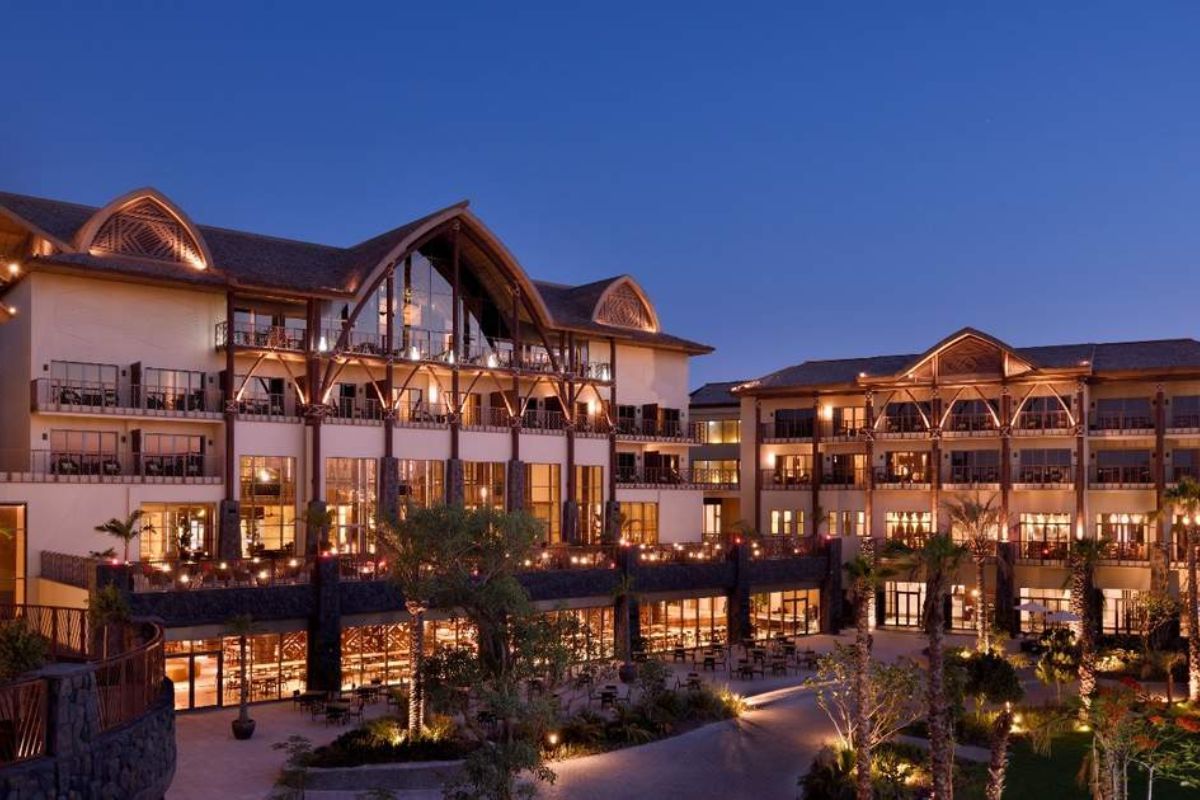 Lapita Hotel is a luxury hotel inspired by a Polynesian island. This up-scale resort provides a relaxing and Polynesian experience for the visitors with its architecture, décor, and atmosphere. The hotel is home to 504 rooms, suites, and villas equipped with modern luxury amenities. The rooms at Lapita Hotel offer excellent views of the surrounding gardens and lagoon pools. They also have a Polynesian-themed restaurant serving international and local cuisine and Polynesian dishes. The hotel also features a spa and wellness center where you can indulge in massages and other treatments.
Book a room to live a day in luxury at the Lapita Hotel.
Rove at the Park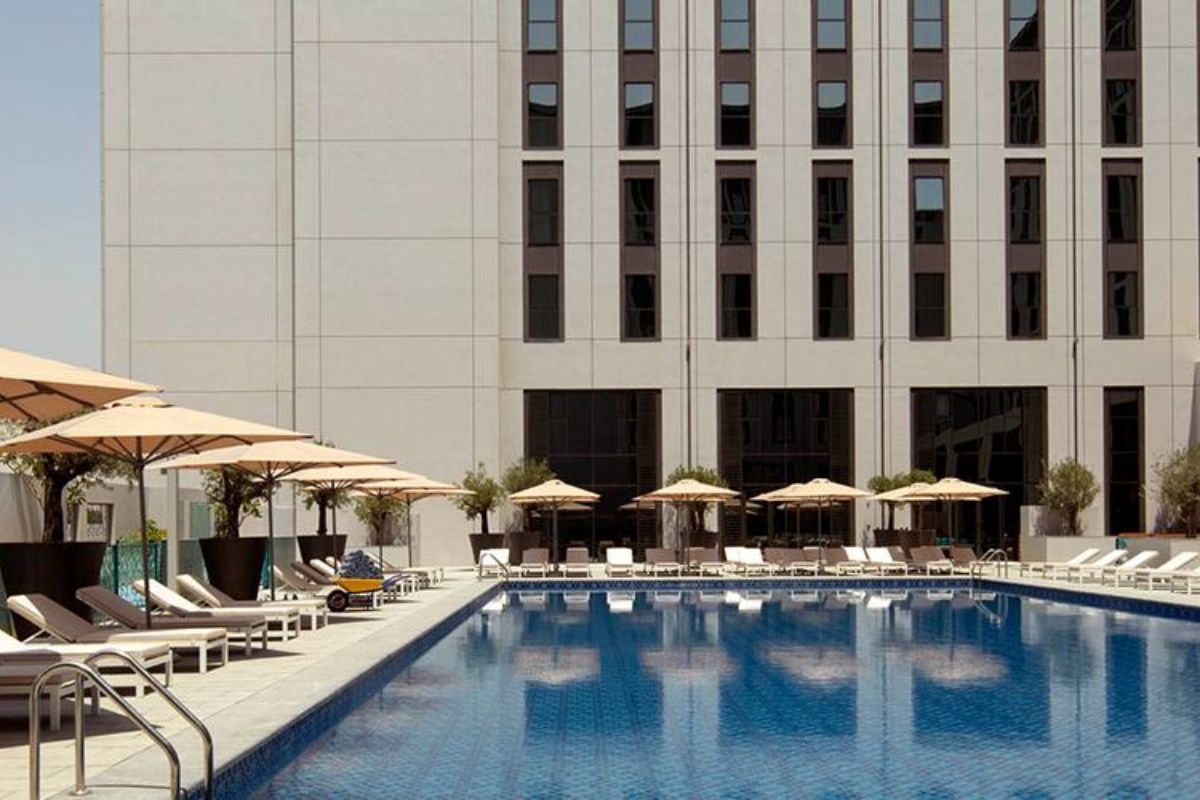 Rove at the Park Hotel is a family-friendly hotel located near to one of the biggest attractions in Dubai. This modern and affordable hotel provides easy access to the theme parks inside Dubai Parks and Resorts, the Outlet Village, and Dubai Marina. The hotel houses 579 rooms designed with contemporary interiors. You can also find the rooms equipped with modern amenities such as smart TV, a safety deposit box, and a mini fridge. You can also dine at their restaurant or chill by their poolside bar. The hotel also has a fitness center if you want to stay physically active during your vacation.
Visit their website to book a night at this hotel with mesmerizing views.
Legoland Hotel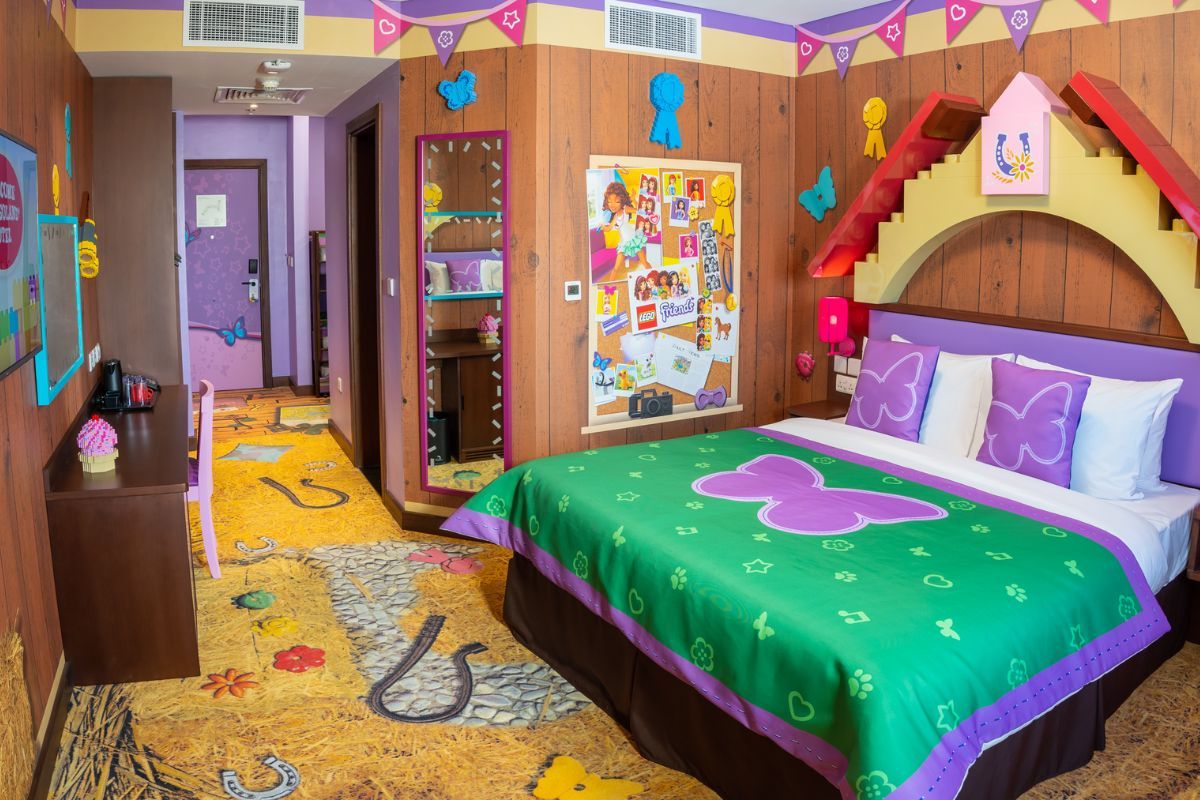 Legoland Hotel offers the unique experience of having a Lego sleepover. You can begin your Lego adventure at this Lego-themed hotel guarded by dragons. The rooms at this hotel are designed according to the Lego theme. The hotel has in-room treasure hunts to enhance your stay experience with them. You can also dine at the Bricks family restaurant to complete the experience. You will also receive a complimentary pass to two of the theme parks at Dubai Parks and Resorts.
Book a Lego-themed holiday at this hotel on their website.
Also read: