Do you fancy unique and one-of-a-kind experiences? Well, Dubai should be on your list. Dubai is home to diverse attractions and tourist destinations and has been attracting people from all over the world to this beautiful city of skyscrapers. From sky diving to watching movies in the snow, Dubai has it all. The city offers you the perfect option to leave the world for a few moments with its mesmerizing views and skyline.
Atlantis is one of the most luxurious hotels in the United Arab Emirates. This hotel is located in Palm Jumeirah, Dubai's popular landmark. Both Palm Jumeirah and Atlantis are examples of human ingenuity and creativity. Through the Palm Jumeirah project, Dubai has marked itself on global destination maps. The construction of this manmade island is a testament to Dubai's ambition and willingness to take risks, while the Atlantis symbolizes modern architecture and design.
Atlantis houses over 1,500 luxury rooms and suites, 23 restaurants and bars, nightclubs, and various other entertainment activities. Atlantis is home to two unique attractions in Dubai; The Aquaventure Waterpark and The Lost Chambers Aquarium. The Aquaventure Waterpark places itself in the list of the world's largest waterparks. This waterpark has over 150 water rides and attractions for visitors.
The Lost Chambers Aquarium is a whole world under the water for you to experience.
The Lost Chambers Aquarium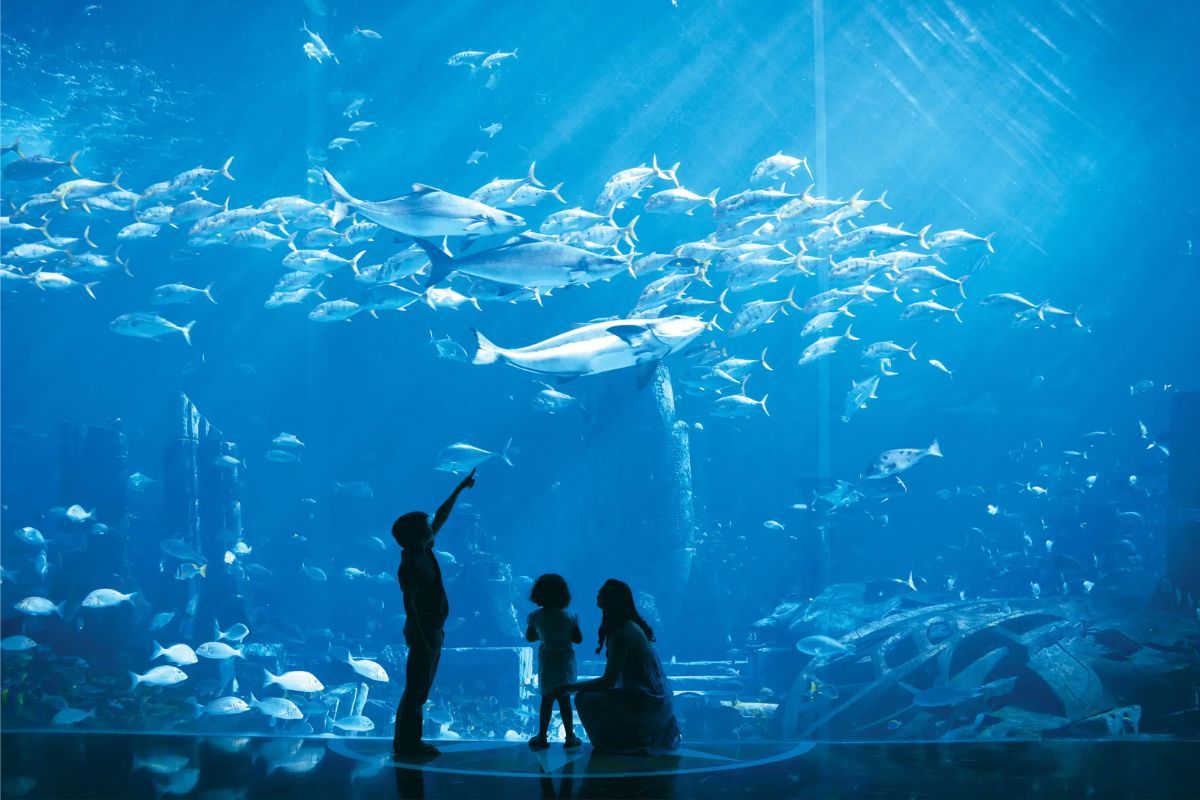 The Lost Chambers Aquarium is a stunning attraction located inside Atlantis. This attraction is a unique and immersive aquarium that offers its visitors a journey to the underwater world full of ancient ruins and exotic marine life. The Lost Chambers Aquarium is designed to resemble the Lost City of Atlantis using advanced technology.
The Lost Chambers Aquarium is home to 65,000 marine life belonging to 250 species groups inside 46,000 square feet of space. You can find aquatic fauna like stingrays, sharks, and giant arapaima at the Lost Chambers in Dubai. It has 10 chambers under different themes showcasing different aspects of the marine world. While exploring these chambers, you can experience the wonderful underwater environment through the sights and sounds. The interiors of Lost Chambers include elaborate structures, ancient artifacts, and visual displays offering the visitors a truly immersive experience of living in the city of Atlantis.
At The Lost Chambers Aquarium, you can also indulge in interactive experiences like snorkeling, diving, feeding the fish, and more. They also offer educational programs and guided tours at the aquarium. You can opt for a 'behind-the-scenes' tour to get up close and personal with some of the most fascinating inhabitants of this unique aquarium.
The Lost Chambers Aquarium at Atlantis also aims at conserving marine life along with providing entertainment. They have partnered up with local organizations to protect marine habitats and provide proper awareness about the importance of maintaining the oceans and the life in them. Visitors are given awareness about the various initiatives taken to protect marine life and habitat and are also educated on how to contribute their part in doing the same.
Exciting things to do at The Lost Chambers Aquarium
Ambassador Lagoon
Ambassador Lagoon is the main attraction at The Lost Chambers Aquarium in Dubai. It is a massive, 11-million-litre marine habitat that is home to over 65,000 marine animals. You can spot sharks, rays, and other exotic fishes inside this tank. The Ambassador Lagoon houses a 10-meter-long tunnel, a floor-to-ceiling glass window, and a panoramic viewing platform. This attraction can become the perfect backdrop for your photos. You can indulge in a guided tour inside Ambassador Lagoon with experts who will provide you with in-depth information about the animals and their habitats. Adjacent to the Ambassador Lagoon is the interactive touch tanks that let you touch and interact with a variety of aquatic animals like sea urchins and starfish. This interactive experience is offered in safe and controlled environments. Non-certified divers can also take part in this experience at the Ambassador Lagoon.
Aquatrek Extreme
This experience at The Lost Chambers Aquarium at Atlantis provides you a chance to dive into record-breaking depths with a high-tech helmet. You can explore Dubai's most diverse and themed aquarium. Down the depths, you can find an underwater territory packed with mythical rays, sharks, and colorful schools of fish. By signing up for this incredible experience, you are entitling yourself to a walking session with beautiful animals under the water. You do not need prior swimming expertise to enjoy this one-of-a-kind experience.
Ultimate Snorkel
The Ultimate Snorkel experience at the Lost Chambers in Dubai offers you a mind-blowing opportunity to snorkel through the Ambassador Lagoon. You can spot 250 species of fish and marine animals while you swim your way through the lagoon. You will be able to witness fascinating scales and corals in dazzling pinks, bright blues, and trident golds. When you sign up for this experience, you will be briefed in a comprehensive session by experts after which you will be provided with the snorkels, masks, and vest. Kids above the age of 6 can also join you in this beautiful experience.
Shark Safari
Wade alongside the guardians of Atlantis with the Shark Safari package by The Lost Chambers Aquarium in Dubai. You will be given a clear-glass helmet at the start of the journey. You can overcome your fear of sharks by coming face to face with the at the Shark Lagoon.
Dive Explorer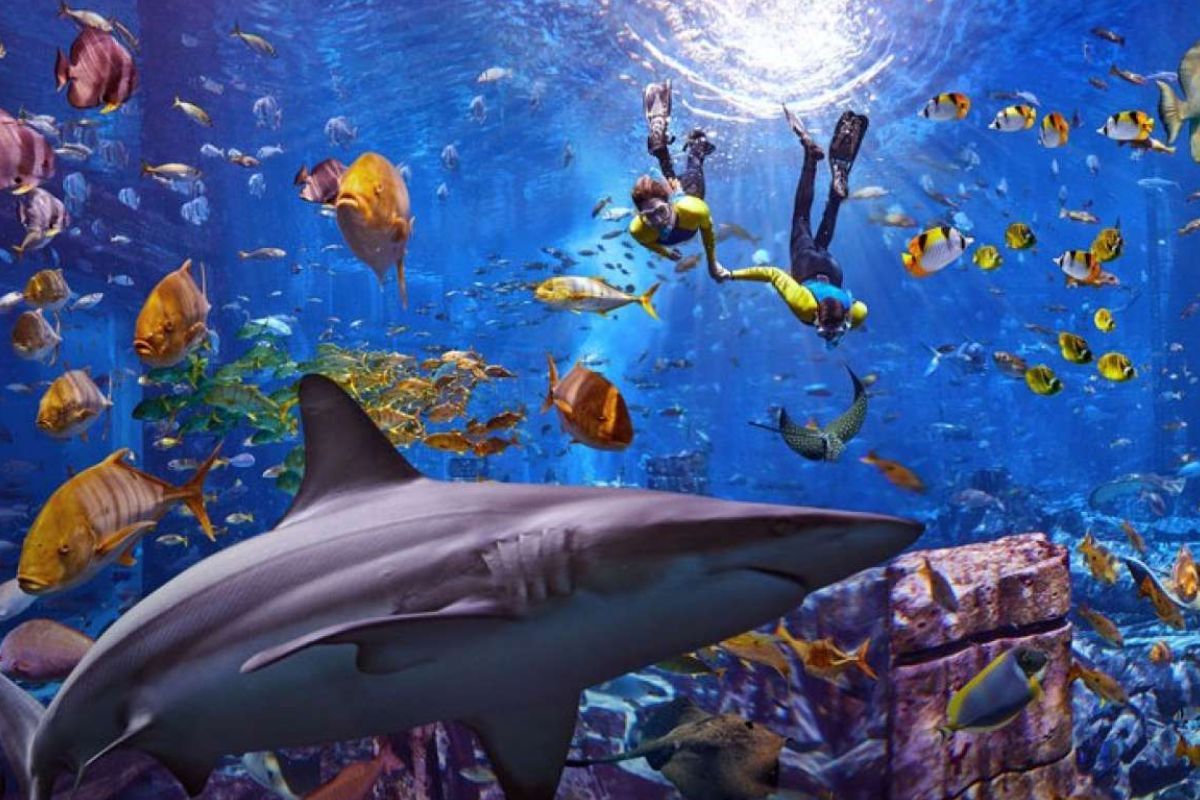 The Dive Explorer package is for those who are certified divers. You can experience the thrill of getting lost in the lost city of Atlantis. This is a scuba diving experience for adventure seekers out there. You can explore the remains of the lost city in the oceanic depths inside an aquarium. This one-of-a-kind experience will let you embark on a fascinating journey where you can see stunning varieties of marine life as you swim between the rubble of long-lost temples. The expert diving team at The Lost Chambers Aquarium will teach you how to indulge in a fulfilling experience without putting yourself in dangerous situations.
Predator Dive
Predator Dive experience packages are for the brave ones. This experience will take you extra close to sharks and rays. Predator Dive also offers you an opportunity to feed the legends of the oceans in an aquarium full of marine diversity. You can feed 14 different species of sharks, cobias, and stingrays. This is also the most expensive experience at The Lost Chambers Aquarium in Atlantis. This experience is for certified divers only. You will be provided with a special suit to embark on this adventurous journey.
Fish Tales Tour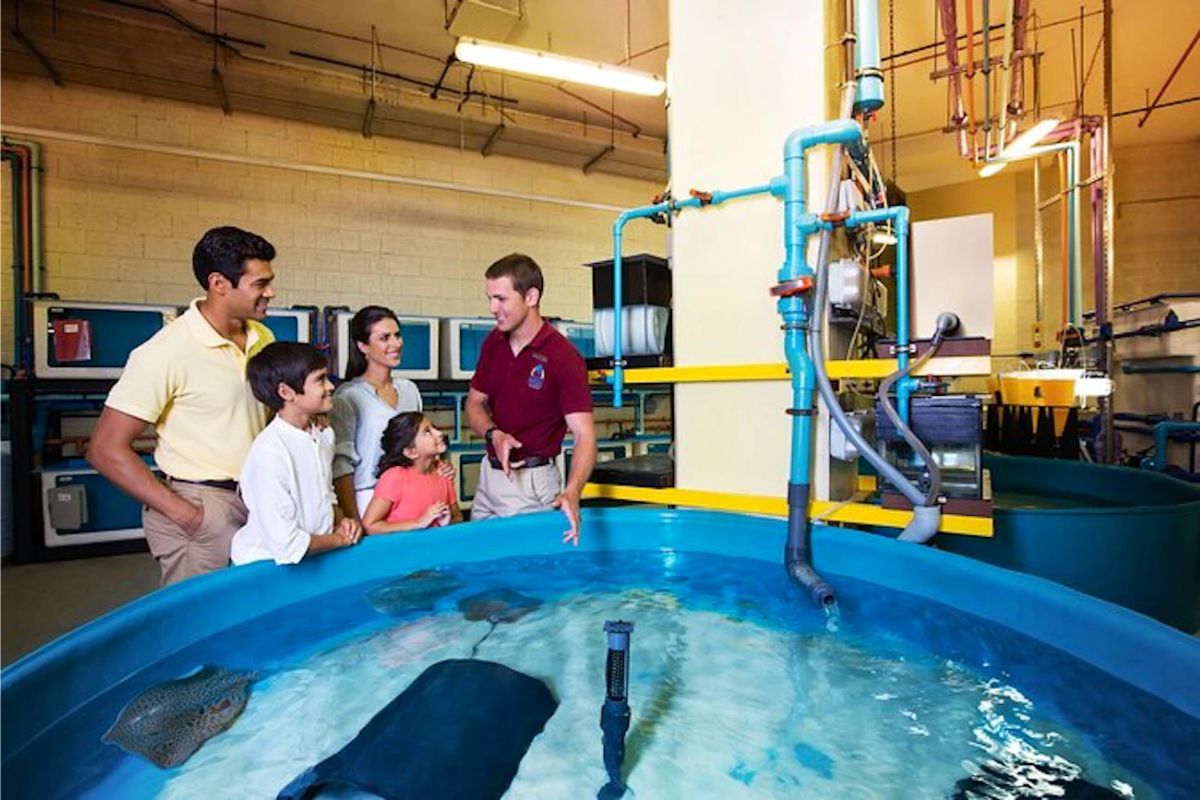 Fish Tales Tour offers you a unique experience of exploring the wonderful worlds of The Lost Chambers, Ambassador Lagoon, and Fish Hospital. You will be hosted by experts throughout the journey. You can get an insight into the eating habits of different animals inside the marine aquarium, their growth, and their lifespan. You can also get to know the special treatment and care provided to them.
Ticket pricing
The Lost Chambers Aquarium tickets are priced at AED115 per adult. The prices may change on public holidays and weekends. Each experience you choose will require special access.
Shark Safari – from AED610 (for ages 10 & above)
AquaTrek Xtreme – from AED970 (for ages 12 & above)
Ultimate Snorkel – from AED445 (for ages 6 & above)
Shark Snorkel – from AED515 (for ages 6 & above)
Dive Explorer – from AED1200 (for certified divers of ages 10 & above)
Dive Discovery – from AED1570 (for ages 10 & above)
Predator Dive – from AED2655 (for certified divers of ages 10 & above)
Location
The Lost Chambers Aquarium is located on a man-made island in Dubai. The luxury and iconic hotel of Atlantis in Dubai is home to this unique attraction making it easier for tourists and locals to visit.
How to reach The Lost Chambers Aquarium
The Lost Chambers Aquarium is easier to access via Sheikh Zayed Rd/E11. You can also choose to visit this spot by public transport. If you are planning to visit by metro, take the red line and get down at DMCC metro station, then take the Dubai tram from JLT tram station and get down at Dubai Marina Mall tram station and then take the marine transportation to Atlantis the Palm. You can also take the monorail after the tram instead of marine transportation for a unique experience. Visit RTA Journey Planner to know which buses to take to reach the destination from your desired location.
Opening hours of The Lost Chambers Aquarium
The Lost Chambers Aquarium at Atlantis will open at 10 am and close by 9 pm daily. However, there are different timings for specific experiences.
Visit their official website to know more about the exclusive experiences offered by them.
Also Read: