Dubai is a city of rich culture and heritage. Camel racing has been a part of Emirati culture long before Dubai was home to towering skyscrapers and 20-lane highways. These days the races continue, now a full-blown sporting event drawing locals and visitors alike. It is truly an authentic look into Emirati culture, both past and present. This article talks about all you need to know about camel racing in Dubai including the history, rules of the sport, where to watch camel race in Dubai and how is a race conducted. Read more to experience the thrill of this one-of-a-kind sport.
What is camel racing?
Camel racing similar to horse racing, is the sport of racing camels at high speeds over a predetermined course. This traditional sport dates back many centuries when local residents would gather during festivals and events like weddings to participate in this folk sport. On race day, 15 to 60 camels compete against one another for trophies and cash prizes.
Camels and Emirati Culture
Emiratis have a long history with camels. Not only were these animals used as modes of transportation across vast deserts, but they were also a reliable source of food and milk for the locals. Camel wool was also popular among nomads, who used it to make clothes, rugs, and tents. A At the time, camels were seen as status symbols by the Bedouin tribes. They used to give away camels to pay annual charity fees, zakat, and bride's dowries. They also held camel races and beauty contests as a form of entertainment. Camel Racing is one of the Emirati traditions that is practiced till this day. Throughout the UAE, many racing competitions are held under the patronage of the ruling Sheikhs. Camel meat and milk are still used to make some of the city's most flavorful dishes, including camel Bolognese, burgers, camel milk ice cream, and cookies.
How did Camel Racing become a major sporting event in UAE?
Camel racing is about finding beauty in the midst of chaos. Camel races were once held at weddings and other ceremonies. However, the last century saw a technological boom in the UAE and neighboring regions. Recognizing the loss of this heritage sport, the UAE's rulers made a concerted effort to bring back camel races. In the early 2000s, large racetracks were built, and camel racing quickly became a major sporting event across the UAE. The camel race is now one of the richest races in the world. A regular championship is attended by hundreds of camels. And the owner of the winning camel receives a hefty sum of money.
Before the race:
The training that the camels go through to become race-ready is one of the most fascinating aspects of camel racing in Dubai. Camel owners typically start training their camels when they are young, because young camels are more adaptable and learn faster. Camel training requires a lot of hard work and patience. Owners usually start by accustoming the camel to being ridden by a jockey. This entails getting the camel to accept the jockey's weight on its back and to obey the jockey's commands. The camel is trained to run at high speeds once it is comfortable with the jockey. Camels are trained to run on a racetrack, which is typically flat and sandy. Short distances are usually started and gradually increased as the camel grows stronger. As the camel gains speed, it is taught to run in groups with other camels. This is important because it teaches the camel to run in a straight line and to obey the jockey's commands.
Diet is another important aspect of camel training. Camels are herbivores, which means they eat plants like grass, leaves, and branches. During their training, the camels are fed a nutritious diet of hay, barley, and dates. The diet of the camel is carefully monitored, and its weight is checked on a regular basis to ensure that it is in good health.
The Camel Race Day:
On race day, the commotion begins early. There are typically two racing sessions, one from 7 to 9 in the morning and the other from 2 to 4 in the afternoon. There could be 15 to 60 camels competing in one race. The tall camels are dressed in vivid clothing to make them easier to spot from a distance. Before the race, the race camels must warm up. To avoid exhausting the camels, a brief sprint is conducted with them an hour prior to the race. At the starting line, camels are positioned behind gates just like in horse races. Every door opens instantly when the whistle blows. The jockeys quickly make room for the camels as soon as they pull open the gates, and the camels bolt out. SUVs are used to transport the camel owners and trainers. The robot jockey will be managed by the trainer using a remote. The robot hand whips the camel to make them run more quickly as he presses the remote control. Ten kilometers are covered in the camel race. All the camels initially run side by side. However, they will become scarcer as they approach the finish line (which is indicated by a red post). The competition lasts 10 to 15 minutes. You can hear the crowd yelling and cheering as the camels pass the finish line one by one.
Rules of Camel Racing in Dubai:
1. Age of Camels: The races are only open to camels that are at least two years old.
2. Number of Camels: There may be between 30 and 50 camels competing in each race.
3. Jockeys: Because a jockey riding a camel need to be very light in weight, young children have traditionally been used to ride the camel. However, this practice has been outlawed in Dubai. The jockeys have been replaced by remote-controlled robots that weigh about 27 kg.
4. Length: Depending on the age and breed of the camels, the races typically last 4 to 10 kilometers.
5. Use of Whips and Bumps: It is not permitted to use whips or any other physical force to make the camels move more quickly. Furthermore, any bumping or interfering with other camels is strictly prohibited
6. Doping: It is strictly forbidden to use performance-enhancing drugs or other substances during camel races.
7. Weight of Camels: Camels are weighed before the race to make sure they are within the weight limits for their age category. Any camels that are too heavy or too light are disqualified from the race.
8. Monitoring: To stop cheating or other types of rule-breaking, the races are closely watched. Stewards monitor the races from the beginning to the end, and any violations can result in disqualification.
9.Registration: To compete in races, camels must be registered with the appropriate authorities, and their owners must possess all necessary licenses and paperwork.
10. Health and Safety: Before participating in a race, camels must be in good health and have received all required immunizations and medical examinations. The jockeys and camels are also protected by safety precautions, which also include the use of padded saddles and other gear.
Where to watch camel racing in Dubai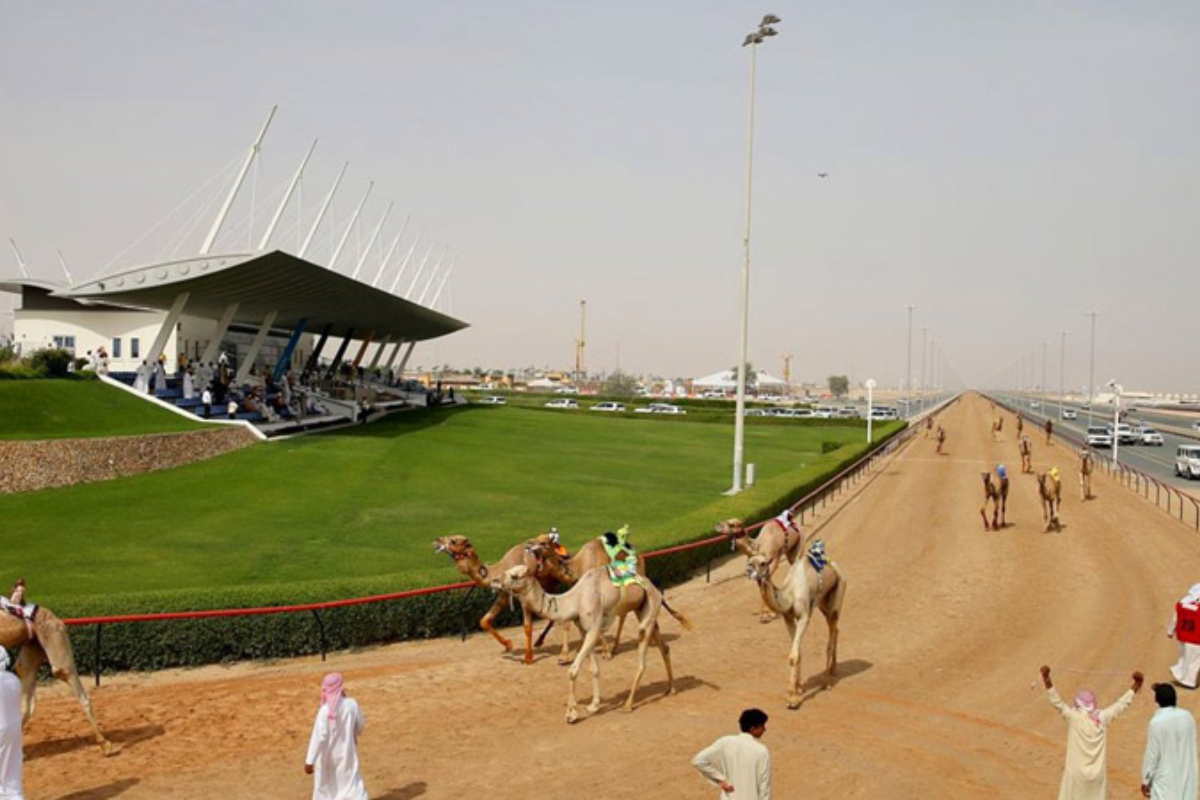 The Al Marmoon Camel Racing Track, which is close to the Al Marmoum Heritage Village and a half-hour drive on the Al Ain Road towards Oman, is the biggest camel racing track in Dubai. It holds the most prestigious camel race every year as part of the nation's heritage festival, Al Marmoom Heritage Festival. The winning team in this race receives trophies, luxury cars, and 80 million dirhams in prize money. The Al Khawaneej Racing Track is another well-known location. Al Khwaneej has played an important role in camel racing. The track showcases a modernized version of the sport while keeping the tradition alive.
When does Camel Racing season begin in Dubai?
Although minor races are held all year, major races are held between October and April, as well as during the winter season. Camel races typically take place between 6 and 9 am on weekends. There is no fee to view camel races in Dubai so, it's better to arrive early if you want the best seats.
How much does a racing camel cost?
A racing camel is an expensive purchase. Most camels are bought at auctions, where prices can range from AED 10,000 to AED 1 million. Winning camels can fetch even more money—up to AED 10 million—when they are sold. The cost of providing for a racing camel includes thousands of dirhams a year for food, lodging, transportation, and medical care.
What is the prize for winning a Camel Race in Dubai?
With a racing camel costing so much, the motivation to win is even stronger. Winning a race at Al Marmoum results in a large payout, with first-place cash prizes starting at AED 1 million in regular season races and increasing to upto AED 80-90 million for season championships. Aside from cash, winning camels also receive  luxury cars, handcrafted daggers, and gold-plated swords.
Also Read: