With a wide variety of adventure activities, Dubai has always been the favorite destination of adrenaline junkies. Known for its towering skyscrapers, luxury shopping, and extravagant lifestyle, Dubai is a land of extremes, where innovation and creativity know no bounds. From jet skiing to parasailing, you can find many activities that can push your boundaries.
If you are an adventure junkie in Dubai, you have to try out the adrenaline-pumping activities offered here because of two reasons. One, the safety guaranteed in Dubai is solid and the options for adventures offered here are diverse. Dubai's commitment to water sports is evident in the city's investment in world-class infrastructure and facilities. The city has multiple marinas, yacht clubs, and water sports hubs that provide services to individuals with varying levels of expertise. The facilities offer rental equipment, professional instructors, and safety guidelines, facilitating a secure and enjoyable experience for people interested in water sports.
Why Dubai waters are perfect for water sport activities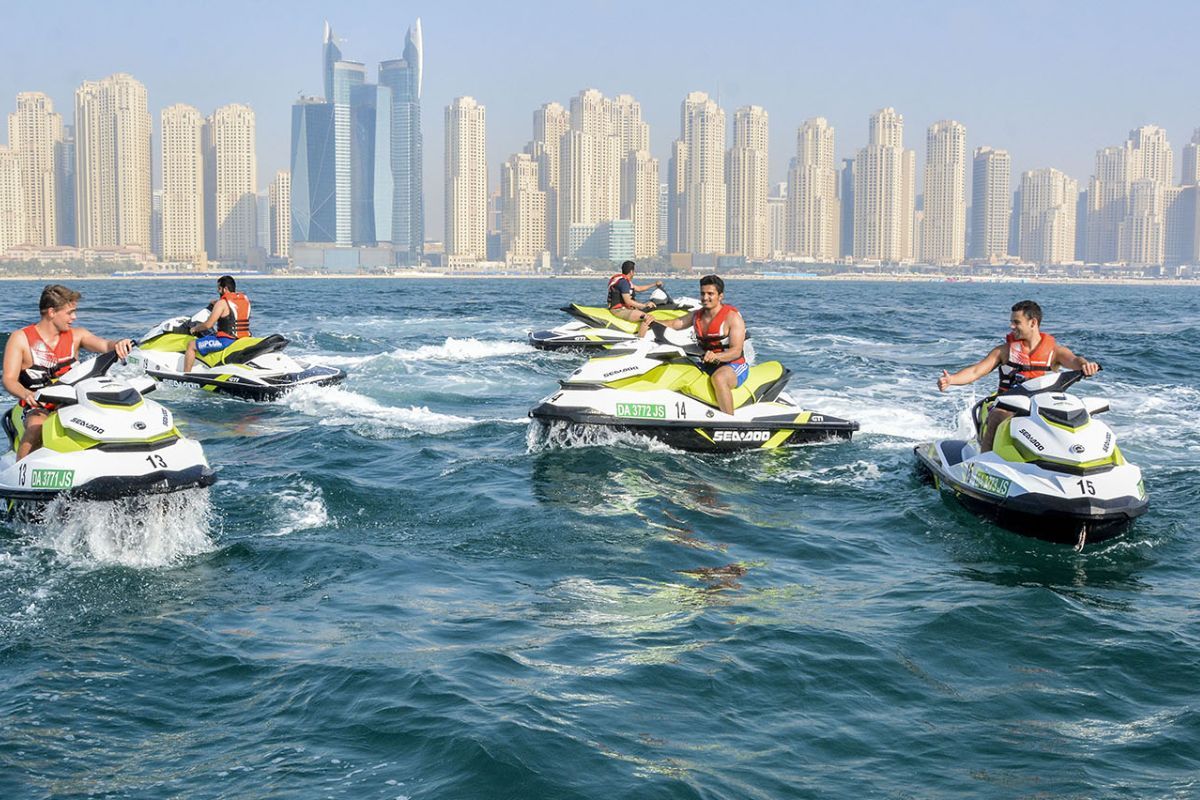 Generally, Dubai has a warm climate. The only time you will need warmers is during the peak winter season. The water temperature in Dubai rarely goes beneath 20 degrees Celsius. The warm waters of the Persian Gulf offer a comfortable environment for water sports enthusiasts.
Another reason why Dubai is best for water sports is due to the factor that Dubai waters are relatively calm thereby providing excellent visibility. This makes it an ideal destination for snorkeling and scuba diving. The crystal-clear waters allow divers to explore the vibrant marine life, including coral reefs, tropical fish, and even shipwrecks.
You can opt for Dubai as the go-to place for trying out your water sport wishes as the city's coastline stretches for miles, providing plenty of space for water sports activities. The city has several beaches like Jumeirah Beach, Kite Beach, and Al Mamzar Beach, all of which offer ideal conditions for water sports such as kite surfing, jet skiing, and parasailing.
If you are a visitor to this city of skyscrapers, do not miss the thrilling side of Dubai. Here are the top 9 water sports in Dubai that you should give a try.
Parasailing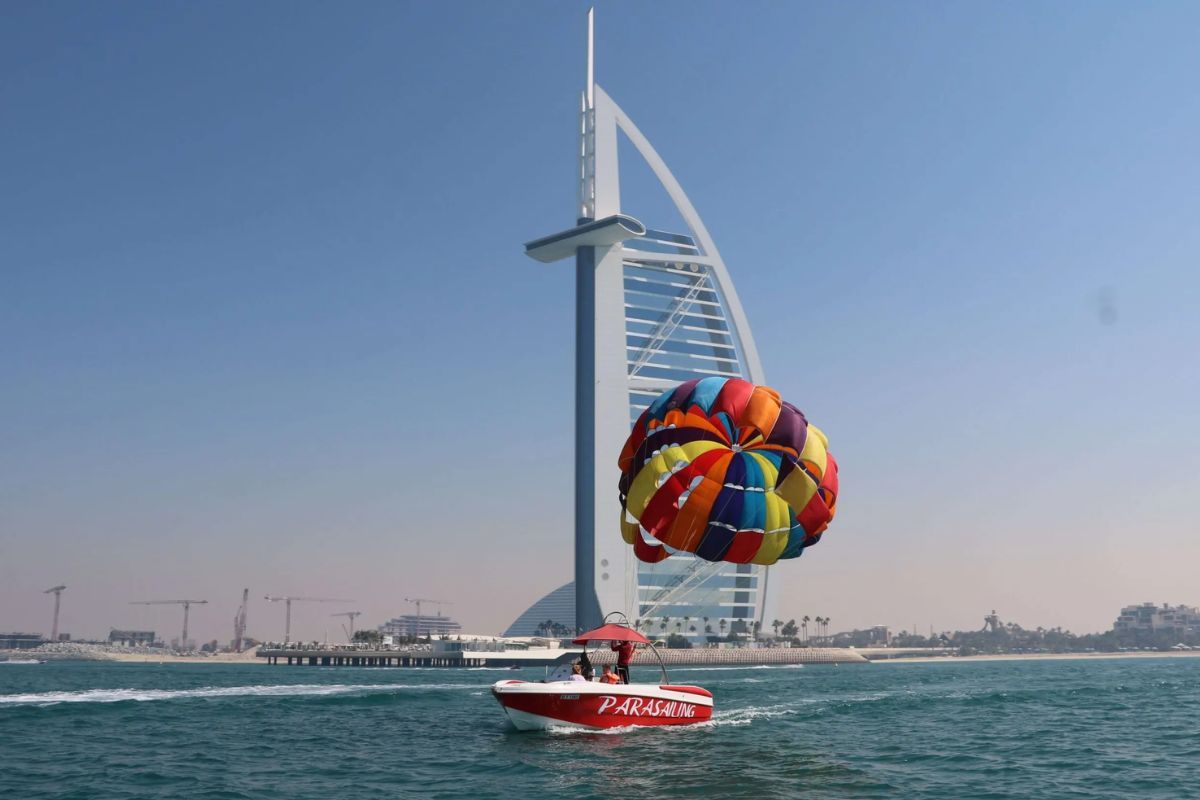 Parasailing is a beginner-friendly water sport. A parasail is a specialized type of parachute that is steered by a boat. It rises in the air alongside the boat and provides breathtaking views of Dubai's entire city. You can glide through the air effortlessly as the control of the boat is in the hands of an expert.
Parasailing in Dubai is relatively safe as the participants are always accompanied by an experienced instructor who will guide them through the experience. You don't need to have any prior experience with wind sports to try this exciting activity. Throughout the ride, you will be equipped with a life jacket and safety harness. Parasailing in Dubai offers a unique perspective of Dubai's coastline. You can enjoy the ever-popular Dubai skyline from a height of about 150 meters.
Jumeirah Beach is one of the best places to go parasailing in Dubai.  Other popular parasailing spots in the city are Dubai Marina, Palm Jumeirah, and Kite Beach. Many tour operators offer parasailing packages that can be customized according to your budget and preferences. The experience can last anywhere from 10 minutes to an hour, depending on the package you choose.
Also Read: 15 Fun Things to Do at JBR in Dubai
Average cost of water sport: AED350 per person
Difficulty level: Beginner-friendly
Seabreacher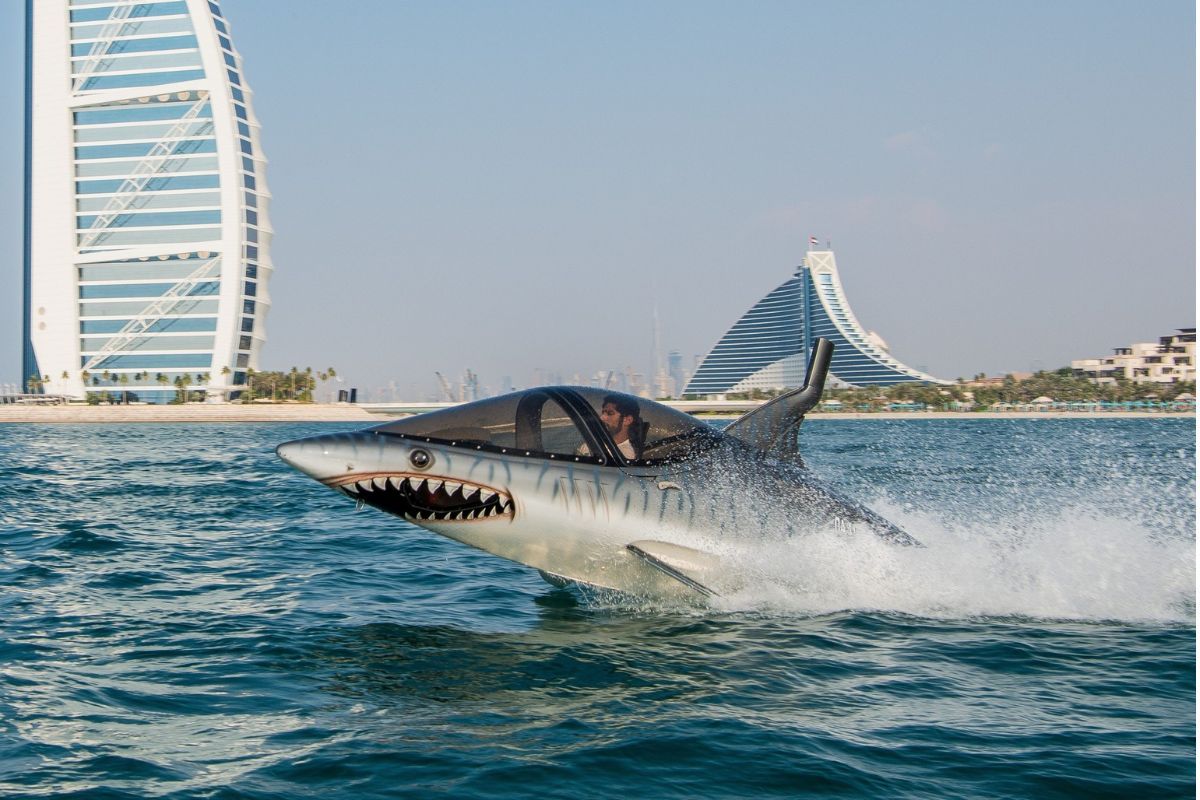 Seabreacher is a new and unique ride that offers a thrilling experience in the waters of Dubai. If you're someone who loves seeking out thrills, then this is for you. The seabreacher is a watercraft that is designed to resemble a shark. It can give you the experience of hitting the water just like a shark would.
This is a miniature submarine but operates more like an aircraft. It is powered by a robust 260hp engine that allows the seabreacher to achieve a speed of up to 100kmph. The movements of this submarine resemble that of a real shark's tail. The name of this ride is inspired by its ability to leap out of the water up to six meters high. You can sit alongside an instructor in this adventure pod as it takes you on an exhilarating ride, reaching high speeds on the water surface. Seabreacher also can dive down to a depth of five feet. This activity does not require you to have diving or swimming certification, but this is not for the faint-hearted ones.
In Dubai, there are not many tour operators that offer this unique experience. However, you can contact the tour operators in JBR and Jumeirah Beach to book this thrilling ride. SeaBreacher Diving Club and Water Adventure Dubai are the popular operators in Dubai that have seabreacher packages.
Average cost of water sport: AED750 per person
Difficulty level: Beginner-friendly
Jet Skiing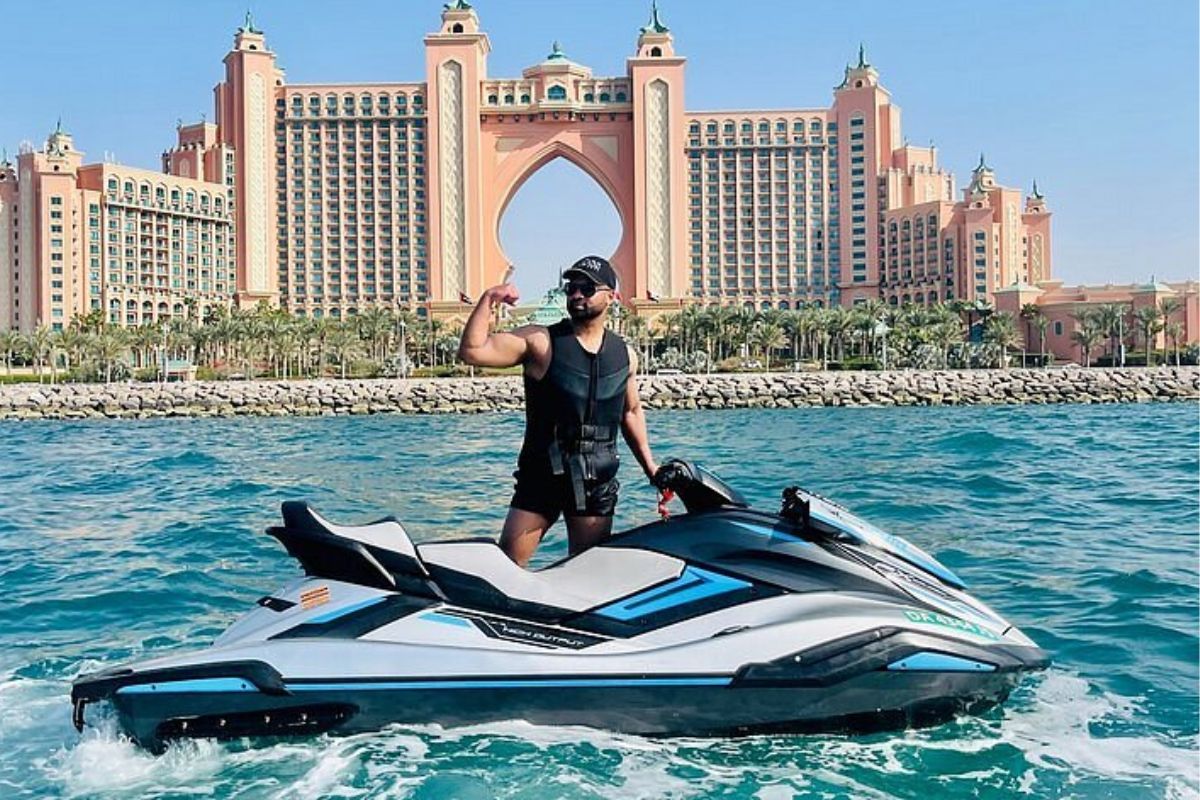 Jet skiing is a popular water sport in Dubai that offers an adrenaline-fueled experience for thrill-seekers. During the activity, you will have to ride a personal watercraft, a jet ski, at high speeds on the water surface. The city's warm and calm waters make it an ideal location for jet skiing.
Jet skiing lets you experience the exhilarating rush of sheer mechanical power combined with the freedom of being out on the open ocean. Prior to the experience, you will be briefed on the safety measures and controls of the jet ski. Participants are accompanied by an experienced instructor if required, who will ensure their safety and guide them through the experience. Depending on the package you choose, you can also take breaks to explore the area and take in the stunning views.
There are several tour operators that offer jet ski rentals and guided tours in Dubai. Nemo water sports is the most preferred tour operator that can guide you through the process. Jumeirah Beach, Dubai Marina, Palm Jumeirah, and Kite Beach are some of the popular locations in Dubai where you can do this water sport. The added advantage of performing at these locations is that they offer stunning views of the city's skyline and landmarks which makes the experience even more memorable.
Average cost of water sport: AED350 for one person
Difficulty level: Intermediate
Jet Car Rental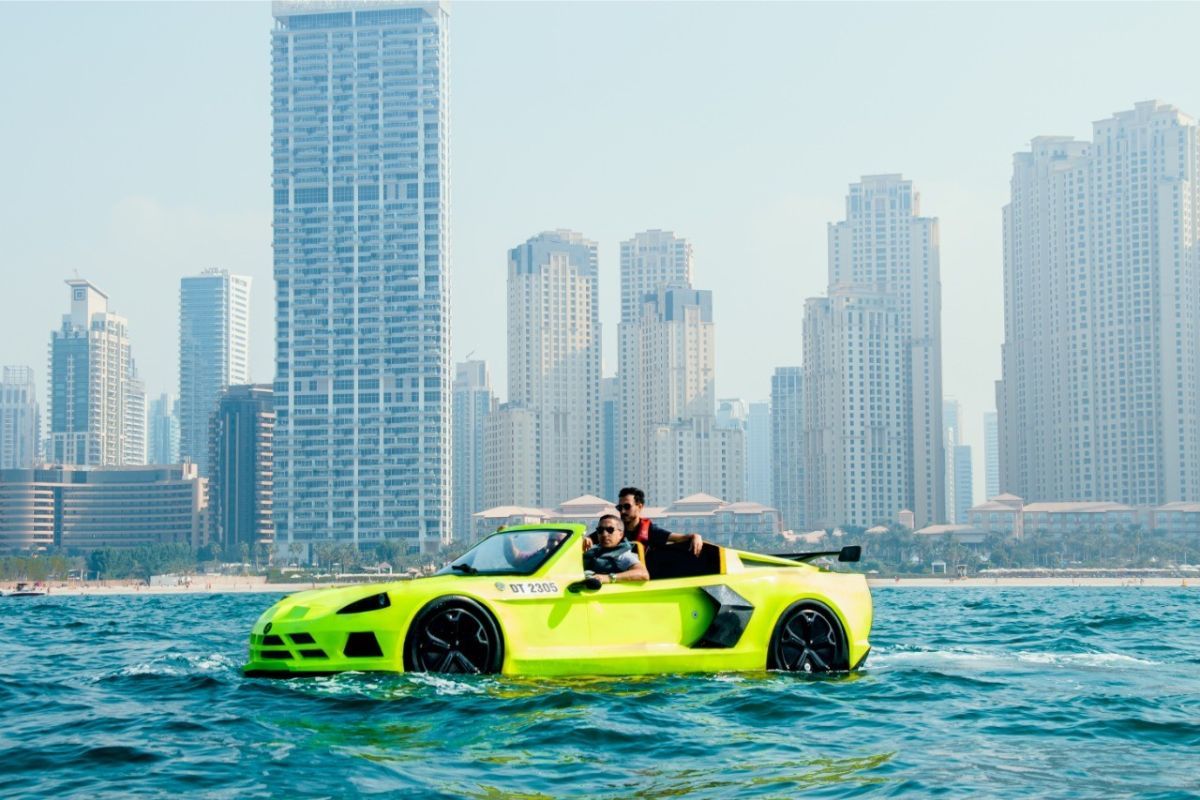 Riding a jet car is the coolest water sport you can try in Dubai. This is the best way to explore the mesmerizing waters of the city. You can drive around the coastline to get different views of the city. This experience is similar to that of a jet ski but a little bit on the expensive side.
In this super cool experience, you can drive in the water on a water jet car that resembles a super car. These cars use high-pressure water jets to propel itself forward. You will be instructed on the mechanism of jet car and the safety measures that are to be followed through the ride. You can feel the adrenaline pump throughout your body as you ride past the small tides.
There are many water sport operators in the region that rents out these special jet cars. Sea Life Watersports and Dubriani are the top jet car rentals in Dubai. Dubai Marina is a top destination for this water adventure.
Average cost of water sport: AED900 per person
Difficulty level: Beginner-friendly
Kite Surfing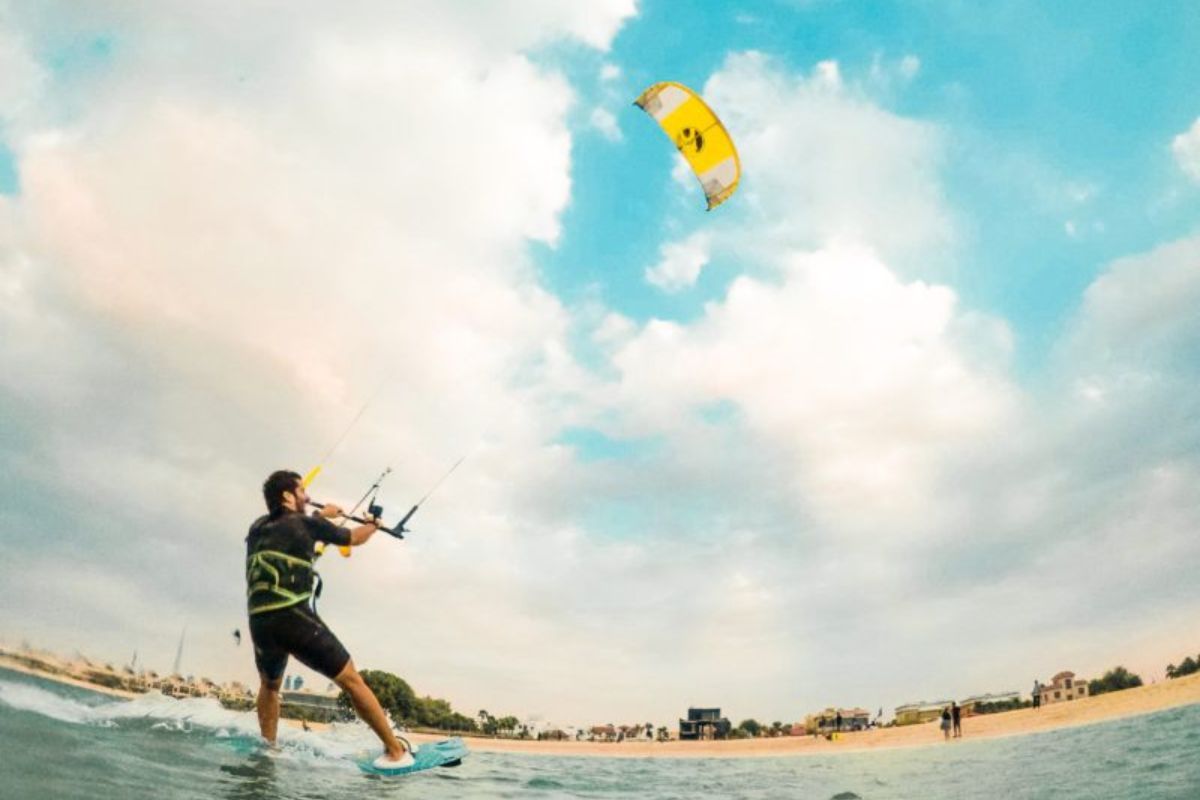 Kite surfing is one of the favorite water sports activities for adventure seekers. You will be required to stand on a board which will be pulled by a big parachute. You can control the parachute through the handle that connects it to the stand board.
Dubai beaches often experience a windy climate which is a major advantage factor for kite surfing. The experience of kite surfing depends on your expertise in the field. Many operators are providing kite surfing lessons for beginners and intermediates. With proper guidance, you will be able to get control of the parachute and utilize the wind to change the direction of your movement. You'll feel the rush of adrenaline as you ride the waves and soar through the air. Depending on your skill level, you can perform tricks and jumps, making the experience even more thrilling.
There are several locations in Dubai that offer kite surfing, including Kite Beach, Nessnass Beach, and Sunset Beach. Kite N Surf is a popular tour operator who can give you exciting deals on kite surfing. You can also visit Kite Beach if you want to just enjoy the sight of kite surfing as the beach is filled with kite surfers.
Average cost of water sport: AED300
Difficulty level: Intermediate to Expert
Flyboarding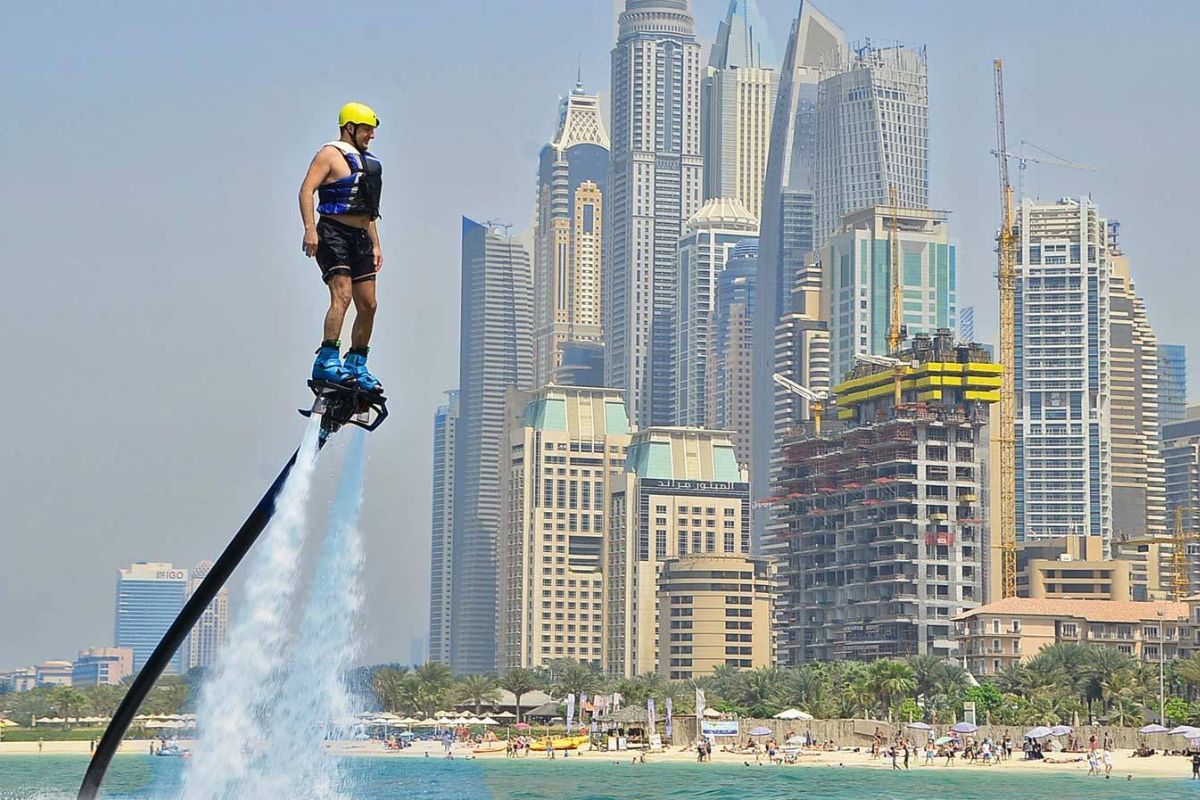 Flyboarding is a very exciting adventure sport to try out in the waters. This thrilling activity combines the rush of water jet propulsion and the excitement of flying. Flyboarding offers you the experience of flying freely above the water like you have superpowers. You can also enjoy fascinating views of the Dubai skyline and coastline during the ride.
While flyboarding, you will be strapped onto a board that is connected to a jet ski via a hose. This flyboard can shoot up to a whopping height of nine meters up in the sky. You need to be able to maintain your balance on the board to avoid falling into the water. The water is pumped at a high force through the hose to let you move through the air. With proper knowledge of balancing the board, you will be able to change the direction of your movement. Before setting on this journey, you will have an instructor to guide you through the basics of flyboarding to help you start off. Once you get the knack for this experience, you can try out flips and tricks of flyboarding.
There are many operators in Dubai that offer flyboarding. Nemo watersports is a popular operator in the region that offers guided flyboarding in Dubai. You can also visit JBR, Dubai Marina, and Jumeirah Beach to try out this adventure.
Average cost of water sport: AED350
Difficulty level: Intermediate
Wakeboarding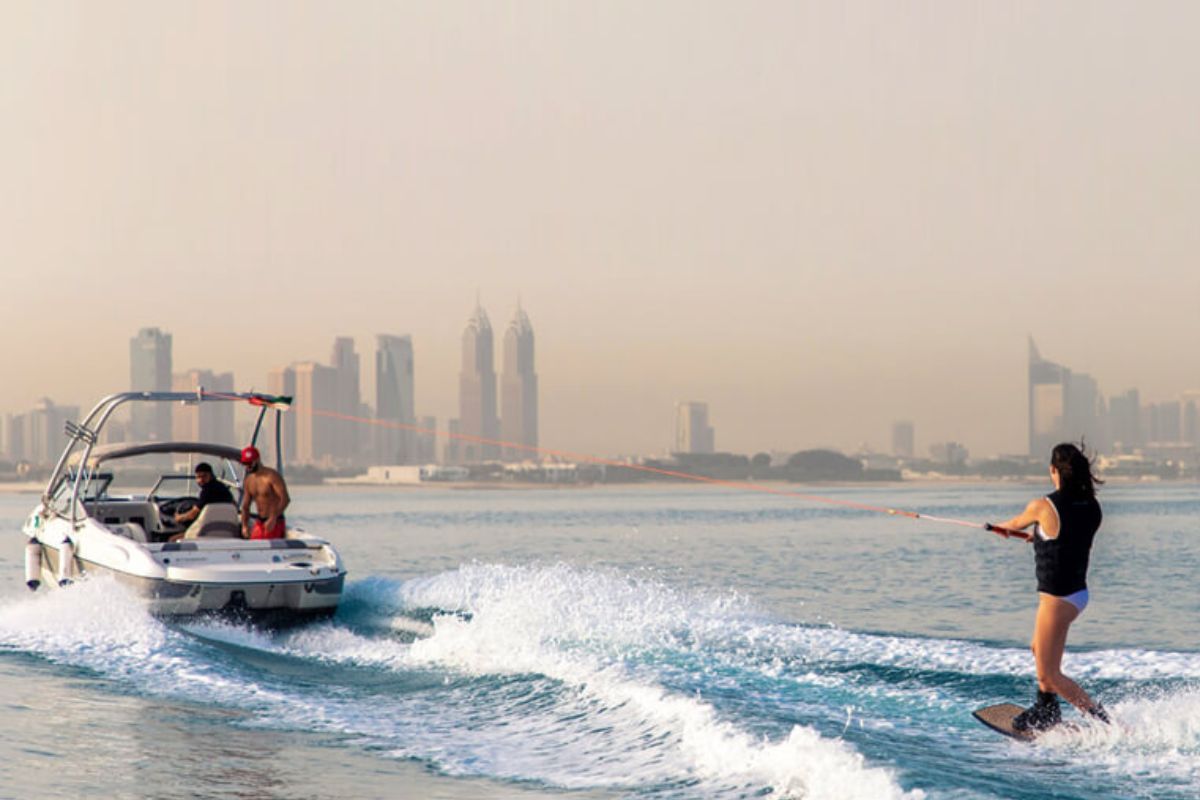 Wakeboarding is an extreme water sport performed by adventure junkies in Dubai. This experience is popular in the region during the winter season. You can experience the thrill of conquering the waves while you skim through the water.
During wakeboarding, the participant has to stand on a board and which will be pulled by a motorboat across the wake of the water with the intention of executing aerial stunts. One of the distinctive features of this sport is the endeavor to perform tricks while in mid-air. In Dubai, there are many instructors who offer lessons to help you master the skill of wakeboarding. Depending on your skill level, you can perform various tricks such as 360-degree spins, grabs, and flips.
Wakeboarding in Dubai is a popular activity for both locals and tourists. This is more challenging than water skiing and maneuvering. Wake Evolution is a popular operator who can offer you this wonderful experience.
Average cost of water sport: AED 300 per person
Difficulty level: Intermediate
Water Skiing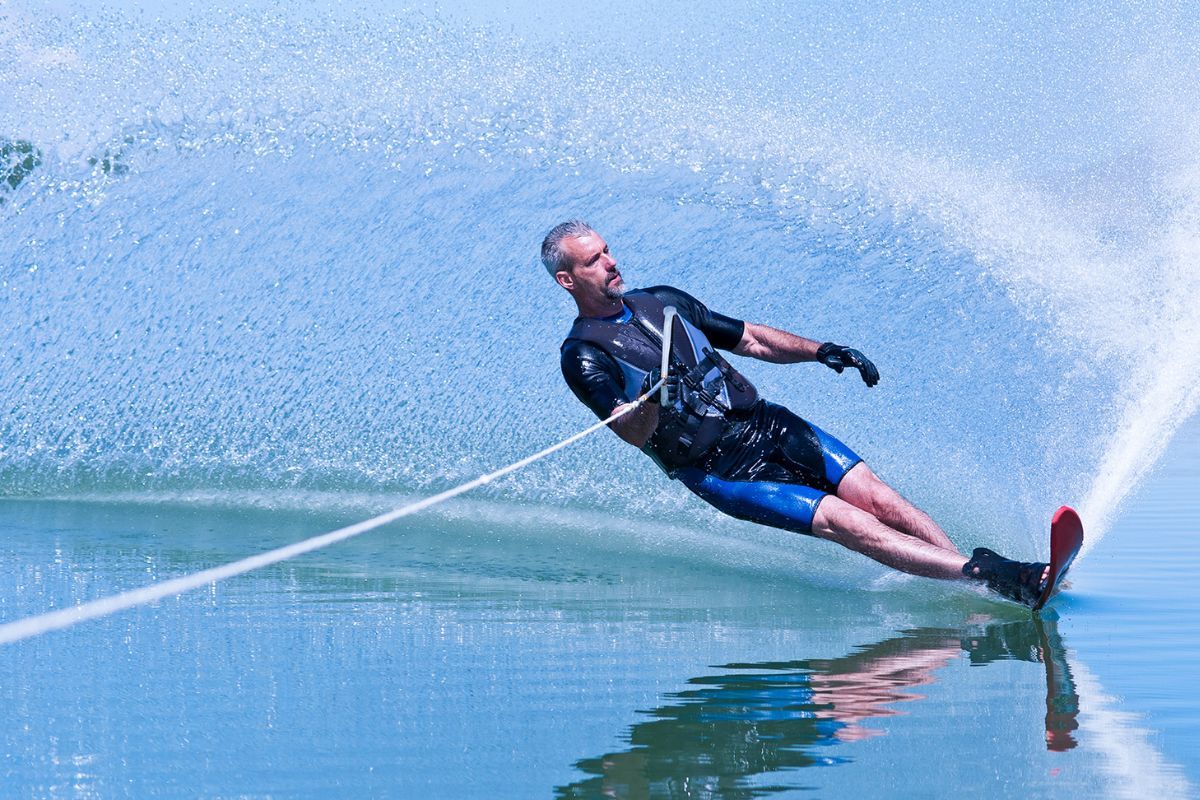 Water skiing is an adrenaline-pumping activity for those who are fond of water. This is one of the best water sports experiences you can have while in Dubai. You will be able to ski through the water as you are being pulled.
Water skiing is a type of sport that takes place on the surface of the water. You will be towed behind a boat or a cable ski installation while gliding on the surface using one or two skis. You will need to rent or bring your equipment, including water skis, a tow rope, and a life jacket. When the boat starts moving, use the momentum to pull yourself up onto the skis and stand up. Use your body movements to steer and balance as you glide over the water. You can also try some tricks and jumps if you feel comfortable.
Many water sports companies in Dubai offer equipment rental as part of their services. Water skiing in Dubai helps you to mesmerizing views of Dubai's coastline and skyline. Water Sports Dubai is a popular company that offers wonderful water skiing packages in the region. Jumeirah Beach and Dubai Marina are popular locations to water ski in Dubai.
Average cost of water sport: AED400
Difficulty level: Intermediate
Windsurfing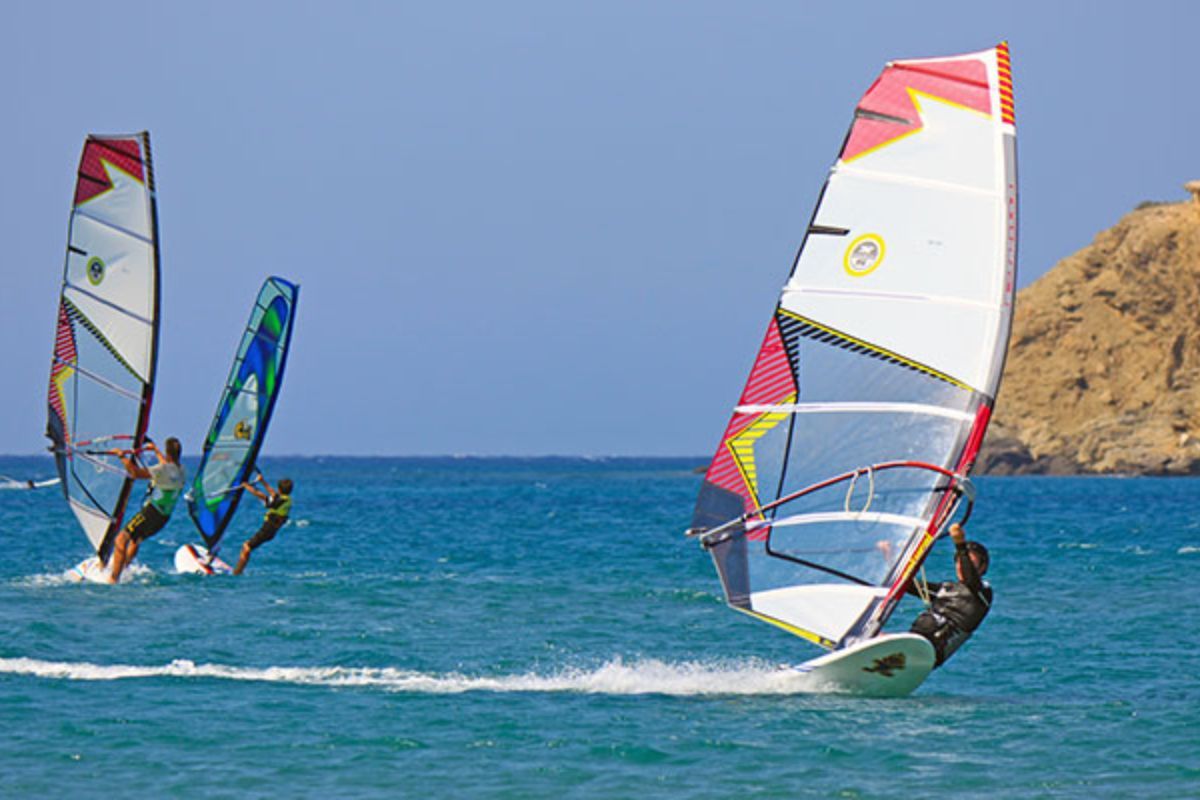 Windsurfing is a thrilling water activity you can perform in Dubai. This exciting water sport combines the techniques of sailing and surfing. The abundance of charted water resources and high-quality amenities available in Dubai make it an ideal location to try such water activities. It is also considered to be one of the most exhilarating and challenging water sports.
During windsurfing, you will be required to stand on a board that is specially designed for the sport and uses a sail. This sail is attached to a mast and boom to enable it to catch the wind and propel the board forward. You can control the direction and speed of the board by adjusting the angle of the sail and the body position on the board. Windsurfing can be done in a variety of conditions like calm and flat waters to high waves and strong winds.
In Dubai, Kite Beach and Nessnass Beach are popular locations to try windsurfing. Sea You Watersports and Kite n Surf are popular operators who offer windsurfing packages. You can enjoy the coastal line views of Dubai while surfing through the waters.
Average cost of water sport: AED250 per person
Difficulty level: Intermediate to Expert
Also read: