Due to its embrace of technical advancements and cutting-edge transportation systems, Dubai has evolved into a futuristic city. Many transportation advancements have been developed in the past few years. One of the innovations in the transportation sector is the Hyperloop project which will connect Dubai and Abu Dhabi in just 12 minutes. Dubai is also actively testing autonomous vehicles including driverless cars and taxis and plans to introduce a fully autonomous public transportation system.
At the forefront of this revolution are autonomous vehicles, redefining the way people travel in this futuristic city. Dubai is setting the pace for the adoption of self-driving cars by combining cutting-edge technology, progressive laws, and a dedication to sustainability.
Autonomous Vehicles in Dubai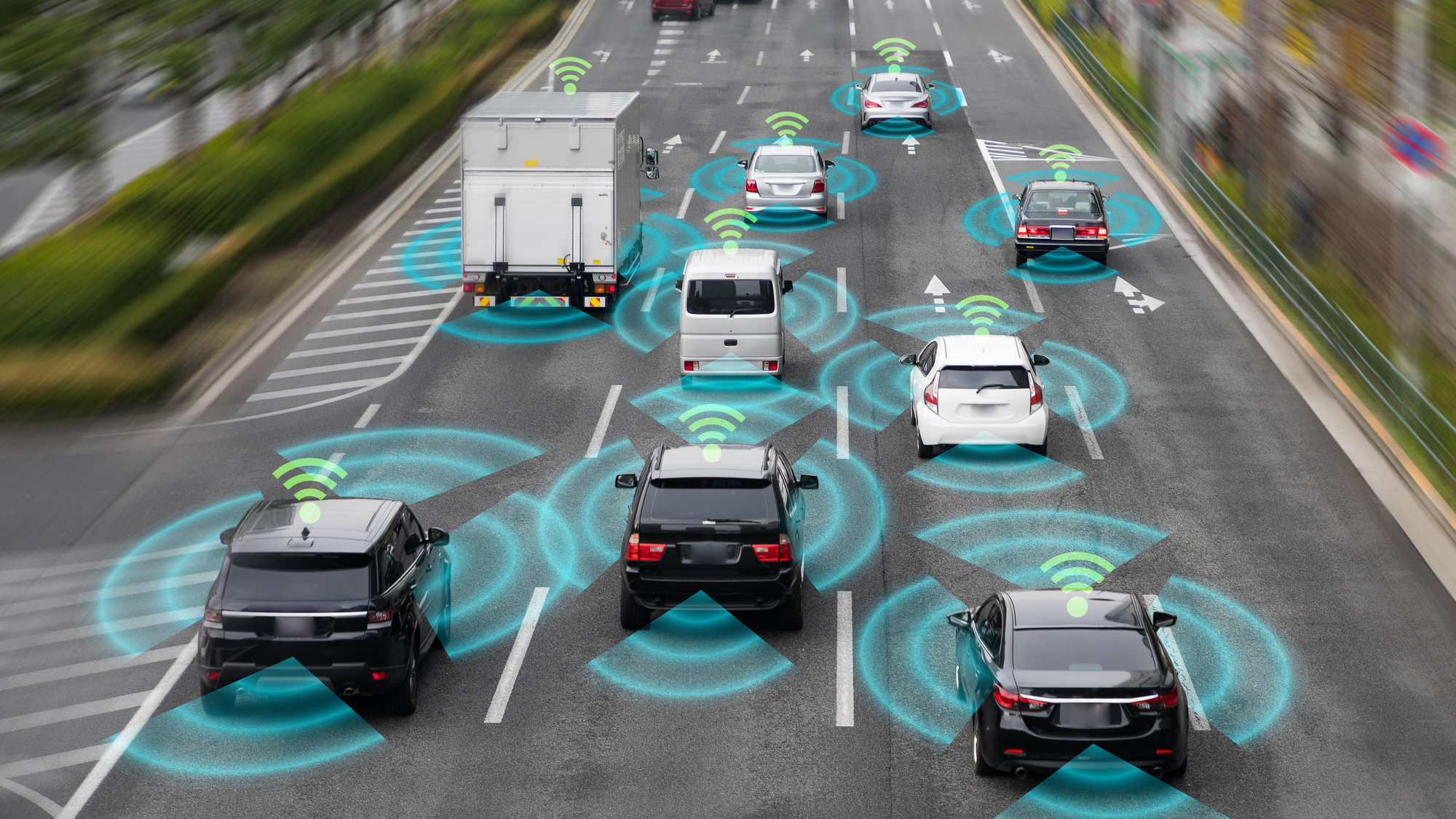 As part of its goal to develop into a smart and futuristic city, Dubai has been at the forefront of adopting and testing autonomous vehicles. In order to make the deployment of autonomous vehicles easier, the Roads and Transport Authority (RTA) in Dubai has been actively involved in drafting laws, infrastructure, and policies. These regulations ensure the safety of passengers, pedestrians, and other road users while fostering innovation and technological advancements in transportation.
Sheikh Mohammed bin Rashid Al Maktoum, the Ruler of Dubai, has introduced Law No. (9) of 2023. This law regulates the operations of autonomous vehicles in Dubai. The main purpose of this law is to speed up Dubai's move towards smart mobility, encourage investments in the sector and create a supportive regulatory environment for using artificial intelligence (AI) in transportation. The law outlines how Dubai's Roads and Transport Authority (RTA) will regulate the operation of driverless vehicles, including licensing and ownership transfer. The RTA will develop plans and policies to enhance the operation of self-driving cars, set safety standards, and define designated areas and speed limits for autonomous vehicles.
Know more about the rules regulating autonomous vehicles in Dubai.
The Dubai Metro, one of the largest self-driving public transportation systems in the world, showcases the city's commitment to autonomous technology. The driverless metro trains operate on predefined routes providing efficient and reliable transportation to residents and visitors. RTA reports that the self-driving metro serves around 9% of individual trips in Dubai.
The city is exploring the usage of driverless taxis and shuttles in addition to the Dubai Metro. Dubai has partnered with companies like Cruise and has announced plans to deploy driverless taxis on its roads. Dubai is the first non-American city to commercialize emission-free, all-electric Cruise self-driving cars.
Dubai Autonomous Transportation Strategy
Sheikh Mohammed bin Rashid, the Vice President of UAE and Ruler of Dubai launches Dubai Autonomous Transportation Strategy to transform transportation in the futuristic city. Dubai Autonomous Transportation Strategy has a goal to make 25 percent of transportation in the city autonomous by 2030. The strategy aims to increase individual output by 13% while reducing traffic accidents and losses by 12%. It is estimated that the strategy will save 396 million hours on transportation trips each year. It will also assist in minimizing the quantity of parking space required.
Roadmap to the future of transport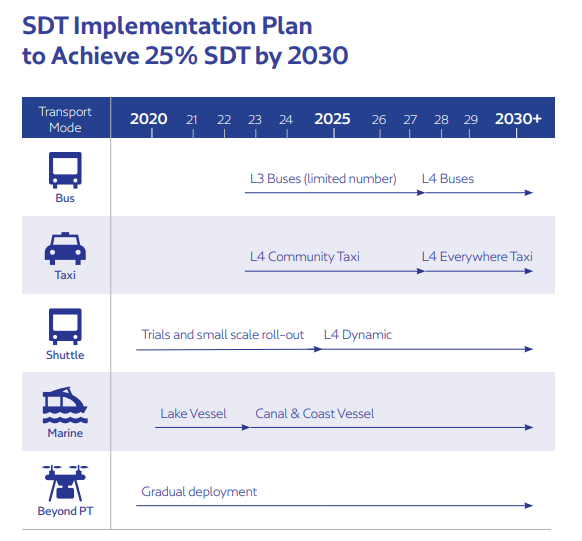 The experts at Road and Transport Authority have created a roadmap and plan for the development, testing, and deployment of self-driving vehicles. It aims to implement self-driving technology not only in private cars but also across all seven modes of public transportation including the metro, tram, bus, taxi, marine transport, cable cars, and shuttles.
The key milestones in the RTA's SDT roadmap include:
· Creating and implementing a self-driving public transport system
· Utilizing high-definition mapping with updates sent wirelessly
· Developing and deploying a connected cloud system
· Researching, defining, and implementing robo-taxis
· Using infrastructure analytics for self-driving vehicles
· Establishing a code of practice with different levels of autonomy
· Formulating policies and legislation for the operation of self-driving transportation.

Types of Autonomous Vehicles in Dubai
Dubai has invested heavily to support the Dubai Autonomous Transport Strategy. These are some of the autonomous vehicles that you will be able to see on the Dubai roads in a few years.
Driverless taxis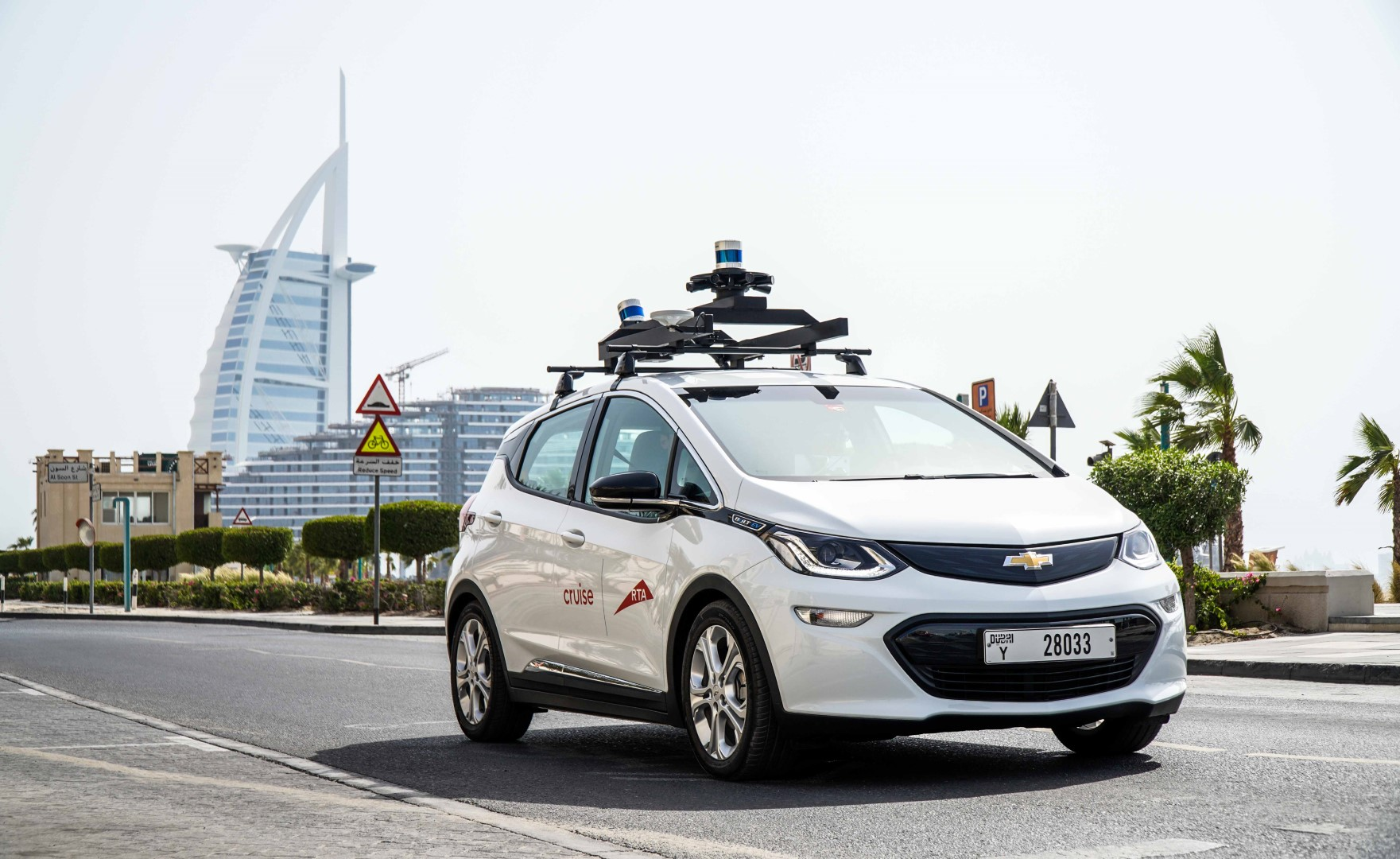 Dubai's Roads and Transport Authority (RTA) has introduced autonomous taxi services as a part of its innovative transportation solutions. RTA has partnered with Cruise, a subsidiary of General Motors, to deliver autonomous taxi services in Dubai.
The first set of self-driving taxis is made from a type of car called the Chevrolet Bolt which is manufactured by General Motors. The interiors of these vehicles are similar to that of regular Chevrolet Bolt except that it lacks the steering wheel. 10 driverless taxis will be deployed for public use in Jumeirah later this year.
RTA aims to introduce 4,000 driverless taxis across Dubai in 2030. The fares of these taxis are expected to be 30 percent higher than that of regular taxis. Up to three passengers can board this autonomous vehicle at a time. The taxis are equipped with a suite of sensors including LiDAR, cameras, and radars to determine the distance of objects.
Driverless trucks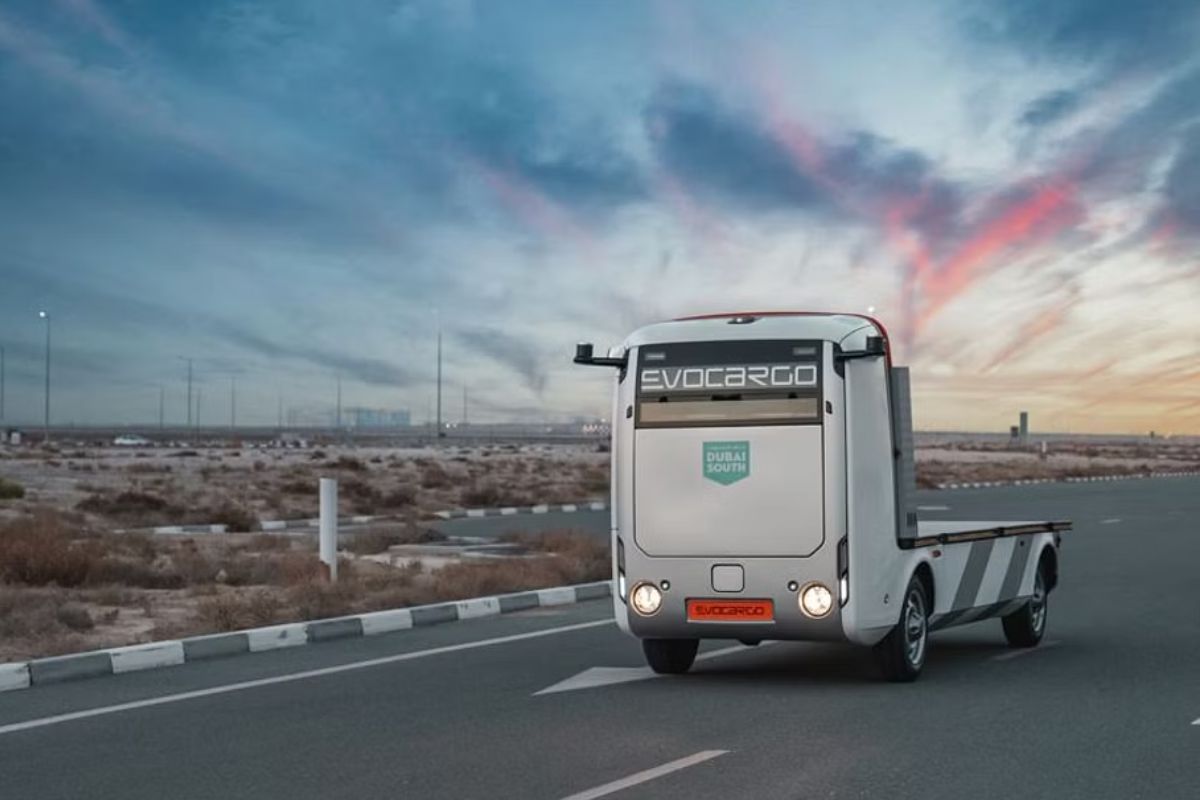 Evocargo, a logistics service provider based in Dubai, has developed an unmanned electric vehicle called EVO.1 for transporting goods. The company has partnered with Dubai South to conduct the first trials of autonomous cargo vehicles in the UAE.
Evo.1 is customized specifically for the Middle East region. The driverless cargo truck can carry up to 2 tonnes of weight and can hold six EUR pallets. It can move at a speed of 25 km/h and travel up to 200km. Depending on the charging outlet, it takes between 40 minutes to six hours to charge the vehicle for a whole day of operation. The security system of the EVO.1 platform has four levels of protection. It uses computer vision to see the surroundings, has an automatic diagnostic system to detect any issues, a remote-stop system to stop the vehicle if necessary, and a standby pneumatic braking system for emergencies.
The automatic pilot system of Evo.1 helps make freight transportation more efficient and reduces the time trucks are not in use. The use of robots and electricity or hydrogen fuel cells instead of regular fuel also brings cost savings.
Delivery robots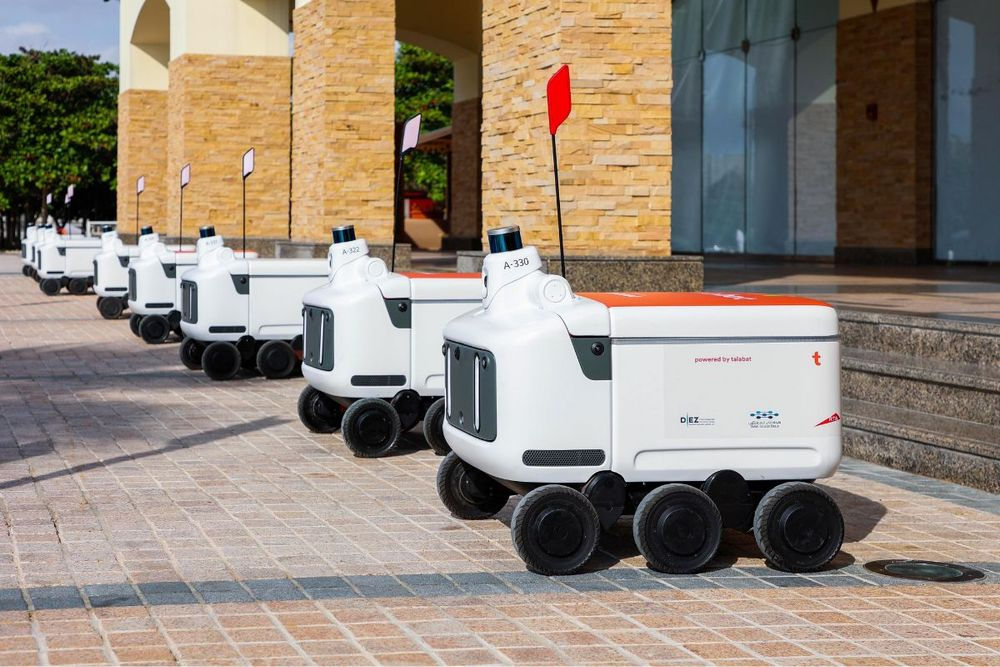 The 'talabots' have been gaining popularity in the Dubai Silicon Oasis neighborhood with their sustainable last-mile delivery services. Roads and Transport Authority has collaborated with talabat UAE and Dubai Integrated Economic Zones Authority to launch these autonomous food delivery robots.
Three delivery robots were launched during the pilot phase of this project to serve the residents of Cedre Villas, a gated community in Dubai Silicon Oasis. These robots operate within a 3-kilometer radius of the Cedre shopping center launch point. The talbots are equipped with advanced AI technology that ensures privacy protection by blurring faces and not using facial recognition. They are also fitted with sensors and algorithms to navigate their surroundings safely avoiding obstacles and maintaining a safe distance from people and pets. The instructions to open the robot compartment can be found on the talabat app.
The introduction of autonomous delivery robots is part of an effort to support sustainable delivery methods, increase efficiency, optimize fleet management, and reduce carbon emissions.
Driverless abra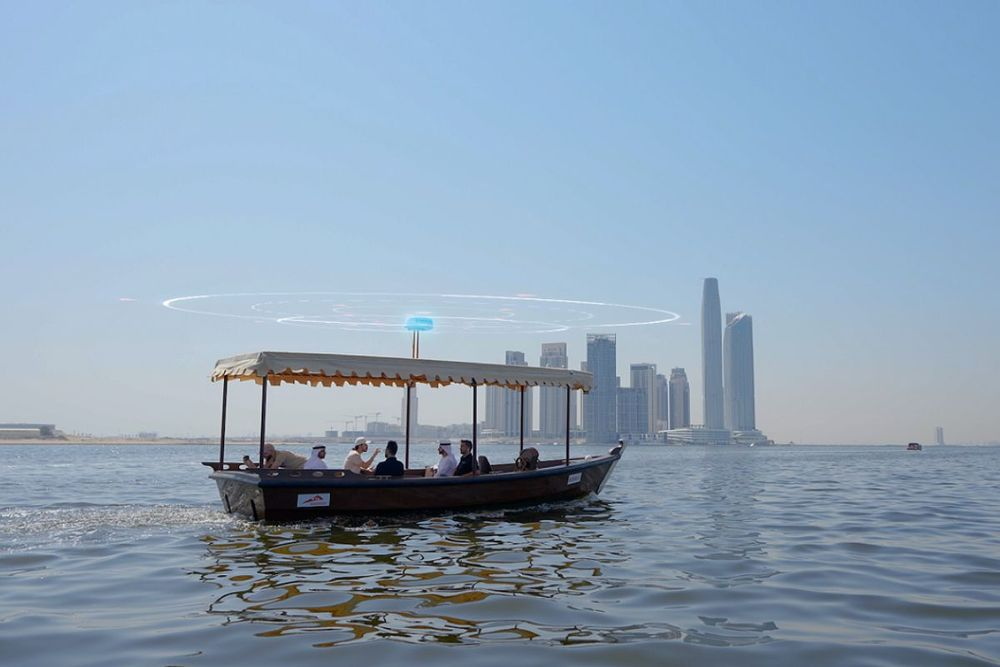 The autonomous abra is the modern and futuristic twist to the traditional abras that can be seen on Dubai Creek. RTA introduced a driverless boat that operates between Al Jaddaf and the Festival City station on Dubai Creek.
Also read: Dubai Creek Harbour: The Iconic Waterfront
This boat is one of the first in the world to undergo trials for passenger transport on water. The driverless boat is equipped with radars and cameras that allow it to see and navigate its surroundings. It also has a sophisticated control system that keeps it on the right path, even when there are winds and waves trying to push it off course. The boat has two electric motors that can reach a maximum speed of seven knots. It has four lithium batteries that allow it to run for up to seven hours.
RTA uses advanced technologies and lightweight fiberglass material in the boat's design to make it lighter and more efficient. It produces no harmful emissions, saves 30% on operating and maintenance costs compared to diesel-powered boats, and doesn't make any noise.
Autonomous electric buses
DEWA's Innovation Centre at Mohammed Bin Rashid Solar Park in Dubai has launched an autonomous electric bus that moves around the solar park. DEWA offers a unique opportunity where you can ride these driverless buses.
These buses take visitors on tours of the Innovation Centre and the Innovation Track within the Solar Park. You can explore the exhibition at the Innovation Centre, which showcases DEWA's progress, historical inventions in electricity, and advancements in renewable energy. The Centre is open from Saturday to Wednesday, and tickets can be booked through their website.
Also Read: