Dubai has made commendable efforts to preserve nature and protect its natural habitats despite its reputation as a modern metropolis. Several initiatives are taken by the government to take extra care of the flora and fauna of the region. With initiatives like the Dubai Falcon Hospital and the Dubai Turtle Rehabilitation Project, the city has placed a strong emphasis on the conservation and rehabilitation of wildlife. The conservation of mangrove forests along the coastline is another important initiative taken by the authorities. Sustainable urban planning has also been given top priority in the city with green building guidelines, renewable energy sources, and effective water management techniques.
One of the major achievements of Dubai in protecting the natural habitat is Dubai Desert Conservation Reserve or DDCR. This desert reserve covers a vast area and is home to many native flora and fauna. Here is all you need to know about the Dubai Desert Conservation Reserve.
Dubai Desert Conservation Reserve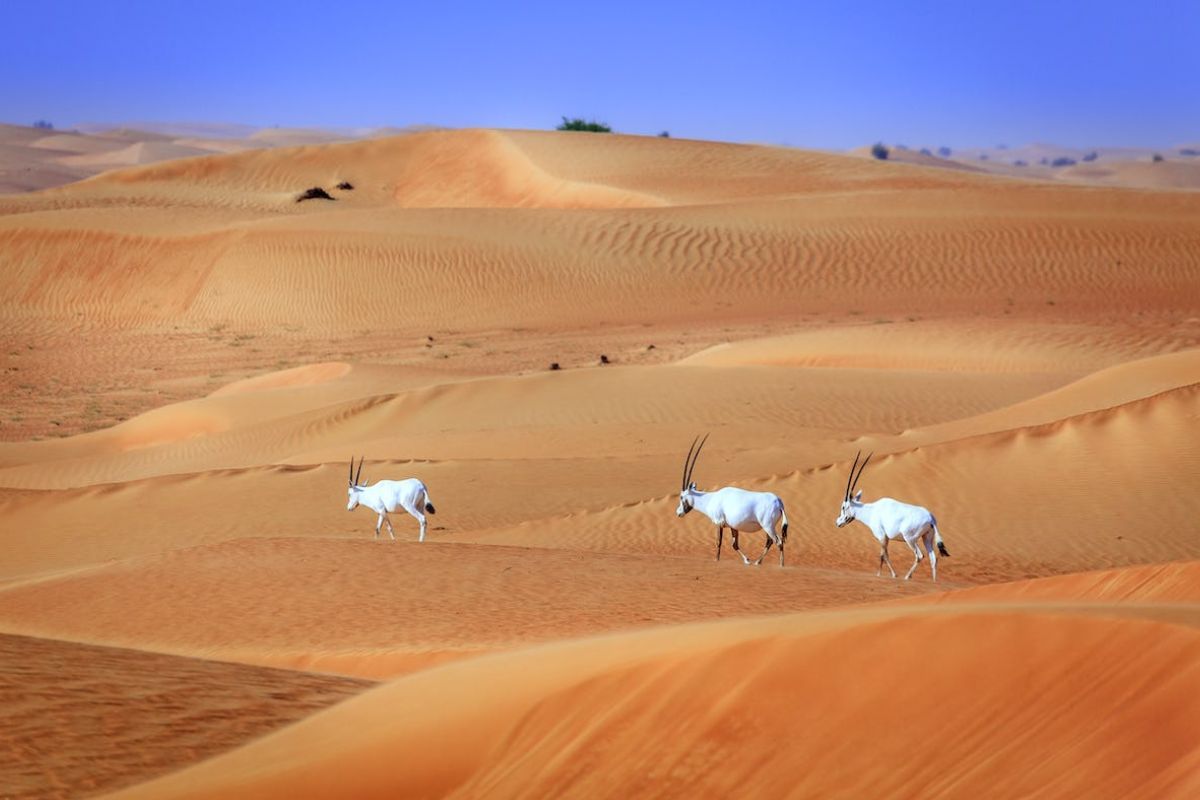 Dubai Desert Conservation Reserve or DDCR is one of the largest natural reserves in UAE. This reserve was declared by Dubai in 2004 as a protected natural reserve to protect and conserve the unique desert ecosystem. DDCR spans a whopping area of 225 square kilometres which constitutes nearly 5 percent of Dubai's land. Today, this natural reserve is home to over 50 plant species, 120 birds, and 43 mammals and reptiles.
At DDCR, you can explore the wilderness of the desert lands or view the beautiful sunsets and sunrises. Many tour operators have packages that include various fun and sporty activities inside this desert. Sandboarding, falconry, and dune driving are some of the popular activities you can do at DDCR. Popular luxury resorts like Al Maha Resort are an excellent option to embark on an authentic desert experience in Dubai.
DDCR has received international recognitions and is a proud member of the International Union for the Conservation of Nature (IUCN).
What to look out for at Dubai Desert Conservation Reserve
Dubai Desert Conservation Reserve is home to many native plants and animals. These animals and plants belong to various species and have intriguing and special adaptations that help them survive in the challenging desert environment. On your journey through this desert reserve, you can spot many native animals and plants. Your desert guide will explain the features and other information about these wonderful creatures.
Native Flora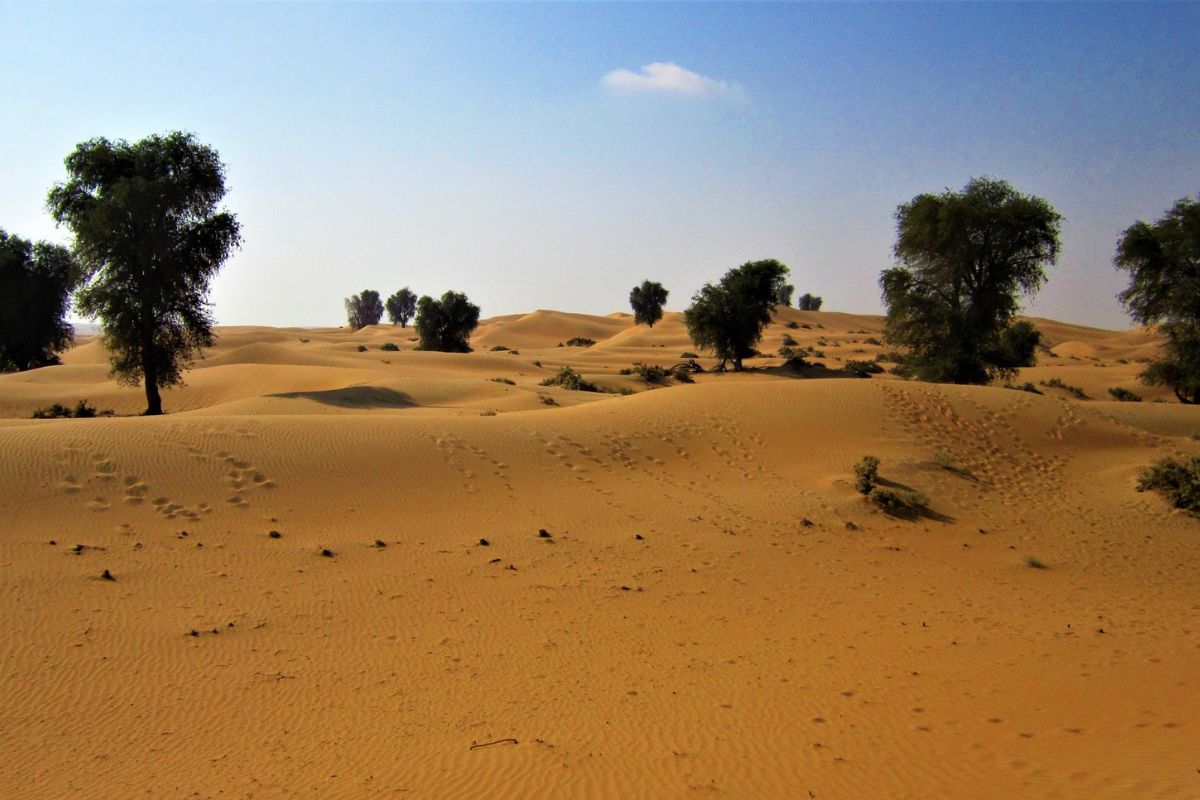 Dubai Desert Conservation Reserve has many species that belong to the Plantae family. This includes various types of trees, shrubs, herbs, and grasses. Here are some of the desert flora you might see on your visit to DDCR.
Trees
· Umbrella Thorn Acacia
· Athle Tree
· Christs Thorn
Shrubs
· Arfaj
· Shrubby Horsetail
· Arta
Herbs
· Maqarnah
· Creeping Thorn Rose
· Ghabira
Grass
· Dine Grass
· Incense Grass
· Foxtail Grass
Native Fauna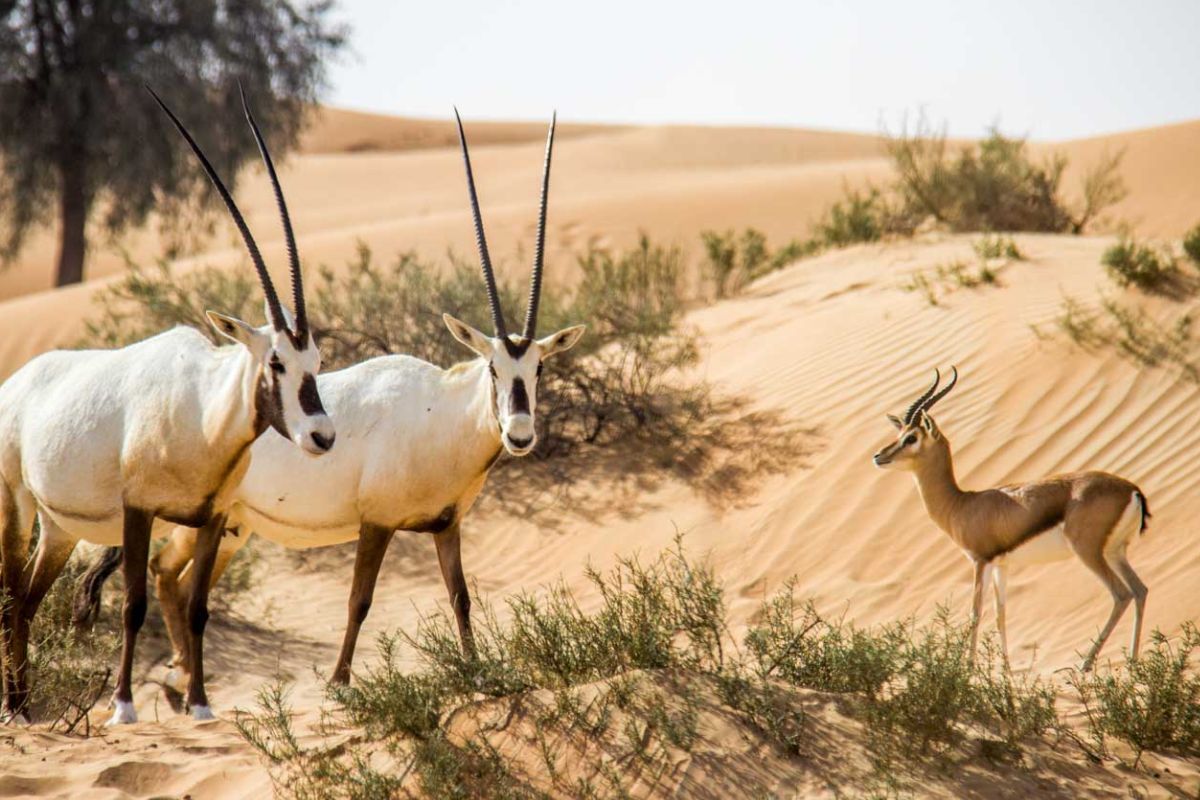 Dubai Desert Conservation Reserve is home to many animals that belong to mammals, reptiles, and insect category. Here are some of the animals you are likely to spot at DDCR.
Mammal
· Sand Fox
· Arabian Oryx
· Brandts Hedgehog
Reptile
· Worm Lizards
· Flowerpot Snakes
· Skinks
Insect
· Centipede
· Camel Spider
· Scorpion
Activities at Dubai Desert Conservation Reserve
Other than being a natural reserve, Dubai Desert Conservation Reserve is an excellent place to enjoy desert vibes. DDCR offers a great opportunity to engage in adventurous activities that will take you on a journey to explore and appreciate the natural beauty of the desert while respecting the conservation efforts. Here are few activities you can sign up for while at the natural reserve.
Camel Trek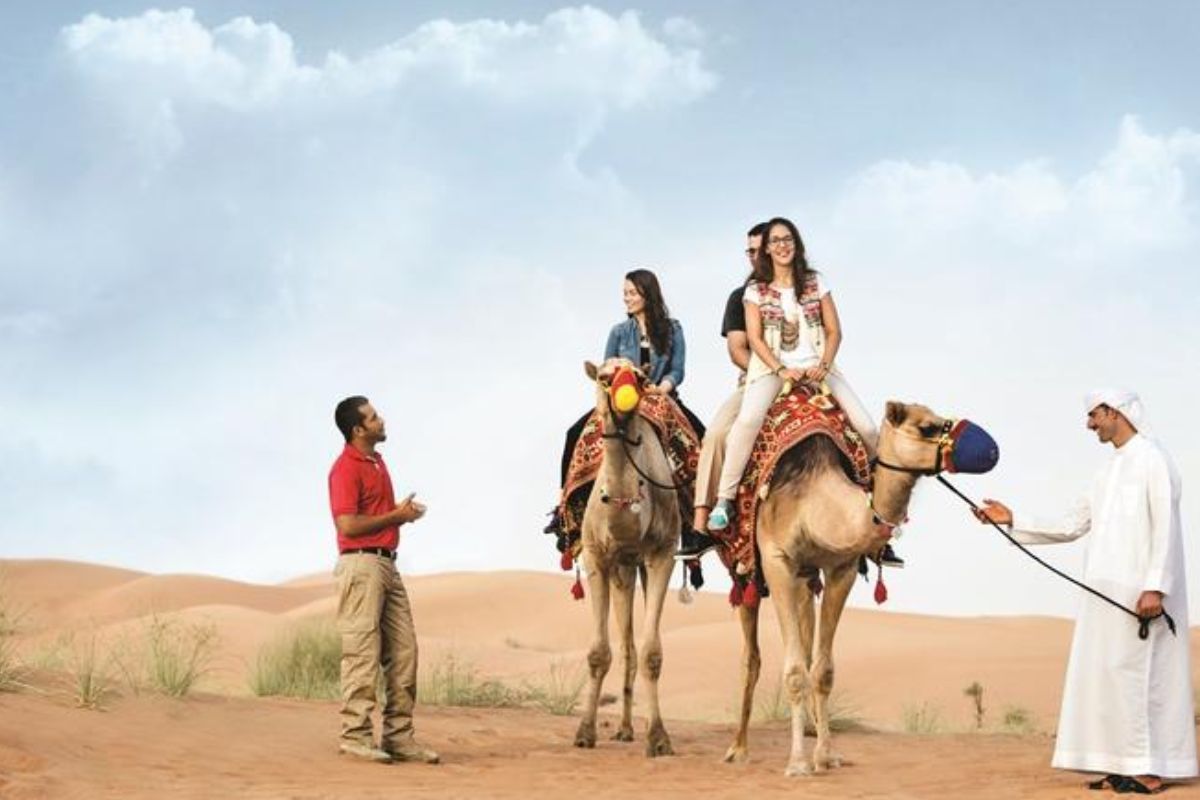 Riding on the back of these fascinating and beautiful creatures is an incredible adventure you must try when in Dubai. Camel trekking will take you gently through the dunes while you take in the picturesque view in front. The desert tour operators like Arabian Adventures and Platinum Heritage can take you on this memorable experience.
Falconry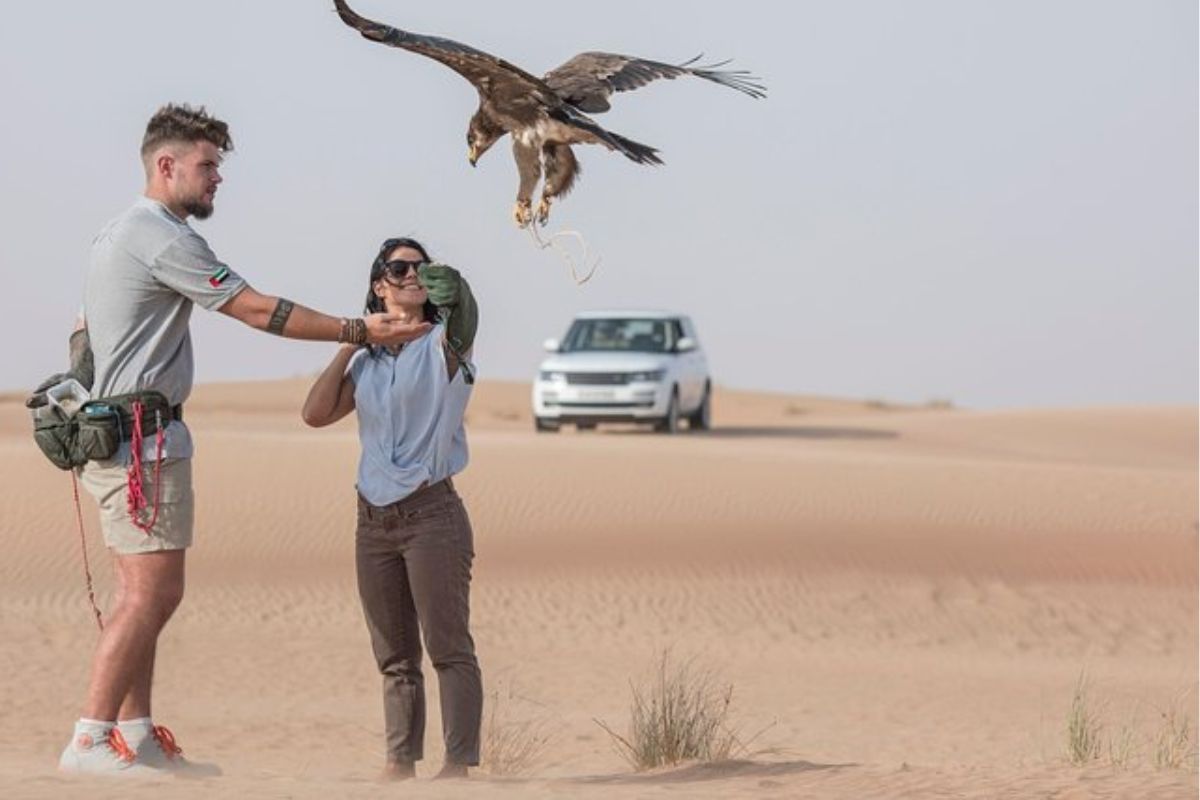 This activity will take you closer to the national bird of UAE. An expert falconer will display the agility and natural instincts of the falcon in front of you. You can also learn more about the breed and personality of the falcon. These birds will impress you with their hunting abilities. You can observe the falcon from very close and also take mind blowing pictures for your gram.
Horse Riding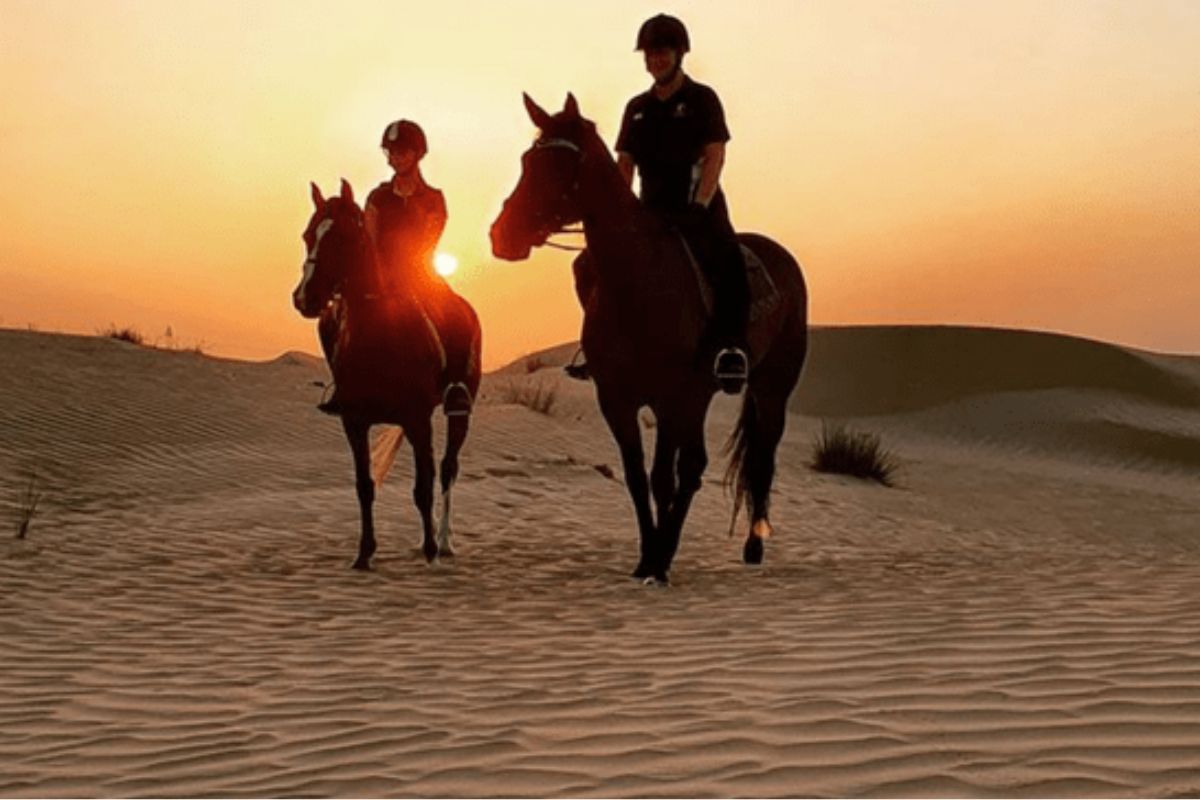 Ride through the dunes on the beautiful horses to experience the endless desert beauty. You can have a gentle ride on the back of the horse or let the horse through its pace. A guide will help you to explore the surroundings while you enjoy this fascinating journey.
Archery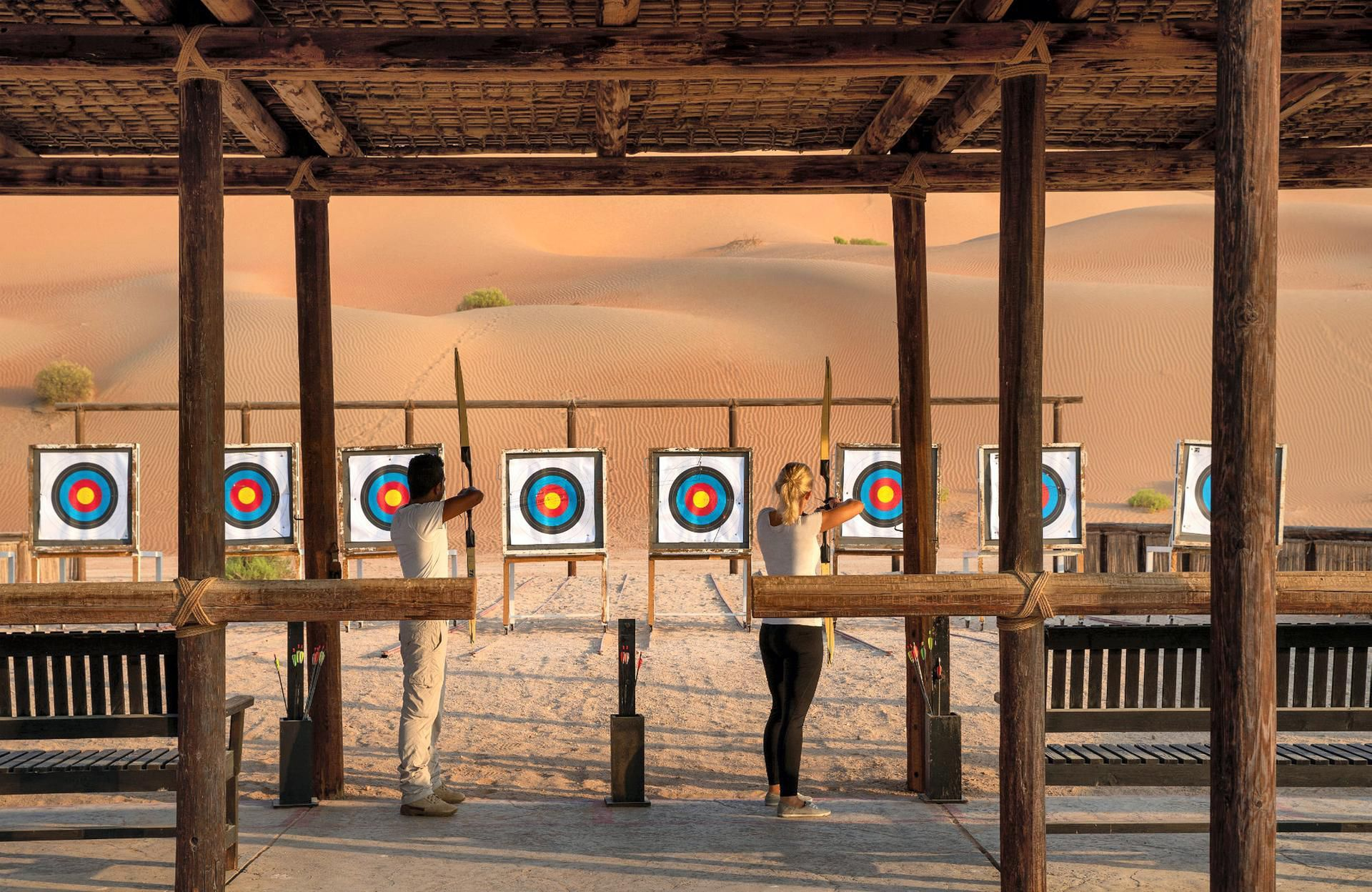 Get ready for an exciting rush of adrenaline as you prepare to release the traditional recurved bow. You can show off your skills at this sport to your friends and family. Beginners can seek the assistance of the team.
Wildlife Drives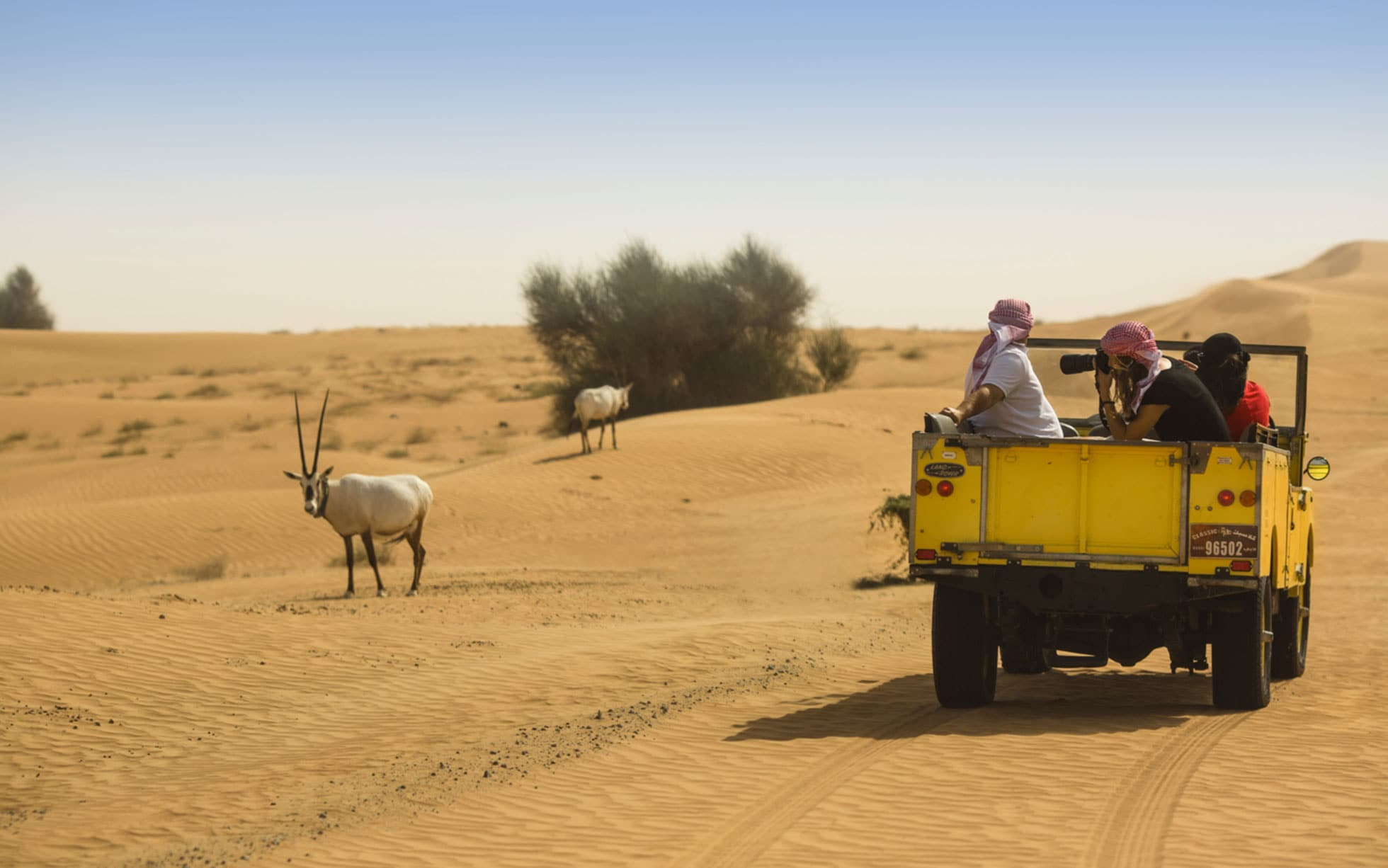 One of the best ways to see wildlife herds in the desert is to take a tranquil drive around the area. You can learn more about the fascinating plants and animals in the desert ecosystem from your knowledgeable guide who will be joining you on this drive. These guides have an eye for spotting captivating native flora and fauna which will enhance your idea about the ecosystem.
Dune Driving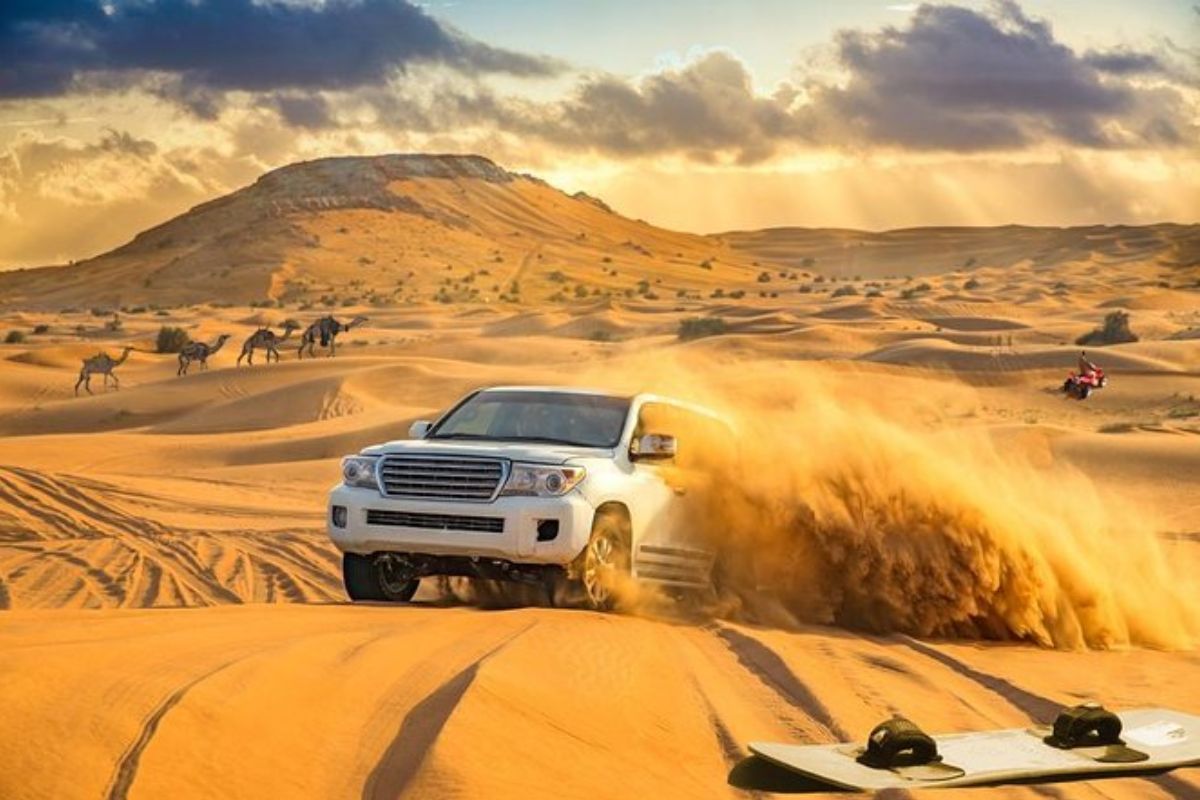 Experience the rush of driving a premium four-wheel drive car across the stunning sand dunes taking in the mesmerizing desert scenery. The ride operators will take you through carefully planned routes to ensure that you are surrounded by pristine and awe-inspiring desert vistas. The adventurous ride will take you to a Bedouin camp in the middle of the desert where you will be spending the rest of evening. Many fun events are scheduled at the camp to end your evening on a great note.
Dune Dinner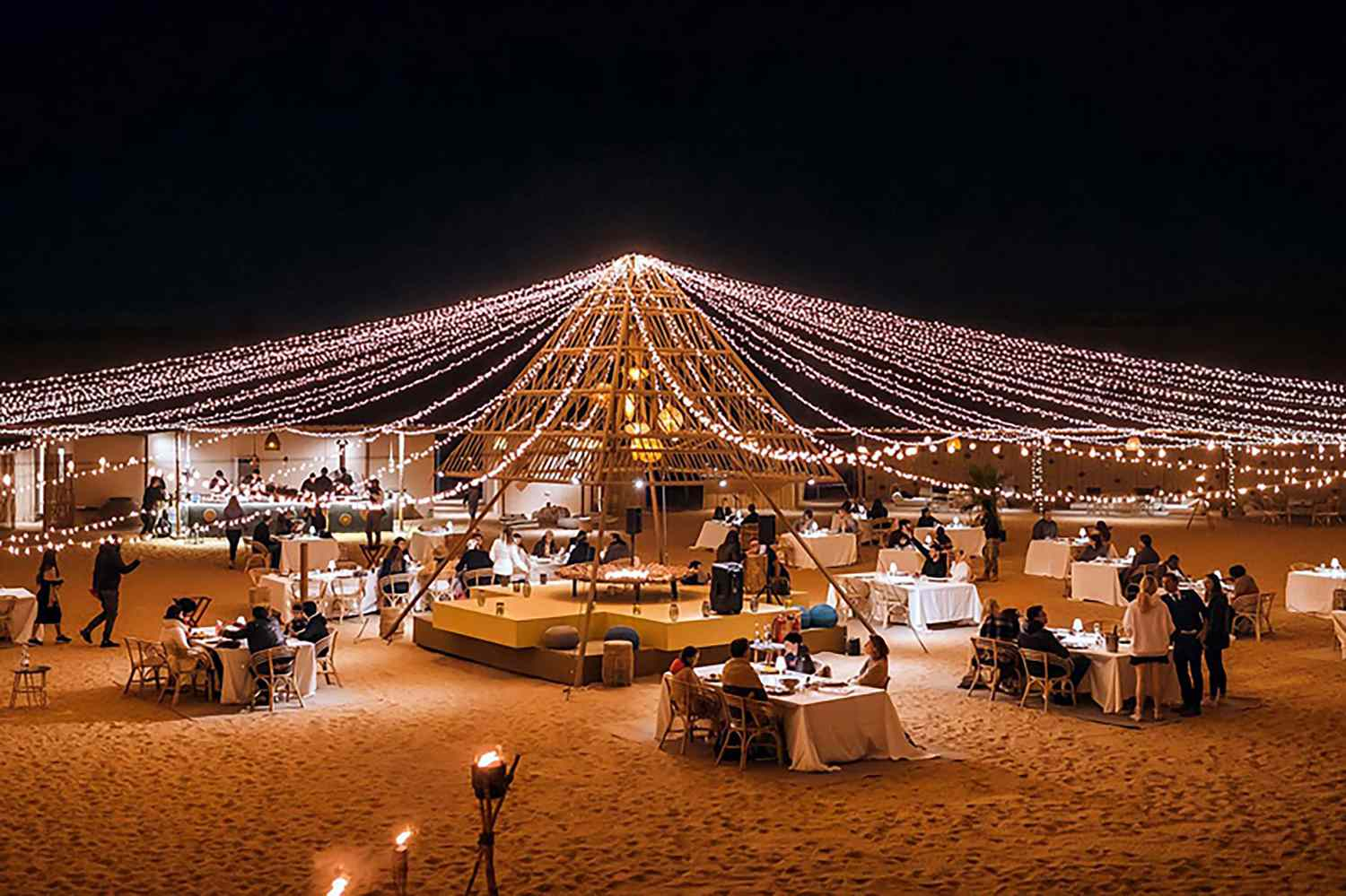 Unwind and make yourself comfortable on cozy cushions placed in traditional Bedouin tents. These tents serve mouthwatering feast featuring a variety of grilled meats, refreshing salads, delicious Arabic sweets, and flavorful beverages. You can also watch dancers performing before you while you savour the food. The combination of delectable food, entertainment, and the natural beauty of the desert will gift you an unforgettable and enchanting experience.
Sand Boarding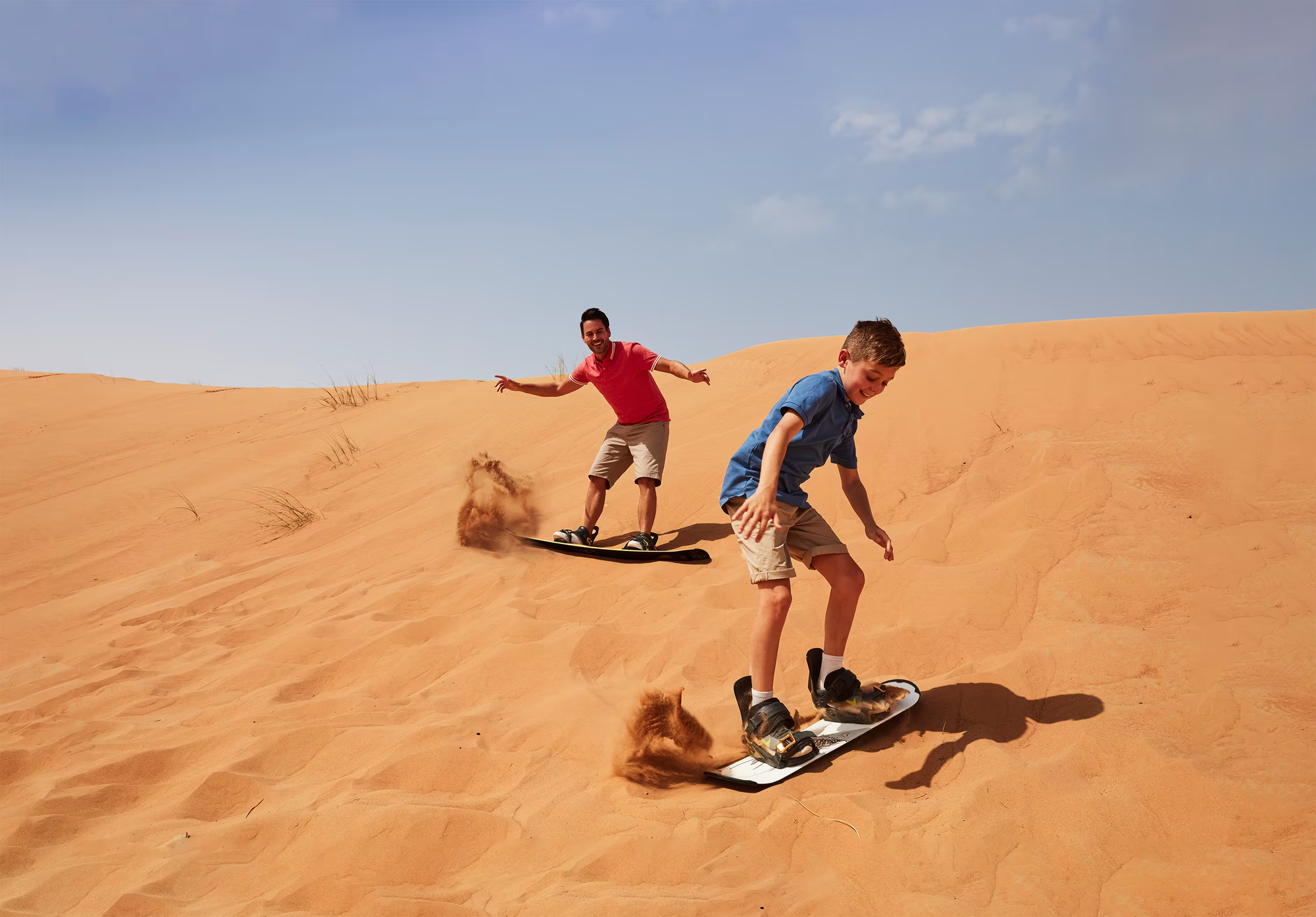 If you like to go a bit adventurous with the activities, you can try sandboarding at DDCR. Trying out this contemporary sport on the sand dunes is a unique experience you need to try out in Dubai. You can slide and make your way down the valley through the uneven terrain.
Private Desert Dinner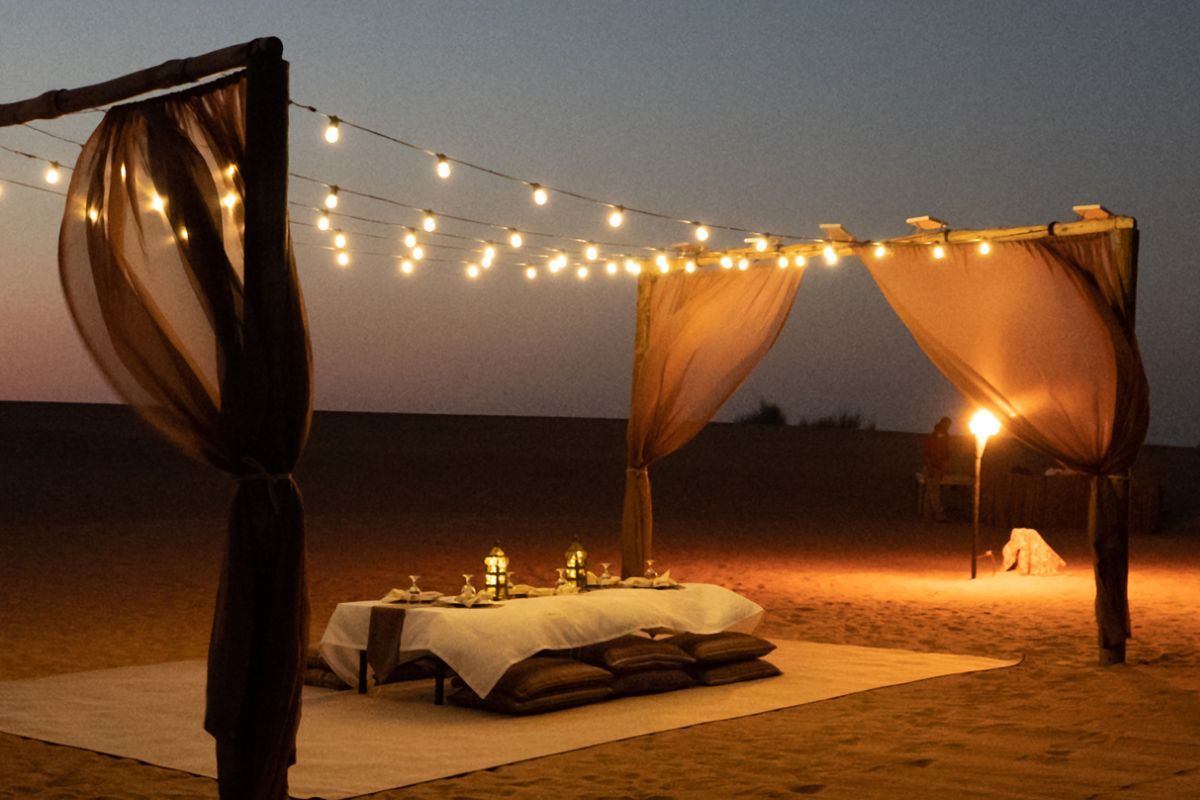 Take your significant other for an authentic Bedouin dinner in the middle of the desert. The hospitality team will set up picturesque settings for you to have a great romantic dinner. Traditional lamps, rugs, and cushions will create a desert vibe for your dinner. You will also have a personalised menu to choose from.
Camping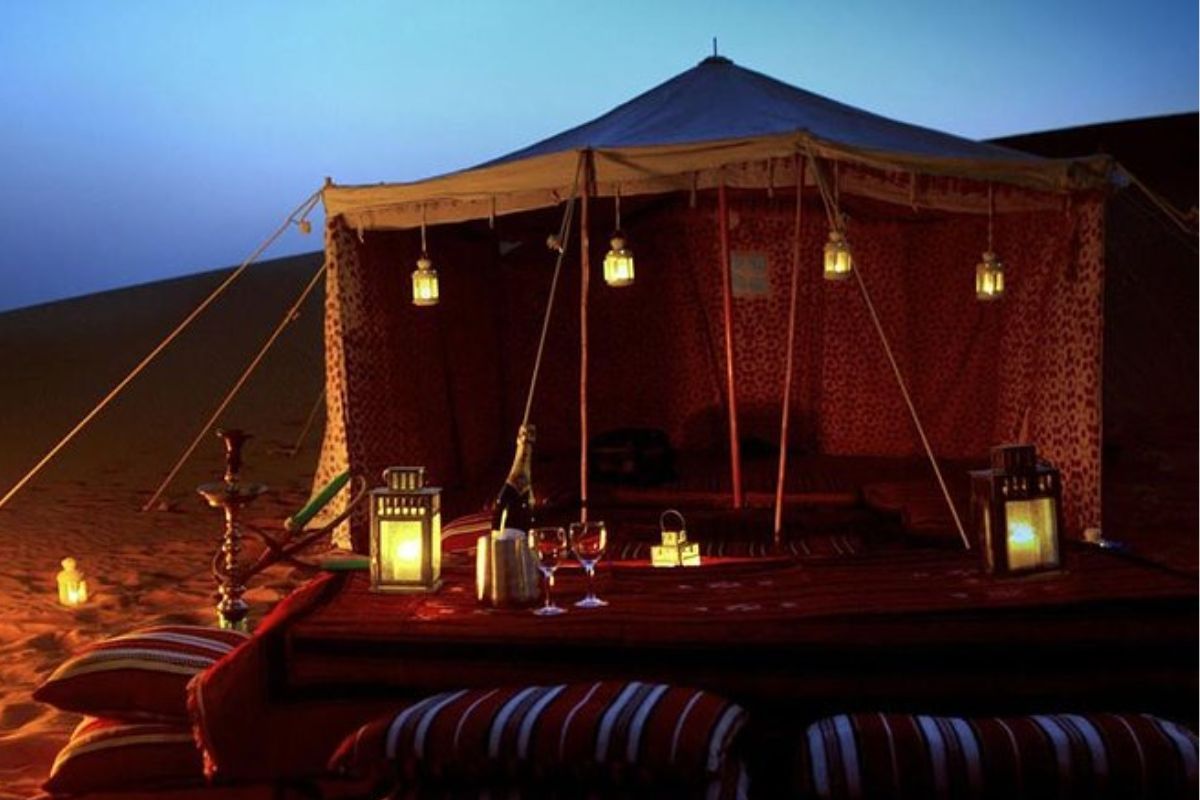 Spent a memorable night in a traditional Arabian tent gazing the starry skies. You will be taken to the tent in a luxury Safari car to the middle of the desert where you will have a traditional Arabian feast waiting for you. You can immerse yourself in one of the best sunset experiences in Dubai.
Night Safari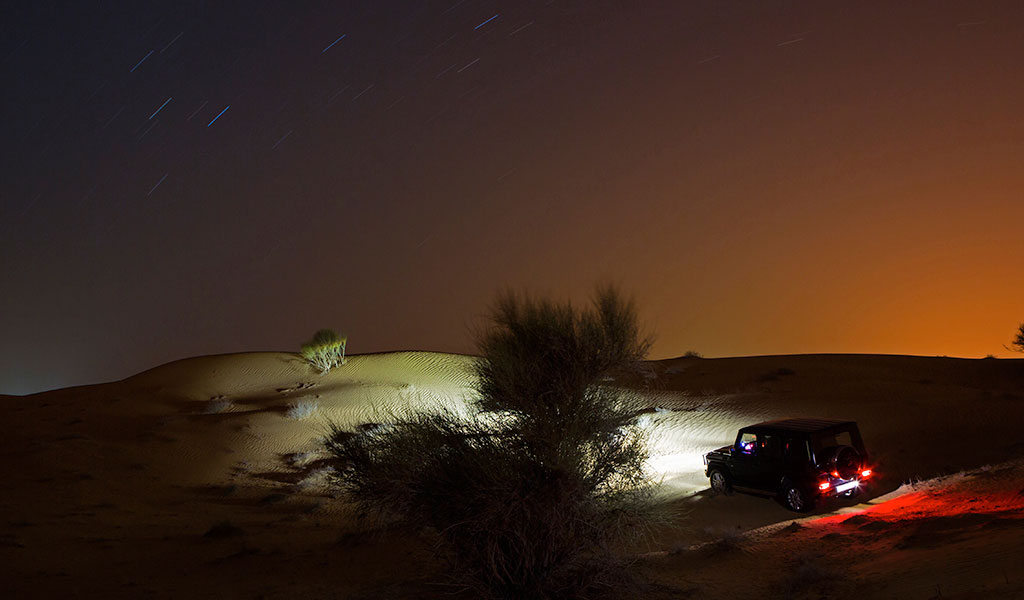 Fancy a ride through a desert in the dark? Book this experience to spend an evening in the wilderness of the desert. You can also spot nocturnal animals on your journey if you get lucky. You can also enjoy the starry night sky while you savour tasty bites.
Hot Air Ballooning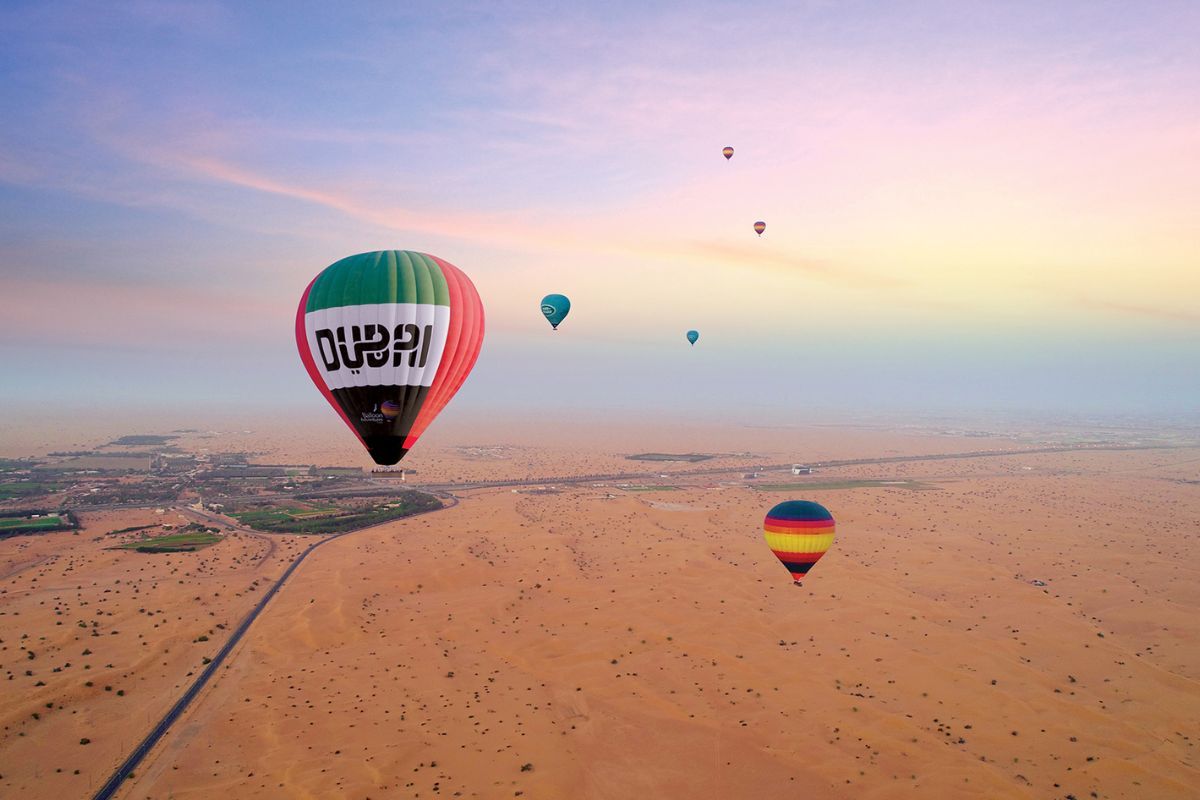 Hot air ballooning is one of the latest activities introduced in Dubai. The exciting ride in the hot air balloon will give you the thrill of moving around the desert on a magic carpet. You can enjoy an expansive sea of sandy dunes and vibrant green oases beneath you. You can also experience a one-of-a-kind falcon show at a height of 3000ft. You can also spot native animals like oryx, gazelles, and camel in their natural habitat.
Luxury Resorts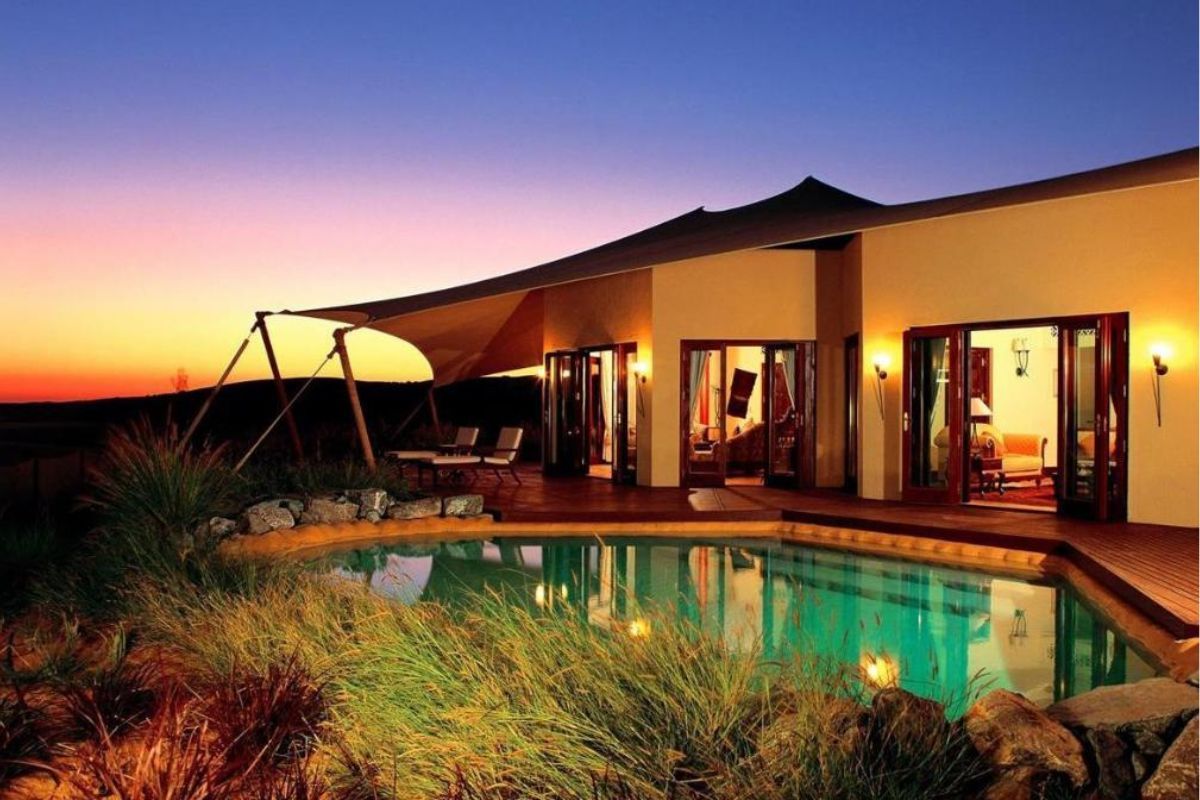 Upscale your Dubai trip with an overnight stay in the Dubai Desert Conservation Reserve. Al Maha Resort and Spa by Marriott Bonvoy is one such luxury hospitality group that will host you in the middle of the desert with world-class amenities. The resort comprises of 42 luxury suites, a spa, and conference facilities. Each suite has a private pool and a sun deck. You can look for luxury services like floating breakfast in the pool. The camp set up is inspired by Bedouin heritage. You can indulge in timeless traditional experiences at the resort. The resort is home to Al Diwaan restaurant, a fine dining restaurant serving authentic Arabic cuisine. Book yourself a luxury desert getaway in Dubai to spend a day in the traditional bedouin style.
Biosphere Expeditions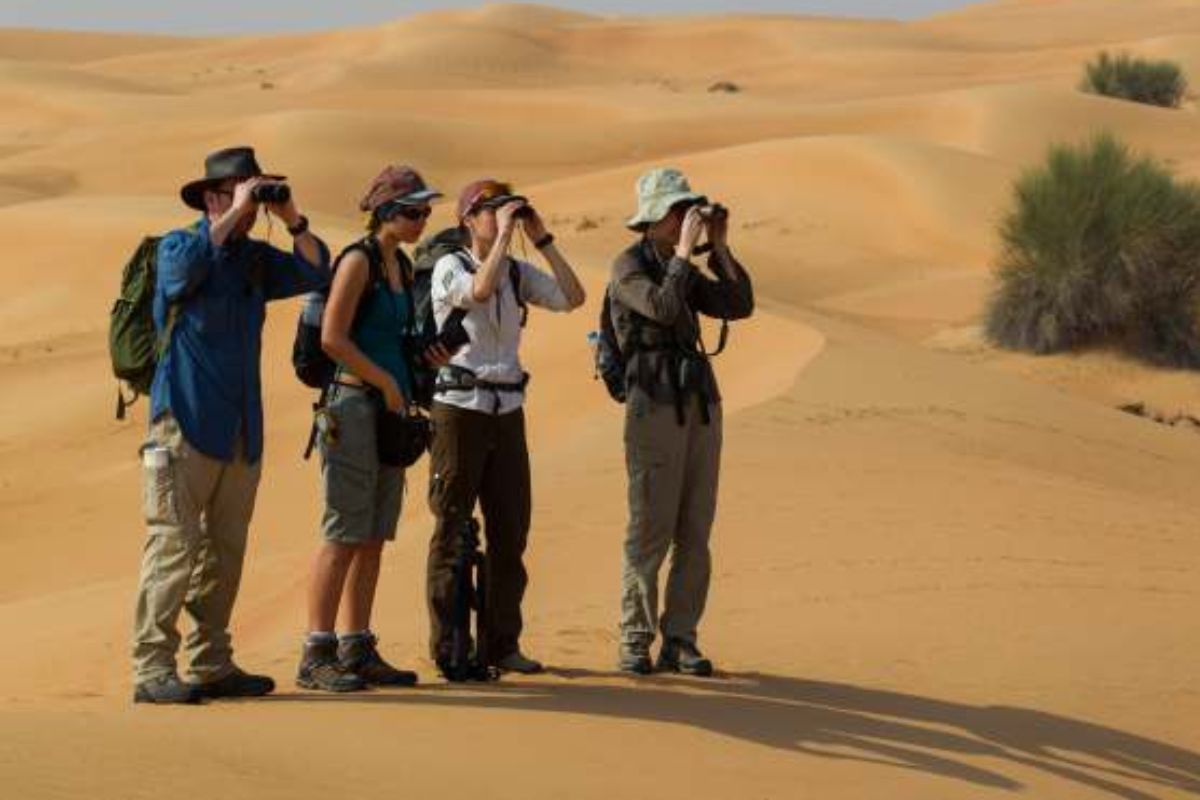 Join an exciting conservation project focused on protecting the Arabian oryx and other desert species at DDCR. You will work closely with scientists from the Dubai Desert Conservation Reserve and help them in monitoring and studying the behavior of animals like the Arabian oryx, Gordon's wildcat, sand fox, mountain and sand gazelles, and other important desert species. You will venture out in expedition vehicles or on foot from your comfortable oasis field camp to study the desert ecosystem. Using cameras and live traps, you will study the Gordon's wildcat and sand fox and track their movements using radio and GPS technology. These efforts are aimed at ensuring the survival of these remarkable desert species in their challenging environment.
How to reach Dubai Desert Conservation Reserve
Dubai Desert Conservation Reserve is located away from the hustles and bustles of the city. The destination is easily accessible via Dubai-Al Ain Road/E66. You cannot enter the protected area with any private vehicle. You need to have DDCR approved vehicle to roam around that area. Most of the tour operators at DDCR do pick up from homes while some of them will pick you from the gates. It is very difficult to travel to the area using public transport as there are no routes to the destination. However, you can hire a cab to reach the spot.
Also read: