Dubai is the city of food which looks understandable when you look at the number of food options and experiences it offers. There is no type of food cuisine or experience you won't get to try in this city! From fine dining to creative culinary gems – the possibilities are endless and food lovers are in for a joyful ride! Among the myriad choices available, some restaurants take the dining experience to new heights—literally. If you are on the lookout for restaurants in dubai that provide breathtaking restaurants to impress your date or are a foodie seeking for fine-dining experience that will leave you on a high then, Keep Reading.
Dine on mouthwatering food while sipping on magnificent views of Dubai's skyline – Here are the city's top highest restaurants that you must visit.
1. At.mosphere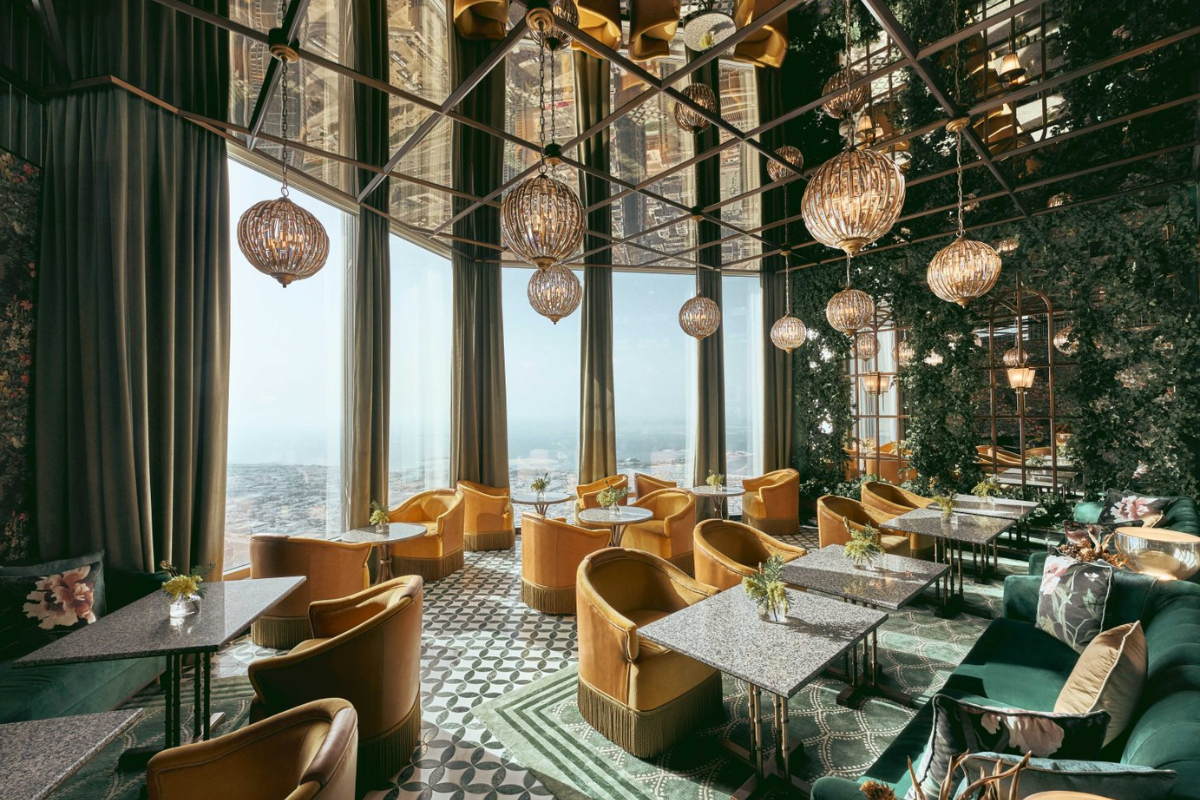 Enjoy a meal at the tallest building in Dubai along with the unimaginable views it offers.  At.mosphere is one of the most famous restaurants in Dubai, located on the 122nd floor of the iconic Burj Khalifa. While the views from here are stunning its modern European menu that is served for breakfast, lunch and dinner takes this place to the next level. Dining at the tallest building itself is a big deal and when the food is extraordinary too and is perfect for date nights. You can expect to visitors can sample things like foie gras, billionaire sliders, braised wild mushrooms, oysters on ice, Wagyu tomahawk, blue lobster, and much more. The perfect and delicious food and the amazing views are a sight to treasure. Make sure you try their Chicken Roulade along with the signature cocktails. Their seafood, meat grills with their unique European flavour are amazing. The yummy Pavlova and the Strawberry Sphere will satisfy all your sweet cravings.
Location: Burj Khalifa, Downtown Dubai
Timings: Daily 7am – 10:30pm
Cost for 2: AED 250 (breakfast) AED 350 (lunch non-window table) AED 450(lunch with a window table)
2. Zeta Seventy-Seven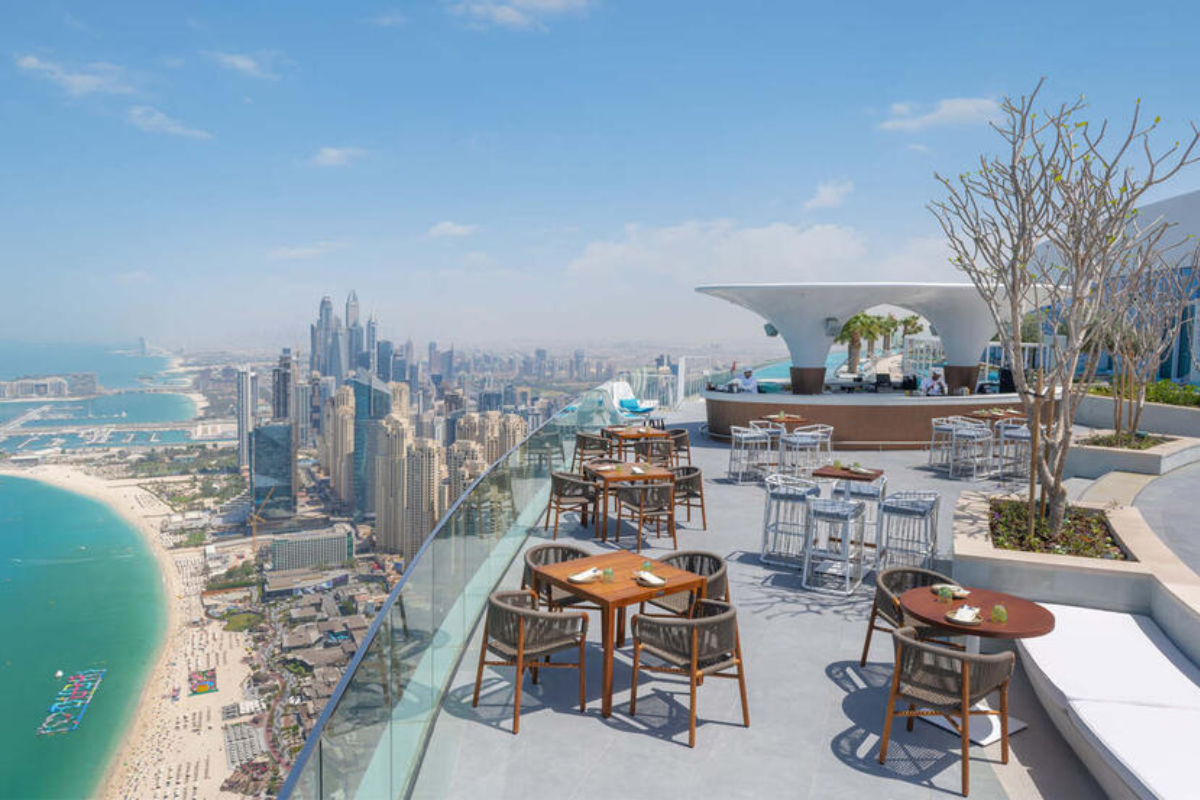 The stunning Address Beach Resort hotel draws attention due to its prominent positions overlooking JBR. The structure is made up of two towers which are joined at the top by a spectacular sky bridge. It is home to the world's highest infinity pool which is located on the 77th floor and is 293 m high. While the pool is open exclusively only for hotel guests, you can take in the incredible views of the Palm Jumeirah, JBR and beyond from Zeta Seventy-Seven, the restaurant that is perched by the pool. It offers a culinary treat with its Asian fusion menu and picturesque views. It welcomes its guests with a promise of taking off on an unforgettable culinary journey with magnificent panoramic views of Dubai.
Location: Address Beach Resort, JBR, Dubai
Timings: 12:00 pm - 08:30 pm
Cost for 2: AED 550(approx.)
Also Read - The Ultimate Guide to Dubai's Rooftop Lounges
3. Mott 32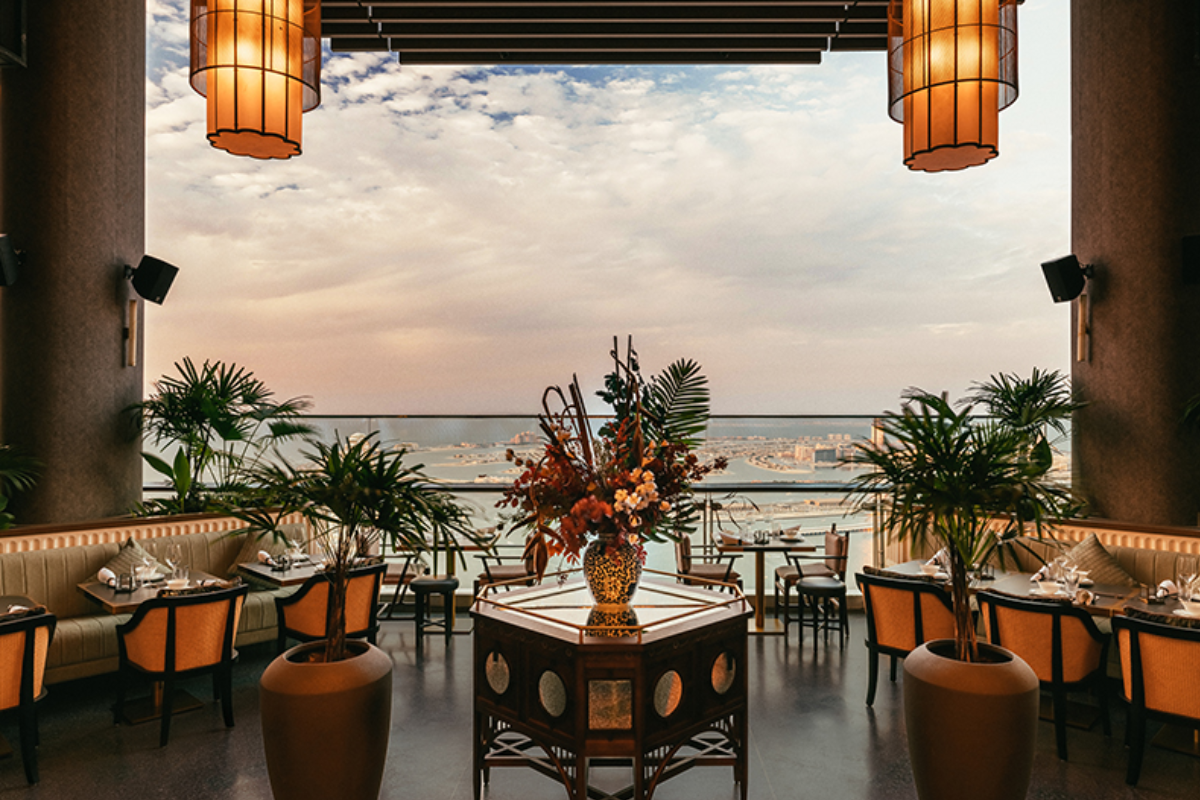 Mott 32 is among one of Dubai's tallest fine dining restaurants. The stunning Mott 32 is an upscale Chinese restaurant that hails from Hong Kong and is located on the 73rd floor of Address Beach Resort. In addition to the indoor restaurant, Mott 32 also has an outdoor terrace where diners can take in the breathtaking views of JBR, Palm Jumeirah, and Bluewaters Island. However, the restaurant's attention to detail with the interiors means that even if you're dining inside, you'll be surrounded by stunning views around you. There are plenty of brass and metal elements dominating the industrial feel, with emerald, green, leafy botanicals, and pops of peach breaking up an otherwise mechanical-looking space. Don't forget to try the Signature Crispy Sugar-Coated Charcoal Lamb Buns, Maine Lobster Fried Rice, Wok Fried Flat Noodles and the Pineapple White Chocolate Pavlova.
Location: Mott 32, Address Beach Resort, Dubai Marina,
Timings: 4:30 pm - 01:00 am
4. Hotel Cartagena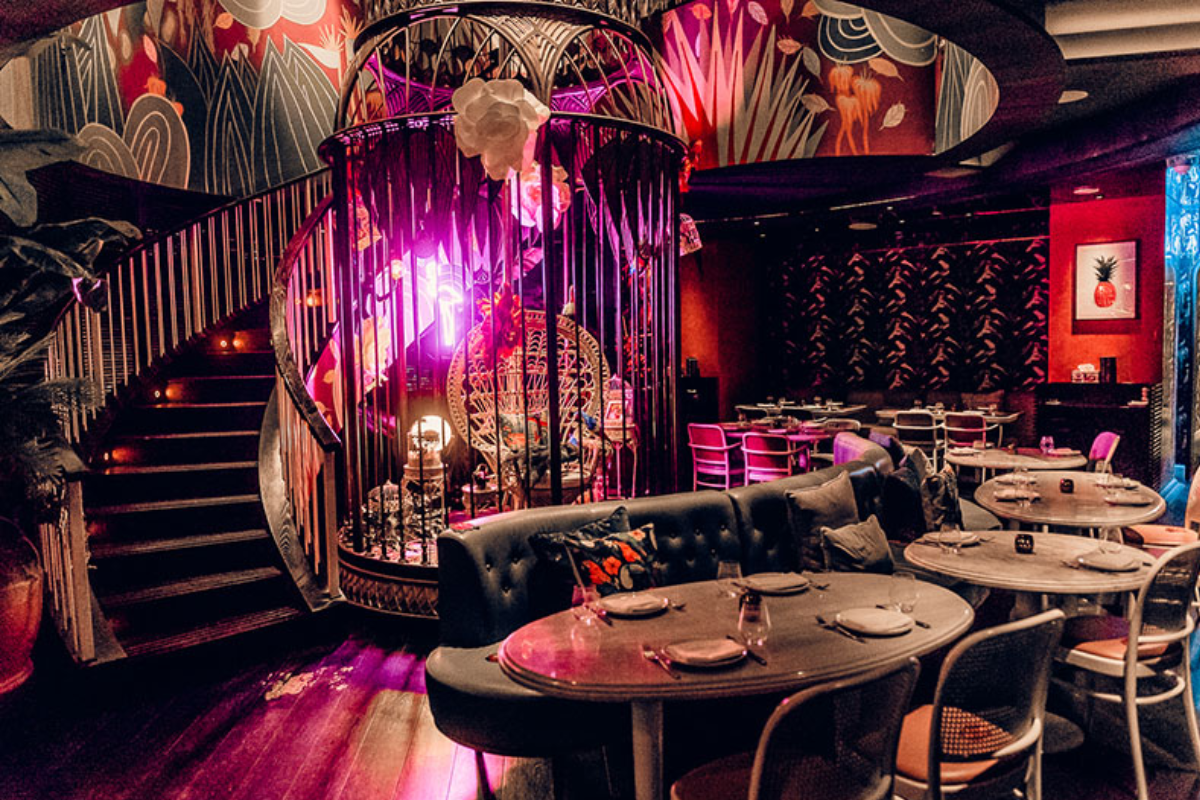 Hotel Cartagena is one of the two lively dining experiences that atop the towers of the JW Marriott Marquis. The eatery is styled on an eclectic hotel where trinkets from each guest are collected to add to the kitsch charm and has stylish interiors that are perfect for a chic sky-high location. Located on the 72nd floor of the tower, the window tables are the best spots to take in the breathtaking views, even though a restaurant further inside the space will leave you immersed in the live performance that rotate their way around the table. With its interior that resembles a rainforest and its panoramic views, this vibrant location was literally made for Instagram. Although the menu is loosely based on Latin food, it features influences from all over the world, including Jamaican spatchcock chicken, grilled seabass, and a variety of sushi rolls. Expect to eat foods like braised short ribs, spicy tuna maki rolls, and red snapper ceviche.
Location: Hotel Cartagena, JW Marriott​ Marquis Tower B, Business Bay
Timings: 05:30 pm - 03:00 am
Cost for 2: AED 500
5. Prime 68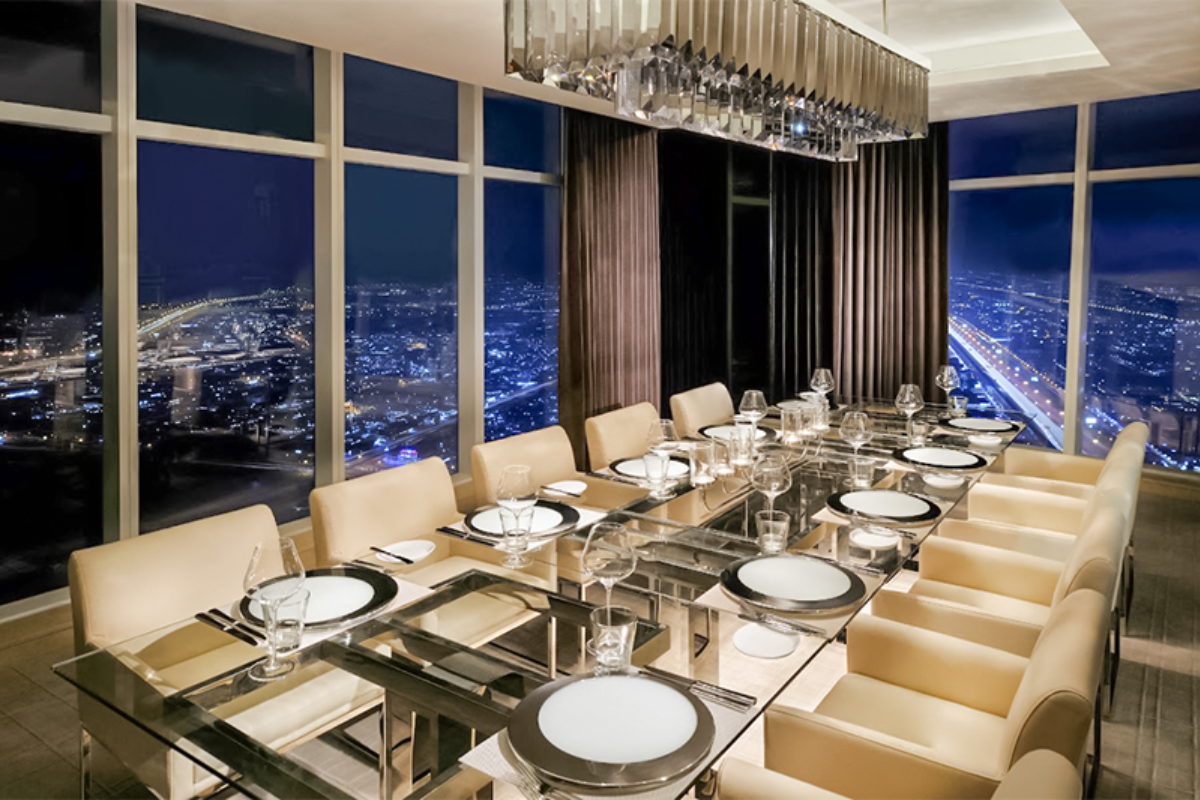 As you might have guessed from the name, Prime68 is located on the 68th floor of the JW Marriott Marquis Dubai. It is a classic steakhouse that has stood the test of time. The intimate leather booths are perfect for big groups, while the more romantic tables for two all line the windows, inviting guests to soak up with city skyline and making date nights even more special and romantic. While it's all indoors, there's still incredible views to be enjoyed from the floor to ceiling windows, and the chefs at the helm of this smart steakhouse know their stuff: premium suppliers have been carefully selected for their artisan produce. While the star of the show is the array of premium cuts of meat, fresh oysters, seafood and flavourful salads are all mouthwatering additions to the menu. If you don't eat meat, this spot is still one to visit, as the truffle mac and cheese is some of the best in Dubai.
Location: Prime 68, JW Marriott Marquis Hotel Dubai, Business Bay
Timings: 06:00 pm - 12:00 am
Cost for 2: AED 620
6. Ce La Vi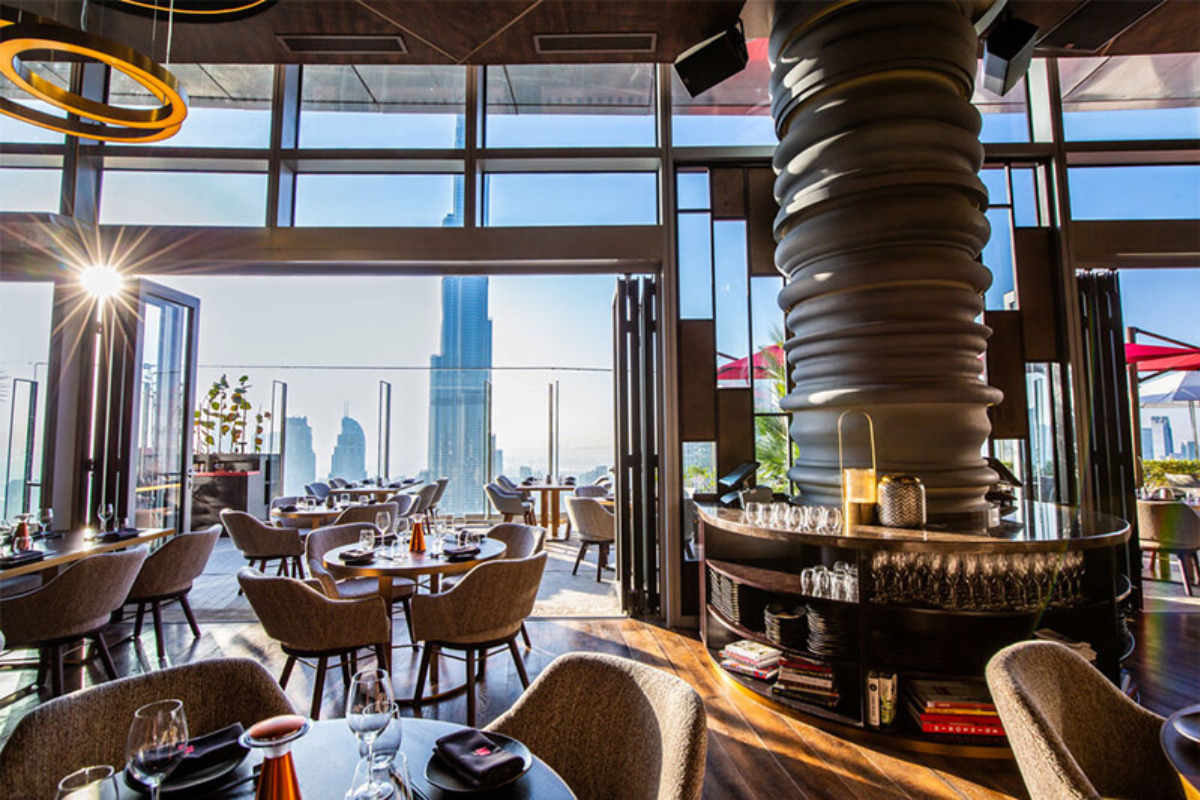 If you live in Dubai, it's basically impossible to scroll through your Instagram feed without seeing at least one person posing on the swing in front of the Burj Khalifa at CÉ LA VI. We've all been there, and done that, and if you haven't? Well, you'd best get booking immediately. Aside from the spectacular phot opportunities at Ce La Vi, you can expect contemporary Asian food. An alfresco pool deck for shisha, sky bar and club lounge are all welcome additions to the indoor and alfresco restaurant, inviting guests for power business lunches, sundowners, and a regular rotation of club nights, meaning there really is no bad time to go. And that's before we've even mentioned the food, all masterminded by chef Howard Ko and some of the best pan-Asian fare to be served in this part of town. Don't forget to try - Shrimp croquettes, Grilled Korean short ribs, Lightly torched balfegó bluefin tuna, Salmon tartare wrapped in shiso leaves, Sea bass roulade, Black truffle "sushi rice" risotto and the CÉ LA VI dessert platter.
Location: Address Sky View Hotel, Downtown Dubai
Timings: 12:00 pm - 03:00 am
Cost for 2: AED 350
Read more about - CE LA VI Restaurant and Sky bar
7. Sushi Samba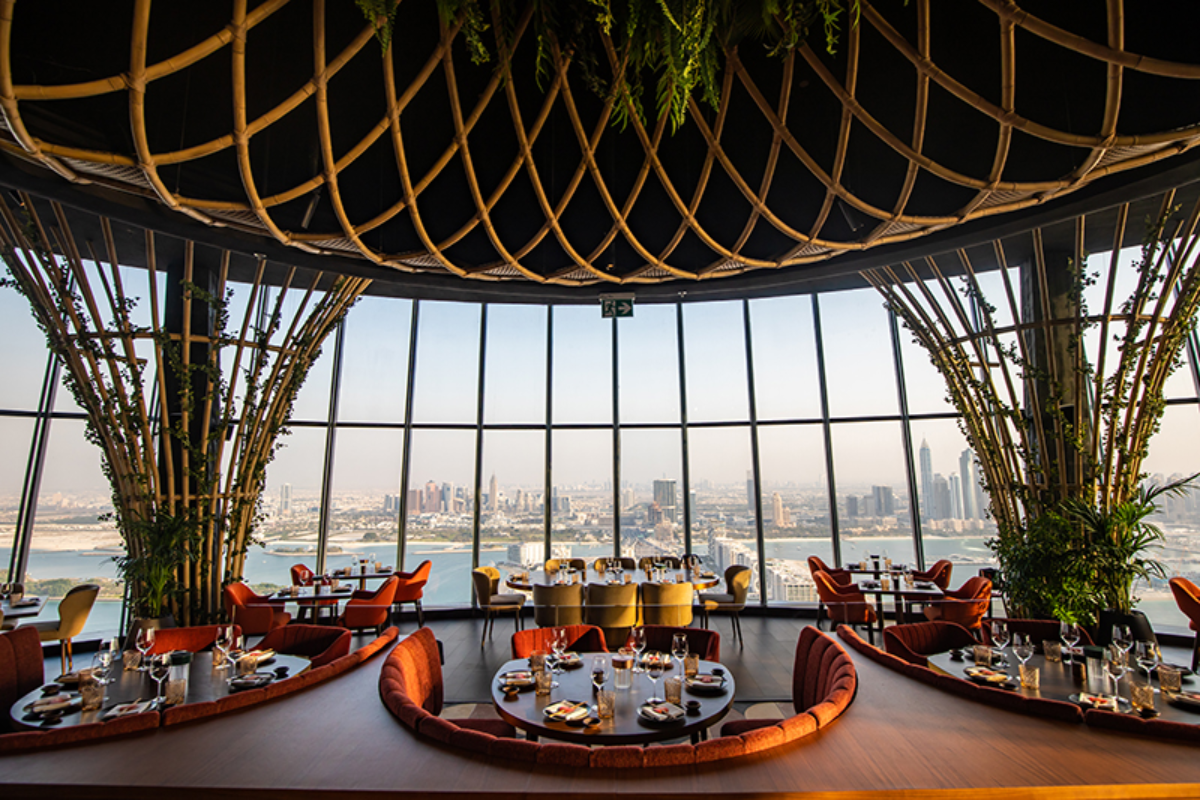 Nothing can beat Sushi, it is a great food to have with your loved one. Sushi Samba is renowned for its incredible Brazilian inspired cuisine masterminded by chef Moon. This restaurant gives you unbelievable panoramic views of Dubai that stretch across the Palm fronds and right back to the city from the 51st floor of the Palm Tower. Getting a reservation here will be tough but it is worth the effort. Even if you don't manage to snag one of the coveted window tables, the triple height ceilings and panoramic glass windows ensure everyone enjoys the views, whether dining in a cosy burnt orange booth or perched up at the bar. Sushi Samba is popularly known for its vibrant décor, funky ambience, and delicious and authentic Brazilian and Peruvian cuisine and is popular date night choice of Dubai. Sushi lovers are in for a treat as they get to enjoy amazing food with the beautiful views of the city with their loved one, the perfect date! Their Crispy Taquitos, Shrimp Tempura, Peruvian Corn Salad, Peruvian Yellow Potato, and their endless and mouth-watering Sushi options are worth the visit.
Location: Palm Tower, Palm Jumeriah
Timings: Saturday- Tuesday 7pm – 2 am
Cost for 2: AED 430 (approx.)
8. Nonya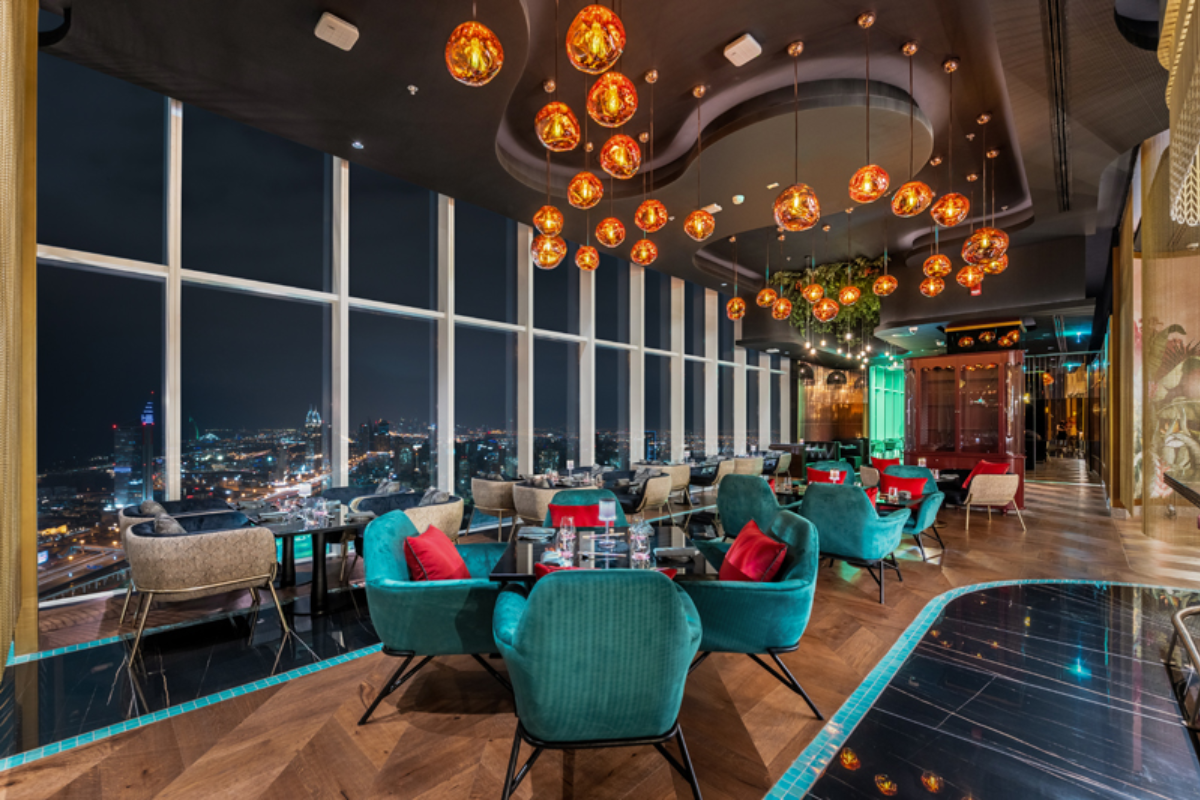 This pan-Asian restaurant occupies the entire 44th floor of the Taj JLT and is cleverly divided into a series of smaller spaces, which means that no matter where you sit, you feel like you're somewhere intimate and inviting. Private dining rooms are hidden behind glittering gold curtains, a horseshoe-shaped bar leads to a colorful lounge, and glass doors open onto small, leafy terraces with views of the city skyline. Nonya was originally positioned as Singaporean but has since shifted to describing itself as pan-Asian, which feels more in line with the menu. Maki rolls are served alongside Dim Sum, a robata section, and an entire page of meat and seafood dishes.
Location: 44th Floor, Taj Jumeirah Lakes Towers
Timings: Mon - Thu 12:00 pm - 01:00 am | Fri-Sat 12:00 pm - 03:00 am
Cost for 2: AED 490
9. Al Dawaar Revolving Restaurant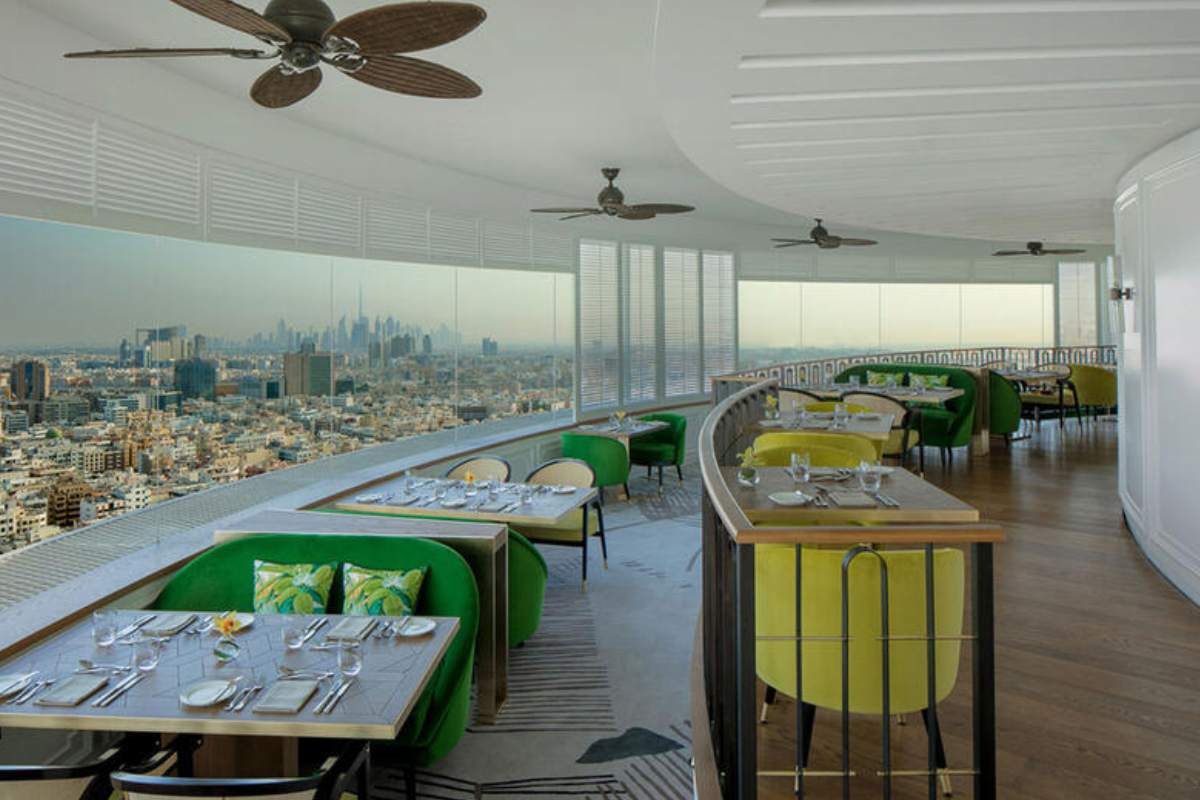 Choosing where to sit in a restaurant is high-stakes business, and we're not ashamed to admit that we've wandered from window to window several times, sat down, and then moved again. But, at Al Dawaar Revolving Restaurant, you don't have to worry about picking the best view in Dubai because it will come to you. During the 90-minute rotation, you'll get to enjoy 360-degree views of Deira and beyond while dining on classic buffet dishes. We'll admit that the novelty wears off (it is, after all, the city's only revolving restaurant), but the views from the 25th floor make this spot well worth a visit at least once. Must try from the menu include – US Prime Rib, Catch of the Day, French Oysters, Arabic specialties like Seekh Kebabs, Chicken Arise and many more.
Location: Hyatt Regency Dubai, Deira Corniche, Deira
Timings: Sat- Thu 06:30 pm -11:30 pm | Fri 12:30 pm - 03:30 pm , 06:30 pm - 11:30 pm
Cost for 2: AED 400
10. Cou Cou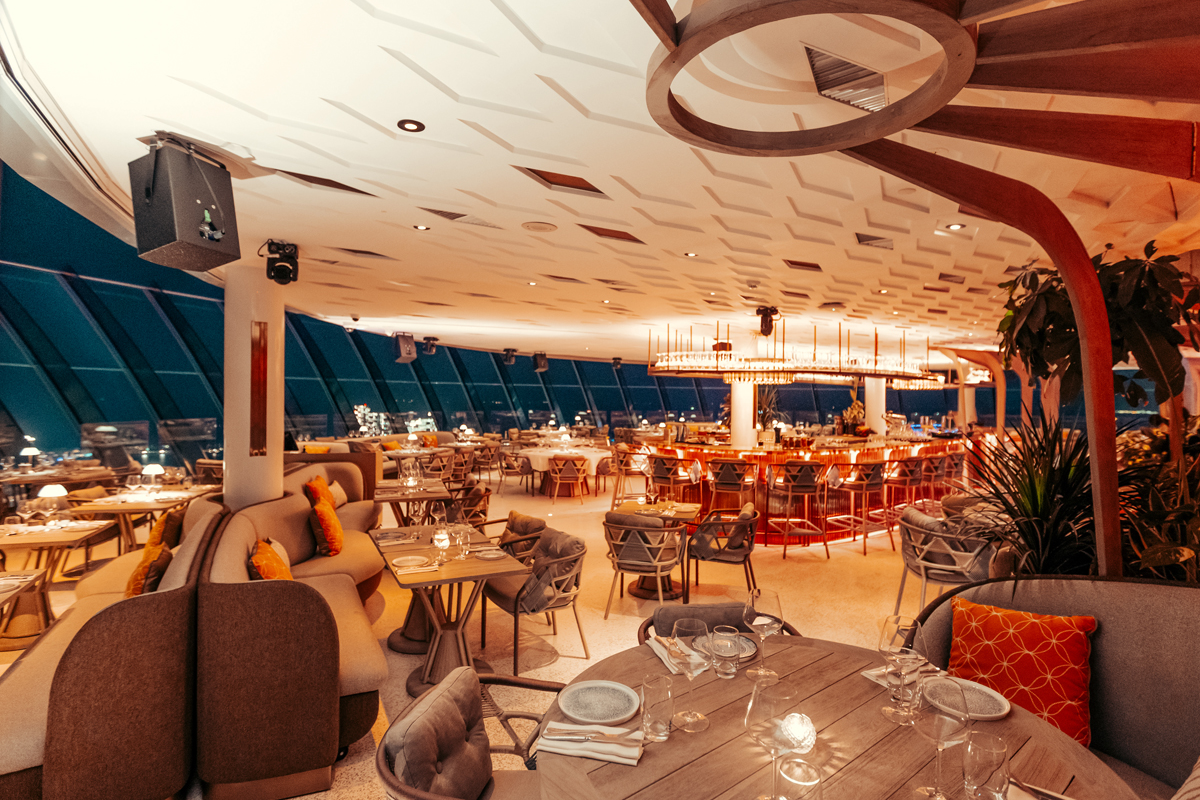 Cou Cou Dubai rises above the crowd with 360-degree panoramic views of the Palm's fronds and the Arabian Gulf. Cou Cou Dubai positions itself as an upmarket eatery ideal for date night, with a Mediterranean menu, signature mixed drinks, and an elevated atmosphere. On the menu, you'll find high-quality cuts of meat and fresh seafood prepared with finesse. Along with an inventive food and drink menu inspired by flavors from around the world, the restaurant and lounge have some of the best views in the city. It is located on the viewing deck of The View at The Palm, which is 240m above sea level, Dining here appears to be a sensory experience - one you'll want to document on social media.
Location: Level 52, The View at The Palm, The Palm Tower, Palm Jumeirah
Timings: 09:00 pm - 02:00 am
Cost for 2: AED 520
Also Read: