Love to escape to the movies? Dubai offers a variety of top-notch cinema experiences, ranging from dine-in theatres and boutique cinemas to IMAX and 4D screens.
Ready to watch a summer blockbuster in style? Here's where to head. Lights, camera, action.
Unique Cinema Experiences in Dubai

Snow Cinema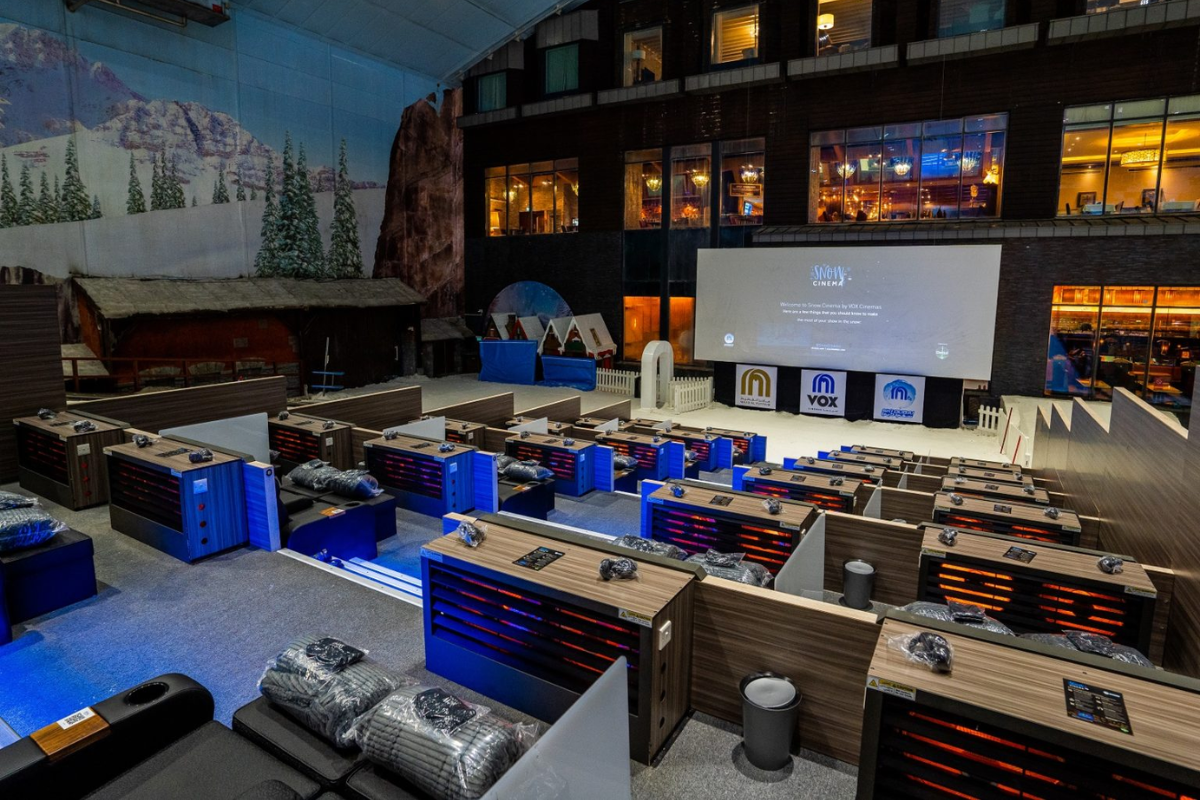 Why settle for a conventional movie-watching experience when you can enjoy a film on a ski slope? Ski Dubai offers a unique and exhilarating cinematic adventure in Dubai. You can not only enjoy the movie but also savor a delightful hot chocolate from Mirzam Chocolate Makers and choose your favorite popcorn flavor. To ensure your comfort, Ski Dubai provides gloves, socks, boots, a beanie hat, and a cozy blanket to keep you warm throughout the chilly screening. Bid farewell to icy toes as you immerse yourself in this unforgettable cinematic experience. For Dhs200, you can bring along a companion and enjoy the experience together.
🎫 Dhs100
📍 Ski Dubai, Mall of the Emirates, Al Barsha
Visit Snow Cinema for more details.
Horror Cinema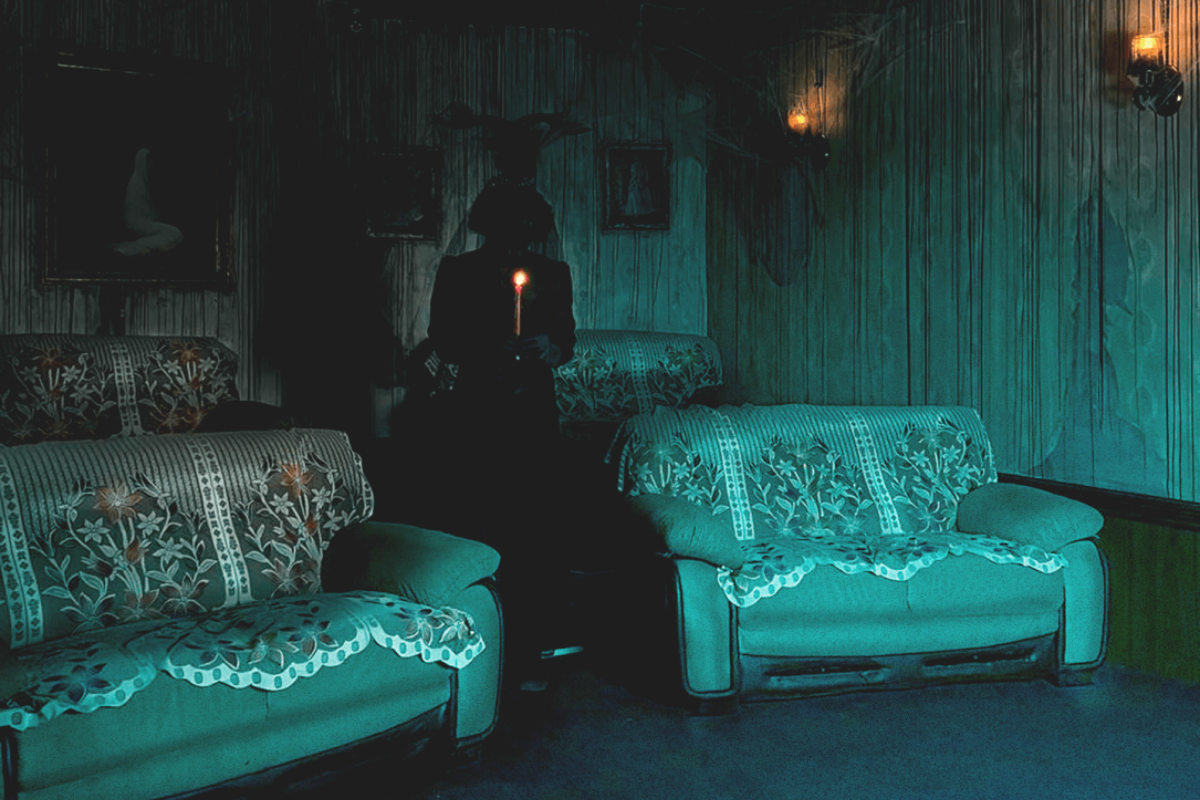 Prepare yourself for the most exhilarating cinematic experience of your life. Step into the world of Horror Cinema, where you can become a part of a real horror movie, complete with high-tech special effects, spine-chilling scares, and professional actors. This is surely not one for the faint-hearted, as professional actors will pop up at the film's tensest moments, so hiding behind your hands won't save you. Get ready to be immersed in a thrilling adventure that will leave you on the edge of your seat. Horror cinema draws inspiration from some of the greatest horror movies and experiences, delivering an unforgettable journey into the realm of fear. Please note that they have no affiliation or association with any publication or film.
🎫 Dhs180
📍 Horror Cinema, Indigo Sky building, Umm Al Sheif
Visit Horror Cinema for more details.
Dive-In Cinema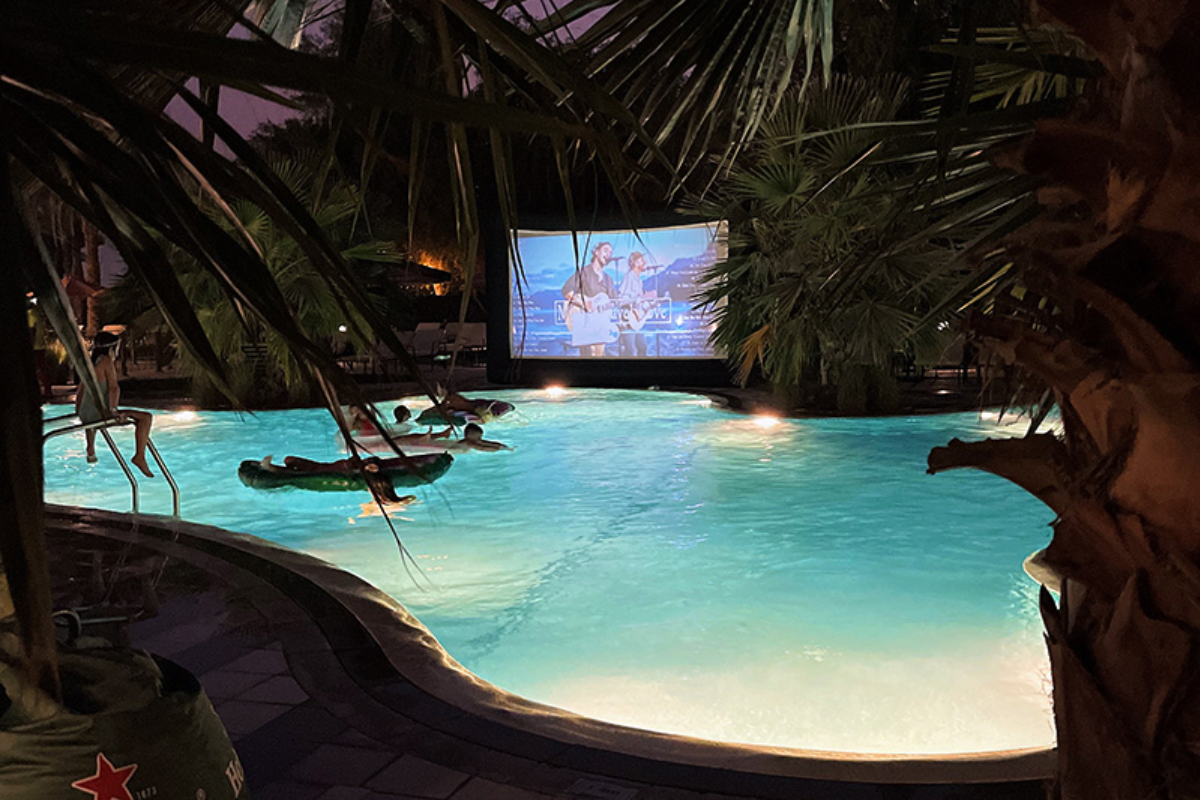 Make a splash at the city's cool alfresco cinema offering: dive-in cinema. This new family-friendly film night, which takes place every Friday, allows you to cool off at the pool with a classic family film, a tasty set menu, and more. There's in-pool or poolside seating available, so you can watch from a floatie or recline on a plush lounger or beanbag by the water's edge. You'll get unlimited popcorn and a three-course menu of bites such as crunchy prawn tacos, hot chicken wings, pepperoni pizza, and an all-American cheeseburger. It's a licensed cinema, and the cocktails are inspired by the films being showcased.
🎫 Dhs150 adults | Dhs80 for Under 21 years of age
🕒 7.30pm, Fridays
📍 Dive-in cinema at The Green Room, Sports City
Visit Dive-In Cinema for more details.
Drive-In Cinema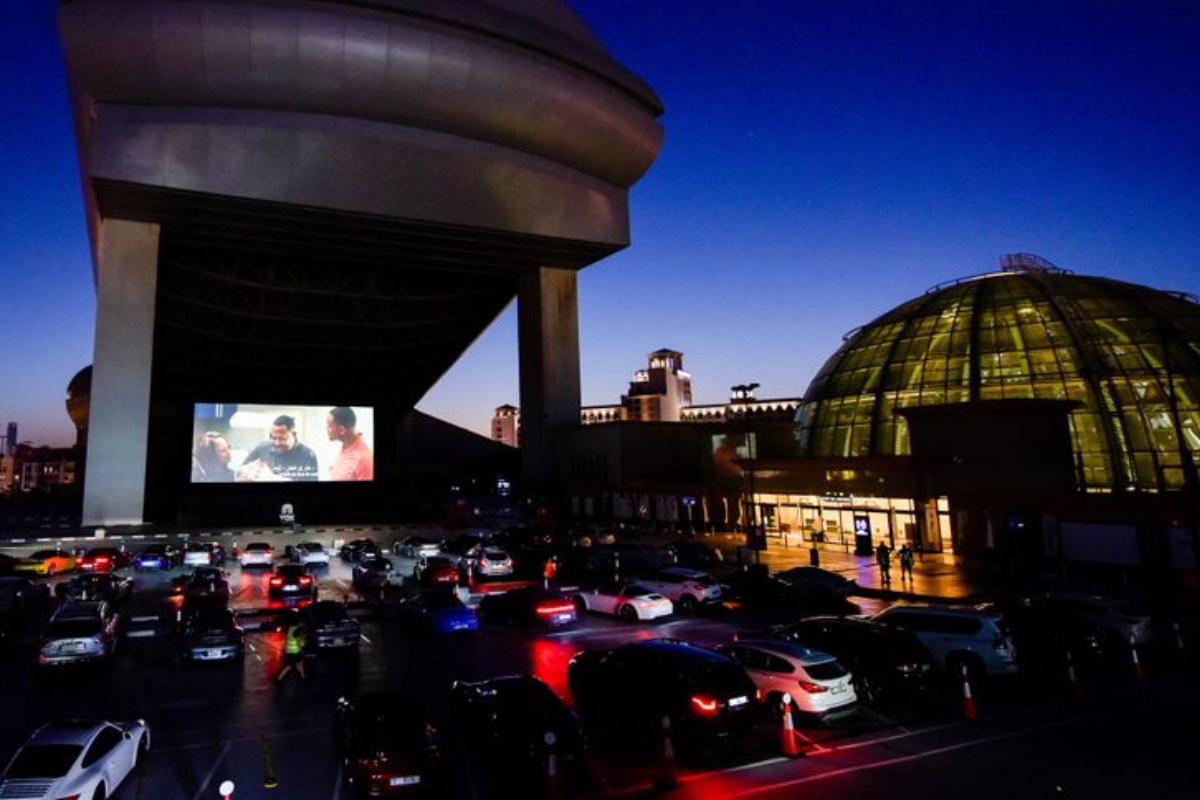 This is the first of Reel Cinemas' two drive-in cinemas to open, and it is located at one of the largest malls in the world, Dubai Mall Zabeel. You'll have views of the iconic Burj Khalifa in the background while you settle in and catch the blockbuster on screen. The ticket price includes one cheese popcorn, one salt popcorn, regular nachos, two chocolates, two soft drinks, and two water bottles. However, if you are still hungry, there are Reel Cinemas' food carts dotted around the venue to ensure you're catered for.
🎫 Dhs170 per car (maximum of 4 persons per car from the same family)
📍 Reel Cinemas Drive-In, Dubai Mall Zabeel
Visit Drive-In Cinema for more details.
Outdoor Cinema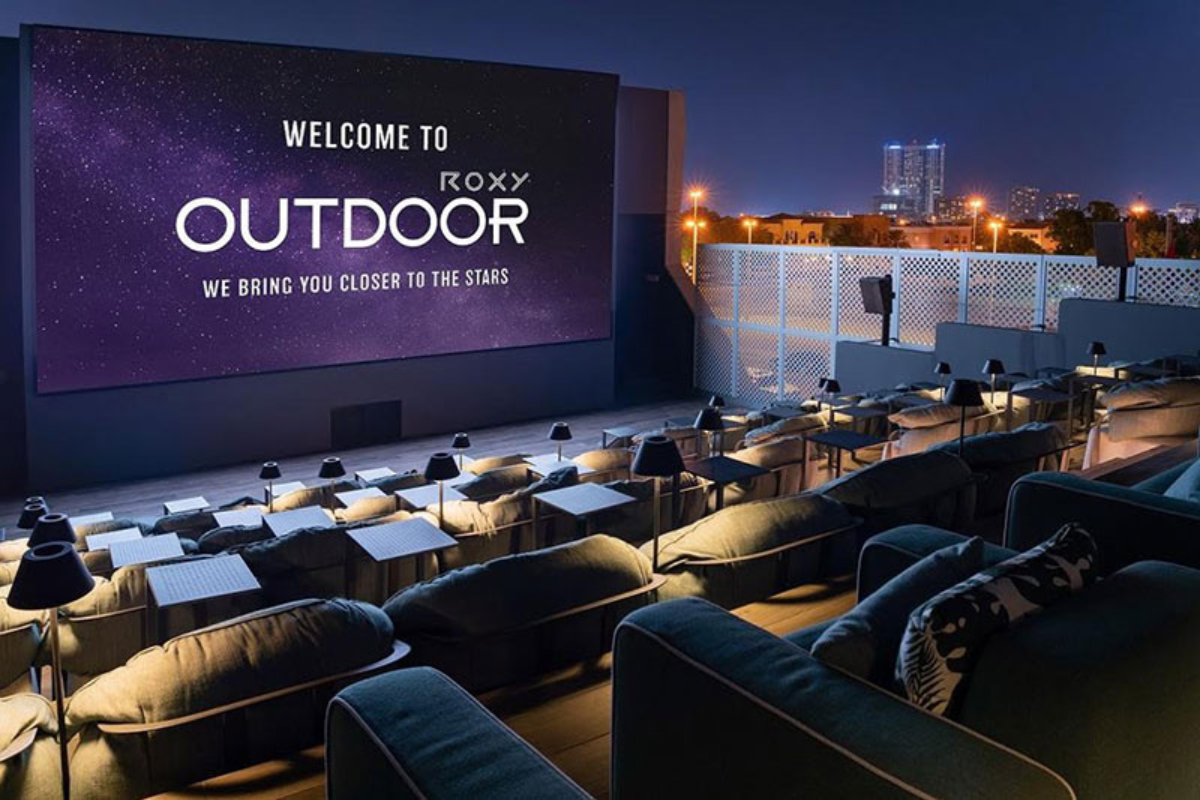 Watch movies under the glittering stars and the sparkling lights of the Dubai skyline at this rooftop cinema. Settle down at one of the best and most unique cinema experiences in Dubai to watch the latest blockbusters. You'll find this rooftop outdoor cinema on top of The Galleria Mall (weather dependent, of course). Enjoy the most immersive sound and technology while relaxing on comfortable couches and bean bags. This is a perfect night out with a friend or your partner.
🎫 From Dhs137
📍 VOX Cinema, The Galleria Mall, Al Wasl Road
Visit Outdoor Cinema for more details.
Platinum Plus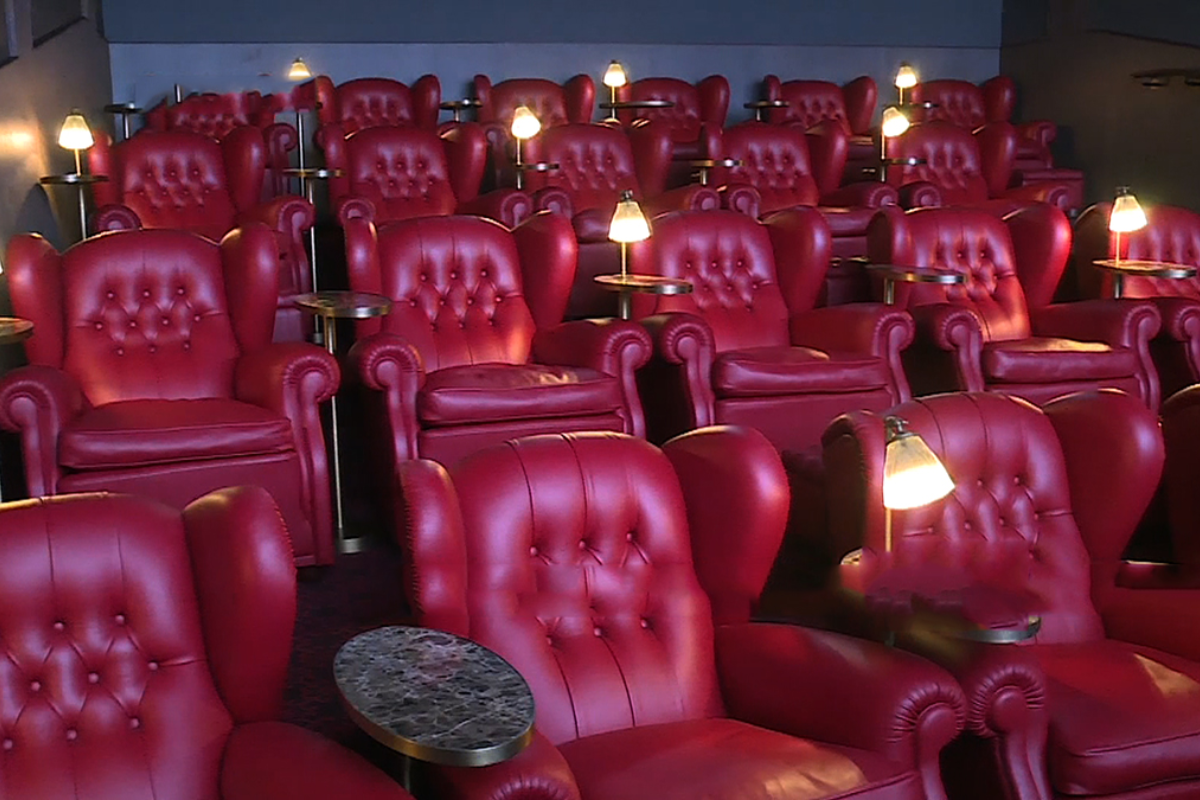 Experience the Retro Glamour of Platinum Plus at Roxy Cinema's BoxPark location, one of Dubai's most indulgent cinematic experiences. Step into a room adorned with plush scarlet armchairs and captivating speakeasy-style lighting, transporting you to a bygone era. Indulge in a diverse menu of hot plates and classic cinema snacks, all conveniently served to your table. Immerse yourself in the latest blockbuster flicks while enjoying the luxurious ambiance of one of Dubai's finest cinema experiences.
🎫 Dhs140
📍 Roxy Cinema, BoxPark, Al Wasl Road
Visit Platinum Plus for more details.
Boutique Cinemas in Dubai

Cinemacity Fountain Views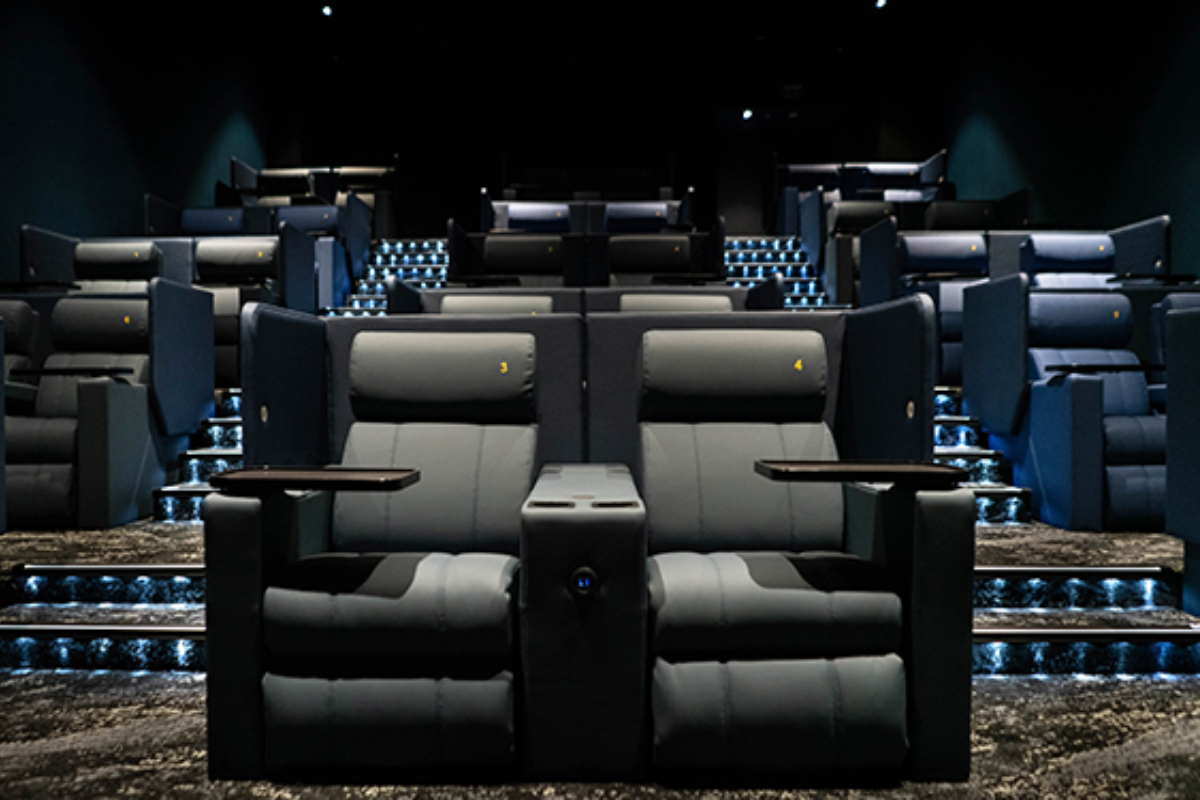 Located in the prestigious neighborhood of Downtown Dubai, Cinemacity Fountain Views offers an unparalleled VIP cinema experience. With a special ladies' night offer every Wednesday from 7 pm to midnight, women can enjoy one cinema ticket, two appetizers/rolls, and three drinks for just Dhs270. Whether you're in the mood for Hollywood blockbusters or seeking regional and international cinematic treasures, Cinemacity Fountain Views is the place to be for a luxurious cinema viewing experience. Indulge in the utmost comfort as you recline in the VIP-class recliners and get ready to be thoroughly entertained.
🎫 From Dhs120
📍 Cinemacity Fountain Views, Sheikh Mohammed bin Rashid Blvd, Downtown Dubai
Visit Cinemacity Fountain Views for more details.
Cinema Akil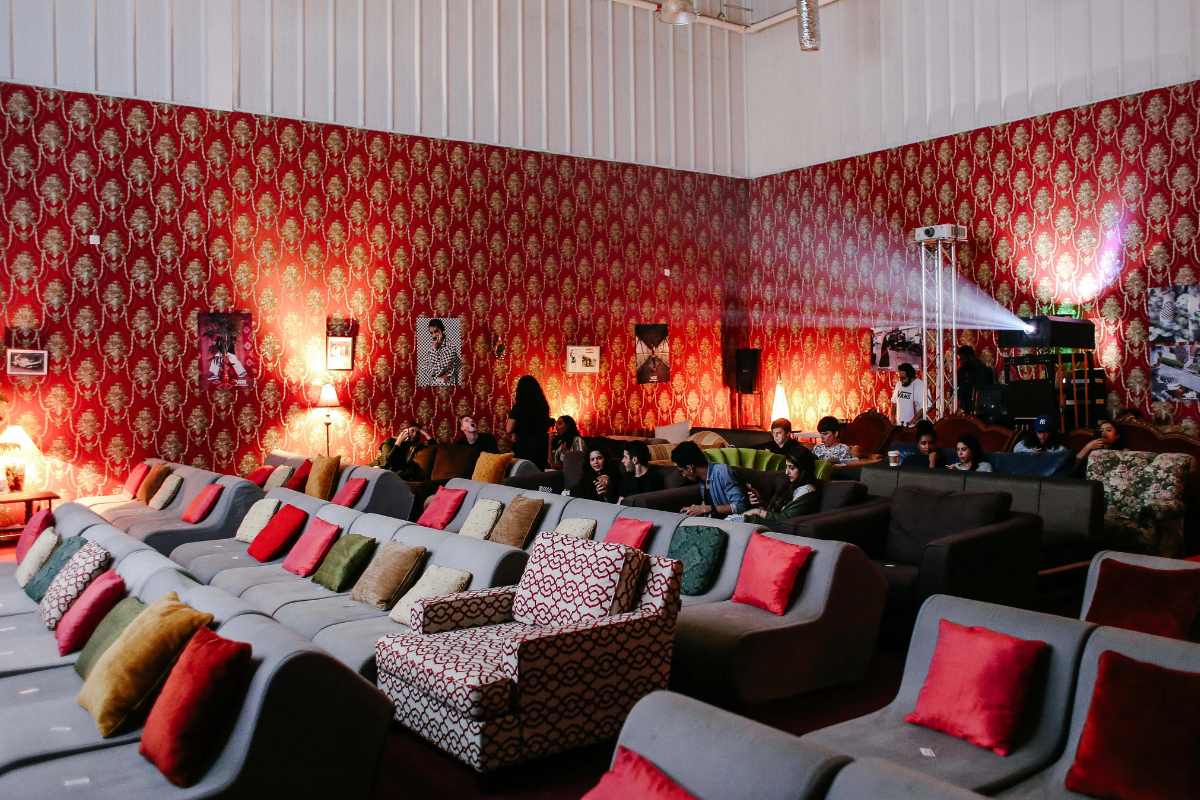 Immerse yourself in the cozy atmosphere of Cinema Akil, an independent movie theatre housed in a converted shipping container at Alserkal Avenue. This unique cinema, which began as a pop-up venture in 2014, has now established a permanent home after four years of dedication from founder Butheina Kazim and her team. With 133 seats, Cinema Akil offers a diverse selection of independent films, including local productions and themed programs such as Studio Ghibli Week. As you settle into the vintage cinema seats adorned with mismatched cushions, indulge in a delightful karak chai and a satisfying chilli cheese toastie from the adjacent home-grown tea shop, Project Chaiwala. This combination of delicious snacks and captivating films makes Cinema Akil a standout destination among Dubai's best cinemas.
🎫 From Dhs56.50
📍 Warehouse68, Alserkal Avenue, Al Quoz
Visit Cinema Akil for more details.
VOX Private Cinema, Kempinski Mall of Emirates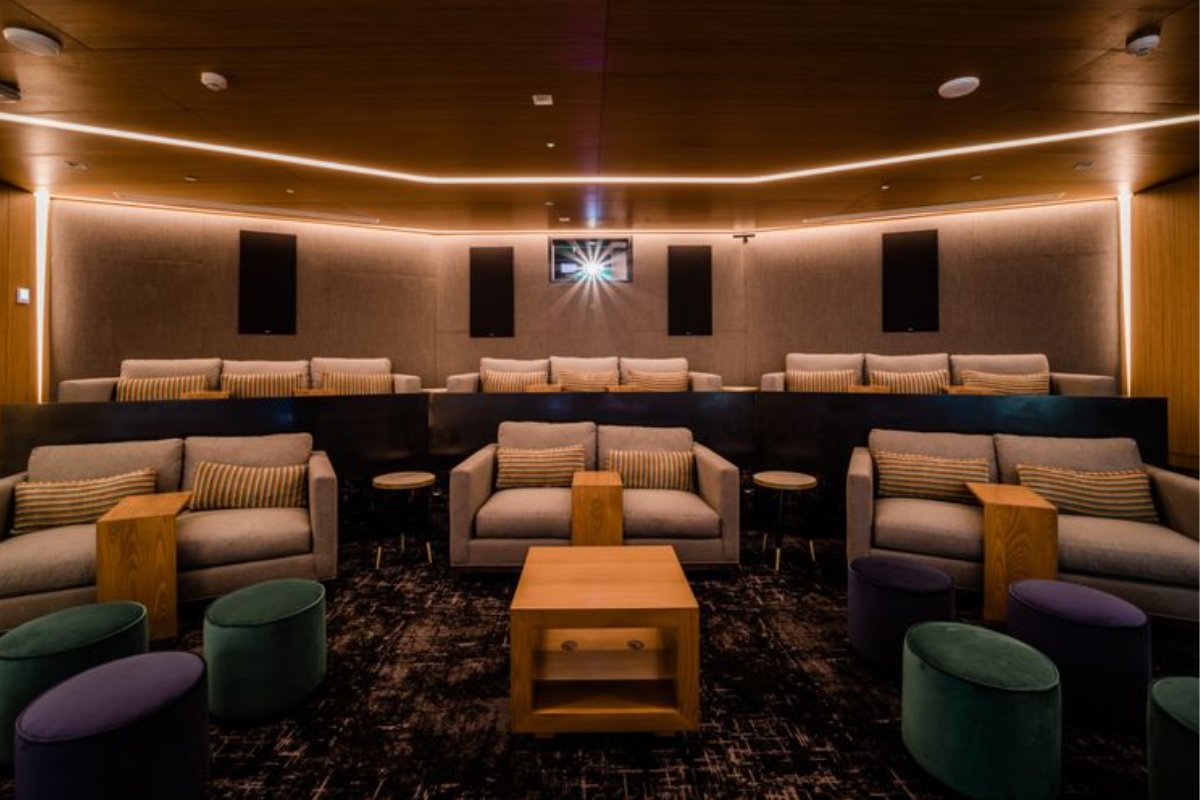 The private theatre of the Kempinski Hotel in the Mall of Emirates is as luxurious as it gets. The 15-seat theatre provides intimate surroundings for a private screening of the latest blockbuster films. You can treat your friends and family to a lavish movie night that includes unlimited popcorn and soft drinks.
🎫 From Dhs3,000 for 9-12 persons (including unlimited popcorn and soft drinks)
📍 VOX Private Cinema, Kempinski Mall of Emirates
Visit VOX Private Cinema for more details.
Roxy Cinema at City Walk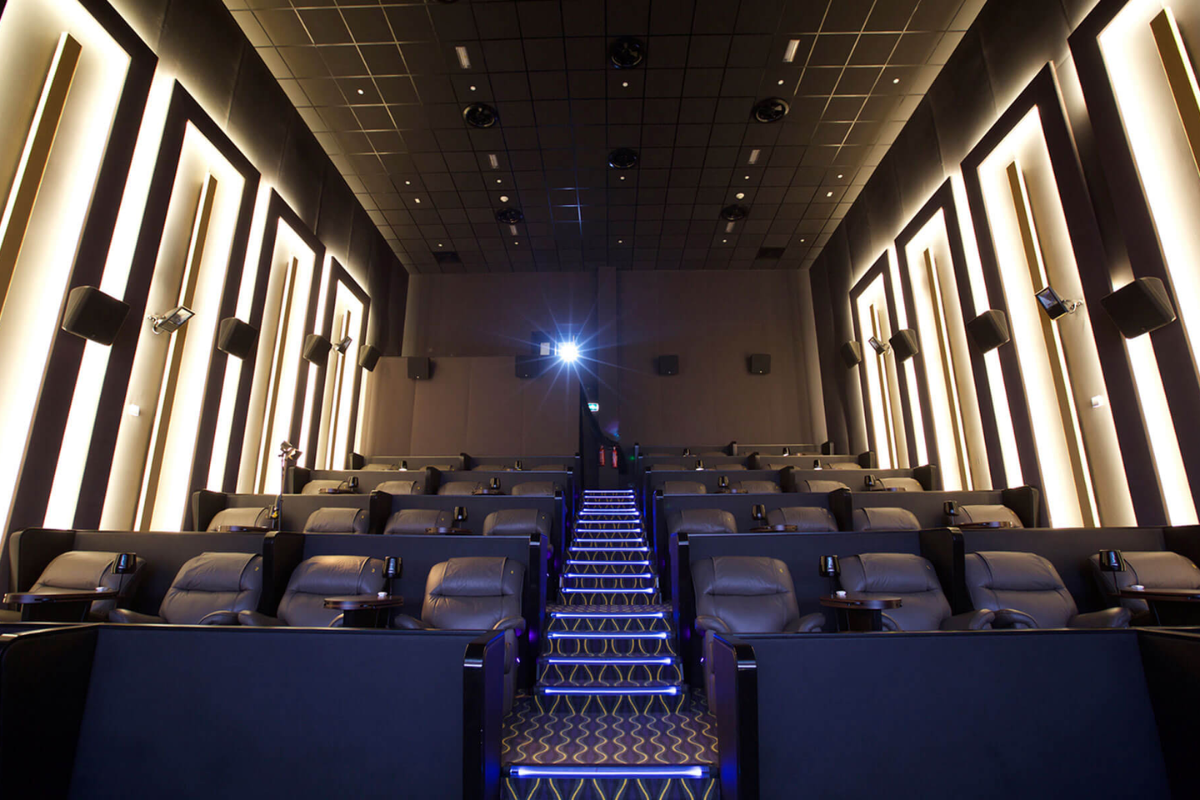 Choose between the Gold Plus and Platinum Plus experiences, both of which promise an exceptional movie-watching experience. Situated in the buzzing City Walk neighbourhood, the area is ideal for gourmet meals at the many restaurants and cafés nearby or for some shopping from international brands on your way back from the movies.
🎫 From Dhs36.75
📍 Roxy Cinemas, City Walk
Visit Roxy Cinema for more details.
Reel Boutique at Rove Downtown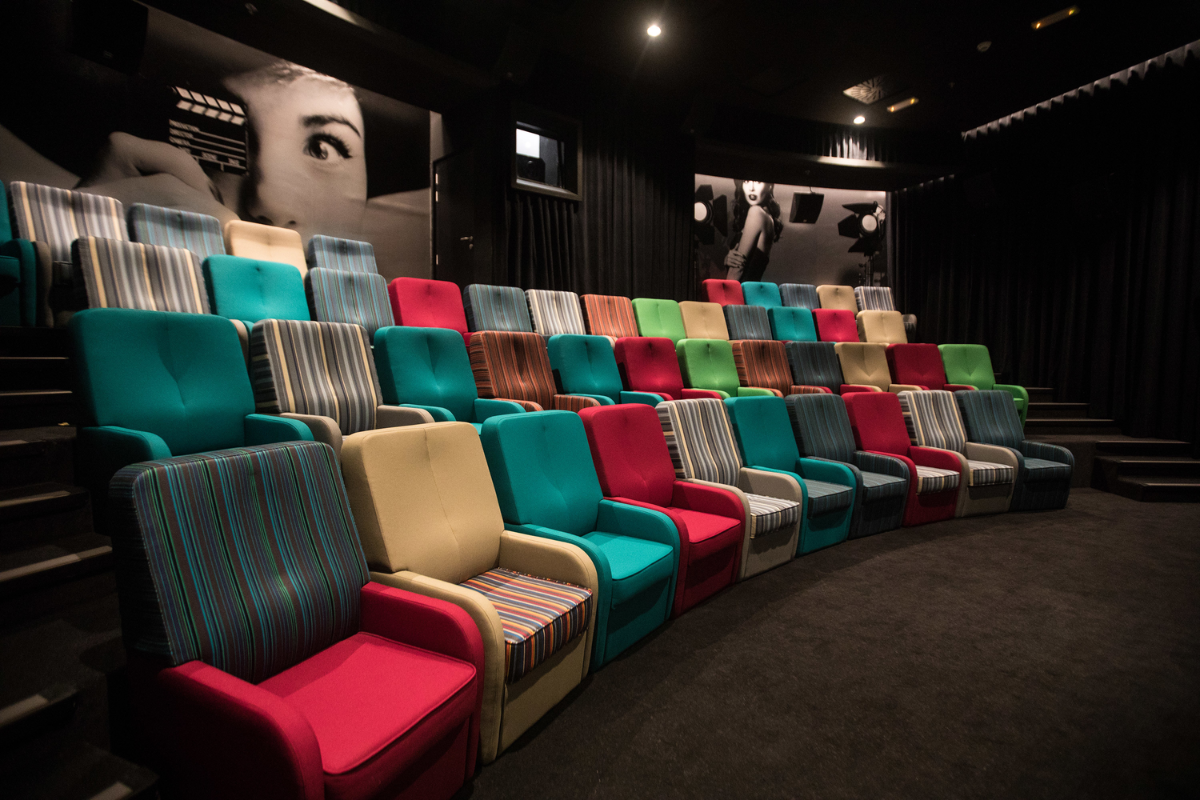 Consider a cozy, intimate movie theatre in the heart of downtown Dubai. Rove, one of the city's few fully licensed cinemas, provides an experience for those looking to spend time with friends and family. In fact, the 46-seat cinema can be rented for private movie screenings or parties. The chairs are spacious and extremely comfortable. All you need is a bag of warm popcorn and your favorite beverage to round out the experience for a relaxing evening at Reel Boutique.
🎫 From Dhs45
📍 Reel Cinemas, Rove Downtown
Visit Reel Boutique for more details.
Mall Cinemas in Dubai

Roxy Xtreme at Dubai Hills Mall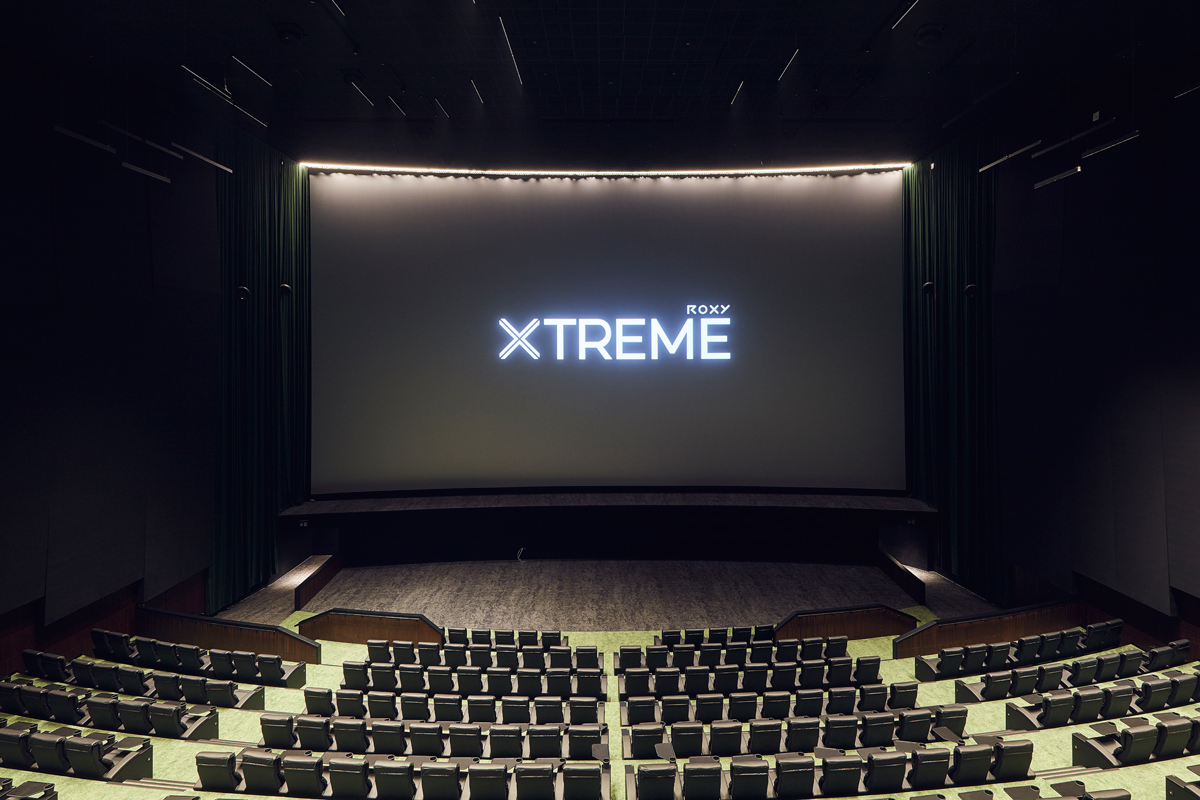 Featuring the largest cinema screen in the Middle East, the Roxy Xtreme screen is a hefty 28 m high by 15.1 m wide, which is the size of two tennis courts. You can watch a movie here in one of the 12 exclusive Director's Boxes, which include a personal waiter and food service. The large screen is one of 14 that also provide Platinum and Silver services, each of which has reclining seats and premium meals.
🎫 From Dhs39
📍 Roxy Cinemas, Dubai Hills Mall, Dubai Hills
Visit Roxy Xtreme for more details.
ScreenX at Dubai Mall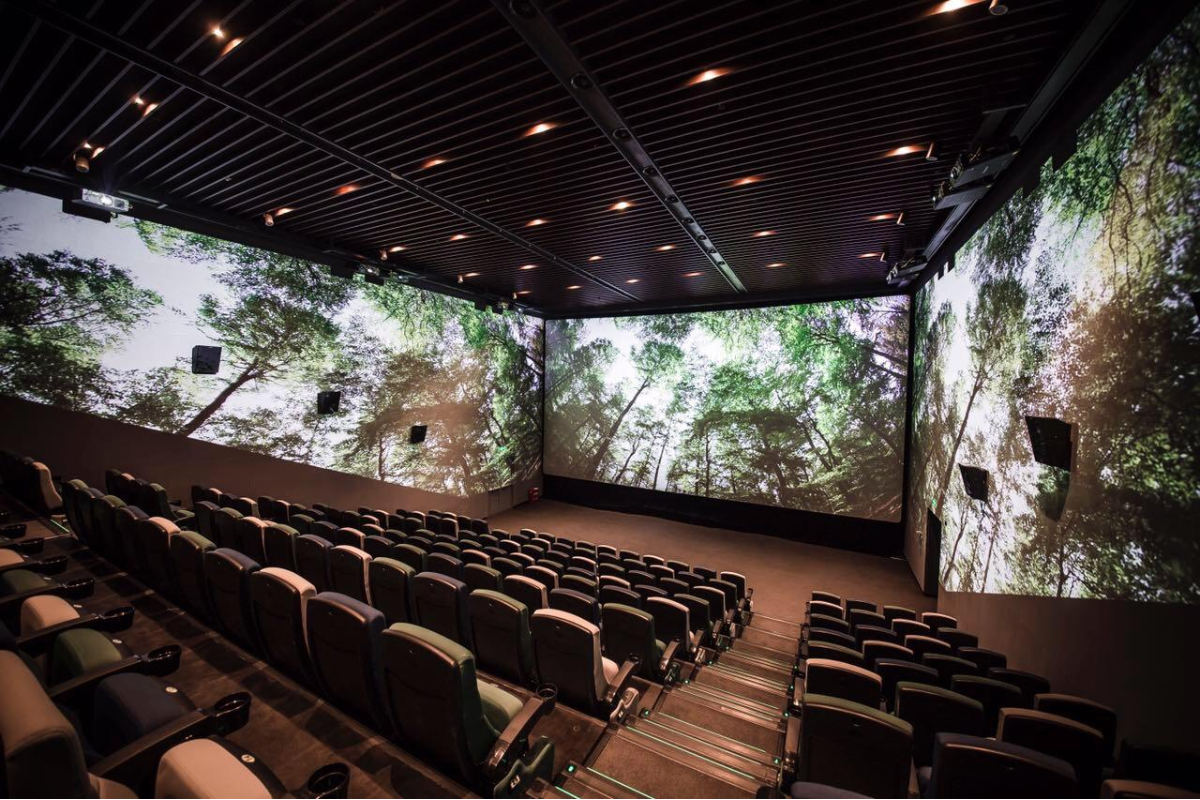 Forget about IMAX for an immersive cinematic experience because Reel Cinemas at the Dubai Mall has introduced ScreenX, the UAE's first multi-projection screening system with a 270-degree cinema screen. That means even your peripheral vision will be completely engaged in the latest blockbusters. The technology projects the image of a film onto three of the cinema's walls without distorting what's on screen, making it ideal for watching action-packed movies or being terrified by whatever monstrosities lurk around the corner in horror films. At the world's largest shopping mall, this is one of the best cinema experiences in Dubai.
🎫 From Dhs45
📍 Reel Cinemas, Dubai Mall, Downtown Dubai
Visit ScreenX for more details.
IMAX cinemas in Dubai

IMAX Sapphire at City Centre Deira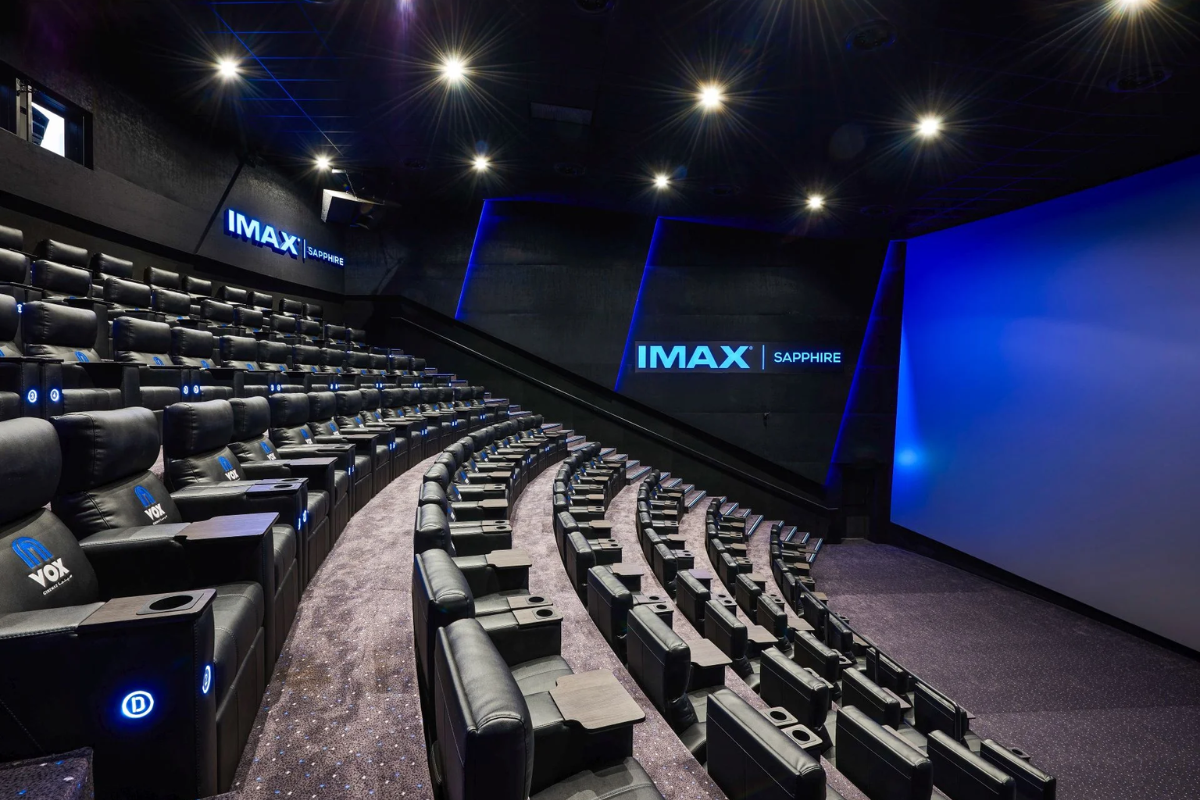 At this IMAX theatre, you can expect a heart-pounding soundtrack, spectacular visuals, and comfortable seating. That is exactly what you will get when you visit IMAX Sapphire at City Centre Deira. IMAX Sapphire, the first of its kind in the Middle East, allows you to watch a movie in the incredibly immersive and engaging manner that you'd expect from an IMAX theatre.
🎫 From Dhs80
📍 IMAX Sapphire, City Centre Deira
Visit IMAX for more details.
Dubai's largest IMAX at IMG Worlds of Adventure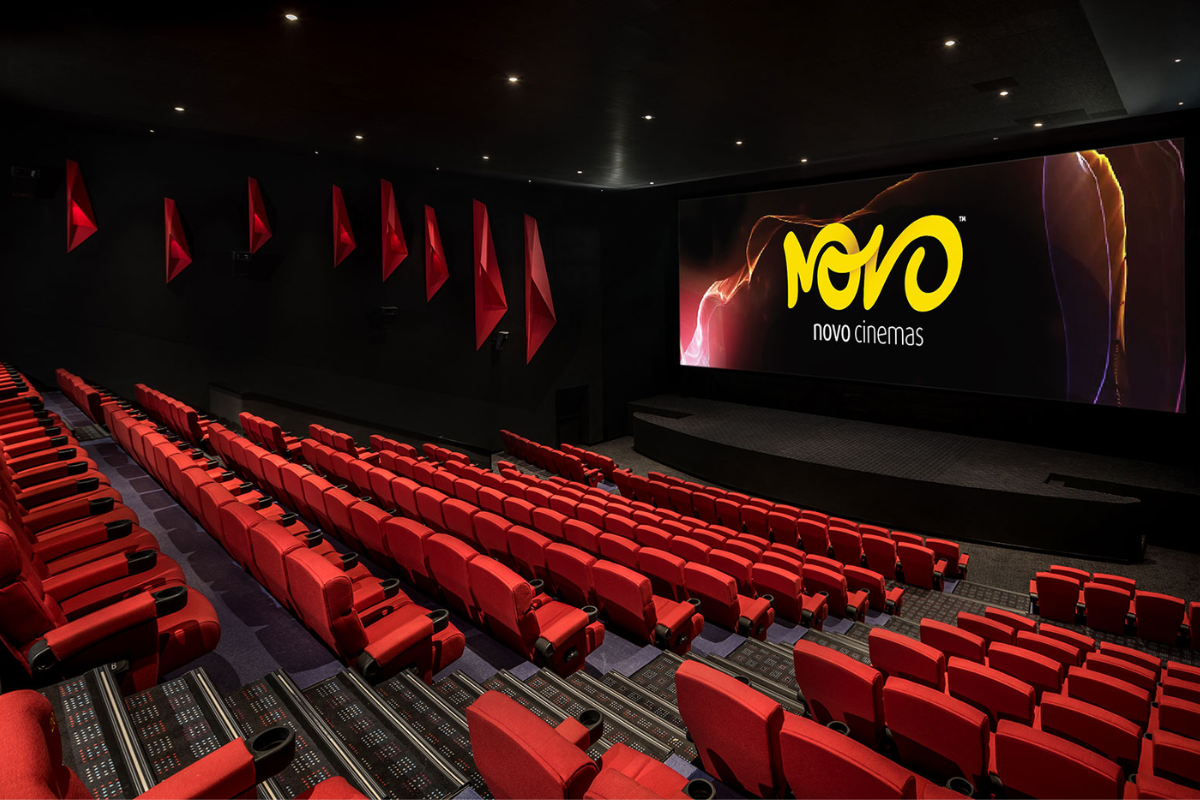 As you gaze at Dubai's largest IMAX mega screen, you will have one of the best cinema experiences in Dubai. The Novo Cinemas Cineplex at IMG Worlds of Adventure has a massive 24.4m wide by 13.8m high screen with seating for 360 guests. A 4K laser projection system is used to show movies. The complex includes a 12-screen multiplex that has been designed to transport customers to another world. The venue represents a futuristic design with over 5,000 meters of customized LED strip lighting and mirror lighting from floor to ceiling, making it an Instagrammable dream for social media followers. That is pushing cinema in Dubai to new heights.
🎫 From Dhs36.75
📍 Novo Cinema, IMG Worlds of Adventure
Visit Dubai's largest IMAX for more details.
VOX IMAX at Mall of Emirates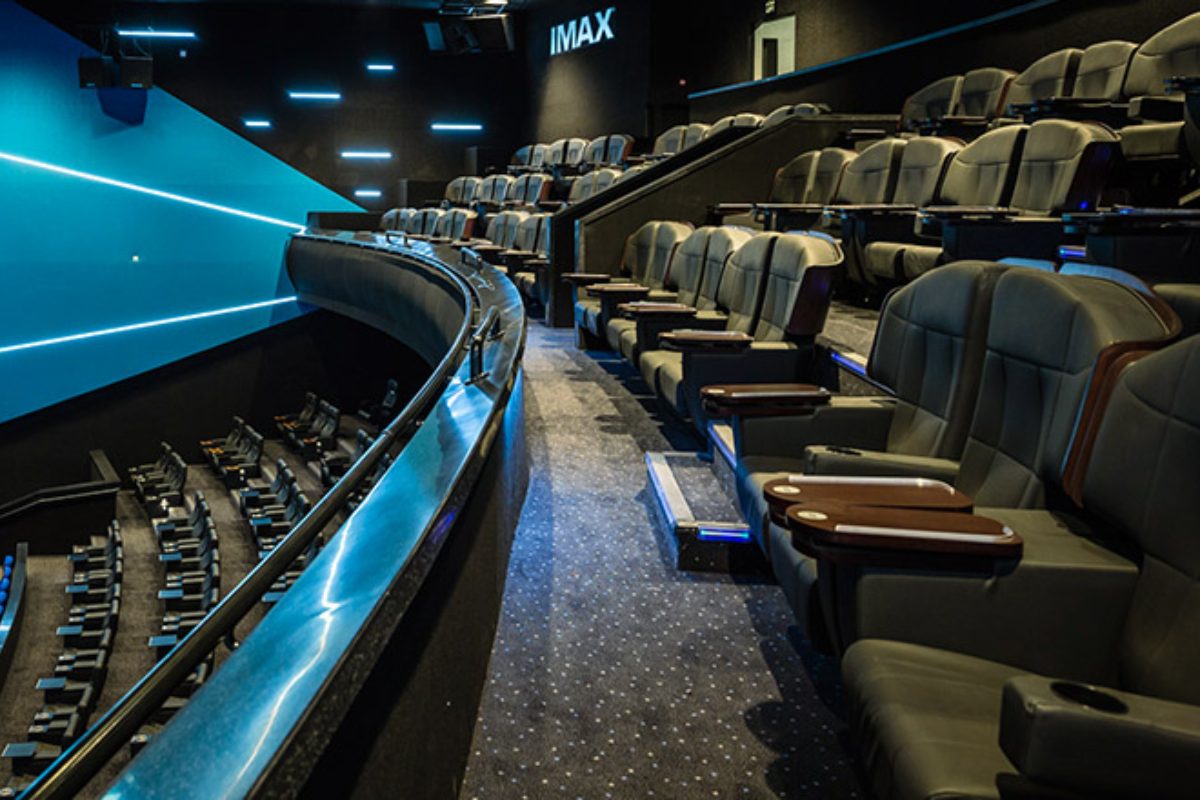 VOX Cinemas at the Mall of Emirates is one of the largest movie complexes in the Middle East, spanning 100,000 square feet. Get the best seats for the latest releases and enjoy them by immersing yourself in the 3D experience, complete with great sound and perfect picture quality—in other words, enjoy the movie in true IMAX style. Comfortable seats and large curved screens enhance the experience and make you feel like you're a part of the on-screen story.
🎫 From Dhs70
📍 VOX IMAX, Mall of Emirates
Visit VOX IMAX for more details.
Megaplex Grand Hyatt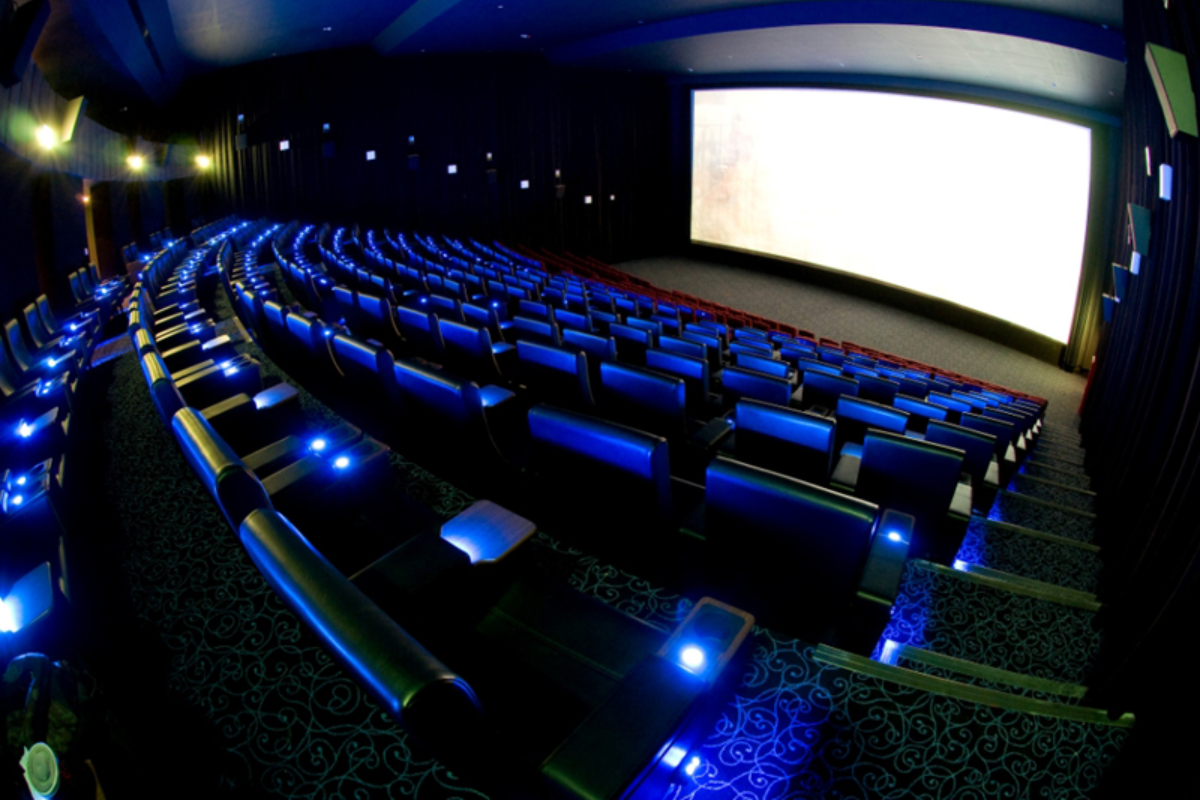 When staying at the Grand Hyatt Dubai Hotel, you'll only be a short walk away from this exciting cinema experience. Home to multiple 4DX screens, VOX Cinemas Cineplex Grand Hyatt offers the ultimate audio and visual treat for movie buffs. In addition, for a cinema concession stand, the theatre offers many food and beverage options, including onion bhaji, dal vada, seekh kebab hot dogs, parmesan truffle fries, waffles smothered in creamy Nutella, and the regulars of popcorn, candy, and soda slushes.
🎫 From Dhs42
📍 VOX Cinemas, Megaplex Grand Hyatt
Visit Megaplex Grand Hyatt for more details.
Cinemas in Dubai with In-Theatre Dining

Dine-in Reel Cinemas at Dubai Mall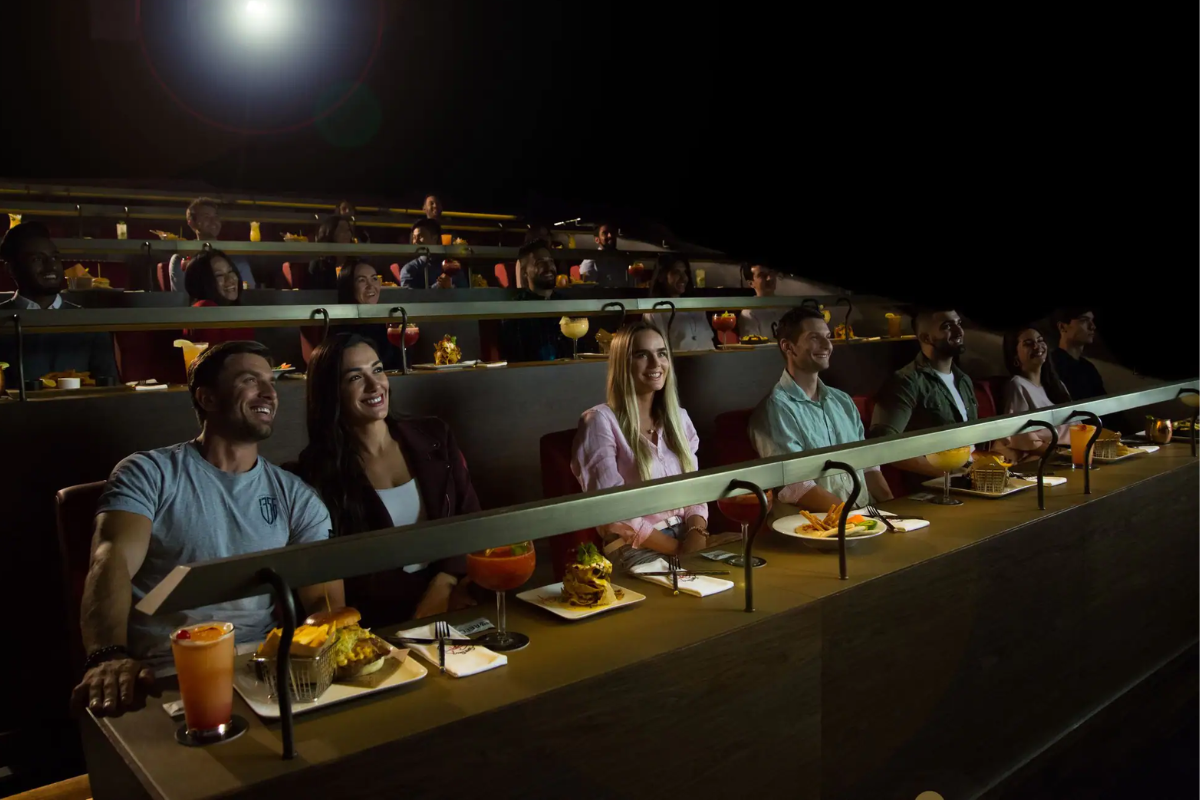 Dinner and a movie may be the oldest trick in the book, but it has recently been given a fancy new makeover. Who said you had to stick to popcorn, nachos, and chips at the movies? Meet this restaurant and cinema in one, where you can eat an elaborate restaurant-style meal while watching the latest movies. Snacks, main courses, desserts, and deliciously thick milkshakes will be delivered to your diner-style seats. You can start eating your delicious meals without breaking eye contact with the onscreen storyline. From starters, pizzas, and burgers to desserts and refreshing beverages, order yourselves breakfast, lunch, or dinner.
🎫 From Dhs135
📍 Reel Cinema at Dubai Mall
Visit Dine-In Reel Cinema for more details.
GOLD Cinema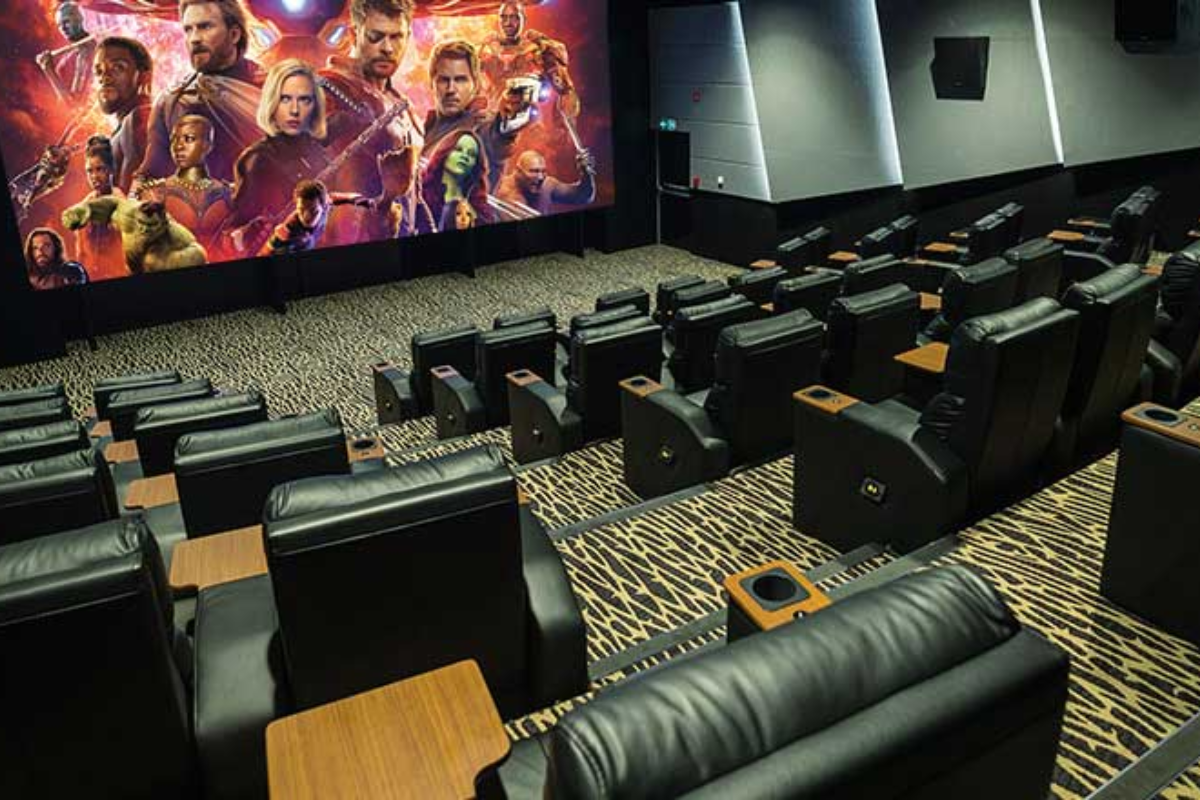 The GOLD Cinema is for fans of film and food. You can add a two-course gourmet meal for Dhs75 per ticket, which includes two dishes from the menu, a cold beverage, and a hot beverage. Or you can order delicious individual items from the menu, including appetizers, cinema classics, mains, desserts, and beverages. It's a treat for your eyes and your taste buds.
🎫 Standard ticket prices and a Dhs75 additional cost for a two-course meal
📍 GOLD Cinema, various locations in Dubai
Visit GOLD Cinema for more details.
ThEATre at Mall of the Emirates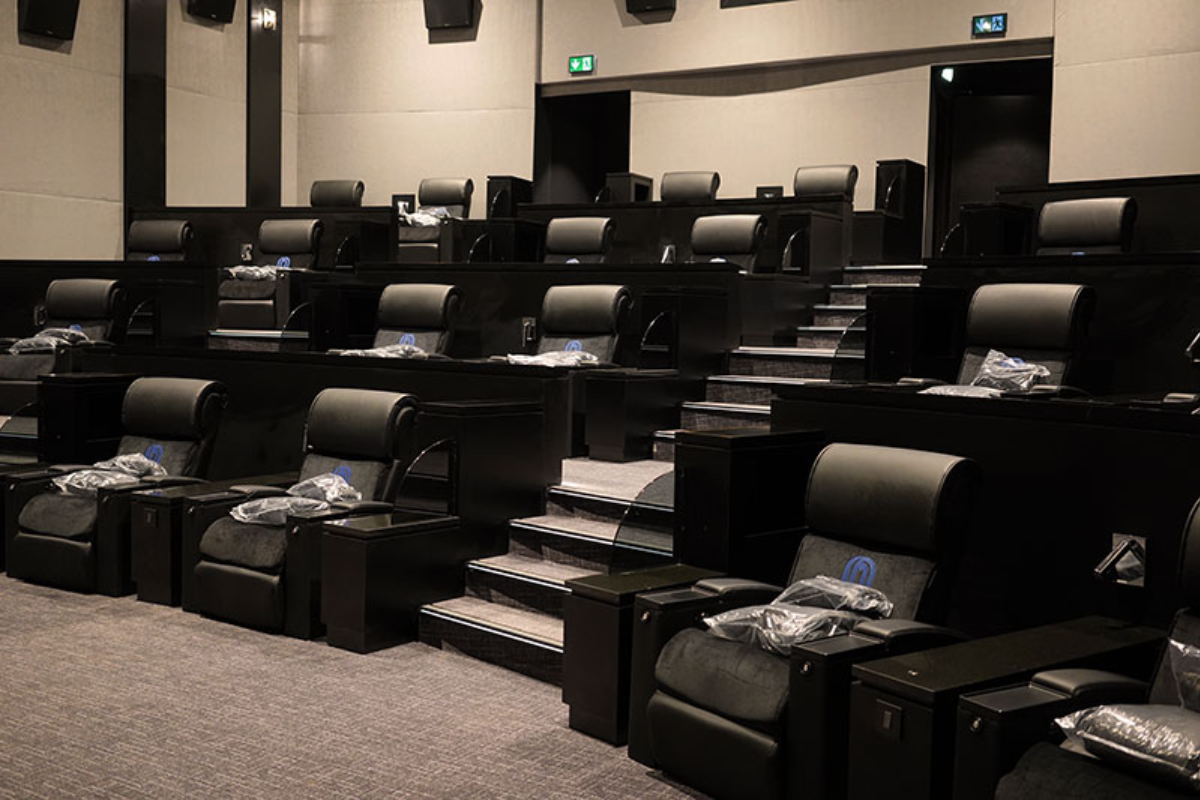 VOX Cinemas at Mall of the Emirates is a popular destination not only for its 14 cinema screens, kids' cinema, and IMAX experience, but also for ThEATre. This dine-in movie theatre is one of the best cinema experiences in Dubai, and film buffs will love it. Expect plated dishes as well as extremely comfortable reclining armchairs and silky blankets and pillows.
🎫 From Dhs168
📍 VOX Cinemas, Mall of the Emirates, Al Barsha
Visit ThEATre for more details.
Also Read: