Emirates Global Aluminium (EGA) today reported competitive financial performance for the aluminium sector in the first half of 2023, announcing a net profit of AED2.0 billion ($533 million).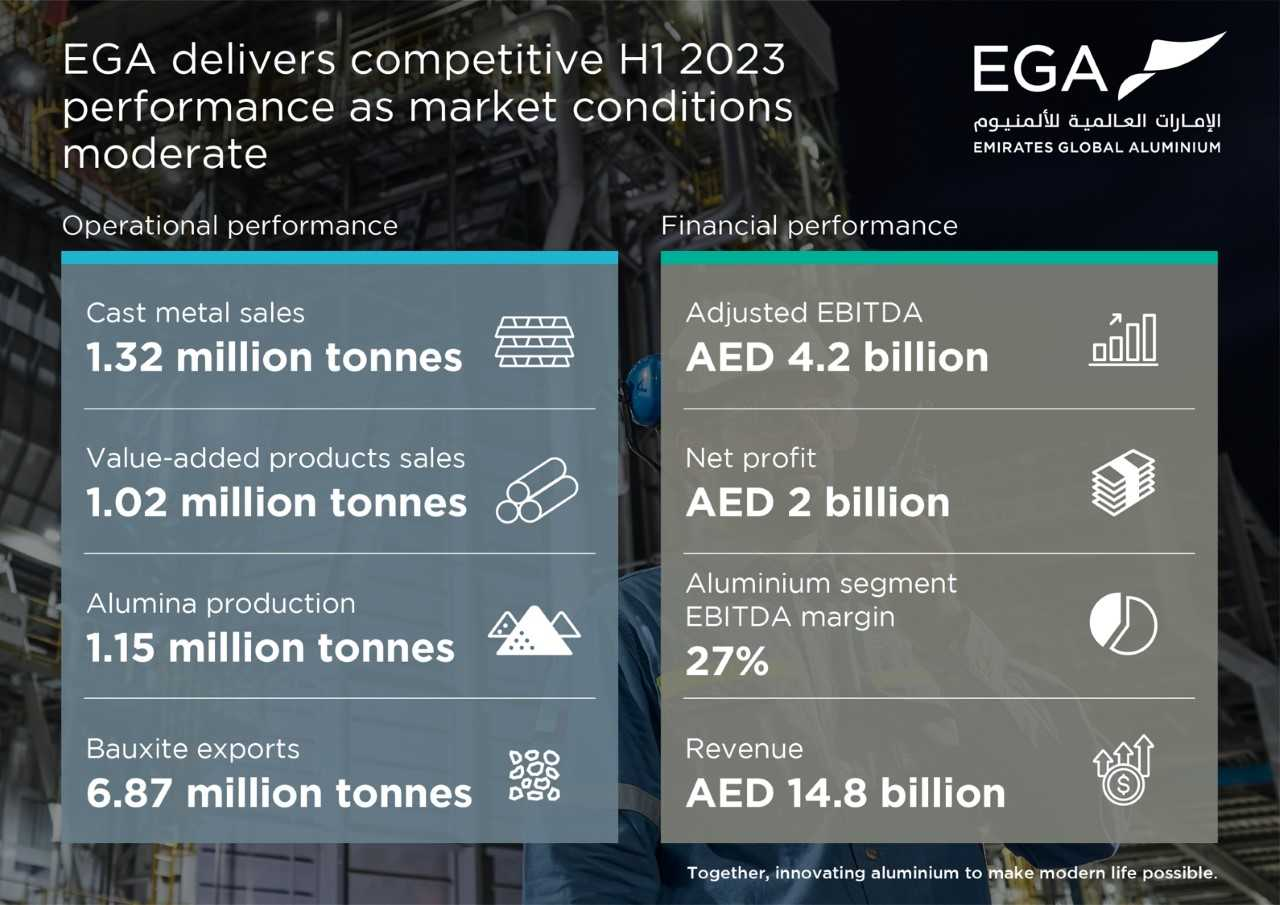 EGA announced H1 2023 adjusted EBITDA of AED4.2 billion ($1.1 billion). EGA's aluminium segment adjusted EBITDA margin was 27 percent, leading global industry peers.
The company also reported revenue of AED14.8 billion ($4 billion) compared to AED18.3 billion ($5 billion) in H1 2022.
EGA made an AED2.9 billion ($800 million) corporate debt pre-payment during the first half of 2023. This continues EGA's deleveraging strategy to strengthen the company's balance sheet for future growth. EGA has now pre-paid AED9.4 billion ($2.6 billion) in total since mid-2021.
EGA's corporate debt is currently AED14.4 billion ($3.9 billion), while GAC has outstanding project financing of AED2.3 billion ($614 million). EGA's net debt to adjusted EBITDA ratio was 1.6x at the end of June 2023.
EGA's average realised London Metal Exchange price for its aluminium was $2,359 per tonne compared to $3,063 per tonne during H1 2022 and $2,392 per tonne during H2 2022.
Abdulnasser bin Kalban, Chief Executive Officer of EGA, commented,
"At EGA we aim to achieve competitive performance for our sector throughout the economic cycle. In the first half of 2023 that is what we did - delivering solid financial results even as market conditions moderated from the significant volatility of recent years, a testament to our resilience and strategic approach."

"I am confident we will continue to be competitive in the second half, as we benefit from our multi-year drive to maximise our revenue and minimise our costs, our focus on operational excellence, and our partnerships with our global customers."
Zouhir Regragui, Chief Financial Officer of EGA, said,
"Our continuing performance, recurring cost savings from our multi-year Najah transformation programme, and strong cash generation have enabled us to further optimise our balance sheet for future growth. Over the longer term, we see considerable opportunities to grow our primary production and develop our recycling business."
News Source: Emirates News Agency