Dubai is a haven for adventure junkies who like taking part in thrill inducing and adrenaline rushing activities.  This marvelous city has many thrill-seeking activities for you to try from walking on the edge of a building to diving into the deepest pool in the world. The opportunities to do something adventurous are endless in Dubai!  Another such exciting activity in Dubai is shooting which is the sport of firing at targets of various kinds with rifles, handguns (pistols and revolvers), and shotguns. Want to experience the thrill of firing a gun in Dubai? The Jebel Ali Shooting Club is the perfect place for experiencing this electrifying activity in Dubai.
Get ready to pick up a gun and shoot! Here's everything you need to know about Jebel Ali Shooting Club.
About Jebel Ali Shooting Club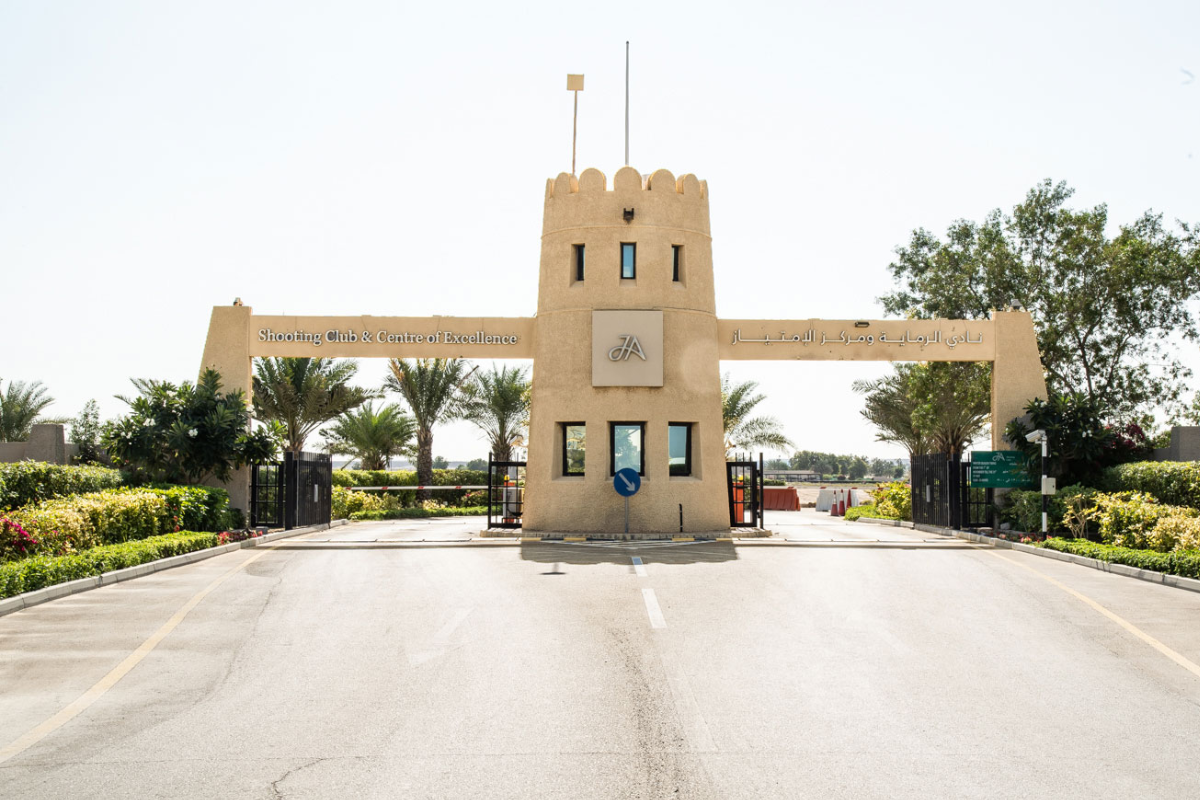 The Jebel Ali shooting Club in the Jebel Ali resort (JA resort) stands like a fortress in the middle of the Jebel Ali desert. It provides shooters of all skill levels with a distinctive environment for recreation and competition that encourages them to improve and try new things. Five floodlit clay shooting ranges and a 10-lane, 25-meter pistol range are available at the indoor and outdoor ranges, and all of them are open to novices, corporate groups, and seasoned shooters. Shooting styles available include Olympic trap, automatic ball trap, down the line, compak sporting, and Olympic skeet. The shooting range at Jebel Ali Shooting Club is built to international safety standards and provides the best environment for you to discover the true taste of the sport and what shooting is really like.
What can you expect inside?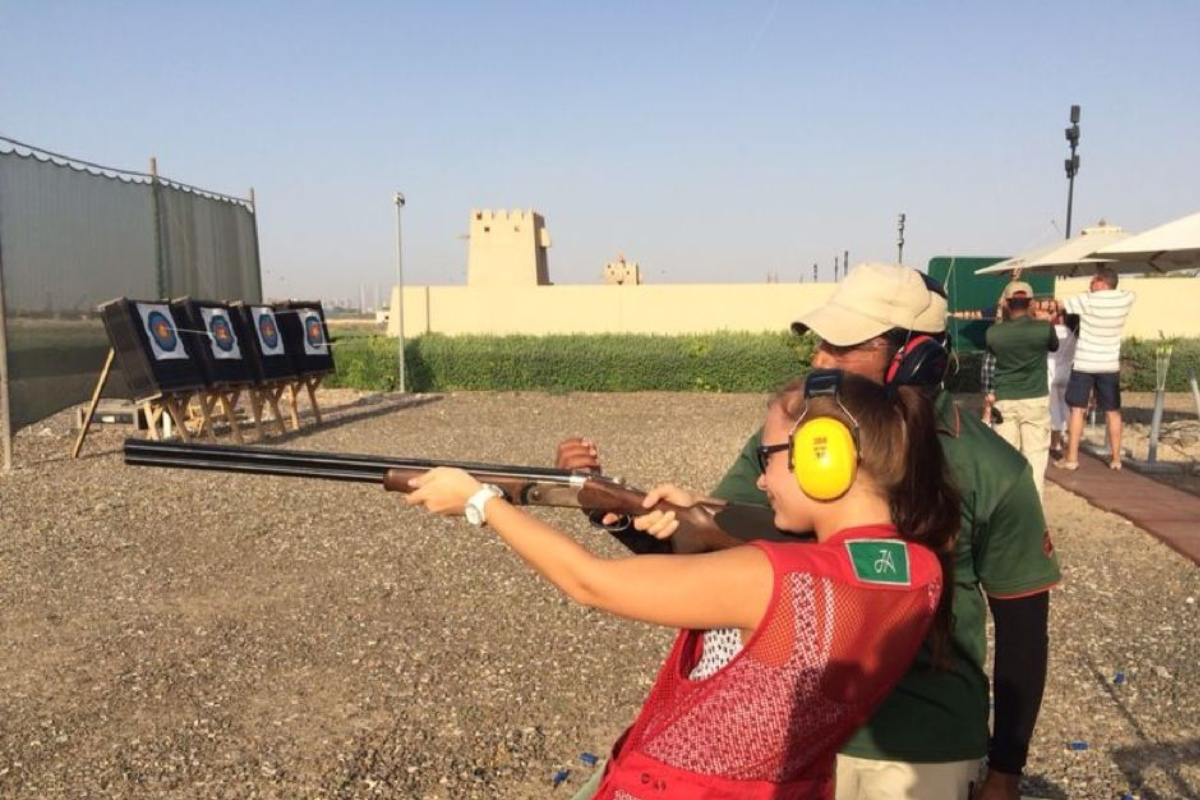 With its striking architecture, entering the club feels a little like you are entering an ancient Arabian style castle. Shooting as a sport is a unique and enjoyable way to spend time with friends, family, or your partner. Pistol shooting, clay shooting, and archery are all available at the Jebel Ali Shooting Club. Pistol shooting is done indoors and involves shooting a regular pistol, rifle, or shooting gun at a distant circular target, whereas Clay shooting is done outdoors and involves shooting flying clay targets with a shot gun.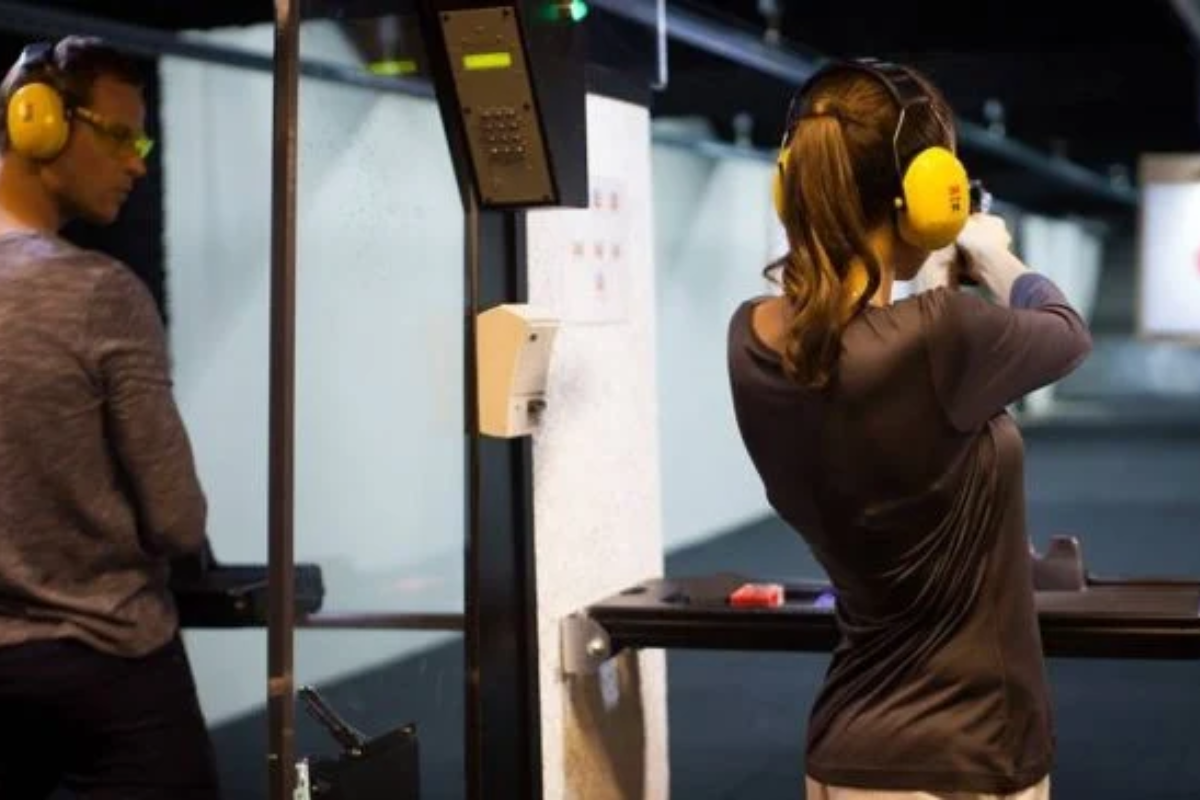 The ranges are set up to accommodate "Olympic Tap," a shooting event that is a part of the Olympic Games' shooting program and involves shooting at a moving target from 70 to 75 meters. Shooters can rotate through each of the five stations. The 'Automatic ball trap,' which uses only one trap machine, is the next technique. Down the Line, a beginner-level discipline, uses a single trap to launch a target 45–50 meters away at a height of 2.75 meters. International and English sports are scaled down in "compak sporting." Shooting an 'Olympic skeet' involves shooting at eight shooting stations on a semicircle and one in the center. Throughout the experiences, instructors are on hand to ensure patron safety and to guide them on proper equipment usage.
What is the minimum age for shooting at JA Shooting Club?
At Jebel Ali Shooting Club, the minimum age for clay pigeon shooting is 13 years old. However, there are no age restrictions for entering the premises or dining at Shooter's. Anyone planning to shoot must show a valid ID, such as a passport, Emirates ID, or driving license. To use the .22 Caliber gun the minimum age is 15 years and above and 21 years and above for 9mm.
About JA Resort Dubai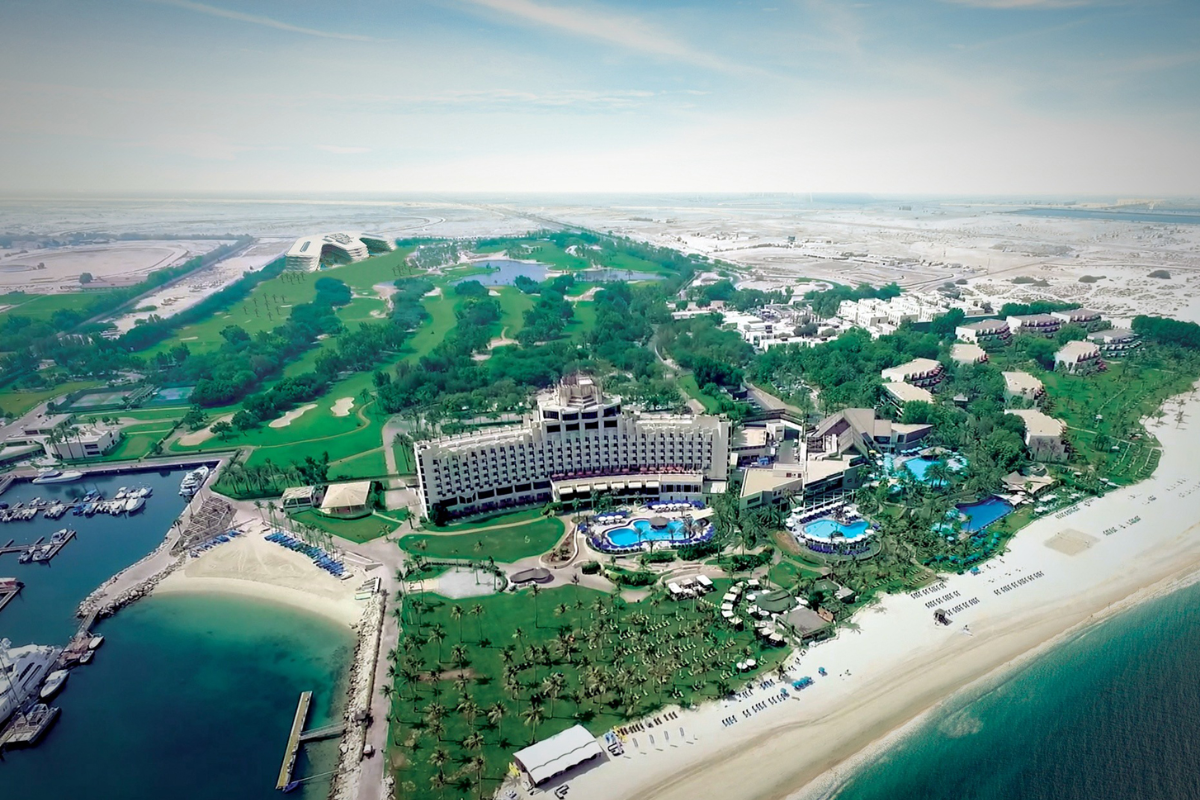 The JA Resort is the largest experience resort in Dubai. Discover the ultimate 5-star all-inclusive beach side destination with the resort's 1 million square meters of unrivaled combination of experiences along Dubai's pristine shorelines. Three renowned hotels can be found within the JA Resort: the JA Beach Hotel, JA Palm Tree Court, and JA Lake View Hotel. On 800 meters of golden sand, you can unwind while taking advantage of 40 thrilling activities, such as the Splash Park, Golf and Mini Golf, Diving, Equestrian Club, Spa and Salon, Shotting Club, JA Marina, Tennis, Watersports, swimming pools, and kids' club. Create enduring family memories at JA The Resort, where there are 25 restaurants and bars that have won awards for their cuisine, such as – Tamr Pool & Terrace, White Orchid Restaurant, Kinara by Vikas Khanna, Smokin' Gun, Taperia, Vasco Da Gama, Eighty-One, Republik, Sette and more.  JA is renowned for its beautiful setting and welcoming atmosphere. Every time, whether you are traveling for business, a family vacation, or a romantic getaway, they provide an unforgettable experience. You can unwind and rediscover yourself with the assurance that all your needs will be met.
Shooter's Restaurant at Jebel Ali Shooting Club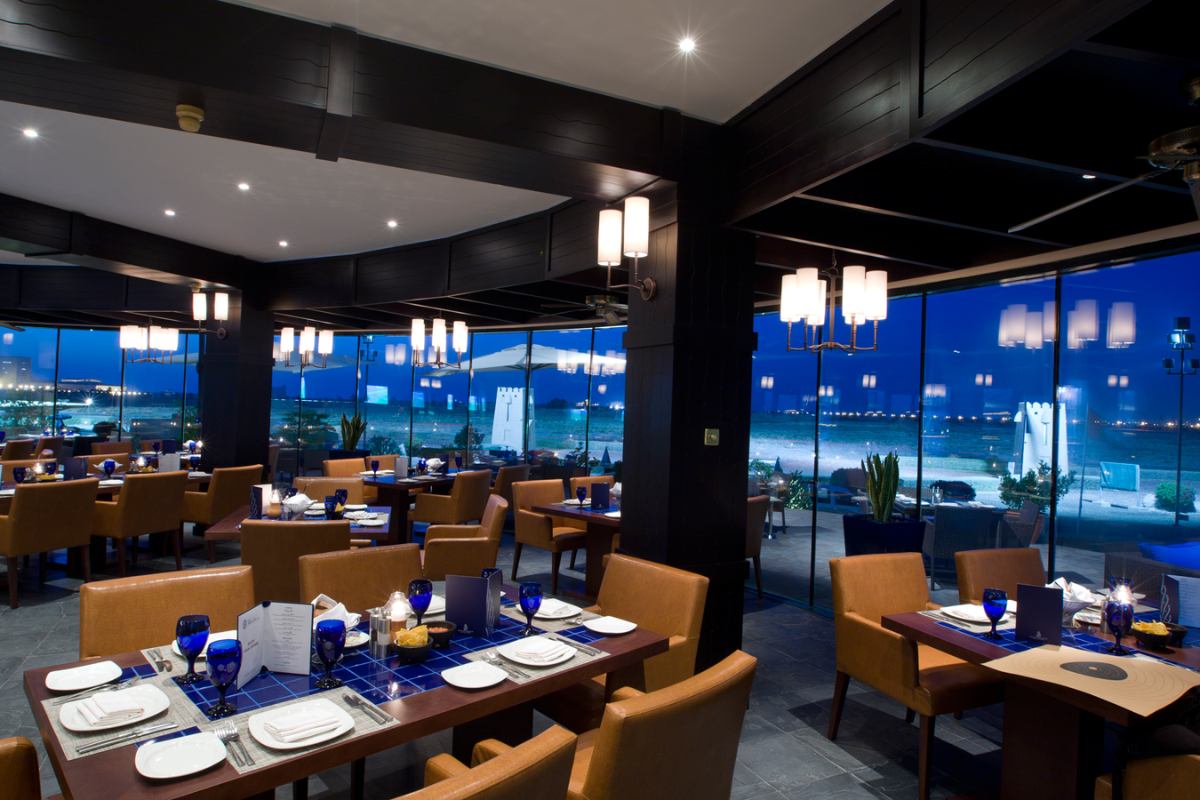 After you've finished shooting, you can unwind in the club's Shooter's restaurant, which offers delectable cuisine and a view of the shooting ranges. The JA Golf Resort's first floor is where the restaurant is situated. The restaurant is tastefully decorated in dark tones, occasionally punctuated by a TV showing English football, and the menu features classic Tex-Mex dishes like burgers, steaks, and more. As soon as you walk in, denim-clad waiters will welcome you and floor-to-ceiling windows will welcome you with views of the outside and the shooting ranges. In the surf and turf section of the menu, be sure to order the well-liked dishes like king-sized prawns and lobster tails. Once you've finished the complimentary nachos, you can order the 'Tidbits combo' which is a platter of classics like potato wedges, onion rings and chicken wings. Must try items from the menu include – Two Ways Salmon, Chicken Tortilla Soup, Bullet Proof Burger, 'Little Bighorn Burger, Shooters Tacos, Oven baked chicken Breast, Fajitas, Quesadillas, Pina colada cheese cake, churros with two dips and more. Even though it is not the most practically accessible restaurant for casual dinners, it is a very good option for the hotel guests.
Jebel Ali Shooting Club Membership
Consider joining the Jebel Ali Shooting Club on an annual basis if you reside in a neighborhood community like Al Furjan Villas. You can benefit from several benefits and savings with this membership. You can receive several All Neighborhood Privilege Club benefits, including reduced rates for accompanying guests (two at member rates and unlimited at corporate rates), two complimentary shooting sessions upon joining, 50 free shots for every 1000 shots, a 25% discount on food and beverages at Shooters Restaurant, a 20% discount for access to the pool and beach, a 10% discount on pro-shop items at Shooting Club, and more. If you are someone who loves the sport of shooting and regularly likes to take part in this exciting activity, then this membership is the perfect for you. Not only does it lets you enjoy shooting whenever you want but you also get to avail exiting discounts and offers at an affordable rate.
Location & how to reach
The JA Shooting Club is a part of JA Resort and is situated halfway between Downtown Jebel Ali and the Jebel Ali Freezone.
The Shooting Club is about 1.5 km from the hotel and connected to the close-by Jebel Ali Beach Resort. From 4:15 pm to 12:00 am, the hotel runs a shuttle bus that travels from JA Shooting Club to the hotel and back. To reach Jebel Ali or the JA Resort area, you will need to drive there yourself as no metro bus takes you there and taking a taxi or uber will turn out be very expensive.
Timings
The timings of Jebel Ali Shooting Club are as follows -
• Winter ‐ 1st November to 31st May from 1pm until 8.45pm.
• Summer ‐ 1st June to 31st October from 4pm until 10.45pm.
Prices
Jebel Ali Shooting Club cost varies on the basis of the type of shooting, the caliber of the gun and the grade you are signing up for. The price for shooting for non-members starts from AED 190 per person and AED 80 per person for members. Additional rounds will be charged accordingly. Clay Shooting will cost non-members AED 230 per round and AED 180 for additional rounds and for members it will cost AED 150 per round and AED 100 for additional rounds.  You can also enjoy archery at Jebel Ali Shooting Club if you are not a fan of guns, an archery session will cost members AED 80 while for non-members it will cost AED 110.
Click here to find all the offers JA Resorts has in store for you.
Some popular reviews:
Things to remember before visiting:
There are a few things you should keep in mind when visiting the JA Shooting Club in Dubai.
• Bring your ID or passport, as well as your driver's license.
• Before shooting, you must complete the guest profile record.
• Corporate members must also bring their company ID.
• Being a guest at any of the JA hotels isn't compulsory in order to use the shooting club.
Also Read: