Adding to the list of waterside souks, Souk Al Marfa, Dubai's latest waterfront shopping centre located in Deira, is an indoor air-conditioned stretch of 1.9 km that house over 400 retail stores and street food restaurants. Take a walk with us along the colourful stretch of the multinational and multicultural souk, where you'll find people, cuisines, clothes, decor, and more from all over the world.

Dubai Islands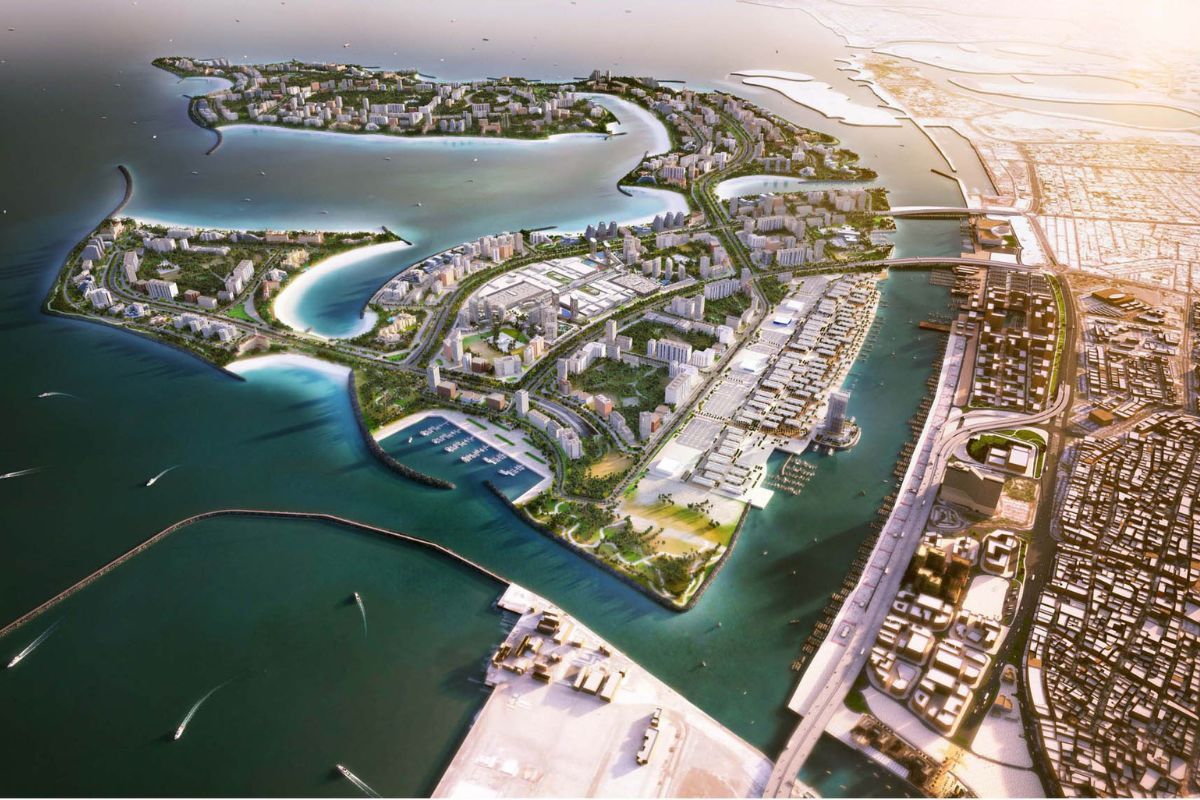 Previously known as Deira Islands, owing to its proximity to the area, Dubai Islands is an initiative by Nakheel, a world-leading real estate company now owned by the government of Dubai.
While the concept of manmade islands is not foreign to the United Arab Emirates, it's always exciting to watch a new development come to light. With this project, Nakheel intends to set up five islands that will go on to expand over 17 square kilometres. The five islands together will be called the Dubai Islands. The primary reason for the undertaking is to enhance the well-being and lifestyle of residents and visitors in line with the Dubai 2040 Urban Master Plan.

Dubai Islands are an integral part of the future vision for the emirate, focusing on enhancing the health, happiness and well-being of residents and visitors, as well as providing the highest standards and variety of urban infrastructure and facilities.
Naaman Atallah, Chief Executive Officer at Nakheel (WAM)

The islands will feature innovative living spaces, cultural hubs, areas for entertainment, recreational beaches, etc. While the islands are currently under construction, venues like Souk al Marfa are open to visitors.
Souk Al Marfa
A waterfront marketplace located in Deira, the souk is guaranteed to offer you an authentic experience of Dubai's cultural landscape. From stalls to street food stalls, retail stores, restaurants and more, the venue has it all. Being completely air-conditioned, the market gives visitors an escape from the heat of Dubai, especially in the warmer months.
Also read -  A Guide to Deira area in Dubai

Looking to set up shop?
The souq provides business owners and entrepreneurs with as many benefits as it provides its customers. The press release in the WAM states that the 1.9km stretch permits "100 per cent foreign ownership, repatriation of capital and profit, no restrictions on currency movement, logistical ease and ancillary amenities such as warehousing, office space, showrooms, ancillary retail and F&B facilities, all with minimal paperwork."

Visit souqalmarfa.ae/leasing for more information about leasing.

Timings and information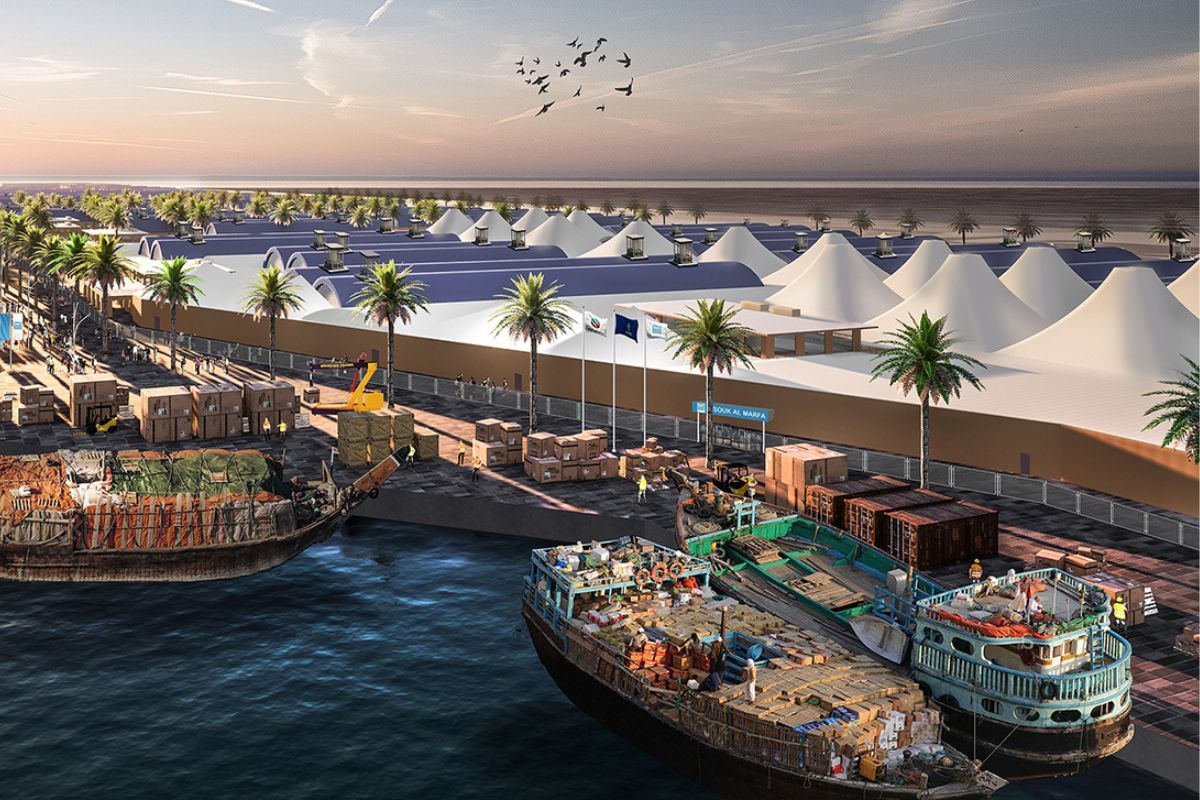 Timings:
Sunday to Thursday – 12:00 PM to 12:00 AM
Friday – 2:00 PM to 2:00 AM
Saturday – 12:00 PM to 2:00 AM
Email: info@souqalmarfa.ae
Contact: 800 NAKHEEL (800 625 4335)
For more information, visit souqalmarfa.ae.

How to get to Souk al Marfa?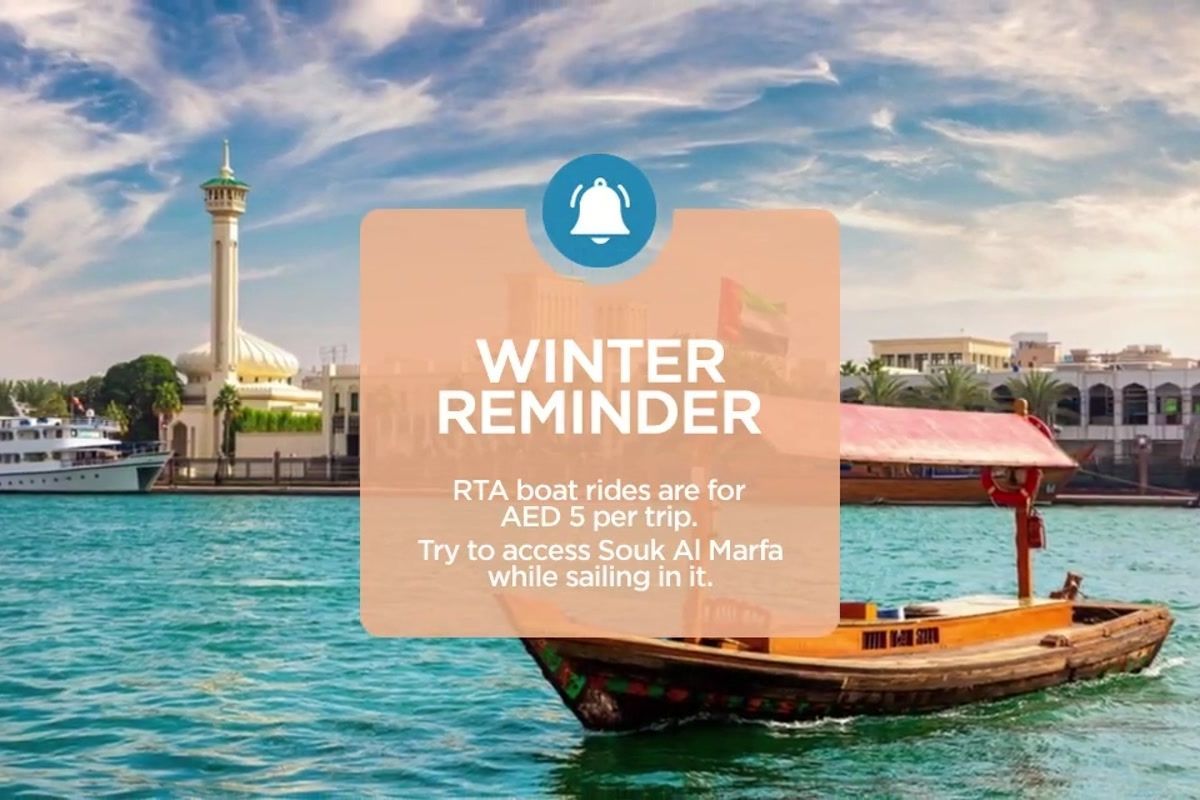 The souk is conveniently located near the familiar parts of Deira, Mina Rashid, and Mina Al Hamriya. It is also accessible through the RTA bus, shuttle, abra, and taxi. There are over 3000 parking spots available for those who choose to bring their own vehicles.  
Read more about -  Souk Al Marfa
RTA Boat
Take your experience up a notch by getting to the souk by a truly enjoyable means of transport, a boat! At AED 5 per trip, you can catch yourself on a boat ride and sail through the winds to get to your waterfront destination.
Shuttle
The development also offers a free transport service for all of its visitors to Souk Al Marfa. The schedule for the shuttle can be found below.
Fashion
Why explore all of Dubai for multicultural fashion when you have most of them in one place? From hoodies to t-shirts, dresses and shirts to kurtis and flowy anarkalis, the souk has some of the widest range of clothing items!

Woven & Charmeuse
Find your next favourite summer dress at this store, or perhaps pair it with some stockings and a turtle neck to make a cute winter outfit. The fashion store has pieces that will stay in your wardrobe for a long time and those that you'll keep coming back to!
Ewan Boutique
Whether you wear abayas on a daily basis or are looking to try one for the first time, this boutique has some of the most elegant designs to cater to all your preferences. You can also explore your creative side by designing your own abayas and getting them customised.
Faatih Boutique
Starting at AED 25, this stores a wide range of options for those looking for south Asian outfits. From bright and colourful Kurtis to trendy stunning pieces of styled clothes and elegant flowy Kurtis with stoles, the boutique will cater to all your festive occasional needs.

Koichi Fashion
Shop the latest trendy outfits at Koichi fashion at an affordable price. Jumpers, jumpsuits, sweaters, shirts and more, you name it, they've got it!

Fateh El Modha
Involve your kids in your shopping adventures and drop by this store for some stunning dresses. Your kids will love their new princess makeovers.

Ghanza Studio
Every hijabi's paradise, Ghanza, has some of the most stunning hijabs. Their range of materials and colours will make you want to come back for more.

Accessories
Green Bags
Don't spend a long day of shopping with plastic bags; while you're at the souk, make your first stop at Green Bags and grab yourself a cute tote bag. From minimalist designs to more fancy, handcrafted colourful ones, the collection of tote bags in this store is truly unlimited.
Oppa hair extensions
Why settle for one hairstyle when you can have access to a lot more? Stop by the store and get your hands on some stunning wigs with colours ranging from black and brown to slate grey; you're sure to leave satisfied with your new hairdo.

Beauty
Shine's Korean
Unlock the secrets of the unaging glowy Korean skin. This Korean beauty store will give you a glimpse into all you need for your perfect skincare routine. From sculpting facemasks and hydrating lip masks to beauty tools, they have it all. And if you're looking for the viral Korean mini beauty fridge, run, don't walk, to get your hands on them at this store.

Moulvi Perfumes
You won't be able to walk past without peeking into this store. The fragrances wafting through the air will have heads turning at every chance. Stop by the perfumery to find your signature scent and maybe pick up an irresistible fragrance for your friend's next birthday gift!

Brand Smart
Looking for a wide range of perfumes? This store houses some Arabian classic fragrances like Oudh, our all-time favourite florals like rose and even some musky and spicy scents for those who like a bit of a kick. Stop by and choose from a selection of long-lasting perfumes.
Marts

Oppa Mini Mart
Watched a bunch of k-dramas and craved the famous ramen and mochis? You're in just the right place; this mart has all your favourite Korean and Japanese snacks. From assorted flavour KitKats to icecreams, coffee mixes, ramen, nuts and more, you'll be grappling for extra baskets to hold these all together.

Ibn Hamidu
There's nothing quite like walking into a spice store and taking in the earthy and distinct aroma of spices. Ibn Hamidu is a mart for that and a lot more! From your favourite loose and packed teas to dry fruits, nuts and syrups, they have spices a plenty. Oh, and don't forget to grab a pack of pickles all the way from Lebanon and Iran.

Best of Nature
Nothing beats organic supplements supplied straight from nature. The health shop has organic drinks, oils and more to give you the Best of Nature truly.
Food

Wajih Al Badr Shop
Did someone say sweet treats? Cause we definitely heard it echoing from this stall. This dessert stall has all the most enjoyable cold treats to battle the summer heat. Say hello to the wonderful shop staff and buy yourself a cup of mini cryogenically frozen ice cream, or personalise your flavour with their rolled ice cream options made right in front of you—an experience to enjoy.

Thai Souq
Enjoy authentic Thai flavours at this dedicated spot at the Souk! From curries, to appetizers, main courses and desserts, these delights will leave you wanting more!

Dosa Express
Visit the flavours of South India in the corners of Deira. The joint offers some of our favourites, like Masala Dosa, and some classics with a twist to try, such as Chicken Dosa and Puttu Ice Cream. It really doesn't get better than this!

Boba.ae
No spot is ever truly complete without a Boba place! Sit down for a bit and have a taste of the famous refreshments that are loved by many around the world. Choose your favourite teas and pearls and have them to your taste. The Boba truck also has some fruity options for those who prefer a light drink over something rich and creamy.

Milky Bee Me
Their drinks look just as beautiful as they taste. Starting off with Coffees, smoothies, milkshakes to bubble tea, you don't have to look further than this joint to grab a refreshing drink. They've got something for everyone, even ice cream.

HB Bucks Cafe
This is for all the vegans in the building; you no longer have to settle for salads! Come enjoy a delicious hearty vegan pasta at the cafe and spend your evening with great food and good company!


Royaljoy Food
No trip to Dubai is complete without dates. Stop by the store and try some premium-quality dates, nuts or even a coffee mix.



Electronics
Souk al Marfa continues to be one of the best locations for gift giving, especially if your receiver is a gaming or electronics enthusiast. The market has shops with multiple accessories and setups, such as gaming supplies, speakers, controllers, microphones, keyboards, headsets, games, segways, and more.
Drop by and make your family or friends dream come true, or maybe just treat yourself to some fancy equipment.

Mike Music
This one is for the music enthusiasts out there and the music lovers within us. Get your hands on a range of musical instruments at affordable prices. Find yourself a drum set, a guitar, or a ukelele and pick up a new hobby this holiday season!

Services

Haleemah Massage
Walking around a 1.9km stretch of stores back and forth has you tired? Worry not, for Haleemah massage at the Thai Souk has you covered. Drop by their relaxing parlour and unwind after a long day of shopping.
Decor
Termeh Toranj
Dash to Souk al Marfa right away to secure these exquisite tablecloths, cushion covers, and table runners. Their regal design will up the look of any space and keep your friends wondering where you got them.

Fanoos
The pieces in this store cannot be described in mere words and warrant a trip to the location. Featuring some of the most alluring pieces of Iranian handicraft, Fanoos brings to Dubai the traditional designs of Iran. These statement pieces are almost too beautiful to use and would make for the perfect housewarming gift.

Maafor Living
All your household solutions in one place! Grab a coffee cup set, or perhaps a bicycle-shaped table clock or a travel prayer kit. This store has great options for those looking to decorate their house with decorations that stand out.

Lamah
Living a busy lifestyle and can barely water yourself, let alone plants? Worry not, this store has a wide collection of realistic fake plants that might just fool everyone into believing that you're quite the gardener.
Experiences
Museum Hub
Take a walk down the lanes of history by visiting the Museum Hub. Preserving symbols of culture and heritage, the spot will give you a glimpse into the timeless beauty of the past.

Events
The souk holds regular events for festivities such as Diwali, Eid, Christmas, National Day and more.
Some of their exclusive events include the Pet Fair, Art Exhibitions, Ramadhan nights, and Dandiya nights. Check out their website to stay up to date on upcoming events.
Also read