Dubai, of course, has a reputation for glitz and glamour. The most populated emirate is a mass tourist destination, offering countless unique experiences and activities. You could even say that the city is a playground for all nationalities to enjoy the luxury lifestyle. But that playground isn't only for grown-ups! You can find hundreds of things for the little ones to ensure that this will forever be their favourite city! Dubai is a very family-friendly city, therefore you can find many things to do in Dubai with kids, here are some of them!
PUMP ADRENALINE

1. BOUNCE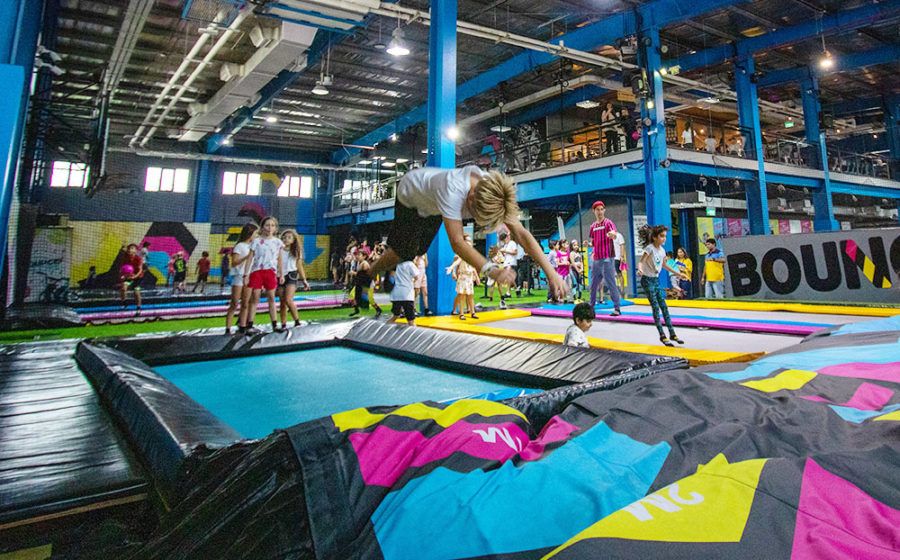 One of the most unforgettable kids activities in Dubai is Bounce. The area has a ton of different activities to make your visit even more exciting, like a free jump area, slam dunk where you can showcase your best basketball trick shots, and dodgeball! There are over 100 interconnected trampolines there!  Bounce first opened its doors in Australia in 2012, and since then, it has established nearly 32 locations around the globe. Other entertaining activities at Bounce include becoming a wall runner on The Wall, using the Big Bag, a sizable inflatable bag, to refine your aerial abilities, or trying out some parkour at XPark! For anyone looking to hone their skills, Bounce also offers holiday camps and programs. Additionally, every Friday you can get in on their trick nights and showcase your bounce tricks.
2. Aventura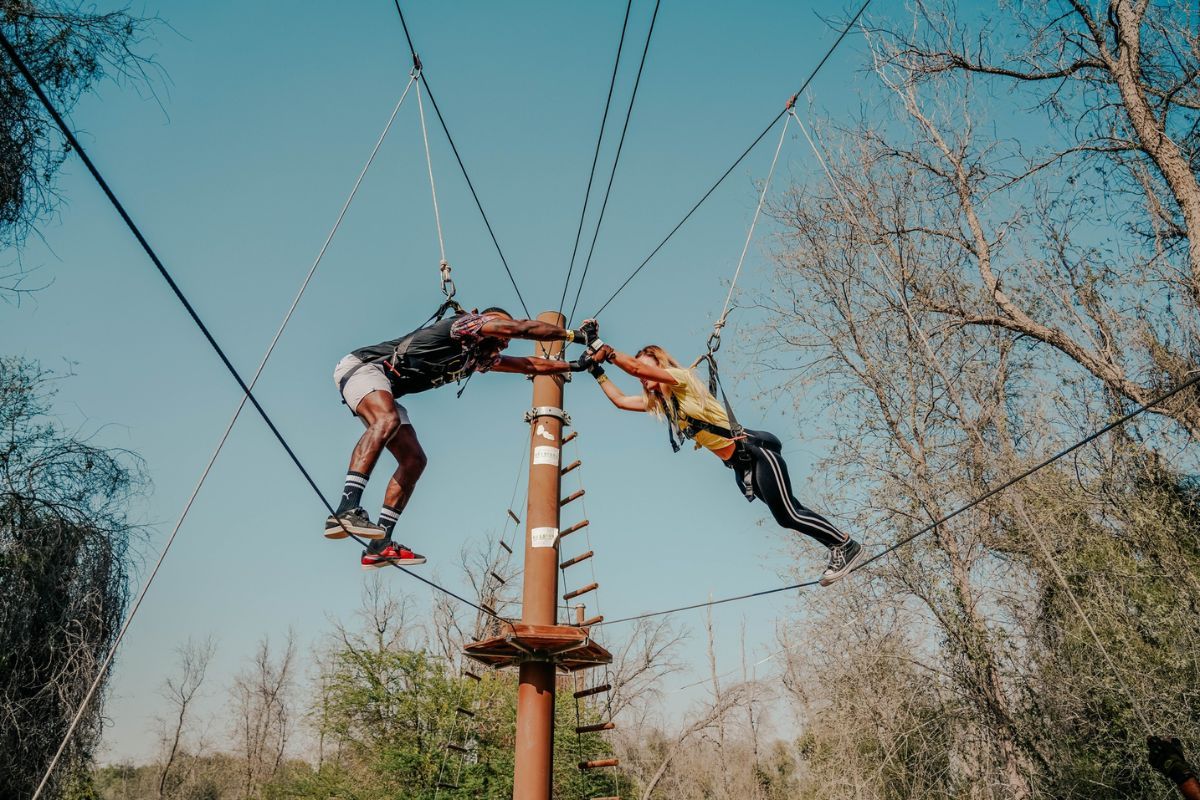 Aventura, the biggest zipline park in Dubai, is situated in Mushrif Park. It contains about 80 different obstacles spread across more than 35,000 square feet, all designed to test you, and it is easily one of the top destinations for thrill seekers who cannot get enough of the city's thrilling experiences.
The five levels of difficulty in the Aventura challenges are designed to help you finish your run as quickly as possible. Choose between the fun and family-friendly Explorador circuit, the more difficult Aventura, Thriller, and Xtreme circuits, or the kid's Discovery and Ranger circuits. You will, of course, be guided by qualified trainers and facilitators to ensure a stable and safe experience. The challenges include various forest zip lines, electrifying walks on floating and shaky bridges, wooden tunnels that you can only snake through, long cargo nets, and Tarzan jumps that will put your strength and flexibility to the test.
3. Magic Planet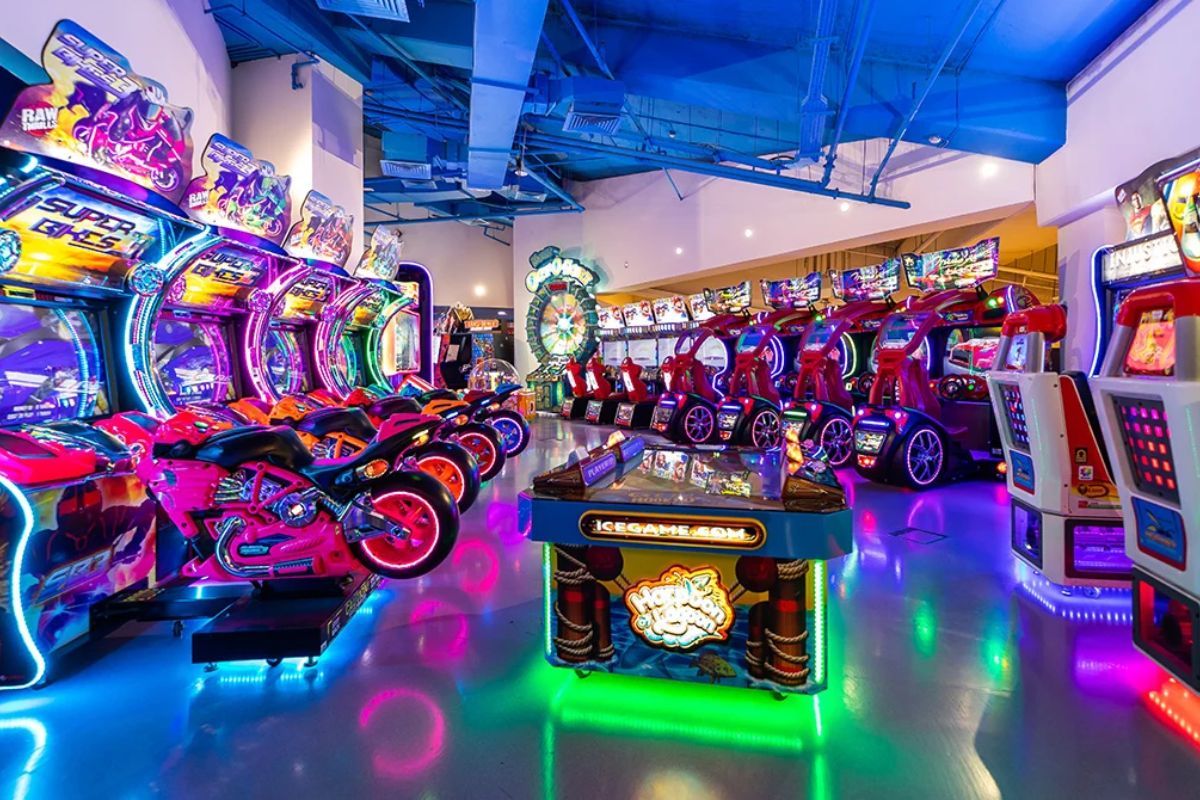 Children of all ages can enjoy soft play, rides, games, and attractions at Magic Planet, which is located inside the Mall of the Emirates. With locations all over the country, Magic Planet is the most well-known and award-winning family entertainment center in the UAE. Magic Planet offers visitors an action-packed day out with something for everyone thanks to its incredible selection of games, indoor rides, simulators, skill games, and attractions. A bounce house for little ones, race car simulators, a climbing wall, bowling, and much more are also available. Bring the kids here if you're spending the day at The Mall of the Emirates and they need a break!
4. Ski Dubai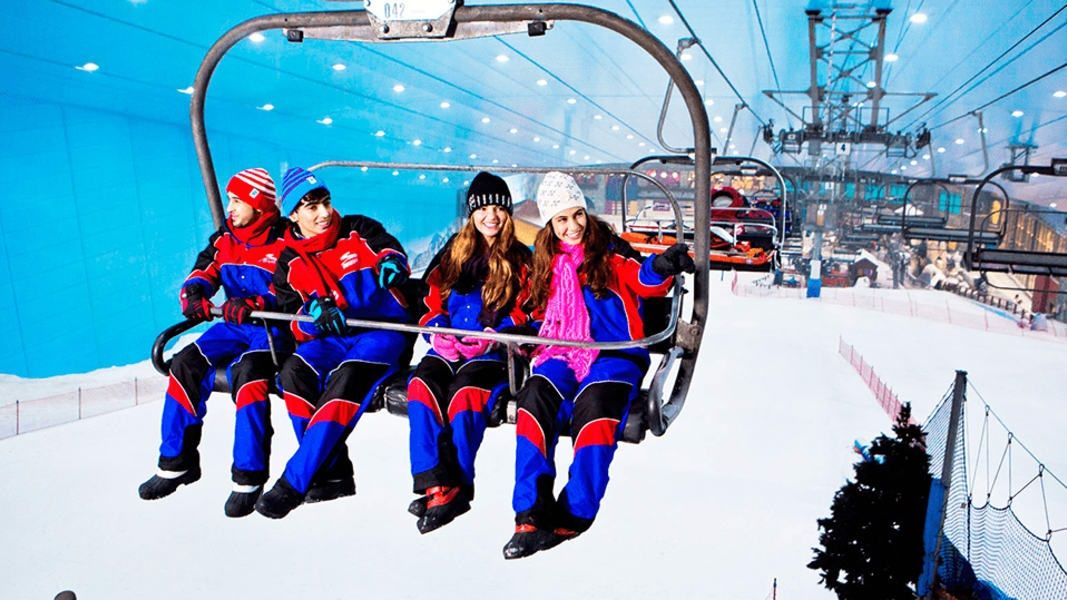 You can go skiing in any weather at Ski Dubai, the first indoor ski resort in the Middle East. Ski Dubai is a 22,500-square-meter facility that first opened in late 2005, and its another one of the many fun activities in Dubai. It has a 400-meter run, five slopes of varying difficulty, and a freestyle area for aspiring snowboarders and skiers with jumps and rails. Ski Dubai is not solely about skiing, despite the name. You can engage in a variety of additional activities in Snow Park, such as making snowmen or igloos, getting up close and personal with live penguins, or simply playing in the 6,000 tons of "snowfall." At the Snow Cinema, you can always cosy up with a warm blanket and some hot popcorn to watch the newest movies!
Also Read - Discover The Fun Of Indoor Activities In Dubai
LEARN

5. Olioli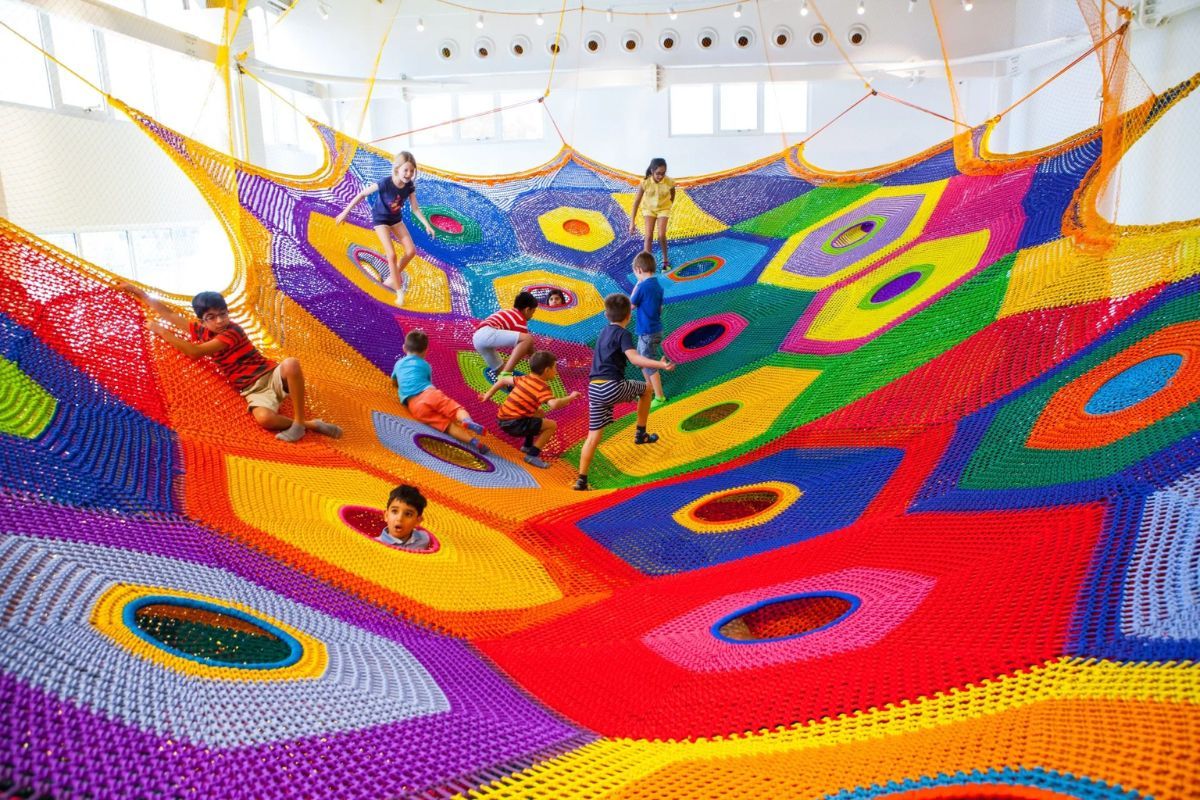 OliOli is the ideal indoor playground where children can experiment with a wide range of activities and explore their senses. The word "OliOli" means "Joy" in Hawaiian, and that is exactly what it offers to all children who come here. The Kids are free to explore, ponder, and learn in this area, which has been created to encourage their imagination, creativity, and curiosity. The space has eight exhibits, each intended to instruct children between the ages of 2 and 11. These exhibits include the Toddler Gallery, Cars & Ramps, Future Park, Mission OliOli, Toshi's Nets, Incredi-Balls, and Water Gallery. The kids won't even feel like they're learning when they're having fun, thanks to light shows, sensory activities, and arts and crafts workshops.
6. Green Planet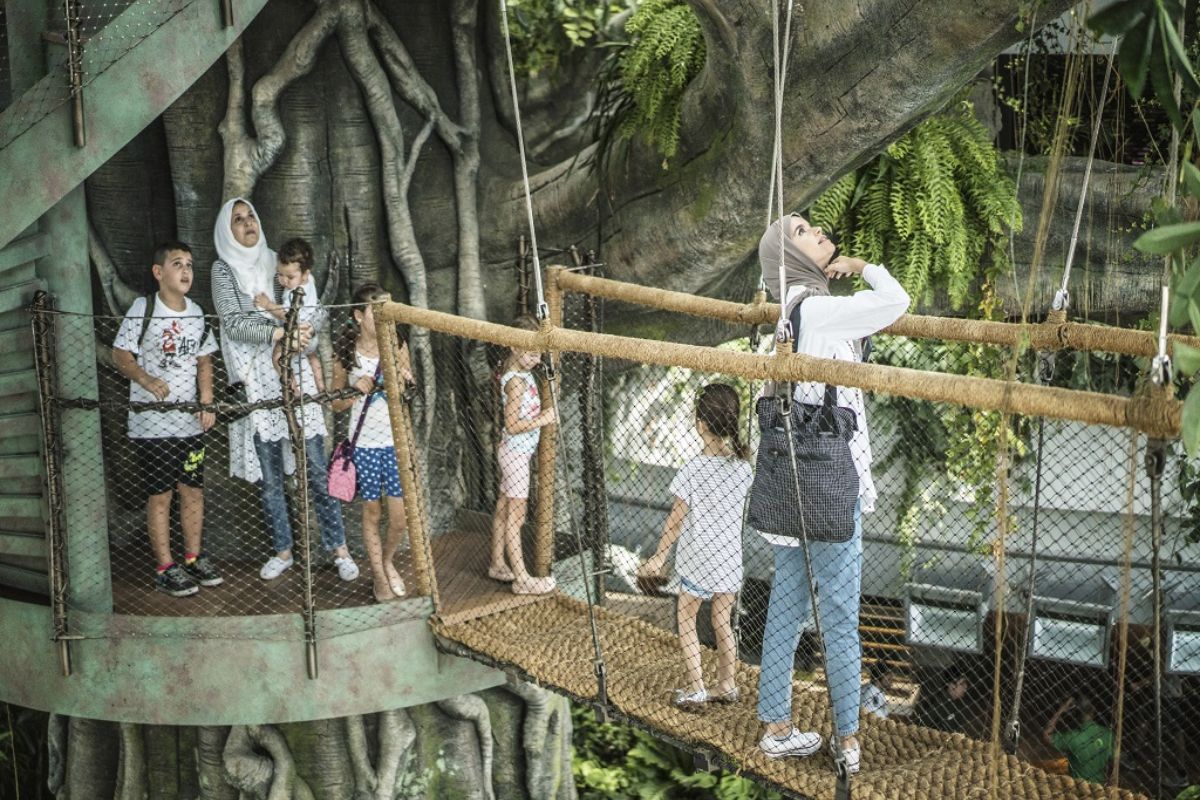 The Green Planet is a perfect place for kids to learn about the world of animals! This artificial bio-dome is built around the world's largest artificial tree and was made to resemble a real rainforest, complete with over 3,000 different species of mammals, birds, plants, reptiles, and more. The rainforest is divided into four levels: the Flooded Rainforest, which is home to fish and manta rays, and the Rainforest Floor, which is on the ground floor and features animals like the sugar glider. The Midstory, which is located above it, is home to birds, monkeys, and tree snakes. The Canopy, the park's highest and final floor, is home to the tree sloth and the bat cave, two of its most well-liked attractions. For a day, you can live the life of a zookeeper and take part in peculiar experiences like swimming with piranhas, watching a thunderstorm in a tropical forest, or meeting sloths, sugar gliders, reptiles, or birds.
7. KidZania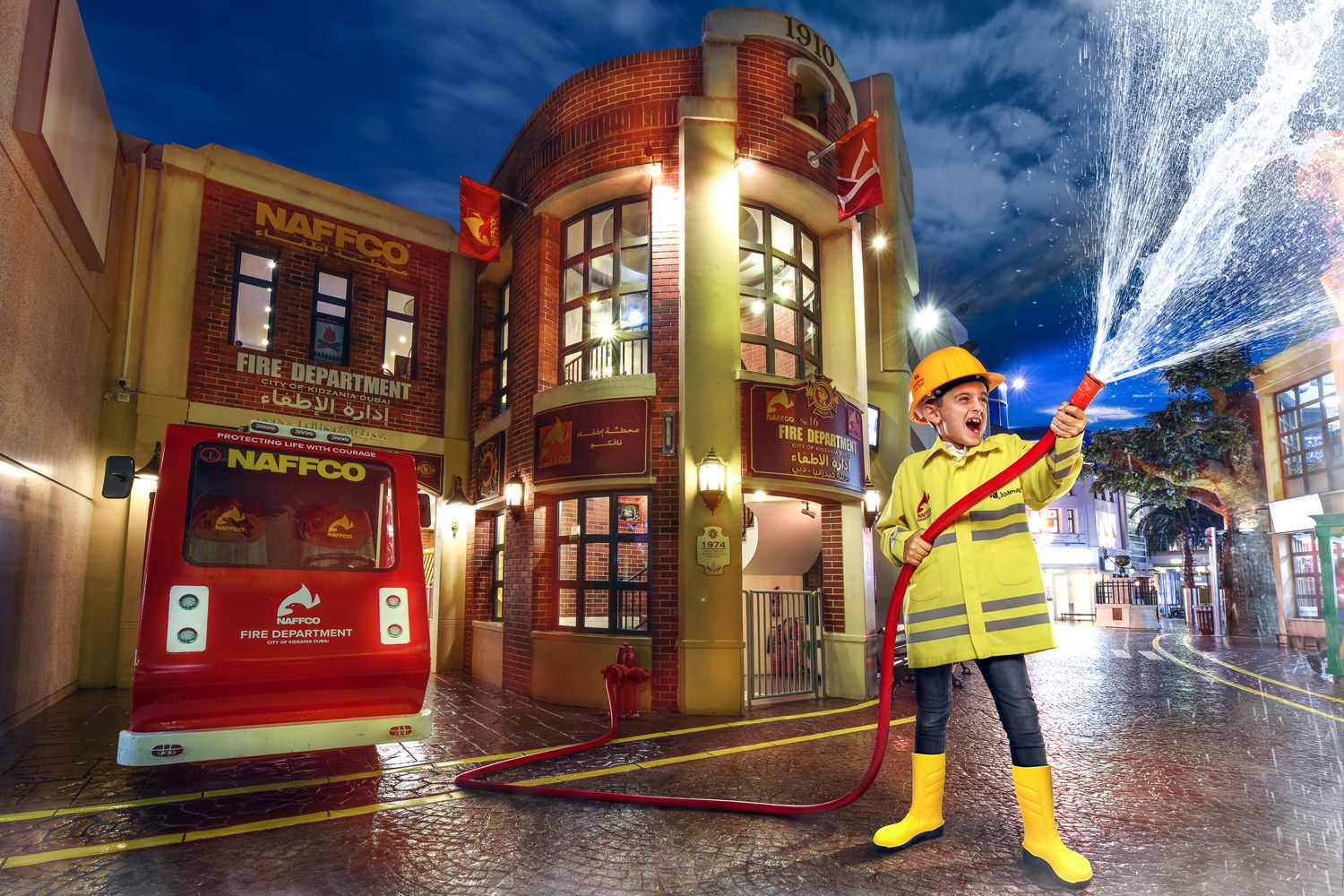 KidZania is a one-of-a-kind concept! Located in Dubai Mall, KidZania is a scaled-down city run by your kids. Upon entering, your children will transform into mini-adults, choosing from over 80 occupations. They can learn to drive, open a bank account for their KidZos, and even get famous! This award-winning venue has been around for years, adapting to the times and opening more and more jobs for the little ones. Whether they want to be a radio show host, a cabin crew, a firefighter, or a chef, they can do it in KidZania, with actual costumes and real-life scenarios! The 7,000 sqm city is a perfect place for kids to get a taste of the real world and independence while having fun. Kids from ages 2-14 can get a 4-hour experience of KidZania, but of course, just one visit is not enough for this venue! Another highlight of KidZania is its space centre, where children can learn all about space and the cosmos.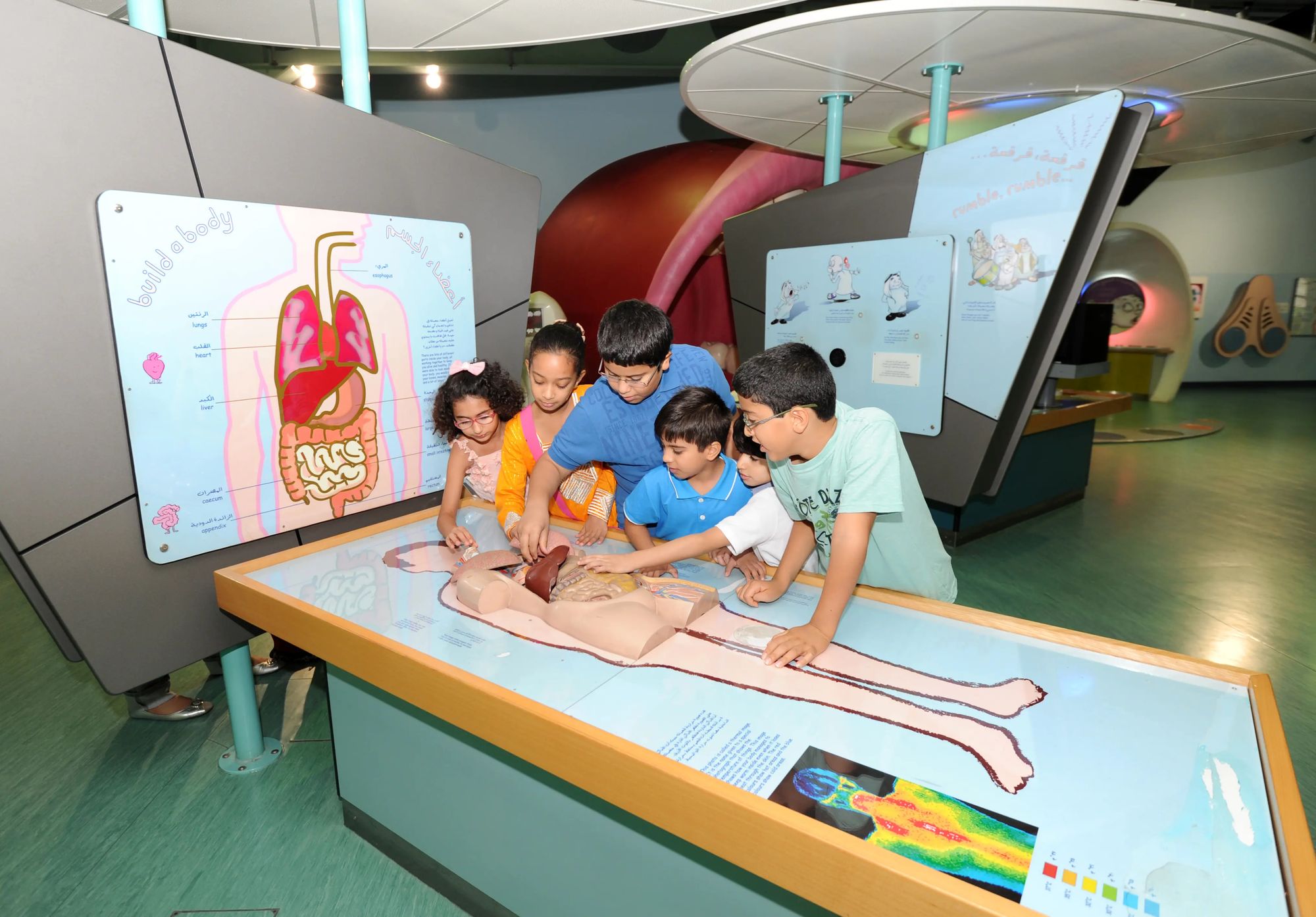 The Children's City in Dubai is the first educational community created in the United Arab Emirates. It was specifically created for kids between the ages of two and fifteen where they can explore, play, discover, and learn about the world in which we live. The city was created with kids exploring and interacting in family and classroom settings in mind. The Nature Center, Space Exploration, The Human Body, Computer & Communication, a Planetarium, International Culture, and a Toddlers area are just a few of the exhibits and programs that are included. Additionally, Children's City offers daily educational workshops for schoolchildren, kids, and families throughout the year at the various galleries or in the halls that were built specifically for those workshops, as well as entertainment programs at the Children's City Theatre.
9. Dubai Mall Dino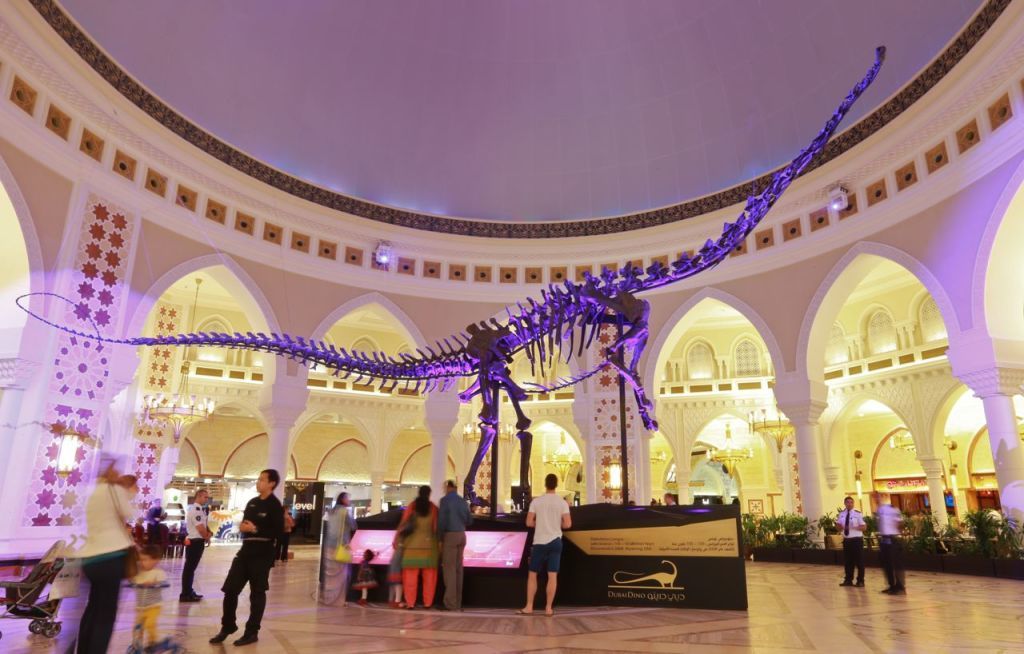 Hop into a time machine and let your kids see what roamed the earth millions of years ago! Located in the Souk area of Dubai Mall, you can find the 7 meters tall and 24 meters long bones of the Diplodocus longus dinosaur. Found in 2008 in Wyoming, United States, the dinosaur now lies in Dubai, dubbed the "Dubai Dino". Since then, the remains have been one of the many attractions in The Dubai Mall, especially popular with children, because who wouldn't want to see real-life dinosaur bones?
10. Wildlife Sanctuary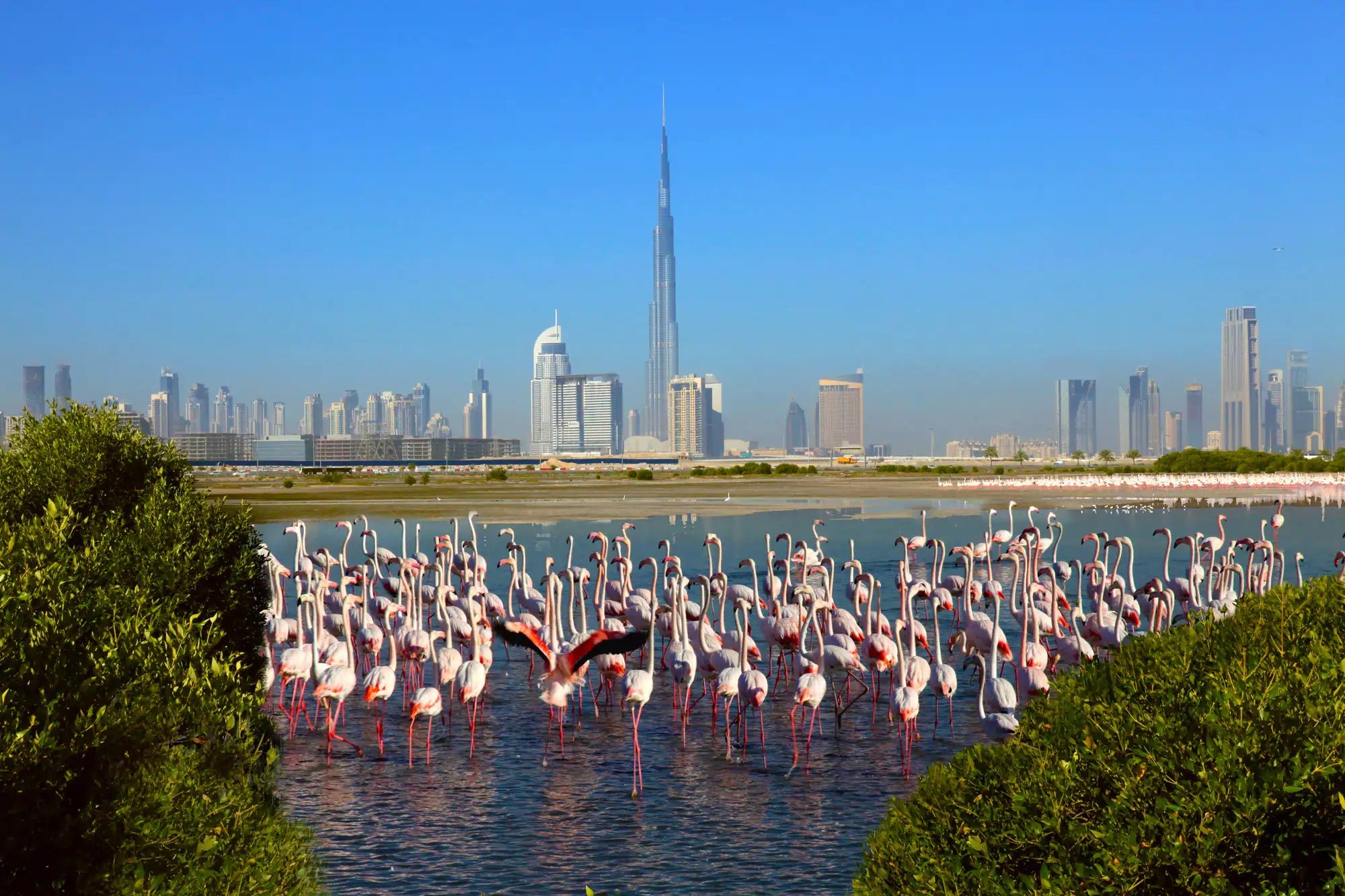 Over 450 different animal species can be found in the Ras Al Khor Sanctuary, a wetland reserve. Every year, animals like crabs, mammals, and fish breed in this large habitat. Thousands of native bird species, such as grey herons, great egrets, reef herons, cormorants, black-winged stilts, sandpipers, ospreys, and other vibrant bird species, can be seen if you look carefully. However, what really attracts visitors are the countless flamingos that appear in the cooler months.
11. Little Explorers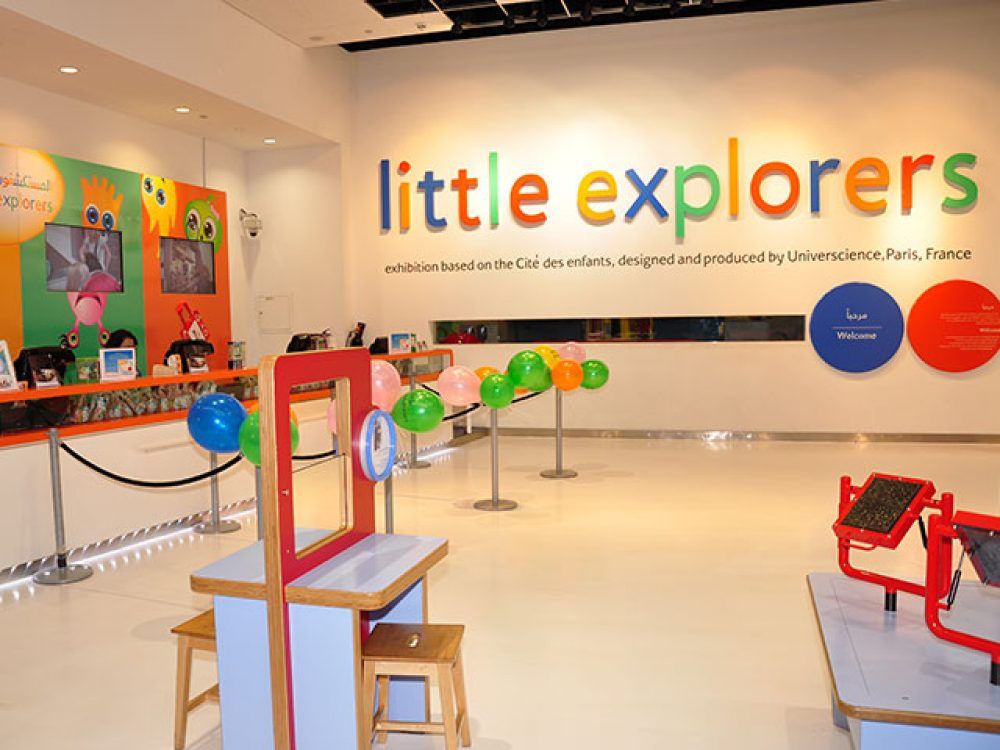 Little Explorers, an edutainment concept that debuted in City Center Mirdif in 2010, has established itself as the ideal balance of entertainment and learning for all kids between the ages of two and seven. Little Explorers provides a setting in which kids can learn through play and comprehend through exploration. The building is divided into three main areas: the space area, where children can experience thrilling space-themed adventures and learn about space exploration, the water area, to discover the value of water to fish and plants and how water behaves in the natural world, and the play area, where the displays encourage children to improve their balance, reaction times, hand-eye coordination, and focusing abilities.
Watersports

12. Aquafun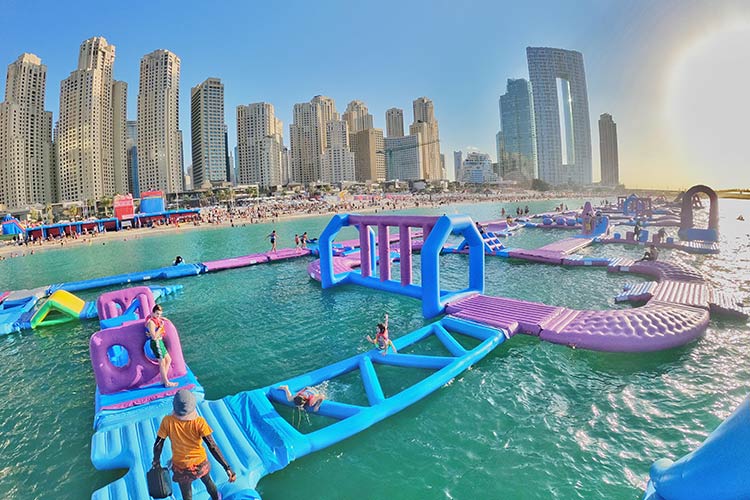 With an area of more than 42,000 square meters, AquaFun is the biggest inflatable water park in the world. Over 100 obstacles form the phrase "I Love Expo 2020 Dubai" 25 meters out at sea. AquaFun, which includes slides, monkey bars, inflatable obstacles, and much more, is certain to provide you with unforgettable memories. It is located at The Beach at JBR and is rated as one of the top 5 things to do in Dubai, especially for children. From the age of 6, your kids can have a splash at Aquafun and test their balance, core strength, and body strength.
13. Dubai Aquarium and Underwater Zoo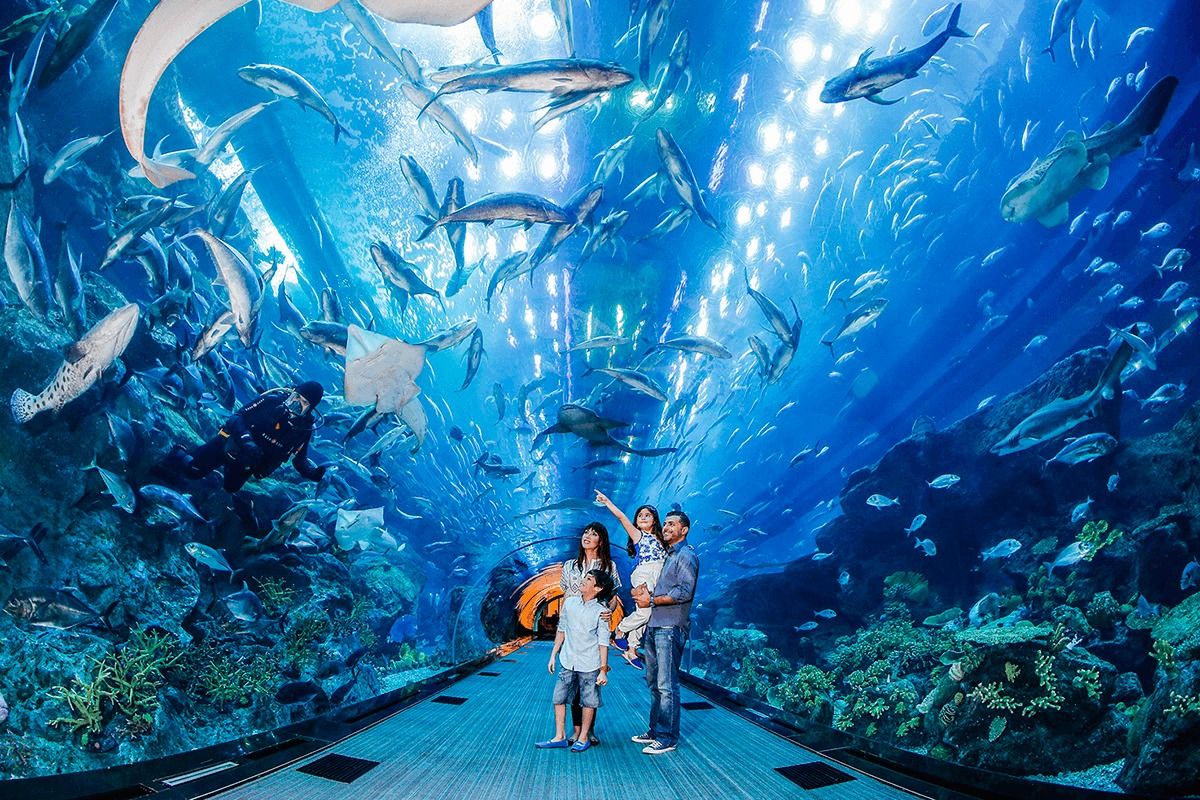 Another attraction in the famous Dubai Mall is the iconic Dubai Aquarium and Underwater Zoo, the largest aquarium in the world. With thousands of different aquatic animals, including the world's largest population of tiger sharks, the aquarium holds over 10 million liters of water! The children can learn all about marine life by walking through the 48-meter-long tunnel where you can see everything all around you. They can also encounter the King Croc, the world's largest crocodile, or visit the penguin cove, where they can feed and interact with the penguins! Whether you want to get a mermaid makeover or simply just learn about life under the sea, the Dubai Aquarium is sure to give you some unforgettable and unique memories.
14. Aquaventure Waterpark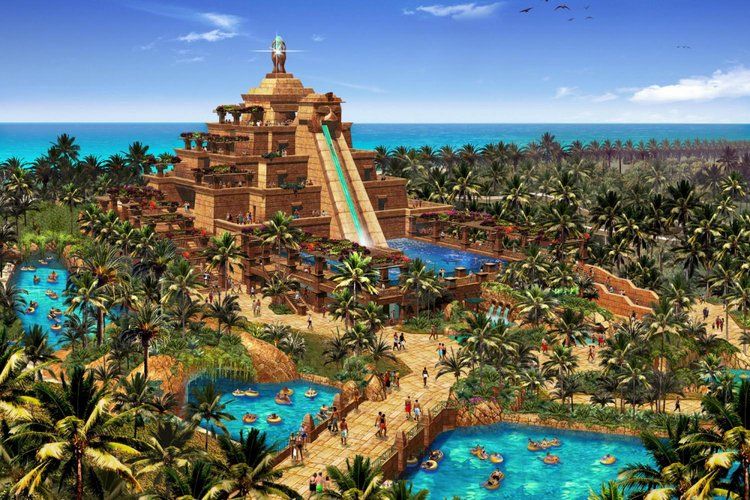 Living in Dubai makes someone no stranger to the summer heat, and the little ones can get cranky from the hot and humid weather, which is why Aquaventure Waterpark is the top destination for kids, and adults, to cool off during the summer months. With dozens of different water activities like waterslides and countless dedicated kids' play areas, this waterpark is perfect for anyone looking to escape the Dubai heat, and for the kids to make a splash! The Aquaventure Waterpark is located right next to the famous Atlantis hotel, so you and the family can head down after your swim and enjoy a luxurious and delicious meal at countless restaurants all over the area.
Theme Parks

15. IMG Worlds of Adventure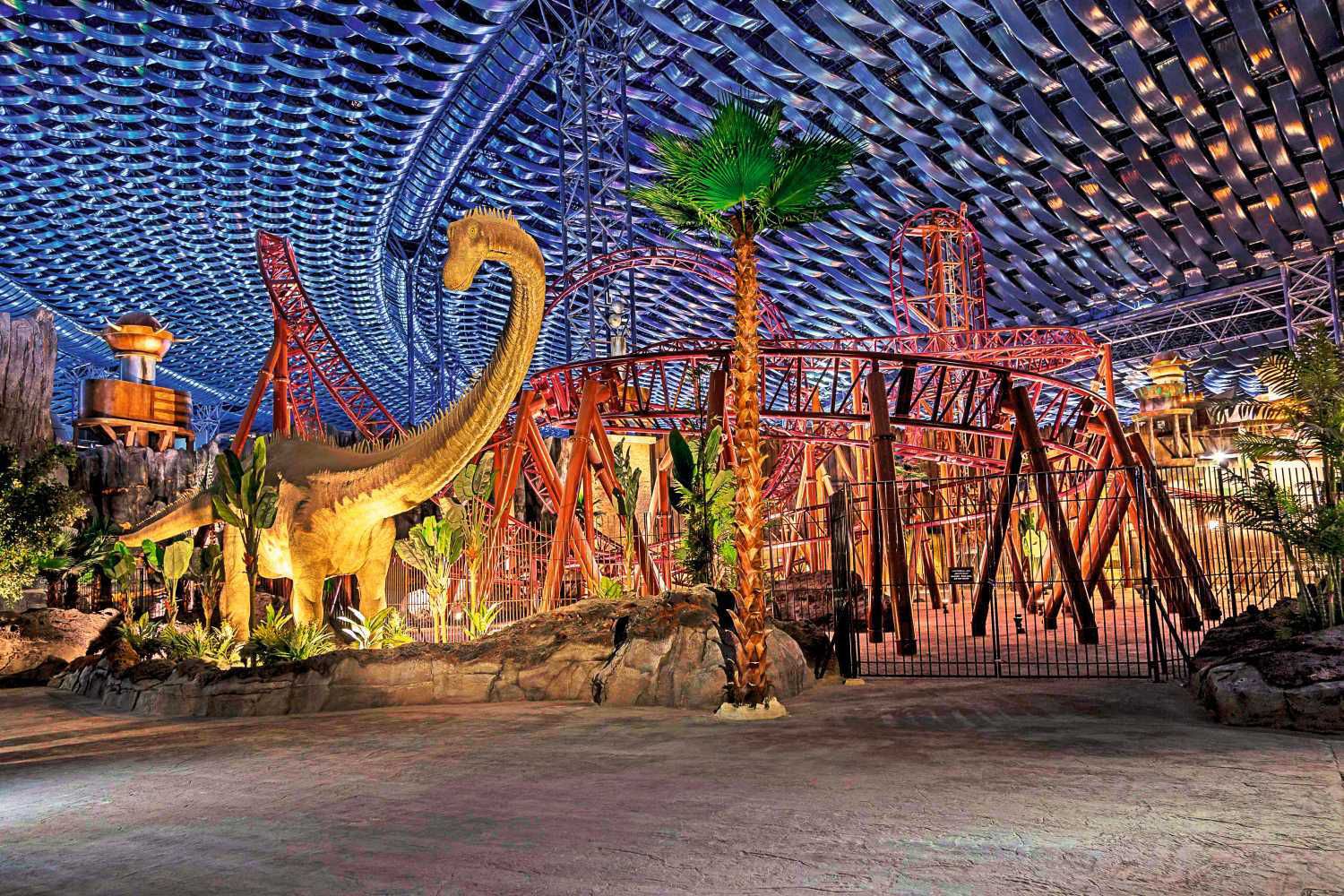 IMG Worlds of Adventure, officially one of the biggest indoor theme parks in the world, is a cherished amusement park unlike any other. With over 20,000 visitors a day, this theme park is the ultimate destination for children and adults alike. There is truly something for everyone here, with nearly two dozen rides, a 12-screen movie theatre complex, and more than 20 dining options spread across its expansive 1.5 million square feet of space.
Discover each of the IMG Worlds of Adventure's seven adventure zones, including Marvel, Cartoon Network, Lost Valley, IMG Boulevard, the Haunted Hotel, IMG Kids Zone, and Novo Cinemas. Give your children the opportunity to interact with and take pictures with their favourite Marvel and Cartoon Network characters in real-time and feel like they're truly in the world of their dreams. Keep an eye out for a meet and greet opportunities with some of the residents of the colorful and themed zones, including Ben 10, The Powerpuff Girls, Finn and Jake from Adventure Time, and The Avengers. IMG also opened a dedicated kids' zone, which features 17,000 feet of inflatable playground equipment including climbing walls, slides, and more. It is designed specifically for the little ones, making sure that their safety is the priority while they have the time of their lives.
16. Dubai Parks and Resorts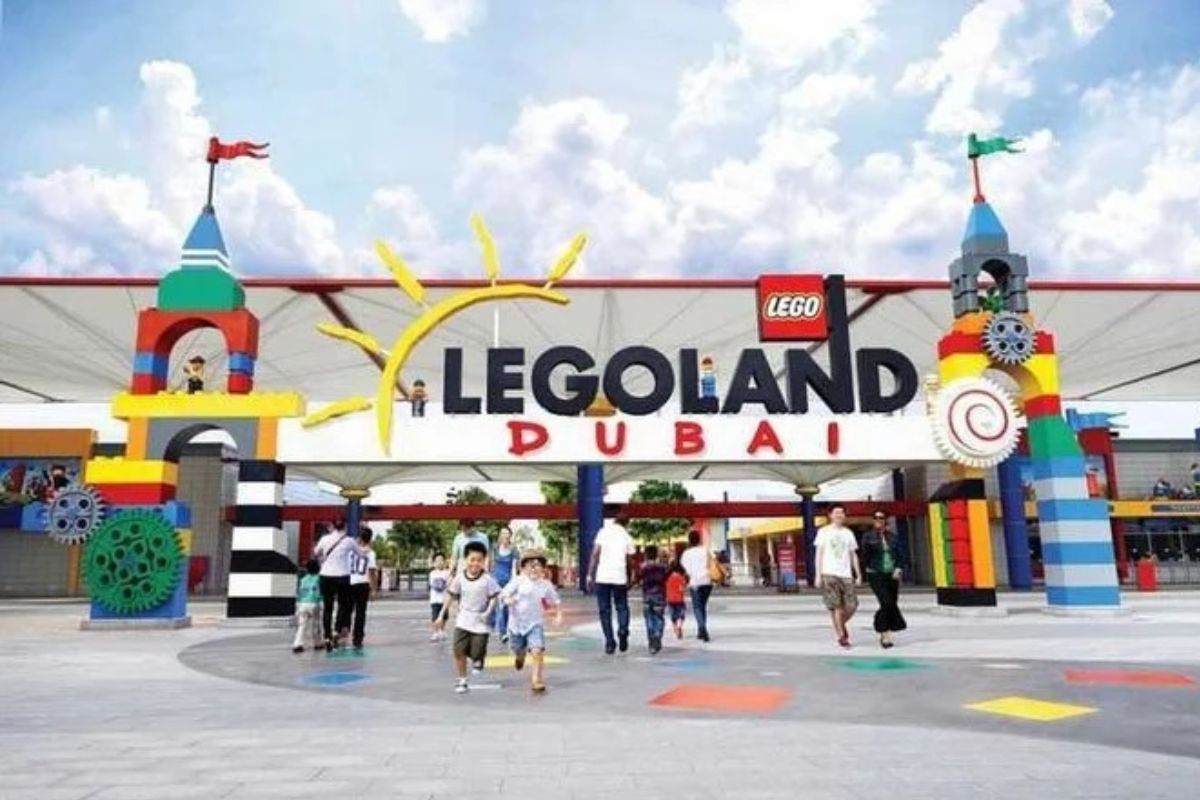 Dubai Parks and Resorts, located on the outskirts of Dubai, is another one of the most popular theme parks in the city. With four different sections, Motion Gate, Bollywood, Legoland, and respectively Legoland Waterpark, every park surrounds the artificial lake in Riverland. Motiongate is a Hollywood-themed Park, with rides for the little ones including Smurf's Village and countless other kid-friendly rollercoasters, and some that are for thrill-seekers. Motiongate combines all the Hollywood movie studios, from Columbia pictures to DreamWorks. The Legoland park is, of course, the most kid-friendly one of all. Over 40 different Lego-themed attractions can be found there, including a factory where you can learn how Legos are made, and even a medieval-themed kingdom of Legos! The Legoland waterpark also follows the same theme, but with watersports. The children can find countless areas to splash around, so don't forget the bathing suits! The Bollywood Park makes you enter the glamourous and dramatic world of Bollywood films, with various rides, but most notably enchanting shows and dances. Finally, Riverland is the common area in Dubai Parks and Resorts and is split into different areas based on architecture. You can find buildings in The French Village, The Peninsula, The Boardwalk, and the India Gate. With dozens of dining options, boutiques lined all around, and even fireworks and activities all night, Riverland is perfect for a stroll in the cooler months with the family.
17. Play DXB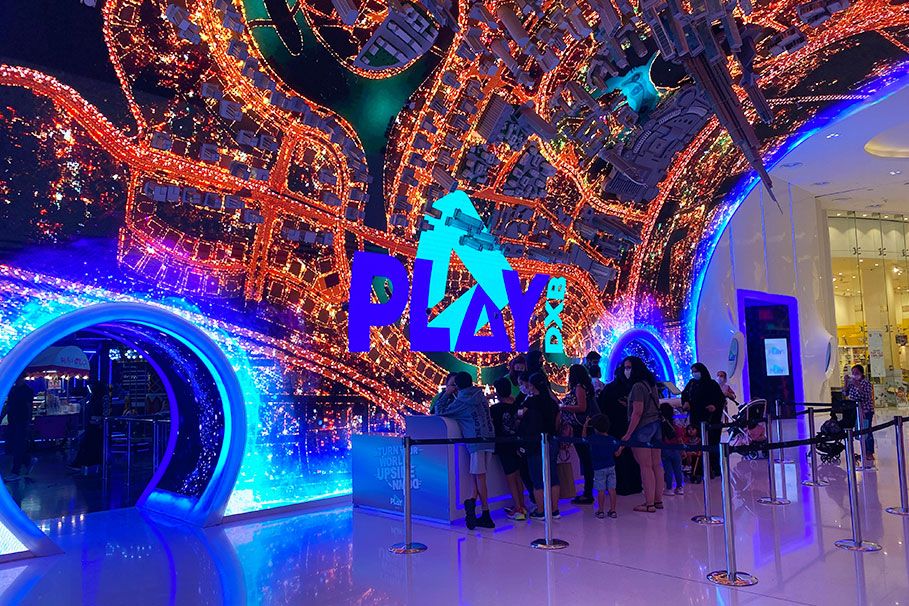 Grab your kids and go to Dubai Mall's Play DXB to experience the new and advanced uses of virtual reality headsets. Being the first and largest in the world, the park quickly became a hotspot for all ages since its opening, with over 15 attractions that will warp your idea of reality. The little ones can enjoy the VR carousel or travel to the year 2050. You can also choose from experiences like Dune Bash, Stealth, Cozmo Jet, Magic Bikes, and countless arcade games to enjoy with the kids. Additionally, it makes for one of the more interesting and immersive family activities in Dubai thanks to the abundance of on-site cafes, carousels, arcade games, and soft toddler play areas all within its convenient location.
18. Dreamscape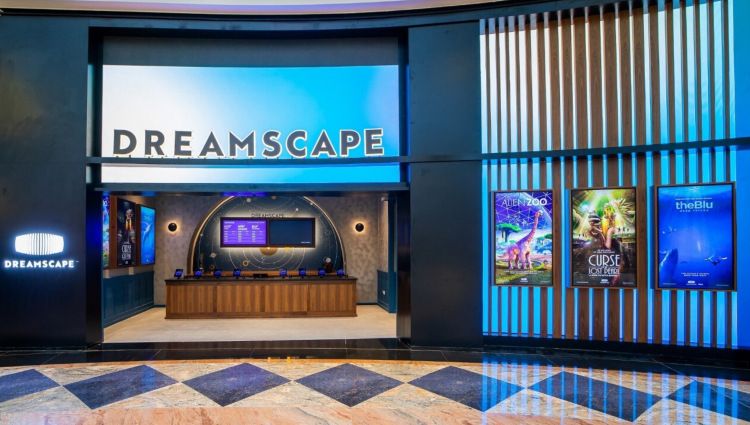 Dreamscape adventures, originating in the United States, is another VR-themed park located in Mall of the Emirates. Dreamscapes allows you to immerse yourself in completely new worlds; the limits are endless. The park is fairly popular among kids and young people, with birthday parties and school trips being constantly hosted there. Some of the worlds your kids can enjoy at Dreamscapes Park include MIB: The First Assignment, which of course is a blast from the past and allows both parents and kids to enjoy it together, The Blu, which is a deep-sea adventure, the Dragon's Flight Academy, for all the How to Train Your Dragon fans, and many more that help kids keep their imagination alive.
Also Read: