Dubai is a city that is known for being a hub of diverse culinary options, prevalent shopping experience and extravagant events. Food, shopping, and fun events that's all one needs to have the time of their lives in a city like Dubai. Out of the city's many tourists' attraction, Time Out Market Dubai has become a favorite of many foodies and adventurers in Dubai. Whether you want to sample some of the region's finest delicacies, explore the art and culture of the city, enjoy amazing events and workshops or just hangout and catch up with friends - you can do it all at Time Out Market Dubai.

Here's a complete guide to Time Out Market and why you must visit it for a memorable experience like no other.

What is Time Out Market Exactly?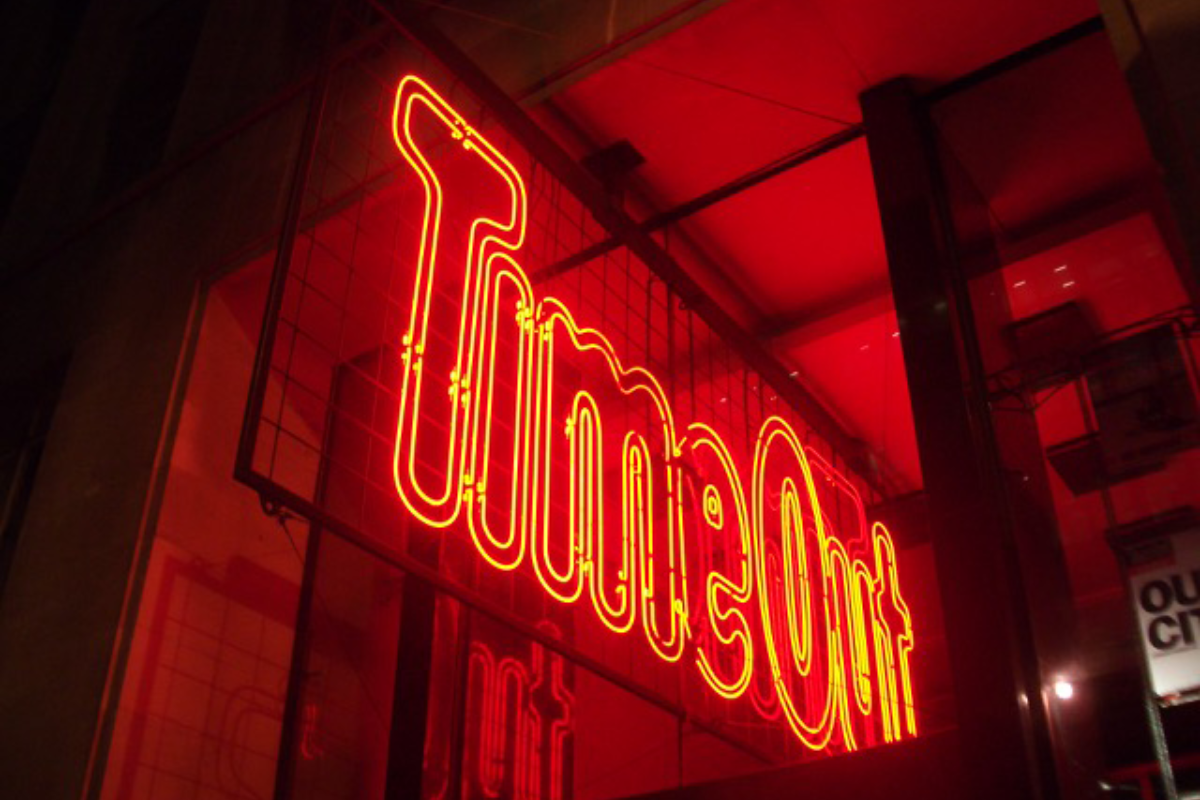 Time Out Market is an elevated food hall experience that features a collection of the very best restaurants in the city and three knockout bars, complemented by a raft of cultural activations, from art exhibitions to live performance. A meal at a Time Out Market means you're truly digging into the city's most delicious dishes, cooked by the most exciting talent in town. From seafood, meat, vegan and vegetarian to delicious desserts – You'll find it all here!

About Time Out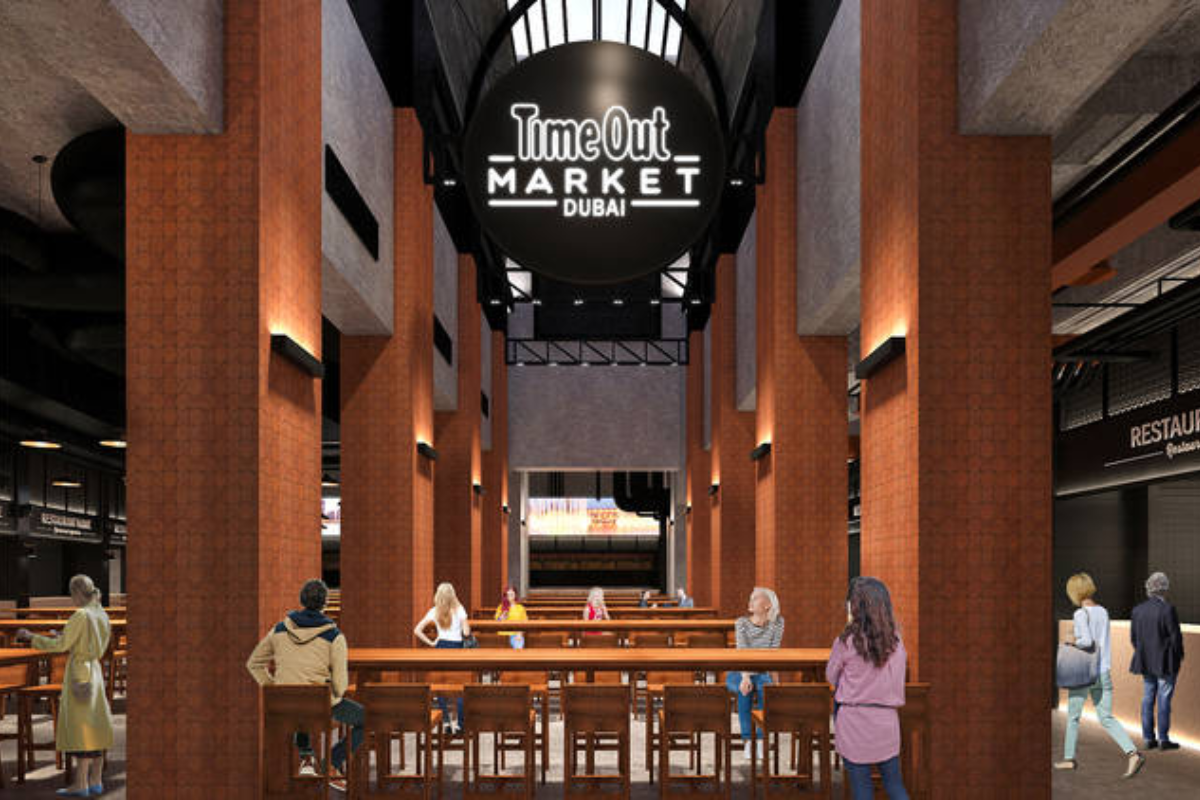 Time Out is a popular magazine that has been informing tourists and locals about food, events, and restaurants in various cities around the world for years. Started from London, the magazine grew into a global platform with editions in many major cities including Madrid, Melbourne, Shanghai, and San Francisco. Dubai also has its own version of the Time Out Magazine. The Time Out Market is a dining-and-culture experience curated and vetted by their editors in 2014. The first Time Out Market was launched in Lisbon with eight bars, a dozen shops, high-end music venue and 24 restaurants that represented Lisbon's finest eateries. And it didn't stop there: The concept has grown to include Markets in Miami, Boston, New York, Chicago, and Montreal.
Dubai picked up the baton in 2021 introducing its own version of this tried-and-true culinary hub in Downtown's Souk Al Bahar. Spread across 43,000 square feet, the curated dining destination encompasses 17 concepts, three bars, a sweeping outdoor terrace and so much more into one space that encompasses the best food, drinks, and culture that Dubai has to offer. Dubai's outpost of Time Out follows a simple rule when it comes to curation: If it's great, it goes in the magazine; if it's unmissable, it goes in the Market.

Restaurants you'll find at Time Out Market Dubai: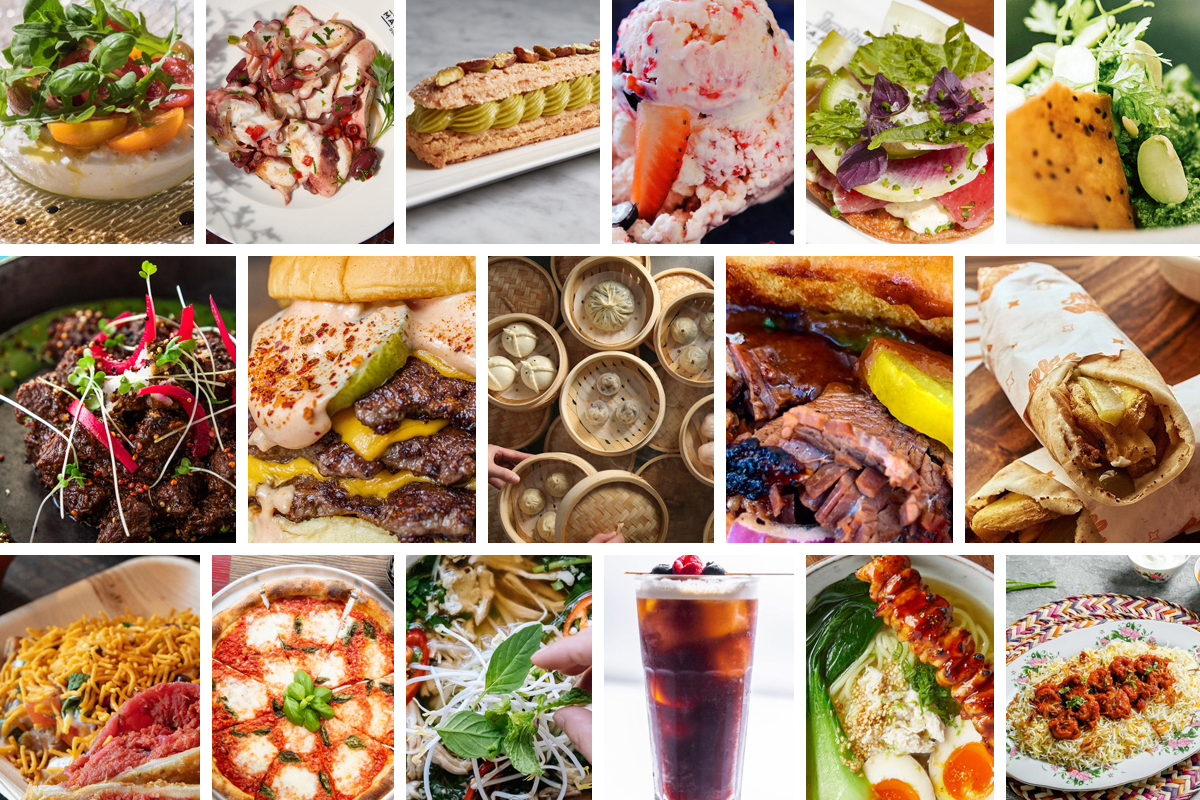 You'll find 17 of the city's very best chefs and home-grown restaurant brands inside, each offering something different to the next, plus three distinct bars. Let's read more about these:

1. 21Grams
21grams is not just Dubai's sole Balkan bistro but it is also among the city's best restaurants. Among its signature dishes is spinach phyllo pie, a flaky, buttery crowd-pleaser packed with fresh greens. 21grams is one of the many   legendary bites from a well-known outlier.

2. Masti
Masti is a fine dining restaurant in Dubai with a vibrant seaside location that brings the strange, wonderful, and woah-that's-so-good-factor to Indian Fusion cooking. Head chef Prashant Chipkar's inventive dishes range from Stracciatella-infused butter chicken to waffle-style dosa.  Every bite is full of personality, with plates drawing inspiration from cuisines as diverse as South Africa, Italy, and Peru. So, take your taste buds on tour at this one-of-a-kind restaurant.

3. Fulvio's
Fulvio Opalio, head chef at Il Borro Tuscan Bistro, is the creator of this unique concept. It is one of Dubai's most lauded and awarded restaurants, with a menu that features a carefully curated selection of his most popular dishes. Signature dishes on the menu include Parmesan wheel risotto, pumpkin tortelli, burrata, grilled octopus, and veal ragu tagliatelle, and it is a must-try for Italian cuisine fans.

4. Reif
Reif Othman, a popular name in Dubai after managing the kitchens of many award-winning restaurants, is now venturing out on his own with Reif. The restaurant is well-known for its silky-smooth ramen and tasty kushiyaki skewers. Othman's Japanese Kushiyaki is a top spot for casual dining, serving a variety of dishes from uramaki to sando, each with its own distinct twist.

5. Mattar
Mattar is a cult favorite, and its Time Out Market location marks the brand's first permanent dine-in location, as well as its delectable slices of 18-hour smoked brisket. Hattem Mattar, the team's pitmaster (and all-around personality), leads the charge with stupendously tasty, generously portioned artisan smoked meats ranging from rich, fall-apart pastrami to spicy beef chorizo, available plated or between buns. It's massive, chaotic, and magnificent. Menu items include smoked brisket, chorizo and pastrami, and  brisket burnt ends.

6. Pickl
Pickl is a local favorite known for its famous fried chicken, sandwiches, and burgers. From the towering Double Stack to the fiery Nashville, everything Pickl does has a serious swagger to go with all that flavor. It's no surprise that Pickl's founder Steve Flawith takes his sandwiches seriously, with new flavor combinations and dishes appearing on the menu on a regular basis. In just a few years, Pickl has risen to become Dubai's most popular burger joint.

7. Pitfire Pizza
Pitfire has a devoted following thanks to its New York-meets-Neapolitan pizza and unique topping mashups. Gorgeously blistered crusts surround thin, crispy pies topped with an inventive arsenal of produce, from chopped dates and gorgonzola to roast chicken and pineapple.  Pitfire's signature pizzas include the Pitfire Primo, Truff Daddy, and Bill's Special, and the restaurant is known for its delicious crushed tomato sauce and super-fresh mozzarella.

8. Boon Coffee
Boon Coffee is well-known for only using the best Arabica coffee beans sourced from Ethiopian farms. The perfect bean equals the perfect cup, and the nitro-infused cold brew here is the best in town. There are also all of your classic favorites, iced teas that are served with a variety of snack options including avocado toast, quinoa cruffin,  caramel cake, and halloumi cheese toastie.


9. The Lightroom
The Lighthouse is one of Dubai's fastest growing casual dining establishments, known for its café fare and cute concept store design. While the original locations serve both savory and sweet items, Time Out Market focuses on the finish, with an abundant supply of cakes and pastries to choose from. The Lighthouse's Umm ali is a must try, but there's also pistachio eclairs, passion fruit and yuzu cheesecake, saffron milk cake, tiramisu and more.

10. Scoppi
Scoopi is a gourmet ice cream and chocolate café in Dubai that aims to provide you with world-class and experimental chocolates and ice creams. Zubin Doshi's expert ice creamery is all about the drama, made with Italian truffles and Iranian saffron. The Black Diamond, which is not just an ice cream but a rich experience one can indulge in and never forget, is a popular dish on the menu. Smooth and rich vanilla beans, the finest saffron, and black truffle slices are topped with edible 23-karat gold leaf and flakes. Keep an eye out for unique flavors with a distinct regional twist.

11. Slab Cocina
Slab cocina is a brand-new concept created for Time Out Market by chef Omar Rodrigues, the creative force behind SLAB Test Kitchen. From cooking at some of New York's finest restaurants to specializing in Peruvian cuisine, Rodrigues now focuses on providing simple but inventive casual food to Dubai diners.  Try the tuna tostada Nikkei, pictured above, and keep an eye out for the corn fritters and Peruvian BBQ shrimp, both of which are expected to be popular.

12. Liban by Allo Beirut
Allo Beirut, a popular budget street food eatery, has a Time Out Market Dubai branch, and it's the place to get authentic Lebanese street food in Dubai. Expect a masterful selection of mezze, including freshly blended hummus and crispy lamb kibbeh, as well as some of the region's most popular grilled kebabs and freshly chopped salads. Punchy garlic, fragrant parsley, creamy tahini, and tangy pomegranate are all key ingredients in this menu that avoids fuss and maximizes flavor.

13. Lana Lusa
Get ready for the best Portuguese food in Dubai, thanks to the culinary fanatics behind Lana Lusa. It quickly became a household name due to its traditional representation of Portugal's signature dishes, ranging from bacalhau a bras to pasteis de nata. From croquettes to bacalhau, seared prawns to a classic prego sandwich, this is classic, traditional cuisine meant to be shared.

14. Al Fanar
Al Fanar was built in order to introduce traditional Emirati flavors to a wider audience. The eatery's Time Out Market outpost prepares authentic Emirati dishes using recipes passed from generation to generation. Sautéed black tiger prawns with slow-cooked biryani rice, sea bass machboos, and classic dessert luqaimat - a sweet syrupy dish - are among the most popular dishes.

15. BB Social Dining
BB Social, created by co-founder and executive chef Alex Stumpf, is a celebration of alliterative, "Eastern'' fare. This multi-award-winning, incredibly inventive restaurant is renowned for its bites, bowls, and more. The foods served here don't come from any one particular cuisine but rather incorporate elements from several. While the Habibti bao with a whole tempura softshell crab marries a Chinese presentation with Japanese flavors, BB's super green hummus leans more toward the Levant.

16. Vietnamese Foods
Vietnamese Foodies is a family-run establishment that serves comfort food that will make you feel at home. The adorable, budget-friendly restaurant has won numerous Time Out Dubai awards for its delicious fare. It offers food that is representative of Southeast Asian cuisine, with an emphasis on light, healthy cooking methods, fresh, vibrant ingredients, and affordable pricing. Signature dishes include green papaya and prawn salad and short rib pho.

17. Long Teng
The city loves this authentic Chinese seafood restaurant. A wide variety of dim sum, all made with seasonal ingredients, are served at Long Teng. The restaurant has won numerous Time Out awards and accolades, and among its many distinguishing qualities are its elegant seafood specials and its exquisitely designed, Instagram-worthy dim sum. From its Market location, diners can expect to enjoy a variety of dishes, including fresh seafood and Long Teng's renowned seafood rice.

18. Palace Bar
With lovely natural light and views of The Palace Hotel, The Palace Bar offers a wide selection of mocktails and fresh juices. The "A Cucumber with a Passion" (Cucumber, Passionfruit, Mango, Lemon, Mint, Ginger Ale) is one of our locally inspired "spirit free" Mocktails, which is the perfect drink to cool off with on a hot day.

19. Atrium Bar
At this 13-meter Atrium Bar, you can sample a fine wine from every corner of the globe. Visitors can select the perfect Red, White, Rosé, or Bubbles to go with their meal. The bar is conveniently situated just a few steps from our glass roof atrium, from which guests can enjoy a meal with friends and family while admiring the Burj Khalifa while sipping a bottle of their favorite wine.

20. Fountain Bar
This magnificent horseshoe-shaped bar offers breathtaking views of the Burj Khalifa and the Dubai Fountain. The outdoor terrace and bar are both close by for those ideal Winter days and nights.  Order the "Royal Nectar" (Coconut Rum, Moroccan Mint Tea, Passionfruit, Lime, Coconut Cream, Tiki Bitters) , this branded coconut cocktail is as tasty and appetizing as it is visually appealing.

Shows &  Events at Time Out  Market Dubai: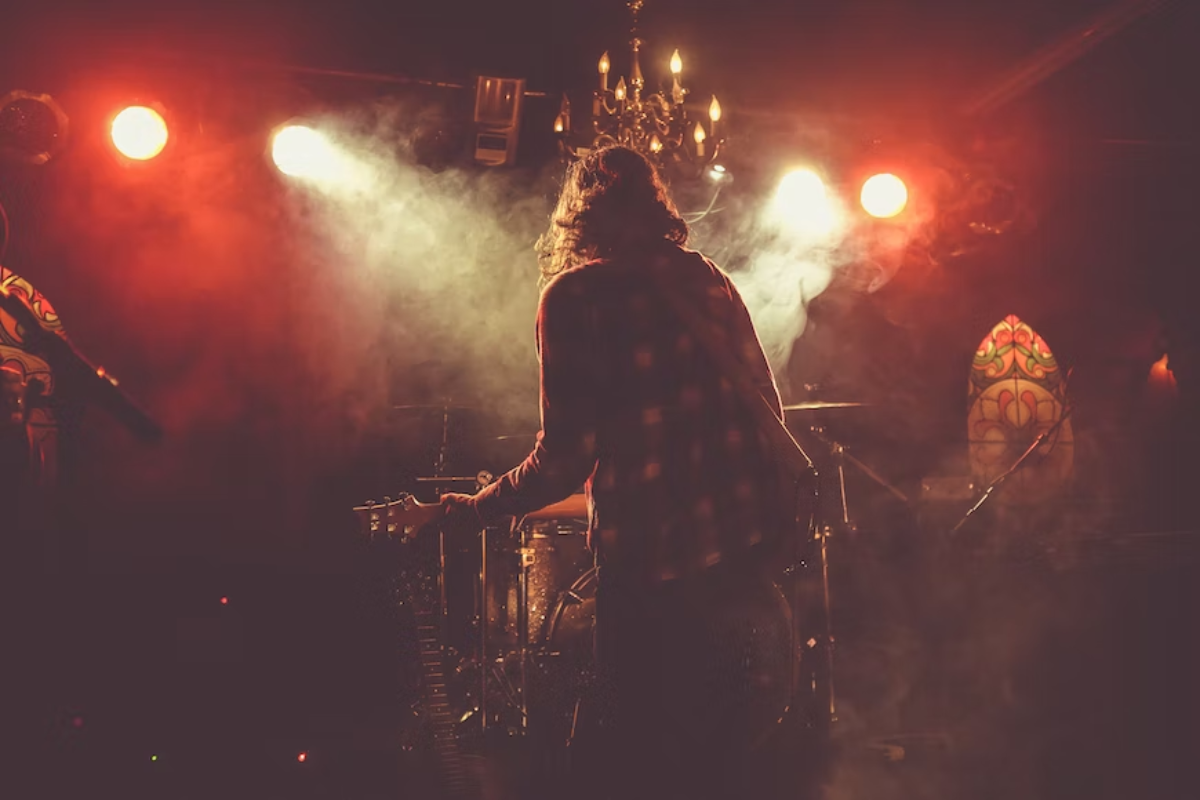 1. Daniel Moores
Dan Moores, a singer and guitarist from the United Kingdom, has plenty of experience. Dan is currently based in Dubai and performs fun, soulful acoustic covers that create an uplifting atmosphere with relaxed and chilled out songs!
Date: 25 th January 2023
Time: 07:00 pm
Duration: 3hrs
2. Time Out Stgae presents DJ Dadou
DJ Dadou, an open format artist, will be providing his brilliant beats as a resident DJ at Time Out's  stage this month. The DJ-engineer specializes in hip hop, R&B, and afrobeats. His ideology is to bring people together through music, which he certainly accomplishes.
Date: 27th  January 2023
Time: 08:00 pm
Duration: 3hrs

3. Kids Sunday: Roaming Balloon Twisting
What is one thing that is always in fashion? Balloons. especially the balloon twister! Time Out's balloon artist will be on hand at the Market to enchant and delight each and every little visitor.

Date: 29 th January 2023
Time: 01:00 pm
Duration: 2hrs

4. Jazz! Salt & Pepper
On the Time Out Stage this month, Kevin Bassett will be on vocals and Donovan Rossouw on piano together they are going to provide us with some jazzy vibes. You can't possibly miss them!

Date: 30th January 2023
Time: 07:00 pm
Duration: 3 hrs

Location and how to reach

Time Out Market Dubai is located on the 3rd floor of Souk Al Bahar, Downtown Dubai. Souk Al Bahar can be accessed by crossing the pedestrian bridge from Dubai Mall. Being located in the heart of the city, It is very easy to reach the destination via car, taxi,  bus or metro.
Timings:

Mon-Wed 12:00 pm - 12:00 am
Fri 12:00 pm - 01:00 am
Sat 10:00 am - 01:00 am
Sun 10:00 am - 12:00 am
FAQ's
Does Time Out Market accept reservations?
With its idea of communal seating, Time Out Market Dubai takes a laid-back stance. You are welcome to sit down at one of their  tables whenever you like. The Editor's Table reservations are only accepted via reservationsdxb@www.timeoutmarket.com

Is parking available?
There is parking available in the Souk Al Bahar car park. When you visit Time Out Market Dubai, they can validate your parking ticket and extend your free parking from 2-hours to 4-hours.

Can you pay by cash?
No, this market does not accept cash. Download the Time Out Market Dubai App to browse, order, and pay without having to use your credit or debit card. You can also pay with a regular dit or credit card at the many restaurants and bars at the market.
Also Read: