Dubai has welcomed people from different nations throughout the years. In a multicultural society, individuals tend to bring in ethnic cultures and traditions. This is one of the reasons why Dubai is home to food cultures from different parts of the world.
Lately, there has been an increased demand for Eastern cuisine which started with K-Pop and K-Drama popularity in the region. Japanese food is relatively new in this region but has gained popularity due to the praise it has received in a short span of time. Japanese food looks very appealing and tastes different from what people generally have in Dubai.
Sushi is one of the most popular dishes in Japanese cuisine. It is prepared from vinegared rice, sprinkled with some sugar and salt. The filling of sushi brings variety to the dish. Seafood is mostly preferred to go as filling along with some raw vegetables and a side of soy sauce and wasabi. However, sushi also has made some changes to suit the local taste buds here.
If you want to have unlimited sushi in Dubai, you have got a wide range of options to choose from. Here are some of the best spots to enjoy unlimited sushi in Dubai.
Sushi Nations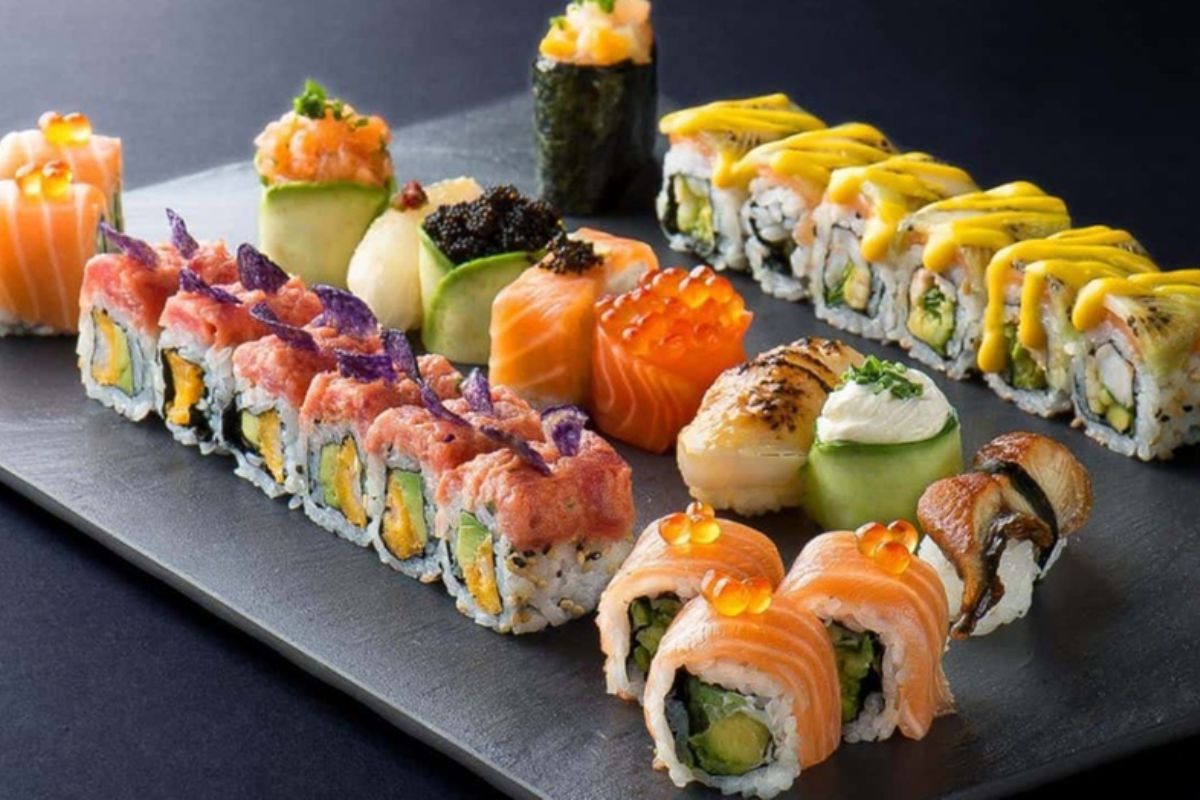 Sushi Nations is one of the popular names for Japanese food in Dubai. They have been serving sushi in the region for quite some time now. Their success and popularity have led them to open multiple branches across UAE, including 5 branches in Dubai.
The unlimited sushi buffet at Sushi Nations includes sushi, maki rolls, signature rolls, salads, soups, noodles, hot rolls, and fried appetizers. The crab sushi leek rolls are one of the must-try dishes on the menu. This restaurant has added a small Brazilian twist to Japanese cuisine.
Sushi Nations provide you with an online order facility to taste their signature dishes.
Price: Monday to Thursday (Lunch) – AED79.99, Monday to Thursday (Dinner) – AED99.99, Friday to Sunday – AED99.99
Children under 10 – AED39.99
Children under 6 can eat free of charge.
Location: Latifa Tower, Millennium Barsha, Coral Deira, Motor City, and Uptown Mirdif
Timings:
Latifa Tower; Sunday & Monday – 12 pm to 11 pm, Tuesday to Saturday – 12 pm to 4 am
Millennium Barsha, Coral Deira, Motor City – Sunday & Monday – 12 pm to 11 pm, Tuesday to Saturday – 12 pm to 2 am
Uptown Mirdif – 12 am to 11 pm
Kanpai Restaurant & Lounge Bar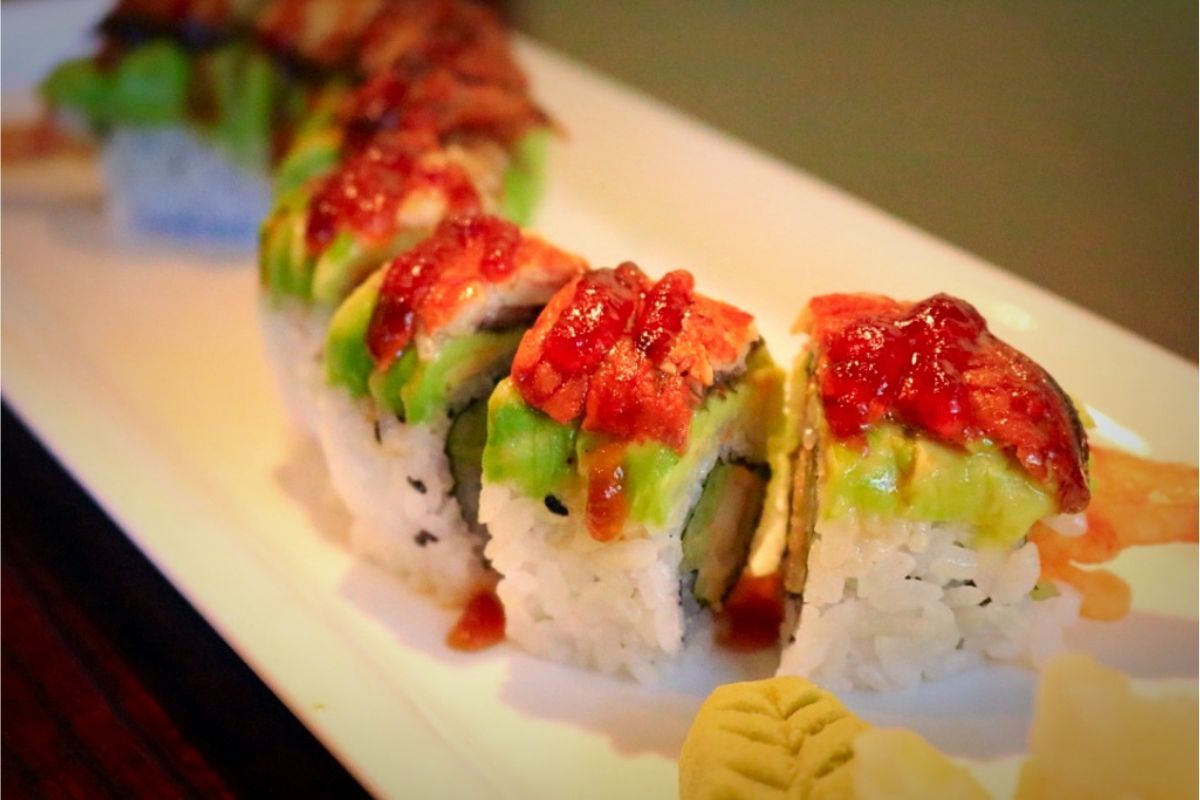 Kanpai Restaurant brings its ethnic culture to one of Dubai's most happening places, Souk Al Bahar. They have been familiarising visitors with the concept of Asian hospitality for years. It is the right place if you want to indulge in Japanese cuisine during short events like business lunches or dinners.
On Sundays and Mondays every week they open their unlimited sushi menu. You can enjoy unlimited sushi for 2 hours. The menu features variants of seafood like crabs, salmon, and prawns in their sushi bites. Spicy Tempura Maki and Spicy Maguro Sake Maki are for spicy lovers.
Kanpai restaurant hosts events like Glamour Ladies Night and Weekend Brunch. Book a table for Weekend Brunch to enjoy unlimited servings of Japanese delicates and Asian flavors.
Reserve your tables ahead on +97144419262 to avoid inconvenience.
Price: AED299 per person
Location: Level 3, Souk Al Bahar, Downtown Dubai
Timings: 1 pm to 2 am
UCCI Sushi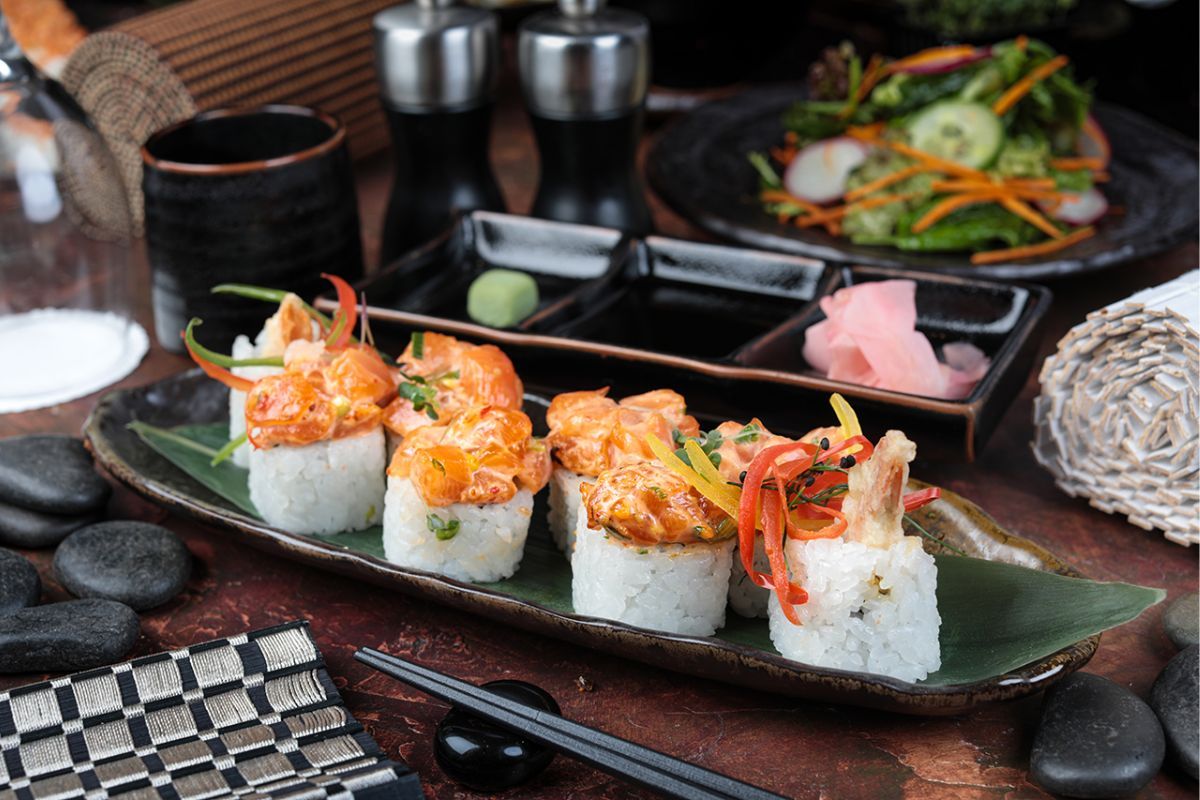 UCCI Sushi is one of the best places to enjoy a multisensory Japanese culinary experience in Dubai. This restaurant has incorporated traditional Japanese cooking styles and flavors to prepare delicious dishes. The menu reflects the beauty and variety of Japanese cuisine.
You can opt for an All You Can Eat menu to satisfy your cravings. Try the California Roll and Alaskadelphia Roll if you like subtle flavors. For spicy lovers, UCCI Roll and Dynamite Roll on the menu will suffice.
At UCCI Sushi, sushi is made only after you place your order to serve it fresh.
Check out their website to see their exclusive menu including choices of appetizers, soups, sashimi, bento, desserts, and beverages.
Price: AED99 per person
Location: Ground Floor, Ramada by Wyndham Dubai, Barsha Heights
Timings: 12 pm to 11 pm
Toshi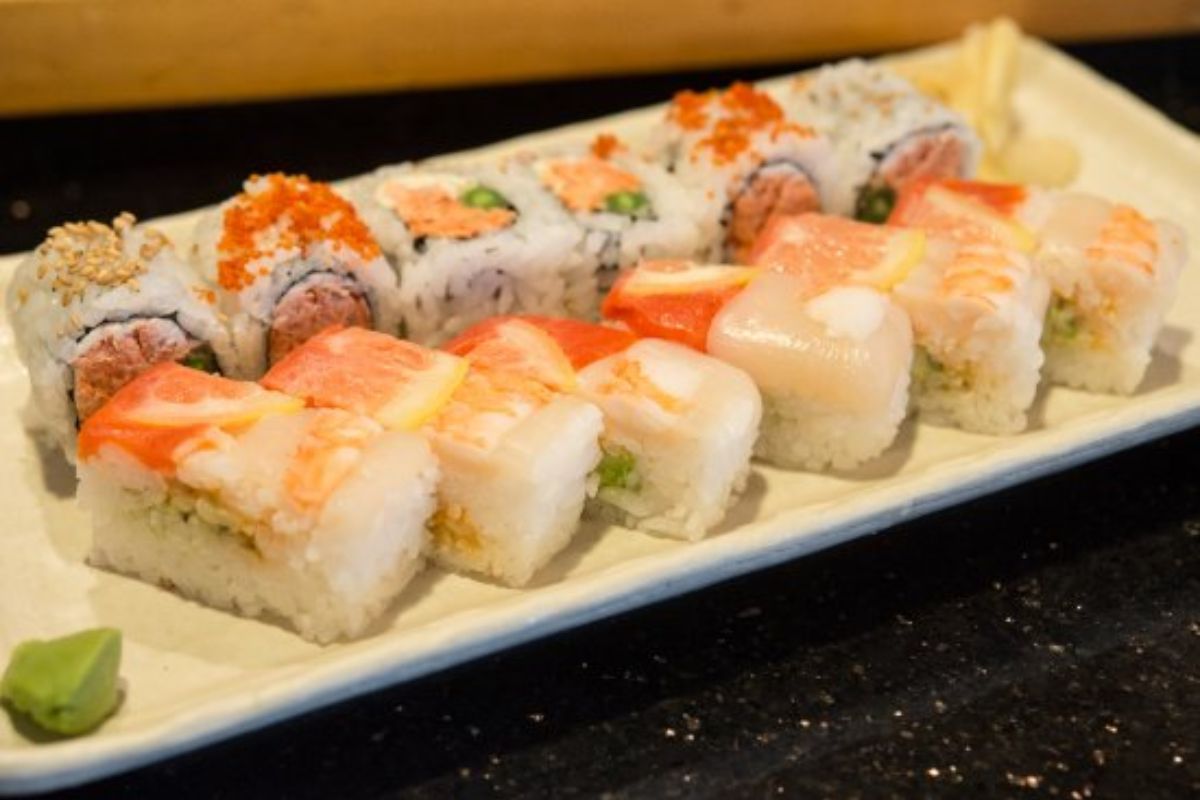 Toshi is one of the best Asian restaurants in Dubai. The restaurant serves authentic pan-Asian cuisine with a blend of fusion flavors. The restaurant has an amazing ambiance that brings positive vibes while you dine on the exquisite flavors served on the plate.
Toshi hosts Sushi and Sashimi Night on Sundays, Tuesdays, and Thursdays. You can enjoy a wide variety of these delicacies prepared by in-house talented chefs. The restaurant also serves yummy desserts to satisfy your sweet tooth.
At Toshi, you can indulge in other Japanese dishes like dim sum and ramen. Toshi also serves dishes from other Asian cuisines like Thai and Chinese.
Price: AED245 per person
Location: 18th Floor, Grand Millennium Dubai Hotel, Grand Millennium, Dubai
Timings: Sunday, Tuesday, and Thursday – 6:30 pm to 11 pm
Fujiya Restaurant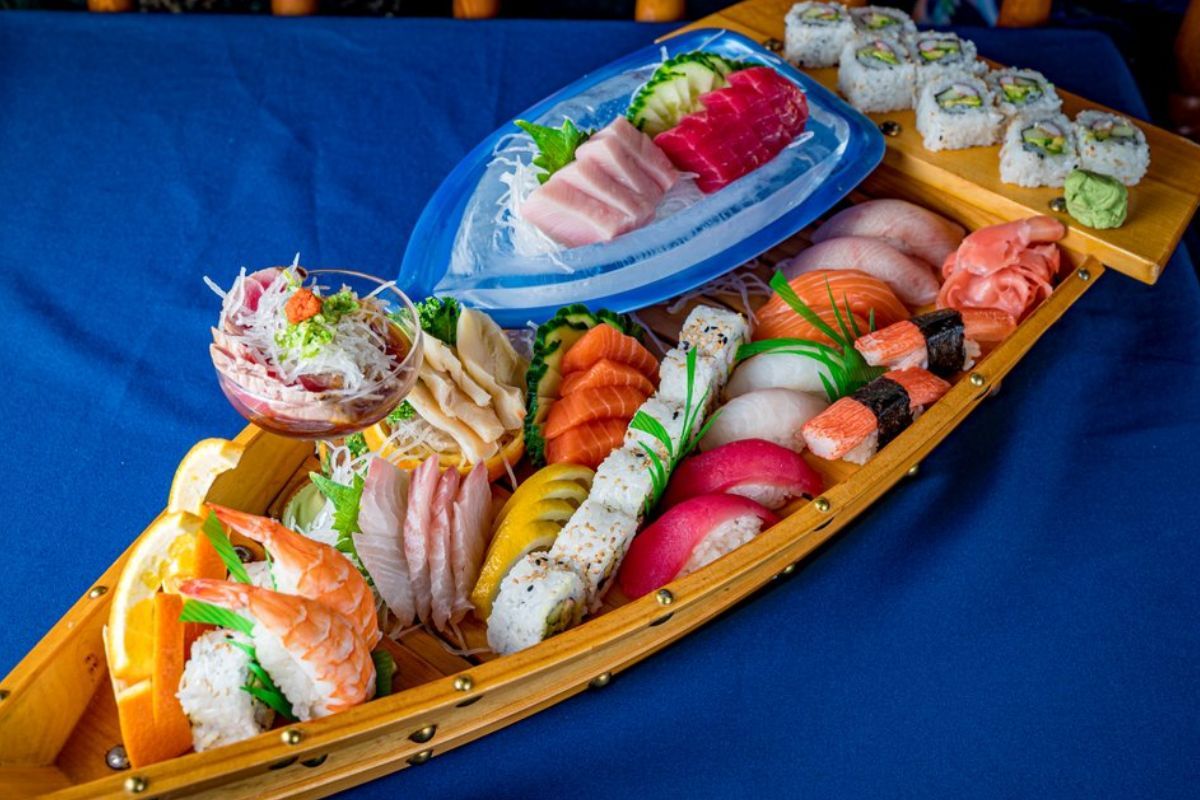 Fujiya Restaurant offers you the ultimate izakaya experience in Dubai. You can taste authentic izakaya food while enjoying the informal social dining ambiance at the restaurant. Their menu includes Japanese favorites like Wagyu beef to sushi, sashimi, yakitori skewers, ramen, grilled fish, and salad.
You can indulge in unlimited sushi delights by ordering their Shabu-shabu Buffet or Yakiniku Buffet. Shabu-shabu Buffet includes wagyu beef, karaage, Mechikatsu, salad, and edamame other than five types of sushi. Yakiniku Buffet serves wagyu beef for grilling, unlike Shabu-shabu Buffet which is a hotpot service.
Fujiya is one of the few restaurants in Dubai that serves Japanese dishes like shiso leaf tempura, shimesaba pickled mackerel, and grilled mentaiko. Visit their website to know more about the dishes they serve.
Price: AED150 per person
Location: Millennium Airport Hotel, Garhoud and Swissotel Al Murooj, Downtown
Timings: 12 pm to 1 am
Izakaya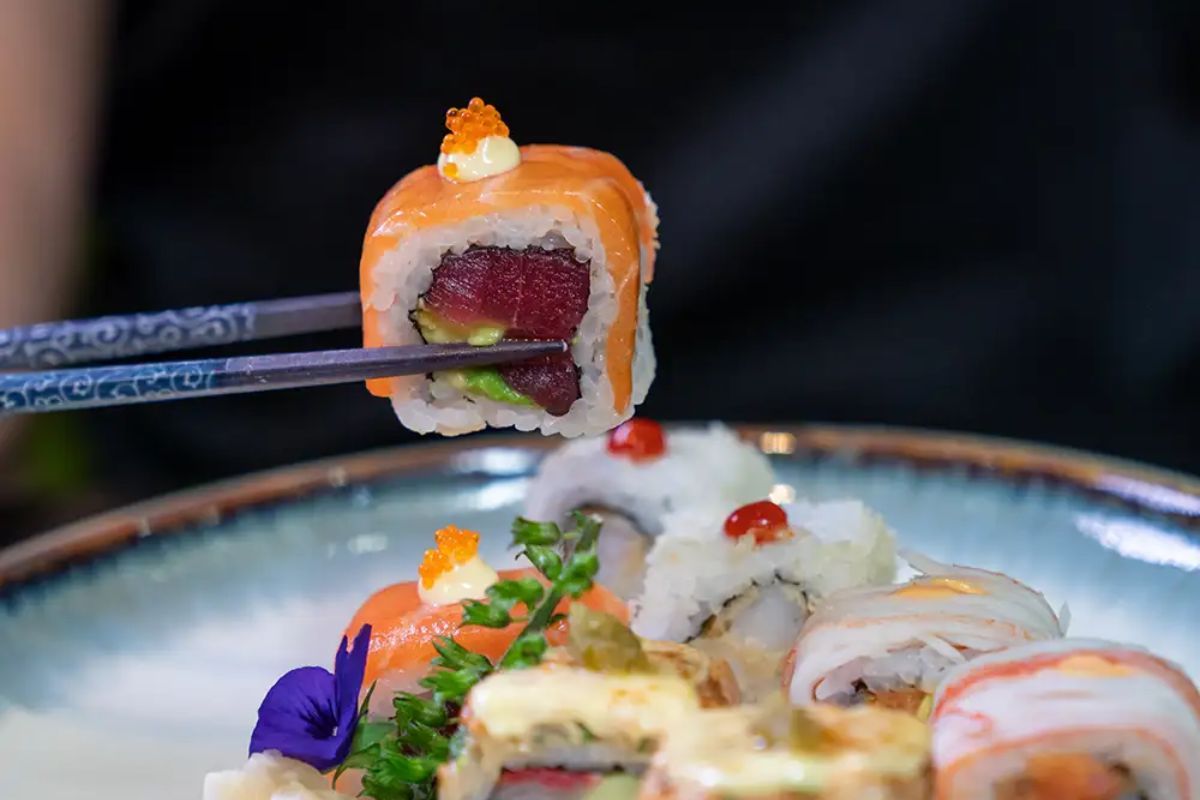 Izakaya at Marriott serves authentic Japanese cuisine in a lively and buzzing environment. You can taste teppanyaki and Japanese noodles to have an Eastern flavor explosion inside your mouth.
Sushi and Bubbly Tuesdays offer you a great evening with unlimited sushi from the special menu along with a side of bubbly.
You can also try out the new Teppanyaki Experience at Izakaya. This experience features an extensive new menu and a chef's live cooking show. You need to book ahead to enjoy this special experience.
Price: AED195 per person
Location: 5th Floor, Tower B, JW Marriott Marquis Hotel, Dubai
Timings: Tuesday – 6 pm to 12 am
Mama Zonia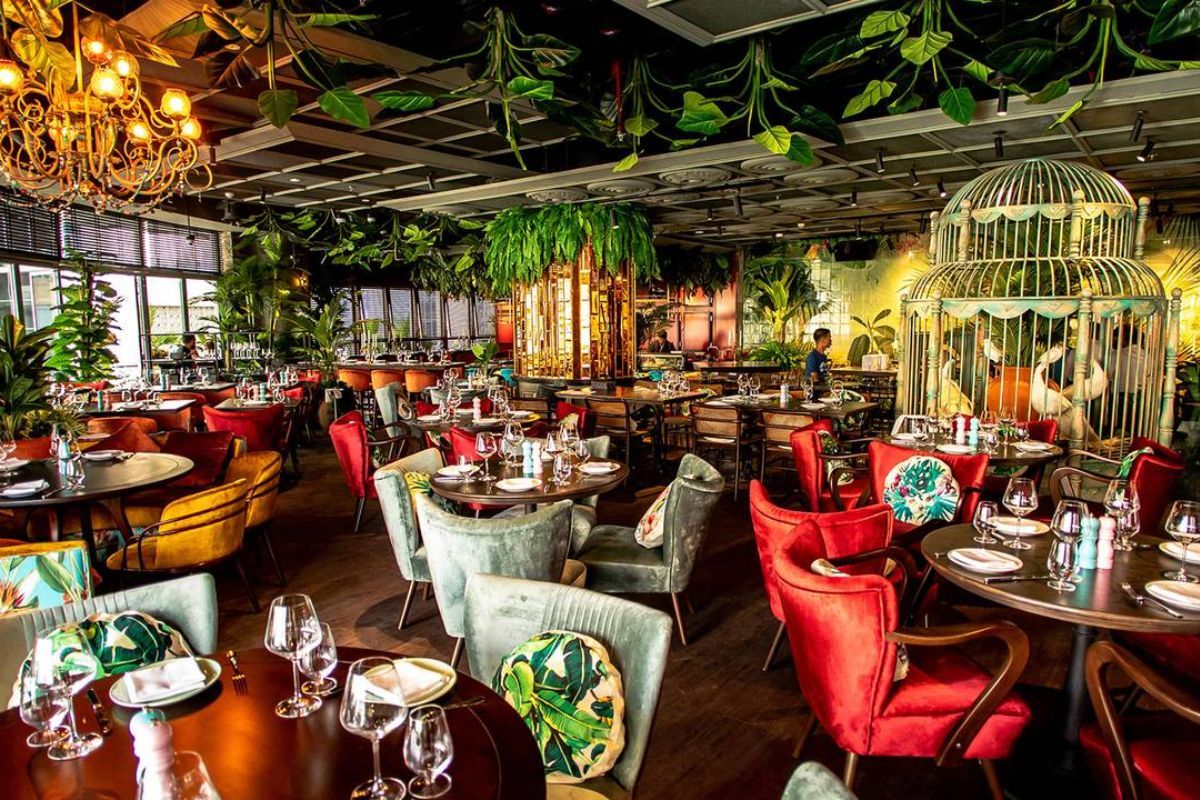 Mama Zonia is a fusion restaurant that has been stealing people's hearts with its flavors. The restaurant is also popular for its interior which resembles the Amazonian jungle. They have newly launched the unlimited Sunday offer for sushi and bubbles.
The unlimited sushi offers take place every Sunday during which you can enjoy an unlimited amount of dishes for two hours. The package includes miso soup, hot starters, sushi platters, and a bottle of prosecco. Their extensive menu serves yummy delights like maki rolls and slow-cooked ribs.
Mama Zonia also boasts about the view they offer at their restaurant. You can enjoy the Dubai Marina skyline while enjoying the feast served at the restaurant.
Price: AED479 for two people
Location: Pier 7, Dubai Marina
Timings: Sunday – 1 pm to 10 pm
Also read: