Dubai, the capital city of the United Arab Emirates, is rightfully known as the most lavish city in the Persian Gulf. It flaunts a glittering skyline, exotic nightlife, and rich experiences, but desert experiences and activities in Dubai stand out from the crowd. Whether you're looking for an adventure or a chance to reconnect with nature, the Dubai deserts are sure to impress. With its vast expanse of golden sand dunes, Dubai's desert provides a one-of-a-kind and unforgettable experience and is packed with numerous fun and unusual activities to enjoy.
Here are a few of the best things to do in Dubai's desert:
Desert Safari with Dinner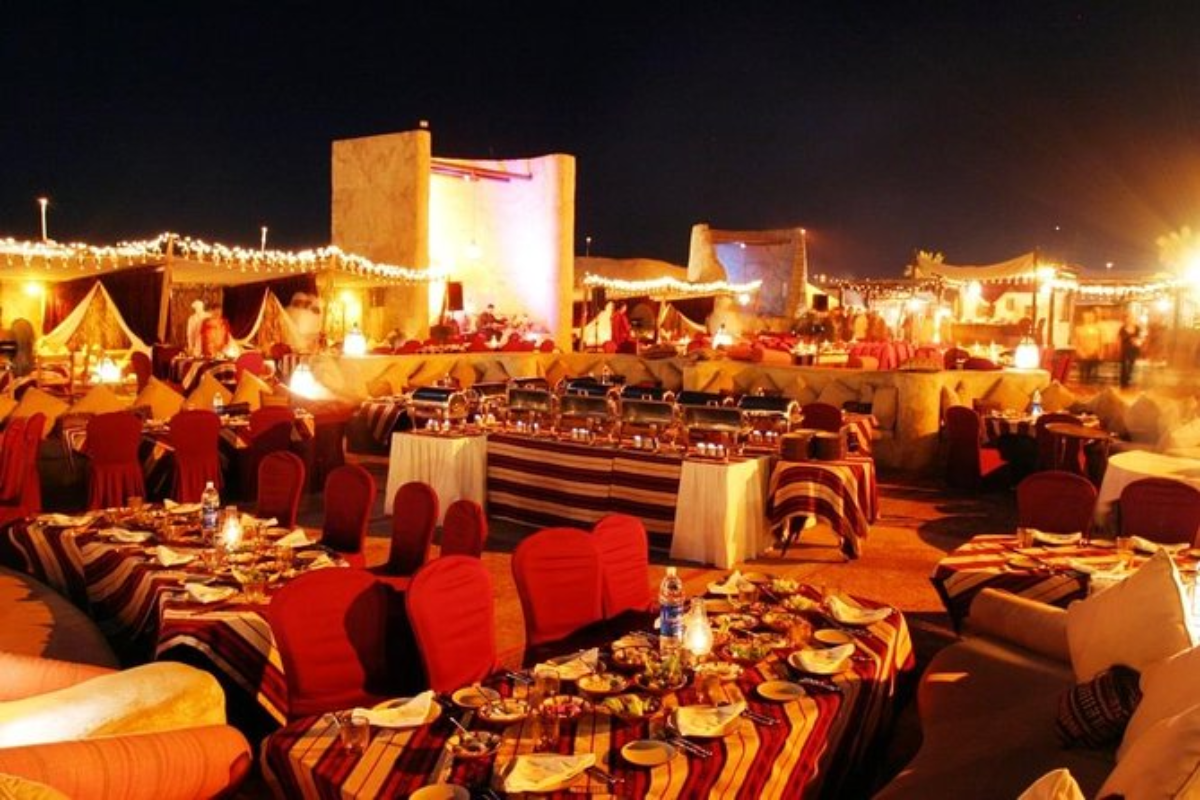 A trip to Dubai would be incomplete without a desert safari with dinner. The tour lasts about six hours and includes dune bashing, camel rides, buggy rides, henna design stands, belly dancing, and some excellent shows. The lavish buffet dinner with vegetarian and non-vegetarian options will astound you with how such delicious food can be made available in desert conditions. They also have shisha cabins with exotic shisha flavours that you can enjoy while unwinding in the happy buzz of the place.
Dune Bashing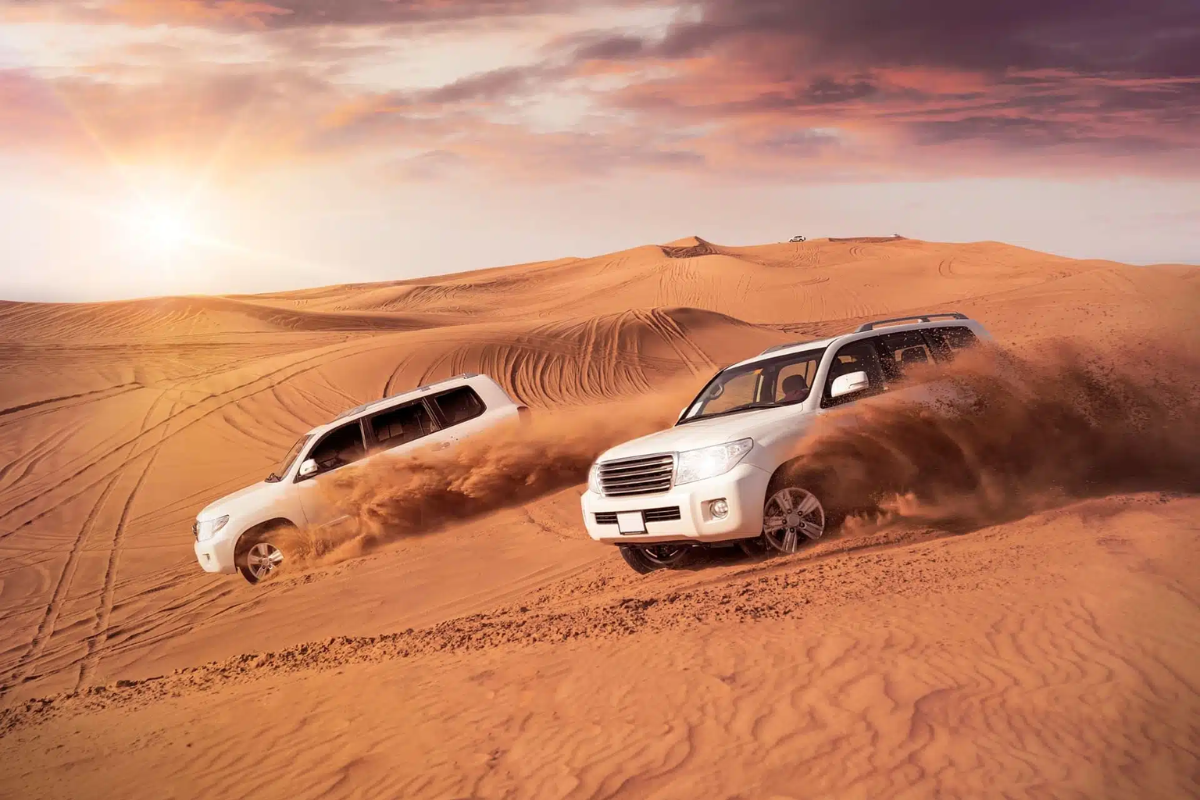 A private roller coaster in a 4x4 land cruiser hitting the sand dunes, driven by a skilled driver, is what dune bashing is all about. As you climb to the top of each dune, you will be treated to breath-taking views of the desert landscape. Then, it's time to enjoy the ride of a lifetime as you descend through the valleys at high speed. An addition to the thrilling ride would be the stops they make for you to capture some mind-blowing photos of the desert. The best time to take the ride would be during sunset, when you can witness the sun go down and the shades of the sky turn from orange to blue. The whole experience lasts for around 45 minutes, and it is surely one of the most amazing desert experiences in Dubai that cannot be missed.
Quad Biking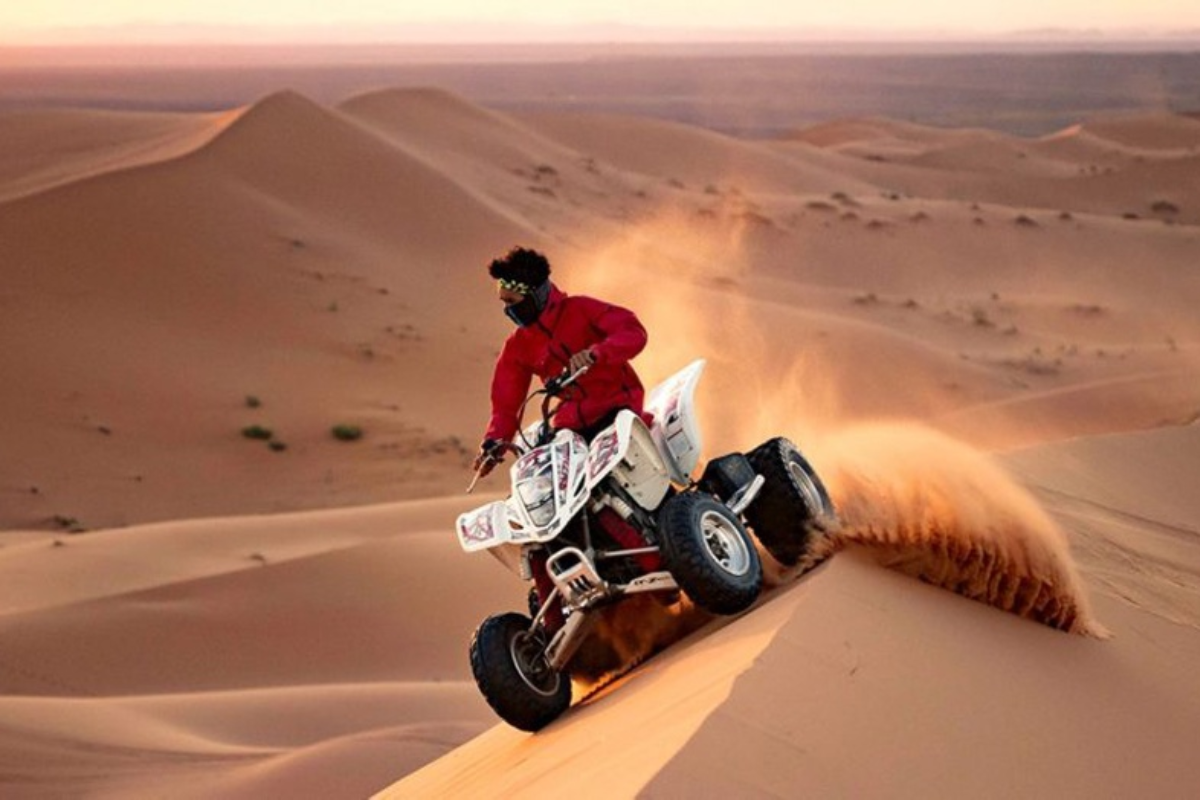 This activity should be on the bucket list of anyone who enjoys riding or driving. Rent a quad bike and zip through the desert dunes to satisfy your need for speed. It's a thrilling activity that allows you to explore the desert at your own pace while experiencing an adrenaline rush. You will also be given a security adapt and will be able to control your programmed quad bike while riding through the desert's daring sand dunes. This activity has a moderate level of difficulty. Riding on these quad bikes will get your adrenaline pumping and bring out your adventurous side once you get your hands on one.
Sandboarding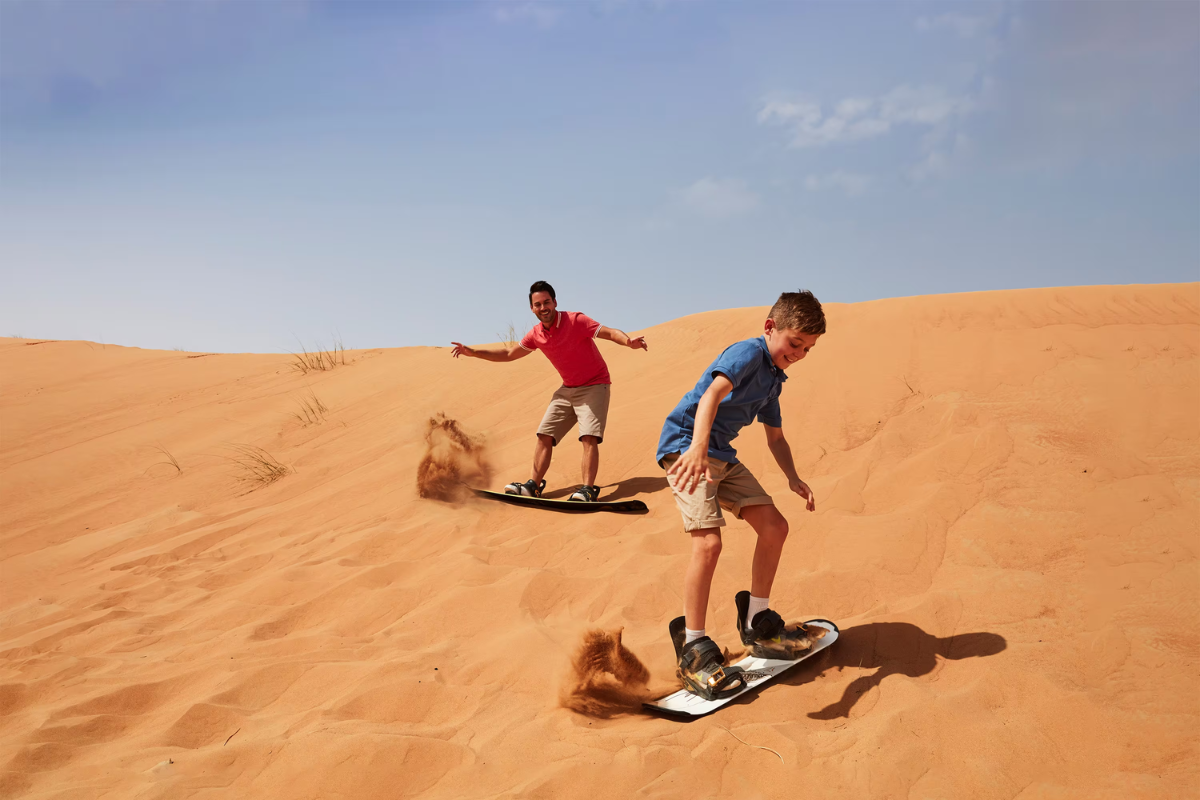 If you enjoy adventure sports, try sandboarding down the dunes. Strap on a board and slide down the sandy slopes, experiencing the thrill of gliding across the desert. With a little practice, you can learn to gain control of the board and figure out new ways to glide your way through the sand. There will be instructors there to guide you through this whole activity.
Sunset/Sunrise Photography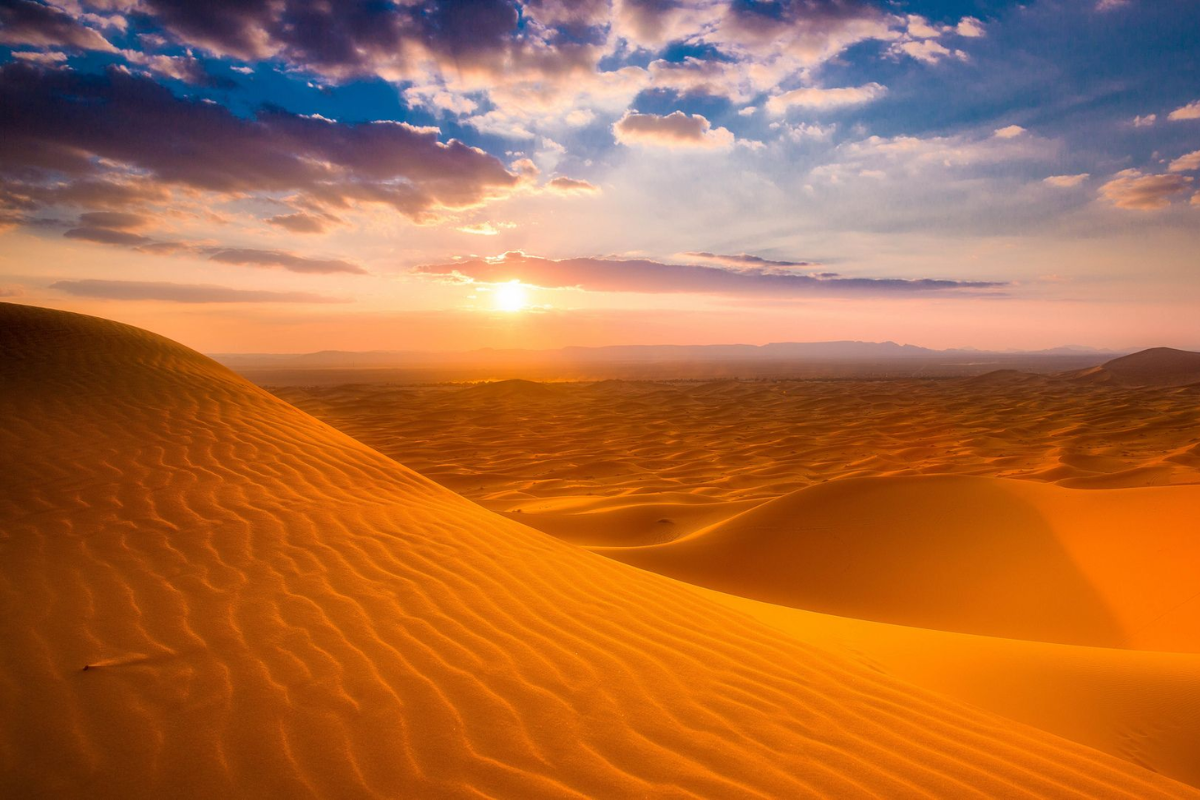 Gape at the golden beauty and bask in the awesomeness. The morning and evening are definitely the most photogenic spectacles that you'll see in the desert. The desert provides a stunning backdrop for photography, especially at sunrise or sunset. Capture the magical moments as the sun paints the sky with vibrant hues, transforming the landscape into a picturesque scene.
Camel Ride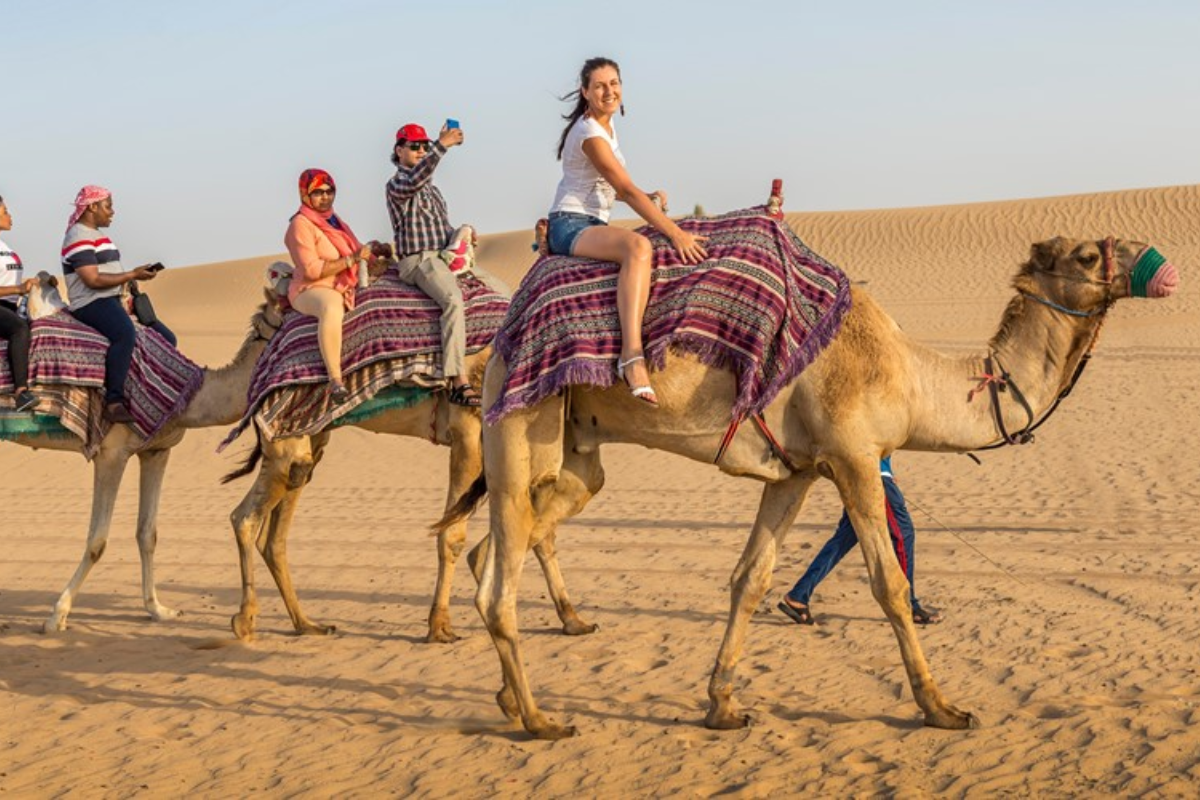 A trip to the desert without riding on the ship of the desert isn't worth the trip at all. Camel safaris are undoubtedly very popular in the region. Experience the traditional mode of transportation and how people travelled across the desert 50 years back in the desert by going for a camel ride. Enjoy the slow and steady pace as you traverse the sandy landscape, taking in the peaceful ambiance of the desert. The camel safari lasts for about 45 minutes on the magnificent animals' backs.
Horse Riding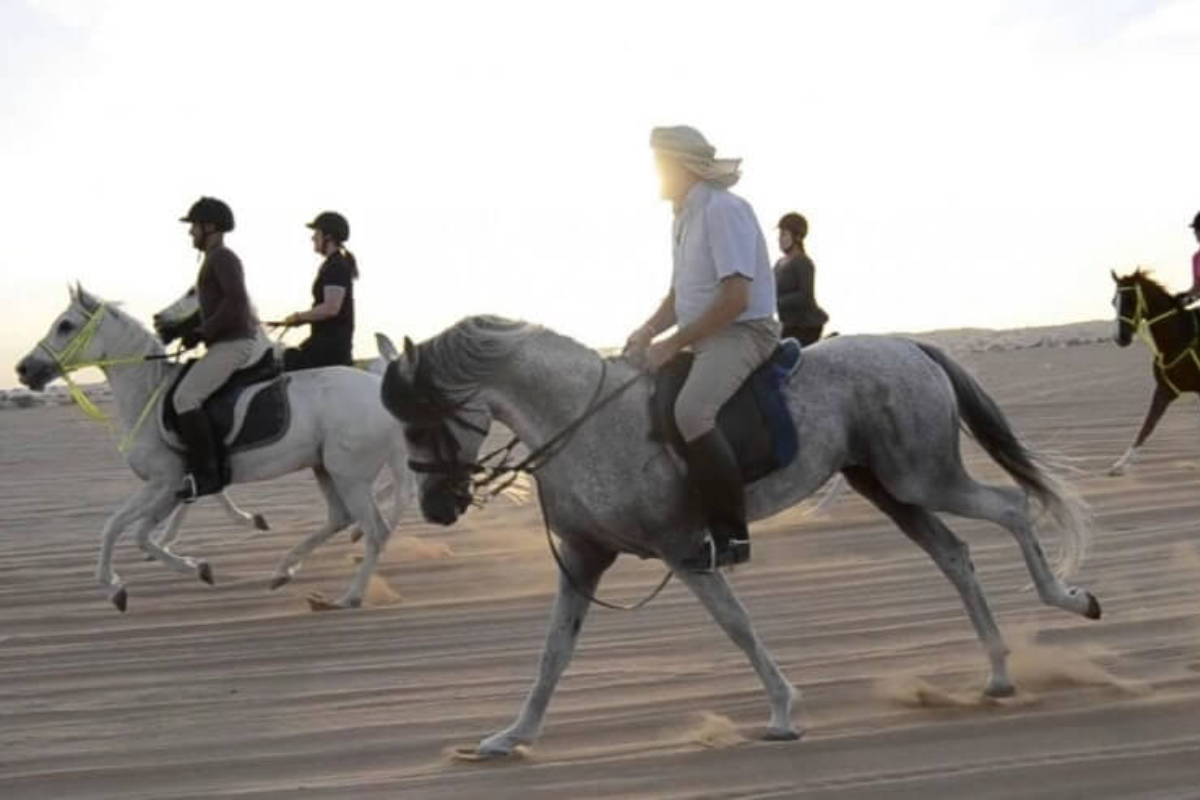 Similar to camel riding, you also have the option of horseback riding across the desert. These types of experiences are very unique and perfect for relaxing. The duration of the horseback riding is around 90 minutes, and you'll be accompanied by a guide at all times.
Ride a Dirt Bike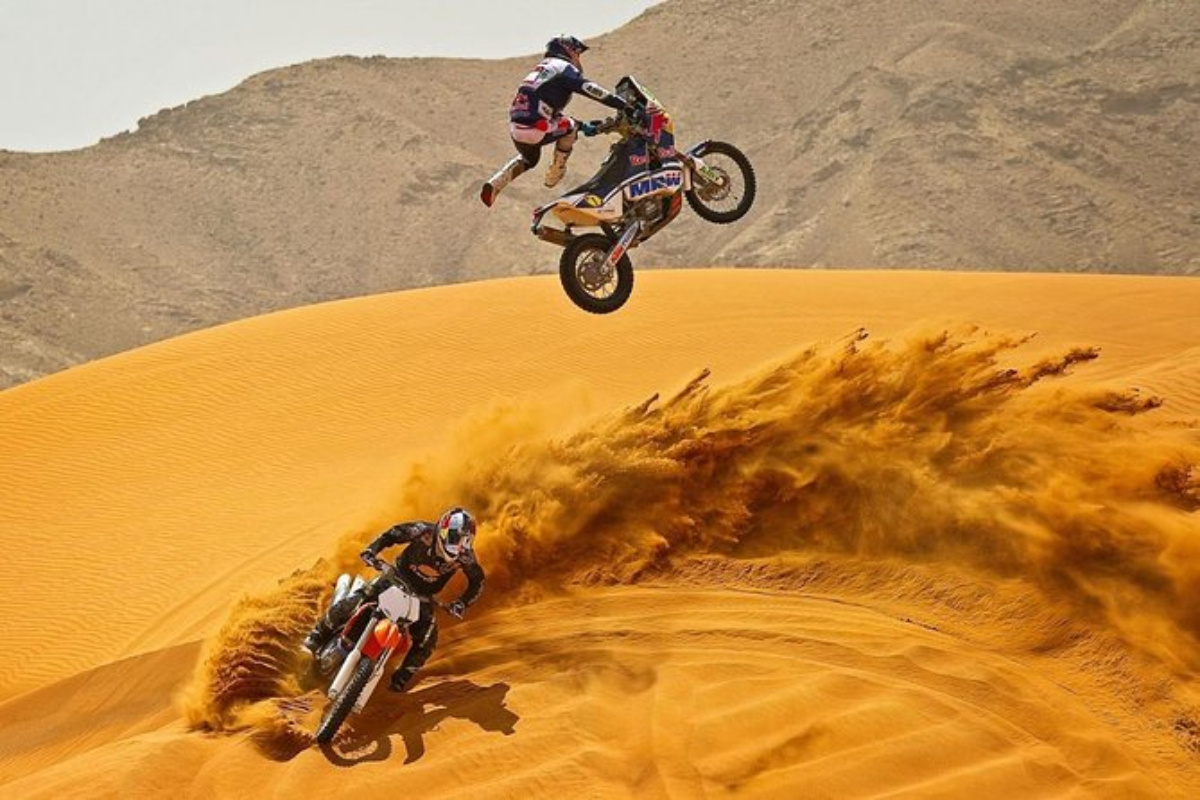 Go bashing across the sand dunes on a dirt bike tour along the desert. An initial lesson for beginners is included, as well as all the equipment in order to be safe. These tours are quite expensive, but if you're a bike lover and you want to experience some adrenaline, this is perfect for you.
Hot Air Balloon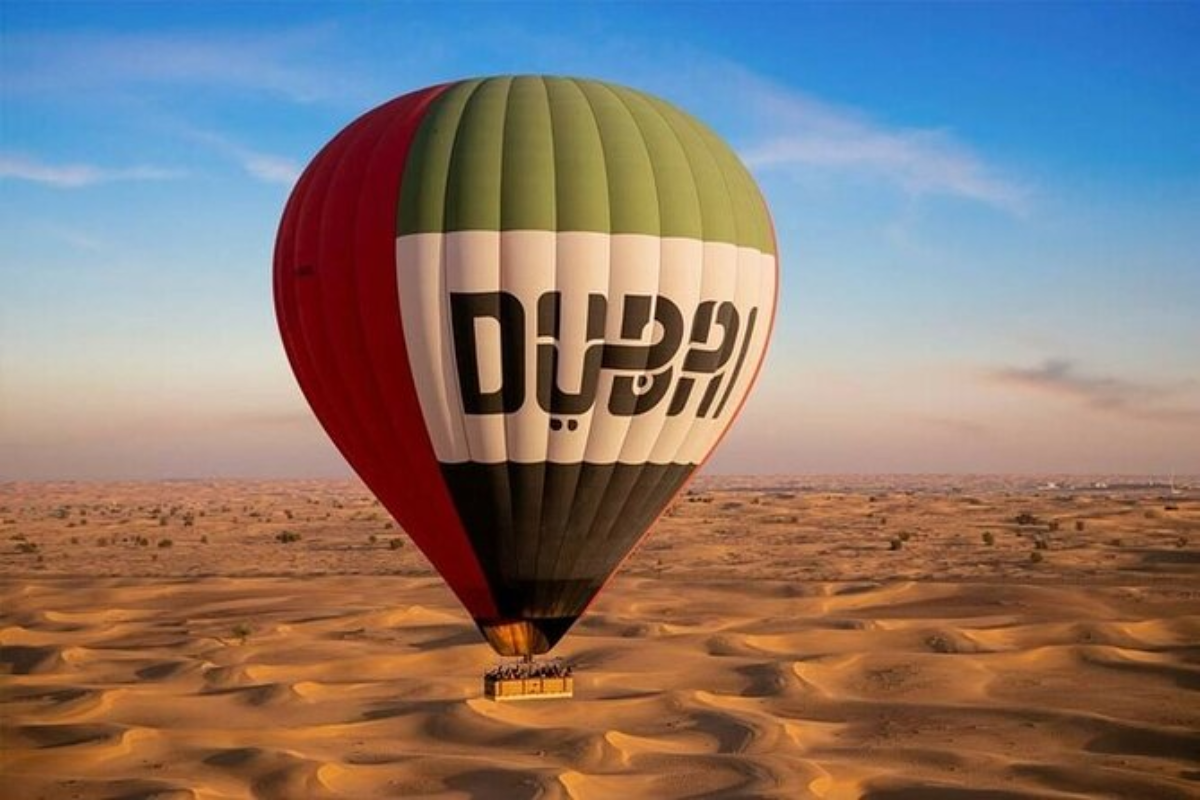 There's something truly magical about a hot air balloon. Drifting peacefully through the air and taking in stunning panoramic views, it's an experience unlike any other. And there's nowhere quite like Dubai for a hot-air ballooning adventure. Get a bird's-eye view of the desert by taking a hot air balloon ride. Experience Dubai from a whole new perspective on a hot air balloon ride over rolling desert dunes. Floating above the dunes during sunrise or sunset provides breath-taking panoramic views of the desert landscape, creating a magical experience. These tours usually start in the early morning in order to get an even more beautiful view as the sun starts to rise.
Camping in the Desert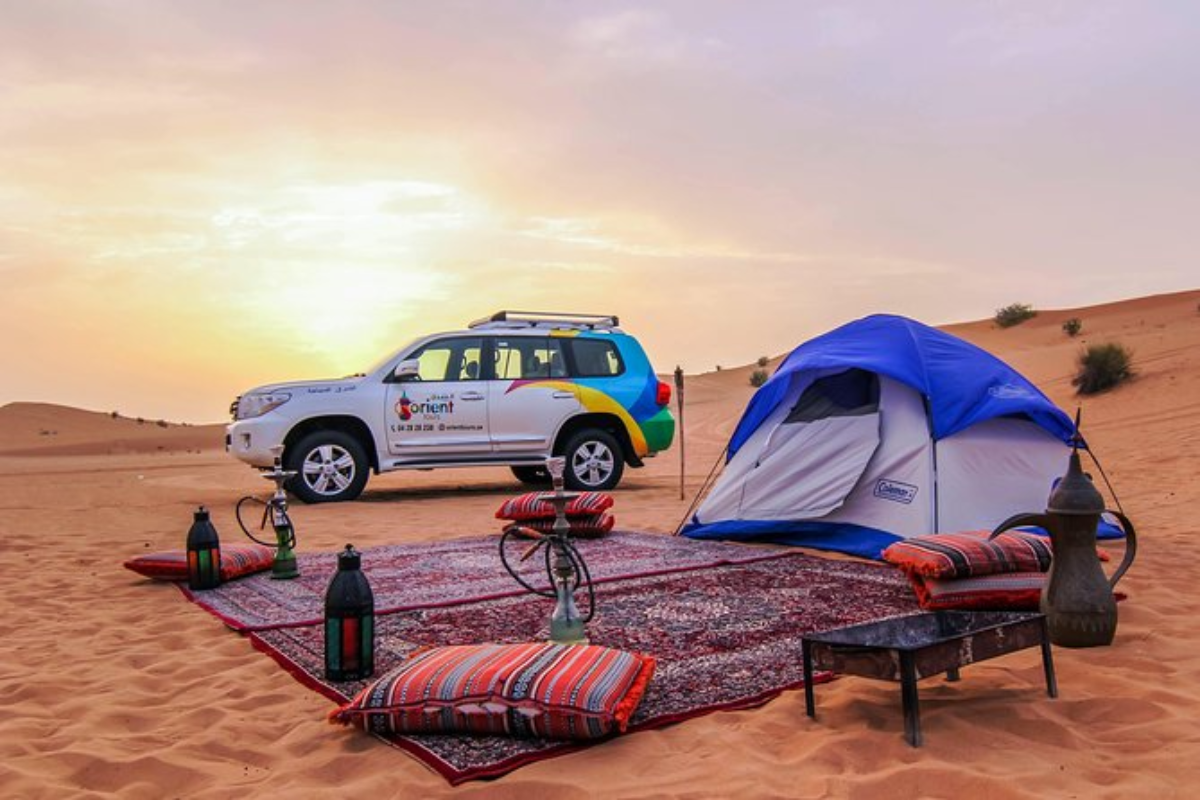 Begin this adventurous session of desert safari in Dubai with a sunset and end it with a soulful sunrise. Camping in the desert is an exhilarating experience, and it's the perfect way to escape the hustle and bustle of city life. It includes camping out and spending your night in the middle of Dubai's golden desert inside a traditional Arabic tent under a star-studded sky. If you're looking for a chance to relax and unwind, camping in the Dubai desert is the perfect option.
Dune Buggy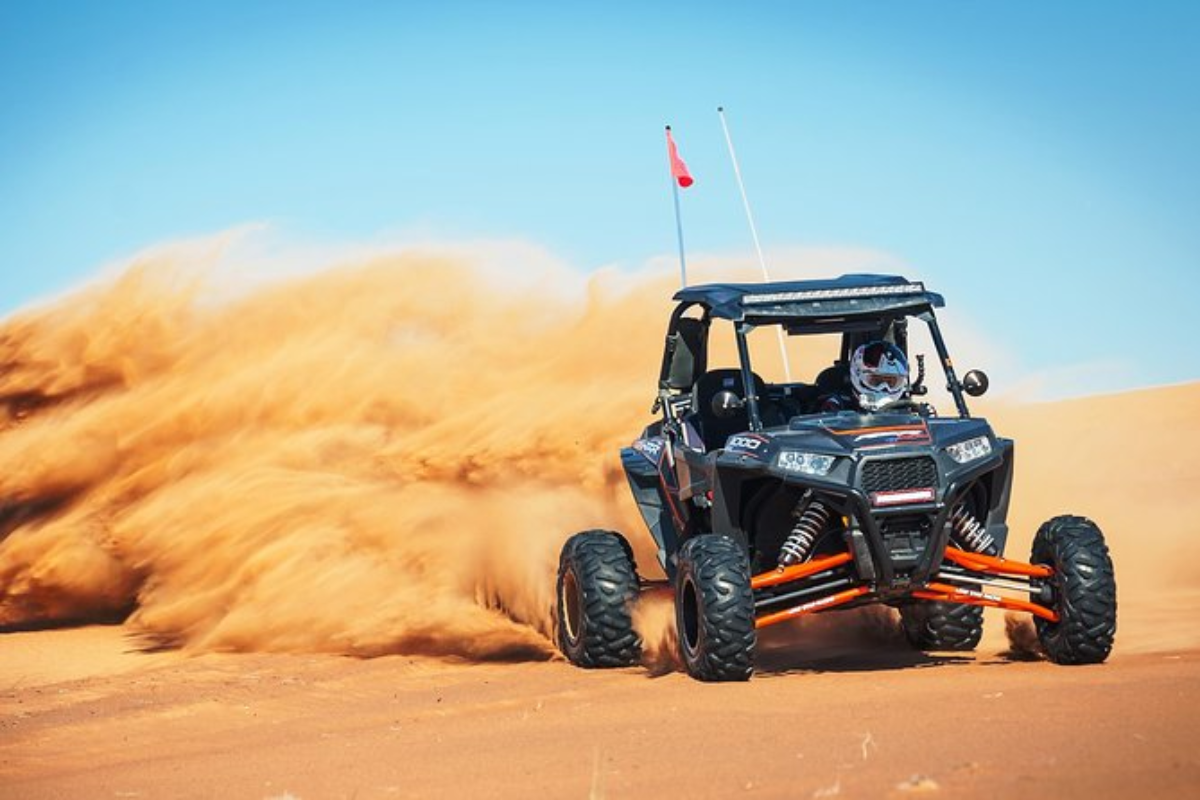 A one-of-a-kind off-road experience to explore the sands on your own is by hiring a dune buggy! The dune buggies are fully equipped with safety convoys that include roll cages, seat belts, bucket seats, night lights, a fire extinguisher, and constant mechanical support throughout your drive. It is definitely worth the experience!
Al Maha Desert Resort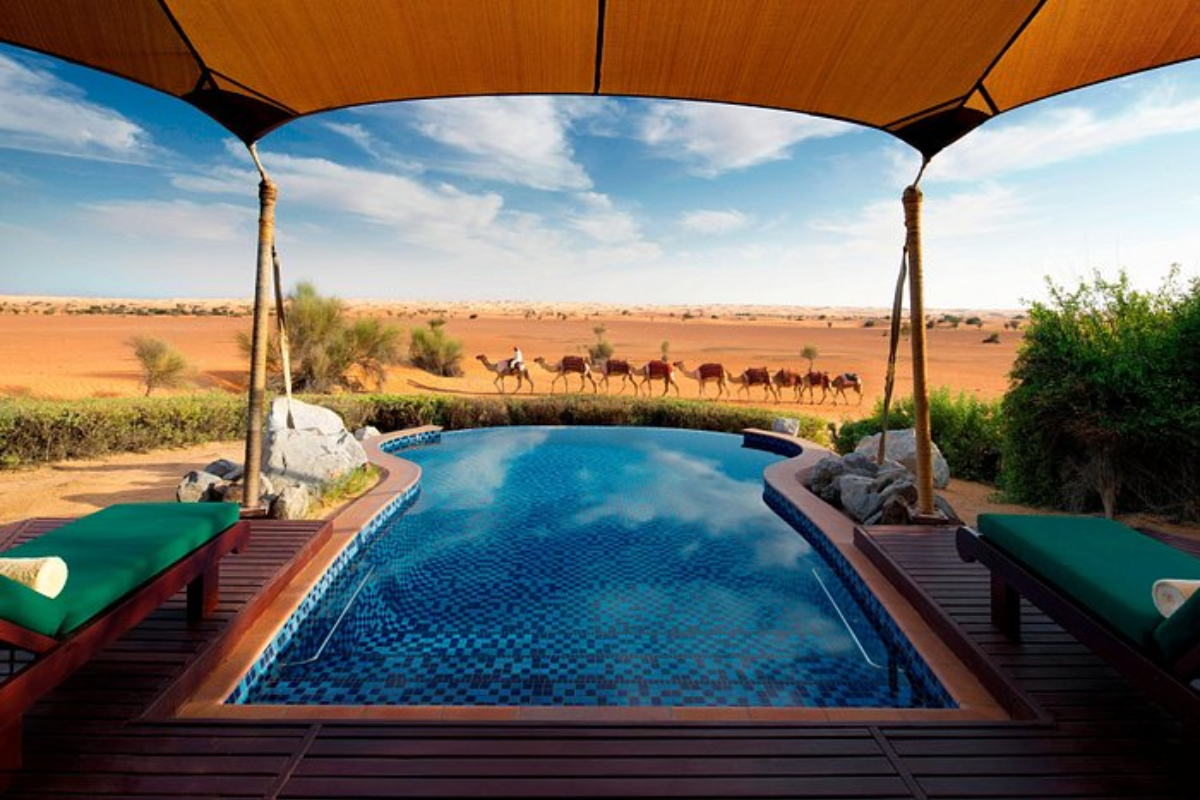 Give yourself a refreshing retreat at Al Maha Desert Resort, which is seated elegantly along the palm's trails. Featuring the ornate architecture of Bedouins, here you can savour the tinge of royalty. At this upscale resort, you can experience a wide range of top-notch amenities like the Hajar Terrace Bar and Al Diwaan, which are its well-furnished bar and restaurant. Apart from this, a temperature-controlled infinity pool, round-the-clock service, and exceptional hospitality is something which adds up to a unique stay experience.
Stargazing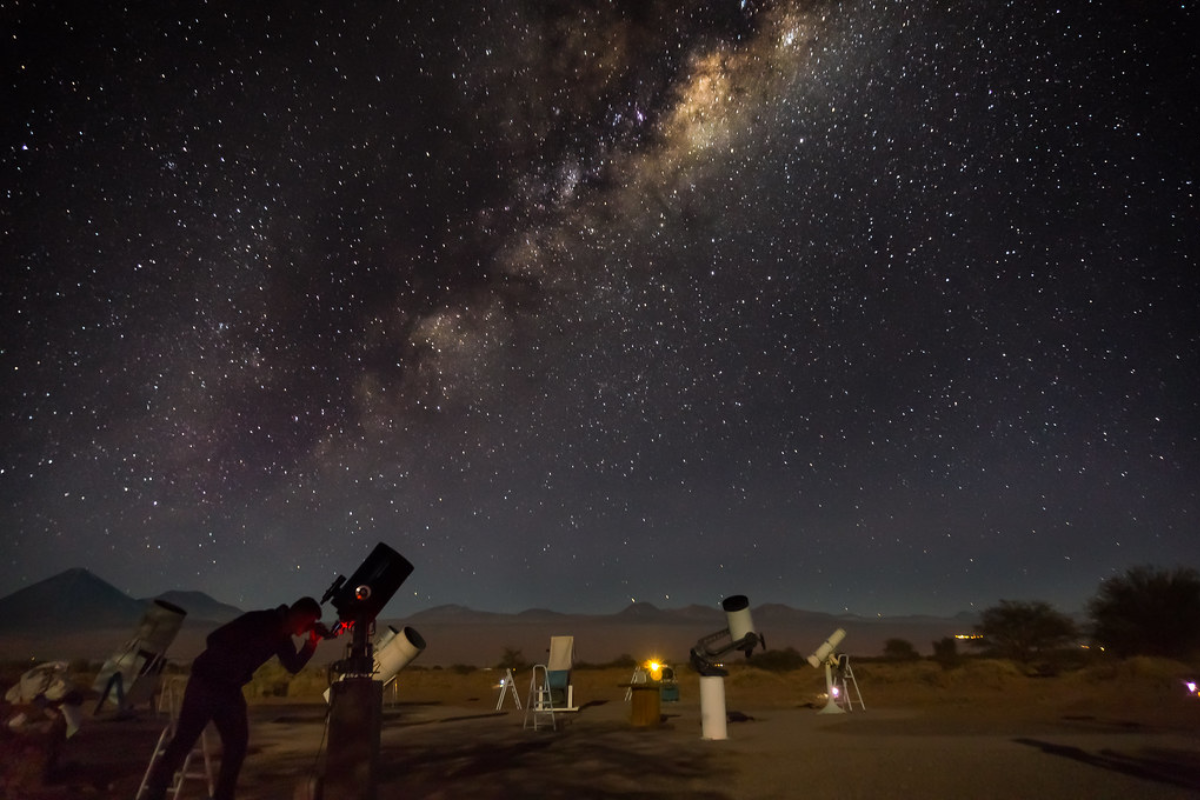 The desert offers clear skies and minimal light pollution, making it an excellent place for stargazing. Enjoy spectacular telescope views of the mesmerizing night sky decked with billions of stars in a stargazing experience like never before. This enjoyable activity is carried out on the ever-stylish, legendary vintage Land Rover. With night-vision binoculars and headlamps, take in the breath-taking scenery. Join a stargazing tour or simply lie back on the sand and admire the countless stars that illuminate the night sky.
Falconry Experience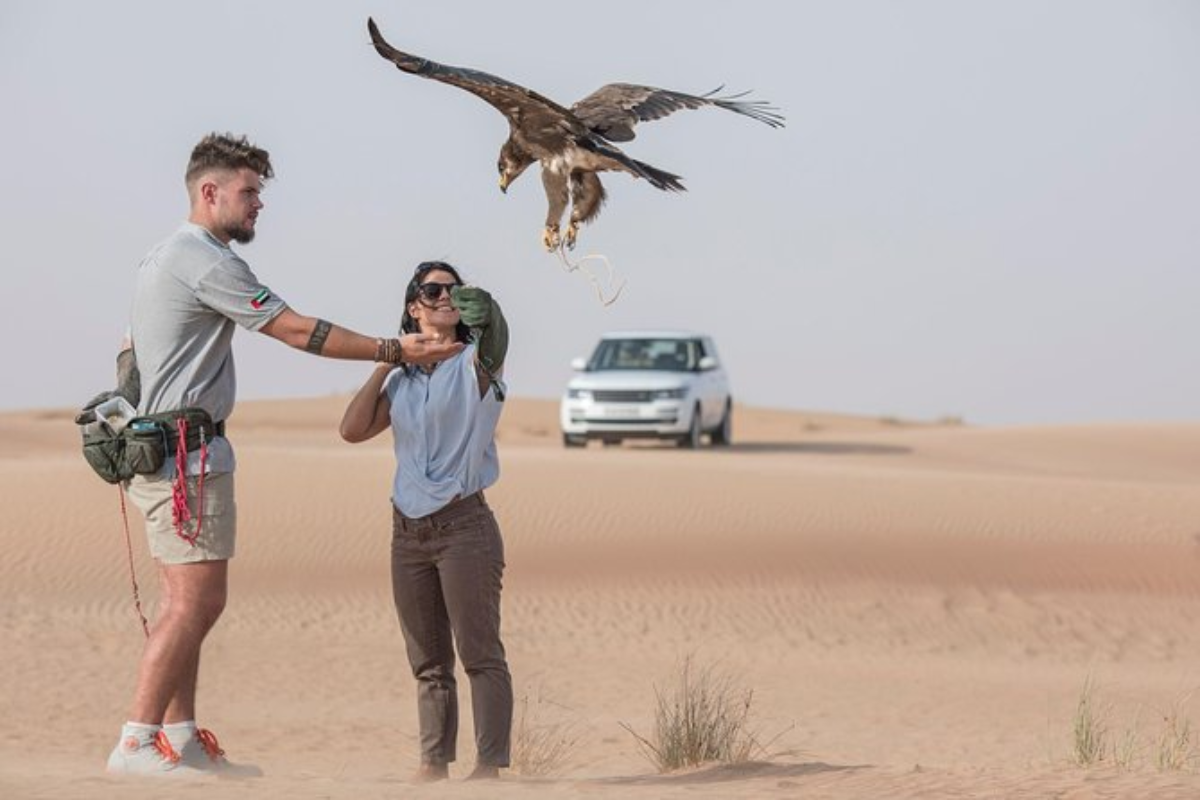 Indulge in the extreme majesty of the UAE's falconry experience and learn more about the ancient tradition of falconry in this desert land. Learn about the history of an age-old practice that employs trained birds to hunt their prey. Watch falcons fly up to 4,000 feet, which are trained to give a demonstration. Grab the opportunity to admire these birds' natural agility and strength. Feel your heart racing as you mount these stunning falcons on your hand to have a go at swinging a lure. The best thing about this is that you will be interacting with the falcons and learning more about the age-old tradition of falconry.
Live like the Bedouins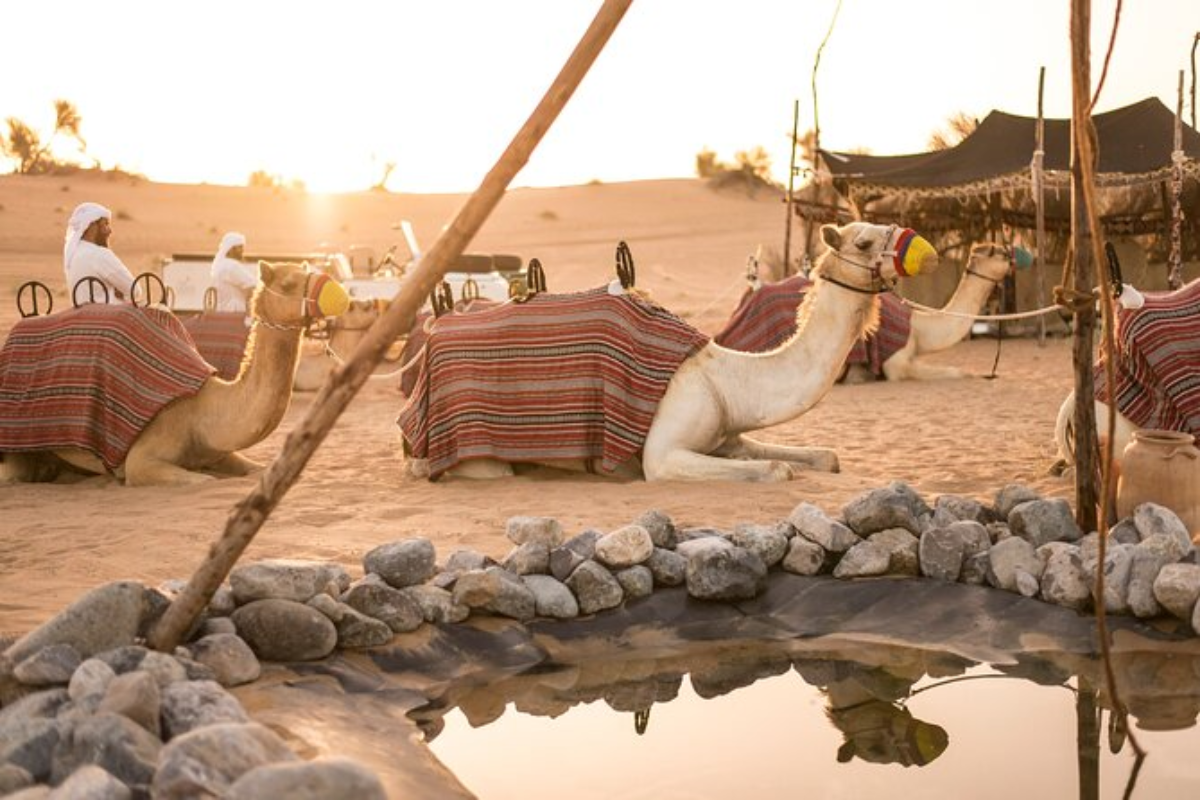 Bedouins are nomadic people who have made their home in the desert for centuries, and they offer a unique insight into the land. A Bedouin camp typically consists of several large tents, called barastis, which are made from animal hair and date palm fronds. Inside, there is usually a central area for cooking and eating, as well as sleeping quarters for families and guests. Visitors to a Bedouin camp can expect to enjoy traditional foods such as lamb stew and flatbread, as well as learn about the Bedouin way of life. With its fascinating culture and stunning scenery, a Bedouin experience is an unforgettable way to discover Dubai.
Travel tips
·  The best time to visit a desert safari in Dubai is between November and March. The temperatures can moderately rise, but during this period of time, it should be okay.
· Always keep yourself hydrated.
· Make sure your clothes are appropriate for the activity you choose.
· Dune bashing, quad biking, sandboarding, and dune bugging can be rough rides. Pregnant women are not advised to do the above activities. It is also not suited for people with neck or back problems or those who suffer from nausea or vertigo.
· Don't forget to wear a hat, sunglasses, and sun cream to protect yourself from the sun – it's quite strong.
· The temperature drops in the evenings in the desert, so make sure to take warm clothes to put on later in the evening. Wear comfortable clothes and shoes – preferably sandals, to take the sand off easily.
· Listen to your guide before boarding a camel, as it's not the same as doing so on a horse.
· Don't forget to take your camera – there are a lot of wild deer, camels, horses and reptiles that you will surely want to capture with your camera.
We hope this comprehensive guide helps you plan your itinerary for your trip to Dubai!
Read Also: