Sometimes you simply have to let go and unleash your inner rock star; and what better way to do that than having a karaoke night? People often get together at home to sing or simply sing alone in the shower, but why not get a taste of stardom and try doing it in a karaoke bar? The term "karaoke," which basically translates to "empty orchestra," first emerged in Japan in the 1970s but has since become popular all over the world.
At these fun, exciting places there is no embarrassment, everyone is welcome to sing their heart out!  You will find that the best karaoke bars in Dubai come with a wide range of songs in different languages, which is something you will enjoy if your favorite music includes numbers by international artists such as Britney Spears and Celine Dion. Most of these karaoke bars also offer some awesome offers if you really prove your vocals! So, whether you feel like you're the next big thing, or just want to have fun with your friends, these karaoke bars in Dubai will allow you to sing your heart out to whatever song you want!
1. Mr Miyagi's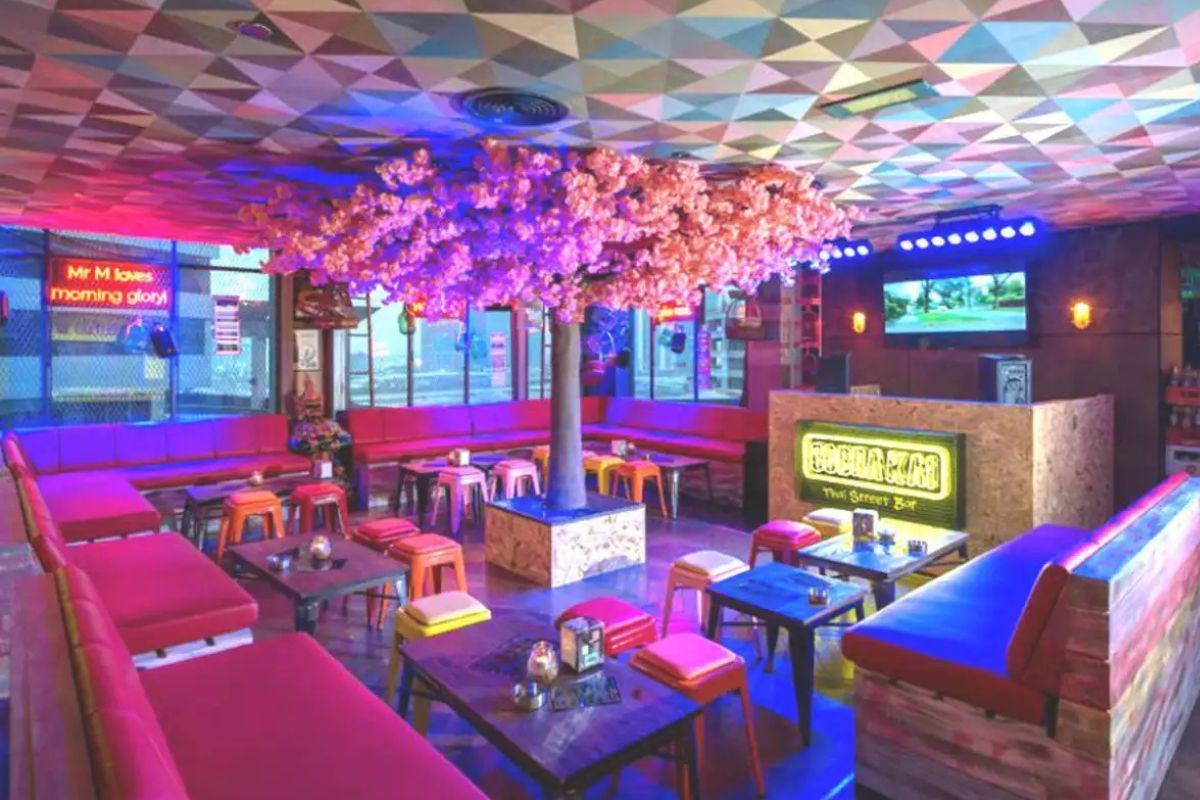 This Asian-themed restaurant and bar is perfect for a hangout with friends, families, or co-workers. Enjoy some Thai street food and take advantage of their weekly offers: Wok-n-Roll, Wax On Wax off Brunch, Ladies Night, and a weekly karaoke quiz! And if you're shy to perform in front of a crowd, don't worry! The karaoke hosted at Mr Miyagi's is done from the comfort of your table, with lyrics on the tablet given. The entire restaurant is decorated to make you feel the fusion of all of East Asia, including Japanese Cherry Blossoms and bright neon lights. With two branches in Media One and in Studio City, Mr Miyagi's karaoke night takes place every Saturday, and you can even enjoy happy hour along with it.
Timings for the Media One branch: from 5:00 PM to 3:00 AM on Wednesdays through Sundays and closed on Mondays and Tuesdays.
Timings for the Studio City branch: from 4:00 PM to 1:00 AM on Sundays and Mondays, 4:00 PM to 2:00 AM on Tuesdays through Fridays, and 3:00 PM to 2:00 AM on Fridays and Saturdays.
2. Lucky Voice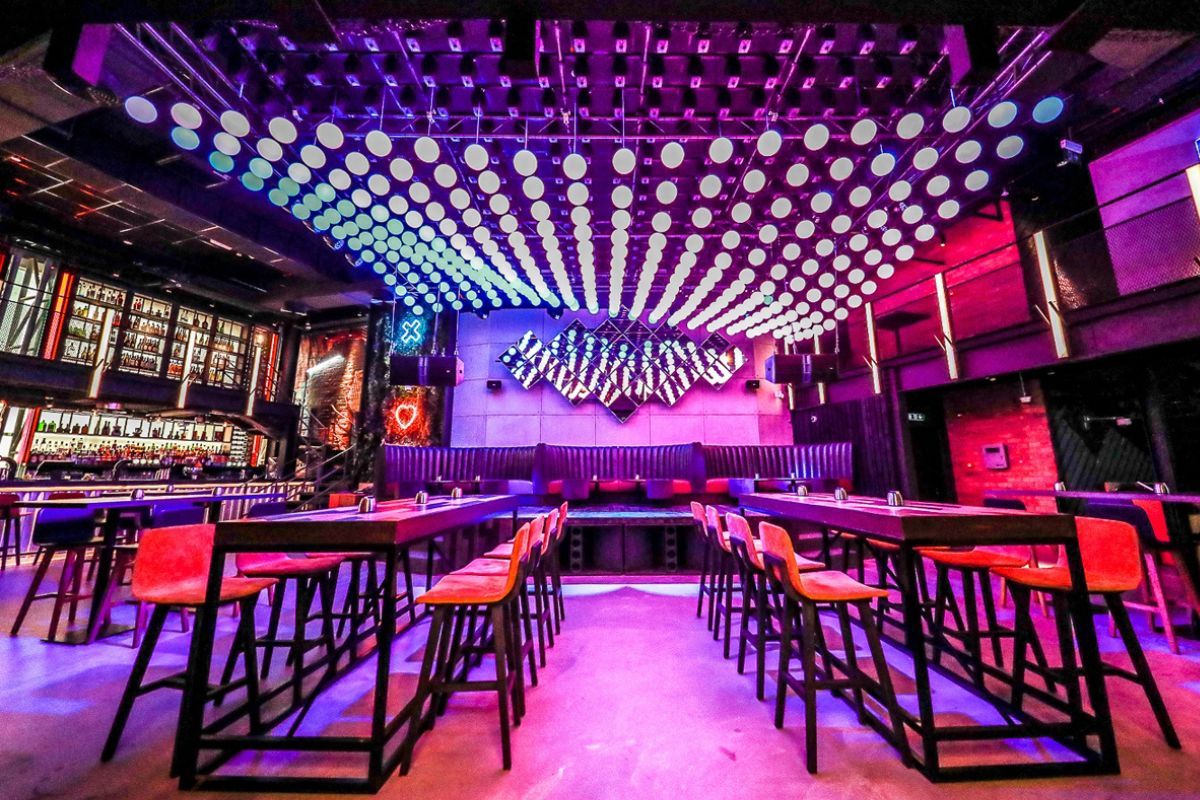 Located in the Grand Millennium Hotel in Barsha Heights, Lucky Voice is one of the most popular karaoke spots in Dubai. Since its original inauguration in London, this karaoke bar has opened 5 different branches scattered around the world. The karaoke machines at Lucky Voice hold over 10,000 songs, so you can never run out of things to sing! Their private rooms can hold up to 25 people, which makes the venue perfect for parties and hangouts. Not only is the karaoke experience incredible at Lucky Voice, but their offers give much more to love about the area. Daily happy hours, Ladies' Night, and brunches are only a few of the awesome things you can experience on your visit!
Timings are from 5:00 PM to 3:00 AM from Sundays through Fridays, from 1:00 PM to 3:00 AM on Saturdays, and Mondays are closed.
3. Kung Korean Club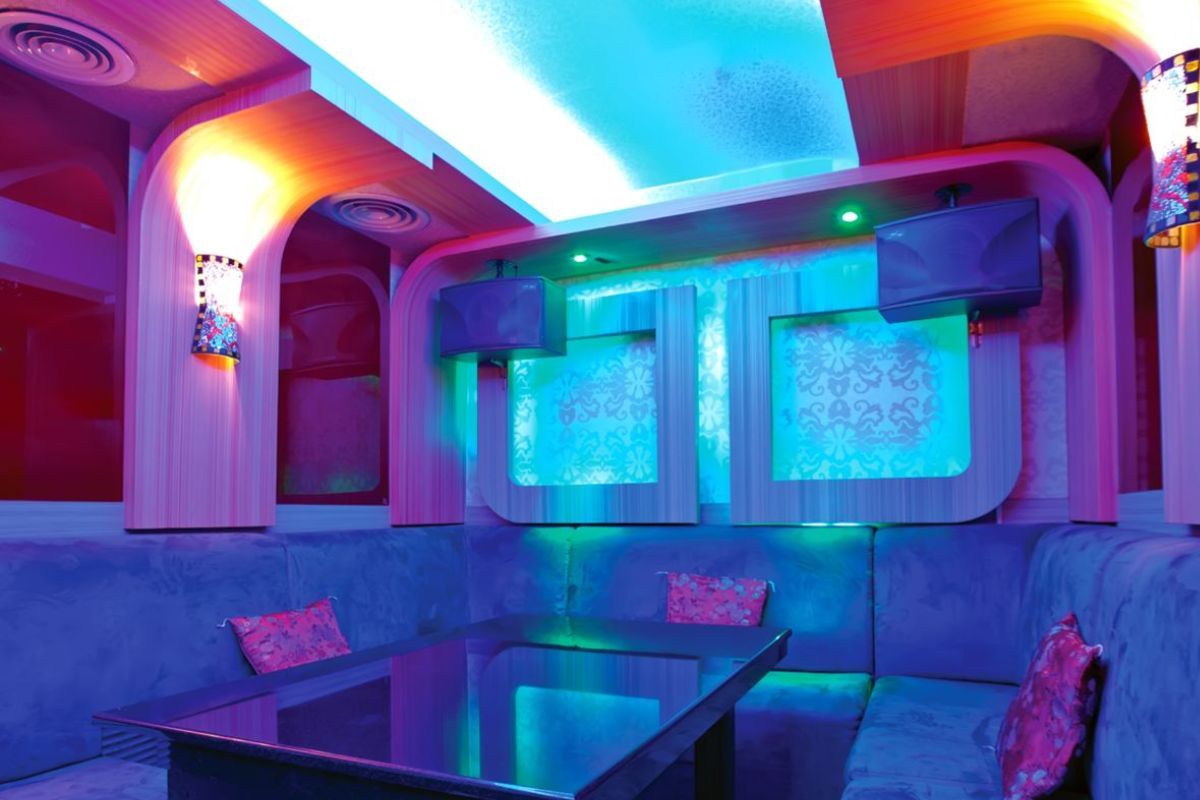 This Korean bar is located in the Byblos Hotel in Barsha Heights. Their colourful private booths let you sing your heart out to all your favourite songs. But that's not all, the machine can also rate your performances out of 100, so you can stir some competition with your friends! The booths hold up to 20 people, and you can order some finger food directly delivered to your room!
The club's timings are from 10:30 AM to 2:00 AM daily.
4. ZROOM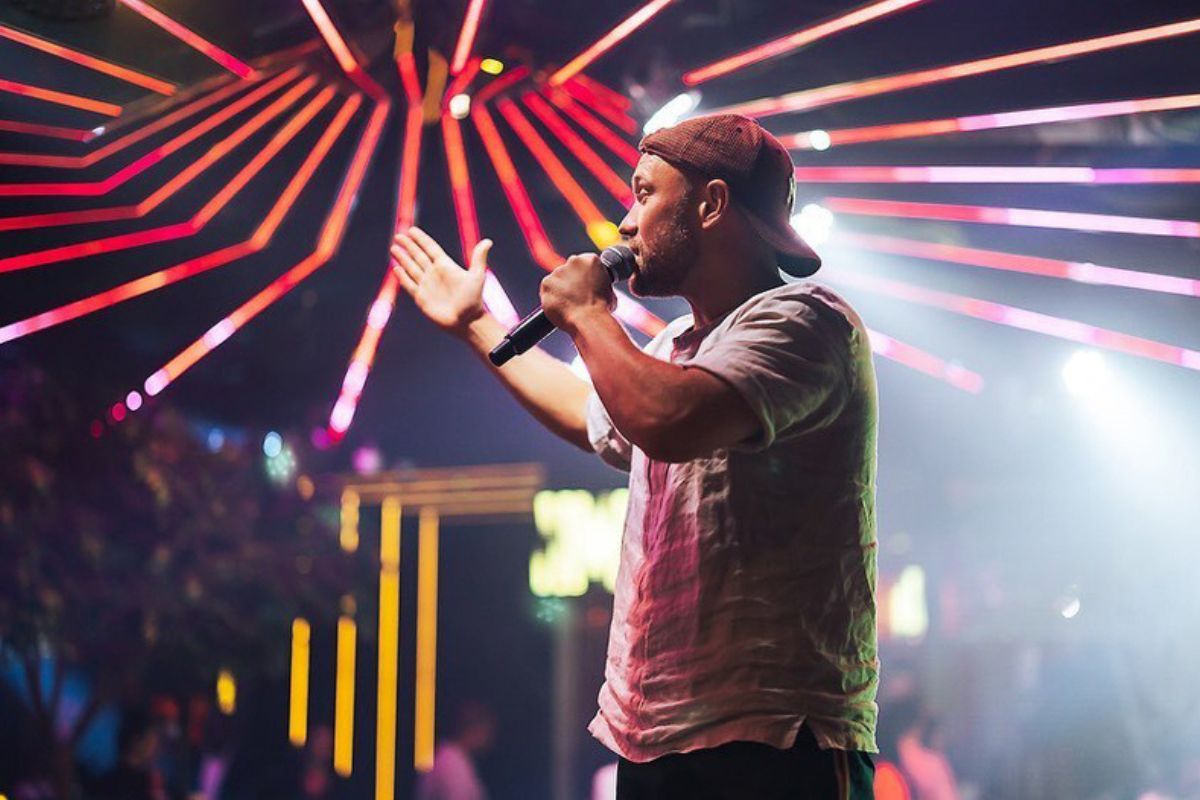 ZRoom is one of the most luxurious karaoke bars in Dubai. Situated in The Pointe, the bar offers a Mediterranean menu, is designed with a black and gold theme, and is perfect for any kind of singing competition! With live dancers, DJs, and even aerial artists and fire-eaters, you're guaranteed to have an unforgettable karaoke experience. You can attend their daily events and enjoy singing with a view of the Palm, the Fountain, and Atlantis.
The bar's timings are from 1:00 PM to 4:00 AM daily, and karaoke starts at 9:00 PM
5. Maiden Shanghai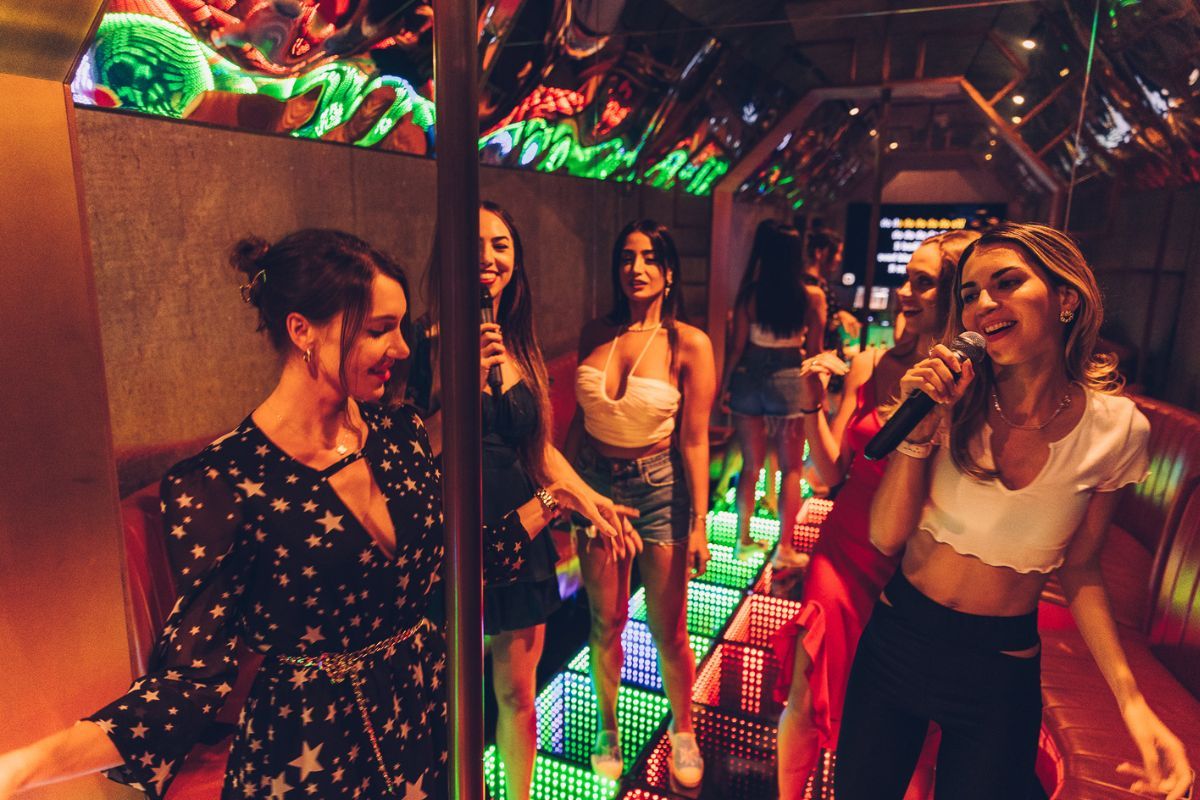 There's always something to sing about at Maiden Shanghai. Gather the squad for gourmet Chinese food & artisan drinks at their private karaoke room, ideal for groups and celebrations.
Price: From AED199 per person.
Planning a birthday bash or an intimate dinner?  Maiden Shanghai has got you covered whatever the occasion. Take your pick from their three spacious private dining rooms, and let them take care of the rest. Carefully designed to offer a private dining experience that is set in the heart of the restaurant, two of their dining rooms come complete with private outdoor terrace. Celebrate your special occasion in style.
You can book prior to your event on their website.
The restaurant's timings are from 12:30 PM to 12:00 AM on Wednesdays and Sundays, and from 12:30 PM to 1:00 AM on Fridays and Saturdays, with a break from 3:30 PM to 7:00 PM. And from 7:00 PM to 12:00 AM on Mondays and Tuesdays.
6. Miss Wang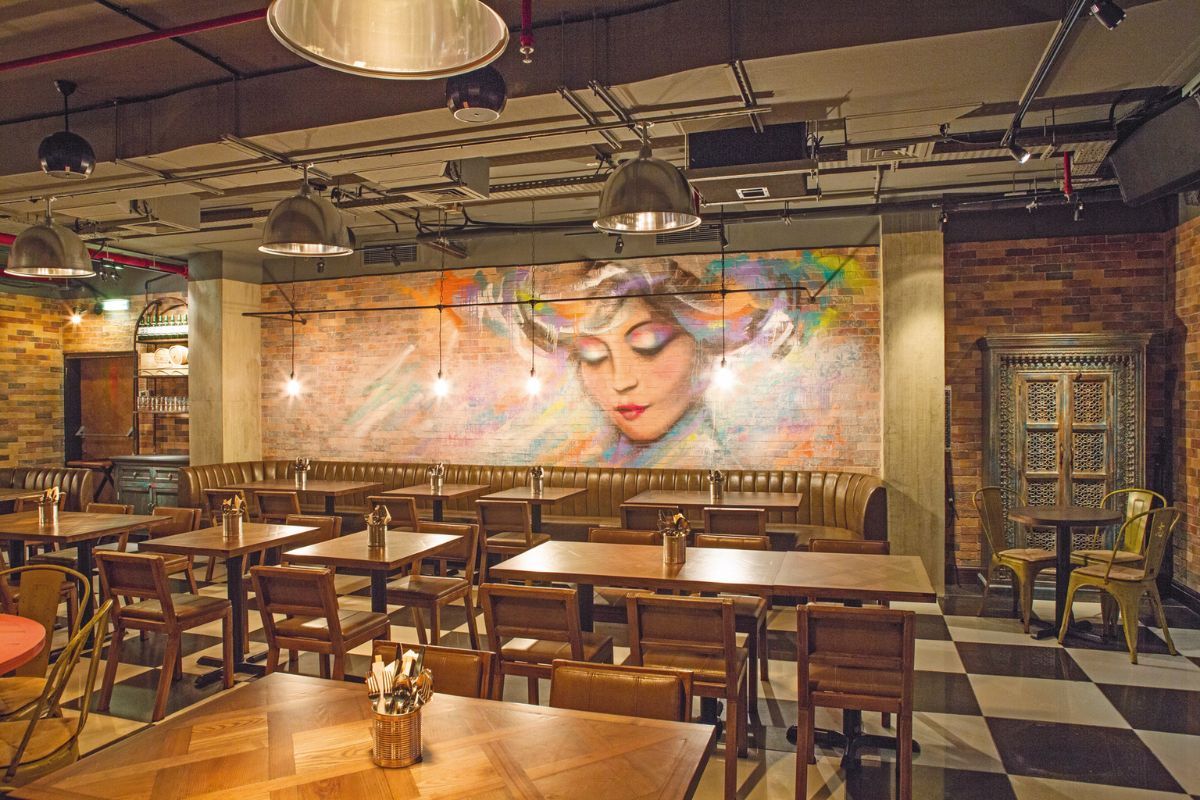 Hidden in Bur Dubai's Majestic Hotel Tower, Miss Wang is perfect for a fun night out. Indulge in some classic asian food, experience the live bands, and of course enjoy their karaoke room! The room can hold up to 10 people, and it's available on a first come first serve basis, so dont miss out. Every Saturday, they also host a Karaoke Brunch, which includes unlimited drinks and snacks for 149 AED.
The timings for this restaurant are from 6:00 PM to 3:00 AM daily.
7. Yuraku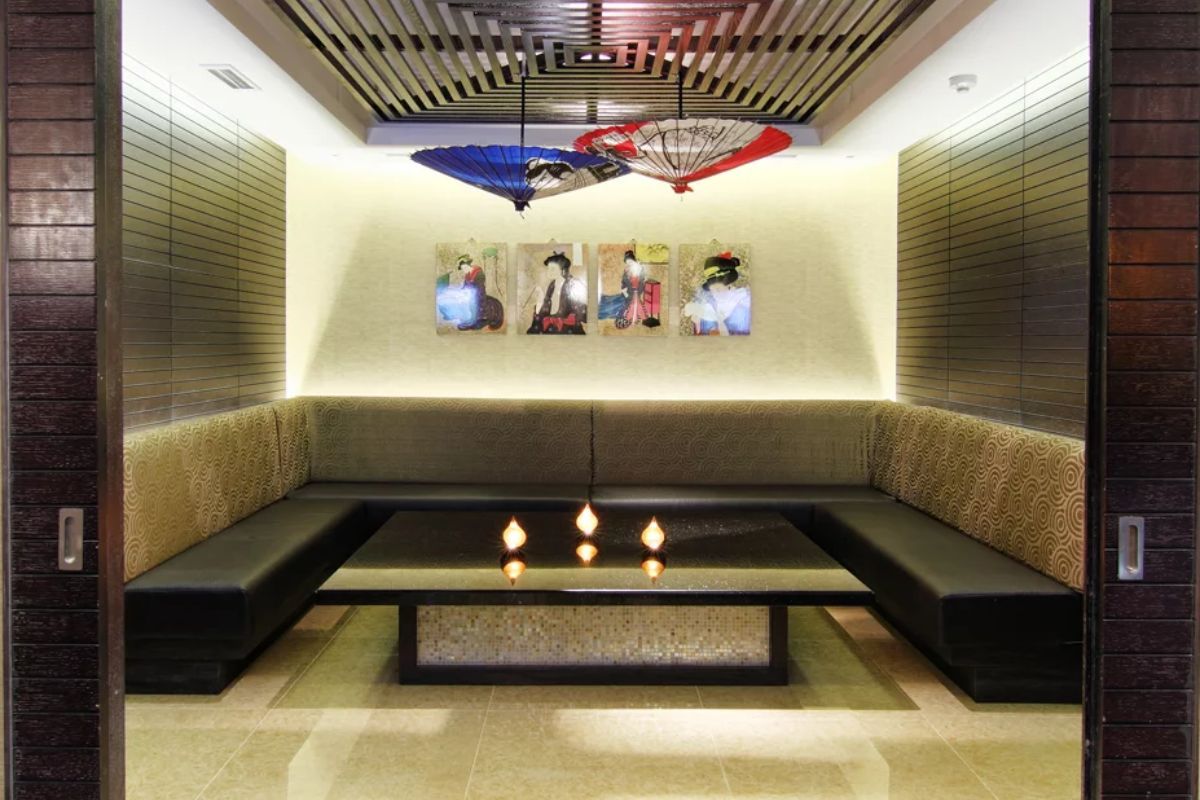 Directly translating to "joy" in Japanese, Yuraku is located in the Asiana Hotel. This diner specializes in the best of Korean, Japanese, and Filipino street food and also has two open kitchens and casual dining. A place where you can unwind, relax, take advantage of our special offers and promotions, and enjoy the private karaoke rooms; it's the ideal setting for families and friends alike, as well as for people looking for a quick bite after a long day. The restaurant is headed by the hotel's executive chef, James Kang, who has over 20 years of experience. Their menu features the best of east Asian food, like Korean barbeques, ramen, and robatayaki.
The timings are from 12:00 PM to 12:00 AM daily.
8. The Stables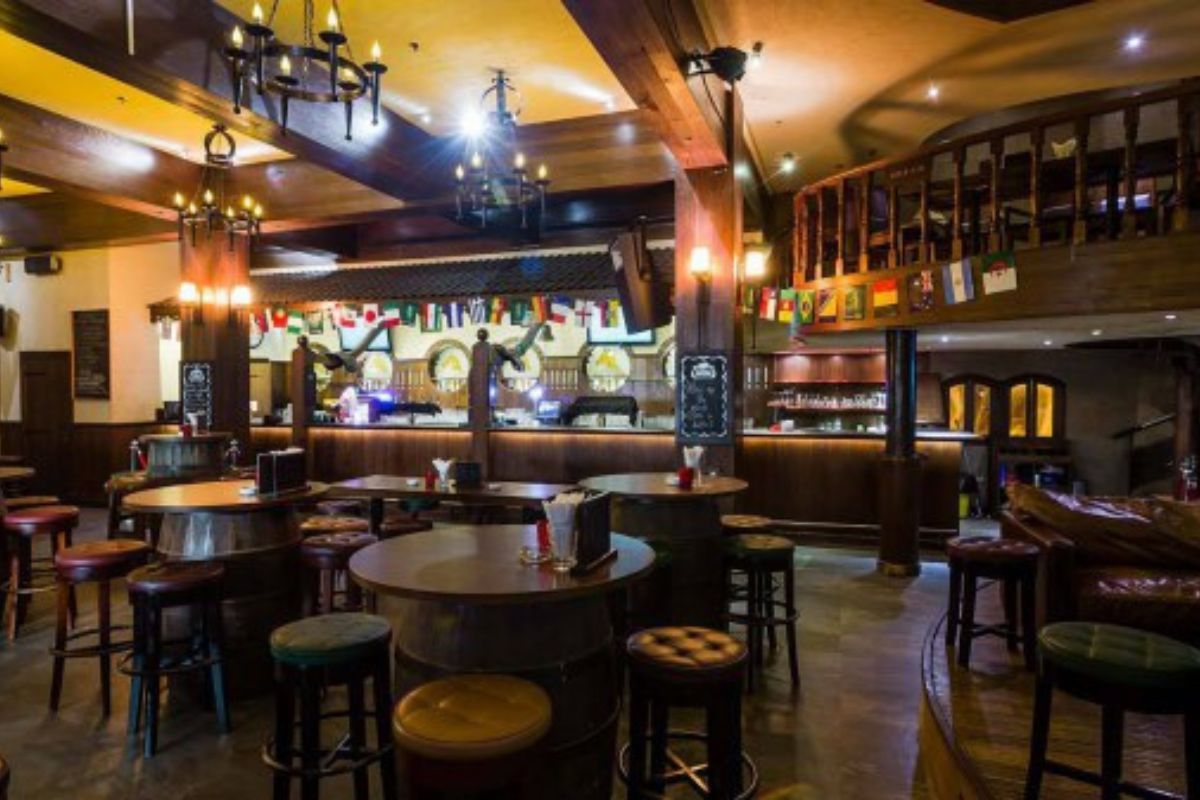 The Stables is a classic British pub, with live music, a bar, and of course some fish and chips! Located in the White Crown Building in the Trade Center area, The Stables hosts countless weekly events, and that includes karaoke. You can visit BritPop Night, their Rogue Wednesdays, or the Live & Loud event every Friday. Aside from live music, this is the perfect place to practice your vocals and enjoy some delicious food!
This pub's timings are from 12:00 PM to 4:00 AM daily.
9. RockBottom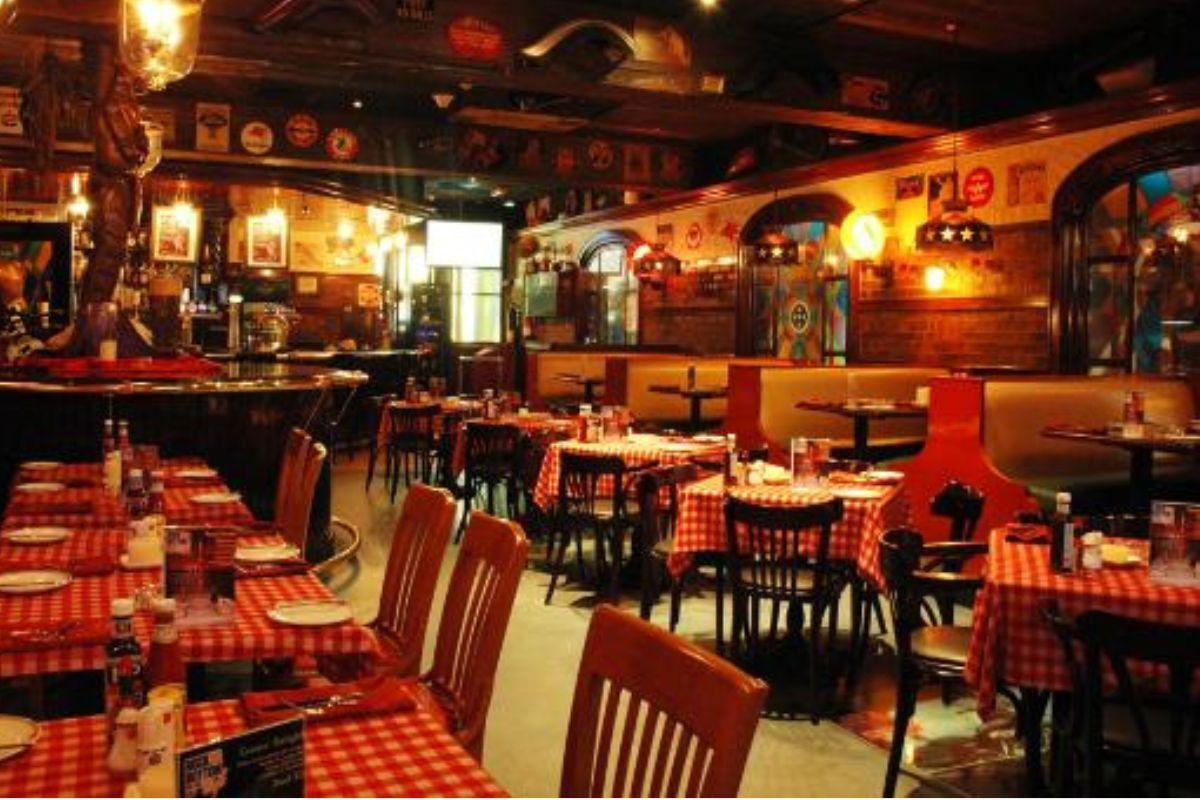 Situated in the Ramee Rose Hotel in Barsha Heights, Rock Bottom Cafe is your traditional American diner, complete with live DJ's and happy hour. Their karaoke nights take place every Friday, where every singer gets free drinks!
The diner's timings are daily from 6:00 PM to 3:00 AM.
Happy hours are from 6:00 PM to 8:00 PM on Thursdays and Fridays, and from 6:00 PM to 9:00 PM on all other days.
10. Miss Tess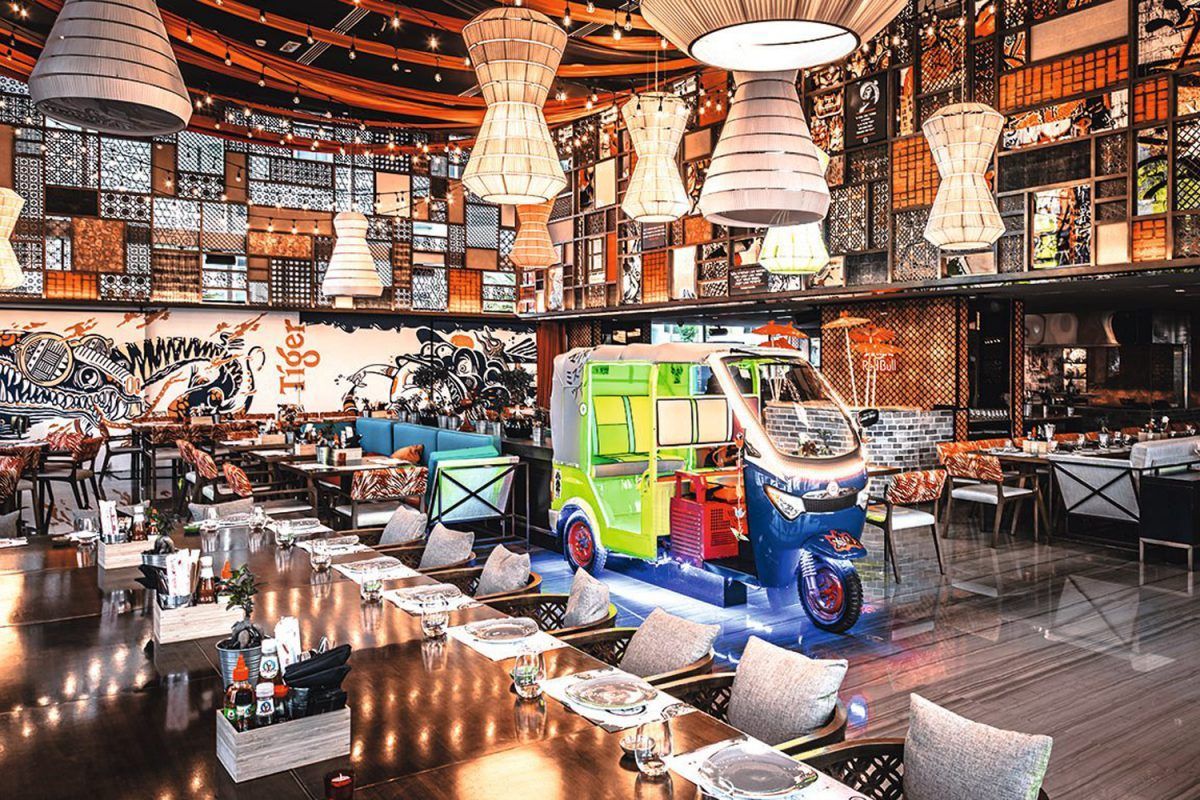 Located in the Taj Hotel, the Miss Tess restaurant makes you feel like you're walking in the streets of Shibuya. You don't need to worry about difficulty finding the restaurant, as the loud cheery K-POP music is heard across the venue. The eatery offers some fun weekly events: Karaoke every Monday, All You Can Eat Sushi on Sundays, Asian Invasion on Thursday, and of course a Ladies Night every Monday! Not only is the restaurant an exciting place to visit, but it's also inspired by the life of one Miss Tess, who grew up on the streets of her country and learned all about the street food. She then spread her knowledge through this restaurant! Visiting the restaurant, you may even get the chance to meet Miss Tess herself.
This restaurant is open daily from 6:00 PM to 2:00 AM.
11. Other Office Karaoke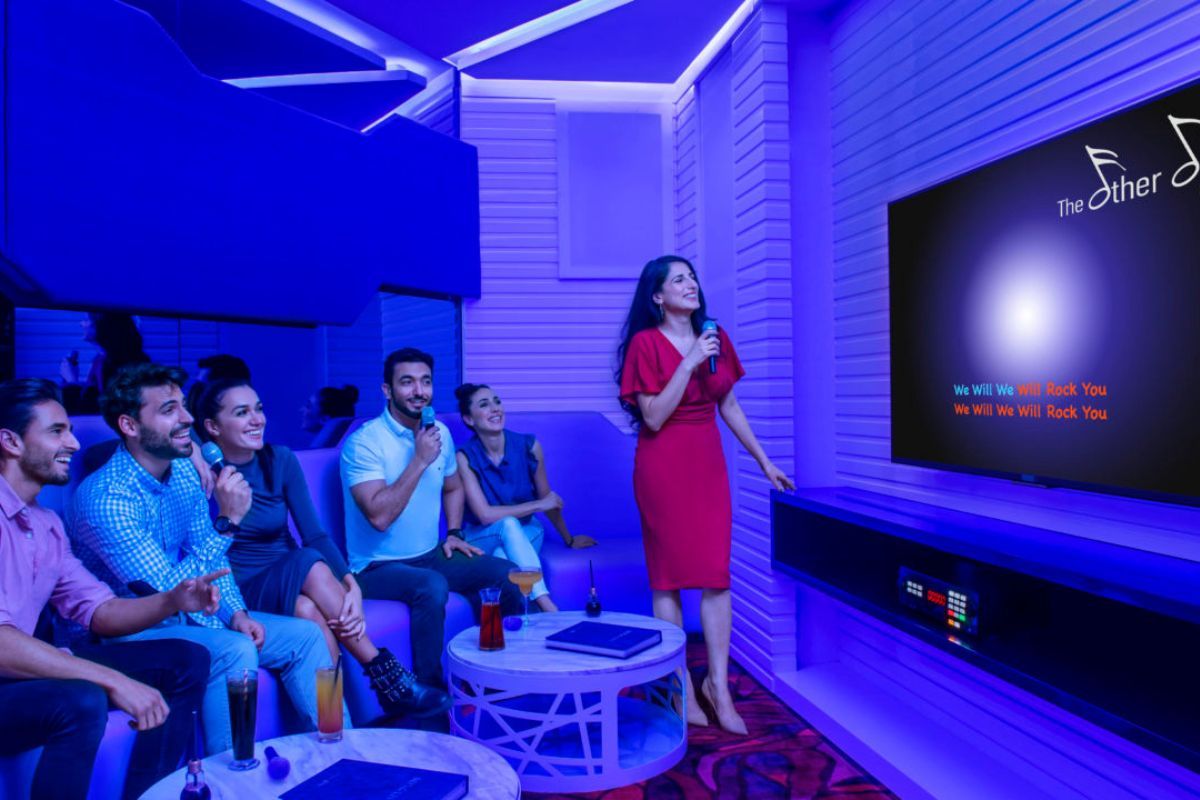 Located in the Gulf Court Hotel in Business Bay, the Other Office Karaoke is not only perfect for friends, but also for co-workers! They hold 5 private karaoke rooms, each able to hold up to 12 people, and each karaoke machine has all the hits all the way from the classics to the latest hits. You can get together with your friends in these hidden gems and sing songs from the East and the West! Not only that, but you can also even indulge in some bites, snacks, and drinks while you steal the spotlight. But what's especially special about these karaoke rooms is the breathtaking view of downtown Dubai. You can also take advantage of their offers and packages, each giving you benefits regarding the food and drinks.
The karaoke bar timings are from 6:30 PM to 2:00 AM on Sundays through Wednesdays, and from 6:30 PM to 3:00 AM on Thursdays, Fridays, and Saturdays.