When the talk turns to electronics in Dubai, simplicity and variety are the keywords. The city is home to numerous retail locations, each offering a wide range of electronic goods that appeal to both technology enthusiasts and everyday consumers.
The city is renowned for providing access to the latest gadgets, balancing quality with affordability, and presenting a multitude of choices to those who are keen on exploring the diverse electronic market.
This article aims to make your electronics shopping experience uncomplicated and rewarding, highlighting places that offer the best value and choice, to help you find your desired gadget with ease and confidence.
Sharaf DG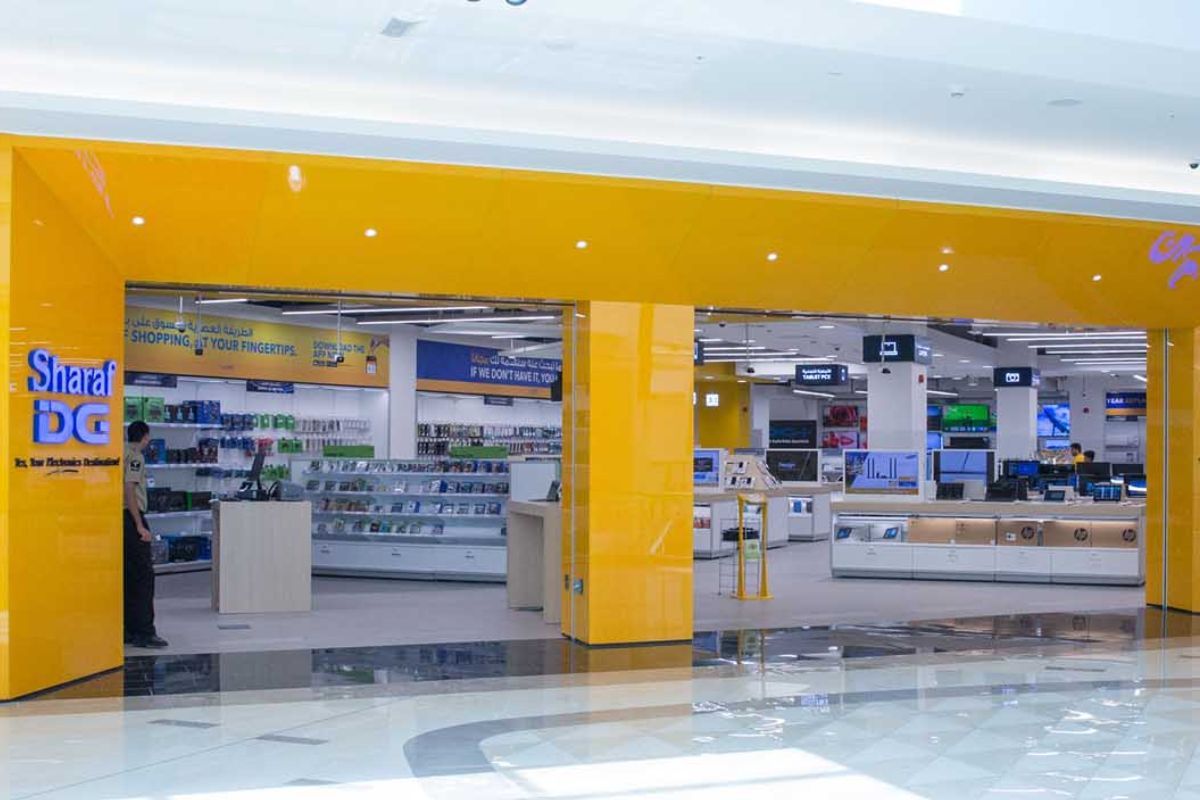 The Sharaf Group was founded in 1968, initially serving as a shipping agency, with the aspiration to evolve into a premier international entity.
Headquartered in Dubai, the group launched Sharaf DG in 2005, and ever since the brand has rapidly evolved to become a leading electronics retailer in the region, marking its presence with 33 stores across the United Arab Emirates, Bahrain, Egypt, and Oman.
The company's extensive selection, exceeding 25,000 products, encompasses reputable international brands, ensuring customers have a variety of options. It aims to offer this range of electronics at the best value, all under one roof, making it a go-to destination for consumers in the region.
Sharaf DG stands out for its unique customer-centric services such as the 24-hour 'Product not available, claim free' promise and the 'best price guarantee', aiming to solidify customer trust by offering the best market prices and addressing product availability concerns promptly and satisfactorily.
The company continually expands its product range to transform into a one-stop shopping destination.
Locations: Mall of the Emirates; Times Square Centre; City Centre Deira; Dubai Mall; Ibn Battuta Mall; BurJuman; Al Gadhir Building, Al Raffa; Meena Bazaar; City Centre Mirdif.
EMAX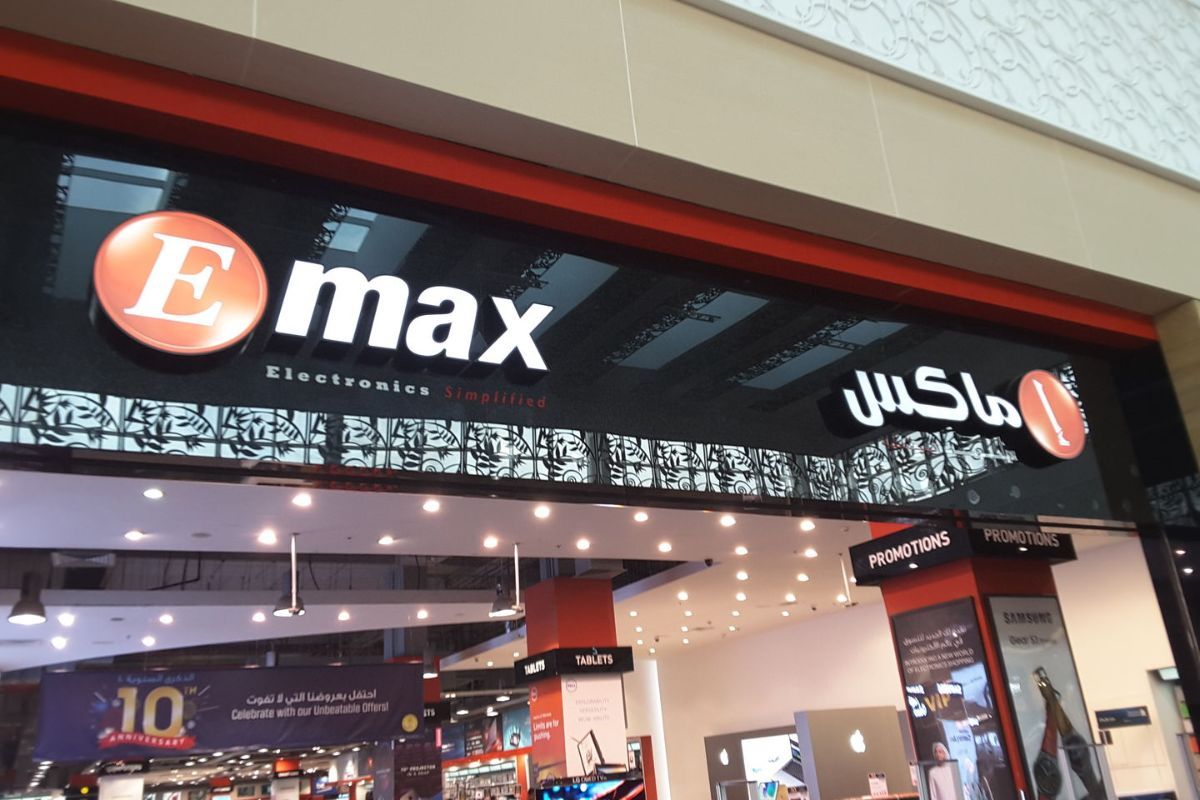 Emax, inaugurated in 2006 as a crucial component of the iconic Landmark Group in the UAE, is renowned as one of the most substantial electronics retailers in the region. It has expanded its footprint, housing over 37 stores in Oman and Qatar besides the UAE.
Acclaimed for its diverse offerings, Emax provides a range of over 20,000 products across varied categories including Mobile Phones, Laptops, Home Appliances, Audio, Gaming, and more, presenting over 200 esteemed brands like Apple, Samsung, LG, Sony, and Panasonic under one roof.
With services like 'the mobile swap' offer and exclusive online memberships providing significant discounts, Emax ensures customers receive optimum value and choice, making it a preferred destination for electronics in Dubai.
Emax stands out for its extensive loyalty programs - The VIP, VVIP, and Chairman's Club in the UAE, offering exclusive benefits and privileges to its members.
Whether you're looking for the latest gadgets or seeking deals on everyday appliances, Emax's extensive range and customer-centric approach make it a prominent choice for electronics shoppers in the region.
Locations: Palm Nakheel; City Centre Mirdiff; Oasis Centre 2; Burjuman Centre; Al Ghurair Centre; The Dubai Mall; City Centre Deira; Ibn Battuta Mall; SZ - Sky Garden; Mall of the Emirates.
JUMBO ELECTRONICS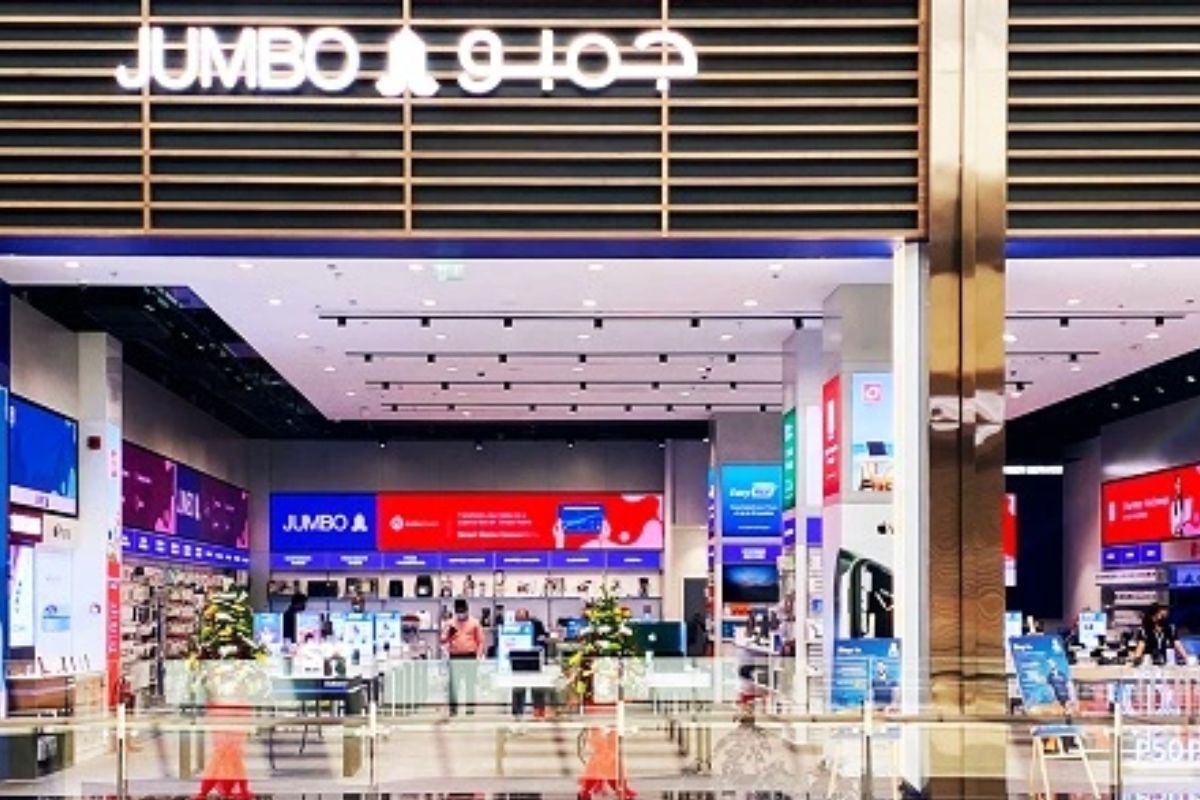 Jumbo, founded over 40 years ago, has been instrumental in transforming the electronics landscape in the region, evolving into a formidable corporate entity. From its beginnings as a brick-and-mortar retailer, Jumbo has developed into an OmniChannel Retailer, ensuring a seamless shopping experience both online and in-store.
Jumbo offers a broad and diverse portfolio, providing access to the latest technology products and services. This includes mobile phones, laptops, TVs, cameras, gaming equipment, and lifestyle products from high-end premium brands like Sony and Dyson. Jumbo is not just a retailer but also operates as a strategic partner managing brand boutiques and DU franchise stores across the UAE.
Jumbo's commitment to customer satisfaction is reflected in its range of after-sales services, including support from Jumbo Serve, reportedly the largest service centre in the UAE, and installation support and smart home services from Jumbo UnwiredCrew. It also offers value-added services like Jumbo Salama and Jumbo Exchange to further enhance customer experience.
Jumbo continues to be a trusted retailer in the UAE, offering superior experience and customized offerings, both online and offline, to meet the diverse needs of its customers.
Locations: Al Fahidi; Mall of the Emirates; Dubai Hills Mall; City Centre Mirdiff; City Centre Deira; The Dubai Mall.
VIRGIN MEGASTORE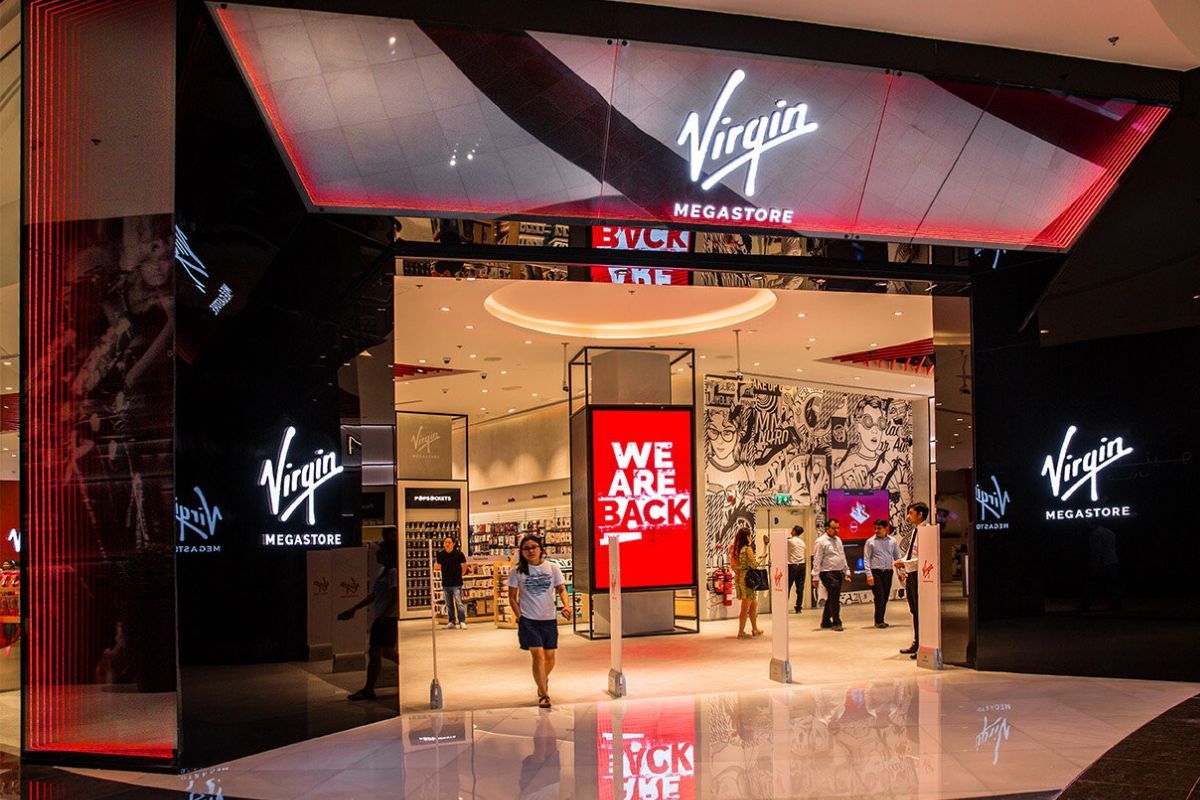 Originating as a record shop in 1976 by Richard Branson, Virgin Megastore swiftly grew into an international icon, known for its extensive and diverse offerings. Since 2015, it has solidified its reputation as a leading entertainment and lifestyle retailer in the MENA region, operating over 35 stores.
The store's electronics section is renowned for housing top brands, offering products such as headphones, mobile phones, computers, and accessories, along with drones, toys, and smart home gadgets.
Customers are offered several benefits like the Virgin Circle Dots program, allowing the collection and redemption of points on purchases. Additionally, Virgin Megastore allows customers to pre-order items and provides various schemes for optimal value, such as a 0% installment scheme with partner banks.
These features, coupled with its varied product range and customer-centric approach, make Virgin Megastore one of the preferred destinations for buying electronics in Dubai.
Locations: Dubai Hills Mall; Marina Mall; Ibn Battuta Mall; Mall of the Emirates; Mercato Mall; City Centre Mirdif; Nakheel Mall; The Dubai Mall; The Raches Souk.
CARREFOUR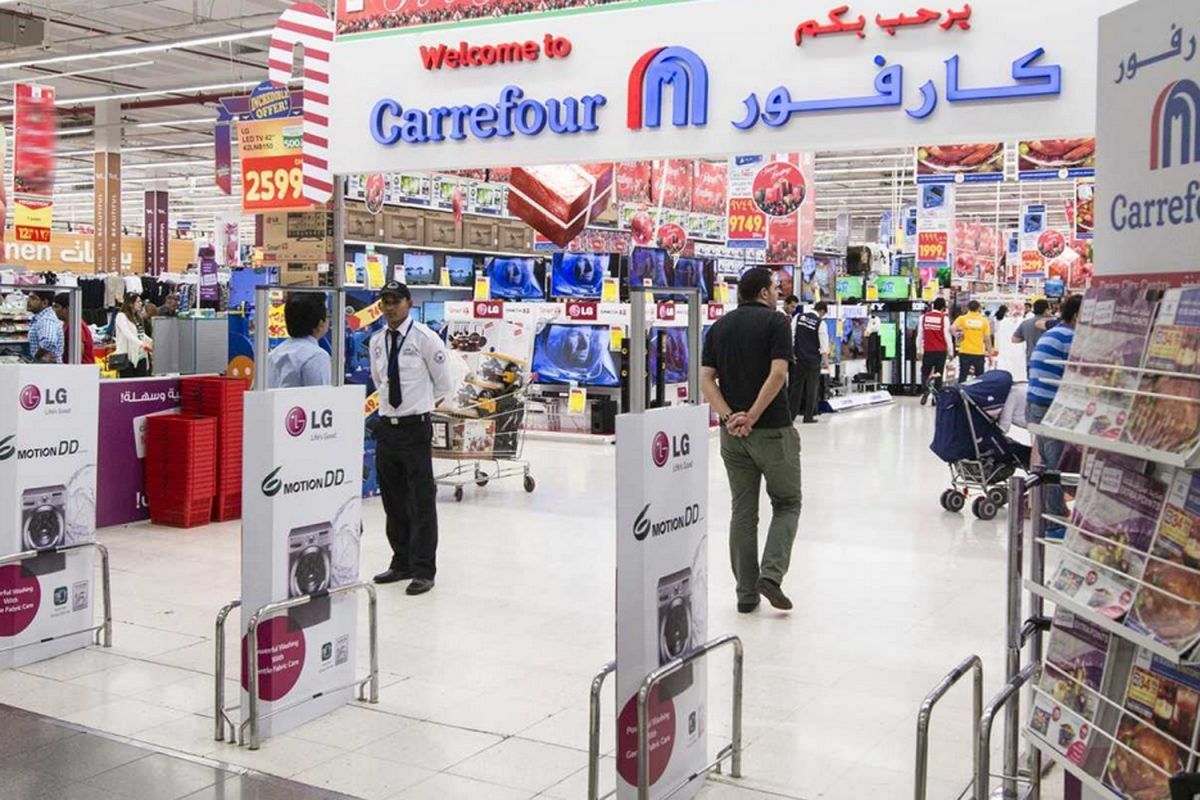 Carrefour, franchised by Majid Al Futtaim in 1995, stands as a significant electronics retailer in the Middle East, Africa, and Asia, including Dubai. It operates with a customer-centric approach, offering a seamless omnichannel experience that caters to the diverse needs of its broad consumer base.
Carrefour offers a wide array of quality products including electronics like gadgets, household appliances, and tech-related items, fulfilling the needs of its daily 770,000 customers.
The store provides unparalleled choices in electronics, ensuring quality and competitive pricing, making it a go-to place for those looking to buy electronics in Dubai.
Focused on offering high value for money, Carrefour constantly expands its range of private label products, which are comparable in quality to leading brands in the market but are more affordably priced. These private labels are meticulously developed, with rigorous testing to meet the highest levels of safety and quality standards mandated in the UAE.
Carrefour's dedication to quality, safety, variety, and value pricing in its electronics section, coupled with its innovative customer services, positions it as a preferred electronics retailer in Dubai.
Locations: Mall of the Emirates; City Centre Al Shindagha; BurJuman; Al Ghurair Centre; Century Mall; City Centre Deira; Dubai Festival City Mall; City Centre Me'aisem; Dragon Mart; Ibn Battuta Mall; City Centre Mirdif; Madina Mall; Wafi Mall.
Dubai provides a diverse range of stores for electronic purchases, catering to various needs and budgets, making it a go-to destination for buyers seeking value and variety in electronics.
Emax, with its expansive product range and strong regional presence, stands out for its varied offerings and exclusive loyalty programs. Jumbo OmniChannel Retailer is distinguished by its seamless integration of online and offline shopping experiences, fostering customer convenience and trust over the decades. Virgin Megastore emphasizes innovative retail experiences, quality, and value for money, while Carrefour prioritizes customer-centricity, product variety, quality, and affordability, especially in its electronics section.
From expansive product ranges to budget-friendly options and customer-centric services, these stores ensure every buyer finds exactly what they're looking for.
Also Read: