BITS Pilani Dubai Campus, the UAE's premier engineering university and the international arm of BITS Pilani, has announced the opening of its highly anticipated Center for Higher Education.
In response to a recent survey indicating that about 50 percent of its graduating students wish to pursue master's programmes, this initiative is designed to empower students by offering essential guidance and support for their higher education aspirations.
Inaugurated by professor V Ramgopal Rao, group vice chancellor of BITS Pilani, who flew in, especially for the 20th convocation ceremony and the opening of this prestigious centre, this dual celebration signifies BITS Pilani Dubai Campus's unwavering support for its students' academic pursuits and their aim to mark their presence on a global scale.
The newly established centre for higher education is poised to become a pivotal resource, offering vital guidance and knowledge. It will serve as a central hub for a range of activities, including Higher Education counseling, graduate admission guidance, and on-campus GRE and GMAT preparation sessions. These offerings have been made possible through a strategic collaboration with ScorePlus Education, the official partner of Princeton Review, renowned for its expertise in test preparation and admissions counselling, catering to students at all academic levels.
At the convocation ceremony, 294 students from various academic backgrounds received their degrees. Additionally, the event featured the recognition of accomplished alumnus Rakesh Kapoor, former CEO of Reckitt, with the prestigious BITS Ratna award. This honour celebrates his exceptional contributions to the corporate world, BITS Pilani, and society, notably through philanthropic endeavours.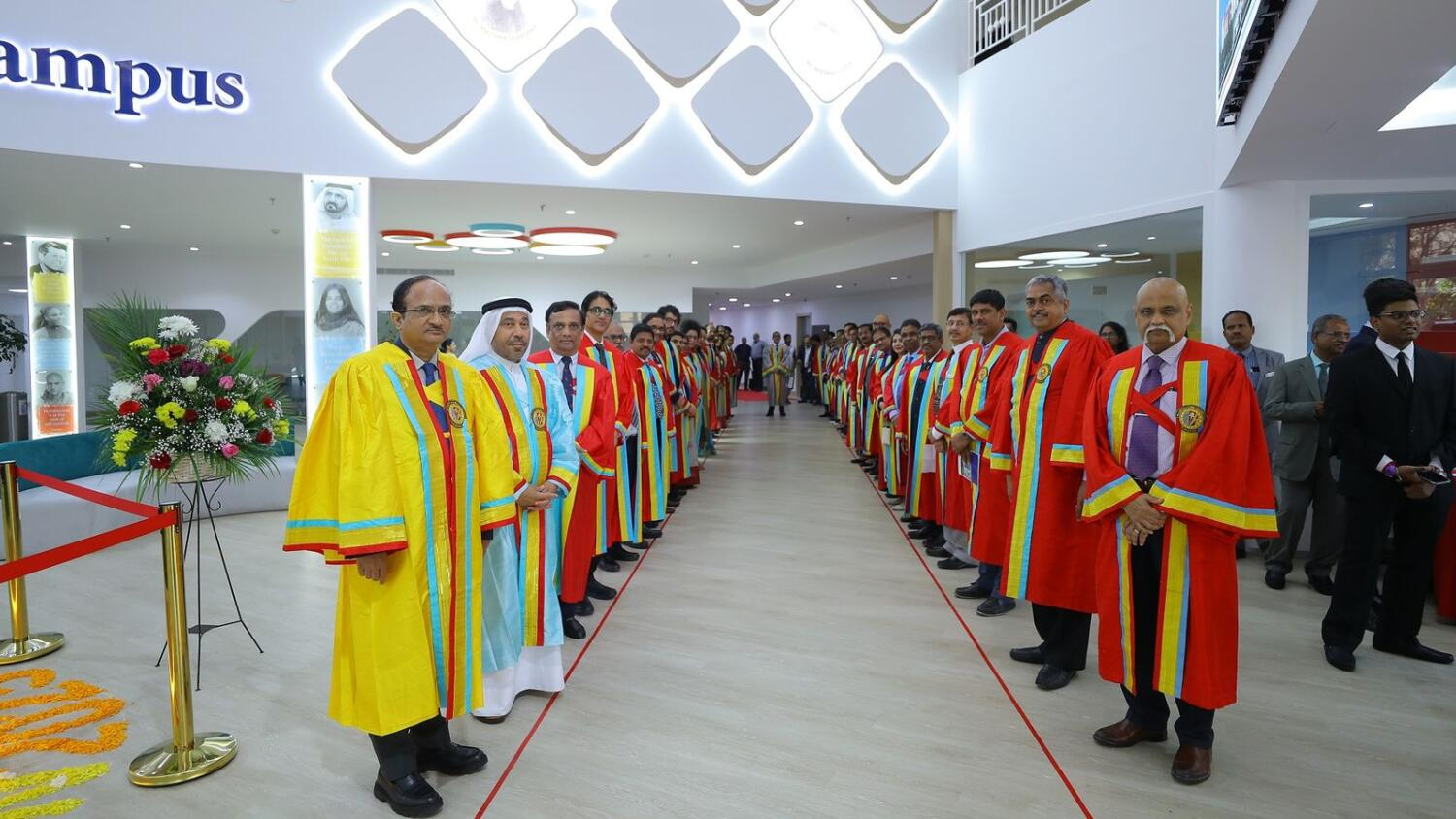 Esteemed guests, including Dr Arshi Ayub Mohamed, CEO of Trust With Trade Group and senior advisor to Royal Family Offices, UAE, and Dr Naji Al Mahdi, CEO of National Institute for Vocational Education (NIVE) joined professor Rao in celebrating this big event. Also, in attendance were directors from BITS Pilani Indian campuses in Pilani and Goa, along with the director of BITS Pilani Dubai Campus, professor Srinivasan Madapusi, faculty and staff, graduating students and their families, industry partners, and alumni.
In her inspiring convocation address, Dr Arshi Ayub Mohamed said: "I congratulate BITS Pilani Dubai Campus for pioneering the engineering and technology education and amplifying the vision of the UAE towards creating a competitive knowledge-based economy."
Notably, the top academic performers were honoured with prestigious chancellor's medals. Awardees included Joint First, gold medal winners Kiranbaskar Velmurugan and Anushka Sivakumar, second prize silver medal winner Meetansh Gupta, and joint bronze medal winners Kshitiz Bansal and Asmi Sriwastawa. The directors' all-round achievement medal was jointly awarded to Adhav Kumaravel and Tanushree Jain.
Commenting on the occasion, Professor Rao emphasized the importance of students staying attuned to global trends and discovering their roles in society. He commended BITS Pilani, Dubai Campus, for providing a robust foundation to guide students along the right path.
Professor Madapusi stated in his speech,
"I take immense pride in the remarkable achievements of our students and their unwavering commitment to acquiring knowledge. Student excellence has consistently defined BITS, and I wholeheartedly congratulate the Class of 2023, offering my best wishes for their future endeavours."
In his heartfelt valedictory speech, Dr Al Mahdi emphasized the vital significance of students maintaining their resilience in the face of our ever-evolving world.
Furthermore, BITS Pilani Dubai Campus has seen increased interest from companies seeking to recruit its talented students. This year, prominent organizations, including AstraZeneca, Schindler, Dubizzle, ESRI, Emerson, Dabur, SharafDG, Deriv, Weidmuller, Schneider Electric, Landmark, Al Shirawi, Loreal, Daikin, First Abu Dhabi Bank, Cafu, TUV, and many others, have recruited from the campus, highlighting the institution's commitment to providing excellent placement opportunities.
News Source: Khaleej Times