e& today announced its consolidated financial results for H1 2023 and that it has signed a binding agreement with PPF Group (PPF) to acquire a controlling stake (50 percent + 1 share economic stake) in PPF Telecom Group's (PPF Telecom) assets in Bulgaria, Hungary, Serbia, and Slovakia. PPF Telecom is the telecommunications division of PPF.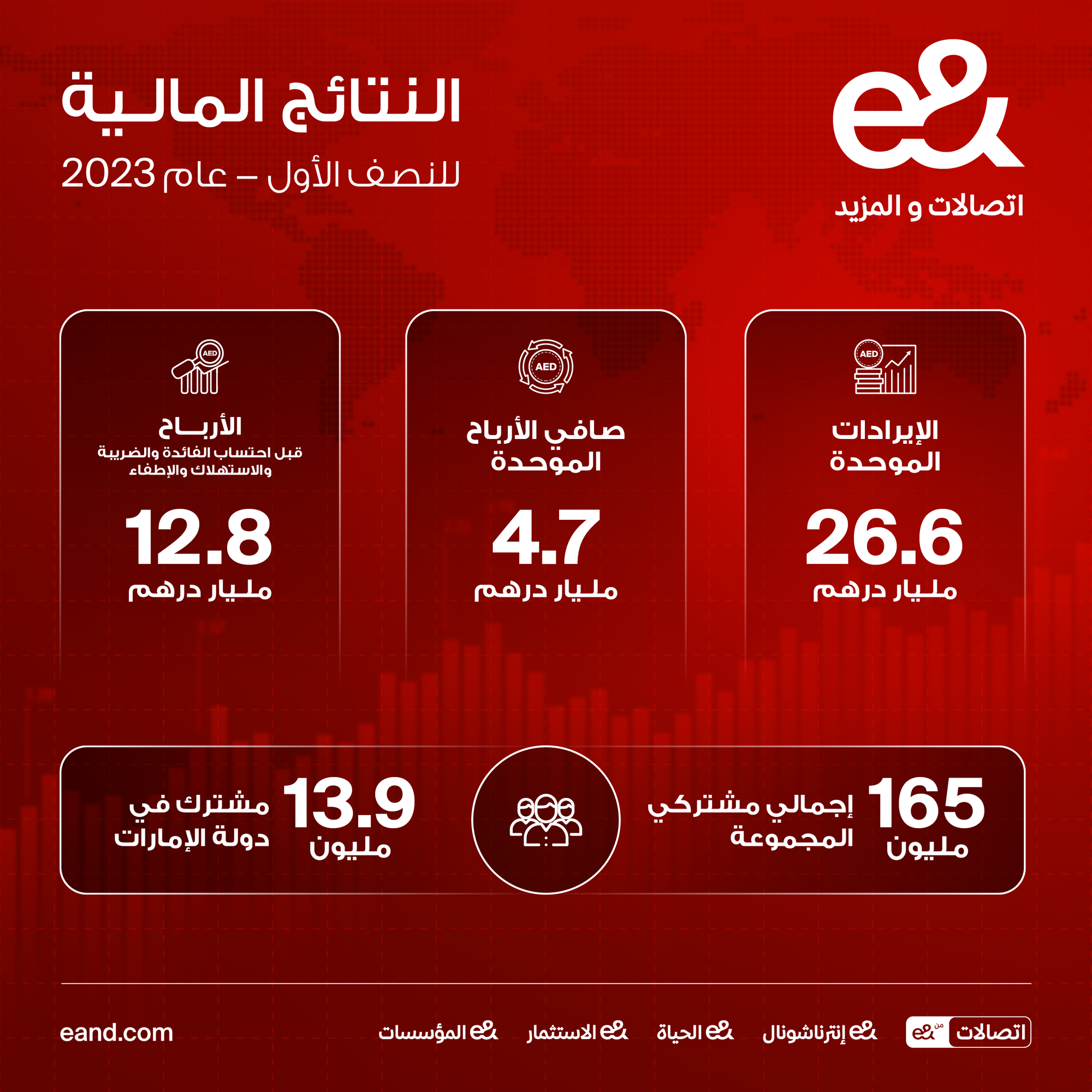 e&'s consolidated revenues during the H1 2023 reached AED 26.6 billion, a year-on-year (YoY) increase of 1.1 percent. Consolidated net profit recorded AED 4.7 billion while consolidated EBITDA reached AED 12.8 billion, resulting in an EBITDA margin of 48 percent.
In the UAE, etisalat by e& recorded 13.9 million subscribers an increase of 5.1 percent compared to the same period of last year, The Group's aggregate subscribers reached 165 million, a YoY increase of 3.1 percent.
Jassem Mohamed Obaid Bu Ataba Alzaabi, Chairman of e&, expressed satisfaction with the company's performance in the first half of the year, citing the resilience of their business model amid a challenging global macroeconomic environment. He also announced e&'s strategic expansion into the European market through a partnership with PPF, aiming to establish a strong presence in the Central and Eastern Europe region. The acquisition aligns with e&'s ambition to accelerate international growth and diversify geographically, allowing them to consolidate over 10 million subscribers from the acquisition post-closing.
Bu Ataba Alzaabi emphasized their commitment to delivering cutting-edge technologies and world-class services, contributing to the vision of sustainable socio-economic growth and becoming a driving force for innovation and progress in line with the UAE leadership's vision.
Hatem Dowidar, Group CEO of e&, highlighted the company's resilience and adaptability over the past six months, driven by their focus on excellence and innovation in the telecommunications and technology sectors. The positive performance was attributed to both core businesses and new verticals experiencing increased demand globally.
Dowidar emphasized the importance of technological prowess, customer-centric strategies, and dedicated teams as the driving force behind e&'s achievements, expressing gratitude to employees, customers, and stakeholders for their continued support. Looking ahead, he remained confident in e&'s commitment to connecting people, businesses, and communities through technology, providing continuous growth and value in the future.
News Source: Emirates News Agency