Travel across the continents to experience different cultures and learn more about the various traditions in a single day. Dubai offers a unique opportunity of stepping into the kaleidoscope of cultures at Global Village. Global Village opens its doors every October transforming into an enchanting hub where nations unite, traditions dance, and flavors tantalize. This popular attraction in Dubai has been celebrating the beauty of ethnic differences for over 27 years. From the bustling streets of China to the rhythmic beats of Africa, you will surely be able to experience diverse cultural events, art, and trade.
Global Village is a must-visit destination for residents and tourists alike. Get ready for a spectacular experience at the Global Village, a wonderful tapestry of diversity and wonder. Here is what to expect at this most talked about destination in Dubai.
Things to Look for at Global Village Dubai
Global Village is one of the best attractions in Dubai. Residents look forward to this time of year to shop, enjoy, and play endlessly. Various experiences are hosted at Global Village every year to entertain visitors.
Themed Pavilions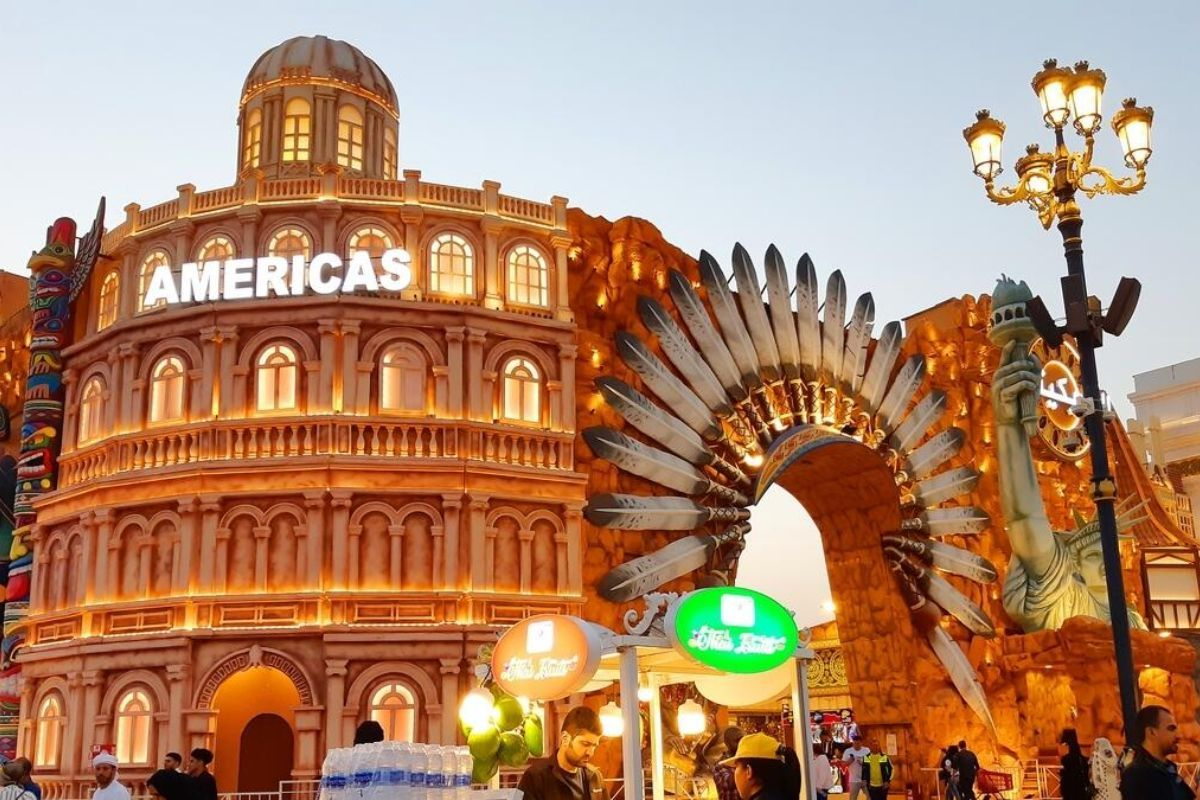 Global Village is home to 27 themed pavilions that are brimming with lights, colors, festivals, and more. Each pavilion at Global Village Dubai shows the unique atmosphere of the country it represents. The pavilion displays local arts, and crafts, traditional foods, cultural performances, and authentic products. Some of the must-visit pavilions at Global Village are UAE, Africa, Egypt, and Japan.
Unique Shopping Experience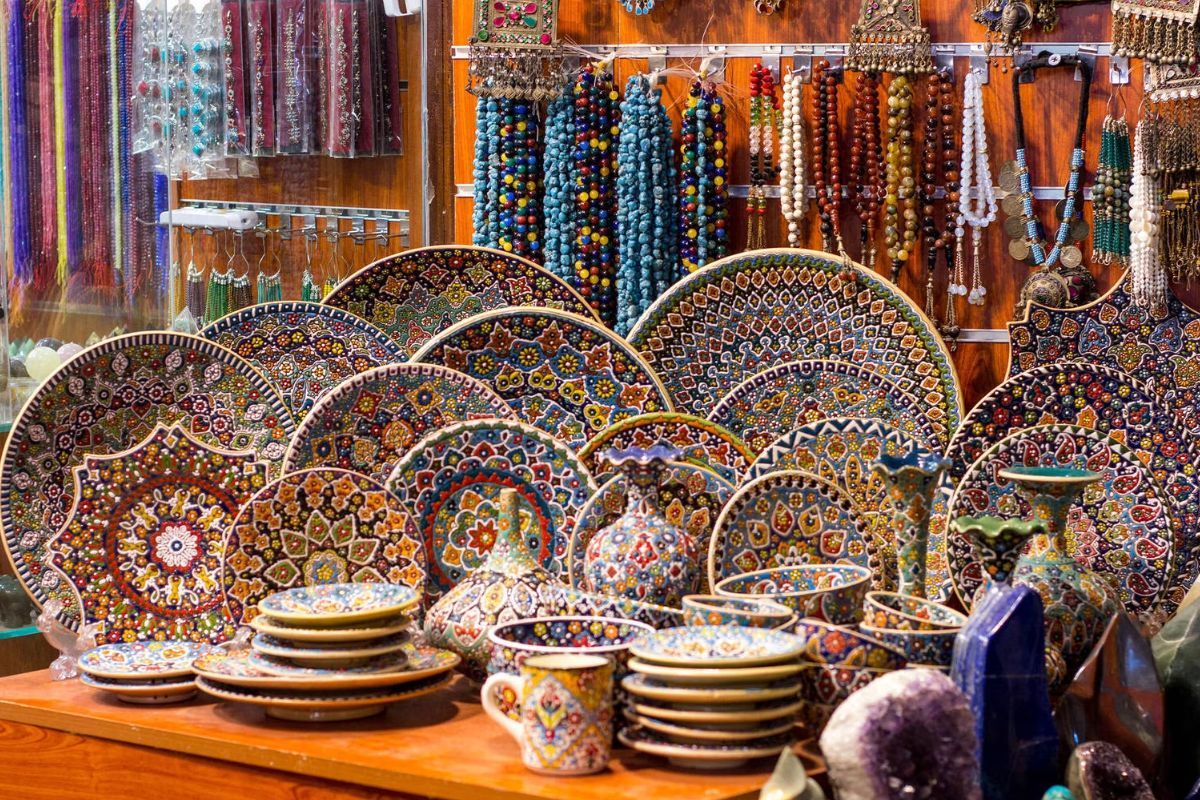 Global Village is any shopper's dream haven. You can shop for products from various parts of the world at a single destination. From colorful stalls to fancy boutiques, you can choose from a wide range of shopping experiences at Global Village. You can roam around the place looking for products that suit your taste and budget. You can even negotiate prices with the vendors to bag a great deal. Antique pieces, handmade crafts, furniture, clothes, jewelry, artworks, and skincare products are some of the most popular products looked for at Global Village.
Diverse Cultural Shows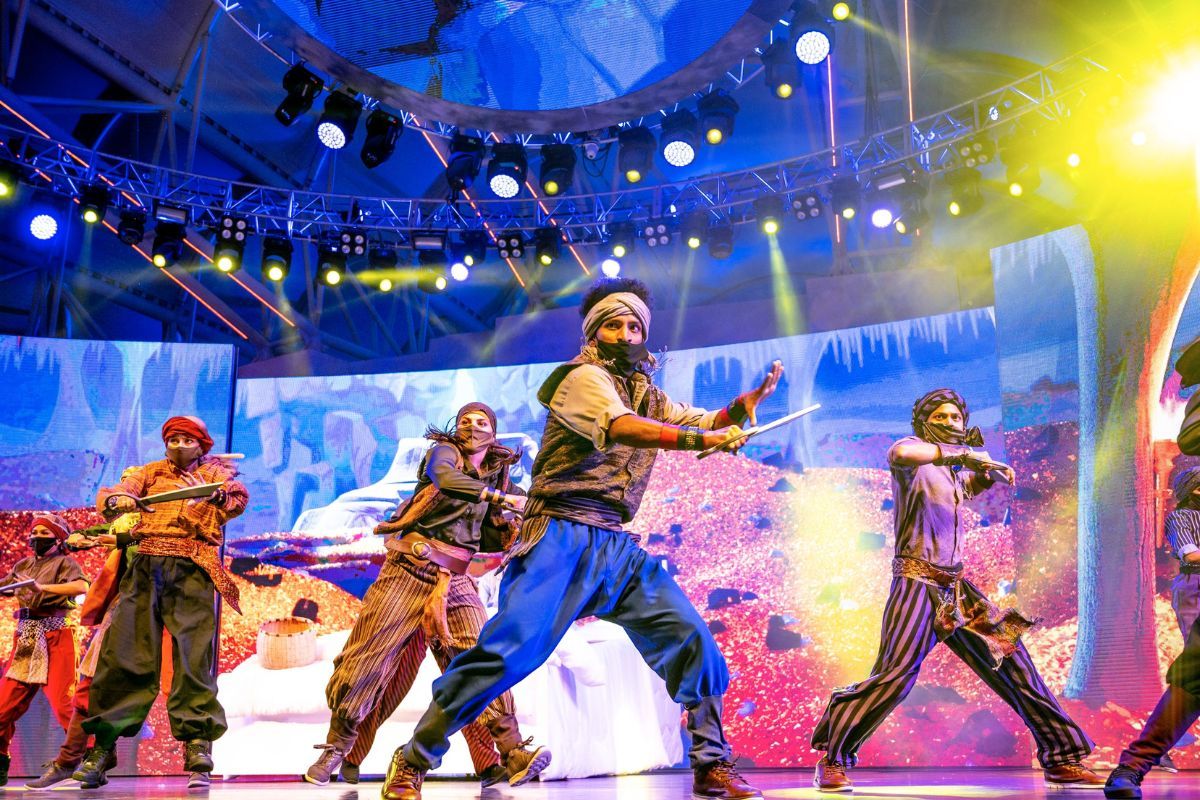 Experience different cultures and learn more about the traditions from across the seas. In every pavilion at Global Village, there is always something exciting happening to attract the crowd. You can watch incredible performances with energetic and uplifting traditional music. These shows let you understand different cultures up close through traditional songs and dances. African pavilion frequently hosts ethnic dances featuring drum beats.
Live Art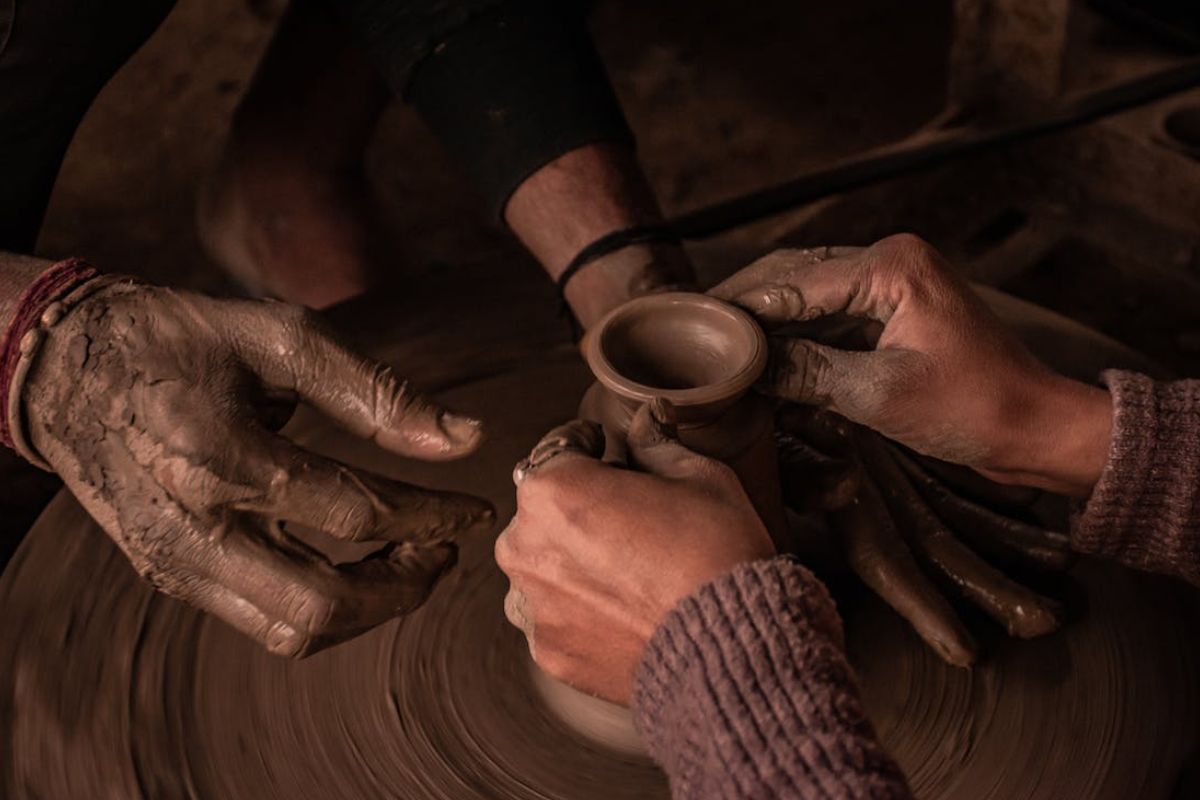 You can see local craftsmen demonstrating their amazing skills and techniques in different pavilions at Global Village.  You can see the artists weaving cloth, carving out details on wooden furniture, and making shoes or jewelry at the stalls. You can also buy customized or ready-made products from them. Pavilions like India display craftsmen in their traditional dresses doing their crafts like pottery or weaving. Some stalls at the Indian pavilion serve tea in clay vessels made by these craftsmen.
Global Flavors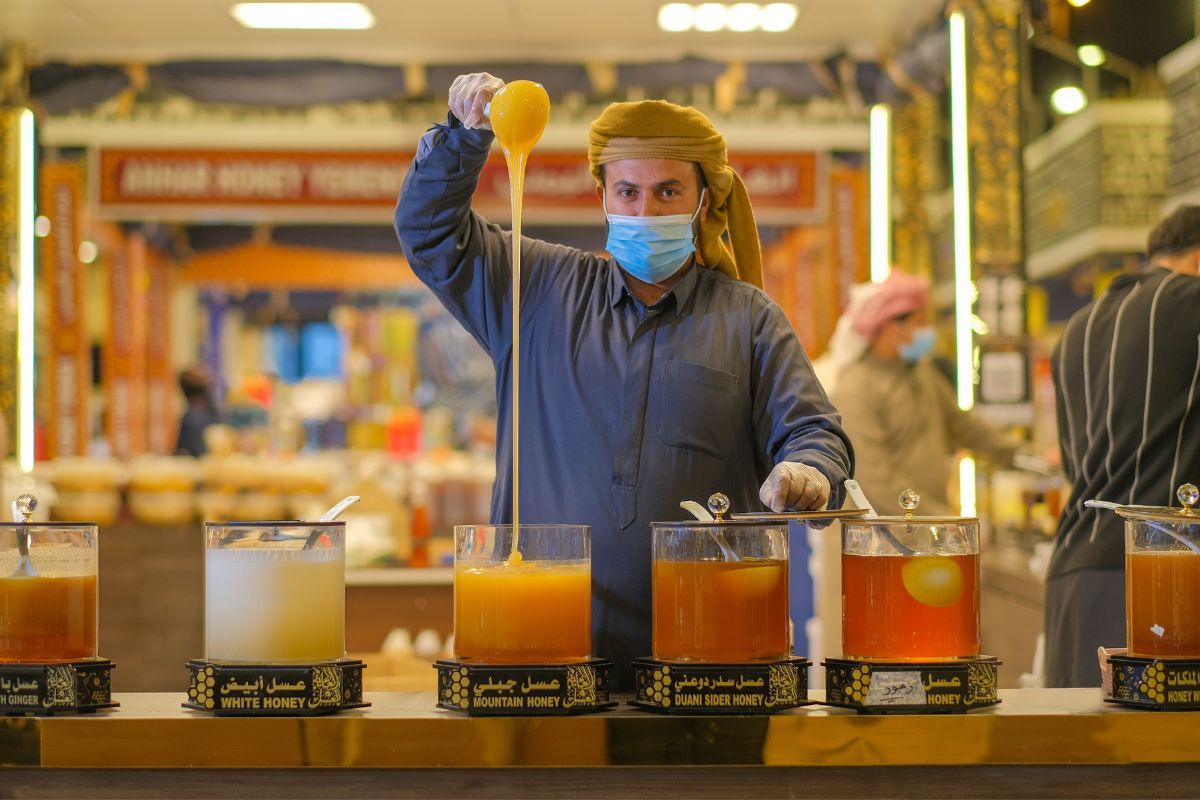 Global Village is popular for bringing flavors from around the world. At the different pavilions, you can see the racks filled up with spices, herbs, fruits, and nuts belonging to the respective country. You can buy top-notch saffron, candied nuts, oils, aromatic tea blends, and fresh coffee beans at affordable prices. The Yemen pavilion has many stalls that sell locally made honey that you can taste before buying.
Picturesque Settings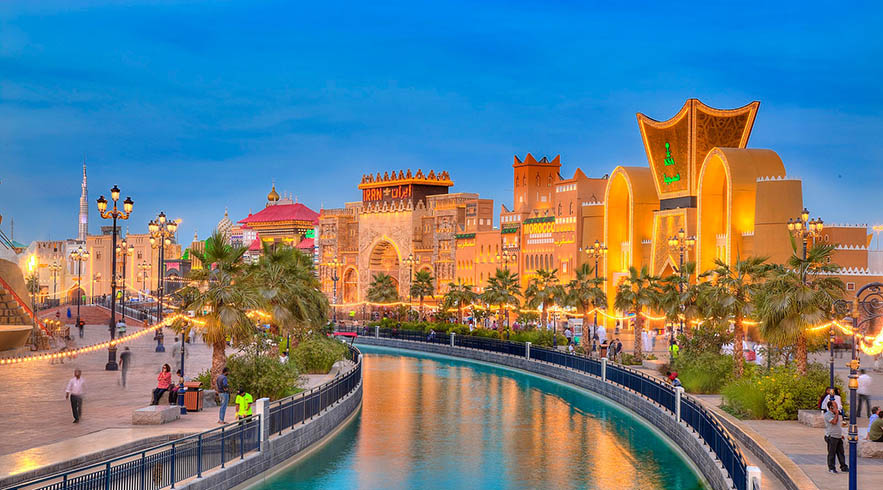 Global Village surely needs to be on your Instagram feed. There are many spots in the place which are decorated with light and other properties to elevate the experience. Make sure to take pictures of your special moments at the amazing Selfie spots. There are designated areas in and out of Global Village offering a great backdrop for your photos. Some of these spots feature iconic bridges, cartoon characters, lights trails, and so forth.
Where to eat at Global Village Dubai
Global Village is the best place to spoil your taste buds with multiple choices. From art-like food to authentic bites, you can find many dining options in terms of cuisine, decor, and budget.
Cuisines from around the world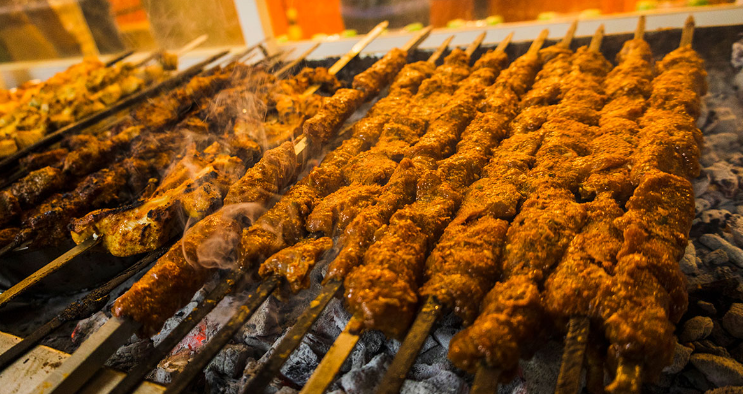 Global Village is home to a variety of restaurants that serve many international cuisines like Italian, Thai, and Indian. From steak to seafood, you can see a variety of popular dishes on the menu of these restaurants. Visit any of these restaurants to try out authentic food from the respective cuisine. Al Farooj, Al Amoor, and Taksim Turkish Restaurant are some popular restaurants you can visit at Global Village.
Instagrammable Cafes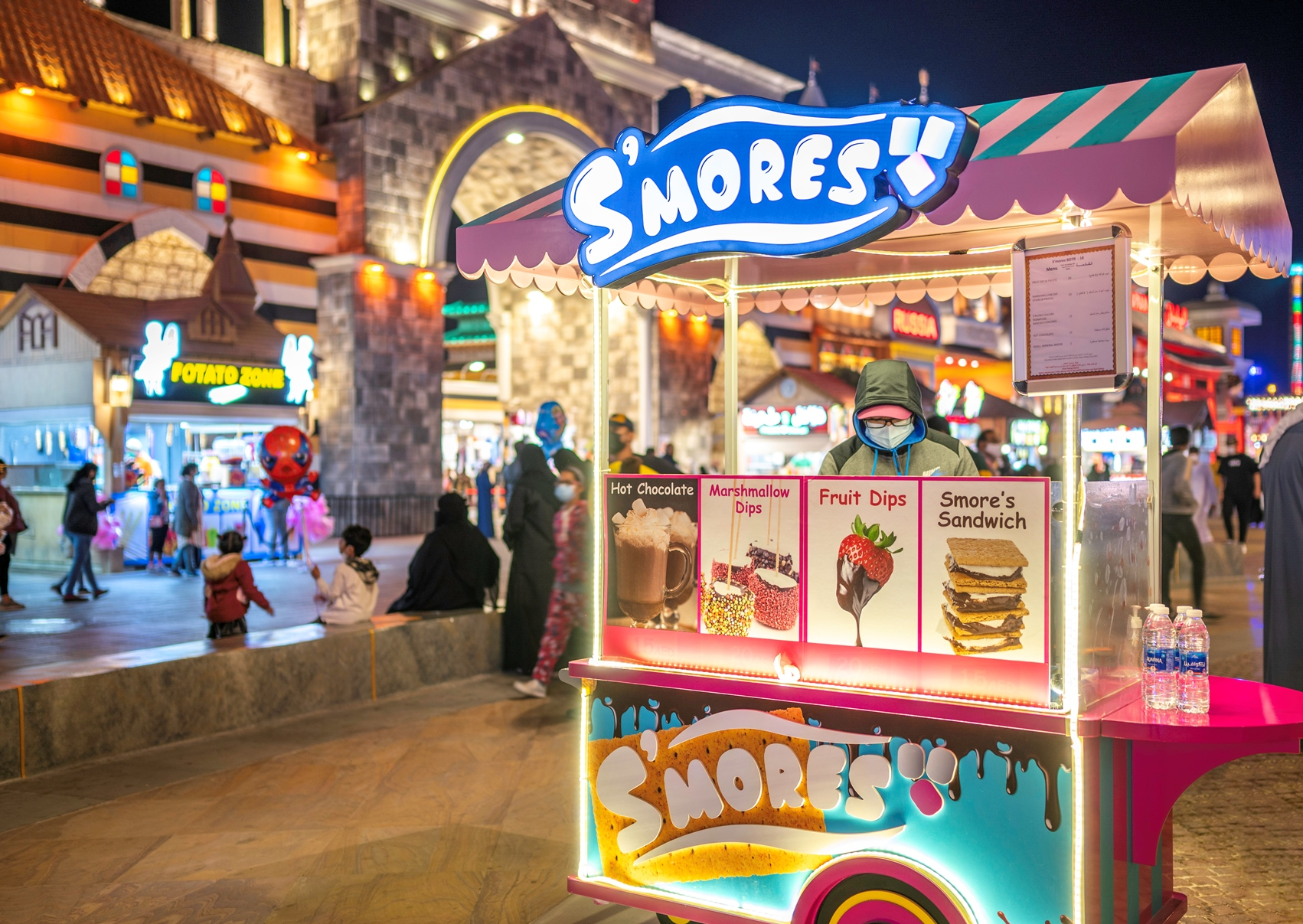 If you fancy different kinds of coffee, visit the cafes inside Global Village to try specialty coffees from around the world. You can order from a variety of cold drinks, lattes, cakes, and toasties that are not only delicious but also perfect for Instagram-worthy photos. The café decors are carefully crafted to enhance your experience with them. Le Patchouli, Café Vine, and Café Mozart are the most popular cafes inside Global Village.
Authentic Street Food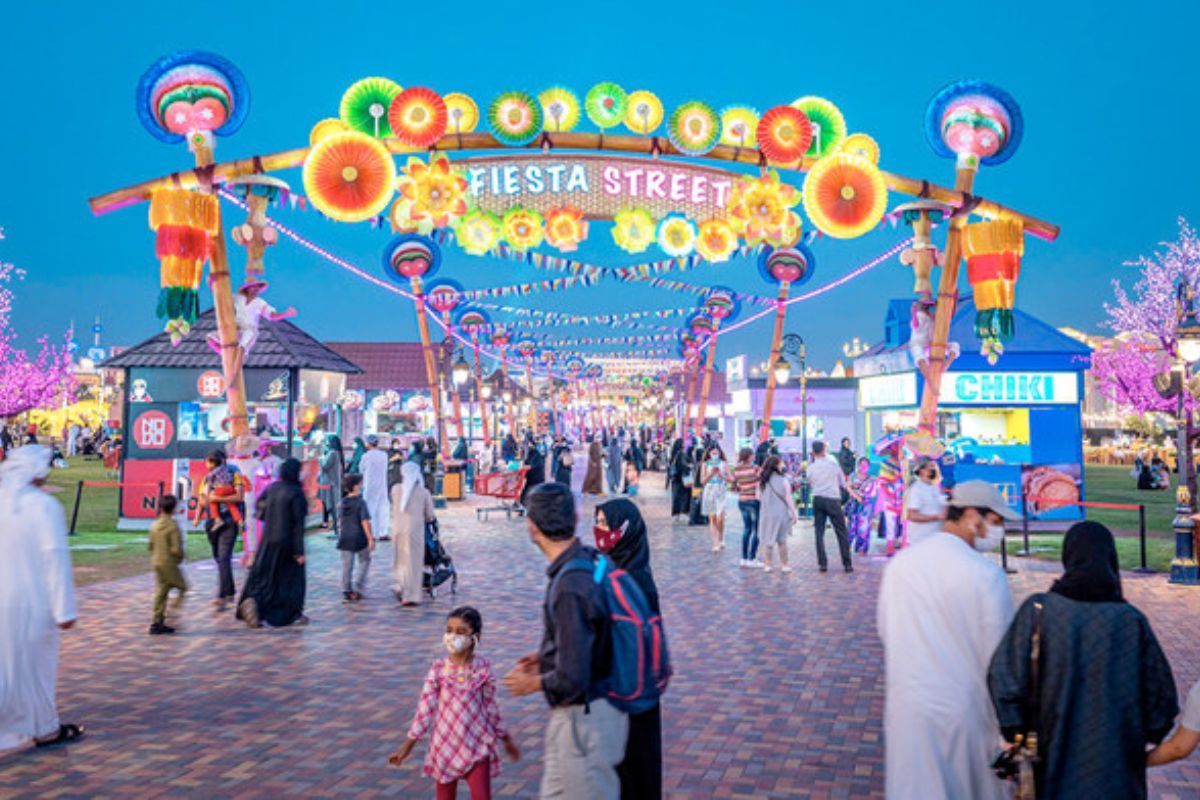 The Fiesta Street at Global Village is adorned with many food stalls. A vibrant street food festival is happening on this street of Global Village where you can indulge in a wide range of mouthwatering treats. From the stalls, you can taste popular street foods with modern twists like baklava frappes, loaded fries, creamy risottos, and toasted chicken sandwiches. Colorful flavored crushers and ice pops are the kid favorites at Global Village Dubai.
Floating Market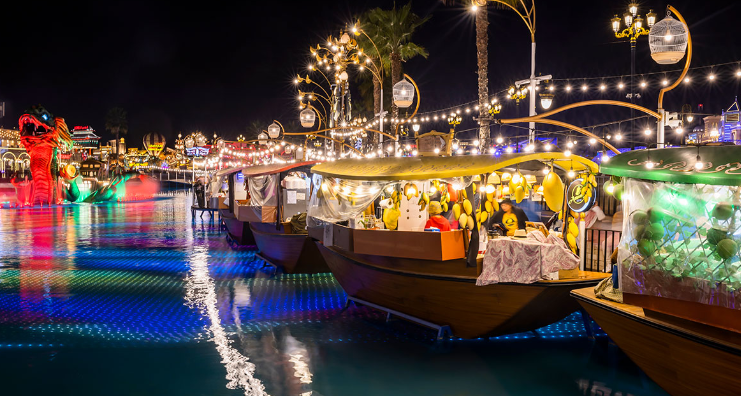 Embark on a tantalizing experience at the Floating Market, an Asian culinary paradise that will leave you in awe. You will discover a plethora of delectable treats ranging from baos and bites to bowls and barbecue plates served with creativity. The stalls in the Floating Market serve a variety of seafood dishes, steaming bowls of Indonesian ramen, Vietnamese pho, Malaysian spicy grills, and Korean dumplings. Mango and coconut flavoured dessert is a must-try item from the floating market.
Road of Asia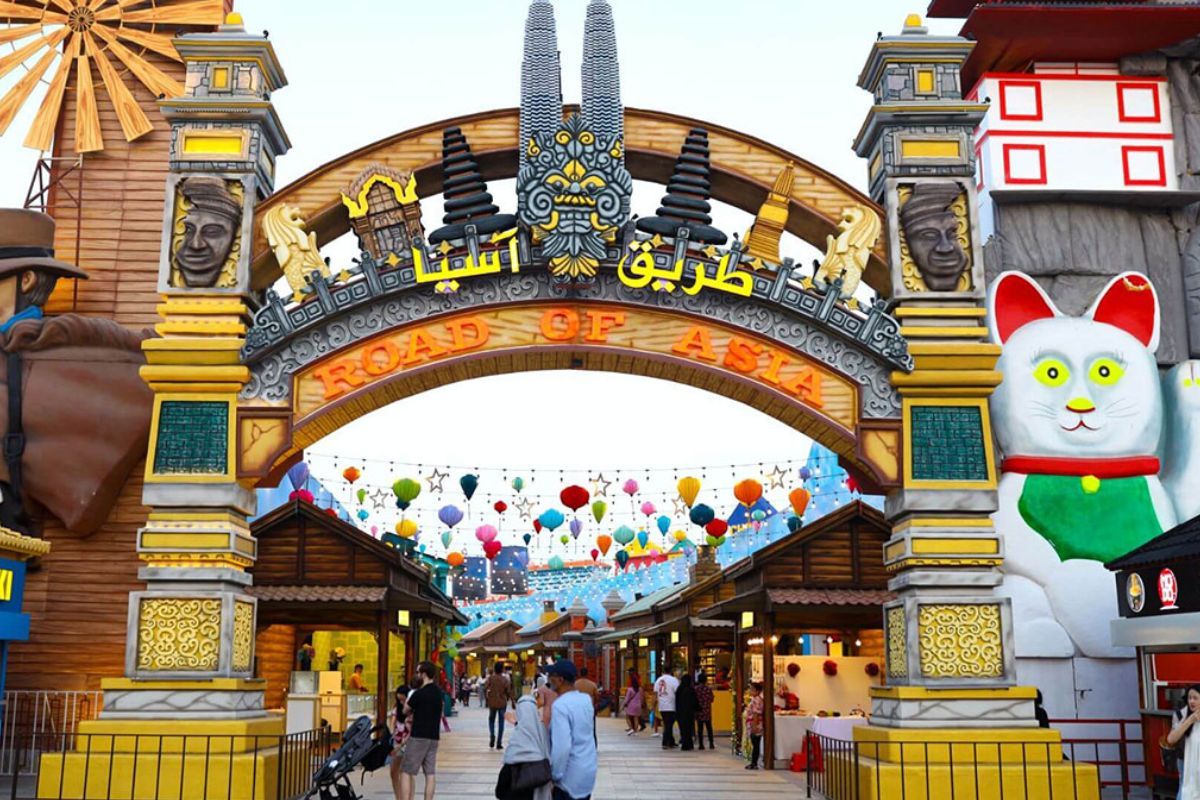 Walk down the Road of Asia where the vibrant cuisine, rich cultures, and vivid colors of Asia come to life. This road is inspired by the bustling ambiance of the finest Asian markets. Prepare to be enchanted by authentic street food, unique products, and exquisite crafts from 13 Asian countries, including Sri Lanka, Indonesia, Malaysia, Vietnam, Nepal, Bhutan, and the Philippines, among others. You can try out authentic Asian flavors with signature street food dishes like Taipei Hotpot, Pansit, and Ceylon Kothhu. You can also buy home-grown products from these Asian countries on this street.
Entertainment Options at Global Village Dubai
Global Village has many exciting experiences in store for everyone. One of the most popular attractions at Global Village is The Carnaval, a family fun fair park. From the Ferris wheel to the roller coaster, prepared to be amazed by what is at The Carnaval section of Global Village in Dubai.
Rides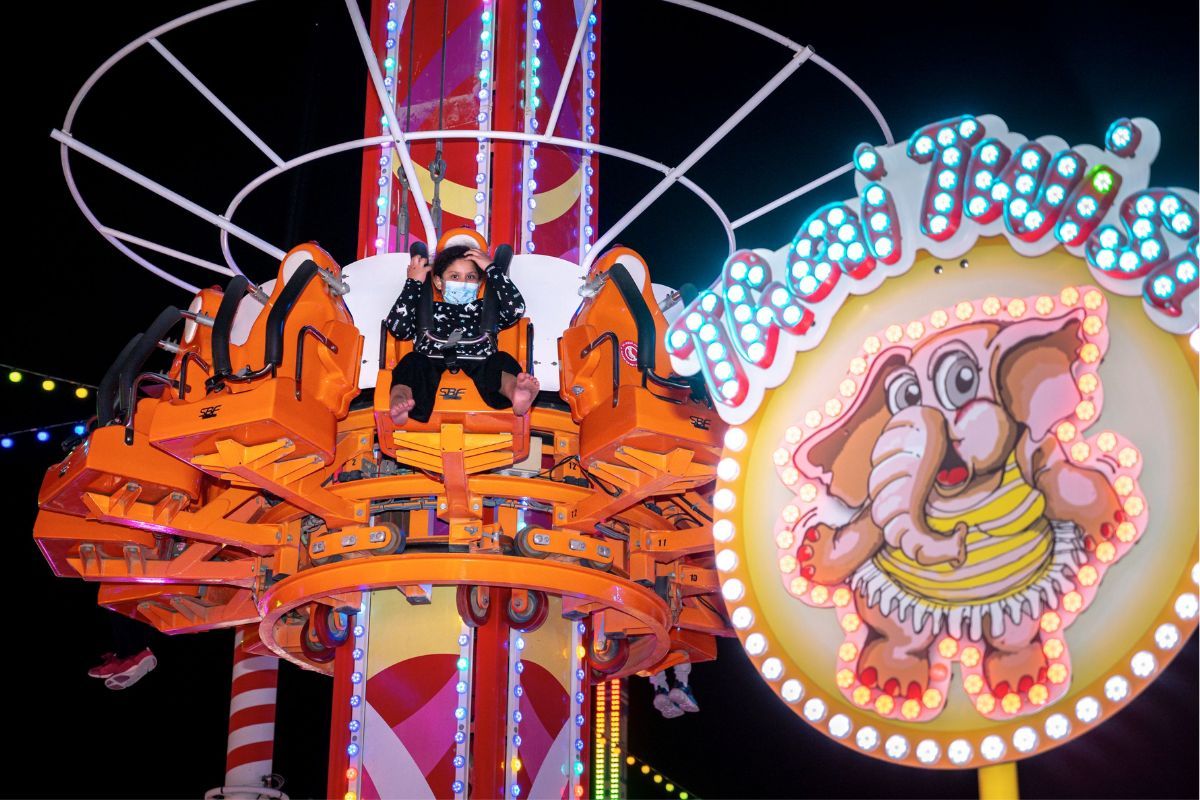 The illuminated ride area at the Global Village can be seen from the roads and often attracts us to the spot. There are many rides installed that can bring an adrenaline rush in your blood. If you are an adventure junkie, you can try out Athens Slingshot to be shot up high to enjoy the beautiful view of Global Village from above. Ride on the Festival wheel to enjoy the beautiful view of the Dubai skyline from a height of 60 meters. Shang High, one of the tallest rides in the region, will spin you mid-air at a height of 85 meters. Mexican Balloons and Beijing Bungee are some of the rides exclusively operated for kids.
Games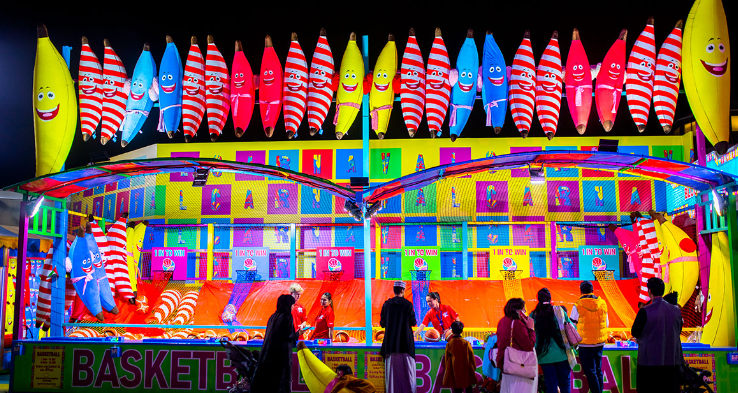 At The Carnaval, you can see many stalls where you can show off your skills at aiming or shooting. These arcade and skill-based games will fetch you great prices like stuffed toys, iPhones, or PlayStation. Adults and children look forward to this activity to win big at Global Village.
Experiences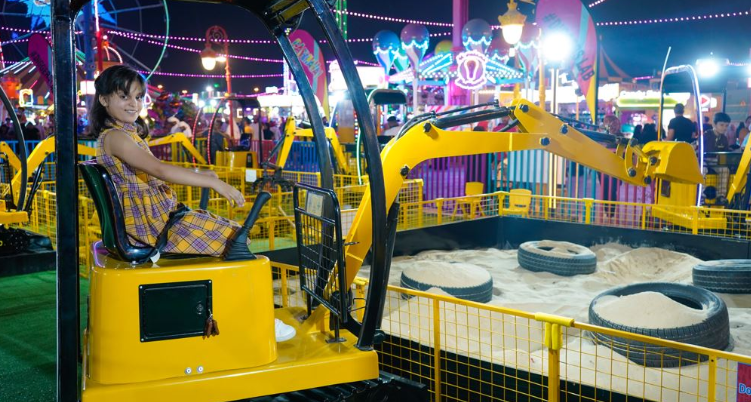 Every year the Global Village introduces new experiences at The Carnaval. Whatever be your age, it is definite that you are going to be highly entertained at this zone in Global Village. From the outdoor ice rink to the digger's lab, you can experience endless enjoyment at the various corners of Carnaval. The House of Fear is sure to break any strong-hearted ones.
Opening Hours at Global Village Dubai
Monday to Thursday – 4 pm to 12 am
Friday to Sunday – 4 pm to 1 am
*Tuesdays are exclusively reserved for families and ladies except for Public Holidays*
How to reach Global Village Dubai
Getting to Global Village is easier as it is located very close to the major highways of Dubai. You can access this popular destination via Sheikh Mohammed Bin Zayed Road/E311. The place provides parking to over 23,000 cars with multiple entry and exit points. If you are planning to travel by RTA bus, here are the buses that will take you directly to Global Village.
Route 102: From Al Rashidiya Bus Station
Route 103: From the Union Bus Station
Route 104: From Al Ghubaiba Bus Station
Route 106: from Mall of the Emirates Bus Station
Also read: