Dubai is a city that has an ever-growing list of new, exciting, and one-of-a-kind attractions. This city never bores you and it keeps adding new attractions, destinations, landmarks, and experiences for you to indulge in every year. These allow tourists and residents to explore the mesmerizing city and witness beautiful scenes of Dubai, getting an experience of a lifetime. Thrill seekers especially are in for a ride in Dubai as the city has all kinds of attractions from extreme thrill inducing rides to family-friendly adventures, you're sure to be entertained. One such thrill-inducing attraction in Dubai is the XLine Dubai which is the world's longest and the city's only urban zipline ever!
Breathe in the extravagant views of Dubai around you while experiencing one thrill of a ride. Let's take a closer look at XLine and learn all you need to know before visiting this ultimate adventure in Dubai.
About XLine Dubai: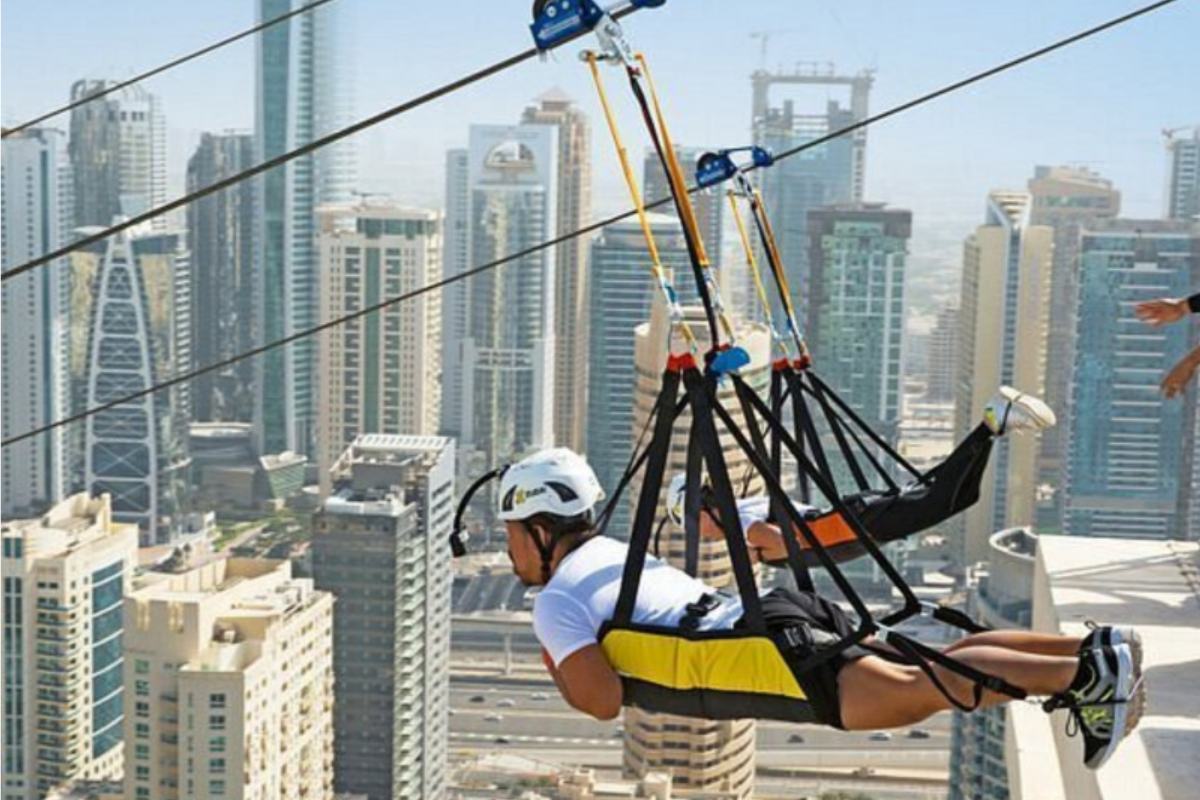 Ever wanted to jump from a height through a zip line while breathing in the marvelous views around you? You can now experience that at XLine Dubai! It is the world's longest urban zip line that stretches to 1km spanning over the stunning surroundings of the Dubai Marina. This zipline launches from a height of 170 km and goes from 0 to 60 kmph in 2.5 seconds reaching a top speed of 80 kmph.  In addition to thrill OF this ride, XLine Dubai also provides stunning views of the city's skyline, including the iconic Burj Khalifa and the Persian Gulf. Being in the center of Dubai Marina allows you to take in the tranquil views of the marina and the stunning views that surround it.
When you book your ticket, you get to experience a maximum of 1 hour of this unforgettable zipline experience. The ticket booth is located inside the Dubai Marina Mall, so it is very easy to locate and reach. The XLine Dubai is one of the best things to do in Dubai Marina.
What to expect at XLine Dubai?
Once you have booked your tickets and selected your time slot, on the day of your booking, you will need to go to Dubai Marina Mall, make sure you reach half an hour early from the time of your slot. Once you reach the mall, locate and head towards the XLine Dubai's counter which is located on the P level of the shopping mall. There, you will need to show the staff your booking confirmation email and register for the ride. You will also need valid identification like Passport, Emirates Id, or Driver's license without which you can't access the ride.
Once you're done with the registration formalities, you will then have to hop on the scale to check your weight so that XLine's team can equip you with suitable equipment ensuring that the harness and gear will be able to hold your weight. Once you are fully equipped, the team will then take you towards a mini bus, the bus will take you towards the starting point of the ride which is a 5-minute drive away far from the counter. During the ride, you will be given a short safety briefing after which you will be escorted to the departure deck which is on top of the Ammaj Towers at an altitude of 170 meters!
Unlike traditional ziplines, XLine uses 'Superman' harnesses that allow you to lie down on your belly and maximize on a thrilling flight like experiences as well as breathe in the magnificent views below you. There are two concurrently running ziplines so you can share the experience with a friend or a loved one, though keep in mind that it will cost more. Enjoy your ride that goes as fast at a top speed of 80 kmph, so you will feel like a real superhero while also enjoying the views around you and over the five-star yachts docked and the sleek high-rise towers of Dubai. Your ride will last for up to 20 to 30 minutes, make sure to look out for the Princess Tower and Cayan Tower on your way down. Your ride will end at the terrace of the Dubai Marina Mall. The whole experience will be recorded thanks to the GoPro cameras mounted on your helmet and you will get the photos and videos for you to cherish this once in a lifetime experience forever.
Once you get down, go back to the counter at the P level of the mall, return the staff the GoPro camera so that they can retrieve the photos and videos for you. To receive these cherishing reels, you will need to provide the staff with your email address so that they can send you your photos via email. You will receive these photos within 24 or 48 hours.
XLine Dubai access criteria
To be able to do the XLine zipline experience, you must meet certain criteria:
• Age: 12 to 65 years
• Weight: between 50 and 100 kg
• Height: more than 1.30 m
• Be healthy – No heart problems or any other severe health condition
• Participants under 18 years old must be accompanied by an adult.
• Pregnant women cannot do the zipline
Price of the XLine Dubai zipline experience:
XLine Dubai's price for a solo zipline experience is AED 650 and the price for tandem zipline with a friend or family member costs AED 1200! You even get to take home a souvenir with you by upgrading your ticket. You can book your tickets through the XLine Dubai website or even at the counter. Though it is subject to availability for the day which is why its better to book your tickets online itself.
Location:
The XLine Dubai experience starts from it's counter which is located at the P level of the Dubai Marina Mall. The Dubai Marina Mall is the most popular mall in the Dubai Marina area and is strategically located.
Timings of XLine Dubai:
XLine Dubai is open on all days except on Tuesdays. The timings for the other days of the week are: 09:00 am to 12:00 pm and 03:00 pm to 06:00 pm.
How to reach XLine Dubai:
Reaching XLine Dubai is quite easy as it is located on a very prominent and strategic location on Dubai Marina. You can use any of the public transport modes including the Dubai Metro, Tram, Bus, and taxi. To reach XLine Dubai by the Dubai Metro you need to hop on the Red Line and get down at the DMCC Metro Station which is the nearest metro station. From it is a 4-minute walk to the Dubai Marina Mall. To reach by tram you can get down at the Dubai Marina Mall Station 4 and take a short walk from there towards the mall. To reach via the public bus you should take the bus number 8 and get down at the Marina Promenade. From there it is a 10-minute walk to reach the mall, or you can take a taxi to reach faster. You can also drive their yourself using the Sheikh Zayed Road and following the signs to Dubai Marina. The Dubai Marina Mall has a large car park space where you can park, you can also use the valet parking services. Or you can also book a cab from the DTC app or book an Uber or Careem cab to reach your destination.
Tips for visiting XLine Dubai:
• Don't forget to bring your booking confirmation email along with a valid Id      (passport, Emirates ID, or Driver's license)
• Make sure you arrive at least half an hour prior to your time slot
• Wear comfortable clothing and closed shoes – no skirts, dresses, or flip flops so that you can enjoy the ride fully without your clothes coming in the way.
• Carrying heavy bags, especially shopping bags, should be avoided. Although there is storage facility available, it is only for small handbags, phones, keys, wallets, etc.
• Avoid eating or try to have a light meal before the ride so that you don't end up feeling nauseous when flying at speeds of up to 80kmph.
• You should not be under the influence of drugs or alcohol or any other substance that will impair your judgment.
• Your ticket is valid for one person per ticket for the specified time and person that is mentioned on the ticket. You cannot reuse your ticket across multiple bookings.
• Make sure you give the staff your correct email address so that they can send you the photos and videos taken of you enjoying this thrilling experience.
Restaurants Near XLine Dubai:
After this thrilling ride, you're sure to be hungry. So here are a few restaurants nearby you can visit to much on delicious food.
• Panorama 52
• Wagamama
• The Cheesecake Factory
• The Restaurant at The Address Boulevard
• Social House
Other things to do nearby:
• Dubai Marina Mall
• Dubai Marina Walk
• Dhow Cruise Dinner Dubai
• Skydive Dubai
•  Hot air balloon ride
•  Ain Dubai
• The View at the Palm
• Top Golf
Also Read: