Dubai is a city of diverse cultures and diverse range of culinary options. South Asian food especially Indian cuisine is very popular in Dubai and is loved by not only the Asian expats but also the locals. As India celebrates its 75th Independence Day today, many Indian restaurants in Dubai are offering a delicious tribute to India on this special occasion. Celebrate the Indian Independence Day by trying these delicious, mouth-watering, and colorful dishes.
Here are a few Indian Independence Day special dishes you must try in Dubai:
1. Tri-Color Kebab Platter at India Palace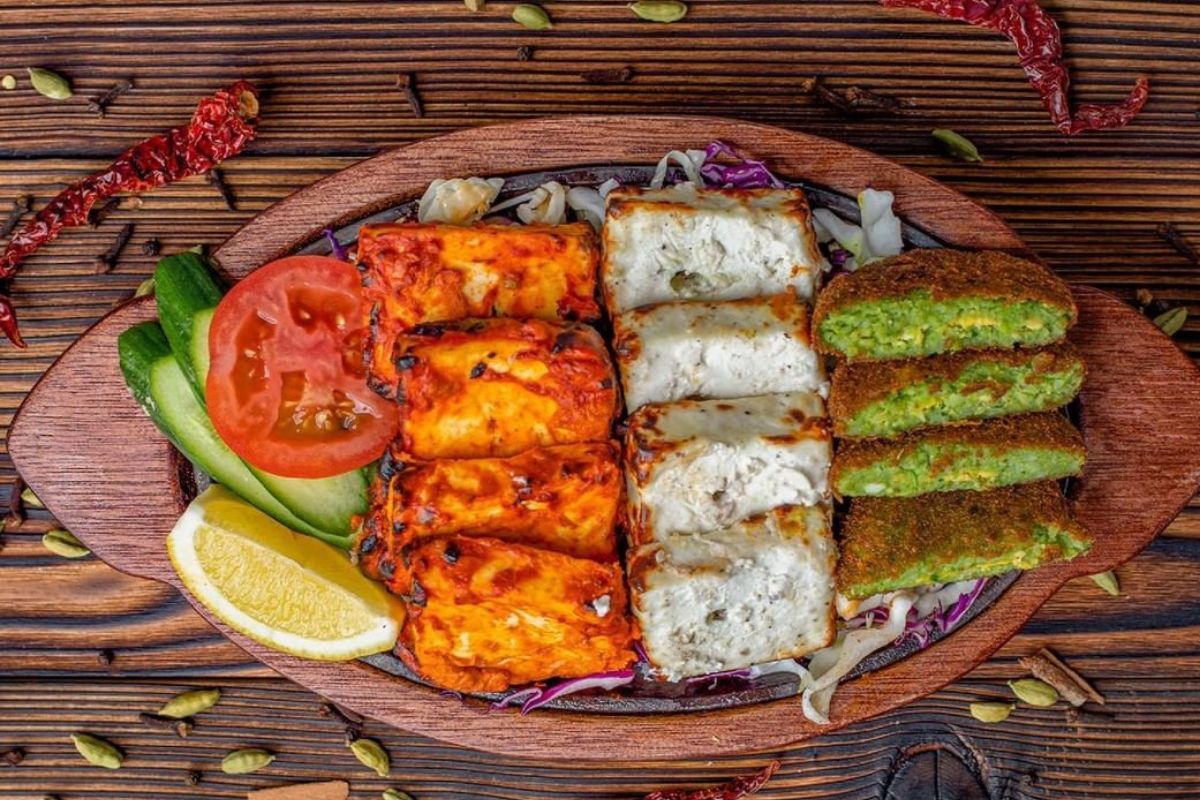 Visit India Palace and indulge in their Indian Independence Day special the Tiranga Veg & Non-Vegetarian Platter. The non-vegetarian platter includes 12 pieces of Malai Tikka, Pahadi Tikka, and their unique Chicken Tikka. And the veg platter includes 12 pieces of Paneer Tikka, Malai Paneer Tikka, and Hara Bhara Tikka. The platter is curated and placed in a such a way that it highlights the colours of the Indian Flag. Enjoy this delicious Indian Flag Tri-color plater that looks as delicious as it tastes. Their other must try dishes include Chicken Tikka Biryani, Zafrani Murg Tikka, Tandoori Prawns Biryani, Bohri Champ Biryani and Chicken Kurkure.
Location: JBR, Dubai | Price: AED 75 (non-veg platter) AED 49 (veg platter)
2. Tri-color Paneer Tikka and Biryani at Sagar Ratna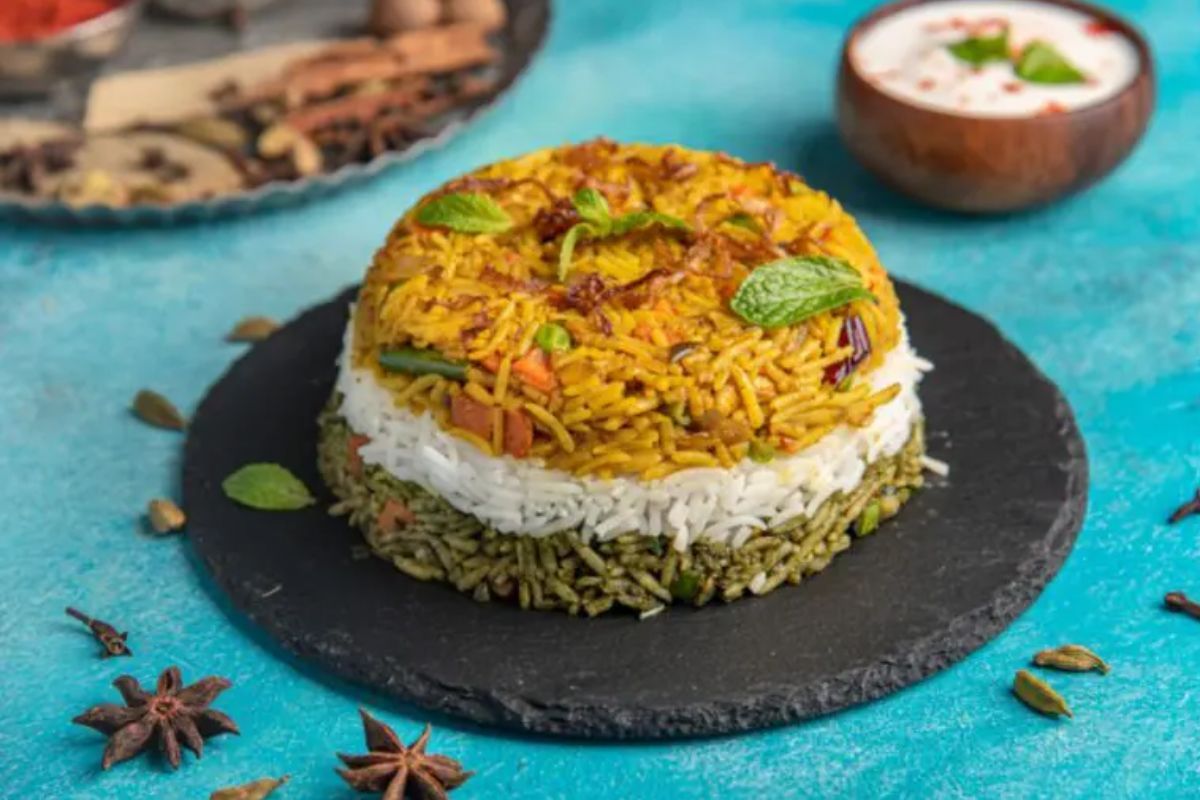 Sagar Ratna is a locally owned traditional Rajasthani and Marwari restaurant that gives its customers a unique tri-color main course meal this 75th Indian Independence Day. The special meal includes- Tiranga Paneer Tikka that is a three-color Indian cottage cheese tikka marinated in cream, spices, and mint leaf paste and the Tiranga Biryani which is perfectly steamed and stir-fried rice in flavorful spices and herbs with fresh veggies. It is also served with fried onions, vegetables and mint flavor that enhances the traditional flavor of India. This special meal is available for a limited time from August 14 to August 16 so hurry up and visit Sagar Ratna today to taste this delicious tri-color meal.
Location: Cluster R, JLT | Price: AED 26 (Tiranga Paneer Tikka) AED 30 (Tiranga Biryani)
3. Tri-color Dosa at Yummy Dosa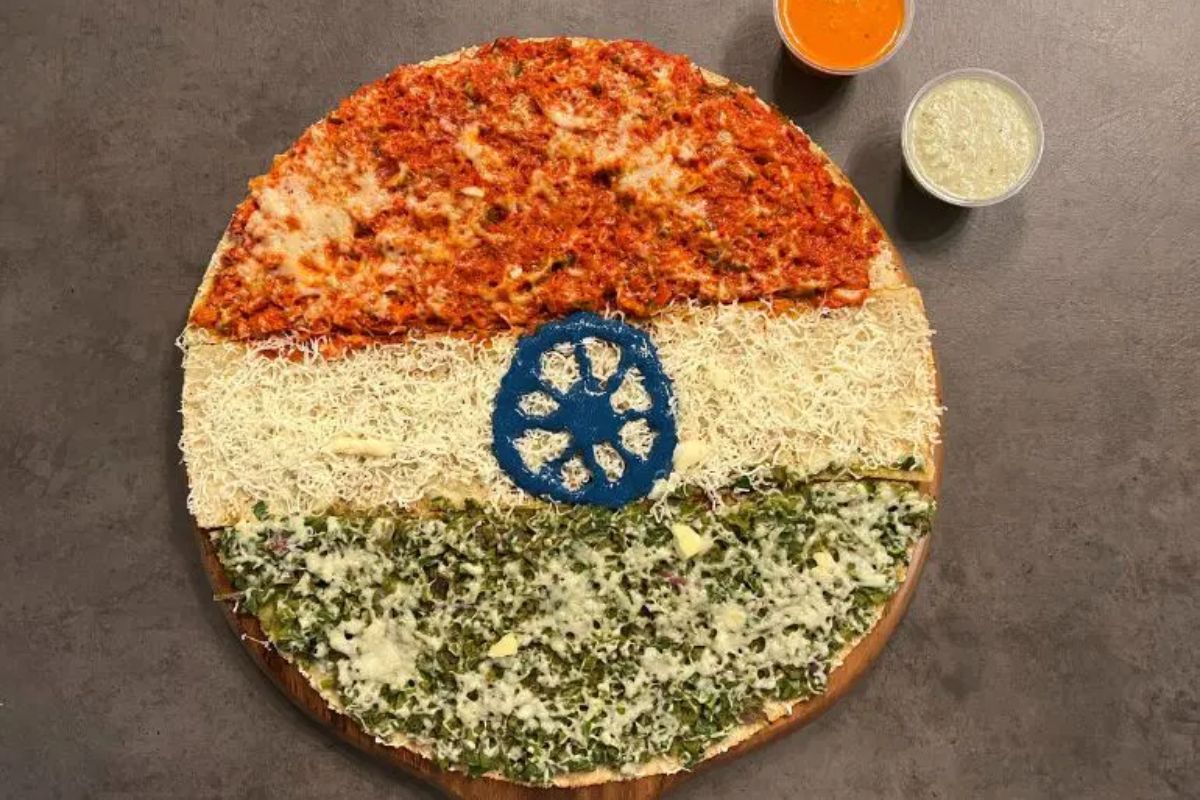 Yummy Dosa is a popular Mumbai-street style food joint that serves hundreds of varieties of Dosas. To celebrate the Indian Independence Day, they have launched a unique tri-color Dosa that has three delicious flavors – Pizza Dosa, Cheese chili Dosa and Plain Cheese Dosa and it highlights the stunning colors of the Indian Flag. Their Dosas aren't just picture perfect but taste delicious too. Other items you must try form their menu are Paneer Taka-Tak Dosa, Ghotala Dosa, Spring Roll Dosa, Oman Chips Dosa, and Dil Khush Dosa.
Location: Karama and Discovery Garden| Price: AED 28
4. Tri-Color Thali at Khau Galli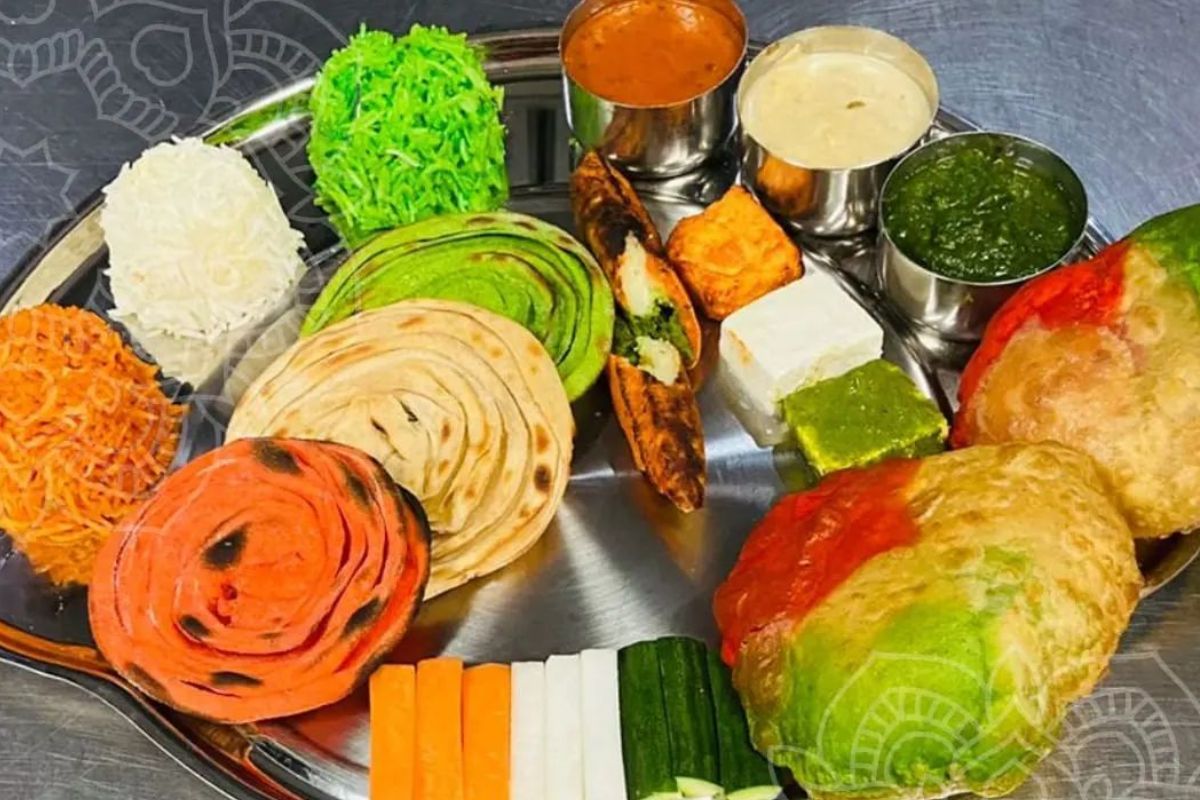 Khau Galli is a unique restaurant in Dubai whose essence is based on the true roots of India and is reflected in everything from its décor to its menu. It has anything and everything Indian from Street food, Chaat, South Indian, Maggi, Desi Chinese and so much more. To celebrate the 75th Indian Independence Day, Khau Galli brings you a delectable Tri-color thali which includes appetizers paneer tikka and veg kebabs and curries of Dal Makhni, Palak Paneer, and Malai Kofta, rotis, rice and salad. All of this for only 32 AED. This stunning thali will be available all day on August 15th hurry up and book your table now.
Location: Cluster T, JLT | Price: AED 32
5. Independence Day special menu – Bombay Bungalow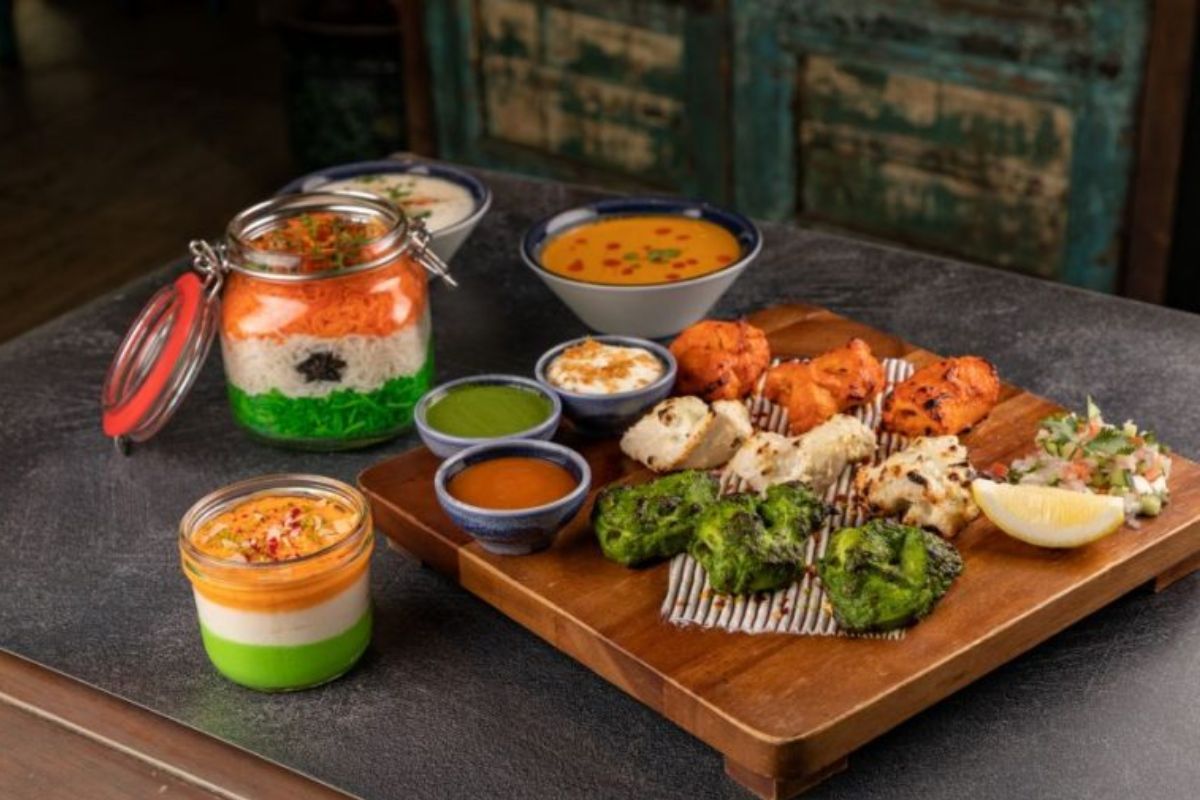 Bombay Bungalow has created a special Independence Day menu that features traditional Indian food which pays tribute to the cherished nation. You can expect warm and delicious delicacies of kebab platter that infuses three different tastes of tandoori kebab, along with chili garlic yogurt and for mains, the chef's special Muttai Biryani a colorful spin on the classic south Indian egg biryani. Indulge in rich flavor and authenticity with every bite. Surround yourself with stunning interiors and amazing views overlooking the Bluewaters Island along with yummy and mouth-watering food. This special menu is available till August 31st so don't miss out on this yummy delicious colorful dishes.
Location: Bluewaters Island, Dubai | Price: AED 250 (approx)
6. Special Muttai Biryani – House of Curry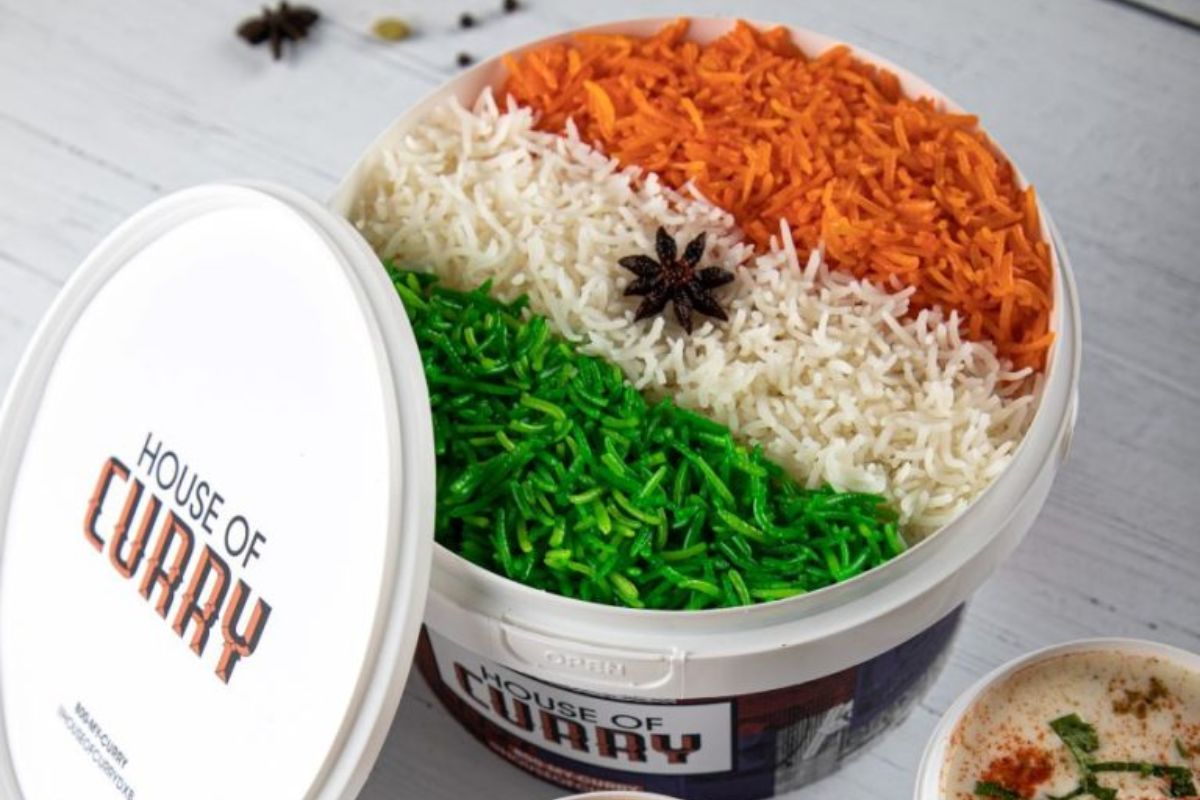 To celebrate the 75th Indian Independence Day, House of Curry is serving for you a tri-color biriyani bucket special that is a delightful treat for your eyes, body, and soul. This special biryani is a Tri-color Biryani combining the vibrant flavors and colors of India, it is served with raita and curries of your choice. You can choose the veg samosa, soups, or salads for starters. And their traditional delicacies like dal makhani, butter chicken, and chicken tikka masala that are offered as the main courses along with warm naan and whole-wheat rotis. Their Biryani Buckets are extremely popular especially the Lamb Sheekh Kebab Biryani and the Chicken Tikka Biryani.
Location: Dubai Marina| Price: AED 28 (Bucket for 1) and AED 55 (Bucket for 2)
7. Tirang Shots – Dhaba Lane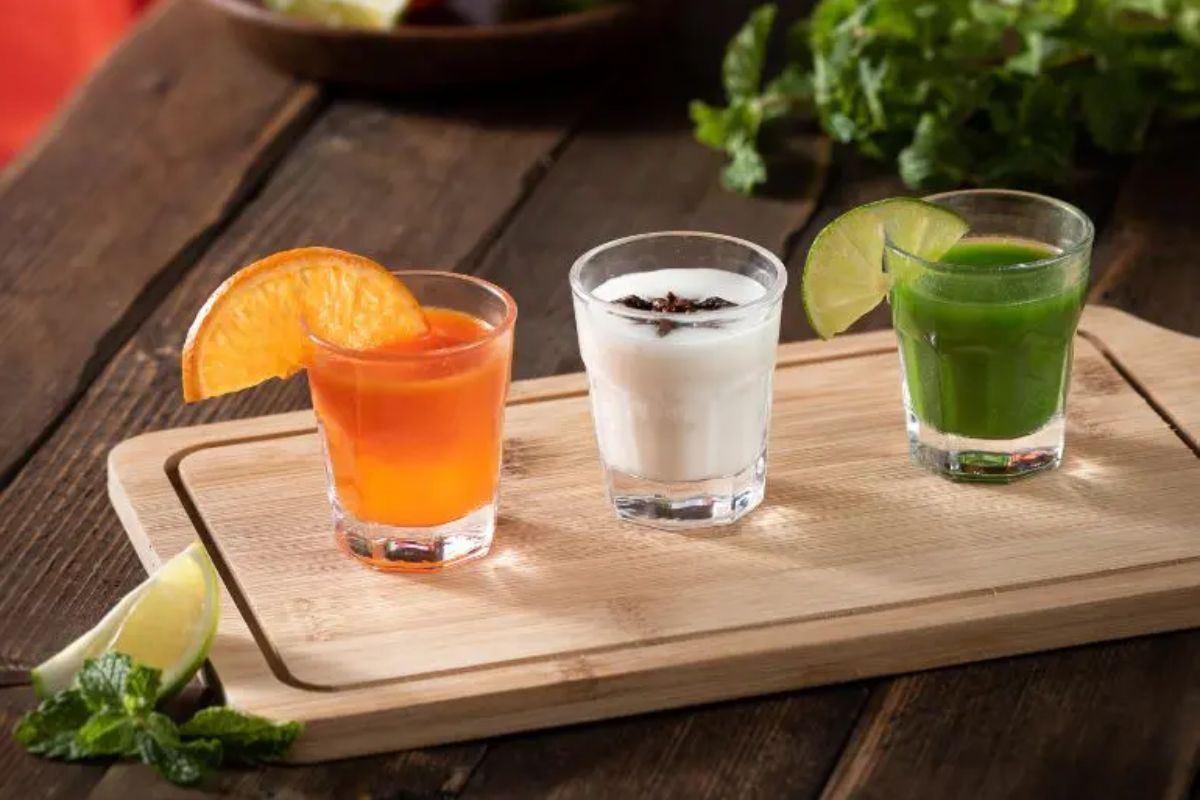 Ever wanted to visit a proper Indian Dhaba in Dubai?  Dhaba Lane is your place then! This locally owned Punjabi eatery is honoring India's 75th Independence Day by giving all its customers free tri-color shots. The flavors for the shots of the colors green, white, and saffron include Mint Cooler, Pina Colada, and Santa Banta. These free shots offer is available from August 15 to August 20. Taste the Delhi Street food flavor through their kebabs, curry, and rice. Dahi Bhalla, Banjara Kebab, Seekh Kebab, and Fish Tikka are among the hot starters on the menu. It is one of the best Indian restaurants in Dubai.
Location: Al Karama, Dubai