They say that breakfast is the most important meal of the day, and when you live in Dubai, this phrase takes on a whole new meaning. Starting your day on a tasty note in Dubai is easy with so many beautiful restaurants and cafes to choose from. it gets even better, when the sun is shining, and the weather is gorgeous and the view is breathtaking - there's no place like this city for outdoor breakfasts.
Dubai has no shortage of fantastic outdoor breakfast venues, from stunning rooftop terraces with panoramic views to quaint cafés situated in the heart of the city.
So, put on your sunscreen, grab your shades, and get ready to indulge in the best outdoor breakfasts Dubai has to offer.
1.  AURA Skypool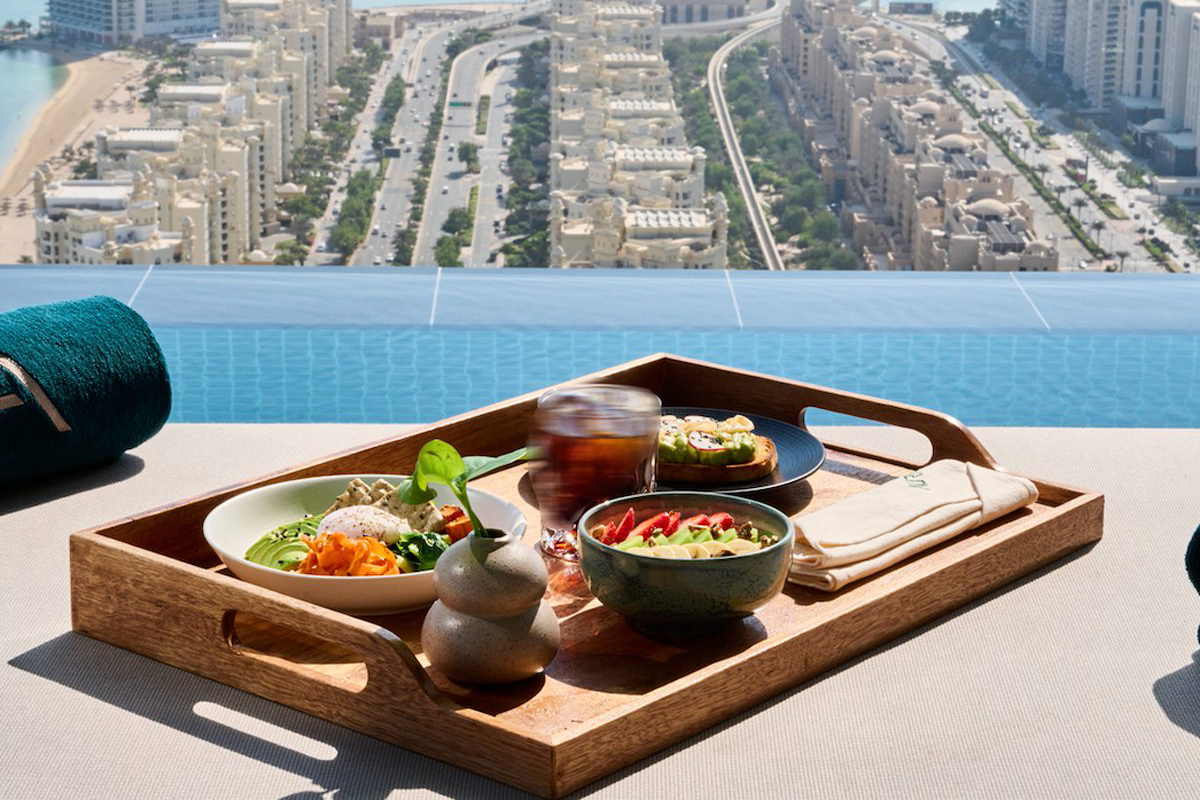 AURA Sky Pool is not only the home to the world's highest 360-degree infinity pool, but it's also a great place to start your day with delicious breakfast. Munch on a variety of healthy dishes from the 'Rise & Shine' breakfast menu before going for a cool dip into the pool. Breakfast favorites include miso eggs Benedict, avo on toast, and an açai bowl. You can also take some stunning sunrise photos while you're at it. If you are looking for an experience that will make you feel as though you've traveled to another planet, AURA sky pool is the place to go!
📍The Palm Tower, Palm Jumeirah
🕙 Tue & Fri 10:00 am-11:00 pm | Mon, Wed, Sat 10:00 am - 07:00 pm | Thu & Sun 06:00 am - 07:00 pm
Read more about - AURA Sky Pool in Dubai
2. DRIFT Beach Dubai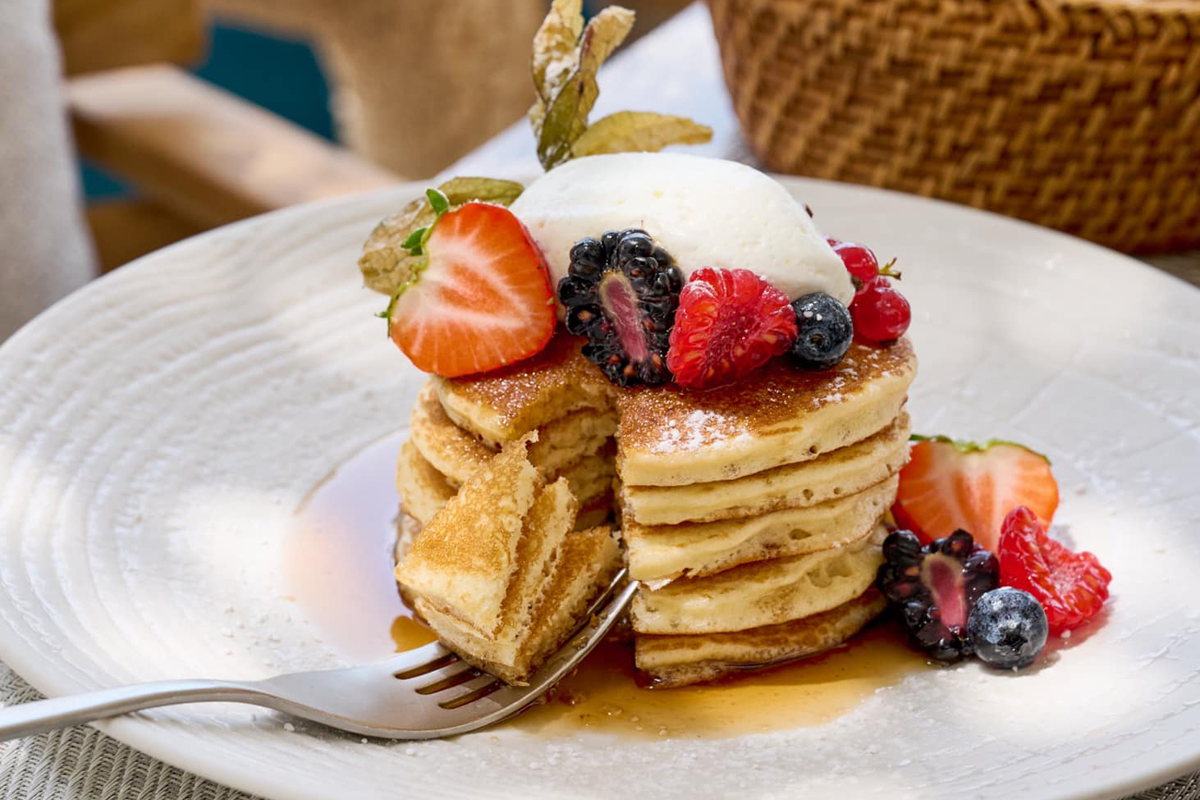 Breakfast with spectacular sea views and the promise of a luxurious pool day can only be found in Dubai, and that's exactly what you'll get at DRIFT Beach. A charming  crowd gathers here for fresh fruit bowls, avocado toast, truffle scrambled eggs, and the perfect cup of coffee. Breakfast favorites include the Banoffee Pancake and the Drift Omlette. Make sure to visit on Wednesdays to get free pool and beach access for the day when you eat at 9 or 10 am. Now, that's something worth waking up for!
📍One&Only Royal Mirage, Dubai Marina
🕙 Mon-Thur 09:00 am - 08:00 pm, Fri-Sun 09:00 am - 09:00 pm
Also Read - Drift Beach Dubai
3. Broadwalk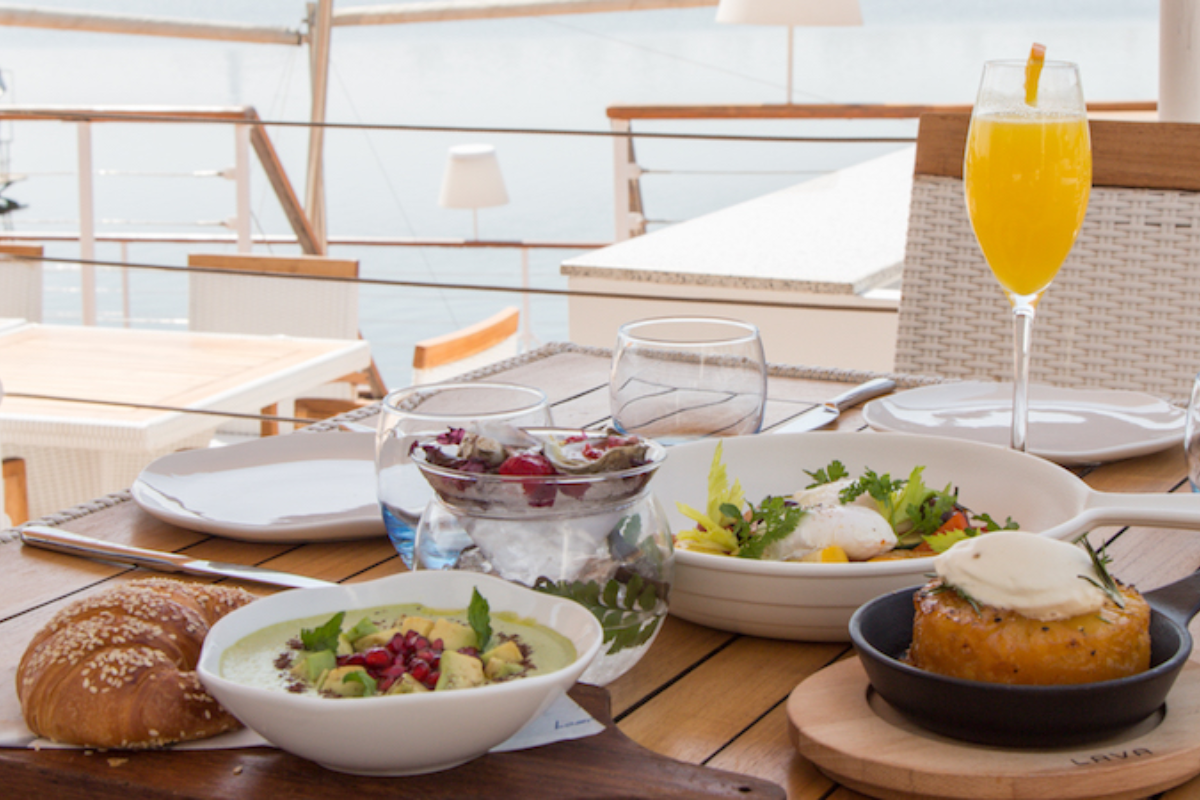 The Boardwalk's weekend breakfast is a hit with late risers. Overlooking the shores of the Dubai Creek Marina, the breakfast menu includes a main course, a glass of fresh orange juice, a dessert, and a coffee for AED 98. Avocado hummus with pomegranate, a simit style cheese croissant, poached eggs in the shakshuka style, zucchini, bell peppers, plum tomatoes, celery, and pineapple tart tatin with crème chantilly, vanilla, black pepper, and rosemary round out the breakfast menu.This magnificent outdoor breakfast in Dubai is only served on the weekends so make sure to not miss out!
📍Dubai Creek Resort, Deira
🕙  Sat-Sun 11:30 am - 01:00 pm
4. Jones the Grocer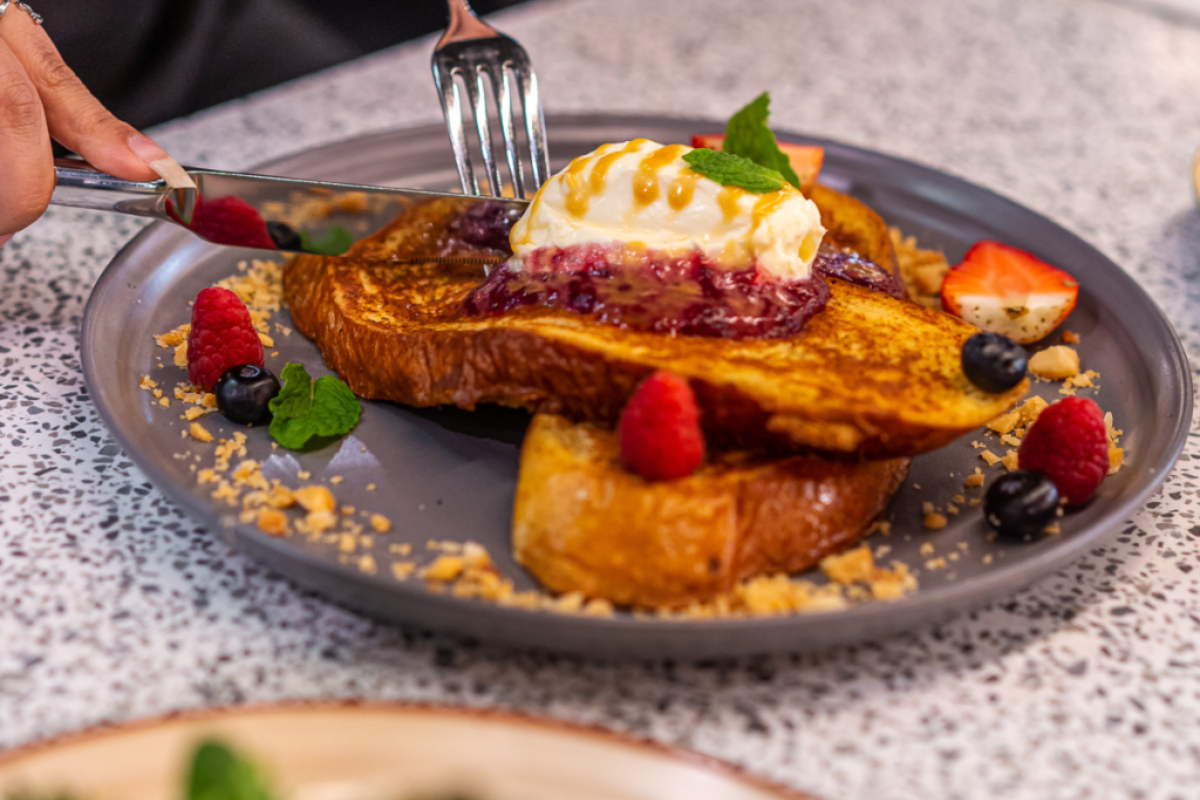 With stunning views of the sea and the Dubai Marina skyline,  Jones the Grocer, located at the West Beach, known for its artisan food, cheese, and wine selections, is a perfect spot to start your day. On the menu, you'll discover a typical English breakfast, a farmer's breakfast, a 'classic benny,' and perfectly prepared coffees. The English Breakfast Fry-up will take  your taste buds a journey. With eggs on toast, beef sausages, beef bacon, sautéed mushrooms, baby spinach, vine tomatoes, and homemade hash browns, it's easy to see why Jones considers this meal to be one of its signatures.
📍West Beach, Palm Jumeirah
🕙 Daily from 7:30 am - 12:00 am
5. F.R.N.D.S Grand Café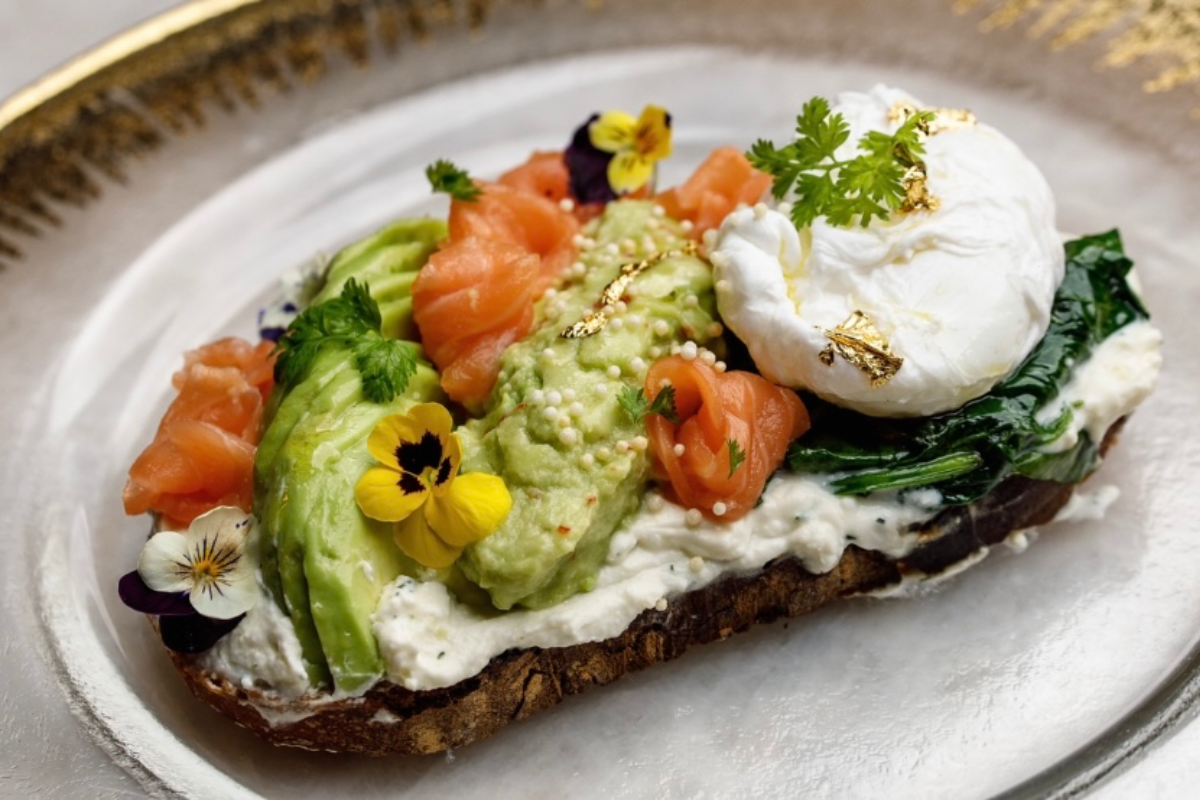 F.R.N.D.S Grand Café, located in the heart of Downtown Dubai, serves an elegant French cafe-style breakfast on its gorgeous terrace. The menu is designed with a simple and classic approach and includes truffle scrambled eggs, classic riz au lait, and crêpes, to name a few. There are also  fresh patisseries such as eclairs, croissants, and a variety of petit gâteau, the ideal morning treat. Mouthwatering menu, chic ambience and magnificent views - A breakfast you're going to remember for long for sure.
📍 Address Fountain Views, Downtown Dubai  
🕙 Daily from 08:00 am 12:00 pm  
6. Hillhouse Brasserie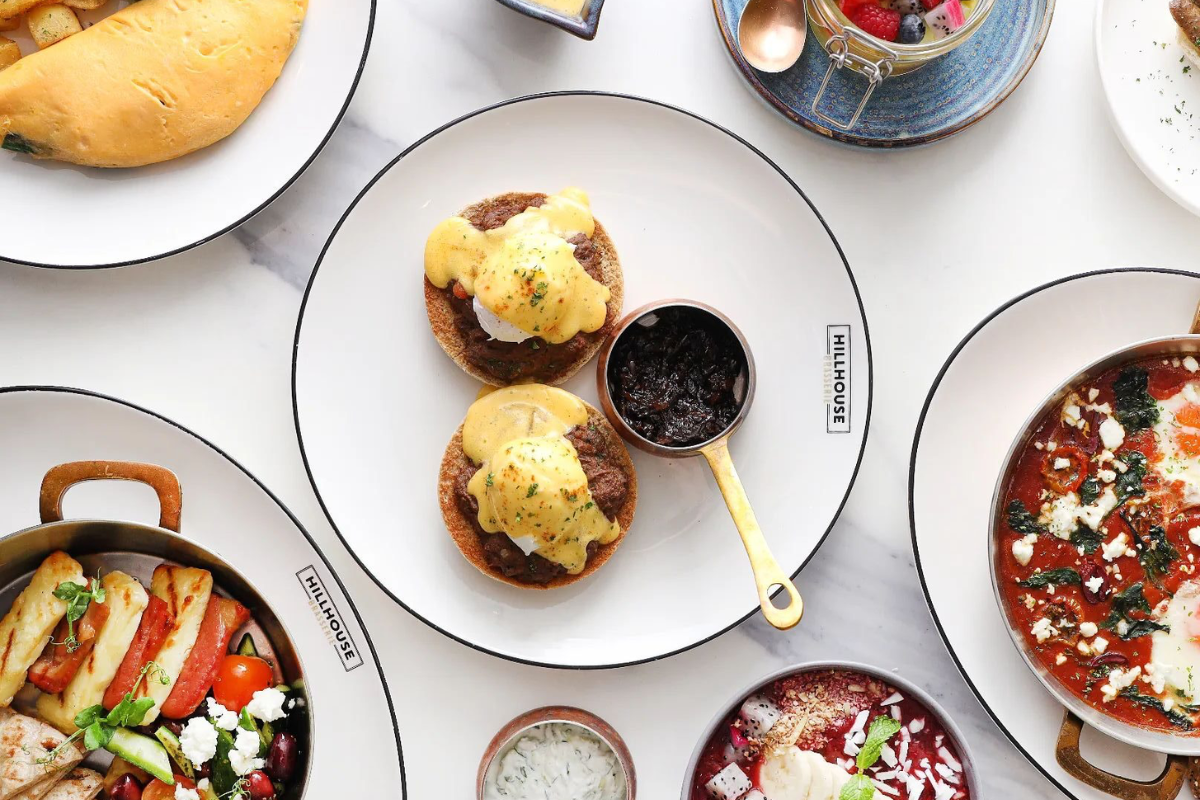 Breakfast that is served with the views of the golf course greens and the magnificent view of Dubai's skyline, has to be the best breakfast setting in the city. Hillhouse Brasserie, nestled in the picture-perfect Dubai Hills Golf Club, is a casually chic eatery serving hearty and delectable European cuisine. Its family-friendly venue opens onto a wrap-around terrace with an amazing view of Downtown Dubai and direct access to the freshly maintained grass, making it the best outdoor breakfast destination in Dubai. The Boulangerie menu includes pastries, bread, omelets, pancakes, waffles, egg dishes, fruit, and a variety of breakfast foods served on toast, like veal bacon and eggs, veal sausage, or salmon and cream cheese. With a dedicated kids' play area and a dog-friendly policy, Hillhouse is the ideal destination to "escape the city" and indulge in a breakfast unlike any other!
📍 Dubai Golf Club, Dubai Creek
🕙  Daily 07:00 am - 11:30 pm
7.  Leen's Emirates Towers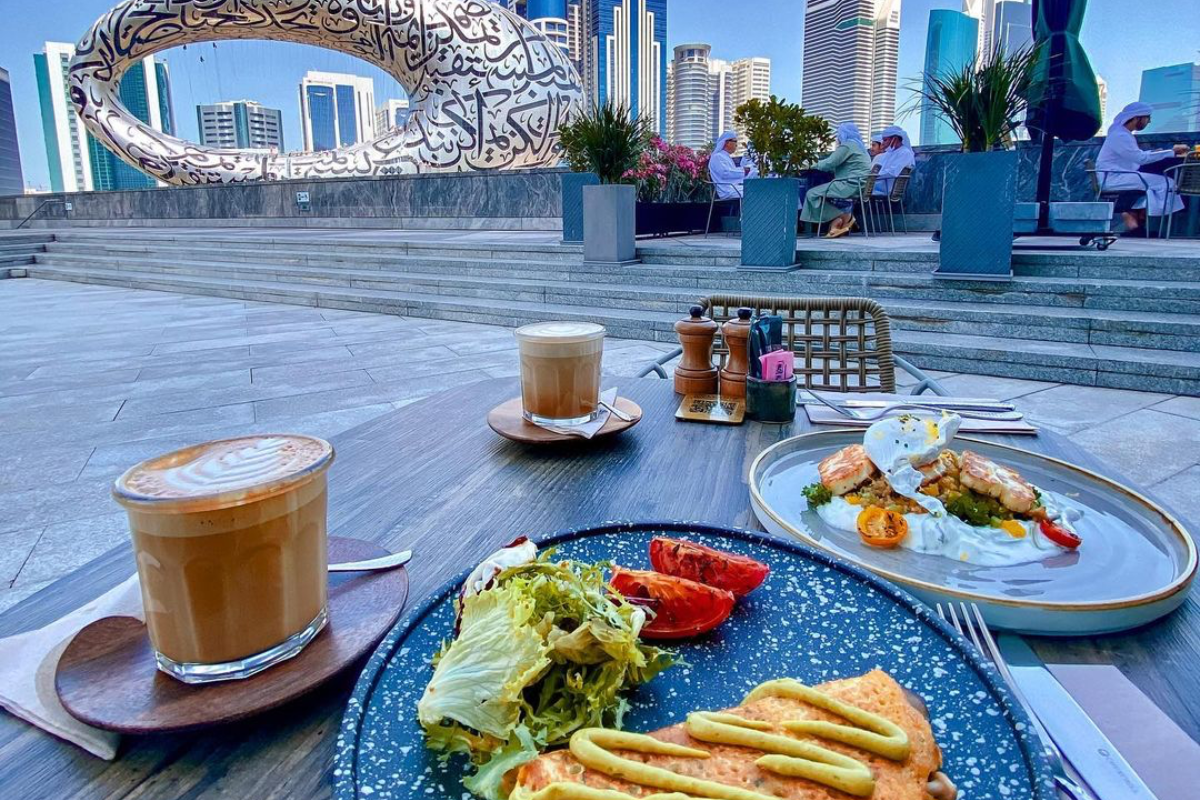 Leen's at Jumeirah Emirates Towers offers stunning views of Dubai's Museum of the Future and is a great spot to get a bite to eat and unwind. You'll like the Mediterranean meal as well as all of the typical breakfast foods, as well as some indulgent pancake or French toast options.  Choose from a variety of coffees, such as cappuccino, flat white, cortado, Spanish latte, or freshly prepared juices. Mouth-watering breakfast with the magnificent views of the city makes this outdoor breakfast spot in Dubai a must-visit!
📍 Leen's Emirates Towers, Sheikh Zayed Road
🕙 Mon - Fri 11:30 am - 11:00 pm | Sat - Sun 08:00 am - 11:00 pm
8. GIA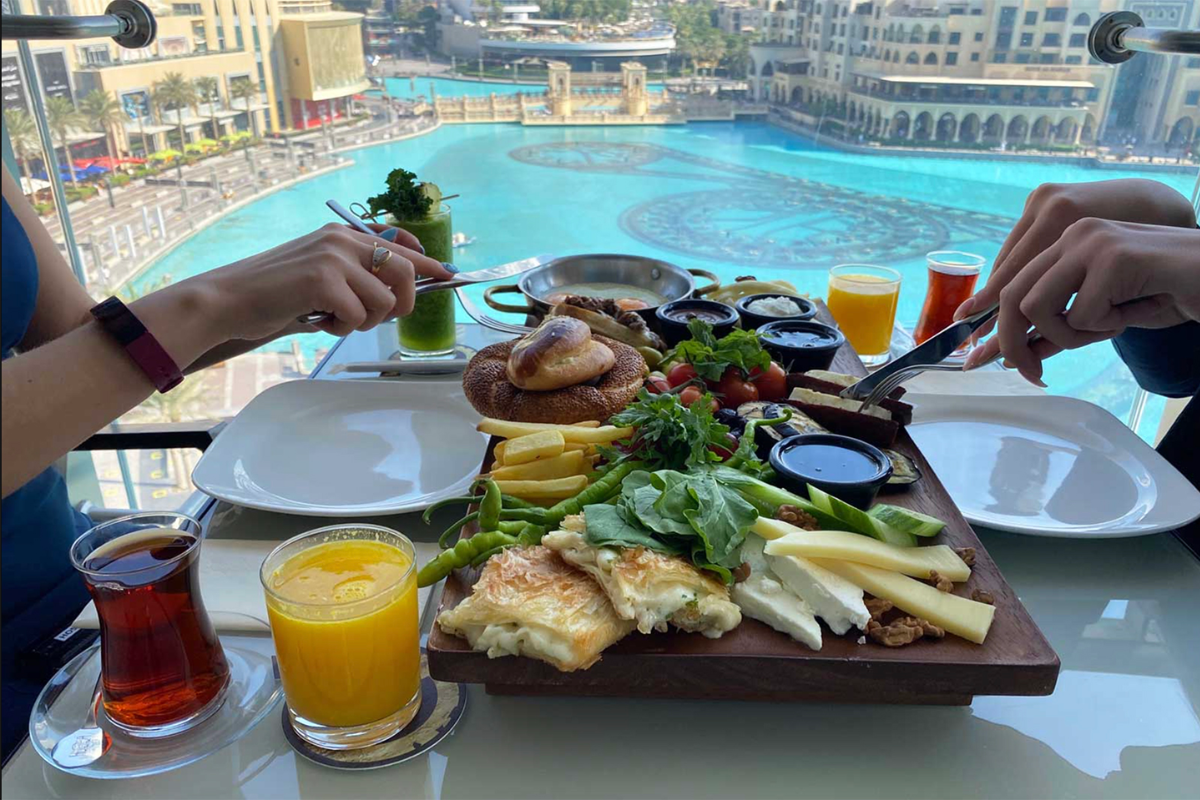 GIA's outdoor terrace boasts views of both the iconic Burj Khalifa and the stunning Dubai Fountain. Now, that's a view to wake for.  The restaurant serves Italian cuisine, and the breakfast menu is filled with delights one after the other. The Focaccia Poached Egg will keep you going, and the Uovo Strapazzato Al Tartufo, which combines truffle, mushrooms, and scrambled eggs over sourdough bread, is a classy way to start the day. The Zaatar Pesto Poached Egg, Omelette al Formaggio, Berry Croissant and French Toast Sour Bread are other popular breakfast favorites. After you're done with breakfast here, you can explore the Dubai Mall, Burj Khalifa, view the Fountain and so much more which is totally a win if you ask us.
📍 The Dubai Mall, Downtown Dubai
🕙 Mon - Thu 10:00 am - 12:00 am | Fri-Sun 10:00 am - 01:00 am
Also Read: