Dubai attracts a massive number of tourists every year with its opulent buildings, architecture, thrilling attractions, futuristic events, and more. No travel experience is complete without buying souvenirs for your friends and family back home. You can also purchase souvenirs and keepsakes for you to reminisce about your best days in Dubai.
Confused about what to buy during your Dubai trip? Here are the best suggestions for the souvenirs you need to buy from Dubai.
Perfumes and Oud
Dubai is famous for its fancy perfumes and oud, a precious fragrant wood. Take a stroll in the busy markets and discover the delightful realm of Arabian scents. From local to global perfume makers, you'll encounter enchanting fragrances that capture the essence of Dubai's special allure. Dubai is also home to Perfume Souk from where you can get premium scents for reasonable bargains.
Bakhoor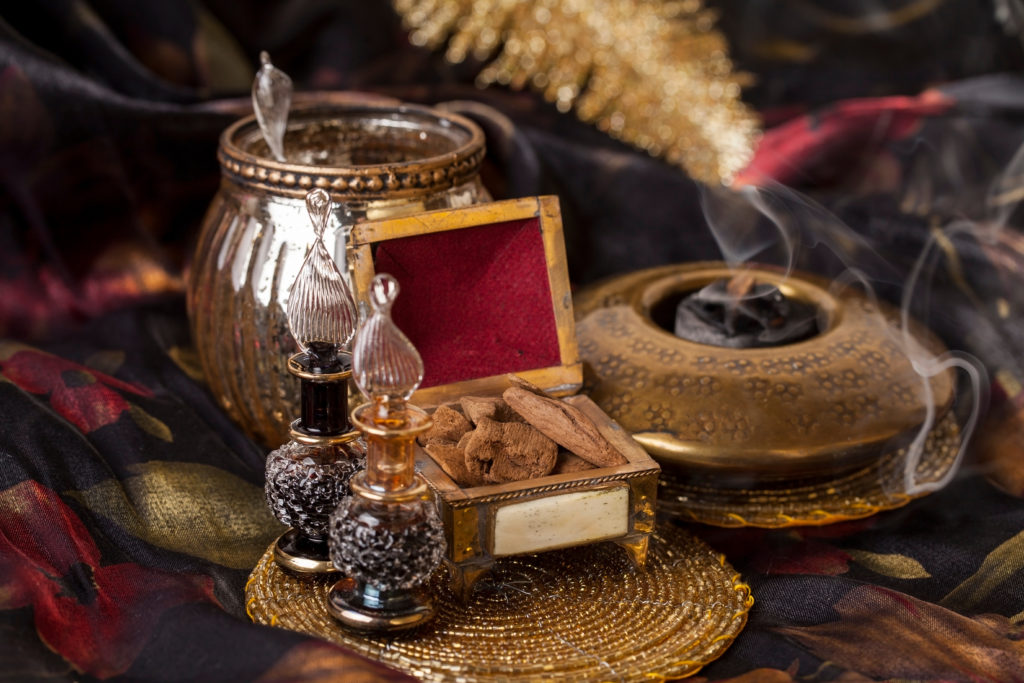 Bakhoor, a highly valued aromatic wood, is a specialty of Dubai. It is used in the creation of perfumes, oils, and incense. It is often soaked in Oud oils or other essential oils such as jasmine, sandalwood, or amber to add interesting and soothing notes to the fragrance. You can use this as a home freshener by burning it on a bakhoor burner. You can also buy bakhoor burners which are used traditionally to burn incense. Go for the traditional one or the electrical bakhoor burner set to make an excellent combo gift with the bakhoor.
Oud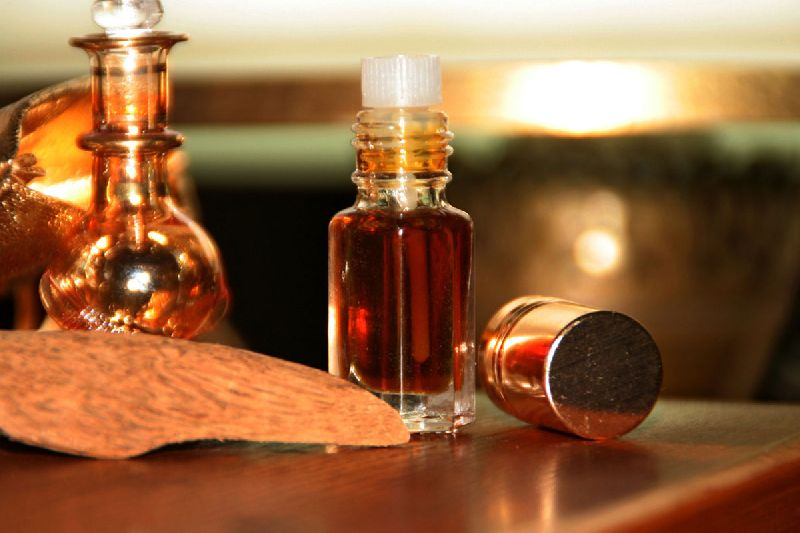 Oud is a special oil that has a strong woody smell. It is used as a natural perfume in Emirati culture. The oil is made by distilling the resin of the agarwood tree and mixing it with other oils to create a wearable perfume. Oud is very expensive because it is rare. It takes a lot of wood to make a small bottle of oud, and the process takes a long time, even centuries. Popular perfume brands have started making fragrances inspired by this scent. Many perfume shops in Dubai sell different varieties of Oud.
Custom-made Perfumes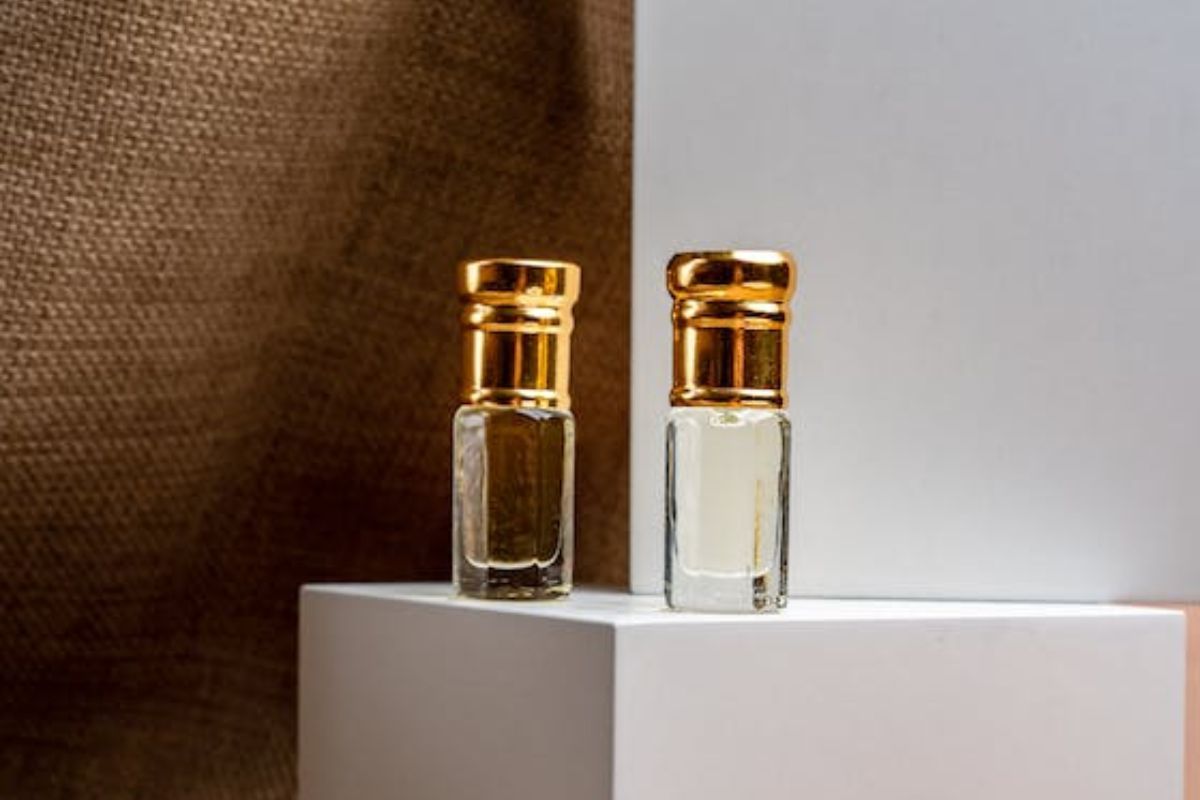 A personalized souvenir for someone special back home will certainly enhance the whole gifting experience. Visit the Perfume Souk in Deira Dubai to get your tailor-made scent by the expert perfumer. You can give them your preferred notes to make your dream fragrance. Many shops at the perfume souk also can create cheaper copies of popular premium fragrance brands like YSL, Dior, and Versace.
Frankincense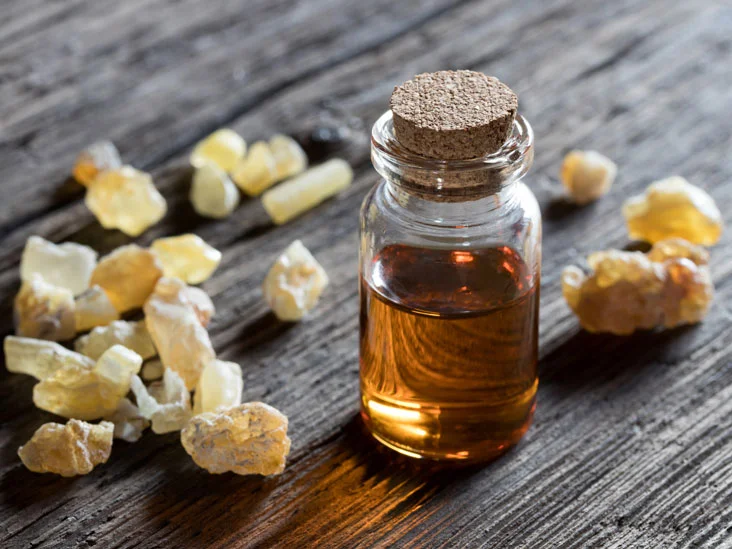 Frankincense is a special resin obtained from the sap of the Boswellia tree. It has been used as incense in the Arab world for a very long time. When the sap hardens, it turns into milky-looking resins, which is why frankincense is called the 'pearl of the desert'. Burning them at your home has various health benefits like helping with cold, cough, and respiratory issues and creating a calm and soothing atmosphere. You can get them at the perfume souks in Deira and Bur Dubai.
Traditional Handicrafts
Explore the amazing, handcrafted items in Dubai that showcase the city's talented artisans. You'll find beautifully woven carpets, lovely pottery, hand-painted ceramics, and delicate glassware in the local markets. These unique creations represent the rich cultural heritage of the region and make fantastic souvenirs to decorate your home.
Dallah set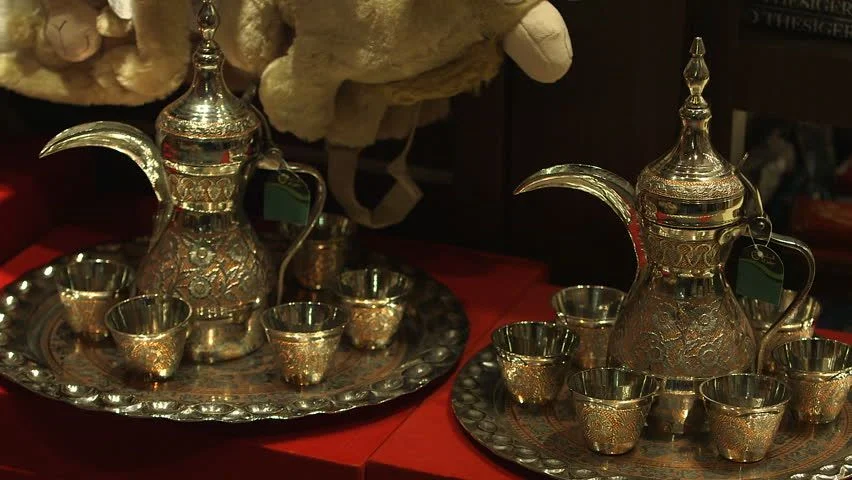 Dallah coffee pots are traditional vessels used for serving gahwa, or Arabic coffee, in Emirati culture. They feature a long spout for easy pouring and a large handle for a comfortable grip. In the past, they were handcrafted from materials like brass, silver, copper, and even gold, adorned with intricate engravings. Modern dallahs are now made from ceramic, stainless steel, or glass, with contemporary designs. You can find them in Dubai's souks and malls, often sold in sets that include finjan cups. These sets are ideal for serving Arabic coffee, while decorative dallah coffee pots can be used as home decor ornaments.
Pottery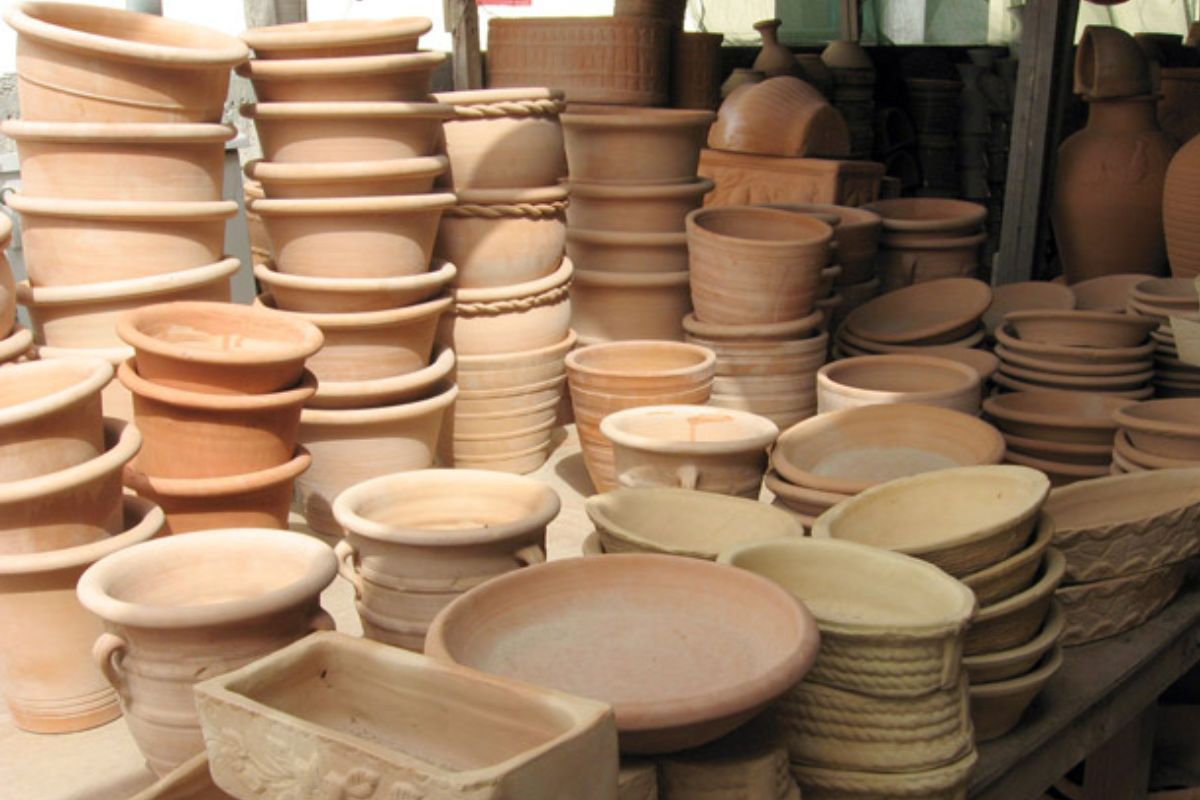 Dubai's rich history and heritage have a strong bond with pottery. Originally used for practical purposes, it has evolved into an artistic craft. Local artists in Dubai have embraced pottery and ceramics, creating unique and beautiful pieces. To support these artists and bring home an authentic UAE souvenir, consider purchasing handcrafted ceramics and pottery. You can find a variety of items such as bowls, tableware, coffee cups, and sculptures. For more affordable options, explore the shops in Al Seef, Al Fahidi Historical Neighborhood, and the souks of Bur Dubai and Deira.
Traditional lanterns and lamps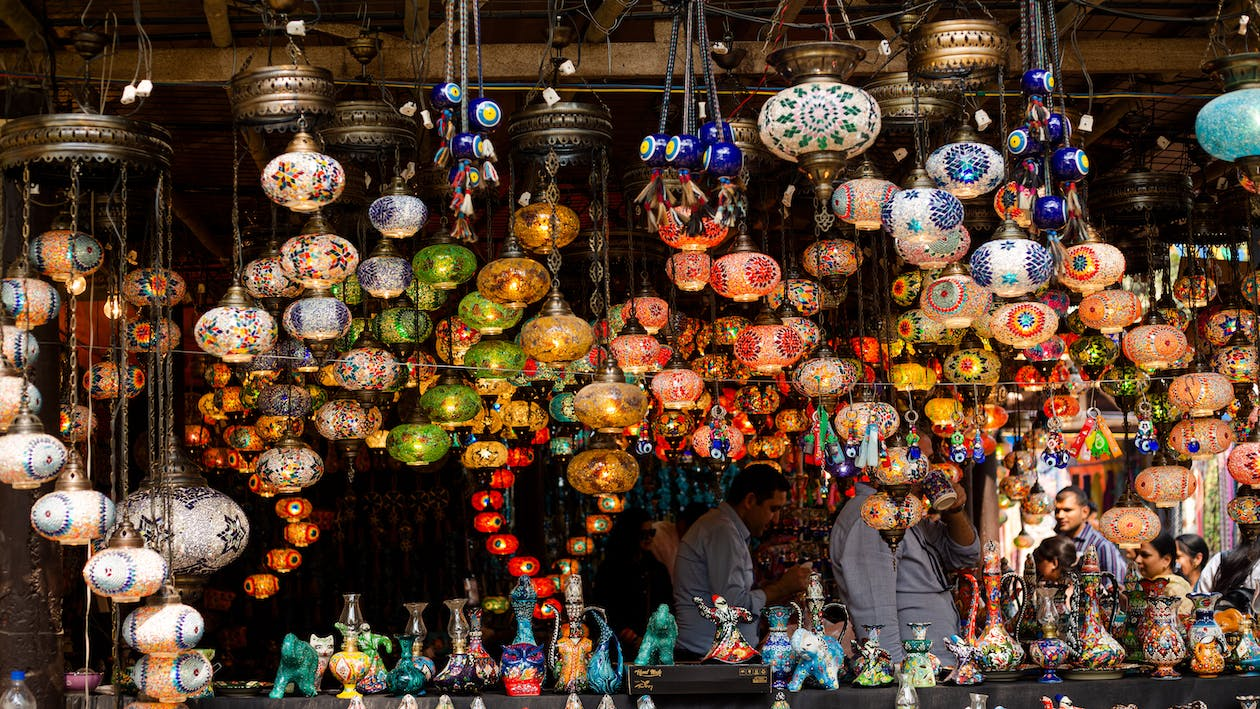 In the souks of Dubai, like Deira and Souk Madinat Jumeirah, you'll find exquisite brass lanterns and colorful mosaic lamps. These decorative items are commonly used in traditional homes and gardens in the region. While it's uncertain if all of them are produced locally or in countries like Turkey and Morocco, they are undeniably stunning. You can buy them as souvenirs to remember your Dubai trip or as impressive gifts for friends and family.
Handmade carpets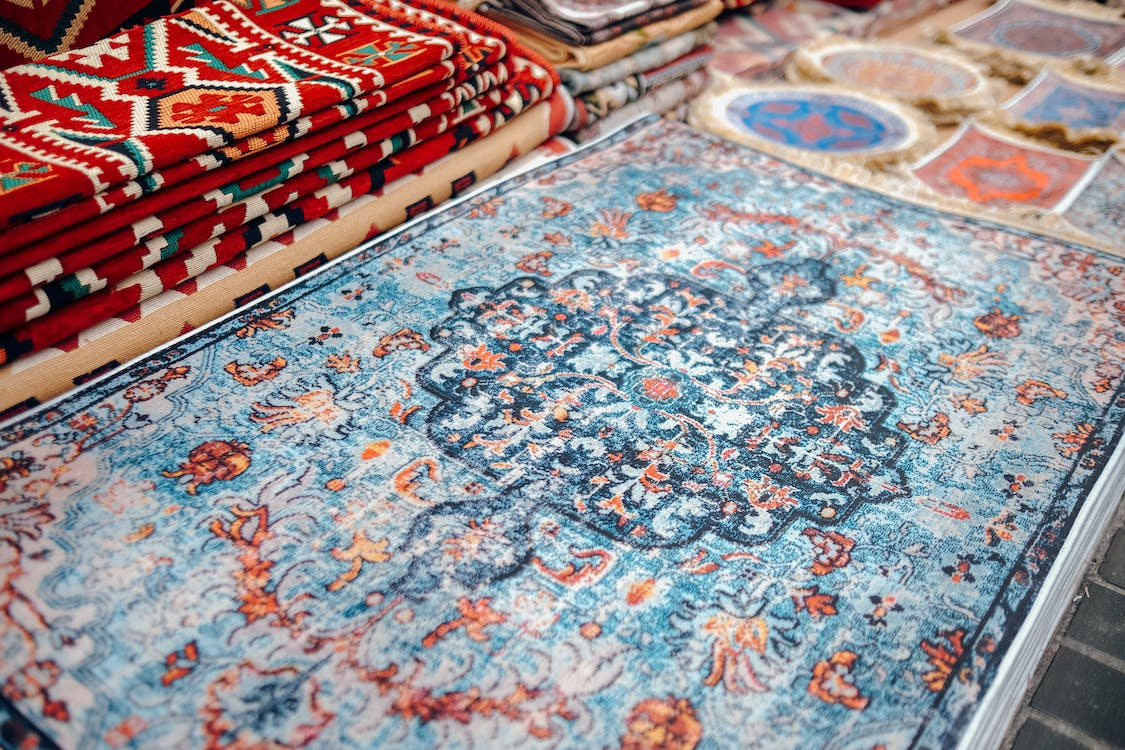 Dubai is home to many stores that sell handmade rugs and carpets. However, it is quite difficult to carry a heavy carpet back home. You can look for smaller options as you would not want to miss out on authentic and unique rugs in the city. Persian rugs have been highly prized for centuries and make special souvenirs. These rugs can be expensive due to their quality and are commonly found in Emirati homes and cherished by residents of different nationalities in Dubai. Over time, handmade rugs increase in value, and antique options can be found. However, to accommodate different budgets, many shops also offer more affordable alternatives like Indian and Turkish wool rugs, as well as machine-made rugs. These rugs still have beautiful designs, with the cheapest ones made from synthetic fibers.
Arabian Fashion
Experience the vibrant Emirati culture by getting traditional clothing like the graceful jalabiya or the distinguished kandora for men. These beautifully designed garments are crafted with great detail, making them wonderful souvenirs that reflect Dubai's rich heritage.
Traditional Emirati attire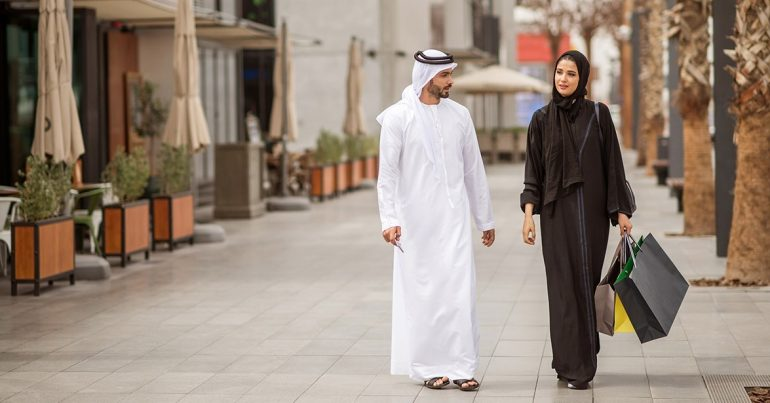 You can buy traditional Arabic dresses like jalabiyas or kanduras for your fashion-loving friends back home. Jalabiya is a long, flowy ankle-length robe worn by women in the UAE and the Middle East, while Kandura is a loose, full-sleeved ankle-length robe for men. Jalabiyas are stylish and modest, often worn under the abaya or on special occasions. They make unique souvenirs or gifts, available in various fabrics and embroideries. Kanduras, commonly white, are worn by Emirati and Arab men, complemented by ghutra or shemagh headdresses. These traditional garments are a great choice for souvenirs from Dubai.
Kaftan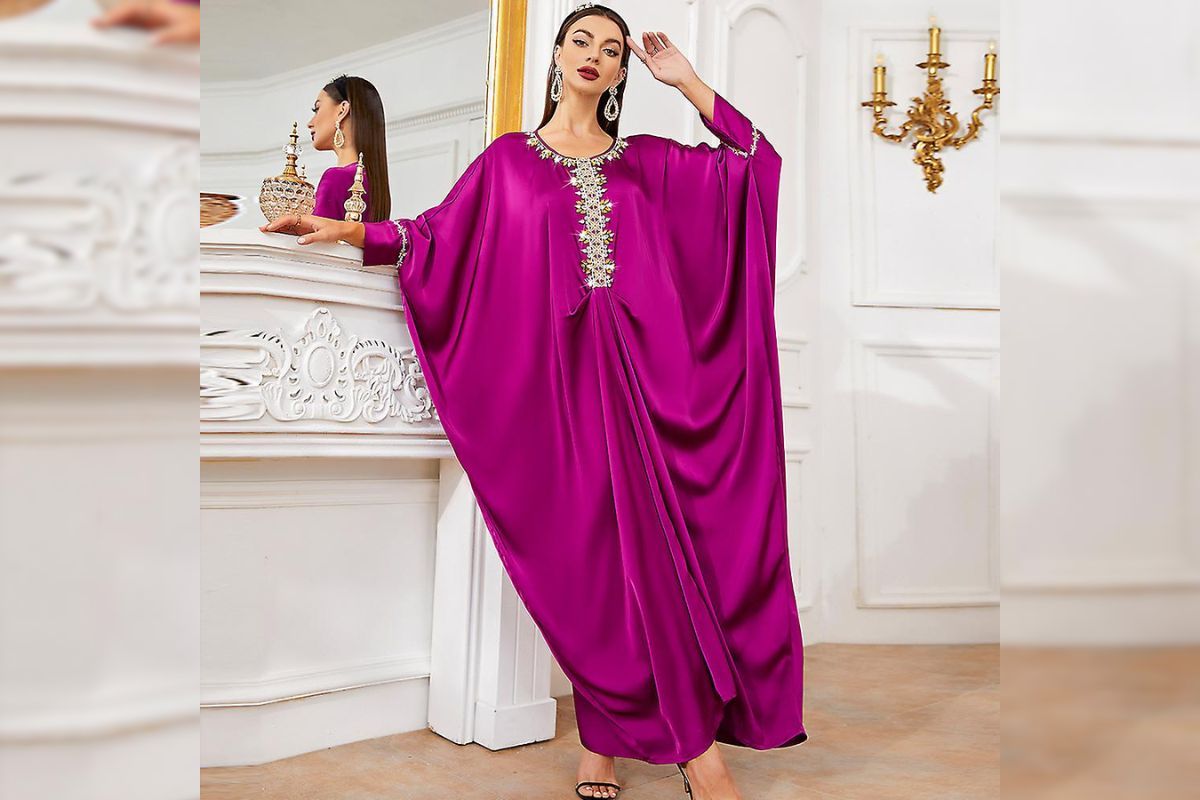 A kaftan is a long robe or shorter tunic worn in the Middle East and North Africa. Some kaftans have buttons or hooks to close them, while others are open. Kaftans can have long or short sleeves and may be embroidered with fancy designs. Some have a tie to highlight the waist. They can be dressed up with traditional-style pants or worn casually over swimwear or with shorts or jeans. Kaftans are flowy, comfortable, and perfect for the summer. You can gift your girl pals back in your home beautiful kaftans which they can take for their next beach vacation.
Custom-made shoes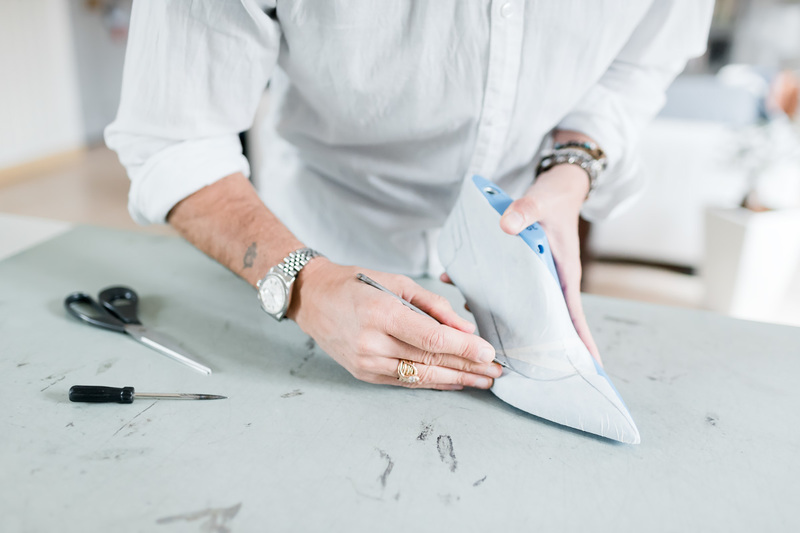 You can impress your father or somebody special by gifting them a custom-made pair of shoes that reflects their style sense. Italian Shoe Factory in Dubai's Alserkal Avenue offers the opportunity to have custom-made shoes that are uniquely tailored to your preferences. You can choose the shape, style, material, design, and heel of your shoes to create the perfect pair. The process is focused on sustainability and ethical sourcing to ensure high-quality craftsmanship. Both men and women can enjoy the bespoke shoe-making experience at Italian Shoe Factory with prices reflecting the exceptional craftsmanship and attention to detail.
Healthy Treats
This is a must-have in your return luggage from Dubai. You need to buy premium dates, date delicacies, and camel milk chocolates while in Dubai. You might no be able to find a wide variety of these healthy treats elsewhere.
Date delicacies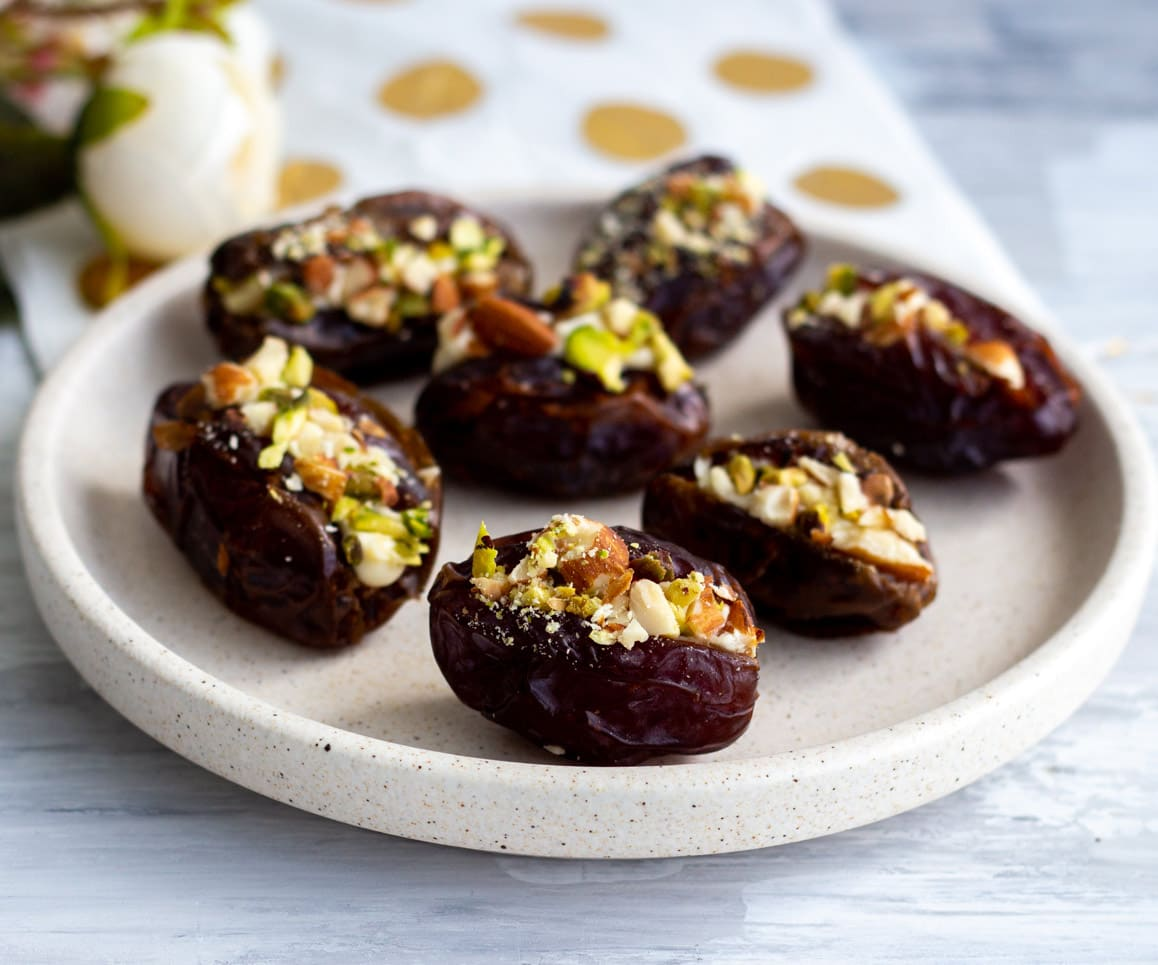 When it comes to souvenirs in Dubai, dates are a must-have. These sweet and delicious fruits grow abundantly in the region. Dubai offers a variety of dates, each with its own texture and taste. From local UAE dates to those from neighboring countries like Saudi Arabia and Oman, you'll find a wide selection to choose from. Stuffed dates, filled with candied orange peel, ginger, or nuts, are a unique and delicious treat. Date-filled chocolates, especially from Bateel, are another popular option. For a different twist, try date jam, perfect for pairing with cheese. You can also stock up on mamoul, cookies stuffed with dates, to take back home. Dates are not only a delightful snack but also make excellent gifts to share the flavors of Dubai with your loved ones.
Gahwa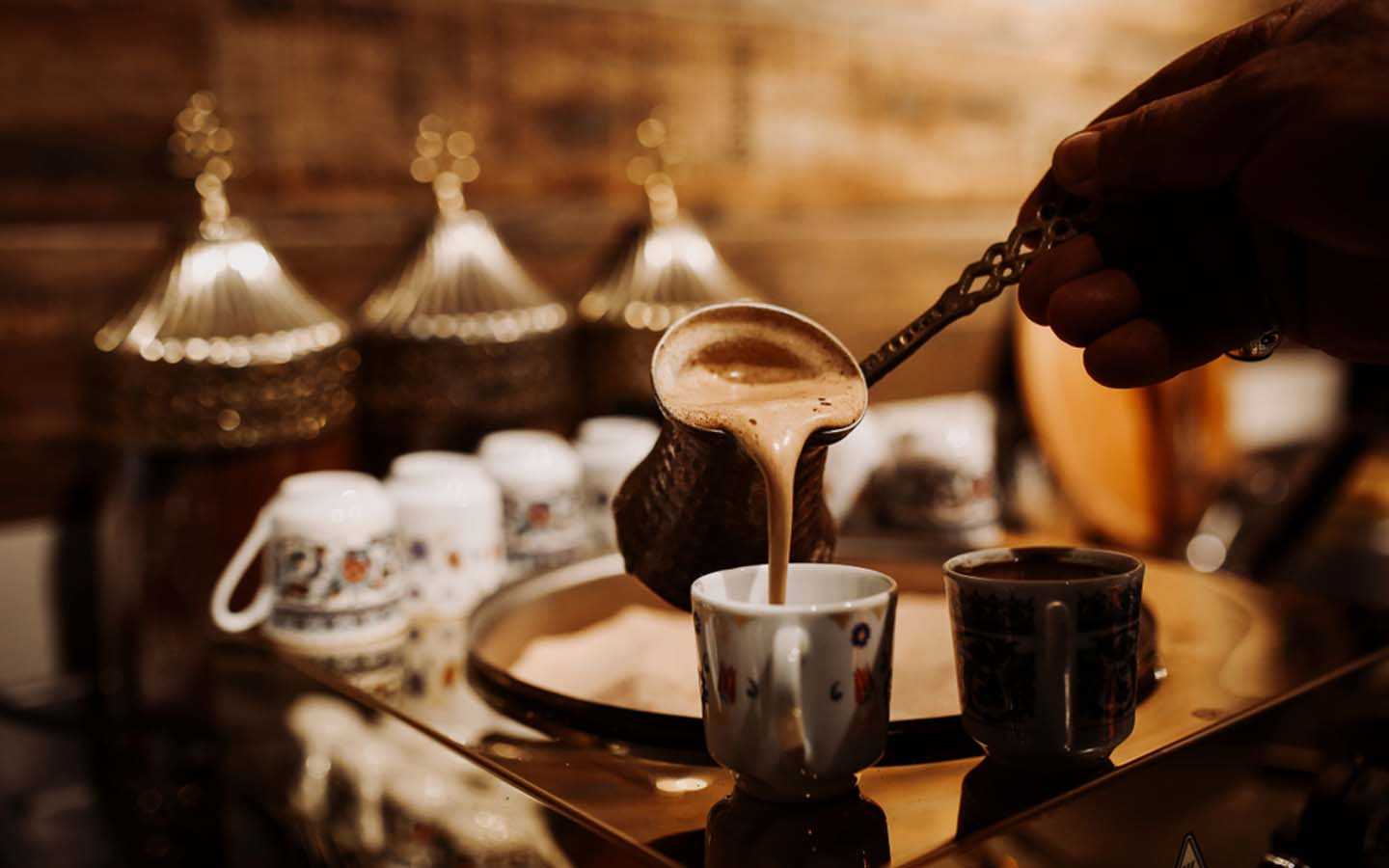 Arabic coffee, or more commonly known as 'gahwa' in the region is a popular drink served to guests. If you have visited Dubai, it is highly likely that someone offered you gahwa or a karak. In Bedouin culture, offering Arabic coffee has always been a symbol of hospitality among desert tribes. UNESCO recognized Arabic coffee as an intangible cultural heritage in 2015. As a coffee enthusiast, buying Arabic coffee in Dubai serves as a meaningful souvenir. It comes in various blends, often brewed with cardamom in a special pot called a dallah. Enjoyed hot with dates, it offers a delightful taste experience.
Camel Milk chocolates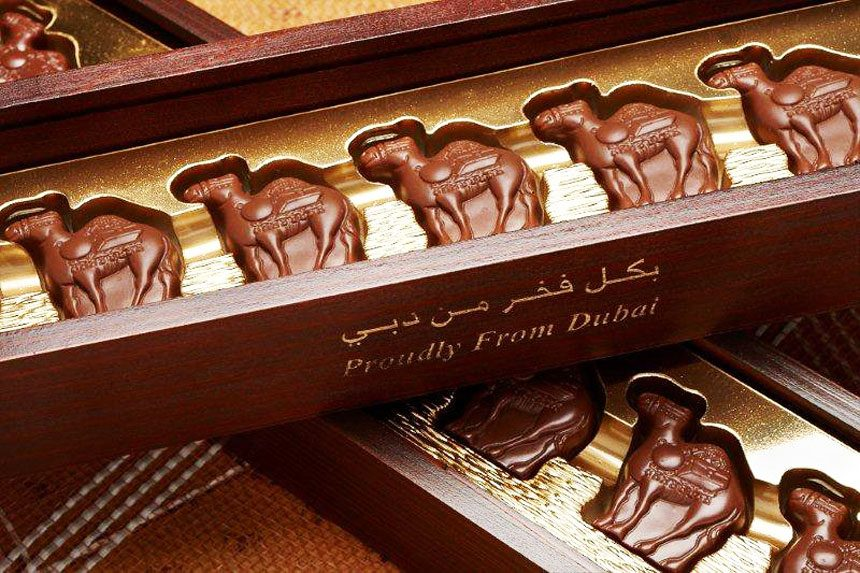 Camels are deeply rooted in Emirati culture, symbolizing the desert heritage. You can find a variety of products made from camel milk, such as chocolates, soaps, lotions, and perfumes. These items utilize the nourishing properties of camel milk and offer a unique taste of the region. The best souvenir among camel milk products is chocolates. Made from nourishing camel milk, these chocolates offer a unique taste and also make a healthy treat. They make for unforgettable souvenirs that capture the essence of Emirati culture.
Also read: