The tourism industry in Dubai has been in its booming phase for quite some time now. Thanks to the modern infrastructure, iconic landmarks, and architectural marvels, this small city still tops the most desired tourist destination list. More than 14 million tourists have been welcomed by Dubai in 2022 according to the data published by Dubai's Department of Economy and Tourism.
The best way to end a trip is by buying souvenirs or keepsakes for your friends or family back home. You can also get yourselves beautiful keepsakes to remind you of the fascinating moments you had during your visit. Dubai has a lot of options when it comes to buying souvenirs. From traditional souks to shopping malls, you can get your hands on attractive pieces to take home. If you are planning to buy souvenirs during your trip to Dubai, look no further. Here are the popular stores in Dubai that sell exquisite souvenir pieces.
Traditional Souks
Traditional souks are a great option to get your souvenirs. As a tourist in Dubai, souks are a must-visit attraction during your trip. These traditional markets are full of hustles and bustles featuring colorful merchandise, narrow alleys, and friendly vendors. You can find a wide range of traditional crafts and artifacts that reflect the cultural heritage of the region. Some of the best souks in Dubai to get great souvenirs are listed below.
Spice Souk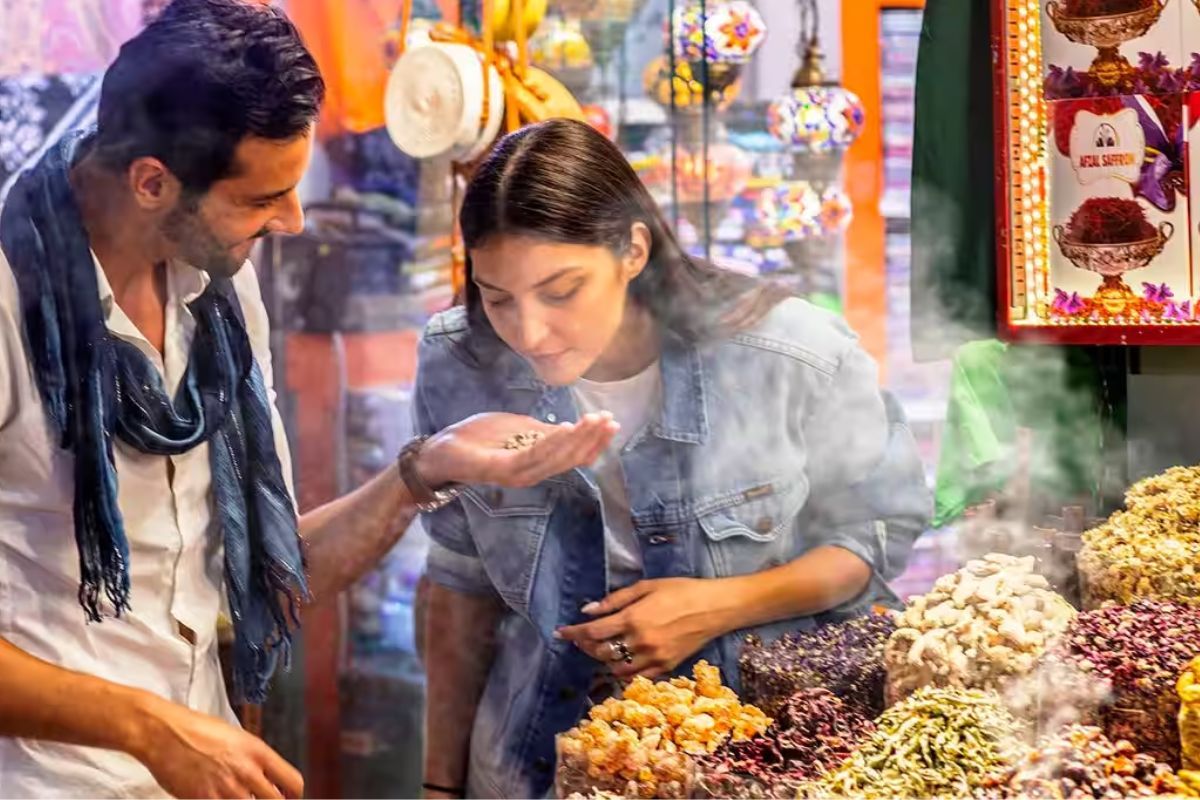 The Spice Souk in Dubai is a lively and aromatic place where you can explore a variety of spices. The market is filled with colorful stalls full of baskets of herbs and spices. Stall after stall presents a wide array of neatly arranged sacks and containers brimming with spices like saffron, cardamom, cinnamon, cumin, and more. From the perfect blend of spices for culinary delights to aromatic souvenirs, Spice Souk is a great place to buy souvenirs.
Location: Al Ras, Deira
Naif Souk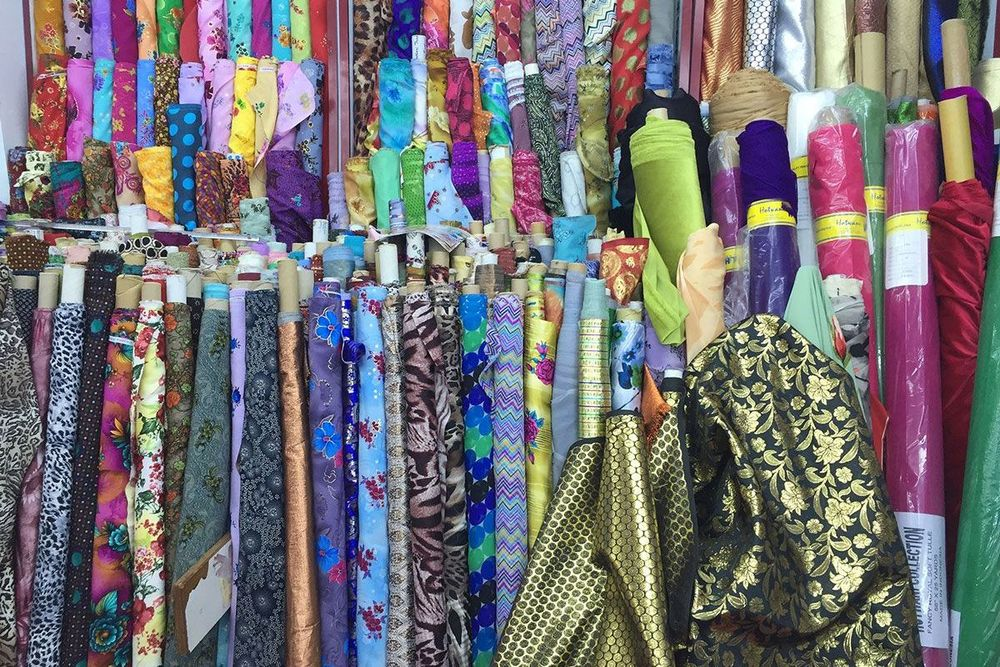 Naif Souk is one of the most popular affordable shopping destinations in Dubai. At this traditional souk in Dubai, you can get anything from traditional clothing to fashion accessories. You can also find great-value items such as leather goods, textiles, and electronics. The bustling atmosphere of the market in the evenings adds to the thrill of street shopping. The market also provides great value for money, with competitive prices and bargains to be found. It's a fantastic place to find little treats and keepsakes to take home.
Location: Naif Area, Deira
Textile Souk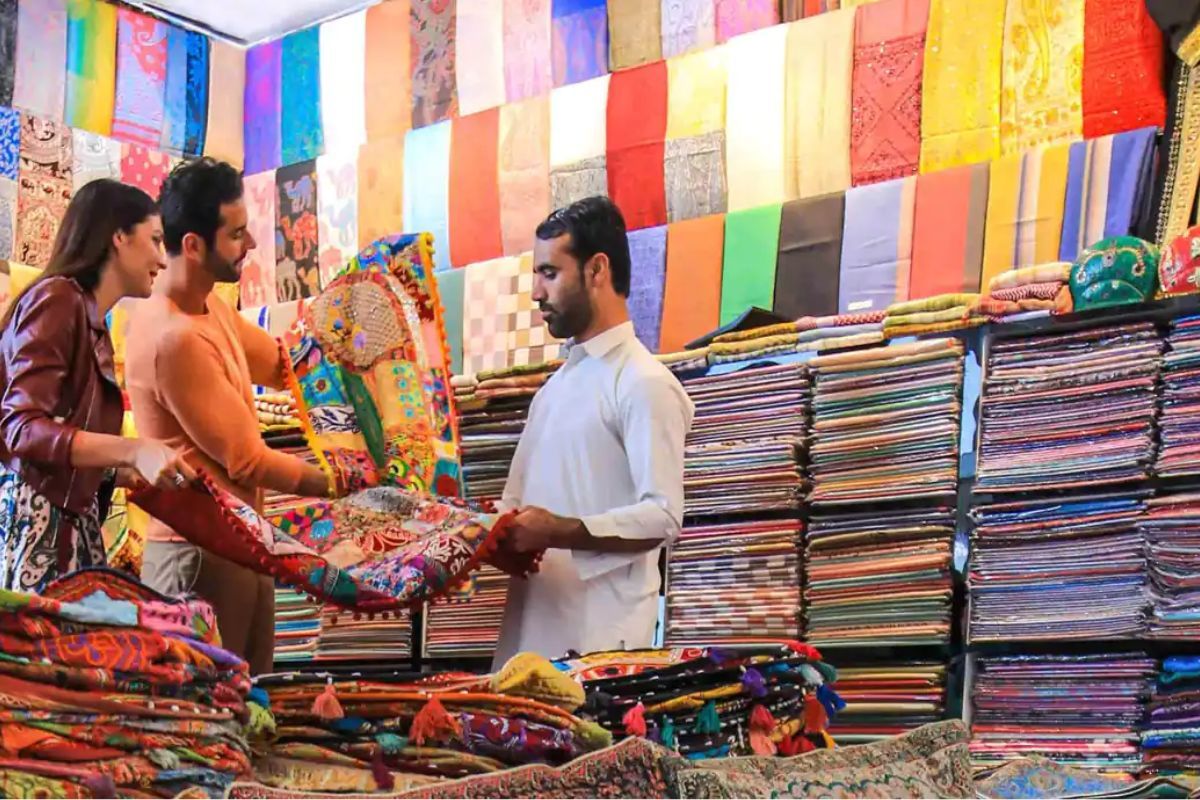 Textile Souk is a great option to get souvenirs in Dubai if you are looking for great cashmere or clothing. The textile souk in the historic neighborhood of Bur Dubai is home to a wide selection of fabrics. From endless reels of raw silk, cotton, and embroidered materials in different prints and colors, you can get anything here to craft a beautiful outfit. You can find buttons, sequins, stones, lace, and other accessories to add an Arabian touch to your wardrobe. You can also choose from ready-to-wear outfits designed by local fashion creators or have a skilled tailor make a garment from your chosen fabric. By purchasing souvenirs from the Textile Souk, you can bring home unique and intricately crafted pieces that reflect Dubai's vibrant textile industry.
Location: Bur Dubai
Souk Madinat Jumeirah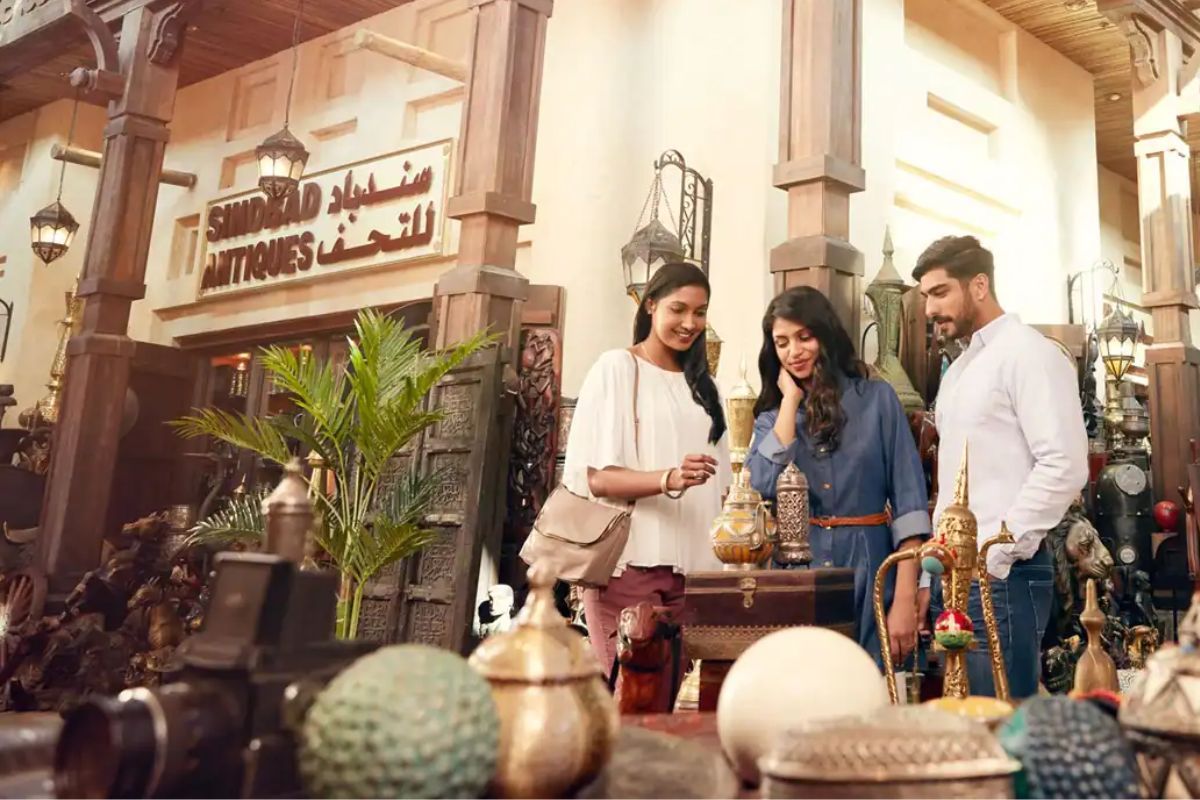 Souk Madinat Jumeirah is a modern twist on a traditional market. Located in one of the popular tourist destinations in Dubai, Madinat Jumeirah, this market offers an upscale street shopping experience. From boutique brands to homeware, fashion, jewelry, and traditional Arabian trinkets, there's something for everyone's taste. It features more than 25 dining outlets, shops, and galleries where you will be captivated by the fragrant scents, glowing lanterns, and exquisite artisanal souvenirs. You can take a small part of Dubai from here while going back.
Location: Madinat Jumeirah, Jumeirah
Perfume Souk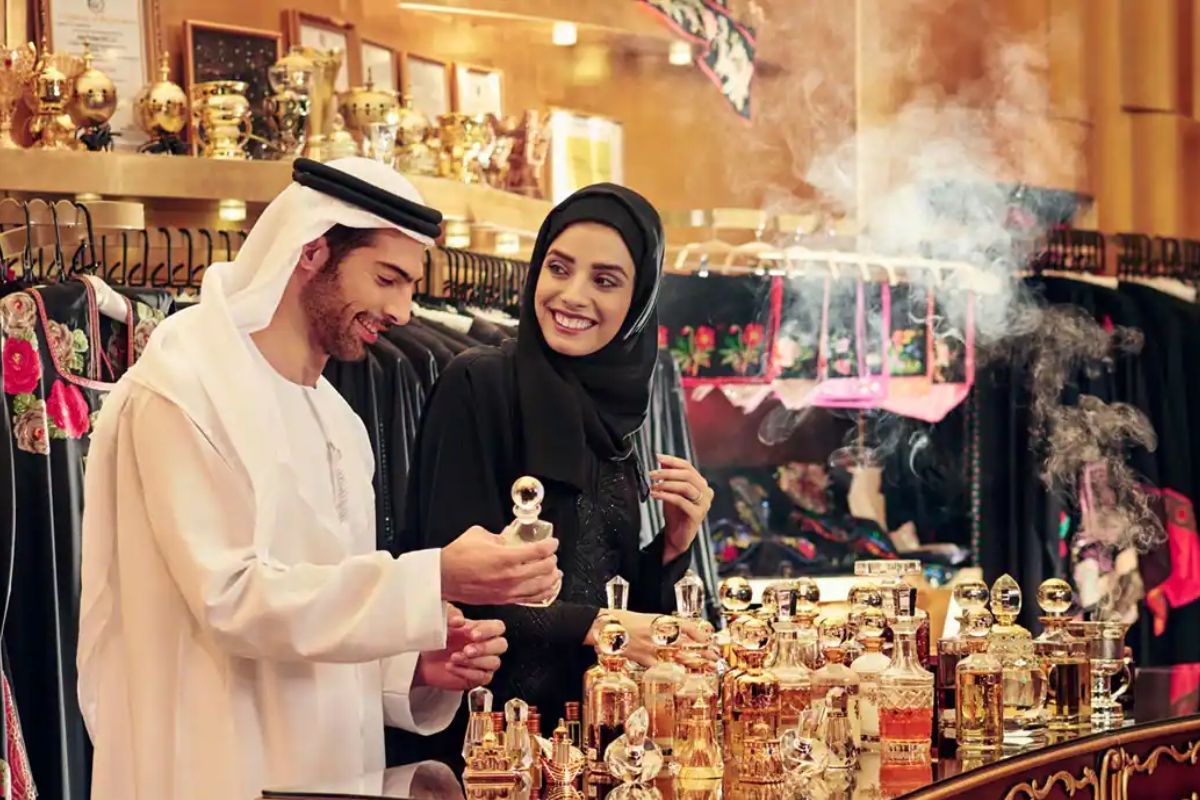 Arabian fragrances are popular around the world. Perfumes make a great option for souvenirs from Dubai. You can gift your friends and family back home with premium fragrances from Perfume Souk in Dubai. You can buy from an extensive selection of traditional Arabian scents in various forms such as sticks, powders, crystals, rocks, or wood elements. Buy bakhoor and oud of your choice to make your home smell like Arabian houses. You can even request a bespoke fragrance tailored to suit your taste. Some perfume stores inside the souk can also make copies of luxury perfume brands for an affordable price.
Location: Al Sabkha, Deira
Souvenir Shops
Dubai boasts a diverse range of souvenir shops that cater to every taste and interest. You can find treasures that encapsulate the essence of this remarkable city at these souvenir shops. Most of the souvenir shops are located near popular tourist attractions in the city. Here are some of the most popular souvenir shops in Dubai.
I Love Dubai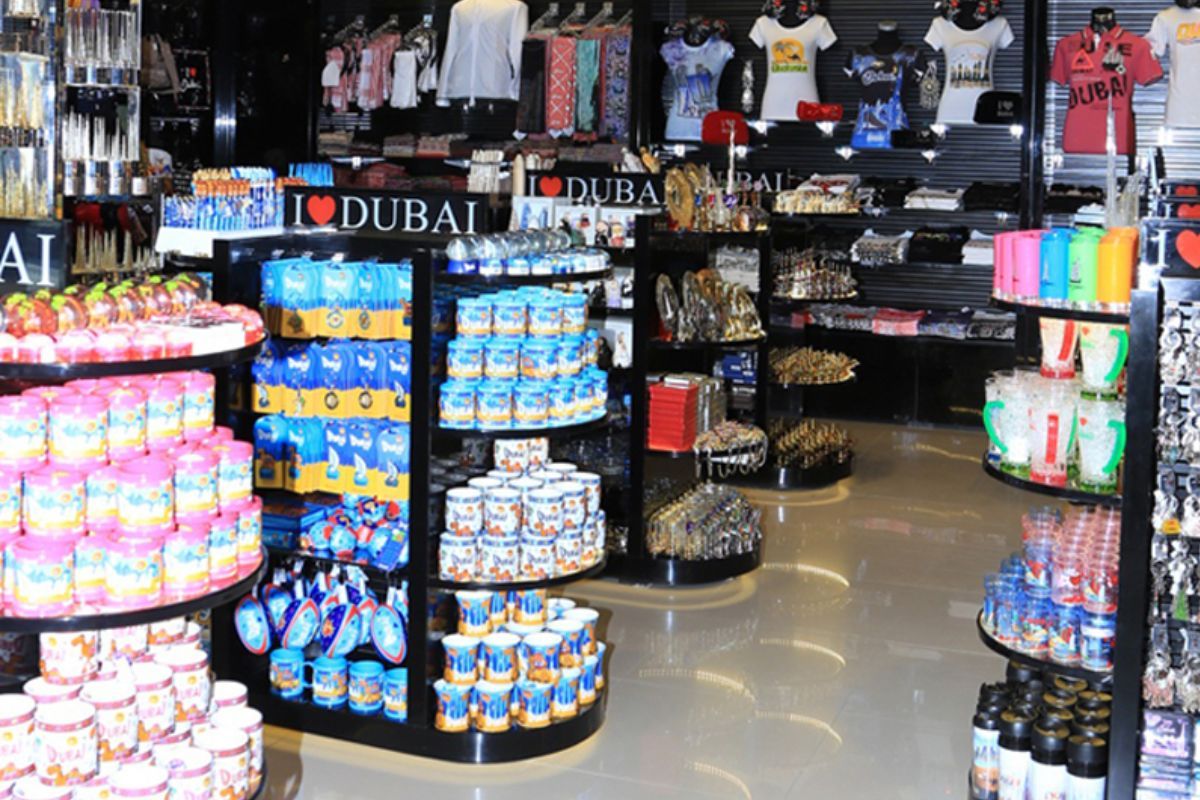 I Love Dubai is one of the most popular souvenir shops in Dubai. This store is operated by Al Jaber Gallery, a popular gift store in Dubai. With multiple branches across Dubai, this is the best place to look for souvenirs. From Dubai-branded T-shirts to mugs, you can find many touristy things to buy at this place. You can look for sand art, mini sculptures of Burj Khalifa and Burj-ul-Arab, accessories, and bags at I Love Dubai. You can find this store at many tourist attractions in Dubai like Dubai Mall, Al Seef, The Beach, and The Pointe.
Location: Al Seef, Downtown Dubai, Bluewaters Island, Souk Madinat Jumeirah, The Pointe, and more
Pinocchio World by Bartolucci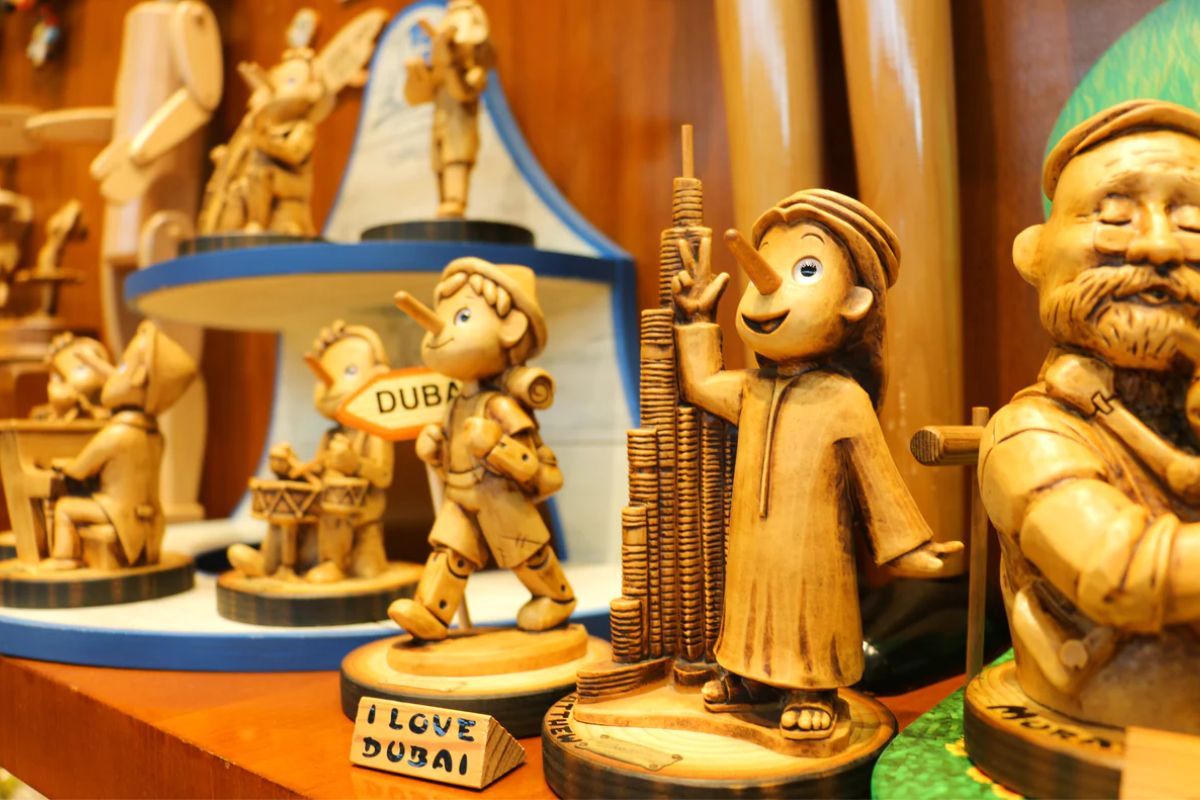 Pinocchio World is an Italian gift shop in Dubai. Founded in 2012, it has opened two branches in Dubai showcasing its masterpiece keepsakes. They sell unique products that can be bought as souvenirs. You can find a range of keychains, models, statues, puppets, nameplates, magnets, and more at their store.
Location: Dubai Mall
Camel Company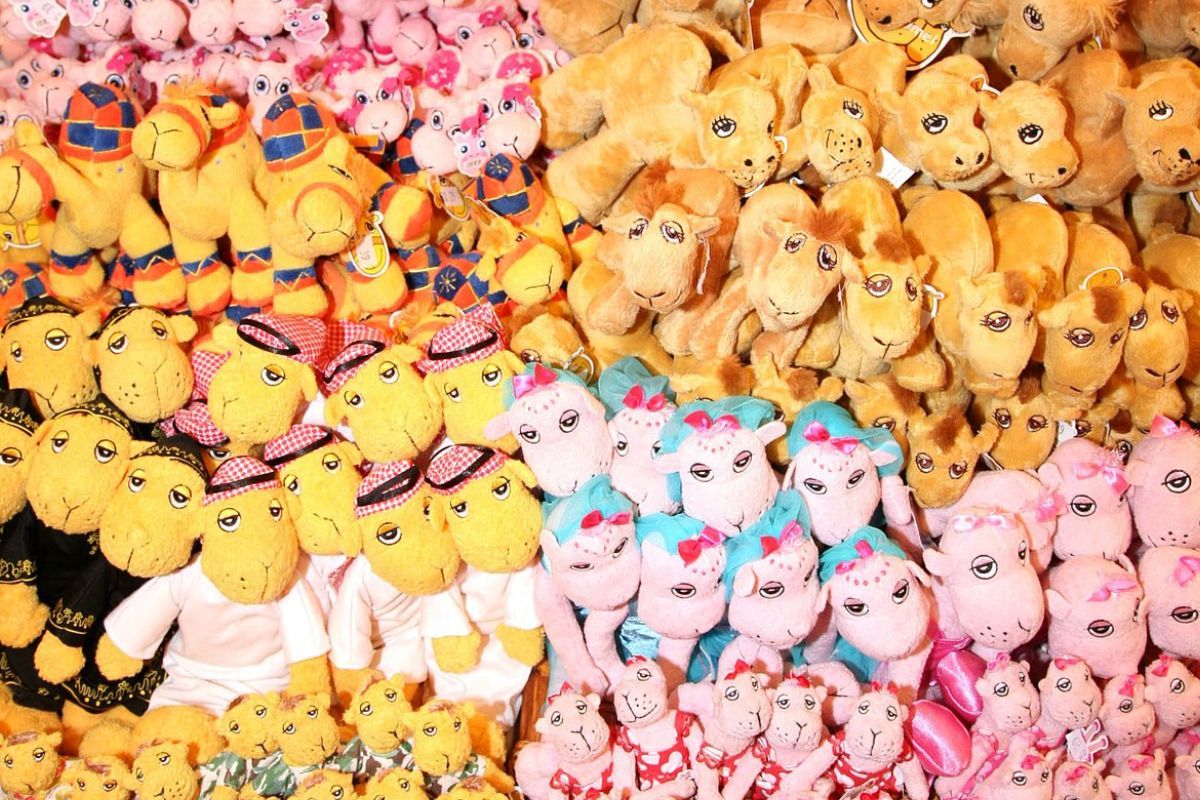 Camel Company is one of the best places to stock up on souvenirs in Dubai. This premium souvenir shop in Dubai has a variety of camel stuffed toys. They also have a great collection of porcelain showpieces that you can gift to your friends or family. You can also find traditional lanterns, keepsakes, keychains, caps, and fashion accessories in this store.
Location: Dubai Mall, Trade Centre, Dubai Outlet Mall, and Souk Madinat Jumeirah
Antique Museum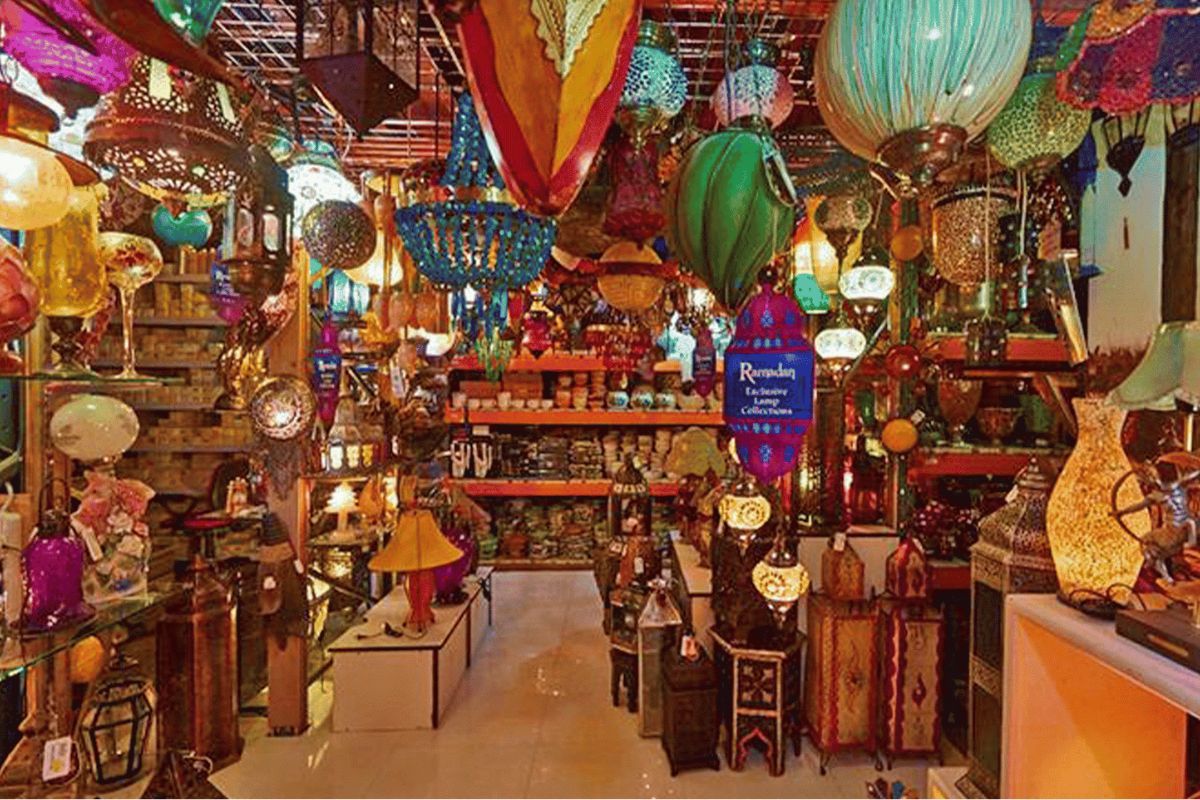 The Antique Museum is an expansive souvenir emporium nestled in the Al Quoz Industrial area. This souvenir store in Dubai houses an incredible assortment of traditional handicrafts and keepsakes. From intricately designed plates and delicate figurines to charming miniatures, ceramics, magnets, key chains, and even captivating sand art, you can find a vast array of souvenirs to suit every taste.
Location: Al Quoz Industrial Area 1, Al Quoz
Discount Centres/Gift Markets
Dubai is home to many discount centres from where you can shop for less than AED10. You can find many interesting stuffs to buy at these shopping centres including keepsakes, stationery, fashion accessories, and other household goods. Check out the popular discount centres in Dubai that sell souvenirs.
Day to Day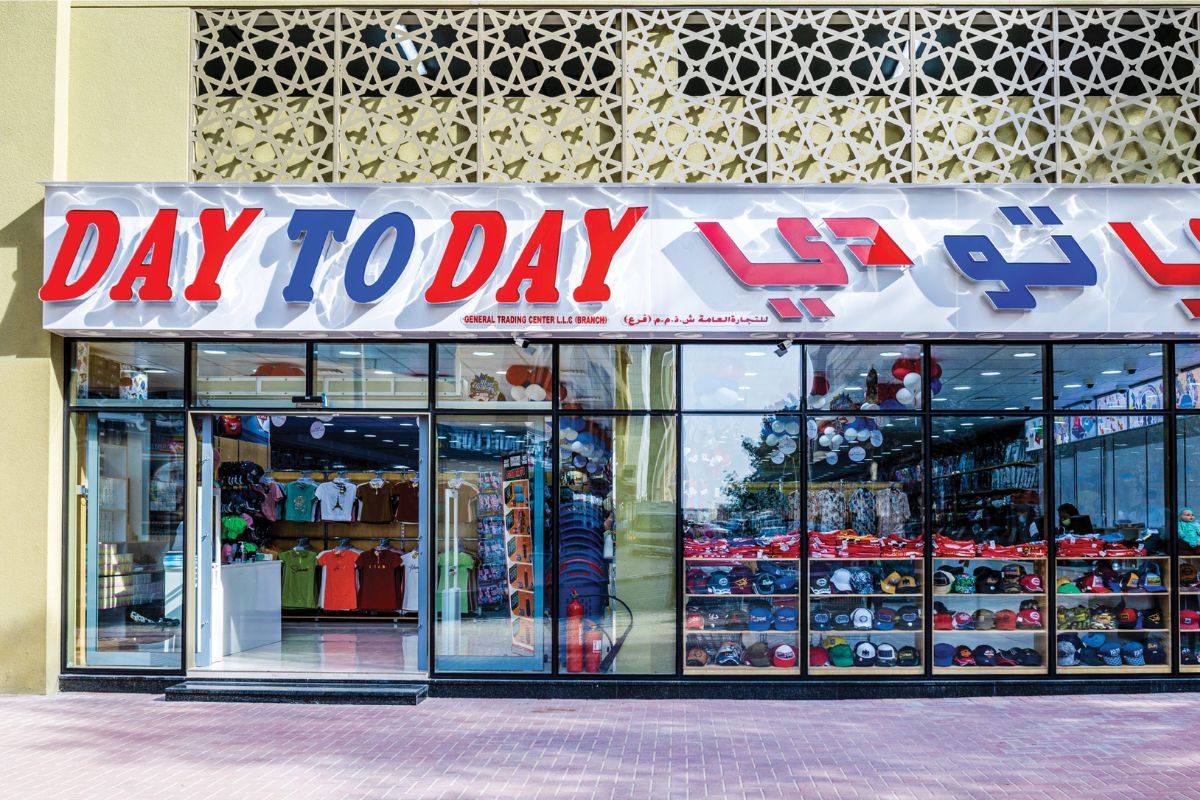 Day to Day is one of the oldest and most popular discount centres in Dubai. With multiple branches across UAE, this store has become people's favorite with their wide range of collections in souvenirs, showpieces, fashion, accessories, and more. Most of the items in Day to Day are priced at less than AED10. They offer budget-friendly clothing for both kids and adults, as well as stationery, gifts, toys, and small items. They also have a variety of crockery, storage solutions, and grocery items available.
Location: Deira, Al Karama, Burjuman, Al Nahda, and more.
Gate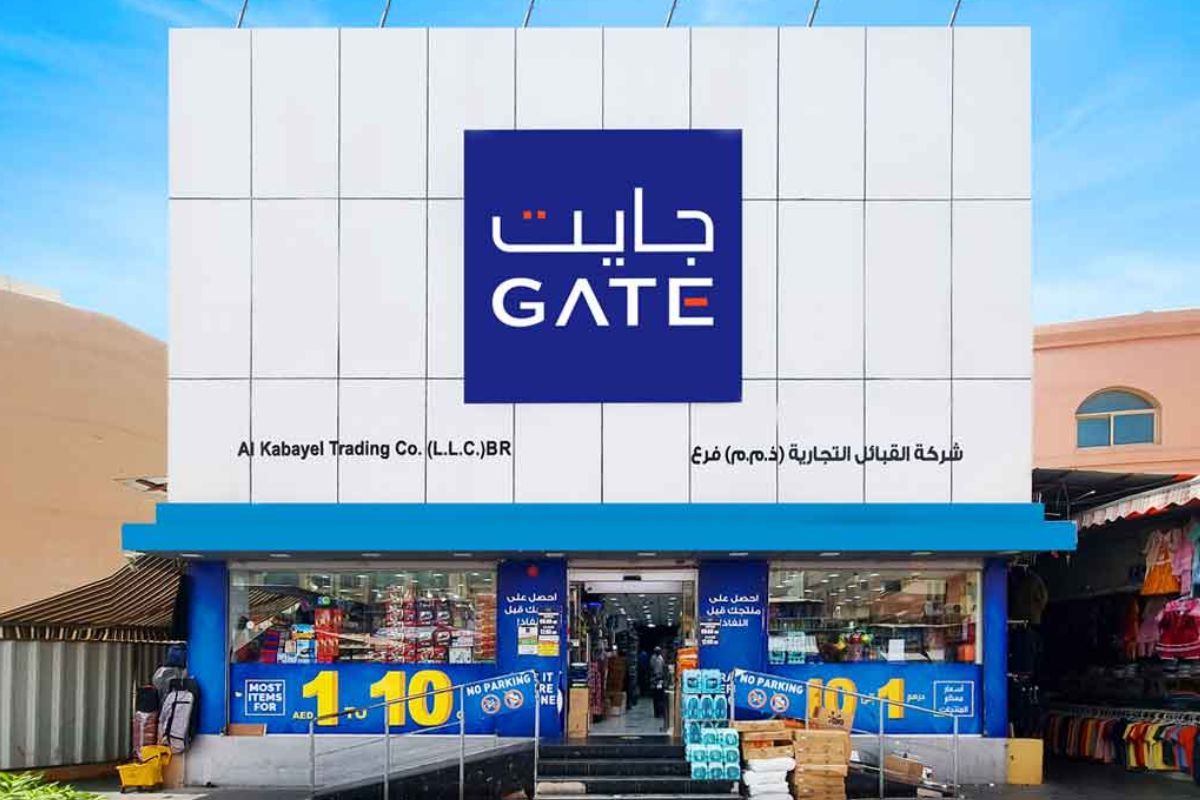 The Gate is a popular discount store in Dubai that sells all their products for less than AED10. They have multiple branches across the city serving people quality products for a very reasonable price. At Gate, you can find a wide range of products including household items, clothing, toys, sportswear, accessories, and skincare items. They also offer special discounts and deals from time to time, making it even more budget-friendly for shoppers.
Location: Deira and Al Quoz
Also read: