Dubai is home to many lively public parks. These public parks serve as the go-to spot for the residents to relax and unwind from their busy weekday schedules. Popular parks like Za'abeel Park, Al Safa Park, and Creek Park are jammed with people during the weekends. These parks host short-term festivals and markets to pull the crowd.
Umm Suqeim Park in Dubai is a similar place that is beautiful, and calm compared to the buzzing neighborhood it is located in. The park is closer to many popular tourist attractions in Dubai and is a must-visit spot for people who like lush greenery. Here is why Umm Suqeim Park in Dubai should be on your itinerary.
Umm Suqeim Park  Dubai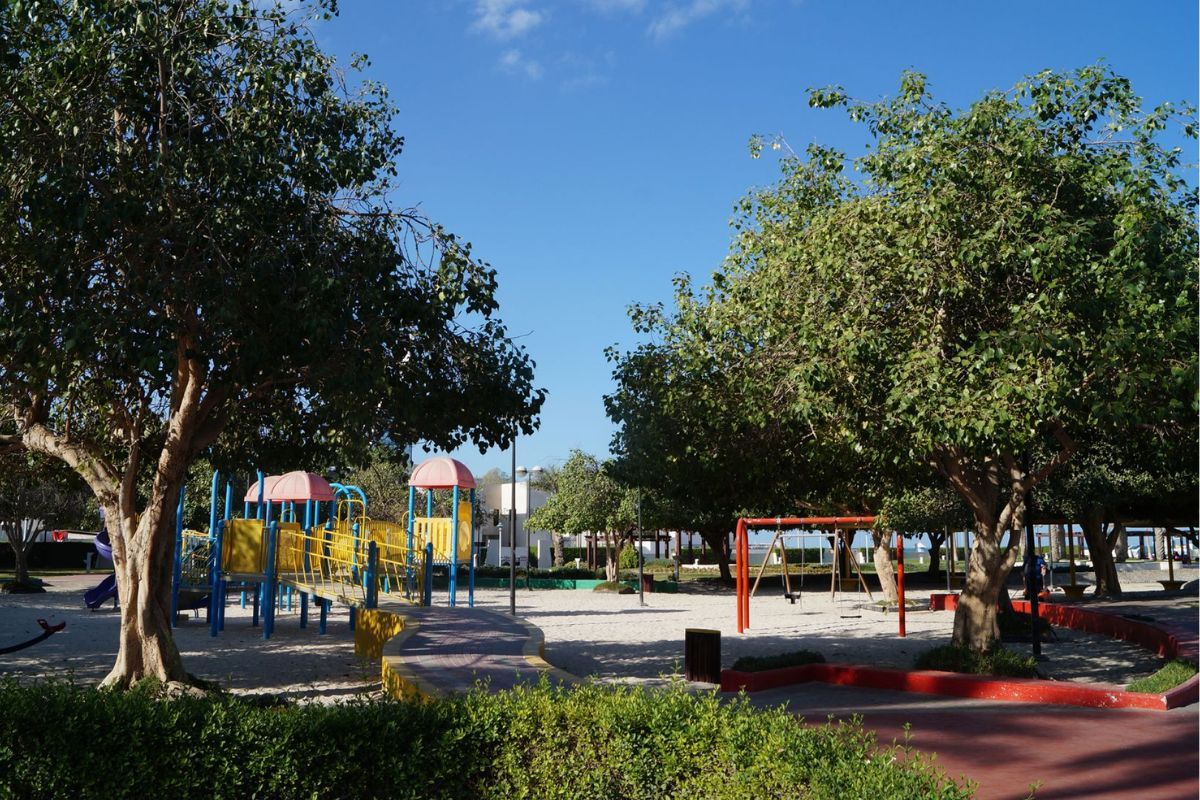 Umm Suqeim Park is a public park situated in the Umm Suqeim neighborhood of Dubai. The park boasts one of the prime locations in Dubai with the Umm Suqeim beach and the iconic Burj Al Arab adjacent to it. You can enjoy a peaceful time here amidst all the greenery in the park. The park also has a designated area featuring kid-friendly installations like swings and slides for the kids to play. The park houses a restaurant and café from where you can buy refreshments or have a wholesome meal. Umm Suqeim Park is the perfect place to refresh yourself with an ample amount of sunshine, greenery, activity, and amenities.
What to expect at Umm Suqeim Park Dubai
Umm Suqeim Park in Dubai offers a perfect escape from the hustle and bustle of the city. Families and individuals looking for a pleasant and enjoyable setting should visit the park. Here is what you can expect at Umm Suqeim Park in Dubai.
Kids play area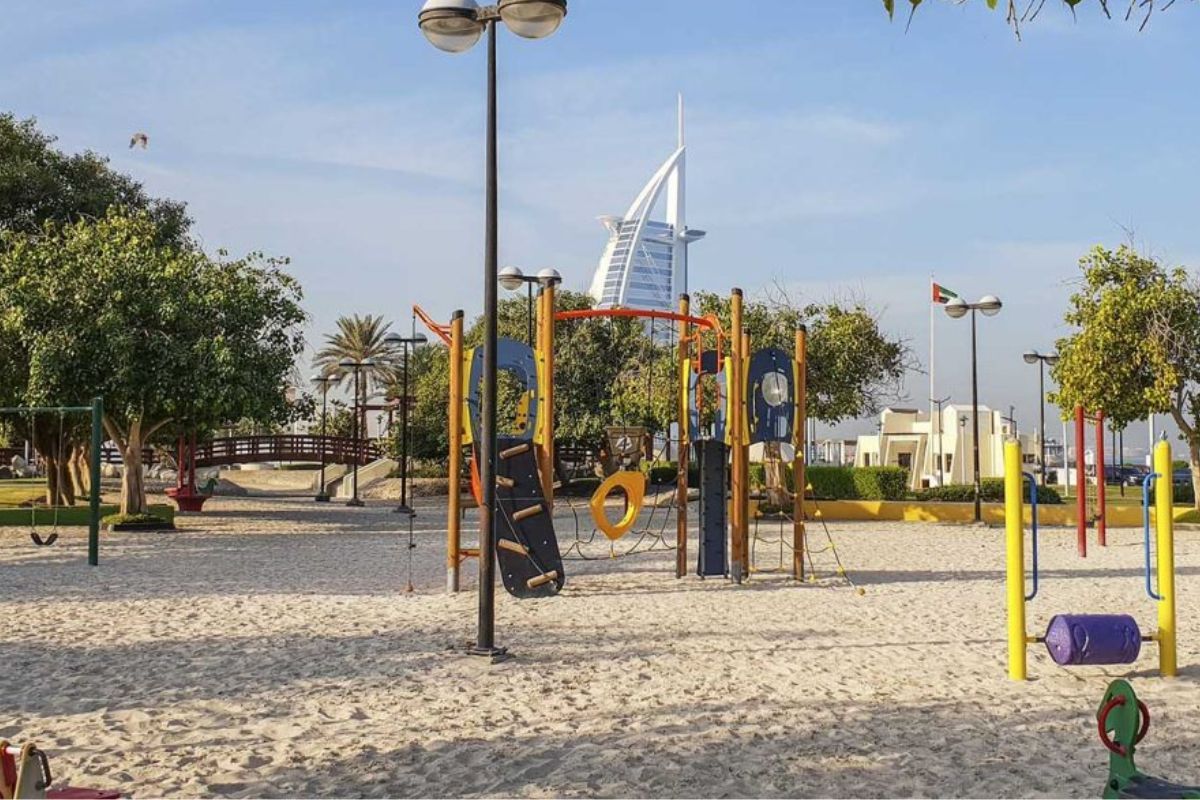 Umm Suqeim Park is loved by children of all ages. This stunning park has designed an area where the kids could safely play around without any supervision. The play area in the park houses many swings, slides, and sand pits where the children can move around freely. The park's designated play area is safe and secure ensuring that children can have fun while parents relax and enjoy the beautiful surroundings. You can let your kids jump and move through the monkey bars and see-saws in the park while taking a light stroll through the park or enjoying the magnificent views. The park is sure to keep your kid engaged for hours.
Cafes and restaurants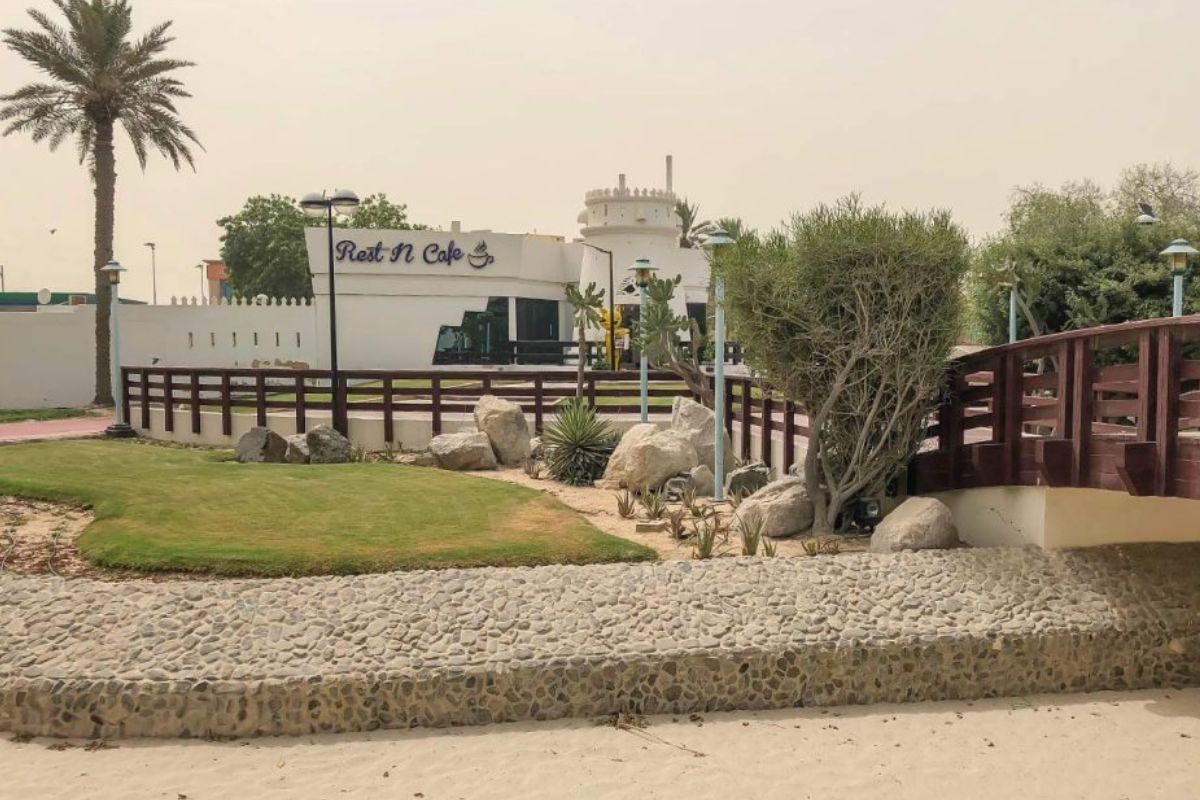 Having a good, tasty meal elevates any experience. The same goes with this park too. Umm Suqeim Park features several cafes and restaurants that offer a range of dining options, including quick bites, coffee, and full meals. The cafes and restaurants are situated within the park providing visitors with a convenient dining experience. You need not go out of the park if you feel like getting a quick bite. Rest n Café is a cafe inside the park where you can enjoy mesmerizing sunset while sipping a cup of your favorite beverage. The park also houses Hot Fish Restaurant. This is a popular restaurant in Dubai among seafood lovers. The restaurant offers a wide variety of seafood options such as grilled fish, fish curry, and prawns. The restaurant has both indoor and outdoor seating capacities. Enjoy a sumptuous dinner while catching one of the best sunsets in Dubai.
Jogging track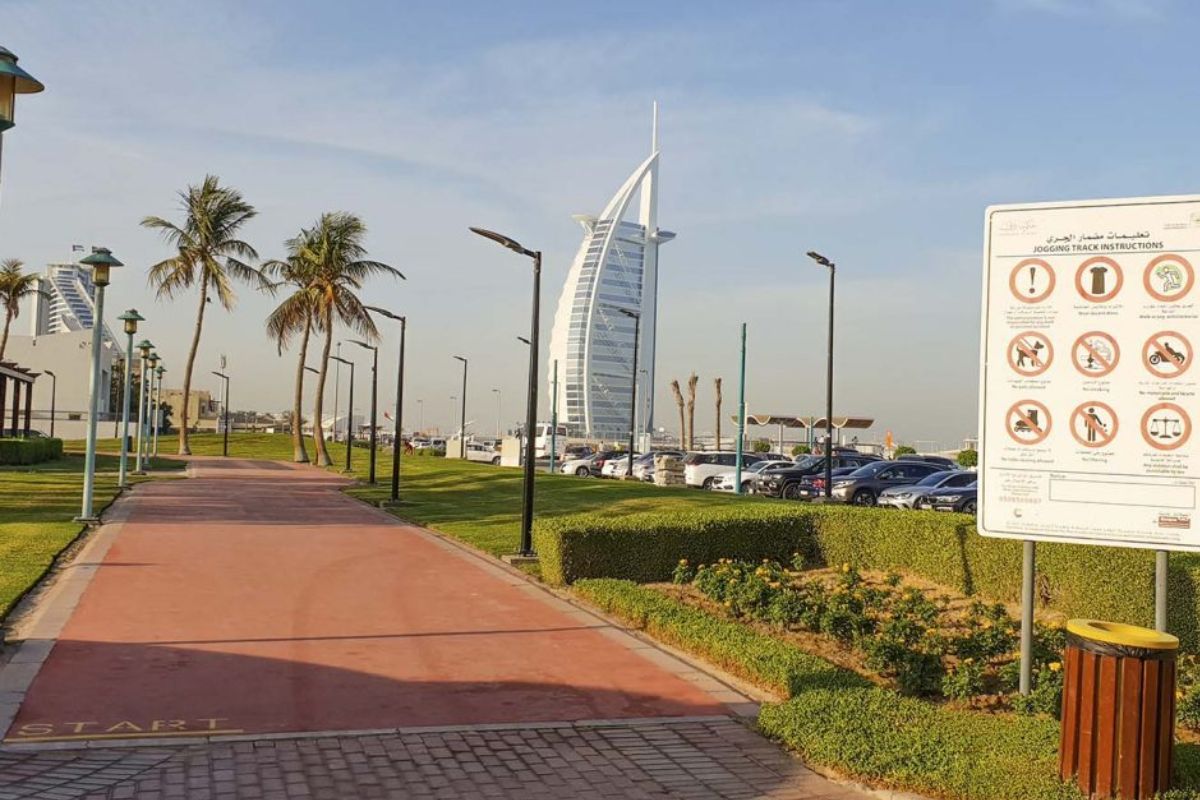 Umm Suqeim Park has a track where you can walk and jog. The track is well-maintained by the park authorities. This park is ideal for those who live in the neighborhood and want to enjoy a morning or evening jog while enjoying the beautiful surroundings of the park. People also come from other parts of the city to enjoy a great view of the beautiful Burj Al Arab from the park while walking. The paved jogging track in the park is shaded by beautiful trees. The track is well-lit in the evenings by lamp posts. You can also see this park as a rest point if you are jogging on the track on Umm Suqeim Beach.
Green surroundings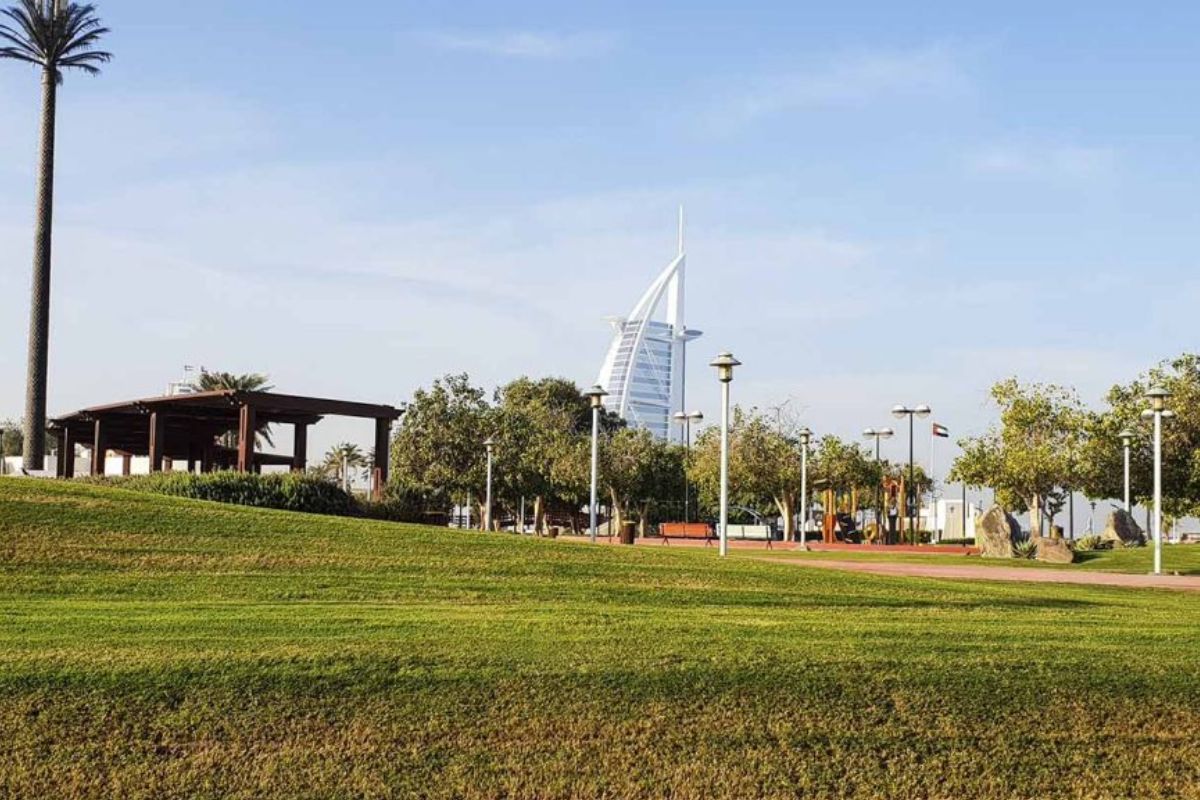 At the park, you will be greeted by a variety of trees and plants that provide a refreshing atmosphere. You can enjoy a stunning view of the Arabian Gulf and the iconic Burj Al Arab Hotel from Umm Suqeim Park in Dubai. The visitors of the park can also enjoy the serene waters and the sound of the waves. The park provides a picturesque setting for you to take photos and create memories with the pristine beach and the opulent hotel in the background. The park also has a beautiful bridge that crosses a small stream.
Things to do at Umm Suqeim Park Dubai
Umm Suqeim Park in Dubai is an amazing park bustling with lots of visitors. You can engage in many activities at the park. Whether you're looking for a peaceful retreat or a spot for a family outing, Umm Suqeim Park has got you covered. Check out some of the best things to do while at Umm Suqeim Park in Dubai.
Picnic with your family or friends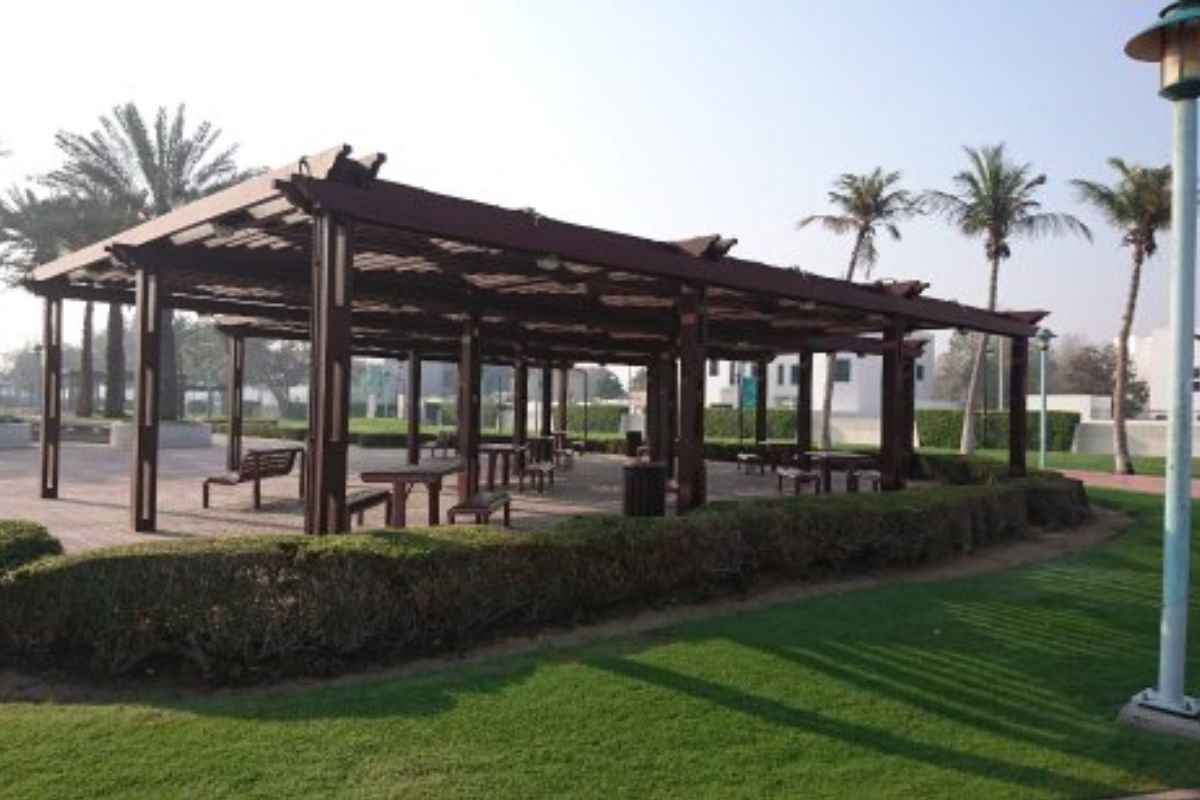 Most of the public parks in Dubai are picnic friendly. Umm Suqeim Park is a perfect option for joining your family or friends for a picnic. The park has a designated picnic area that offers a great opportunity for families and friends to enjoy a meal together. The picnic area is equipped with tables and benches which makes it an ideal spot for a relaxing picnic. The kids can go and entertain themselves at the play area while you catch up on each other's lives.
Enroll in parkour classes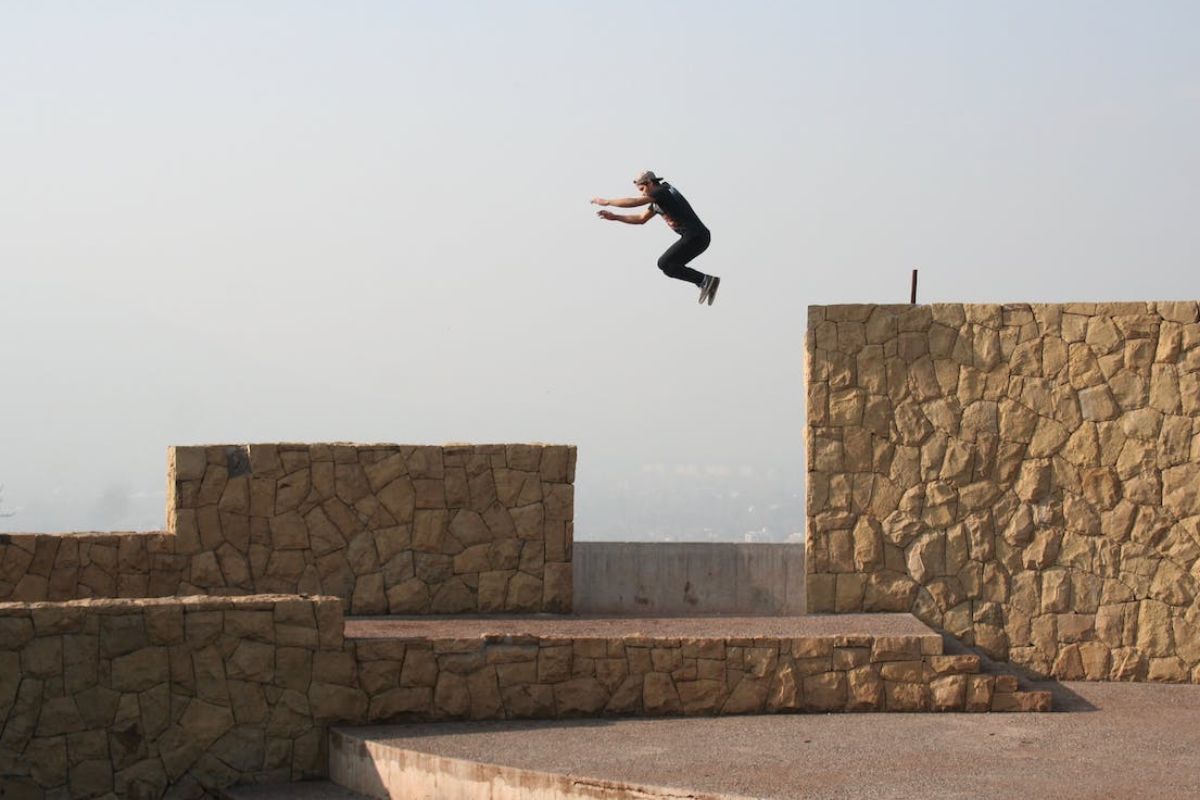 Umm Suqeim Park in Dubai offers parkour classes for fitness enthusiasts. The sessions are held twice a week. These classes provide a unique workout experience, as participants use their surroundings to perform a variety of movements, including jumping, climbing, and vaulting. You can enjoy the challenge of the course while also improving your strength, flexibility, and coordination. These sessions are led by experienced trainers who provide guidance on how to perform these movements safely and effectively.
Take your daily steps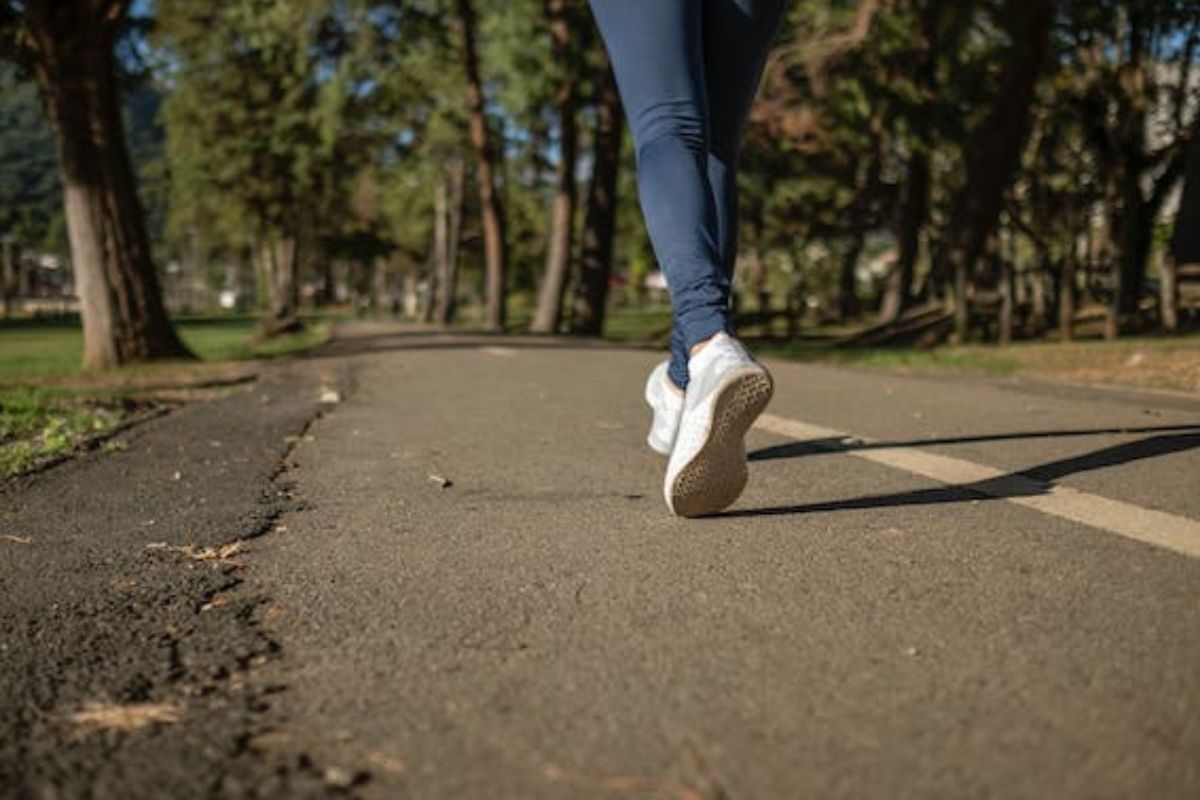 The park has a well-maintained jogging and walking track where you can walk, jog, or run. While keeping your body fit, you can witness the beauty of the surroundings that include Burj ul Arab, the beach, and the green area. If you want to extend your walk, you can go to Umm Suqeim Beach, which is just a few steps away from the park to enjoy a leisurely evening walk.
Watch a mesmerizing sunset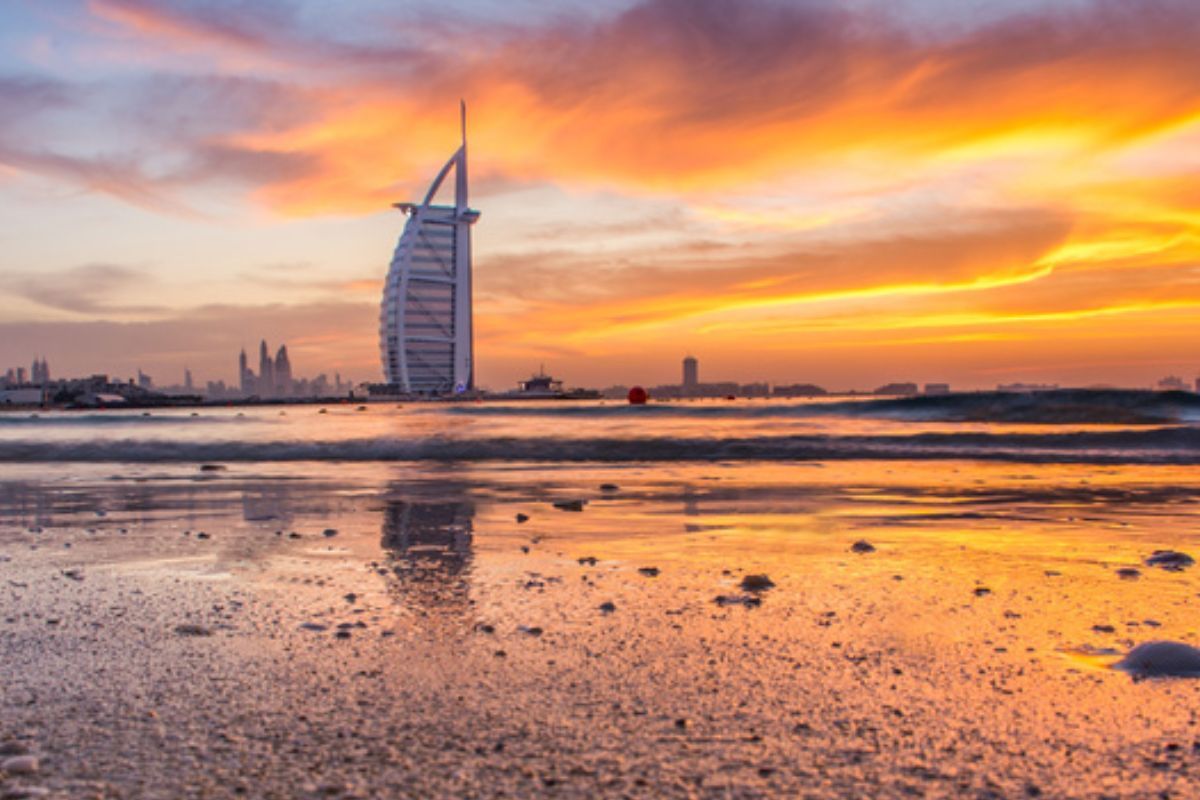 Sunsets are one of the most beautiful things to see. Dubai has many wonderful spots where you can watch the sunset for free. This is one of the best spots from where you can watch a beautiful sunset. Your sunset will feature Burj ul Arab and the beautiful waves of the beach ahead.
Visit nearby attractions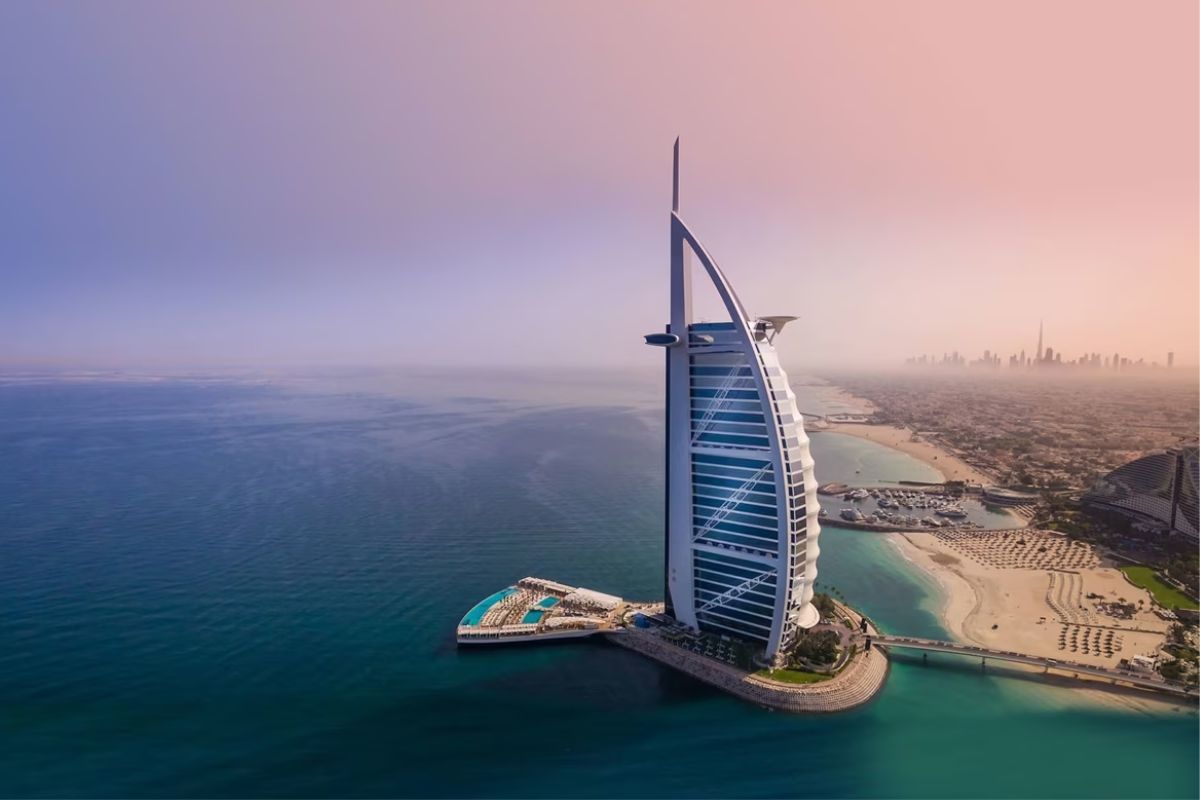 Umm Suqeim Park is located in a popular tourist destination, Jumeirah, and therefore, many tourist spots are nearby. One of the most notable is the famous Burj Al Arab Hotel which is just a short distance away. The Dubai Water Canal is just a short drive away and is a perfect place for a calm evening. You can also book a Dhow Cruise ride through the canal. Dubai Marina is another destination closer to the park. Dubai Marina offers many shops, restaurants, and entertainment options. Dubai Museum and the Al Fahidi Historical District are also located nearby and are must-visit for those interested in the history and culture of the city.
Entry to Umm Suqeim Park Dubai
Entering Umm Suqeim Park does not require any tickets. On weekdays, only children and ladies can enter the park. The male visitors will be allowed entry to the park only if they are accompanied by their families.
Opening hours of Umm Suqeim Park Dubai
Umm Suqeim Park in Dubai opens daily from 8 am to 10 pm.
How to reach Umm Suqeim Park Dubai
Umm Suqeim Park is located in the Umm Suqeim neighborhood, one of the most happening places in Dubai. The park is situated near Jumeirah Beach Hotel, Burj ul Arab, and other popular tourist destinations in Dubai. The park is easily accessible via Sheikh Zayed Road/E11 and Jumeirah Beach Road/D94. If you are planning to travel by metro, take the red line and get down at Equiti metro station or Onpassive metro station from where you can hire a cab to the location. You can also get down at Max metro station and take Bus 88 to Dubai Internet City metro station and get down at Umm Suqeim Park 1. It is better to take a bus to this location than a metro. Visit RTA Journey Planner to know which bus to take from your desired location.
Also read: