Surrounded by greenery, this lush space is a great spot to kick back and relax. Whether you're a busy employee looking to rewind, a sports enthusiast, or a family seeking to take your kids out for some fun in the sun, Mirdif park is the perfect location.
Located at the heart of Mirdif, a residential area in the eastern side 0f the city, this community park caters to the needs of the residents in the surrounding areas, as well as those planning to visit. The primary charm of the park is the abundant green foliage within the park. The green areas in the park make up about 51 square meters, planted with of 92 trees. Shady areas were created by planting 255 ornamental trees and 395 meters of flowers. Visitors can rest and relax on the grass patches.
It's a great place to take an evening stroll, go for a jog, watch the sunset, play baseball, or take the children to play. If you're lucky you can also catch some low flying planes above you, due to the airport being in very close vicinity.
Things to Do
Children's Play Area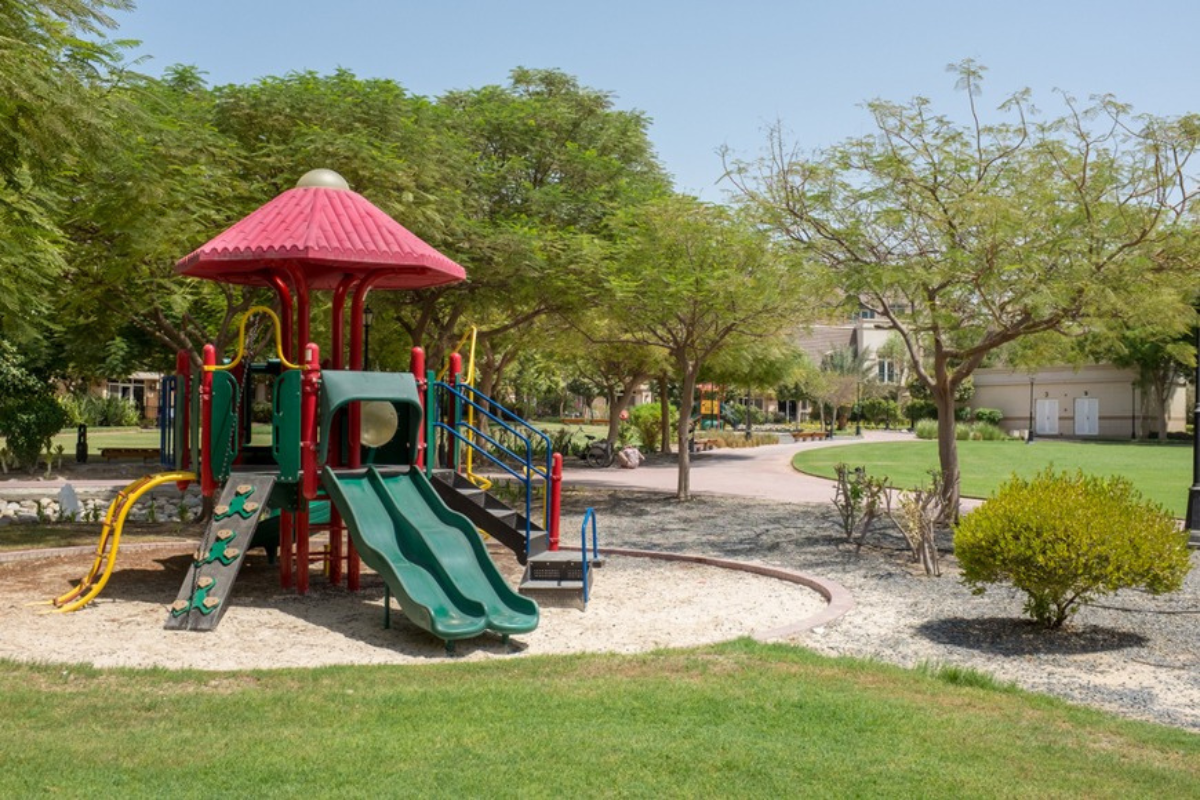 The children's play area in Mirdif is equipped with swings, slides, a sand pit, and other various games suitable for all ages. There are benches in the vicinity for parents who wish to supervise their kids, making the park a family-friendly one.
Sports Fields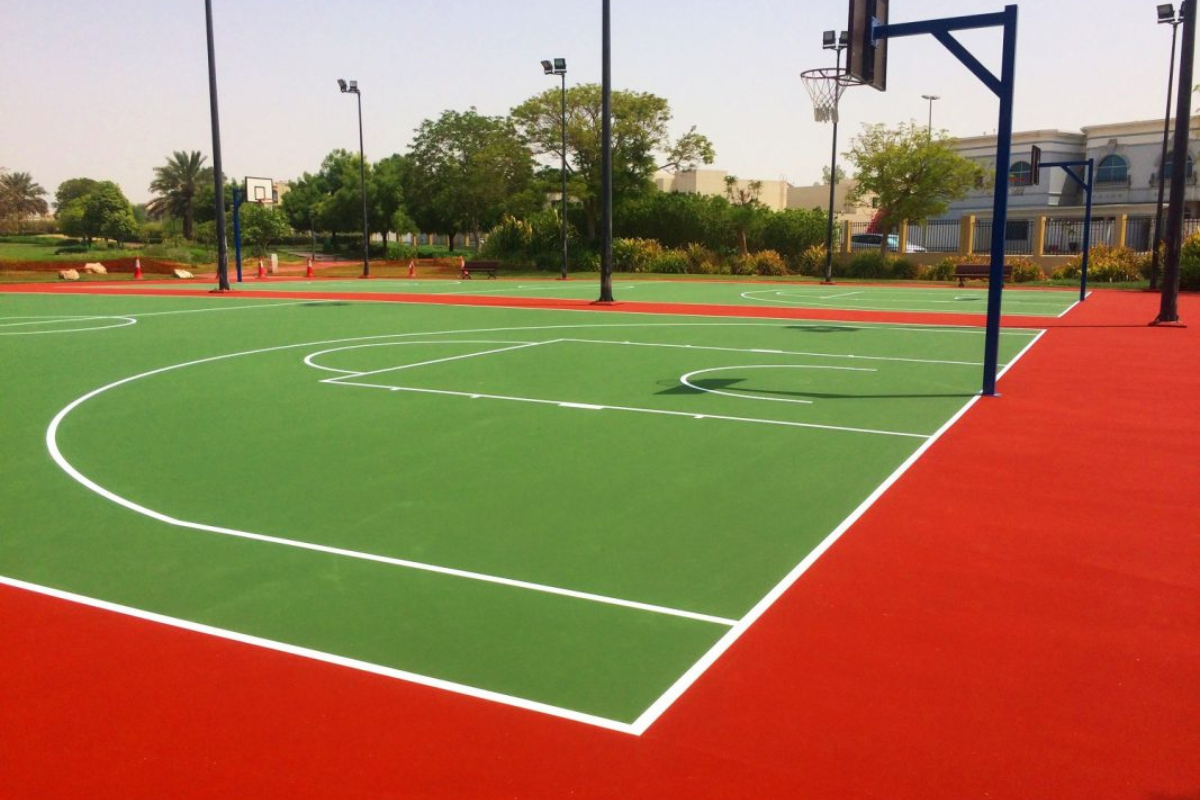 The numerous sports fields and playing courts throughout Mirdif Park for various practices including football, basketball, tennis, encourages visitors to maintain their health by staying active and fit.
Running Track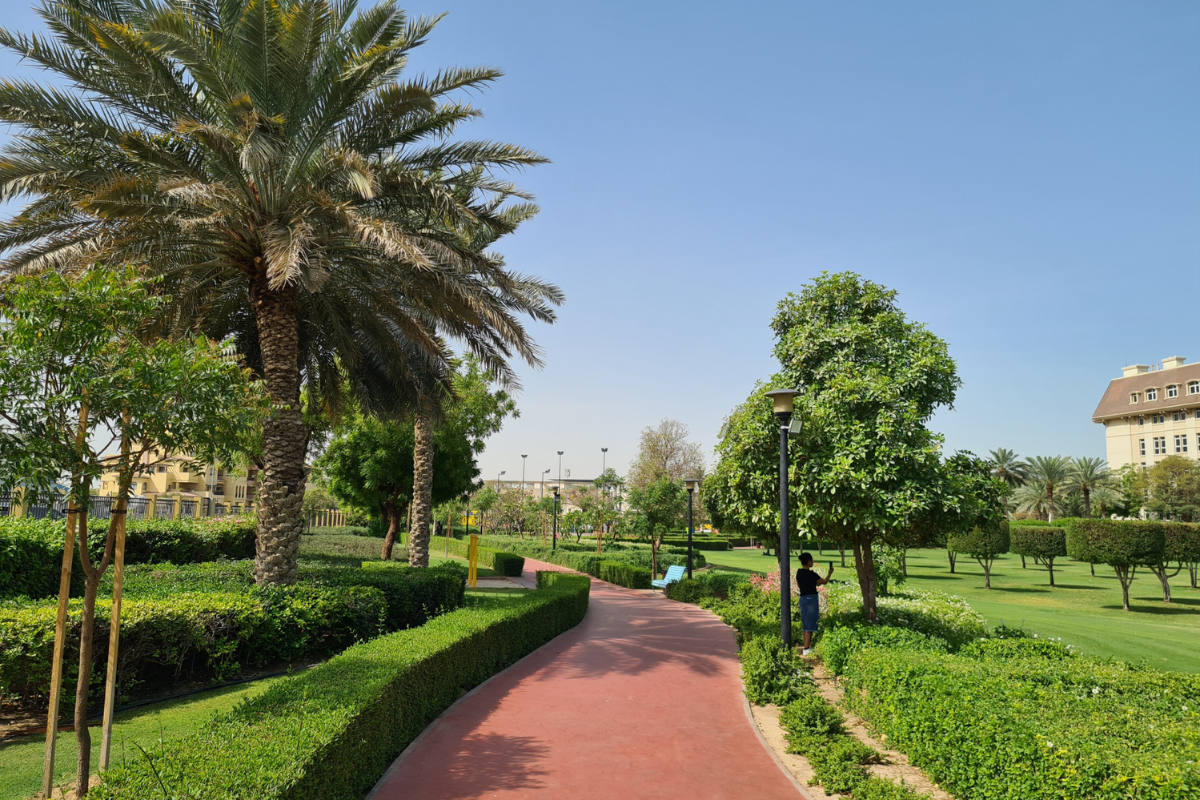 Mirdif Park's running track has been specially designed for comfort, by a team whose expertise lie in designing sports floors according to the latest safety standards. Visitors can run, jog or have a leisurely stroll along the walking path, enjoying the breeze and the scenery.
Barbecue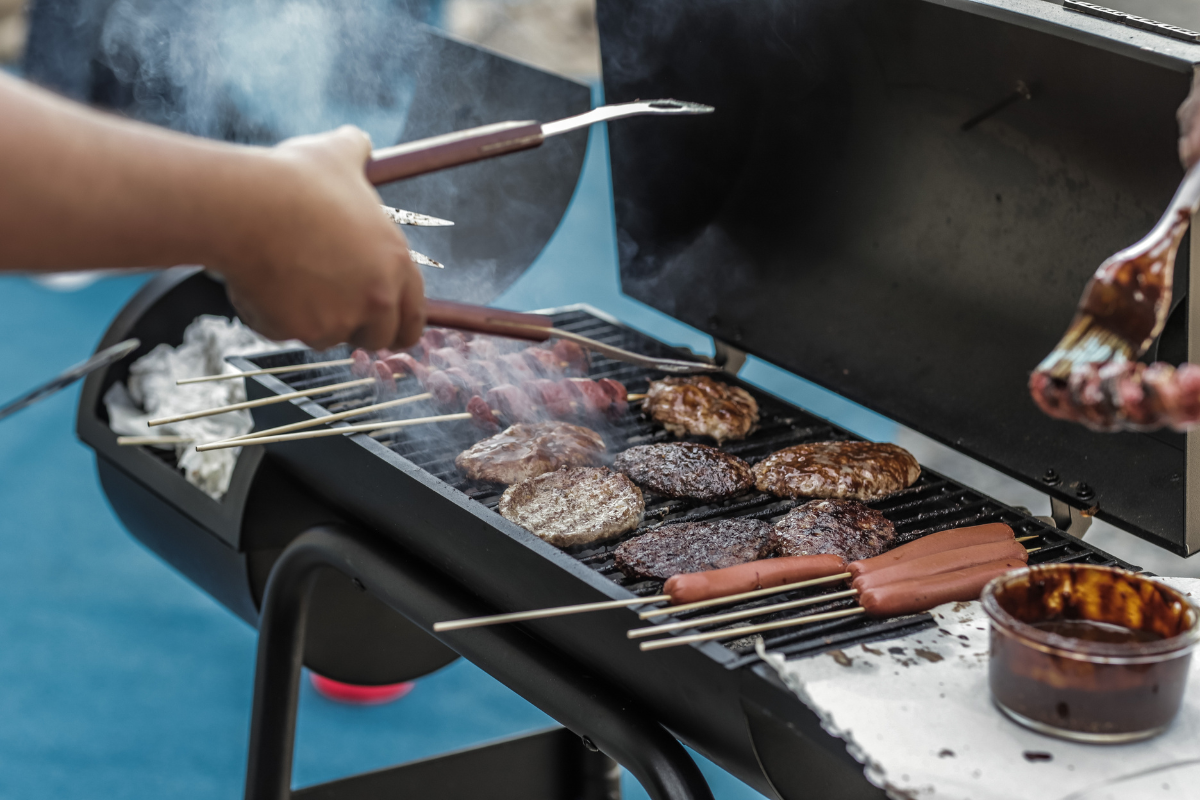 Visitors can have a picnic at the park, and cook up some food if they wish to do so. Visitors can also host parties and get-togethers in the park. Just remember to clean up when you leave!
Other Amenities
Restaurants
Hungry after a day at the park? To encourage visitors and to provide them a respite after enjoying the park activities, the management has developed restaurants within the park premises, so visitors can grab a bite to eat after enjoying the park.
Parking
The park provides a private parking for visitors, so you won't have trouble finding a place to park.
How much is the Entry Fee
Mirdif Park is completely free for entry!
Timings
The park is open from 6:00 AM to 11:00 PM from Saturday to Thursday and 6:00 AM to 12:00 PM on Friday.
How Long to Spend
On average a visitor would spend between one to two hours at the park, but are free to stay as long as they'd like within opening hours.
How to get there
The closest metro station to Mirdif Park is Centrepoint which is 6.1 km or 8 minutes away. It is approximately 7 minutes away from Mirdif City Centre via car, 23 minutes away from Dubai Mall, 34 minutes away from Palm Jumeira, 32 minutes away from Burj Al Arb and 38 minutes to The Walk JBR. There is also a bus from Centrepoint which takes approximately 25 minutes, and drops you off at a bus stop less than six minutes away from the park.
Places to visit nearby
VOX Cinemas, Mirdif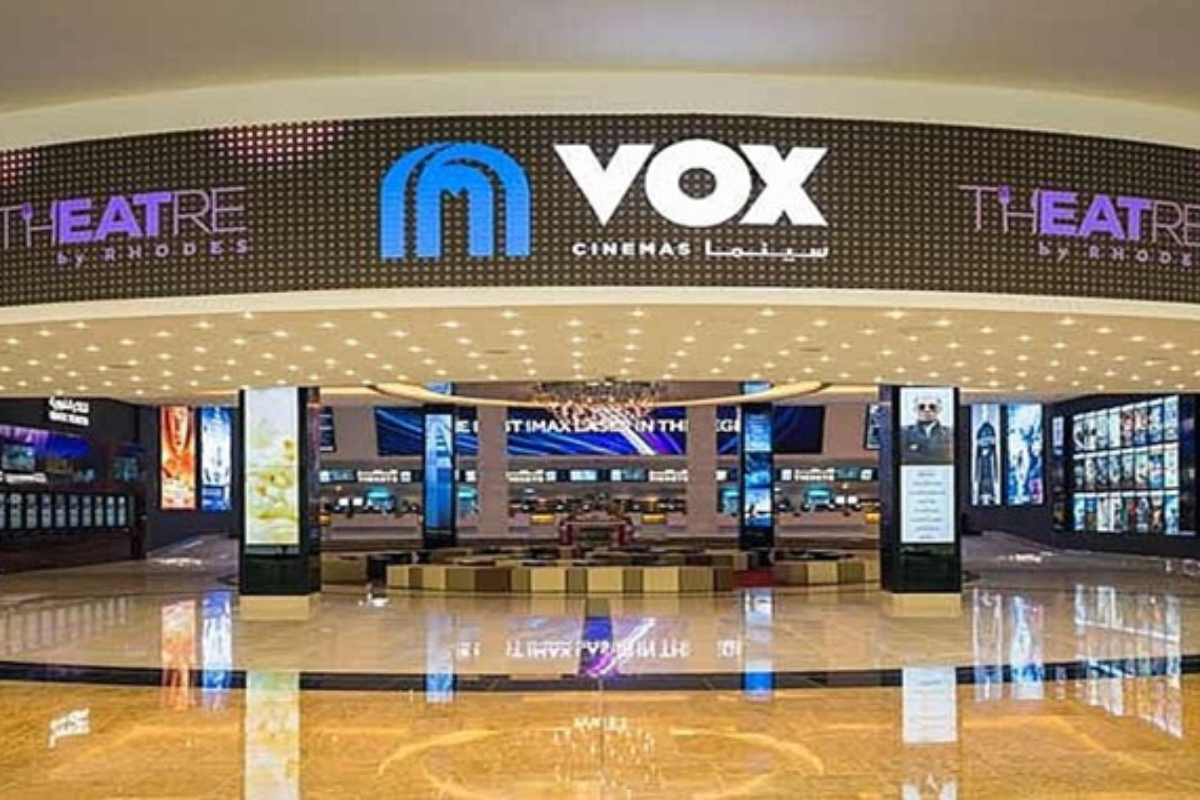 Need or place to kill time before heading for a movie? Mirdif Park is the perfect location. Only a mere six minutes away from the park is Vox Cinemas, located inside Mirdif City Centre.
Mushrif Park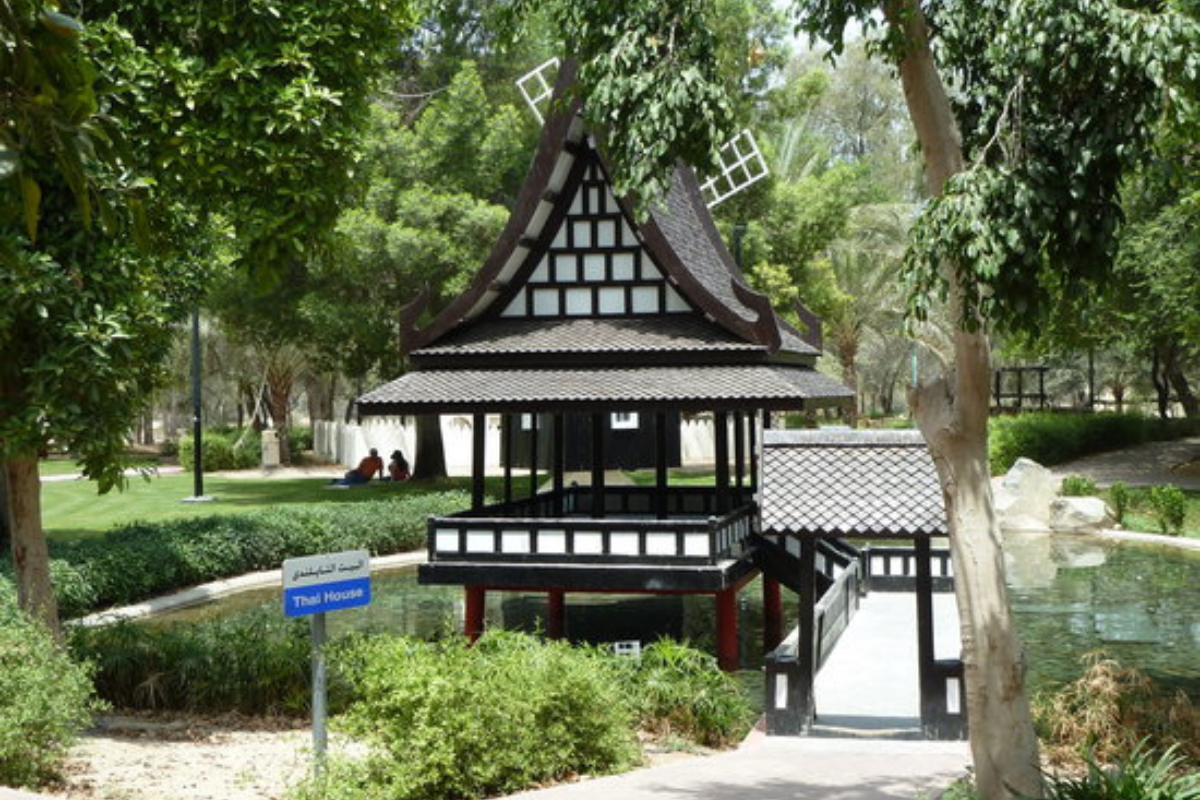 Seven minutes by car, Mushrif Park lies in the eastern part of the city, next to Al Khawaneej. The expansive park spanning 5.25 square kilometres, and is one of the oldest parks in Dubai. It is a family friendly park and also a national reserve. Here you can enjoy a stroll, grab a bite to eat, or enjoy the heritage reserves within the park. There are designated barbeque spots, picinic spots, restaurants, biking tracks, play areas, sports courts, and hiking trails to cater to visitors of all interests. Mushrif Park is rich in natural beauty, being home to a score of indigenous wildlife, and rare birds including the pallid scops owl, and Arabian babblers, making it a haven for bird watching enthusiasts.
In the International Village, you can explore traditional architecture from across the world from an English Tudor house to a traditional wind tower.
For the adrenaline junkies, Aventure Parks within Mushrif Park offers a number of heart pumping activities including rope walking and zip lining.
Al Thuraya Astronomy Centre is also located inside the park, and is a must visit for those interested in astronomy. The building holds a Planeterium, an Astro Gallery and a variety of sciene-related games for the little ones to enjoy. The Centre also hosts the largest telescope in the region.
Additionally, the park is equipped with the Mushrif Equestrian Club to provide an enjoyable horse riding experience, and a number of enclosed swimming pools for those who fancy a swim.
Jump Boxx Indoor Trampoline Park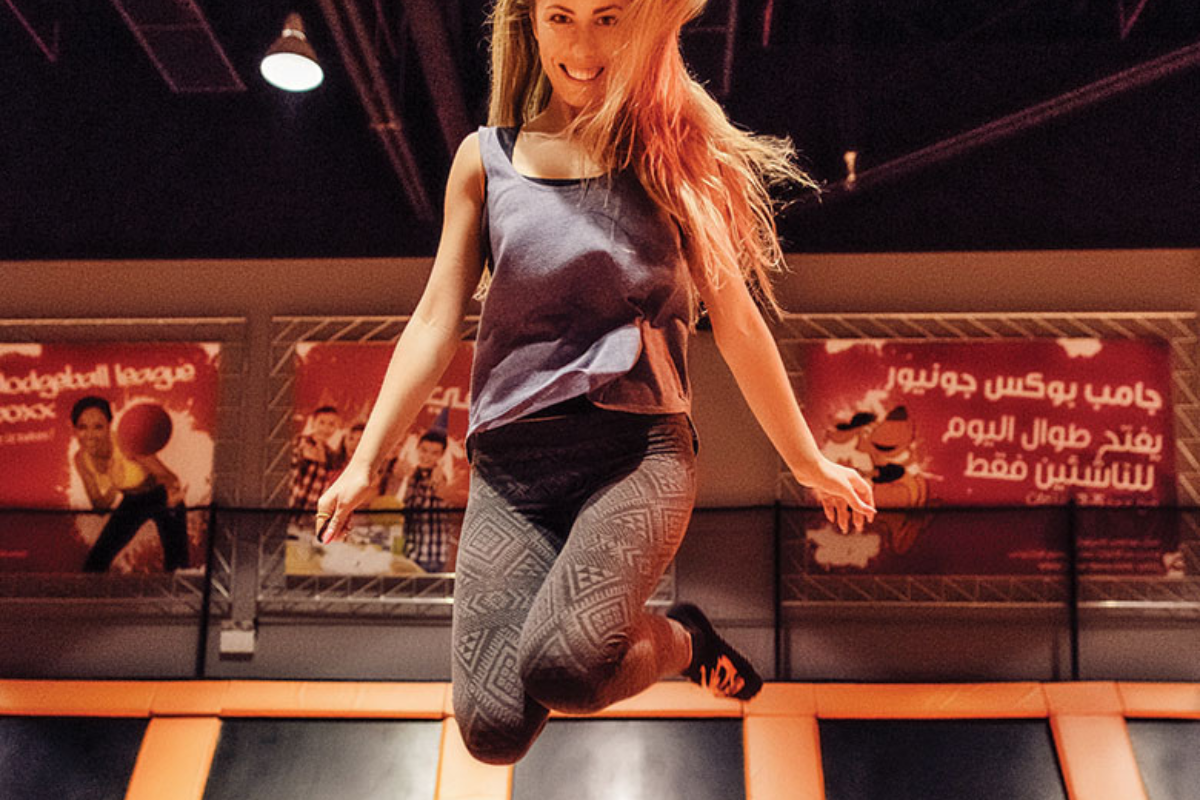 A great spot to bring your little ones to play, this trampoline park is made of more than 120 interconnected trampolines where visitors can flip, fly and bounce in the air. It is located only six minutes away from the Park by car.
iFly Dubai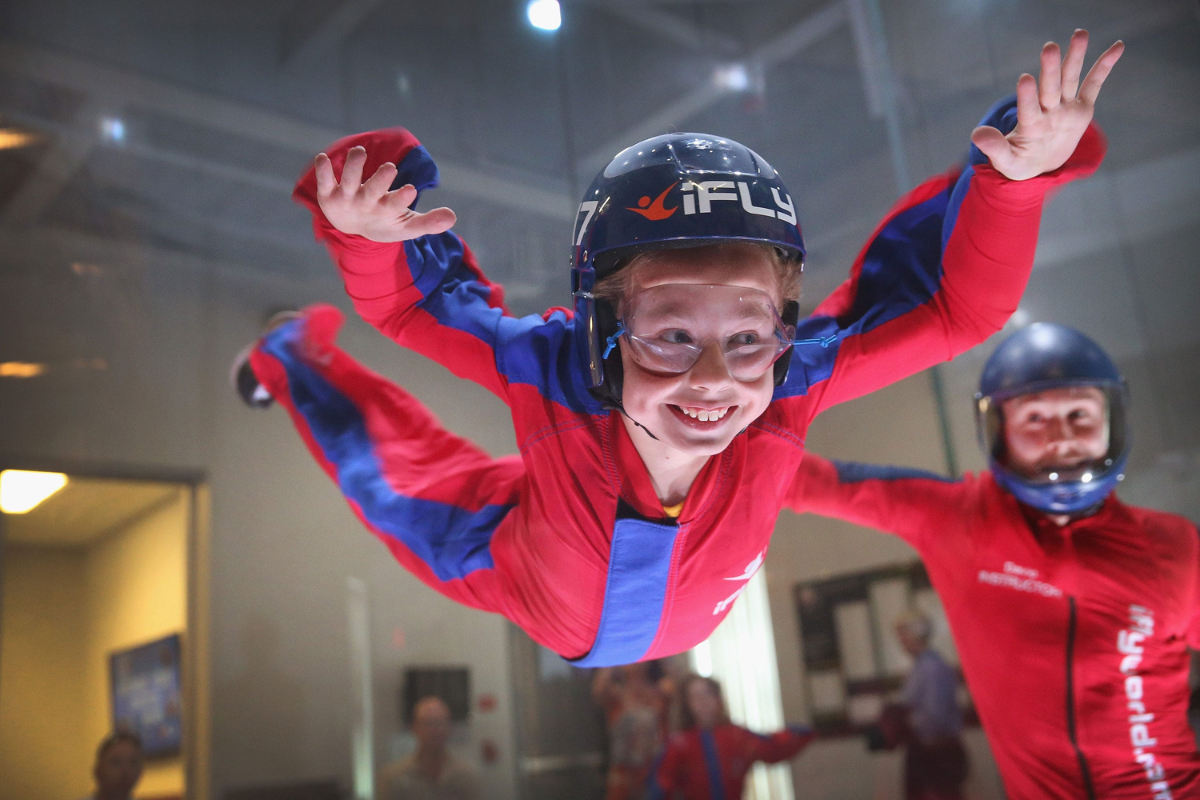 If you have ever dreamed of flying, iFly Dubai will make your dreams come true. Under the supervision of instructors, visitors are suspended four metres above the ground inside an air tunnel, to simulate the experience of skydiving. It is seven minutes away from the park by car.
Yalla Bowling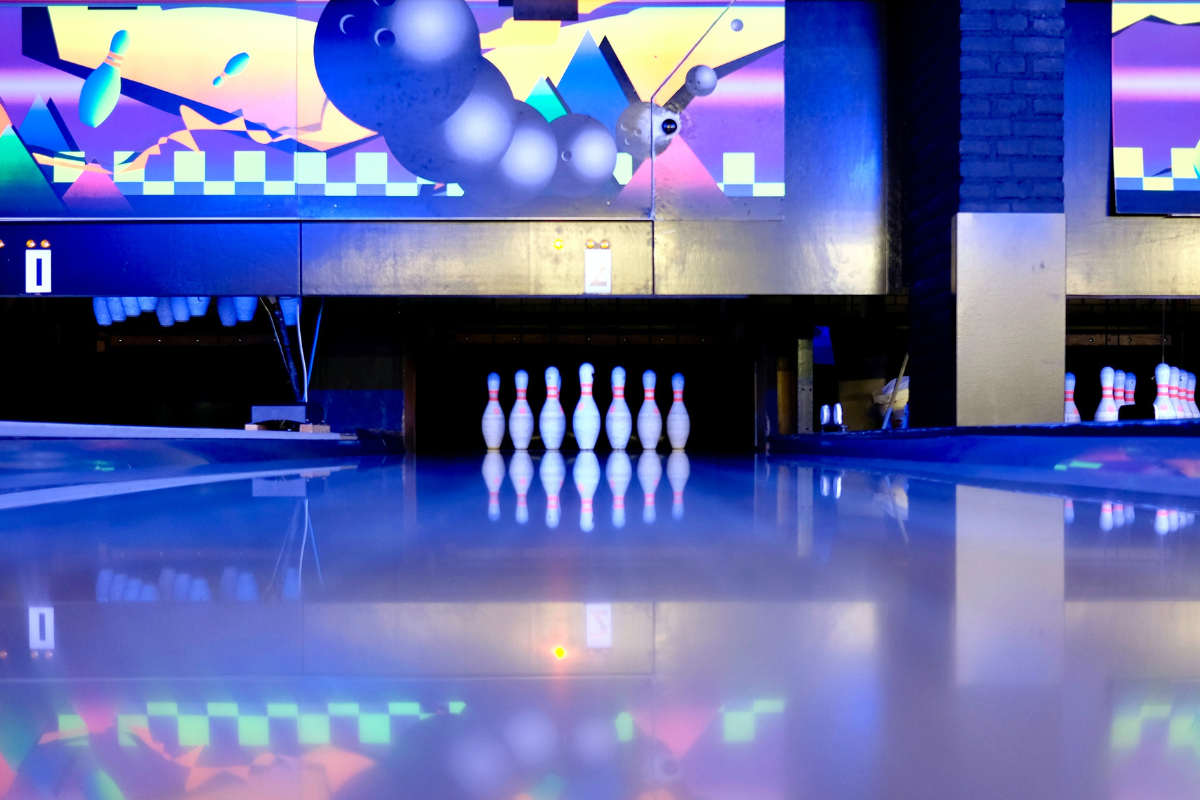 Situated inside Mirdif City Centre, six minutes away by car, Yalla Bowling is a bowling alley that boasts 12 10-pin bowling lanes, and state-of-the-art scoring system and digital enhancements to provide an immersive bowling experience that is enjoyable for children and adults alike.
Malls Nearby
City Centre Mirdif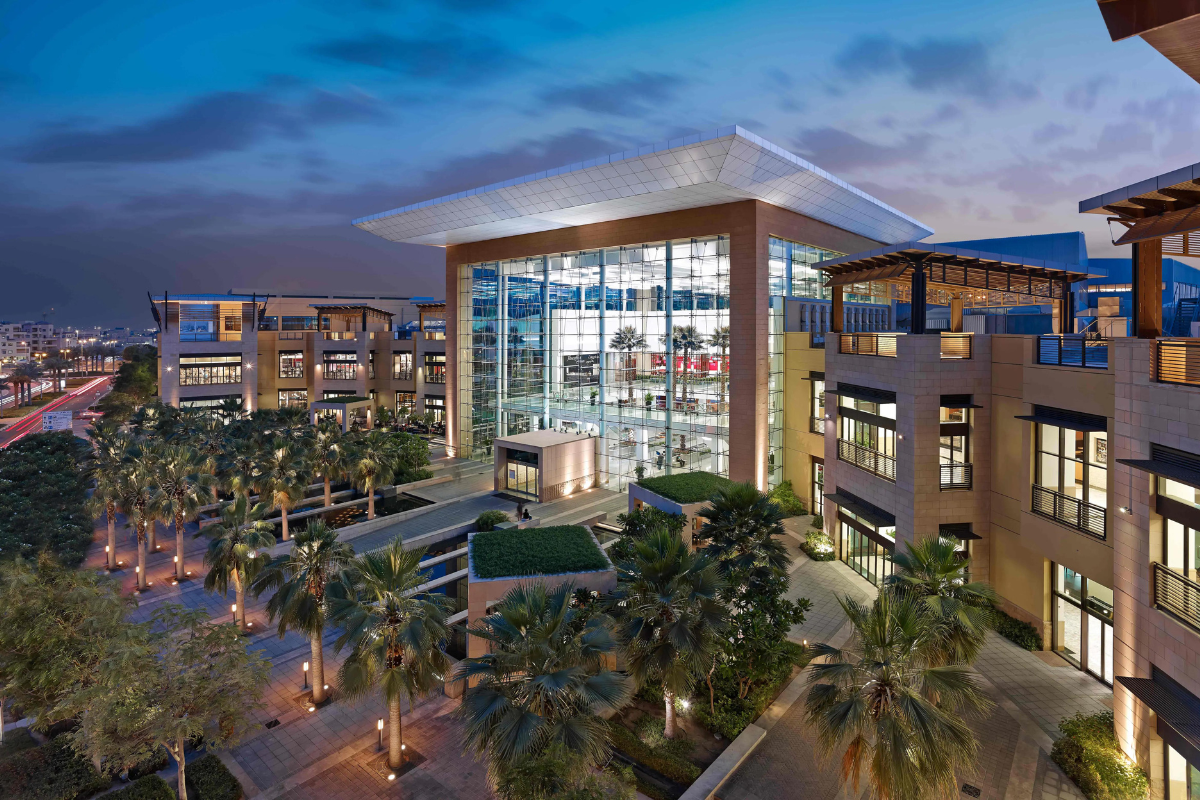 Only six minutes away from Mirdif Park lies Mirdif City Centre. With over 400 stores hosting 260 brands, Mirdif City Centre has everything you would ever need, whether it be shopping, dining, or engaging in some fun activities. Mirdif City Centre hosts a number of luxury and international brand, and the retail epicentre for the residents of Mirdif.
Uptown Mirdif Mall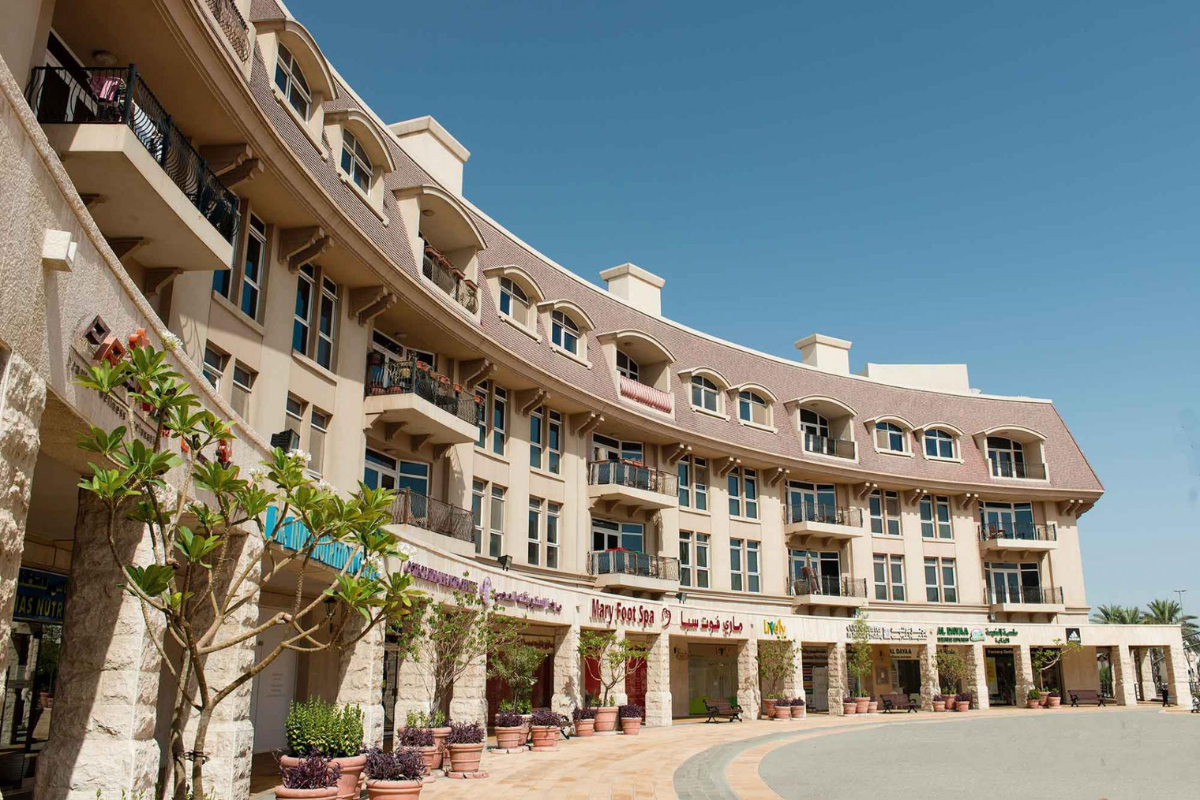 Need to quickly grab some groceries on your way home? Less than five minutes from the park is this open-air shopping area. Walk among low-rise rise residential buildings, and do your essential shopping here. Equipped with a Spinneys, a pharmacy, gym, and lots of restaurants and cafes, Uptown Mirdiff Mall offers a unique shopping experience. The open air format of the mall makes it a frequent host for seasonal festivals and events.
Al Khawaneej Walk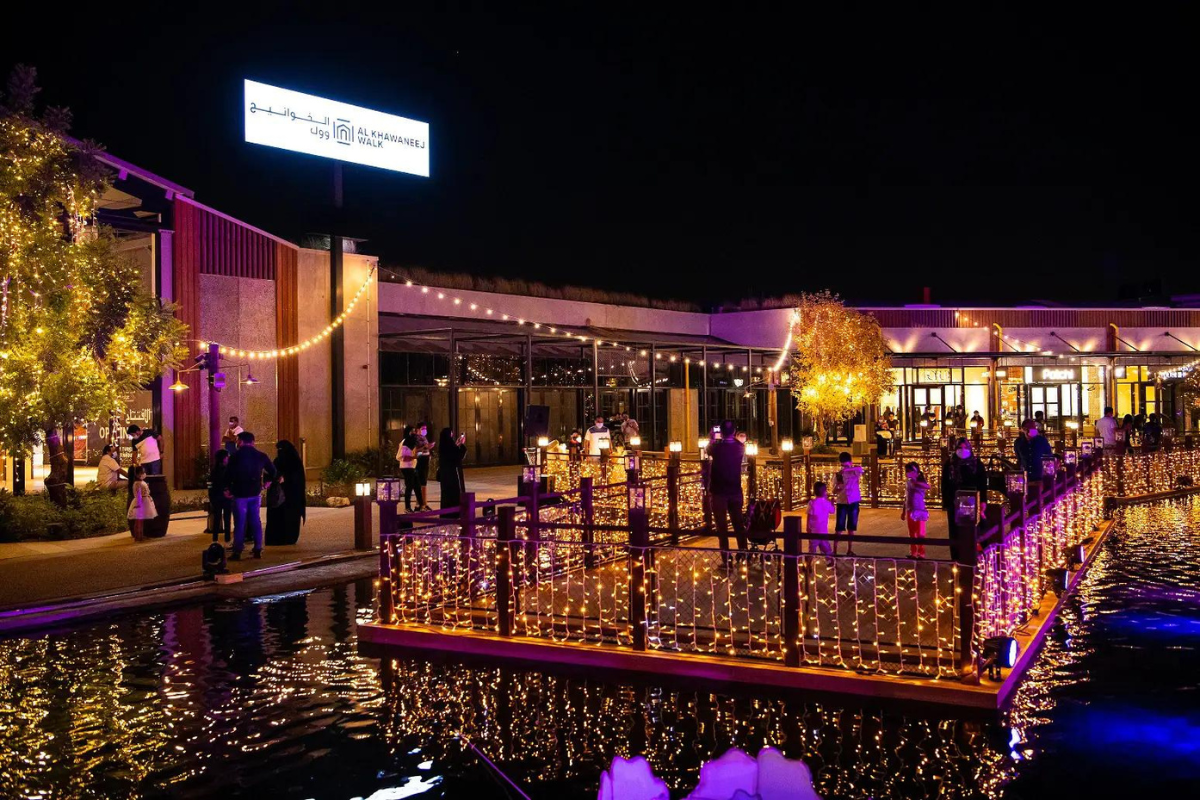 Al Khawaneej Walk is a community mall 15 minutes away from Mirdif Park by car. A cosy mall with the architecture inspired by greenhouses, vistors can enjoy the harmony between nature and design while shopping at the local boutiques, dining at their number of restaurants and cafes, or visiting the gym, healthcare or entertainments facilities.
Families can bring their chidren to play at the Kidoos indoor play area or The Arcade by Hub zero, which is an arcade filled with simulaturs, claw machines and VR experiences. The mall also boasts an 18m tall windmill that makes an Insta-worthy shot. The mall features the Last Exit, a popular food truck location.
The mall's promenade features a floating bridge where vistors can leave a padlock as a memento of their time spent there.
Mall of the Emirates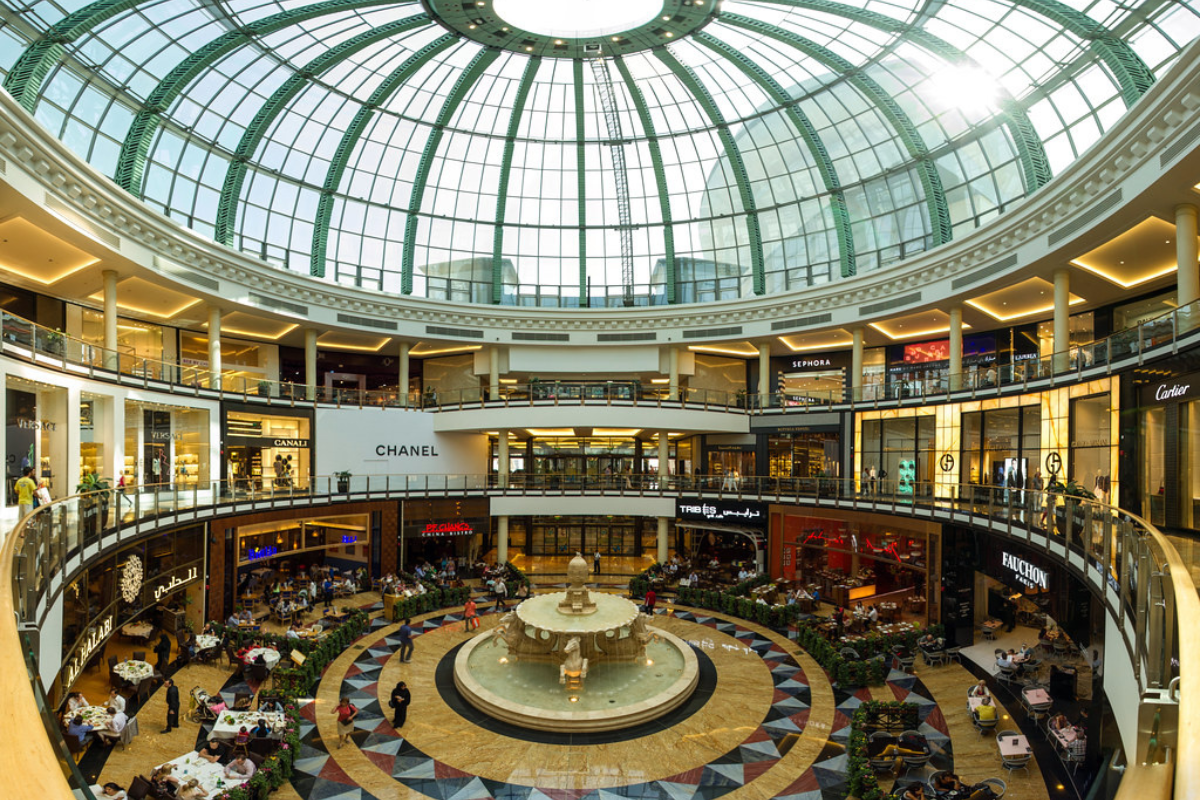 Approximately a 30 minute drive from Mirdif Park leads to Mall of the Emirates, located in Al Barsha 1. This massive mall holds over 560 shops and features a mix of luxury and essential shopping experiences, an array of exquisite dining options, a cineplex, and entertainment attractions like Ski Dubai, Dreamscape, and Magic Planet. The Mall offers free parking for visitors for up to four hours. One of the Dubai's largest shopping precincts, Mall of the Emirates offers premium services like hands-free shopping desks, personal stylists, and a digital concierge, purchase assitance, free home deliveries, and access to limited edition products.
Dubai Mall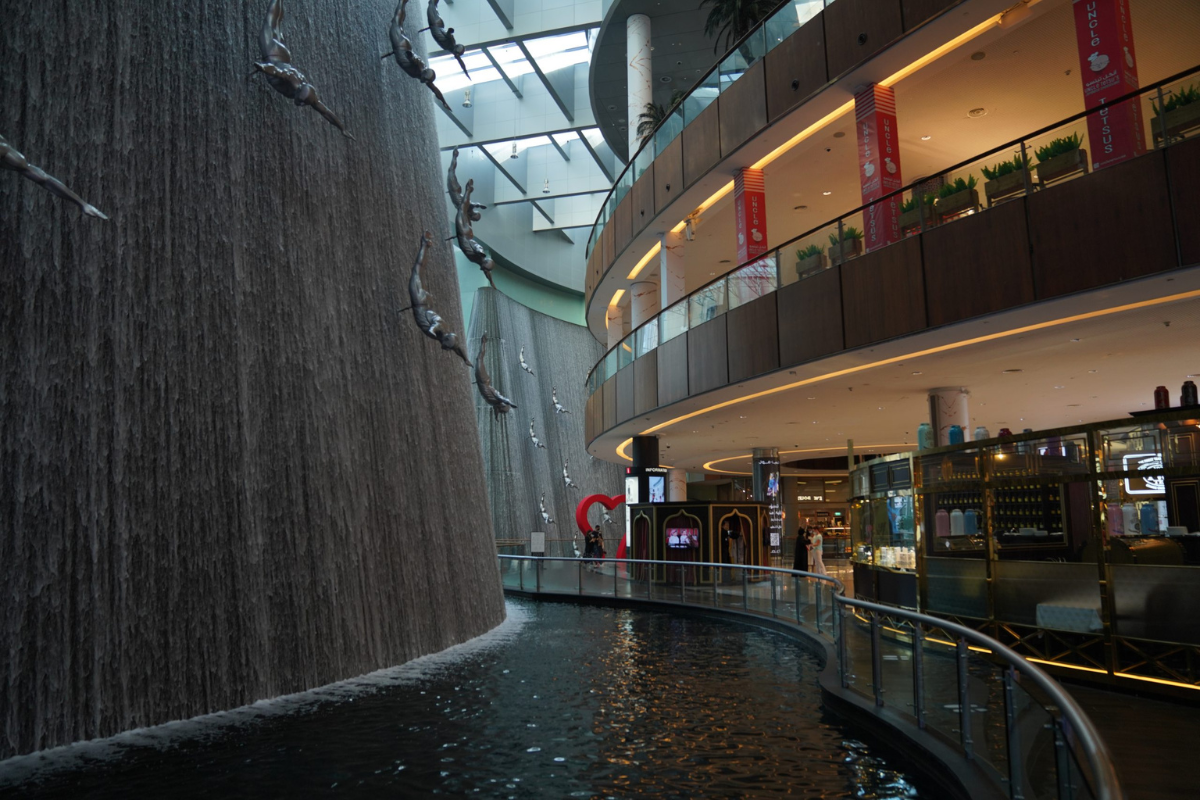 A 21 minute drive from Mirdif Park, Dubai Mall is the largest mall in the world and arguably the most popular tourist destination. Dubai Mall offers a luxurious shopping experience holding over 1200 stores, and hundreds of dining outlets. Other must visit spots within the mall inckudes the massive suspended aquraium, underwater zoo and tunnel, the indoor waterfall, Kidnazia, Ski Dubai, the Dubai Ice Rink, the dancing fountain and promenade, and of course, the Burj Khalifea located right next to the mall.
Also Read: