The holy month of Ramadan is all about sharing and being there for each other. You will be able to see the different Ramadan pop-ups around the city. Every year Dubai hosts a series of activities and events for its residents and locals to have a memorable time. Ramadan Night Markets, communal iftars, and Ramadan pop-up tents are some of the events in Dubai that have been successful in previous years.
Ramadan 2023 is going to be more exciting with the exciting line-up of experiences. Restaurants in Dubai are launching unique iftar and suhoor deals to celebrate the holy month. Many iftar events are organized by various organizations and communities to bring together friends and family to join them in the spirit of Ramadan. Iftar tents are a great way to experience unique iftars in Dubai. These are special venues that are open during Ramadan to host people for Iftar. Most of the Iftar tents in Dubai are decorated based on any Middle Eastern theme to elevate the vibe of the venue. The dishes served also suit the theme of the tents.
Are you looking forward to a memorable iftar experience this Ramadan? Here are the best iftar tents in Dubai you should visit.
Dana Tent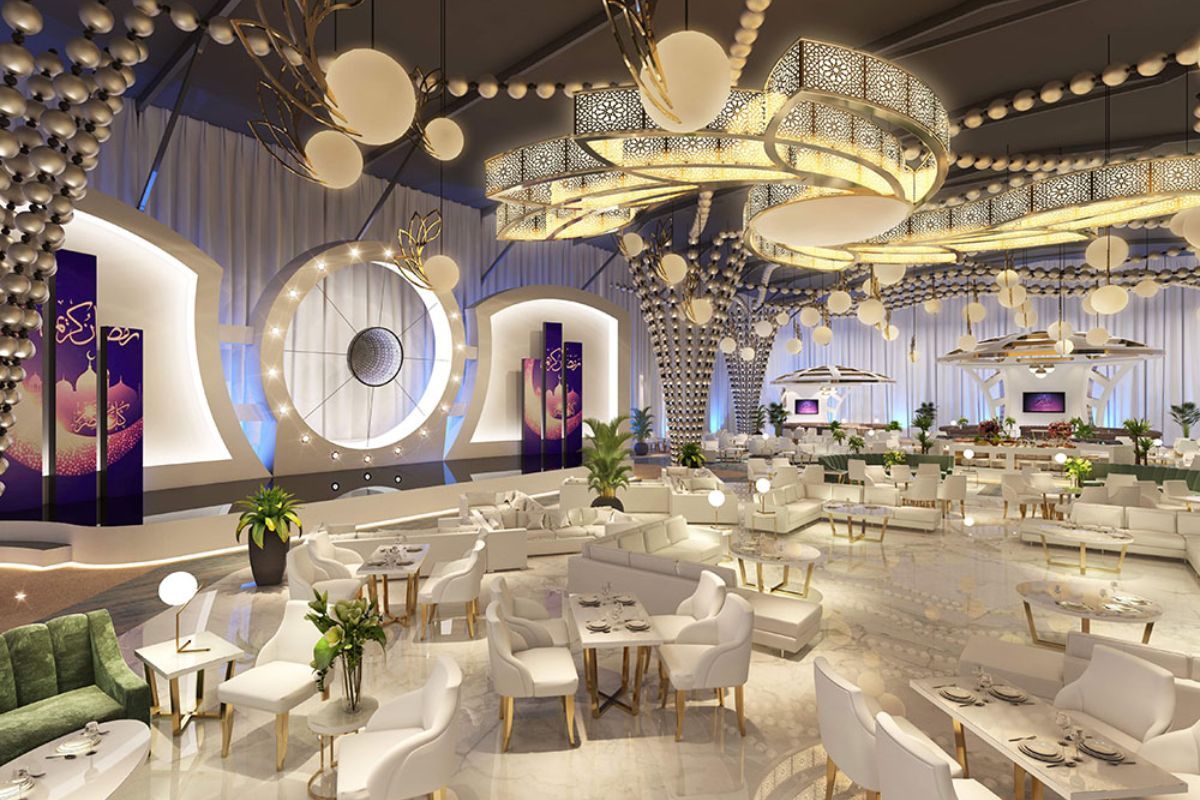 Dana Tent is offering a grand iftar experience this season. It is hosted in one of the most vibrant and illuminated neighborhoods in Dubai, City Walk. The tent is visually appealing with its arabesque interiors and décor. This luxurious tent can accommodate up to 700 guests. The iftar spread will feature popular Emirati and Mediterranean dishes prepared by a team of well-trained chefs. Dana Tent also has seven VIP rooms where you can host intimate iftar events. After iftar, the tent will host suhoor from 3 am for just AED185. Free valet parking is provided by them for all their guests. Book a table beforehand to avoid last-minute inconveniences. Large groups and corporates can avail special discounts in ticket prices.
Call +97145905090 to make your reservations.
Location: City Walk Dubai (near The Green Planet)
Price per admission: AED215
Asateer Tent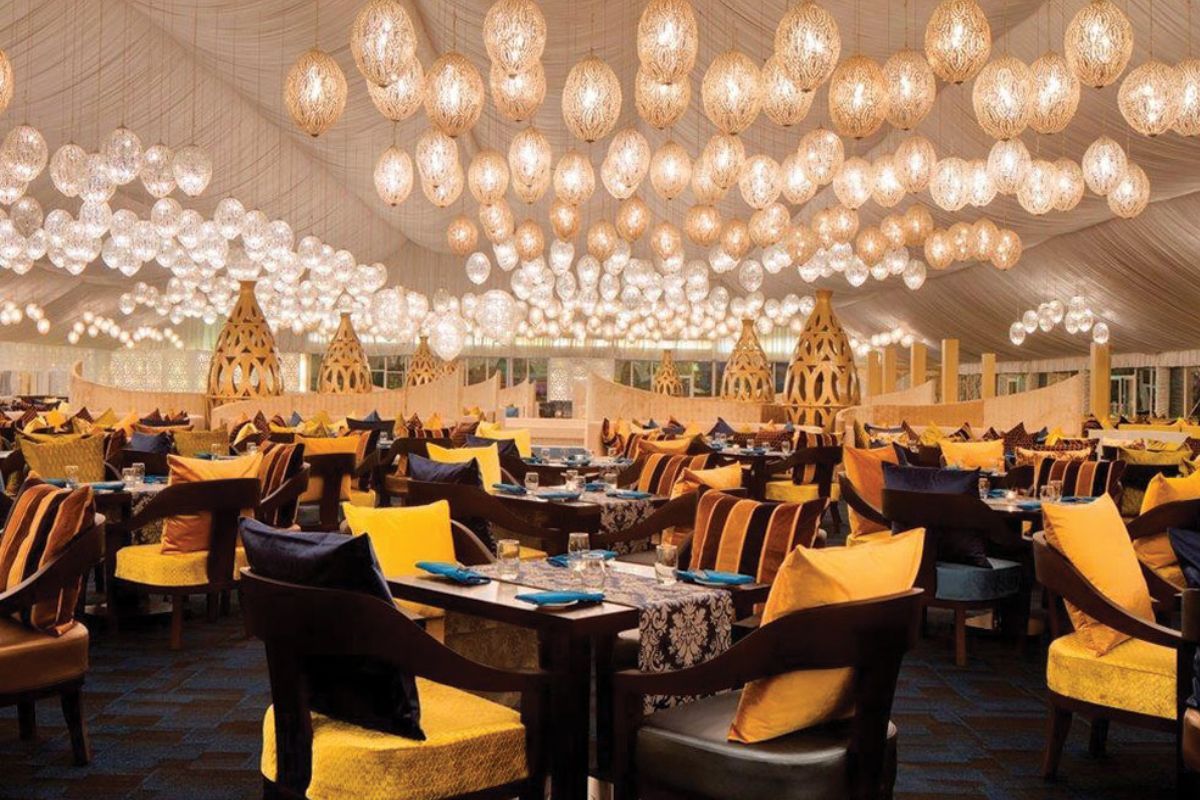 Asateer Tent offers a luxurious iftar experience at the beautiful man-made island in Dubai. This iftar tent is hosted in one of the most popular luxury resorts in Dubai. You can break your fast by enjoying the fascinating lights, arabesque interiors and oriental entertainment organized at the venue. Each day of the week will follow a different theme for the iftar menu at Asateer Tent. You can indulge in diverse iftar experiences with them. Every Monday they host Arabesque Night while on Tuesdays, Turkish cuisine takes center stage. Wednesdays and Thursdays are Persian Nights and Khaleeji Nights respectively. On weekends you can enjoy Traditional Nights at the tent. For large groups and families, they have arranged Royal Majlis for a memorable evening. Asateer Tents also host suhoor from 9:30 pm to 2:30 am featuring an a la carte menu, shisha service, and live Arabic entertainment.
Make your bookings for this extravagant iftar on their website.
Location: Atlantis, The Palm
Price per admission: Monday to Thursday – AED260, Friday to Sunday – AED280
*Admissions for children under 3 are complimentary*
Jumeirah Emirates Towers Majlis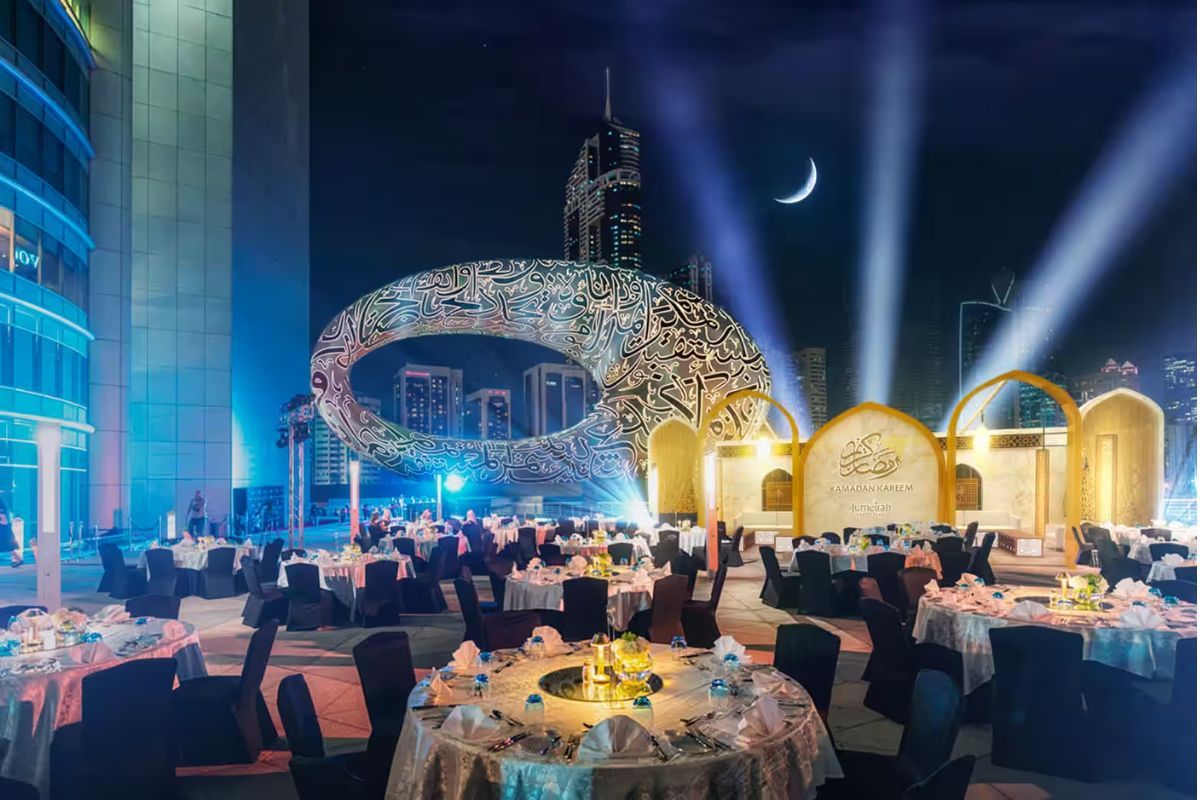 Emirates Towers offers an exquisite experience of breaking your fast with a view of the world's most beautiful museum, the Museum of the Future. You can treat yourself to this luxury iftar experience at Terrace Between Towers. The iftar buffet spread will feature delightful Middle Eastern cuisine on the center stage. However, you can also find global culinary favorites on the spread. Live cooking stations are installed at the venue to offer your food straight from the grills. The venue will also host traditional music performances. They also have a private majlis for family and friend groups. Terrace Between Towers is also hosting suhoor experiences this holy month.
Make your reservations on their website or contact them at +97143300000.
Location: Terrace Between The Towers, Jumeirah Emirates Towers
Price per admission: AED295
Dubai Opera Iftar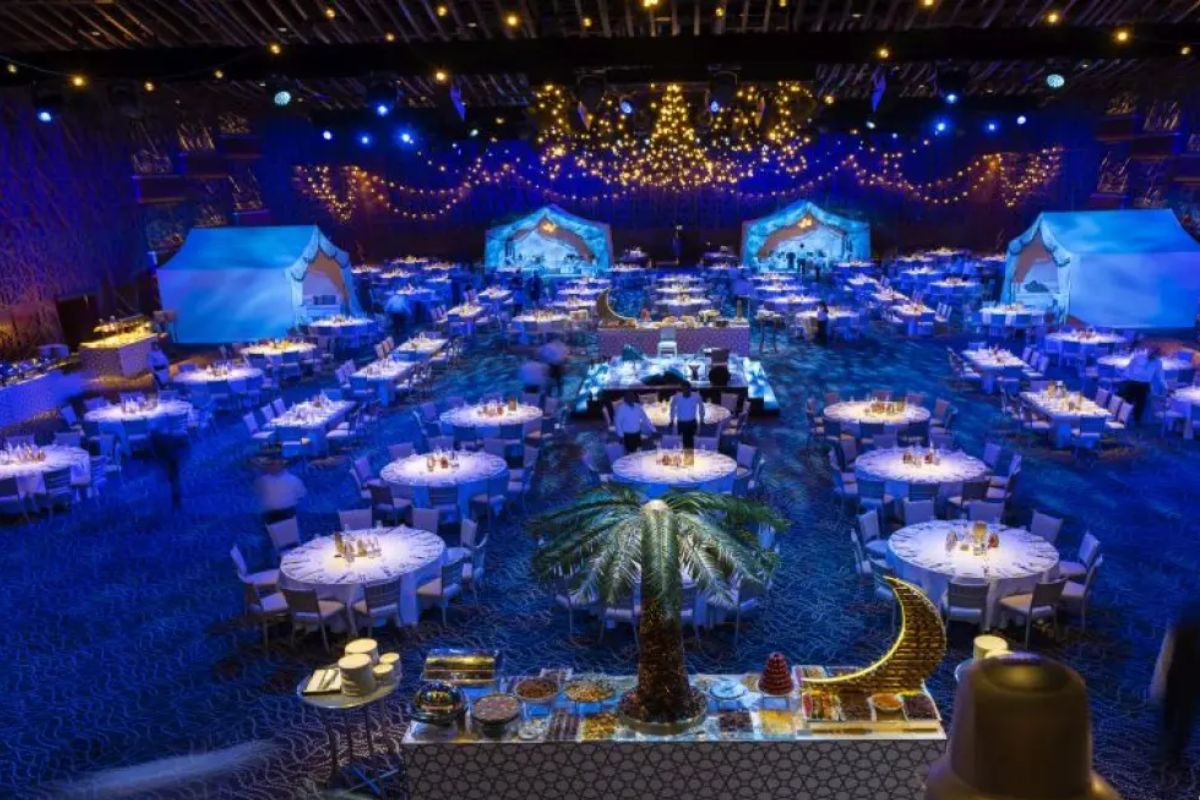 This Ramadan Dubai Opera presents an opportunity to enjoy authentic Arabic cuisine for Iftar at their premises. This experience is bought to you in association with Address Sky View. The yummy delights on the luxurious Iftar spread are prepared by the talented team of chefs from Address Sky View hotel. The buffet spread will feature International and Arabic dishes including a carefully curated collection of sweets, desserts, and juices. You can embark on this tasty journey with live Arabic melodies in the background.
Book your tables on their website. For group bookings, mail to ramadan@dubaiopera.com
Location: Dubai Opera
Price per table: Square table for two: AED570
Square table for four: AED1,140
Round table for six: AED1,710
Round table for eight: AED2,280
Round table for 10: AED2,850
Majlis for 12: AED3,600
Hikayat Ramadan Garden
Palazzo Versace is hosting a wonderful iftar experience at Hikayat Ramadan Garden. This stunning al fresco set up provides the perfect ambiance to break you fast. You can savour delicious Arabic cuisine while having a mesmerizing view of Dubai Creek ahead of you. The popular Mediterranean recipes are prepared by the hotel's expert team of chefs. Hikayat Ramadan Garden also features suhoor experience up to 3 am that includes an a la carte menu with international cuisine.
Book this wonderful experience on their websiteor call them at +97145568888.
Location: Palazzo Versace, Jaddaf, Dubai
Price per admission: AED250; Children under 11 can eat for just AED125 while children under 4 can eat for free.
Majlis of the World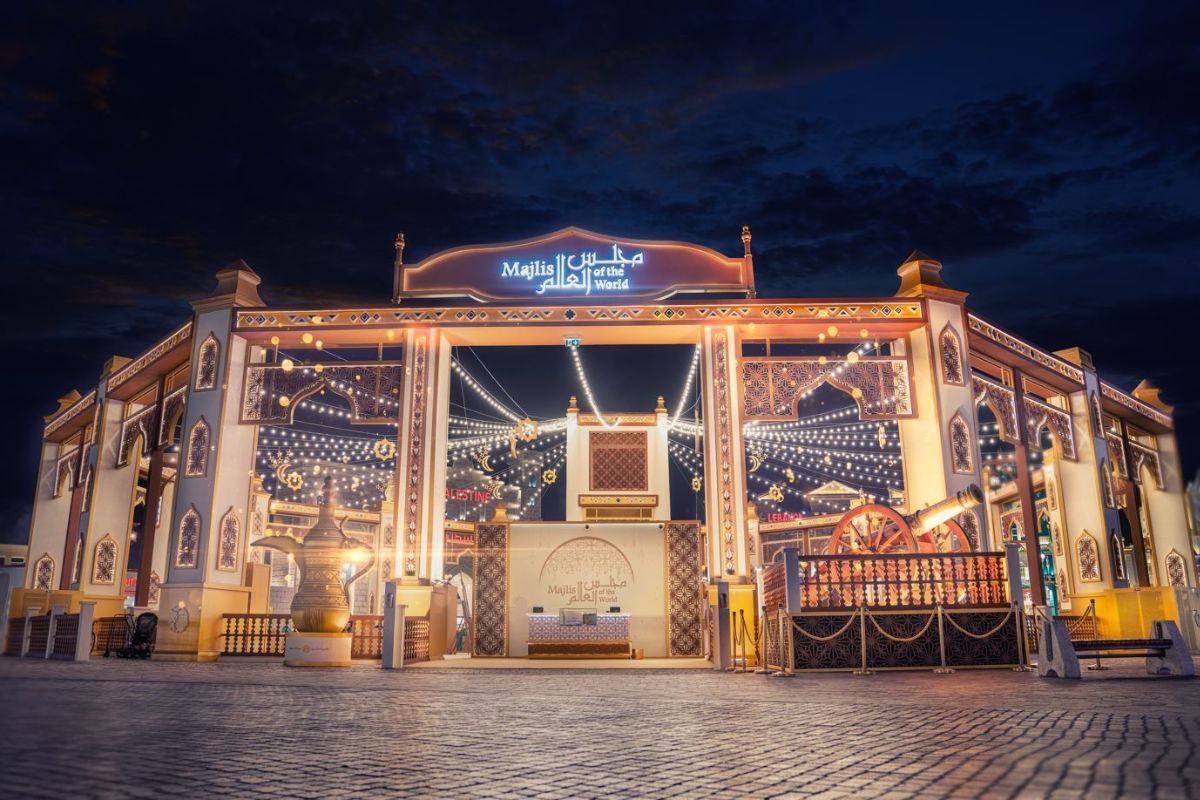 Global Village is hosting a festive iftar and suhoor experience for this holy month. It is a an air-conditioned outdoor majlis setup in a traditional setting. You can break your fast with delicious and authentic Arabic cuisine while enjoying the stunning views. They are also offering board games for you to engage in. While munching on these yummy bites listen to soothing music from Oud, Qanun, Harp, and violin at the venue. This outdoor majlis will host some regional entertainers to enhance your outdoor iftar experience with them.
Make your reservations on their websiteor call at +97143624114.
Location: Global Village
Price per admission: AED75
Starlit Iftar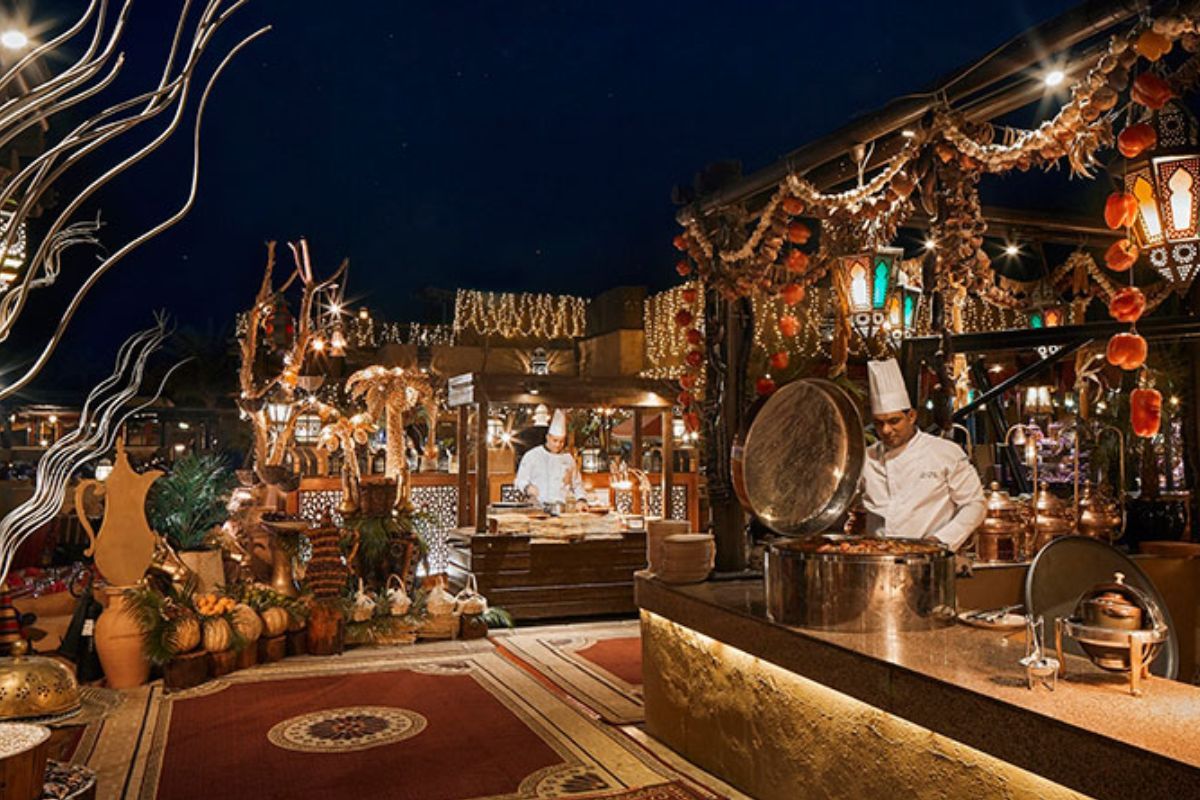 Bab al Shams is offering a unique opportunity for those who fancy an iftar under the stars. Al Hadheerah in Bab Al Shams Resort & Spa is hosting an exquisite iftar experience in the desert this holy month. You can feast on authentic Arabic dishes while enjoying the desert vibe. The iftar spread features tasty bites like Umm Ali, Kunafa, and Muhallabia. The venue will also host traditional Middle Eastern performances to elevate your iftar experience with them. This unique iftar will give you a sneek-peek into the rich heritage of the region. After iftar, you can also indulge in a luxurious staycation with Ramadan Retreat.
Make your reservation for this desert iftar experience on their website.
Location: Bab Al Shams Resort, near Endurance City, Dubai
Price per admission: from AED150
Also read: