August 2023 is set to be a remarkable month for moviegoers and TV enthusiasts alike, offering a wide array of captivating stories and groundbreaking concepts. This month brings a diverse range of captivating stories, anticipated sequels, and groundbreaking original content to both big and small screens. From sci-fi blockbusters to heartwarming dramas, let's delve into some of the most exciting movies and TV shows to watch this August.
Movies:

MEG 2: The Trench
Release Date: Aug 03, 2023 | Theatres
In this thrilling adventure, viewers dive into uncharted waters with world-renowned action icons Jason Statham and Wu Jing. As leaders of a research team, the two heroes embark on a daring exploratory dive into the ocean's deepest depths. But their journey is abruptly interrupted when an unscrupulous mining corporation thwarts their mission, and they suddenly find themselves fighting for survival. In a furious race against time, the protagonists must contend with giant megs and ruthless environmental destroyers. Will they be able to outwit their enemies and fight their way back to the surface?
Jailer
Release Date: Aug 10, 2023 | Theatres
Jailer is an Indian Tamil-language action comedy film. Muthuvel Pandian is a strict yet compassionate jailer who learns that a gang is trying to rescue their leader from the prison, so he sets out to stop them.
Heart of Stone
Release Date: Aug 11, 2023 | Netflix
Gal Gadot stars in a new action thriller as covert agent Rachel Stone, who's part of an elite group called the Charter. They're highly trained with no political or national ties. Their only goal is to keep peace in a turbulent world. Rachel and the Charter are helped by an asset called the Heart, which has untold powers. Own the Heart, own the world. If it gets into the wrong hands, death and destruction could follow.
Gadar 2
Release Date: Aug 11, 2023 | Theatres
If you are a fan of Sunny Deol's iconic handpump scene from Gadar: Ek Prem Katha, your wait is finally over as Tara Singh is back with his Sakeena and Jeete. Following its success, the makers are bringing its second part after 22 years! Gadar 2 is carrying forward the same story wherein the lead character Tara Singh is returning to Pakistan once again to bring his song Charanjeet back to India. This story is set in 1970s India- during the Indo-Pak war, and this time too, it will be risky for Tara Singh to cross the borders.
OMG 2
Release Date: Aug 11, 2023 | Theatres
For fans of OMG: Oh My God!, where Akshay Kumar played Lord Krishna and transformed Paresh Rawal's atheist character Kajilal into a believer in God, the actor is returning as Lord Shiva to assist one of his devotees. OMG 2 has a different story about a man whose son is facing problems in life- it has an underlining theme of commercialization of religion and faith and a questioning of blind faith.
Miguel Wants to Fight
Release Date: Aug 16, 2023 | Hulu
This Hulu movie brings together a dream team for coming-of-age stories. We know it's better to talk through your problems and try to reach a non-violent solution – but Miguel's (Tyler Dean Flores) desire to get in a scuffle seems almost relatable. Maybe he wants to leave his pals (played by Imani Lewis, Christian Vunipola, Suraj Partha) something to remember him by; maybe he feels leaving the town he grew up in should be more painful; or maybe Miguel's just seen too many Bruce Lee movies. Whatever the outcome, we can count on absurd but compelling action.
Blue Beetle
Release Date: Aug 17, 2023 | Theatres
Recent college grad Jaime Reyes returns home full of aspirations for his future, only to find that home is not quite as he left it. As he searches to find his purpose in the world, fate intervenes when Jaime unexpectedly finds himself in possession of an ancient relic of alien biotechnology: the Scarab. When the Scarab suddenly chooses Jaime to be its symbiotic host, he is bestowed with an incredible suit of armor capable of extraordinary and unpredictable powers, forever changing his destiny as he becomes the Super Hero BLUE BEETLE.
Akelli
Release Date: Aug 18, 2023 | Theatres
Indian Hindi-language thriller drama film starring Nushrratt as the main lead, Akelli, is a poignant story of a girl who becomes ensnared in a perilous world due to her circumstances and her subsequent struggle to break free.
Ghoomer
Release Date: Aug 18, 2023 | Theatres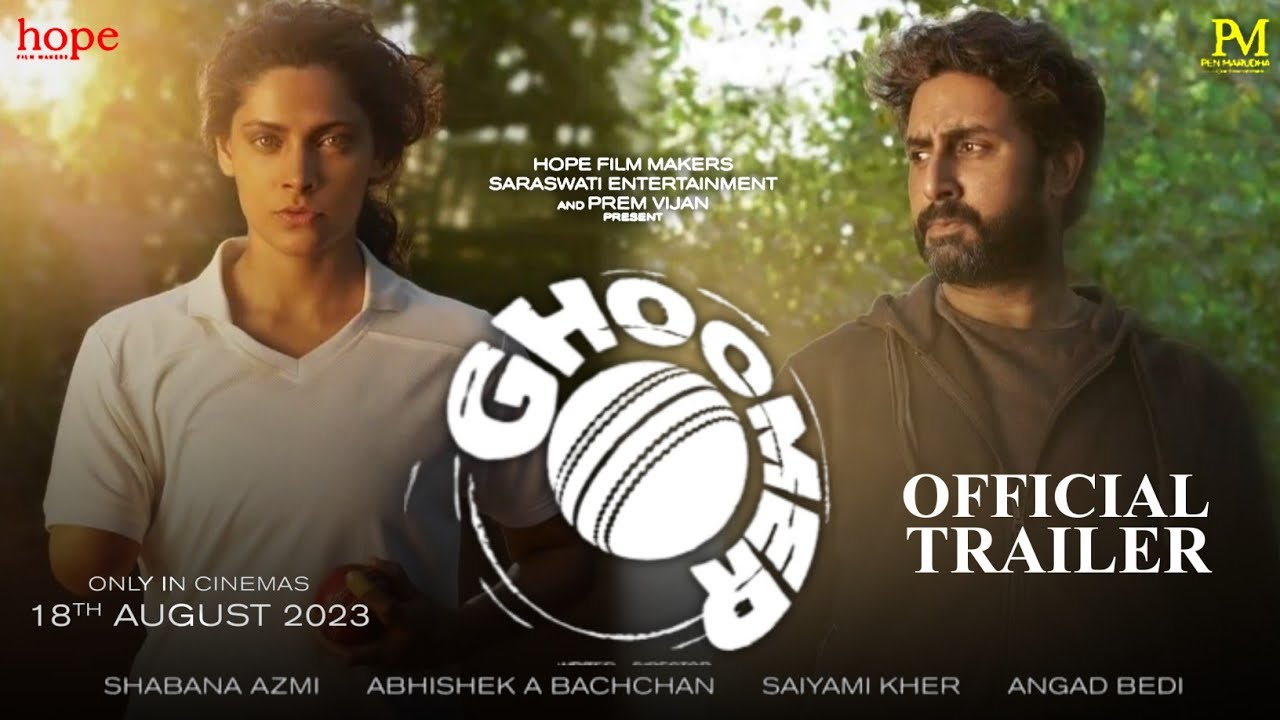 Ghoomer is a unique cricket film inspired by the late Hungarian right-hand shooter Karoly Takacs, who won two Olympic gold medals with his left hand after his other hand was severely injured. The film features Saiyami as a paraplegic sportsperson while Abhishek Bachchan plays the role of a strict and tough cricket coach.
Til Death do us Part
Release Date: Aug 24, 2023 | Theatres
After running away on her wedding day, a bride must fight for survival against her vengeful fiance and seven deadly groomsmen. In the ultimate showdown, the groomsmen soon discover that she has no intention of going back to the life she left behind.
Puppy Love
Release Date: Aug 24, 2023 | Theatres
After a disastrous first date, wild child Nicole and socially anxious Max vow to lose each other's numbers, until they learn that their dogs found a love match, and now puppies are on the way! The hilariously mismatched Nicole and Max are forced to become responsible co-parents, but may end up finding love themselves.
Dream Girl 2
Release Date: Aug 25, 2023 | Theatres
It is the second part of the comedy-drama movie Dream Girl. The first movie starred Ayushman Khurrana, who hosts a late-night radio talk show in the voice of a woman. The second movie is expected to bring the same element of surprise and humor as the first. The story focuses on Karam, a Mathura-based man who is voicing an imaginative character- Pooja, on a talk show, who is set to win the hearts of lonely men once again. A lot of comedy of errors could happen in this movie!
The Equalizer 3
Release Date: Aug 31, 2023 | Theatres
Since giving up his life as a government assassin, Robert McCall finds solace in serving justice on behalf of the oppressed. Now living in Southern Italy, he soon discovers his new friends are under the control of local crime bosses. As events turn deadly, McCall becomes their protector by taking on the mafia.
Barbie
Release Date: Aug 31, 2023 | Theatres
Barbie and Ken are having the time of their lives in the colorful and seemingly perfect world of Barbie Land. However, Barbie begins experiencing an existential crisis. She must travel to the human world to understand herself and discover her true purpose. Her kinda-sorta boyfriend, Ken, comes along for the ride because his own existence depends on Barbie acknowledging him. Both discover harsh truths—and make new friends –along the road to enlightenment.
TV Shows:

Physical (Season 3)
Release Date: Aug 2, 2023 | Apple TV Plus
Rose Byrne returns to Apple TV Plus in Physical, where her exercise guru Sheila is dealing with increased competition. This final season of the dark comedy finds Sheila resurgent out of recovery and questioning if her judgmental inner hater was actually the key to success. Enter Zooy Deschanel as Kelly Kilmartin, a blonde who's taking the crown that Sheila thought was hers. Expect spirality, anxiety, and more amazing '80s outfits.
Reservation Dogs (Season 3)
Release Date: Aug 2, 2023 | Hulu
Parting is truly a bittersweet sorrow when it comes to this underrated coming-of-age dramedy. The final season bids farewell to Native teens Bear (D'Pharaoh Woon-A-Tai), Elora (Devery Jacobs), Cheese (Lane Factor), and Willie Jack (Paulina Alexis), whose ups and downs have induced laughter and tears. After their (mostly) triumphant trek to California, where they honored dearly departed pal Daniel, the Reservation Dogs head back to, well, the reservation, except for Bear, who goes off on his own for a sometimes-surreal adventure. The others, however, face the music for running away without a word. But as they carry out their punishments, they may just find answers to questions they never pondered.
Heartstopper (Season 2)
Release Date: Aug 3, 2023 | Netflix
Teen romance is usually a rollercoaster, and the one in Heartstopper is at a high — which can only mean we should brace for some lows. The first season brought together the quiet, out Charlie (Joe Locke) and the popular rugby captain Nick (Kit Connor), who started out as unlikely friends and slowly developed feelings for each other. Now that Nick is out to his mom (the always wonderful Olivia Colman), he's ready to reveal his relationship with Charlie to everyone. Of course, bliss can't last forever, and the world throws complications at them. Exams are coming up, as is a school trip to Paris and the most sacred of all adolescent rites: prom.
Choona (Season 1)
Release Date: Aug 3, 2023 | Netflix
It is a heist comedy-drama series about a group of people who meet coincidentally and have no common interest or link except one- enmity with a notorious politician with only one weakness-superstition. Together the group plans a heist to take revenge against him. The plot itself tells that a lot of great dark-comedy punches can happen in the show, and we are hoping with crossed fingers!
The Lost Flowers of Alice Hart (Season 1)
Release Date: Aug 4, 2023 | Prime Video
The limited series stars Debnam-Carey as Alice, who is taken in by her grandmother June (Sigourney Weaver) after her parents die in a mysterious fire. When she first arrives at June's flower farm, which serves as a refuge for abused women, Alice (played in early episodes by Alyla Browne) is so overwhelmed by her trauma that she's unable to speak, but she finds her voice as she begins to learn the language and meaning of the native plants. Years later, as an adult, Alice discovers the extent of her grandmother's duplicity, prompting her to question everything she knows about her family and their complicated, volatile history.
The Big Nailed It Baking Challenge (Season 1)
Release Date: Aug 4, 2023 | Netflix
Nicole Byer and Jacques Torres (and producer Wes!) return to turn a group of 10 aspiring bakers "from OH NO to PRO." With the help of established pastry chefs Jeanne McDowell and Robert Lucas and focused training, they'll have the chance to watch their dreams rise as high as those cakes — or at least eat the results if they miss out on the cash prize.
The Marriage Pact (Season 1)
Release Date: Aug 4, 2023 | Roku
"If we're both single when we're 40, let's get married." Agreements like this are the core of Colombia's "The Marriage Pact," a reality series in which five couples test their relationships to see whether they will fulfill or break that famous pact. Participants will undergo "romantic and difficult situations" that test the boundaries of friendship and romance. The series is hosted by author and intimacy expert Shan Boodram, who has worked on Netflix's "Too Hot to Handle."
Winning Time: The Rise of the Lakers Dynasty (Season 2)
Release Date: Aug 6, 2023 | HBO
The somewhat controversial biographical series hits the court for a second season taking place in the period just after the 1980 NBA Finals through to 1984. Owner Jerry Buss (John C. Reilly) is riding high after the changes he instituted led to a championship trophy. But winning comes with new expectations and pressures, particularly on Magic (Quincy Isaiah) as his rivalry with nemesis Larry Bird (Sean Patrick Small) heats up.
Only Murders in the Building (Season 3)
Release Date: Aug 8, 2023 | Hulu
The podcasting trio, Charles, Mabel, and Oliver, who have already solved two murders in their building, are back for more mystery-solving. In this new season, Oliver's play has a shocking incident where the leading man dies on stage during the opening night. The team suspects the killer could be someone from the show's cast of theater actors, who all have prominent personalities and hidden secrets. To uncover the truth, the Only Murders team starts investigating the cast and their potential motives.
Zombieverse (Season 1)
Release Date: Aug 8, 2023 | Netflix
Oh, you like reality TV and a good zombie apocalypse? Netflix Korea has this one handled. Zombieverse starts as a reality dating show, but is quickly derailed when contestants find themselves in the middle of a zombie outbreak in Seoul. As much as it promises horror and action, Zombieverse finds humor in its cast's predicament, response, and scheming as they try to survive the nightmare we've all imagined.
Ladies First: A Story of Women in Hip Hop (Season 1)
Release Date: Aug 9, 2023 | Netflix
In the decades that hip-hop music has gone from niche to mainstream, female artists have been integral to the genre's rise. This four-installment series spotlights prominent women in hip-hop as well as journalists, stylists, and music industry members. Current stars reflect on their careers and influences and pay tribute to legends passed, reframing hip-hop history through a female lens.
Painkiller (Season 1)
Release Date: Aug 10, 2023 | Netflix
The drama tells the story of the origins and effects of the opioid epidemic that has ravaged hundreds of thousands of lives across America. The six episodes trace the creation and proliferation of OxyContin, the power wielded by the pharmaceutical industrial complex, the government's failures, and the addictions that developed from the drug. The stellar cast includes Matthew Broderick as Richard Sackler, Uzo Aduba as investigator Edie Flowers, and Taylor Kitsch as a man grappling with an injury.
Rap Sh!t (Season 2)
Release Date: Aug 10, 2023 | HBO Max
Shawna (Aida Osman) and Mia (KaMillion) discovered they had something special as a rap duo in Season 1 of Issa Rae's comedy. Now they're taking their viral hit "Seduce and Scheme" on the road, but not quite in the way they imagined. The pair join white rapper Reina Reign's (Kat Cunning) tour to rehab her image after being criticized online for black fishing. Being thrown into a new facet of the industry will only introduce even more hurdles, especially for two young Black women trying to break through.
Made in Heaven (Season 2)
Release Date: Aug 10, 2023 | Amazon Prime Video
The highly anticipated second season of 'Made in Heaven' will delve deeper into the lives of its characters as they navigate the complexities of organizing and celebrating marriages, all the while experiencing unexpected turns in their own lives. Season Two promises to beautifully depict the clash between tradition, modern aspirations, and belief systems against the backdrop of extravagant Indian weddings.
Billions (Season 7)
Release Date: Aug 13, 2023 | Showtime
Axe is back! Damian Lewis departed Billions at the end of season 5, sending Axe to exile in Switzerland. But the final season of the financial drama brings him back into the fold for what will undoubtedly be a fireworks show of epic proportions. His return may give Chuck Rhoades (Paul Giamatti) two formidable foes. The other is Mike Prince (Corey Stoll), who took over Axe's hedge fund. Although he lost $3.5 billion when his black-box drives were taken, Prince saved enough face to still be in the running for president. Chuck is prepared to take him down — at whatever cost. Well, as long as the cost isn't to himself.
Depp v. Heard (Season 1)
Release Date: Aug 16, 2023 | Netflix
This three-part docuseries revisits Johnny Depp and Amber Heard's highly public, highly engrossing defamation case, especially the social media element that exploded over TikTok. Netflix's media site claims the series will be the first to show both testimonies side-by-side as it dissects the nature of truth and perception.
Killing It (Season 2)
Release Date: Aug 17, 2023 | Peacock Original
Craig (Craig Robinson) found the key to his future in an unlikely industry. Season 2 of Dan Goor and Luke Del Tredici's comedy is poised to chronicle how much harder it is to maintain it, especially when Craig and Jillian decide they want to keep their hands clean among a cast of characters who do all their business in legal gray areas. But it wouldn't be any fun to give Craig everything he's dreamed of just yet anyway — the more trouble he gets into with Jillian, the more hilarious the series becomes.
Guns & Gulaabs (Season 1)
Release Date: Aug 18, 2023 | Netflix
This comedy thriller is about a group of young misfits who somehow jump into the world of crime and have no idea how to deal with it! Their innocence, love, the charm of the gold old 90s era, and the ensemble star cast including Dulqar Salman, Rajkumar Rao, Gulshan Devaiah, Goutan Sharma, Krish Rao, and T.J Bhanu- all are enticing features. Do you need any more reason to watch this show?
Star Wars: Ahsoka (Season 1)
Release Date: Aug 23, 2023 | Disney Plus
Rosario Dawson's renegade Jedi gets full billing in this new series, which ties in not just The Mandalorian, but also the older Star Wars: Rebels and Clone Wars animated series. Ahsoka, a former trainee of Darth Vader (nee Anakin Skywalker), is on the hunt for Grand Admiral Thrawn, who disappeared at the end of Rebels with Ezra Bridger, another Jedi-in-training. We hope the series brings the best of The Mandalorian and Andor.
Also Read: