Weddings are among the most special and memorable occasions in our lives. We plan for it months in advance to ensure that nothing goes wrong and that it is as special and perfect as we imagined it to be. The glitz and glamour of Dubai make it the ideal location for a wedding. It has stunning views all around that are ideal for wedding photos. The city has stunning wedding venues that will make your special day unforgettable. You'll find everything here, from beach locations to desert views to intimate settings to hotels and resorts. Marry the love of your life in the city of dreams, surrounded by luxury and glamour.
Are you looking for a beautiful and spectacular wedding venue in Dubai? Choose from these top ten unique wedding venues in Dubai, which include everything from beautiful landscapes to majestic beachfront settings.
1. Atlantis the Palm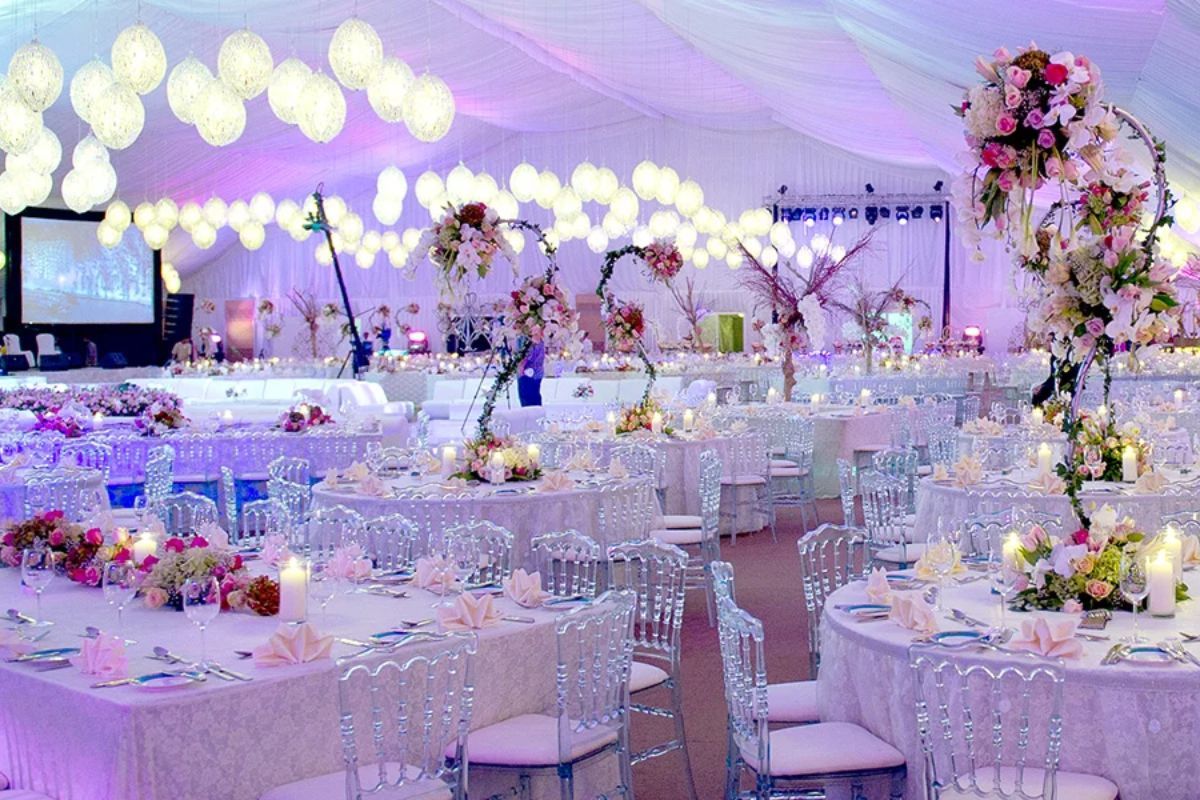 Do you want your wedding ceremony to take place on a private beach or your reception to be held under the sea? Atlantis The Palm is among the top wedding venues in Dubai that fulfill your fantasy of having 'the perfect wedding'. Atlantis is well-known as one of Dubai's top tourist destinations and is nothing short of a paradise in itself. It is ideal for nature lovers who want to have a peaceful wedding surrounded by the sea, but this magnificent man-made island also has a variety of other sights and activities to offer!  Exchange your vows in extravagant ballrooms, stunning outdoor venues, or iconic intimate settings. Atlantis provides world-class chefs' menus, modern guest accommodations, a plethora of luxurious extras, and a team of devoted wedding experts. Plan an exceptional Arabic, Indian or western wedding with their bespoke packages that are tailored to suit your wedding style and size.
Location: Palm Jumeirah, Dubai
Capacity: 2,000 guests
2. Ritz-Carlton Dubai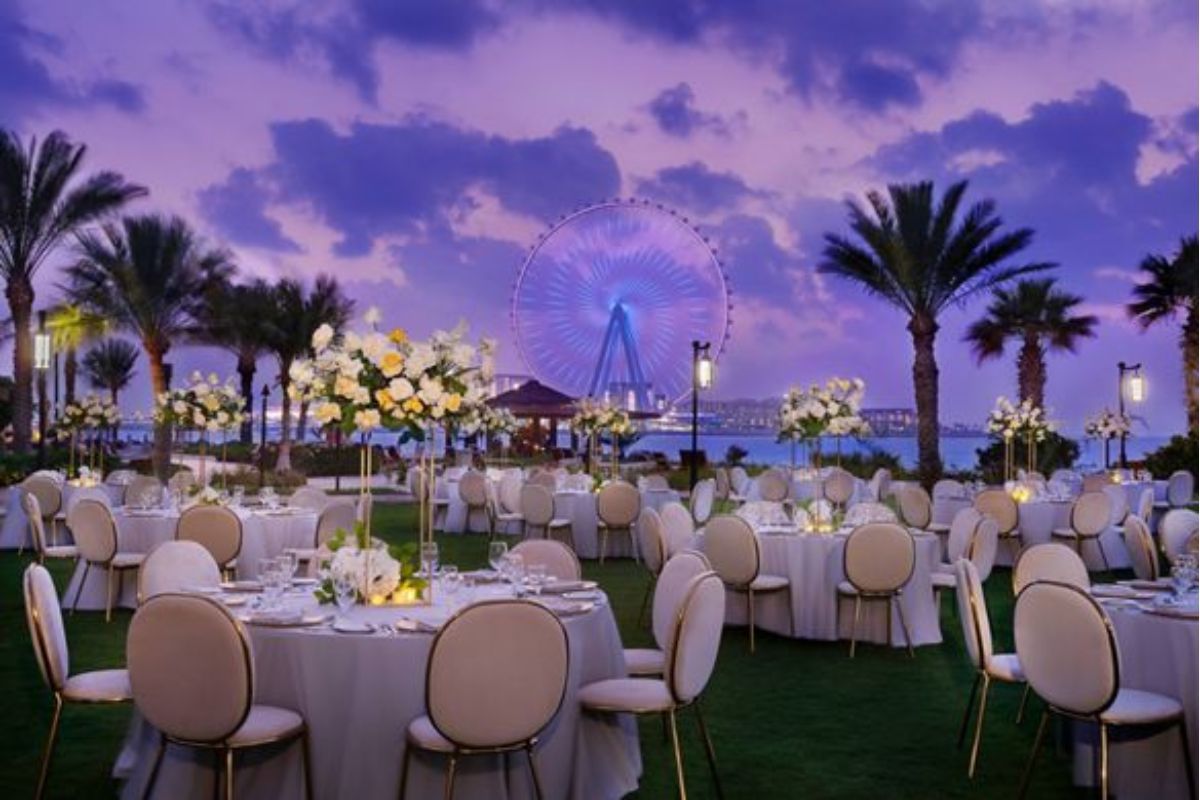 The Ritz-Carlton Dubai is the ideal location for your wedding, with the mesmerizing  sea as a backdrop and exquisite indoor venues. They promise to enhance every kind of wedding, including Arabian and Indian celebrations, with their in-house event planners, florists, and a creative culinary team – So, you know your wedding is going to top-notch. The hotel provides a variety of outdoor and indoor venues for various wedding-related events, like its beachside garden, restaurants, and ballrooms. Couples can enjoy luxury suites, limo services, and spa treatments to make their D-day even more special. The most unique wedding experience you'll get in Dubai!
Location: DIFC, off Sheik Zayed Road, Dubai,
Capacity: 1000 guests
3. Dubai Polo & Equestrian Club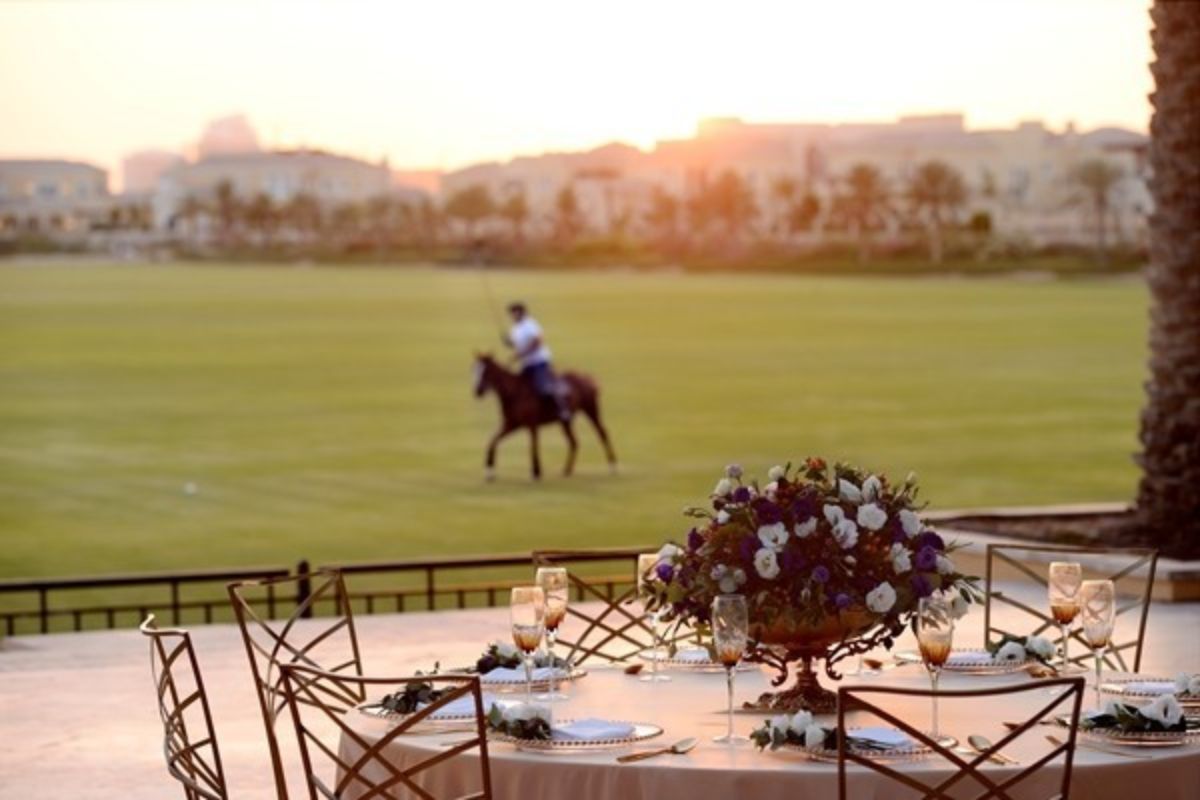 If you want to have your dream wedding in one of Dubai's most beautiful settings, the Polo and Equestrian Club is the place to be! You can even arrive in a romantic horse-drawn carriage and create lasting memories in one of Dubai's most unique wedding venues. This venue, which is close to the villas in Arabian Ranches, is ideal for a private ceremony. With wedding packages starting as low as AED 110 per person, it is also one of the most affordable wedding venues in Dubai. Palermo Restaurant, Palermo Terrace, Pool Lawn, Saha Courtyard, Barooda Lounge, and Tack Lounge are among the club's venues.
Location: Dubai Polo & Equestrian Club, Arabian Ranches
Price: AED 110 (Ivory Package), AED 295 (Pearl Package) and AED 345 (Blush Package).
4. Dubai Creek Golf and Yatch Club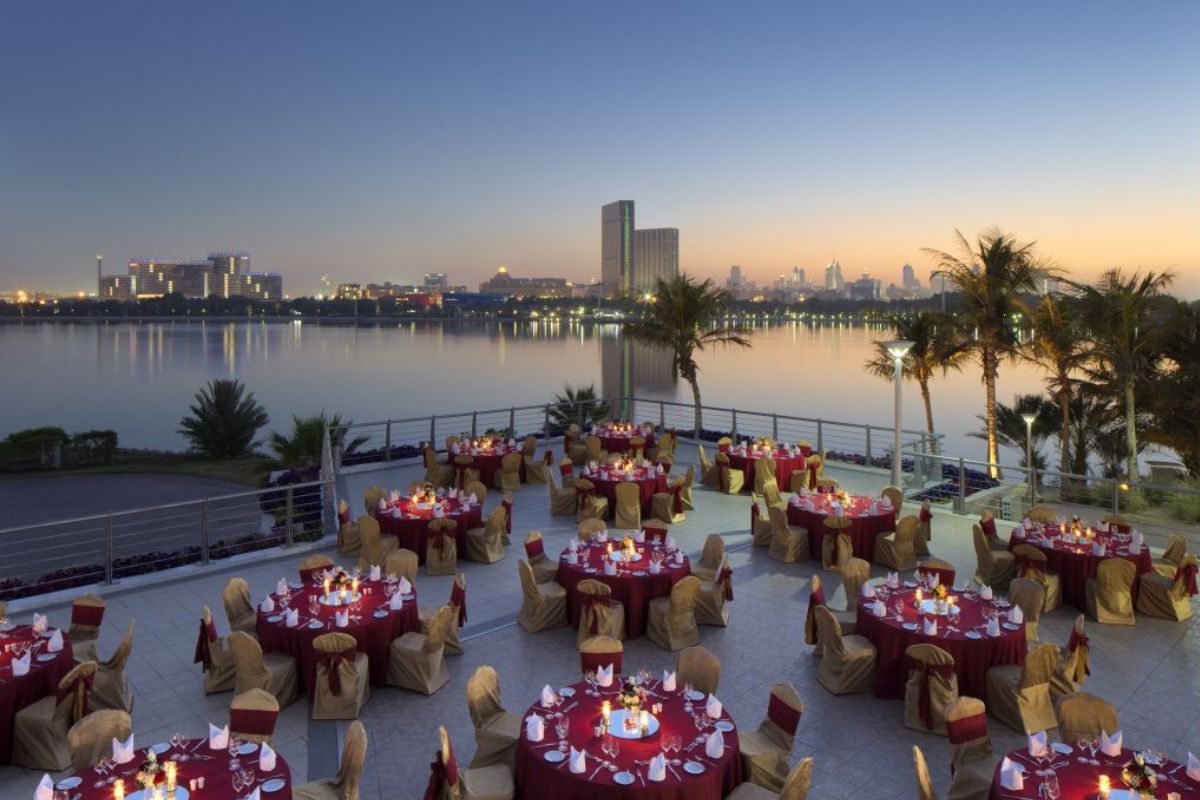 The Dubai Creek Golf and Yacht Club is one of Dubai's most enchanting and one-of-a-kind wedding venues. This award-winning club allows you to hold your wedding in the heart of Dubai, with breathtaking views of the iconic Dubai Creek. You can work with wedding planners and event stylists to transform some of the stunning venues at the Dubai Creek Golf and Yacht Club into your dream wedding venue. Celebrate your wedding with a breathtaking backdrop - now that's unique!
Location: Dubai Creek Golf and Yacht Club, Deira
5. Al Sahara Desert Resort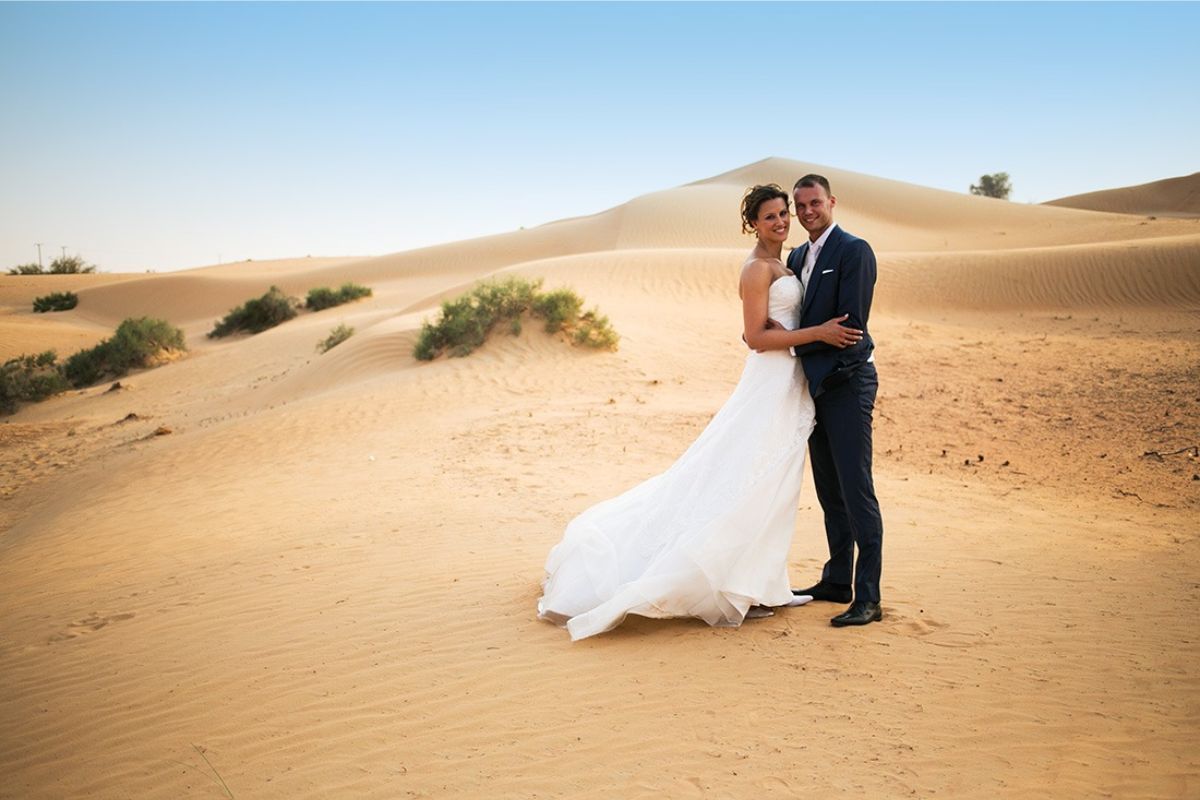 AL Sahara Desert Resort is one of the best wedding venues in Dubai for large gatherings. With its world-class facilities and convenient and luxurious venues, this resort makes your special day unforgettable. They have a one-of-a-kind event team that can assist you with every aspect of your wedding, from planning to execution. AL Sahara Desert Resort has both outdoor and indoor wedding venues that reflect the warmth and spirit of Indian weddings. They provide services that go above and beyond what is expected and are tailored to your specific needs and budget.
Location:  Dubai, United Arab Emirates
Capacity: 1000 guests
6. Burj Al Arab Jumeirah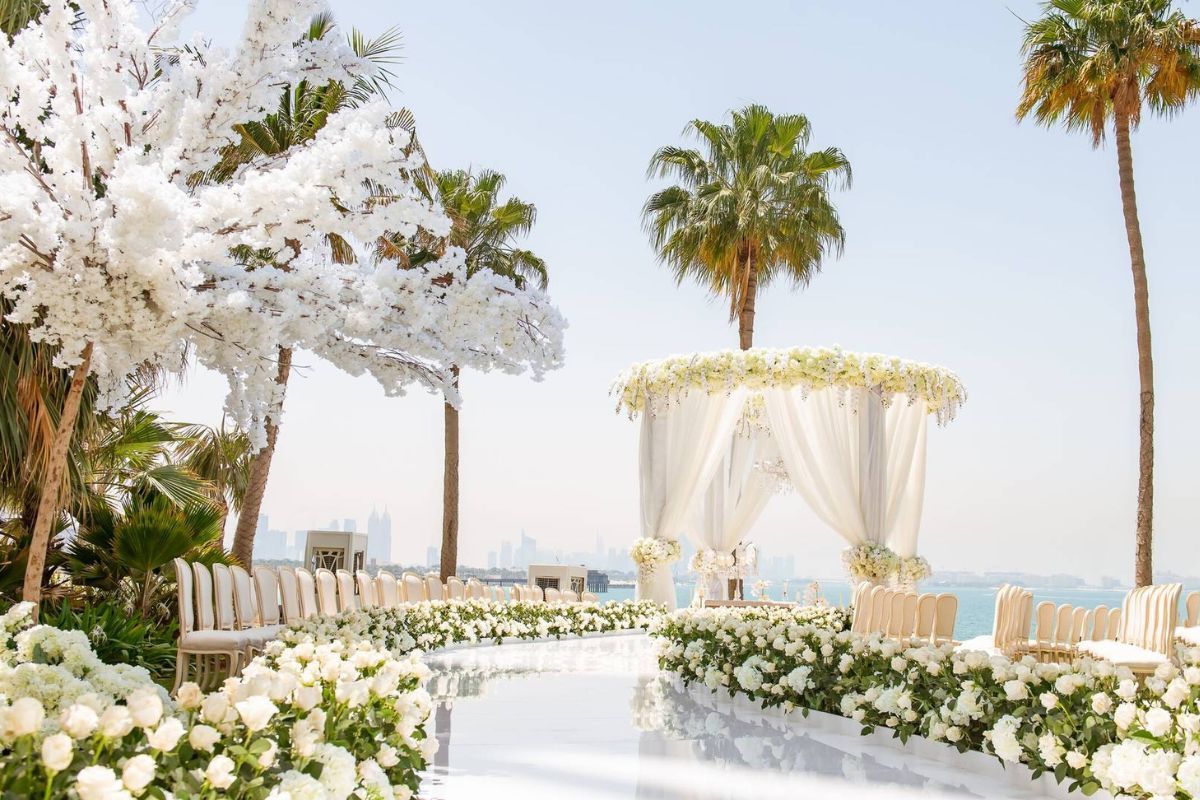 The Burj Al Arab is one of the most spectacular wedding venues in Dubai for an unforgettable big day. While the location of this iconic hotel speaks for itself, their broad range of indoor and outdoor venues are ideal for planning a fairytale wedding. They have the finest planners to ensure that every detail of the wedding goes as planned, whether it's a small gathering or a lavish celebration. From their flowers, food, and venue – they have everything of the greatest quality. There's no doubt your wedding pictures will be picture perfect thanks to the spectacular hotel and the picturesque views it offers.
Location: Jumeirah Beach Road, Dubai, United Arab Emirates
Capacity: 1000 guests
7. Nikki Beach Resort & Spa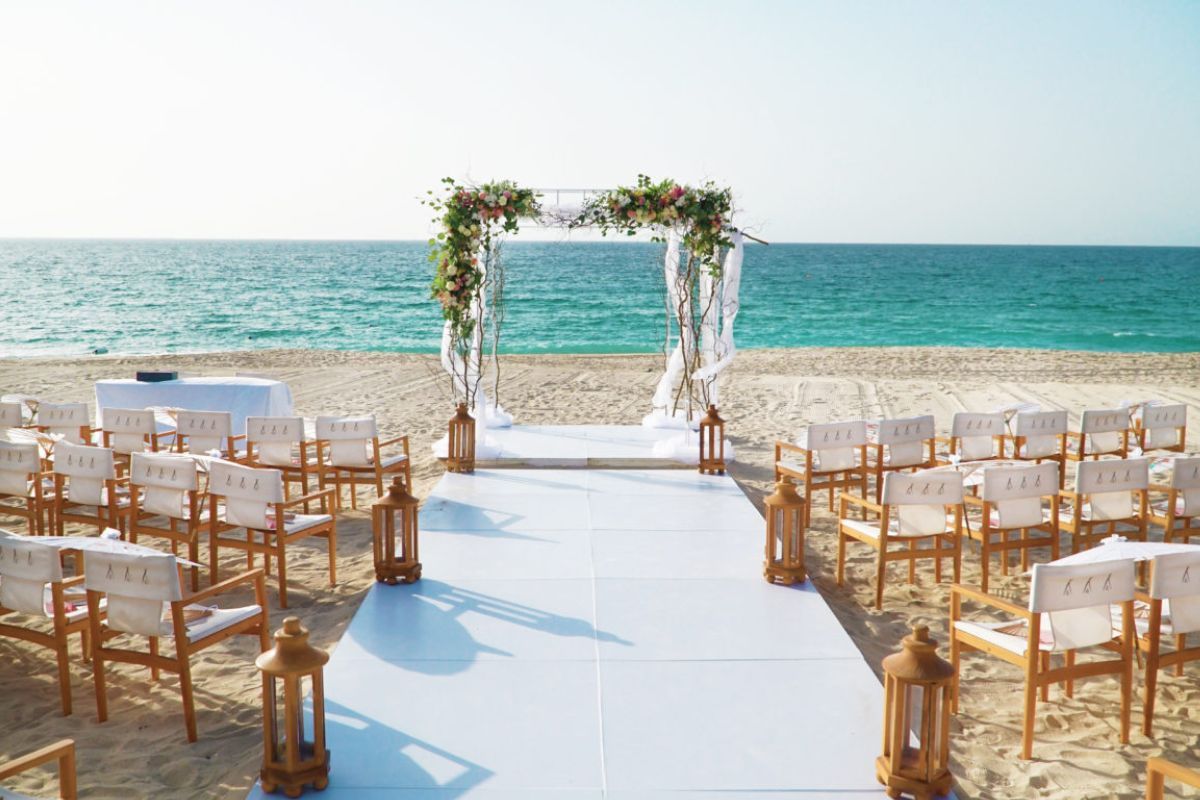 Whether you want a lavish afternoon wedding or to exchange your vows in a private area amidst the setting sun, the wedding planners at Nikki Beach Resort & Spa can make your wedding dreams come true! This resort is a scenic destination for the wedding of your dreams, being conveniently located on the beachfront and overlooking the magnificent Pearl Jumeirah. You can expect iconic Nikki Beach entertainment, world-class food and beverage selections, top-tier spa and beauty services, and luxurious accommodations, delivered with a service and an attention to detail like no other.  Their team works with you to plan every detail of your wedding so that you and your guests have an incredible experience. In addition, the resort provides access to a private patio, a private rooftop pool, deluxe villas, and much more. The view is breathtaking, and it perfectly complements the wedding atmosphere.
Location: Pearl Jumeirah, Dubai
Capacity: 500 guests
8. Oberoi Dubai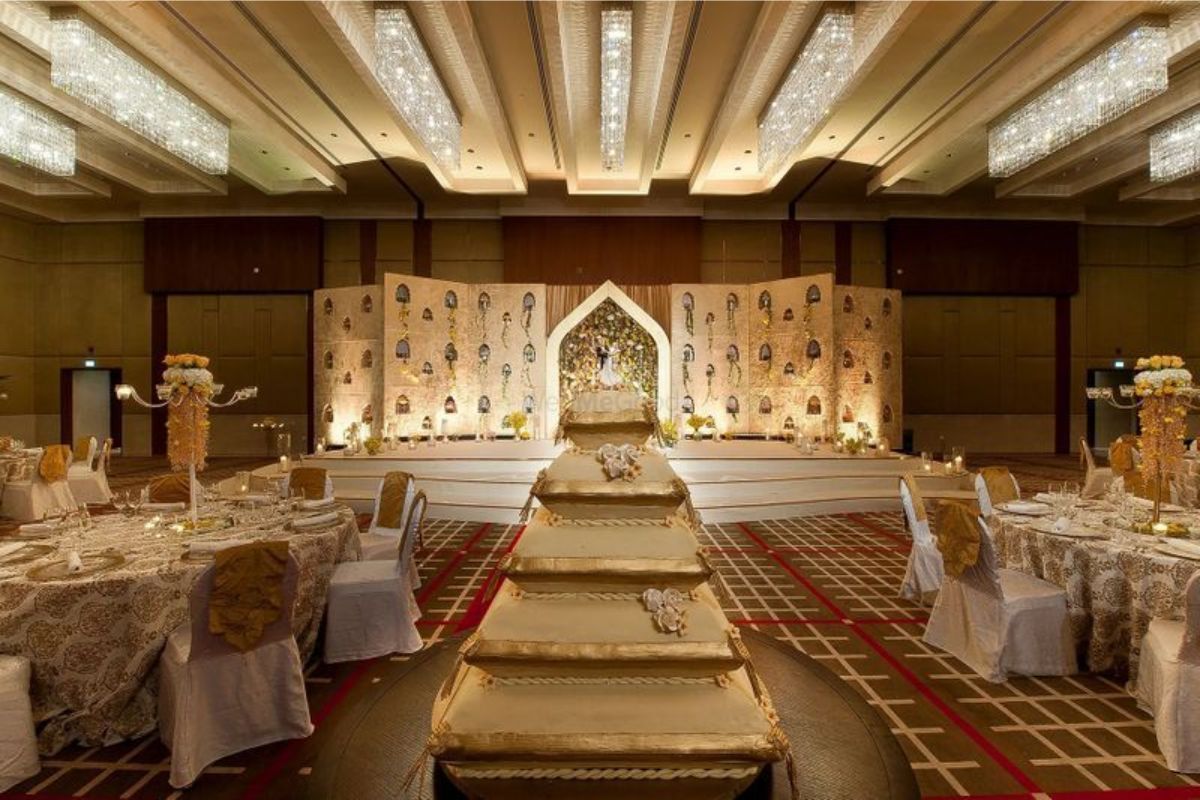 The Oberoi Dubai offers a variety of beautiful indoor and outdoor wedding venues. The hotel is well-known for its excellent service and consistent quality. This hotel's architecture itself is stunning and will make a lasting impression on your guests on your  D-day . Their chefs prepare delectable dishes as well as quality desserts that will leave you wanting more. You can choose from a beautifully decorated and furnished grand hall, a garden deck for small, private gatherings, or a poolside deck with amazing scenery of the Burj Khalifa to make your dream wedding a reality. You can rely on their dedicated team of professional event planners to help you every step of the way. Make your wedding the day the most special and memorable at Oberoi Dubai.
Location: The Oberoi Center, Al A'amal St
Capacity: 550 guests
9. Raffles Dubai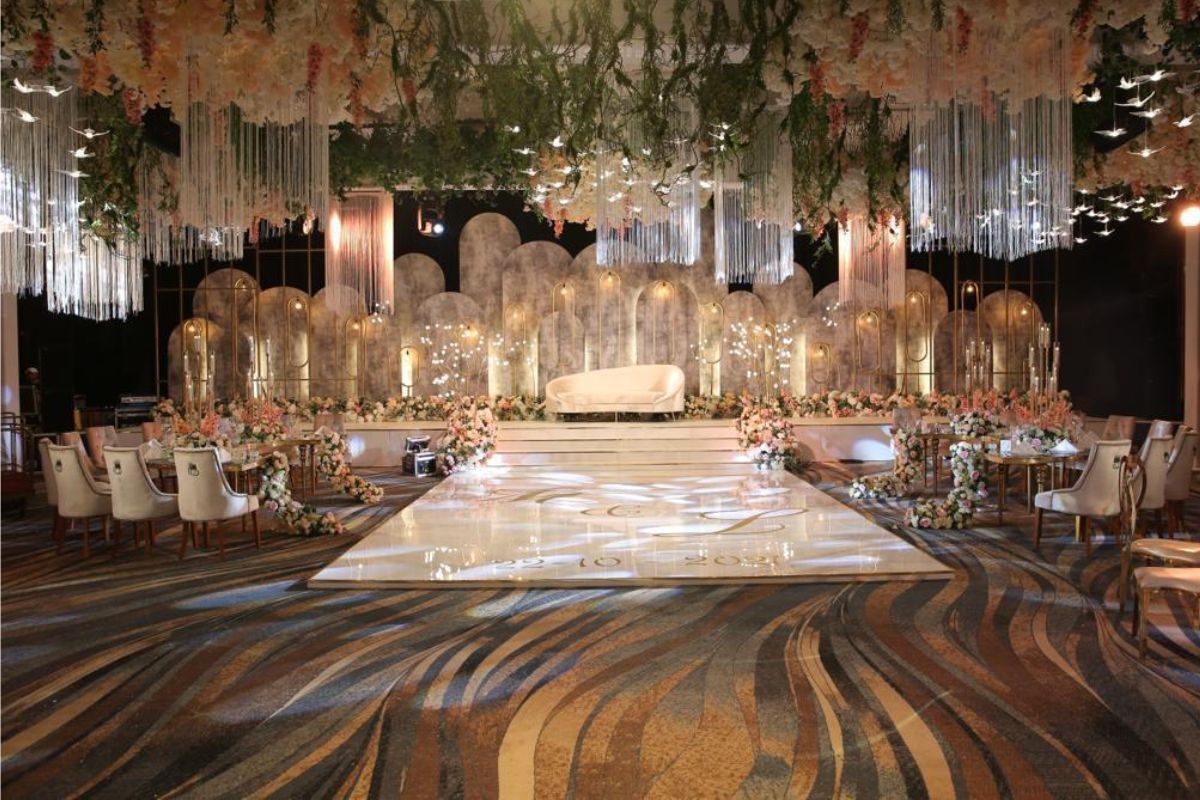 Raffles Dubai is one of the most distinctive wedding venues in the city. There is a venue for every size wedding, from intimate to lavish. The Raffles Ballroom, which overlooks the private Raffles Garden, is ideal for a 350-person majlis or dinner party. Cocktail receptions are ideal on the adjacent terrace. Luxor and Gizza are ideal for those looking for a more intimate setting with up to 80 of their closest friends and family members. To add to the fun, you can create a unique theme and décor for your big day and choose from a made - to - order plated dinner, buffet, or family-style menu. Raffles Dubai is also the most popular venue in Dubai for Indian weddings. All-important rituals and ceremonies, like mehndi, pheras, and sangeet, can be easily arranged at this venue. You can even have your menu tailored to your specific requirements as well as those of your guests.
Location: Sheik Rashid Road, Wafi, Dubai
Capacity: 350 guests
10. Canvas & Wood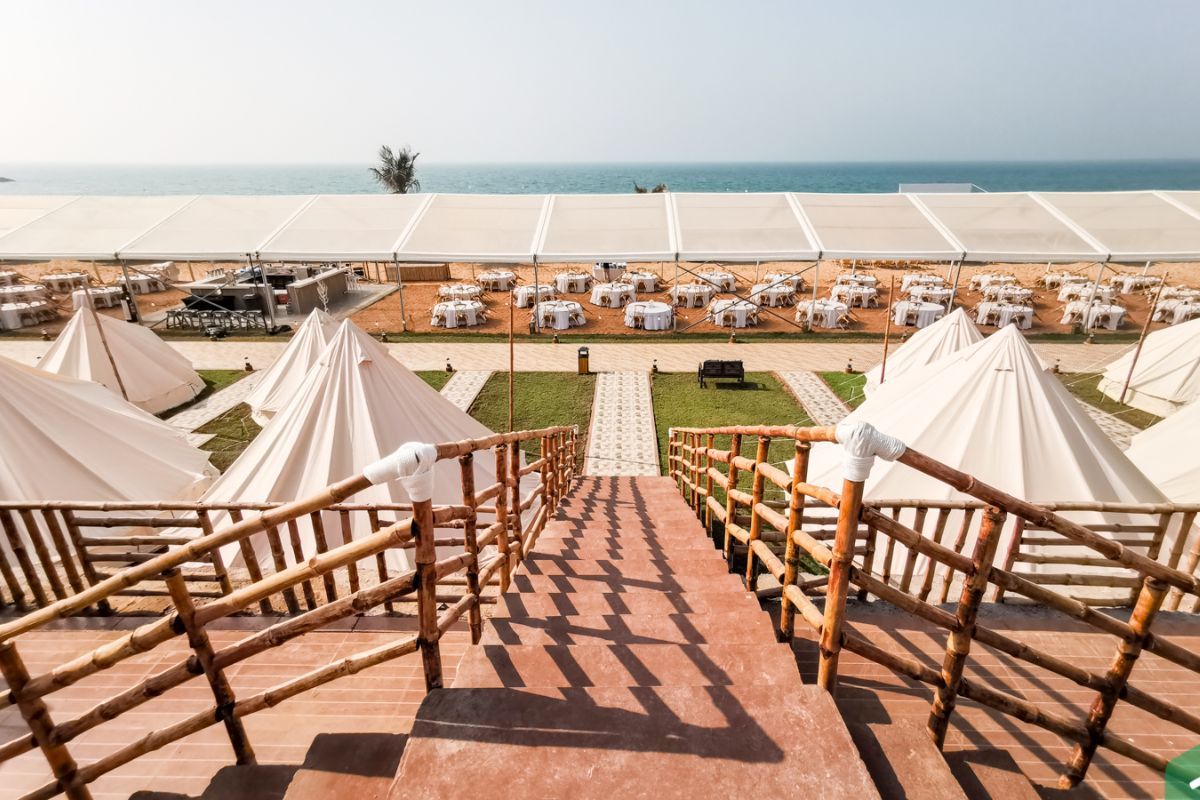 Canvas & Wood creates a fairytale venue in the desert to host the most customizable wedding in Dubai. You can have a beach wedding, a desert safari wedding, or even a barbecue bash to commemorate your nuptials in Dubai with specialized tipi tents that can work in any type of location. Their massive teepees can accommodate up to 72 people and can be erected anywhere to provide shelter. They can also provide a generator if you are far from a power source. The Desert make for a wonderful background in your wedding pictures and an uncommon choice for wedding venues which is what makes it so unique!
Location: Canvas & Wood, Al Quoz
Also Read: