Dubai is a paradise for tourists and residents alike during the winter season. Dubai generally has a warm, and hot climate but winters will bring down the temperature to below 15 degree Celsius during the coldest time.
In Dubai, winters fall from November to March. In October, you can get the morning fogs, but afternoons are pretty much the same. November is more like a transitional shift to winter and therefore have chilly mornings and nights, but you will have same warm afternoons. It has to be December for the entire day to feel cold and windy. January is the coldest month for Dubai.
Tourists prefer to visit Dubai during winter season as it opens many outdoor attractions. Dubai also has attractions that opens only during the winter season. People like to go outdoor during this time to enjoy the fresh air, as the burning summers of Dubai shuts down the possibilities of having outdoor fun.
People like to go out in the desert for camping over night and chilling in evening. This is also the best time to go for a picnic in Dubai with your loved ones. Since there are lots of beaches in Dubai, it might be the perfect option for your day out with your kids. They can have their time at the waters while you can just relax on the shores.
If you are looking for winter spots to visit this winter season, here are some of the winter pop-ups you can check out.
Winter Garden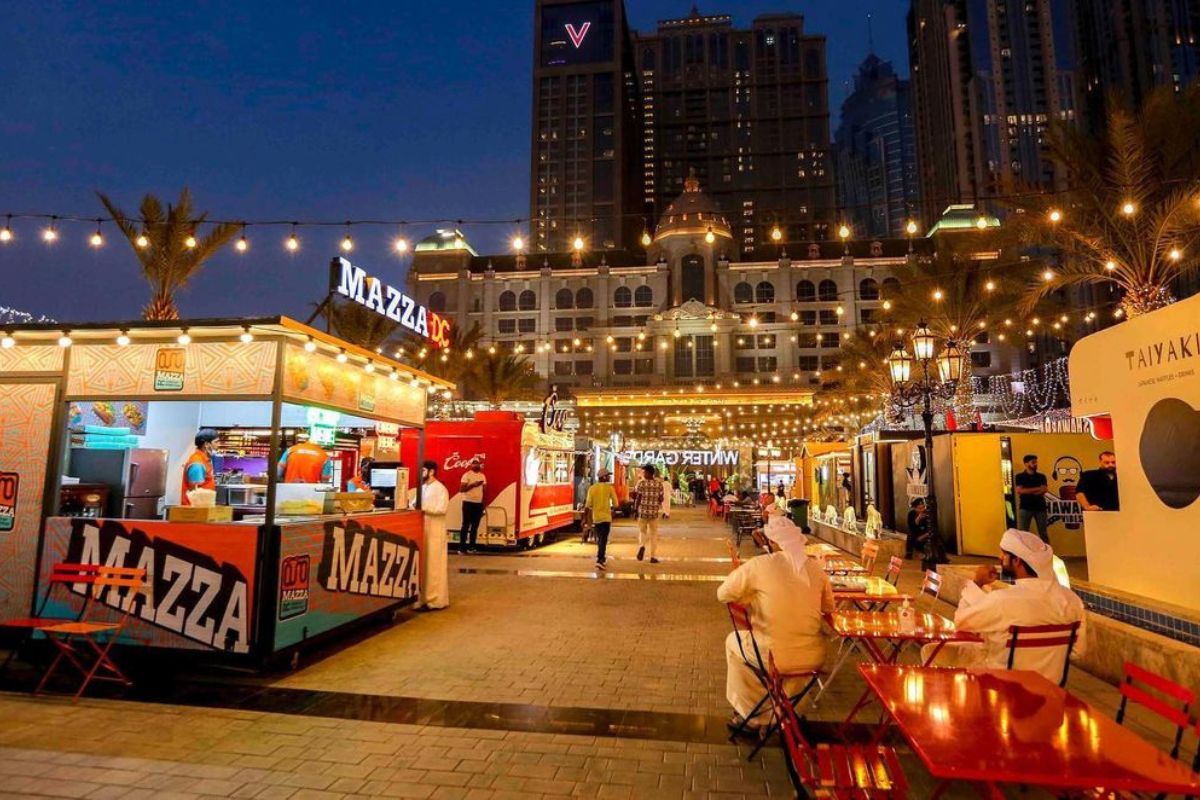 Al Habtoor Winter Garden is a popular winter pop-up in Dubai. Last year also Winter Garden was a success. This year it is going to be a multi-month celebration.
It has all that Christmassy vibes you get in Europe during this holiday season. You can come here to indulge in multiple activities like food, events, and entertainment.
Al Habtoor Winter Garden is home to many pop-up restaurants, live attractions, events, and more. Extreme Excite has set up a special area for the kids to have their best time at the place. There are over 50 food kiosks from where you can get a variety of dishes.
The entire Winter Garden smells of hot chocolate and you can get yours at Casa Pons. You can also have shawarma and other street foods like sweet corn from different stalls here. When you make a purchase of AED100, kids will receive a free toy.
Winter Garden is mostly about Christmas. In December, you can see Santa Claus daily at the Winter Garden. The place also hosts the famous and most magical ceremony of lighting the Christmas tree. Christmas choirs and other performances will also be played at the event. Art displays are also there in the Winter Garden.
There is a mobile pet care station at Winter Garden, so you can bring your pets here. This is a pet friendly destination.
This winter wonderland needs to be on your gram. There are many Instagram-worthy spots in Al Habtoor Winter Garden from where you can take dreamy photos.
Location: Al Habtoor Winter Garden is located in Al Habtoor City on the Sheikh Zayed Road. Safa Park and Aykon Tower are in the neighborhood.
Timing: It opens daily from 4pm to 12am. However, Winter Garden will only be open until 31 December 2022. The dates may extend.
Pricing: The tickets are priced at AED25 per entry. You can redeem this voucher at the stalls at the Winter Garden.
How to reach Al Habtoor Winter Garden
You can take your private car to the Winter Garden. If you wish to take the public transport, there are no near by metro stations or bus stops. You can take the bus or metro and walk over 1km to the destination. You can get down at Business Bay metro station and hire a cab to the destination.
One Degree Café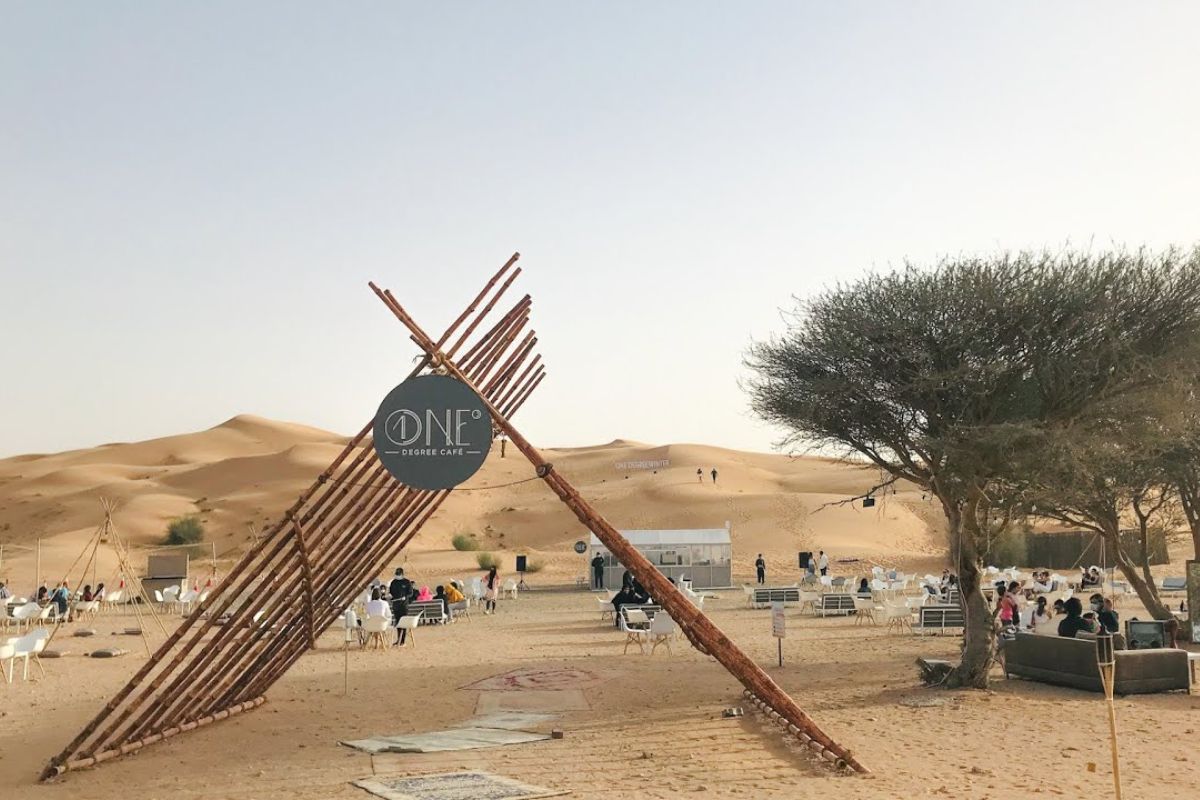 One Degree Café has opened a winter pop-up in middle of a desert in Dubai. It is near to the Sharjah border. This is the perfect place if you want to enjoy Dubai winter to the fullest. It will be just vast stretches of sand dunes  around you with no view of any nearby high rise buildings.
One Degree Café has set up the desert to suit a perfect outdoor café where you can chill out in the evening. You will have seating and plushy sofas in the middle of the desert. A vintage television, radio, mirror and swing are installed to make the place more vibe-y. Some makeshift canopies are also present to give you the perfect desert camp experience.
You can dine in the amazing ambience of the desert. One Degree Café have a variety of options for hot and cold beverages. They are popular for their premium coffee beans. You would never want to miss out on their coffee. They also serve acai bowls and mousse desserts which you will always come back for.
You can also experience one of the best sunsets here. The desert sunsets are one great experience.
Location: It is located in the Margham Desert in Dubai. It is also near to Dubai-Hatta Rd.
Timing: It is open on all days from 2pm to midnight during the winters.
Pricing: There is no ticket to enter the place. However, purchases made from the cafe are payable.
How to reach One Degree Winter Cafe
It is better to take a private transport to the destination. There is no easy accessibility for public transport as it is situated in the outskirts of the city. You cannot get there by bus but maybe you can hire a cab.
Winter City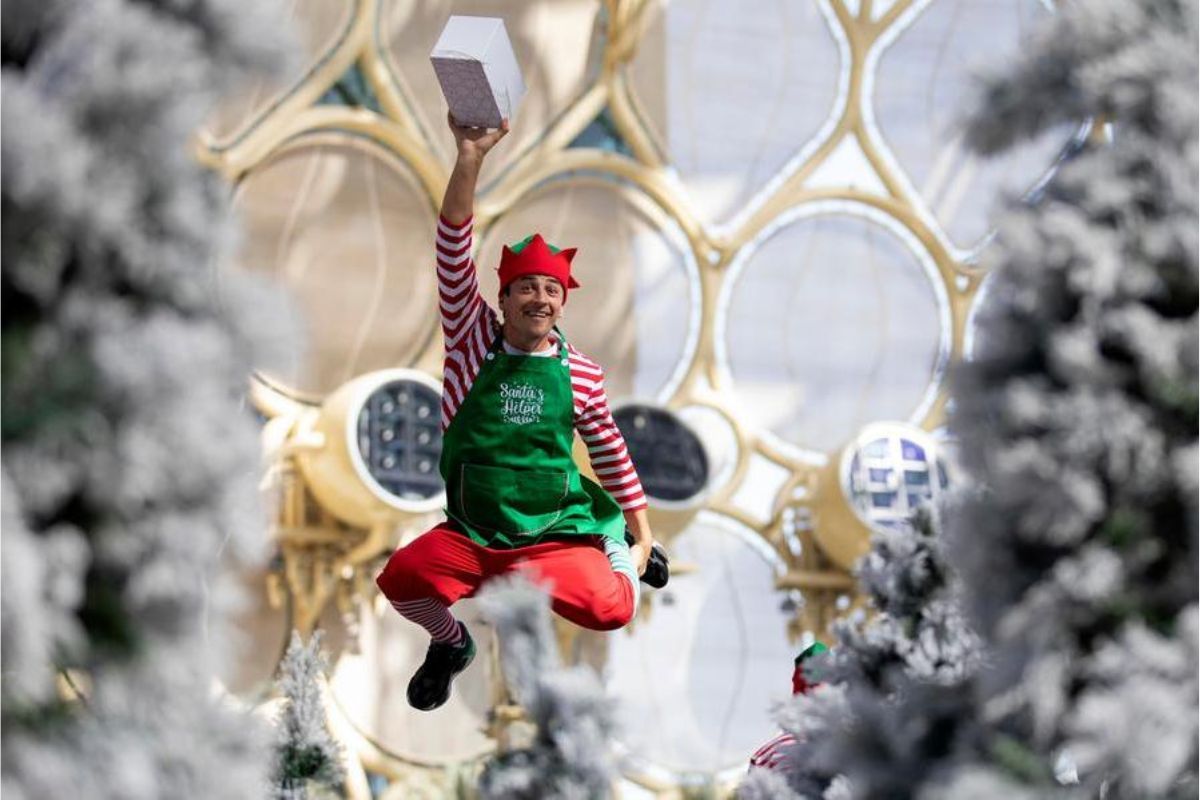 Winter City at Expo City Dubai is the latest addition to this list. Expo City Dubai is hosting a winter carnival this year. Now you can enjoy Christmassy vibes at this famous destination.
Lots of activities have been planned out for this holiday season by the authorities. It is going to be a great time at the Expo City. Different types of installations are going to be there to give you the actual experience of being in Europe during the holiday season. Chalet style huts, and pine trees are going to be there at the Winter City. There will also be the Christmas market for all the shopaholics.
The Christmas tree is going to be 52 foot long all decked up in ornaments. There is also a beautiful installation called 'letter to Santa' for the the kids. They can put their letters to Santa Claus.
Many special events are also going to be there like the magical ceremony of lighting the Christmas tree on December 9. Mrs Claus Christmas Show is going to be there from December 20 to December 29. Carols by Candle light Concert is scheduled from December 20 to December 25. Wreath and ornament making workshop is also an exciting event coming up for you at Winter City.
Location: The famous Expo City Dubai.
Timing: It is going to be open from 23 November 2022 to 8 January 2023.
Pricing: The tickets to enter Winter City are free .
How to reach Winter City
You can go to Winter City by private and public transport. Both are equally easy. They are lots of parking spaces for you where you can park your car. If you wish to use the public transport, you can take the metro and get down at Expo City Metro station. There are straight bus routes to the Expo City now.
Also read: