Living in Dubai, residents and citizens get access to high-quality food all over the city. Rather than going out to eat, people tend to rely on food deliveries that directly reach their door at any time of the day. This makes it extremely convenient considering factors such as humidity and being busy with work or studies or any other commitments.
Some of you here are accustomed to a particular delivery application that you have been using for a long time. But it is always recommended to try out something new that offers a unique set of deals and benefits.
The latest delivery app that has been making waves recently is Cari. Cari promises its users that the delivery will be free of charge and will reach their doorstep within 30 minutes. Another massive advantage of this is that all the food has guaranteed dine-in prices! Alongside that, there are many offers such as buy 1 get 1 free, discount codes, and some restaurants having 20-40% off. Cari is consistently working towards redefining the concept of food deliveries to make it more accessible for people.
Cari was founded by Abdullah Al Mutawa who has a good experience in the industry co-founding Carriage with his brother, which was later acquired by Delivery Hero.
During his time running Carriage, he realized the flaws of the existing commission-based model which could be harmful to the F&B industry. As delivery platforms grow bigger, they tend to increase restaurant commissions, decrease vendor gross margins, and make it more expensive for customers. Cari works on a model that prevents such situations from happening and ensures their food deliveries have immense accessibility and affordability.
Many well-known restaurants such as Tim Hortons, Baskin Robbins, McDonald's, Domino's, Arabica, The Breakfast Club, Nando's, Jollibee, Sushi Nation, Behrouz Biryani and Healthy & Co are currently on the app taking multiple orders while also offering discounts. This allows the restaurants to maximize their profits on the accord of a new innovative ecosystem.
Giving restaurants full control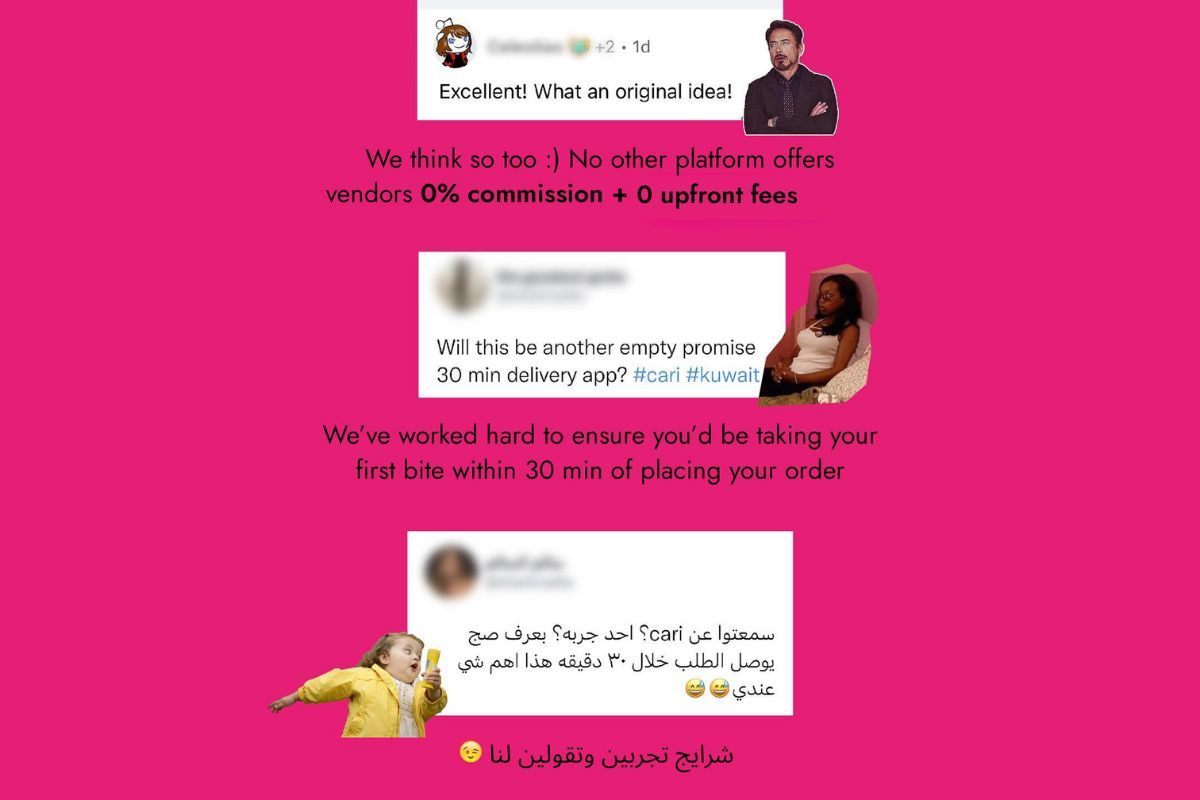 Cari has incorporated a customer acquisition cost model, where restaurants pay a fixed amount for the first order by a new customer that Cari receives. After the customer is obtained, the restaurant pays nothing to Cari for every subsequent order. The cost of keeping this system going is way lower than the commission-based system followed by other delivery platforms. This allows the restaurant to keep its profit margin intact, while still enjoying the new set of customers that they receive from Cari. It provides a win-win situation for all the parties involved.
The Cari app was first established in Kuwait and Saudi Arabia, receiving positive reviews from customers and restaurants alike. With being launched in the UAE this year, Cari has been providing exceptional services and is only going to expand on their ambitions even further in the coming years.
From having a good breakfast to start the day to a quick coffee to get energized to a nice dinner after a long busy day. Cari's cost-effective food deliveries come into play in keeping us satisfied!
Also Read: