Emirates has revealed its own themed A380 livery, just in time for the beginning of one of the most hotly anticipated events in the world of sport, taking place for the first time in the UAE and Oman.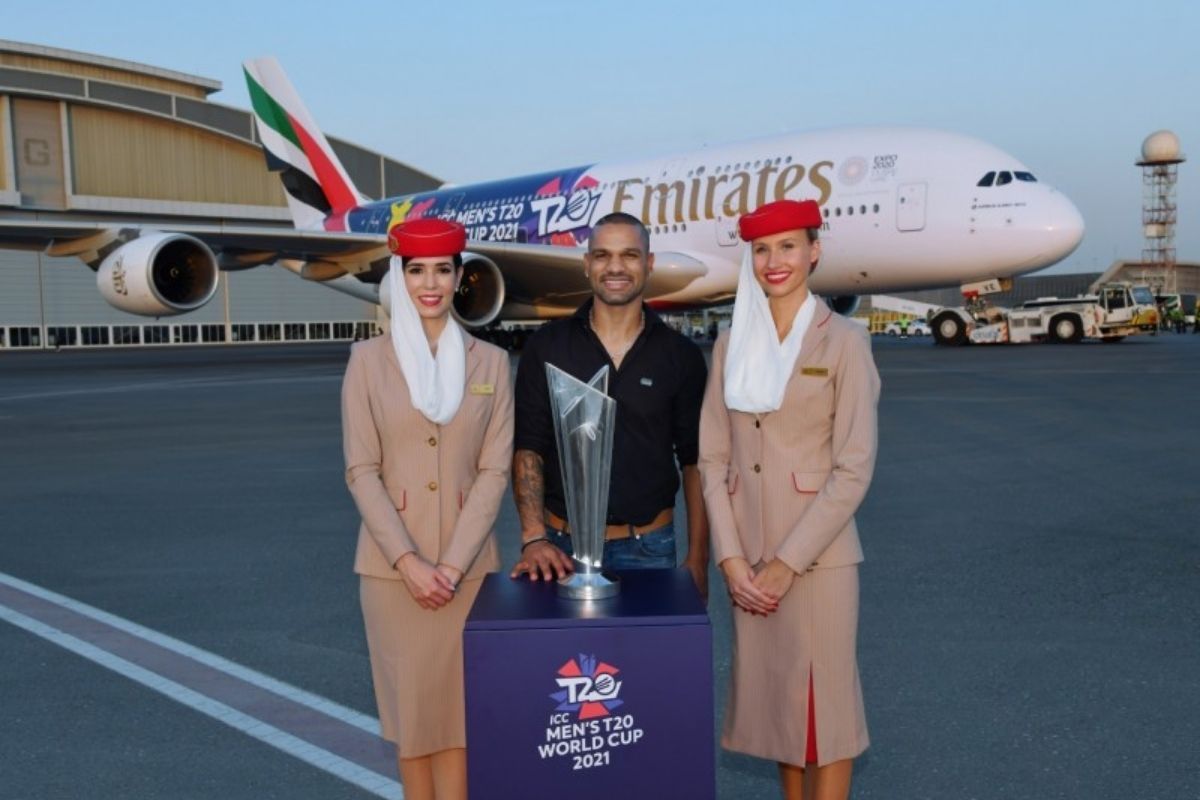 The the newly emblazoned aircraft was beckoned out as the 'newest player' after a mini cricket game. The ICC Men's T20 Cricket World Cup trophy also made a surprise debut once the aircraft was unveiled, and enthusiastic employees got the chance to pose with the iconic trophy.
Boutros Boutros, Divisional Senior Vice President, Corporate Communications, Marketing & Brand for Emirates Airline said:
"We are excited that the iconic ICC Men's T20 Cricket World Cup is taking place here in our home, the UAE, and we're proud as the official airline and partner to bring in teams from all over the world to compete in what is going to be a truly memorable event fuelled by the passion of fans. Today's livery unveiling is just one way we are bringing the flavour of the sport to fans around the world who are feverishly looking forward to thrilling cricket action after a long hiatus, and we hope to fly this aircraft to as many cricket loving nations as possible."
Anurag Dahiya, Chief Commercial Officer of International Cricket Council (ICC) said:
"It is fantastic to see the ICC Men's T20 World come to life with this themed A380 livery, what better way to spread the appeal of the event than to transport it around the world with our long-standing partner Emirates. It has been more than five years since the last Men's T20 and the sense of excitement and anticipation is building with fans as the world's best players descend on Oman and the UAE to compete for the ultimate prize in the shortest format of the game."
Emirates directly serves 12 nations participating in the seventh edition of the ICC T20 Men's Cricket World Cup, which is the largest cricket event to be held since the onset of the pandemic. This is also the first time a cricket event of this magnitude takes place in the region, and matches will be played over the next month across the UAE and Oman.
The vibrant decal covering the Emirates A380 fuselage includes pink and yellow figures batting and bowling against a purple backdrop. The decal was installed on A6-EVE, and the emblazoned aircraft made its first trip to Mauritius yesterday. Over the next few months, the aircraft is expected to fly across the Emirates' growing A380 network, and will make visits to the UK, South Africa, The Netherlands, and other cricketing nations.
News Source: Emirates Media Centre