Dubai is a melting pot of global flavors, a food lover's paradise that never ceases to surprise. And guess what's turning up the heat? Nashville chicken!
The mouthwatering fusion of crispy chicken and spicy cayenne pepper that hails from Nashville, Tennessee, has found a home in this cosmopolitan city. In a place already celebrated for its culinary diversity, Nashville chicken offers a unique kick that locals and expatriates alike can't seem to get enough of.
Whether you're a seasoned fan of Nashville's fiery fowl or a curious foodie ready to take a flavorful plunge, we've curated a list of the city's top Nashville chicken spots. Brace yourself for a culinary journey that's equal parts heat, crunch, and pure joy. It's a taste experience that's as multifaceted as Dubai itself, and it's one you won't want to miss.
DAVE'S HOT CHICKEN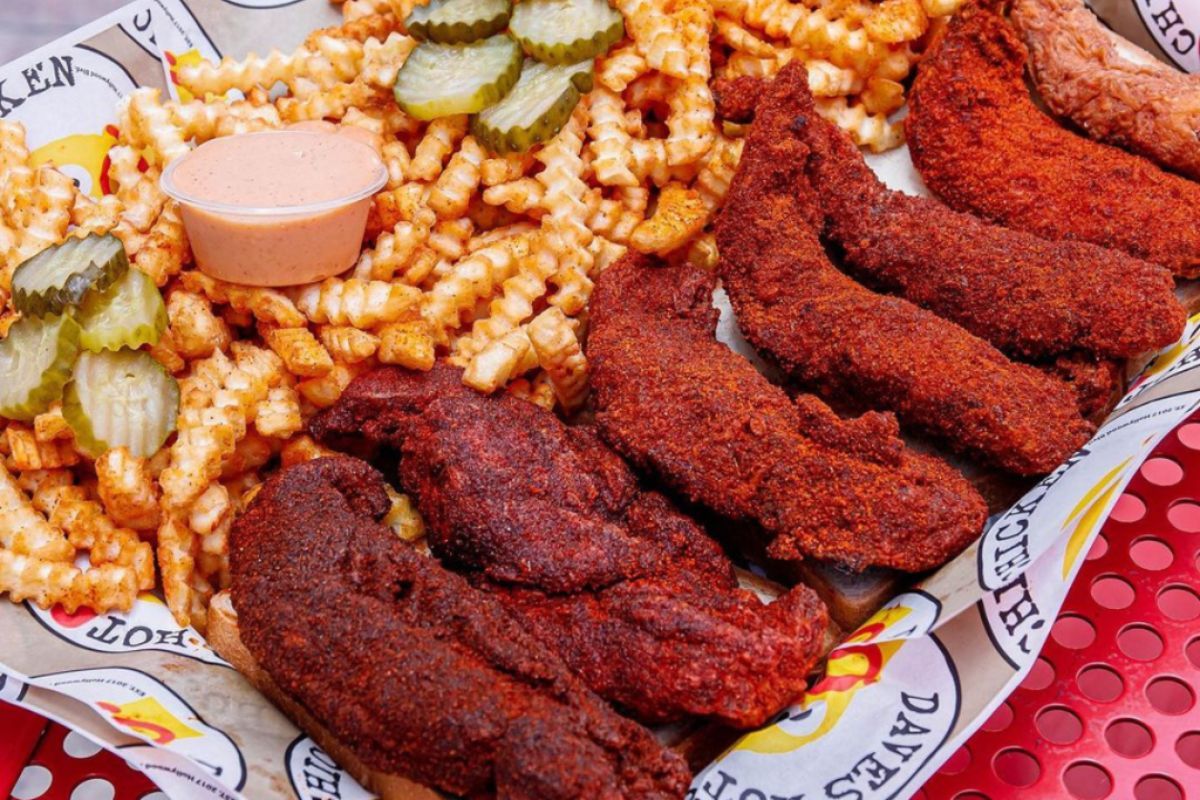 Emerging from the vibrant streets of Los Angeles, Dave's Hot Chicken has quickly ascended as a beacon of mouthwatering Nashville chicken, not just in its hometown but now in the ever-evolving culinary landscape of Dubai. What began as a pop-up by a group of friends has transformed into a culinary sensation, redefining how we experience the fiery flair of Nashville flavors.
What sets Dave's apart? It's not just about the heat; it's the symphony of flavors. Patrons are treated to a dynamic range of spice levels, from the mild warmth of "Lite Mild" to the explosive kick of "Reaper" – there's a heat for every palate. It's an invitation for the adventurous to test their mettle and for the gentler souls to savor without the sweat.
But it's not all about the fire. Dave's ensures that beneath the spice lies perfectly tender chicken, marinated to perfection and fried with expertise. This commitment to quality and authenticity, combined with their unique LA origin story, positions Dave's Hot Chicken as more than just a meal—it's an experience. As you dive into their Nashville offerings in the heart of Dubai, you're not just tasting spice; you're savoring a piece of LA's vibrant food scene, right here in the desert.
Locations: JBR, The Walk & First Avenue Mall, Motor City
---
NASH HOT CHICKEN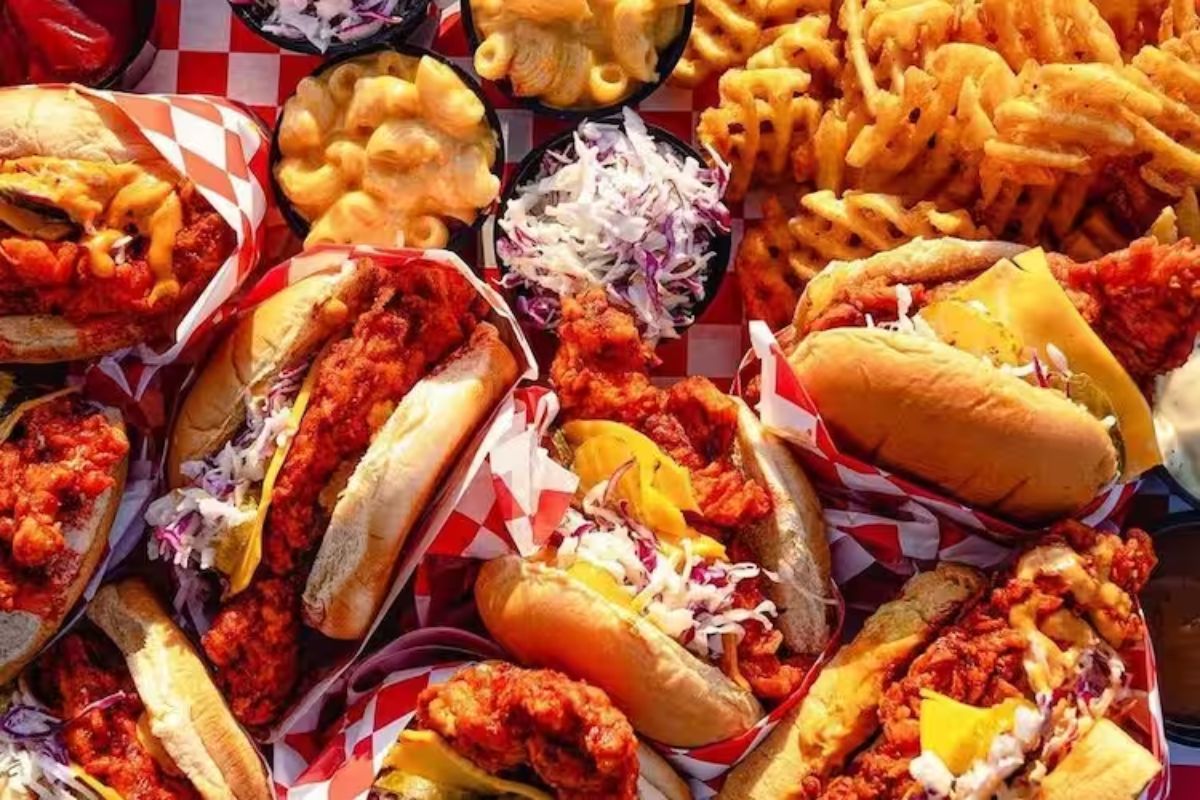 At Nash Hot Chicken, the culinary experience is a delightful medley where the bold essence of Nashville chicken burgers is elevated to new heights. This hotspot is renowned not just for its meticulously crafted burgers, arguably among the best representations of Nashville flavors in the city, but also for the array of delectable dips accompanying them, enhancing every bite with an extra layer of zest.
Embark on a flavorful adventure with the 'Hot Alert' sauce; its dynamic heat elevates the succulent chicken burger to a spicy spectacle, creating a symphony of taste that resonates with every bite. And for those crispy, golden fries? Indulge in the sweet and savory allure of the honey mustard sauce, a pairing that balances the spice-laden journey with whispers of sweetness and tang.
For aficionados of Nashville chicken and culinary explorers alike, a visit to Nash Hot Chicken promises a gastronomic experience that is, in every sense, uniquely and deliciously Dubai.
Locations: Jumeirah 3; Last Exit Al Khawaneej & Last Exit AUH Bound.
---
PICKL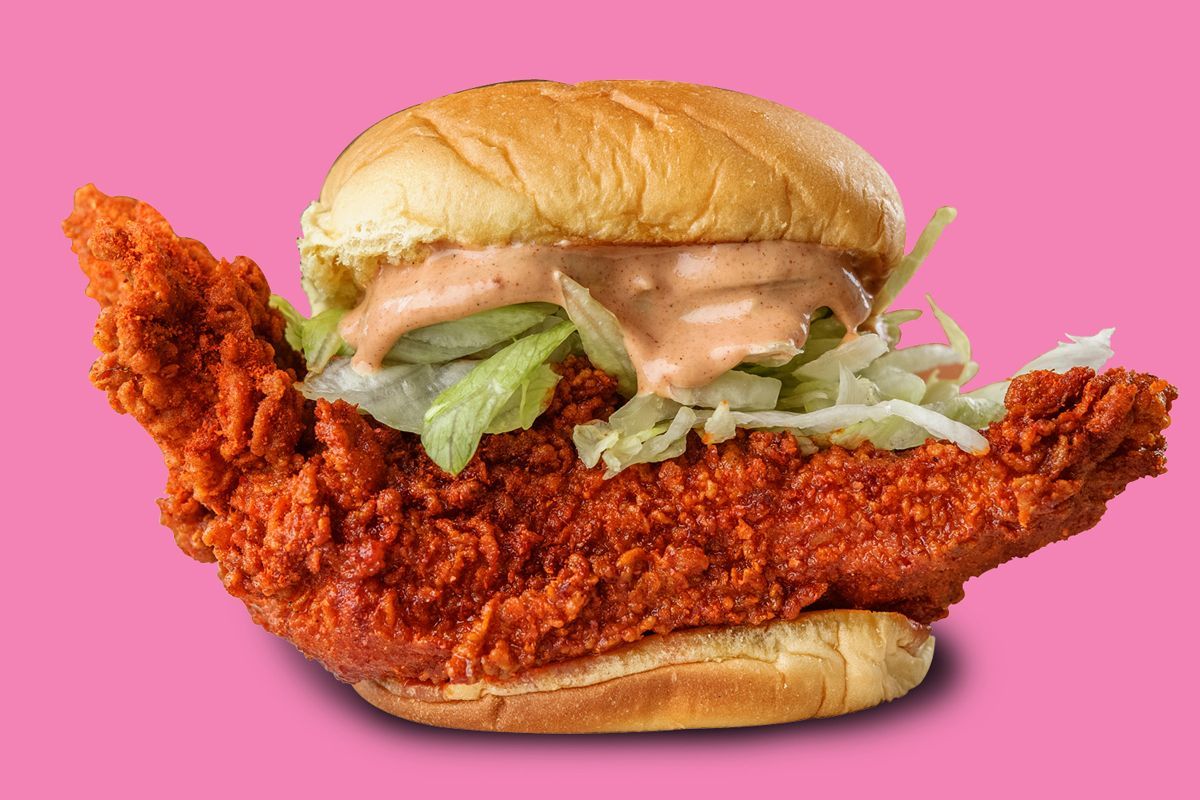 In Dubai's competitive, culinary world, Pickl has emerged as a sanctuary for fast food connoisseurs seeking flavors untainted by the artificial. Their mantra, "Fresh. Fast. Food." is not just a slogan but a commitment, a promise to deliver meals concocted from the freshest ingredients and cooked to order. In a city where Nashville chicken is celebrated, Pickl brings its own relentless pursuit of freshness to the table, ensuring that the fiery, crispy delight is as genuine and untarnished as it gets.
Perfection, for Pickl, is a symphony of simplicity and mastery. It's about stripping away the unnecessary and focusing on doing simple things exceptionally well. Every dish is a testament to their dedication to simplicity, yet far from basic, echoing the essence of their philosophy, "Simple. Not Basic." This dedication becomes particularly evident in their Nashville chicken offerings, where the fusion of meticulously selected spices and impeccably fresh chicken creates a harmonious dance of flavors, a spicy and crispy concoction that speaks volumes of their pursuit of culinary excellence.
Pickl stands out as a beacon of transparency and authenticity in Dubai's dynamic food scene. Every sauce, spice blend and pickle is freshly prepared every day under one roof, free from preservatives, additives, and hormones. It's a celebration of honest, straightforward, and exceptionally well-crafted fast food that elevates the Nashville chicken experience to new gastronomical heights, right here in Dubai.
Locations: One JLT; Ribbon Mall Motor City; Building 9 City Walk; Souq Badr Muhaisnah 1; Time Out Market- Souk Al Bahar Downtown Dubai & Al Safa.
---
PEPPERS NASHVILLE HOT CHICKEN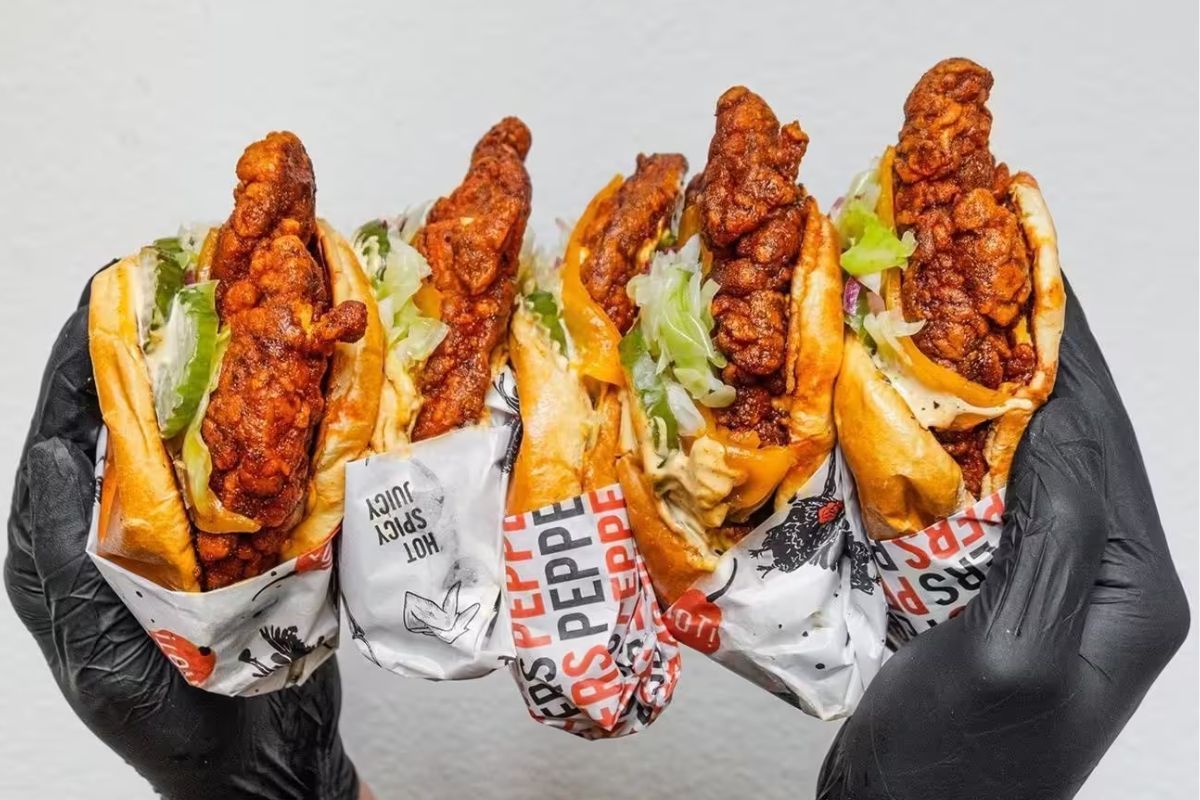 Peppers stands as a testament to the passion and culinary adventure of its founder, Abdelrahman Alteneiji, who fell in love with the spicy allure of Nashville chicken during a trip to the United States in 2018. The first bite was not just a mere taste for Abdelrahman; it was the spark that ignited a journey to bring the authentic, fiery, and flavorful experience of Nashville hot chicken to Dubai. Peppers was born out of an obsession, an endeavor to encapsulate the joyful, albeit spicy, smiles he saw on the faces of those savoring the dish, in the heart of one of the most luxurious cities in the world.
At Peppers, every piece of chicken narrates a tale of passion and meticulousness, a reflection of Abdelrahman's relentless pursuit to understand the culture, the people, and the unique essence of Nashville hot chicken. It's not merely about the heat; it's about creating a symphony of flavors, a harmonious blend of spices crafted in a spice lab in NYC, reflecting the authentic taste and fiery spirit of true Nashville chicken.
Located in the majestic surroundings of Dubai's greatest mall, Peppers is more than just a restaurant; it's a culinary destination for those seeking to experience the genuine taste and unmatched quality of Nashville hot chicken.
Location: Dubai Mall - Zabeel Extension, Downtown Dubai.
---
SLAW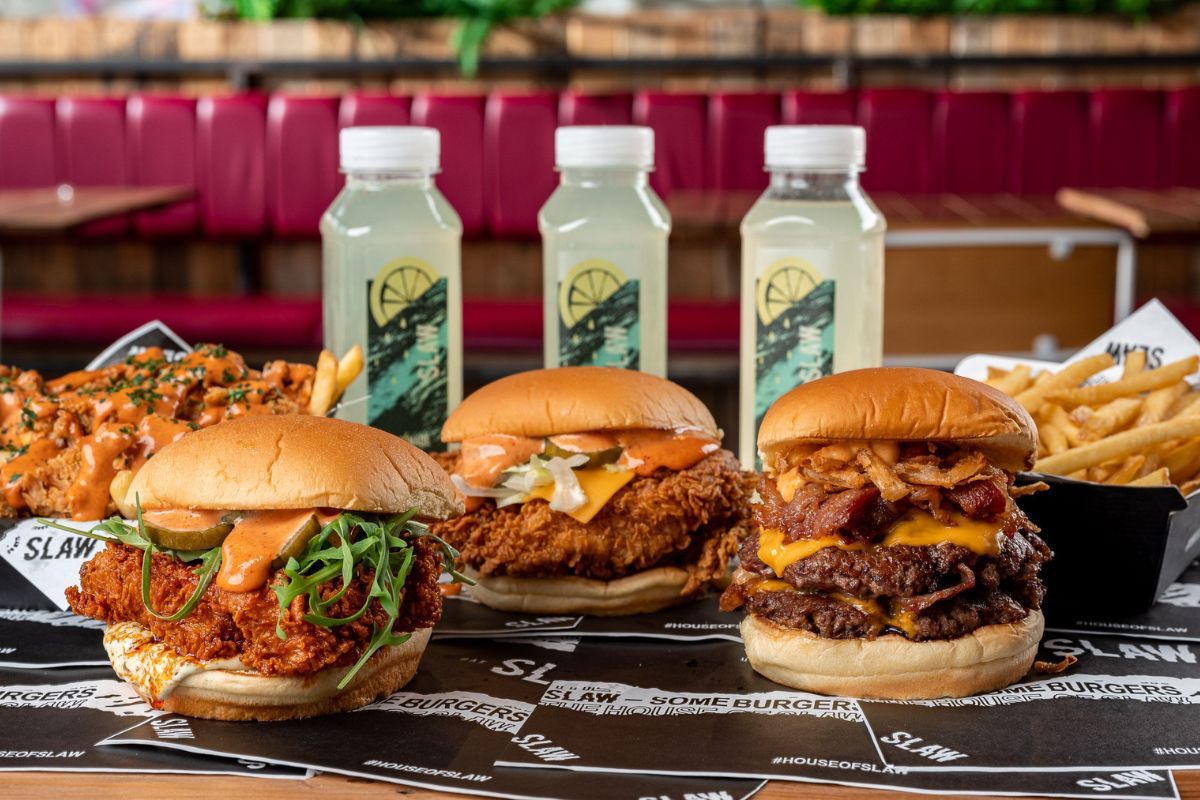 Slaw has become a culinary landmark in Dubai, gaining fame among aficionados of chicken sandos and discerning burger lovers. This dining spot, with its signature Nashville chicken, has captured the palates of many, leading to an expansion to a second location within a year of opening its original site in Jumeirah 1. It's not just a restaurant; it's a culinary journey where the vibrant flavors of Nashville come alive.
Every dish that emerges from Slaw's kitchen is a carefully crafted masterpiece, a reflection of an unwavering commitment to offering only the best, keeping the authentic spice and flavor of Nashville intact. It's this meticulous attention to detail and quality that sets Slaw apart in a market teeming with culinary ventures.
If one were to seek a recommendation, the Nashville chicken sando is a must-try, a dish that represents the soul of Slaw—rich, spicy, and utterly delightful. For those in pursuit of the quintessential Nashville chicken experience, Slaw offers a taste of spicy perfection, meticulously crafted and served with love.
Locations: Jumeirah 1 & Al Barsha.
---
JAILBIRD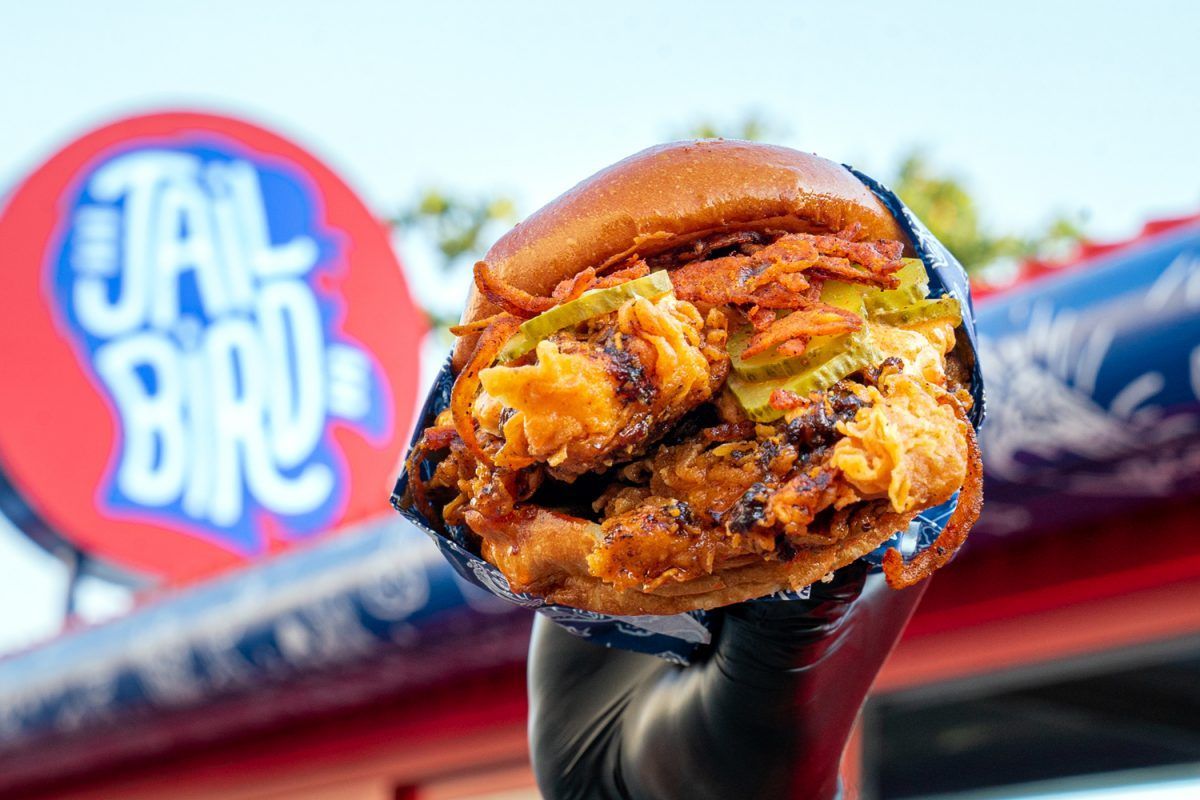 At Jailbird, culinary simplicity meets gourmet flair, where classic favorites like Korean BBQ fried chicken share the spotlight with innovative creations such as the "Bee Sting Nuggz". This place is a haven for the carnivores, with no room for vegetarian wraps or vegan meat substitutes; it's a celebration of flavorsome, meaty delights.
Guests can begin their culinary adventure with the refreshing "Mango Tango" soda, a well-balanced concoction prepared in-house, serving as a perfect palate cleanser before the flavorful assault of the main course. The dining experience is uniquely complemented by the casual metal trays, adding a quirky reference to prison cafeteria lunches, hinting at the playful moniker, Jailbird.
Jailbird is an ideal destination for those seeking a flavorful escape, with options like the Sando Melt offering a gourmet experience of perfectly toasted sandwich bread, tender Nashville-spiced chicken, and molten cheese.
Locations: Jumeirah; Motor City & Mirdiff.
---
HANGRY JOE'S HOT CHICKEN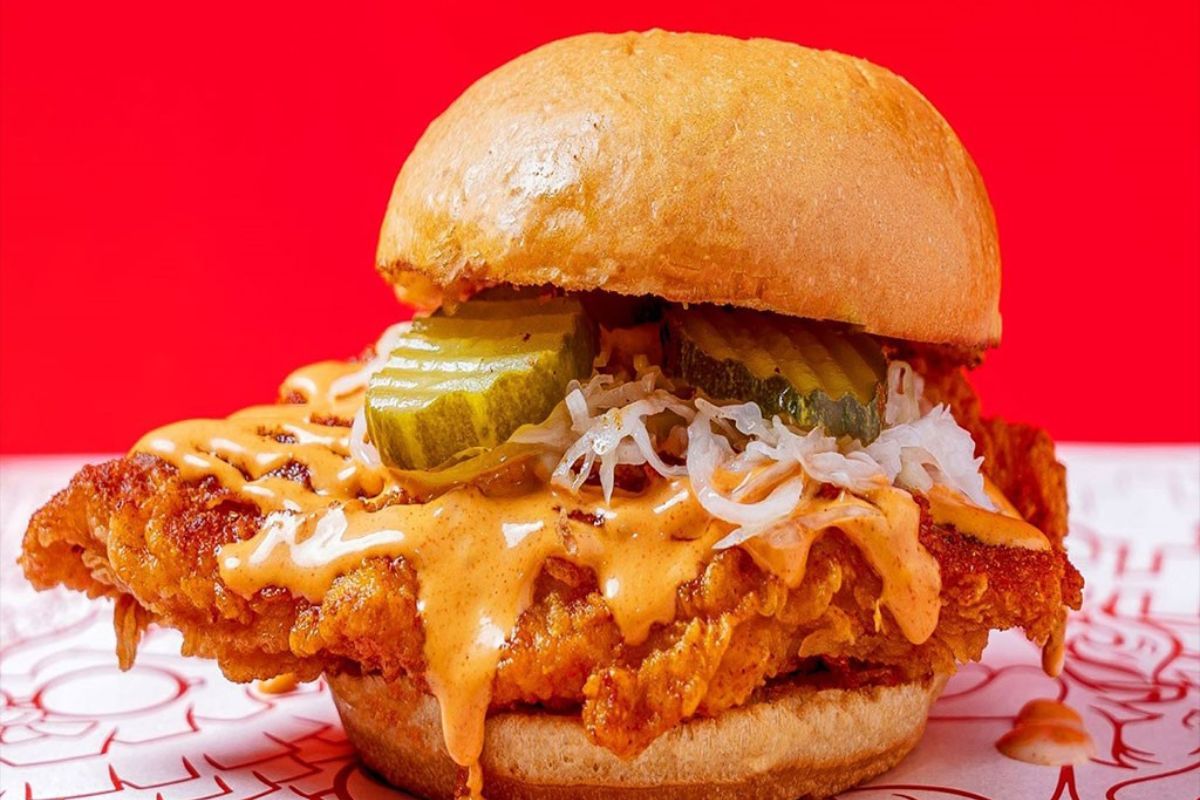 Hangry Joe's is a popular spot known for its awesome Nashville-style chicken sandwiches, with locations all over the U.S. and even in Dubai and Korea. It's a place where you can enjoy a top-notch chicken sandwich and have a great time with your friends and family.
The founders, Derek Cha and Mike Kim were on a quest to make the best chicken sandwich out there. They tried tons of different places in cities like LA and Nashville before they came up with their own special recipe. It's not just the quality ingredients or the variety in the menu that make Hangry Joe's a hit; it's also about the overall experience they offer to every customer who walks in. From hot chicken sandwiches and chicken waffles to wings and nuggets, there's something for everyone.
Their Nashville hot chicken is known for its unique spicy kick. It's made by marinating chicken in a spicy sauce and then frying it until it's crispy. It's not just hot; it's full of flavor, making their chicken sandwich a favorite for many. Whether you're in the mood for a quick bite or a hearty meal, Hangry Joe's has you covered with its spicy, flavorful, and satisfying options.
Location: City Walk.
Whether it's the secret-spice-infused delights of Hangry Joe's, the crispy, flavorful offerings of Pickl, or the meticulously crafted spicy concoctions of Slaw, each restaurant brings its unique twist to the Nashville chicken experience.
For those chasing the fiery, savory allure of Nashville chicken, Dubai unveils a collection of unique Southern flavors, delivering unforgettable taste sensations and memorable dining experiences in this vibrant food haven.
Also Read: