Have you ever imagined what a day in Dubai would be like if it was planned by Artificial Intelligence (AI)? Neither did we, until lately. ChatGPT has taken the internet by storm and has rapidly become a hot topic of discussion. Whatever your feelings are about open-source AI, it is an increasingly helpful tool, so we decided to put it to the test and see if it is able to plan a fun day out in Dubai.
Here's how it went...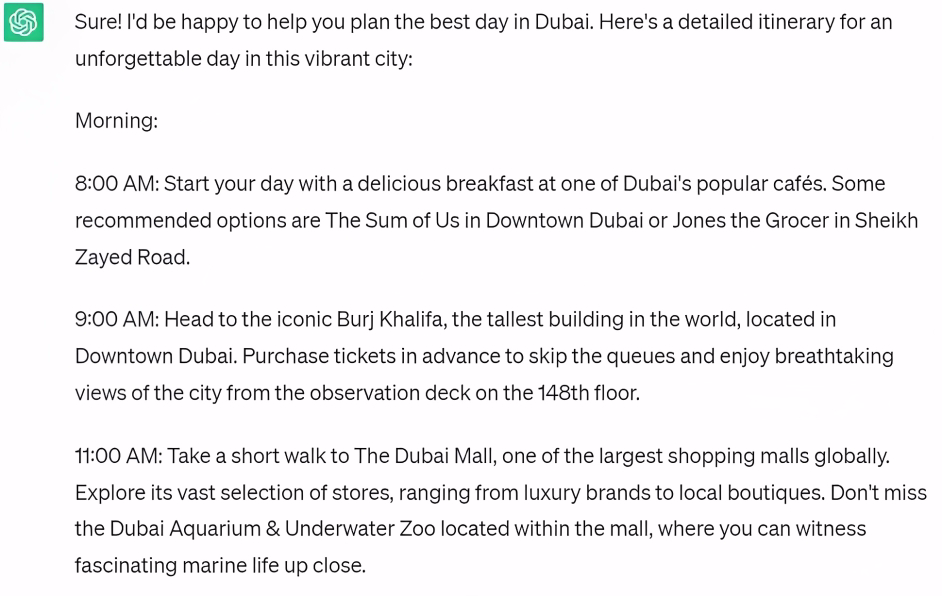 First up on the list of things to do, is breakfast, and much to our delight, ChatGPT suggested not one but two of Dubai's popular cafés – The Sum of Us and Jones the Grocer.  Both of which come with a delightful view of the city and an even better menu. Fill your stomach with delicious breakfast items like French Toasts, Pancakes, Eggs on Toasts, Egg Benedict, Waffles, Acai bowls and more.
After breakfast, head over to the iconic Burj Khalifa, the tallest building in the world to catch magnificent views of Dubai. Step onto the open-air terrace and observation decks to take in a 360-degree panoramic view of Dubai and get mesmerized at its beauty.
After an amazing high of unparalleled beauty and unlimited panoramic views of this vibrant city, it is time to shop till you drop at the largest shopping mall in the city and in the world –  Dubai Mall! Explore the many brands, stores and boutiques it offers and shop to your hearts content. But that's not all, Dubai Mall also offers various fun things to do, new attractions and an unlimited array of food spots and restaurants. ChatGPT  suggested, to visit the Dubai Aquarium & Underwater Zoo to witness the marine life up close. There are many different experiences at this popular tourist spot waiting for you.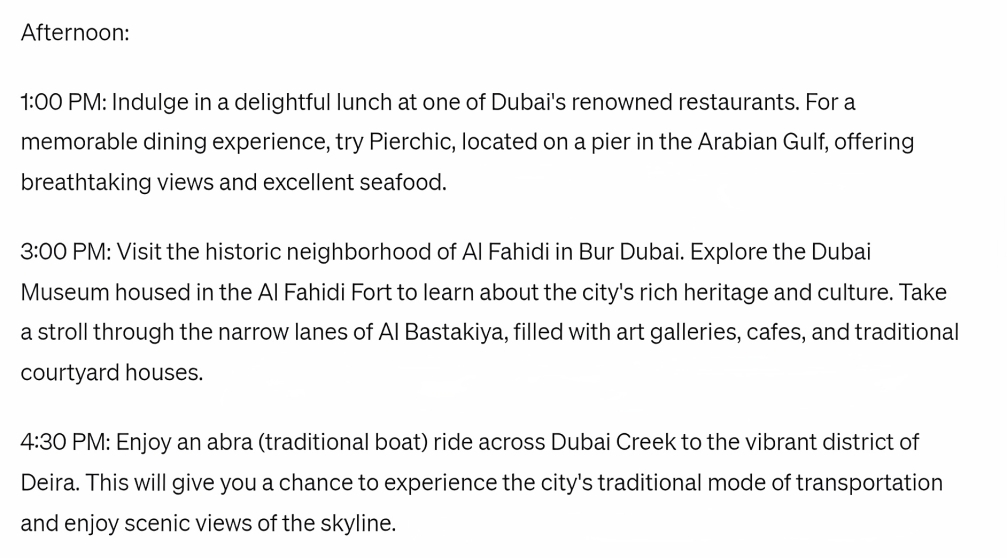 All that exploring and walking around the mall is sure to make you hungry, so it's time to sit down for lunch. For a memorbale dining experience, ChatGPT suggests to head over to Pierchic. This restaurant offers breathtaking views and overlooks the tranquility and serenity of the magical Arabian Sea. Perfect flavours coursing throughout the menu, dimly lit ambience and being set over the ocean make the food and the ambience the stars of the show, giving you an epic dining experience. What's more is that Pierchic is even a popular spot to propose!
With your tummy now full, and your heart content, take a trip over to the historic neighborhood of Al Fahidi in Bur Dubai. You can either use the metro or book a cab to reach your destination directly without any hassle. ChatGPT suggests exploring the Dubai Musuem to learn more about Dubai's rich heritage and culture. Then you can take a stroll through the lanes of Al Bastakiya and discover the various art galleries, cafes, and traditional courtyard houses there.
After that, it's time to enjoy an abra (traditional boat) ride across Dubai Creek to the vibrant district of Deira. Marvel at the breathtaking views of the city's skyline as the boat flies across the water. In addition to being a scenic landmark, the Abra Creek Crossing offers a unique cultural experience.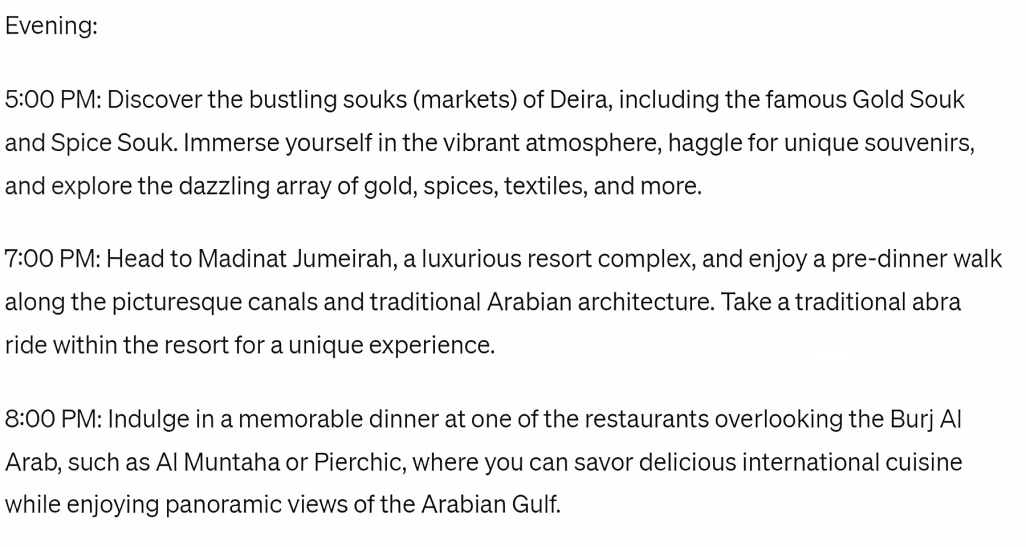 Once you reach Deira, put on your bargaining skills to test at the bustling souks of Deira. These include the famous Gold Souk and other popular souks like Spice Souk, Textile Souk and Perfume Souk. These souks offer a shopping experience like no othere allowing you to explore quality items at an affordable price.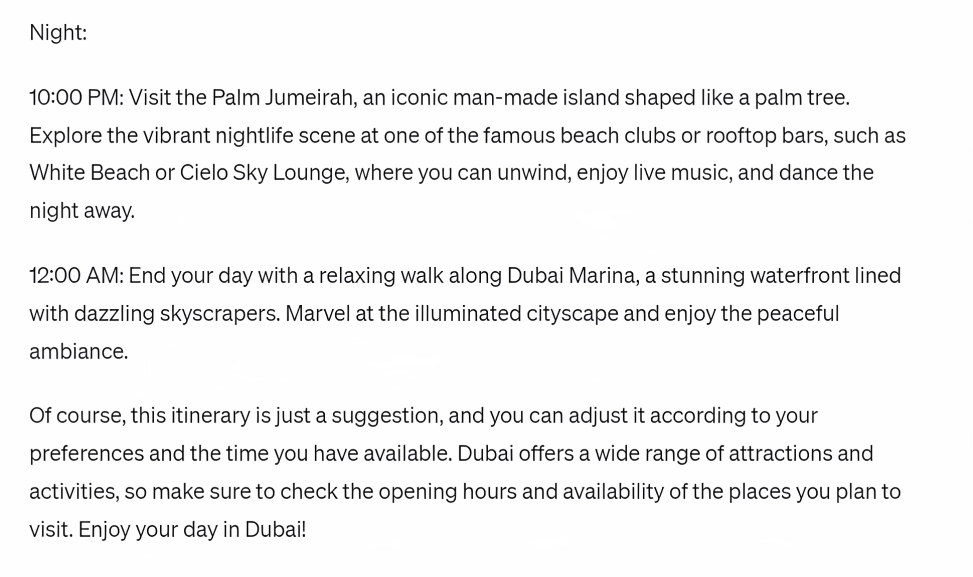 Then, take some rest and book yourself a cab that will take you to the scenic location of Madinat Jumeirah. This is a luxurious resort complex, and the absolute best part is that you get to walk along the picturesque canals and Arabian architecture. Ride on the abra once again within this resort and explore the many restaurants and stores lined up. You can also see the iconic Burj Al Arab from here. Head over to this popular luxury monument to dine on delicious food with mesmerizing views of Dubai's skyline at night and get an unforgettable dining experience at the Al Muntaha.
Also Read : Things to do at Madinat Jumeirah
If you're still not done for the day, and want to explore Dubai's vibrant nightlife scene, you can visit the city's popular beach clubs or rooftop bars located at Palm Jumeirah – an iconic man-made island shaped like a Palm. ChatGPT  suggests visiting White Beach or Cielo Sky lounge to unwind, enjoy live music and dance the night away.
After a long and tiring eyt a quite memorable day, end your night with a relaxing walk along Dubai Marina, a stunning waterfront lined with dazzling skyscrapers. Marvel at the illuminated cityscape and enjoy the peaceful ambiance.
Since Chat GPT's knowledge has a cut-off of till September 2021, and given how quickly the Dubaiscape changes. It can get a little difficult to plan your day using ChatGPT's help as it wont be able to suggest you the newest and trendy things around the city and at times even recommends spots that are now closed. Which is why, we came up with our own itinerary  to spend the best day in Dubai 2023.  
Take a look at our very own 'Day out in Dubai' Itinerary:
Also Read: