Whether you're a social media enthusiast or not, you will know that Dubai is one super Instagrammable city. The city quite literally has it all - golden dunes, modern architecture, age-old souks - name it and you'll find it in Dubai. That means there are some seriously Instagram-worthy places in Dubai.
But with the city being quite so Insta-worthy, where do you start?
To help you refresh your grid, we've rounded up Dubai's most iconic Instagram-worthy locations. And boy, is there a lot. So buckle up, stick your phone on charge, and get ready to snap pictures at the most Instagrammable places in Dubai.
#1 Sky Views Observatory Deck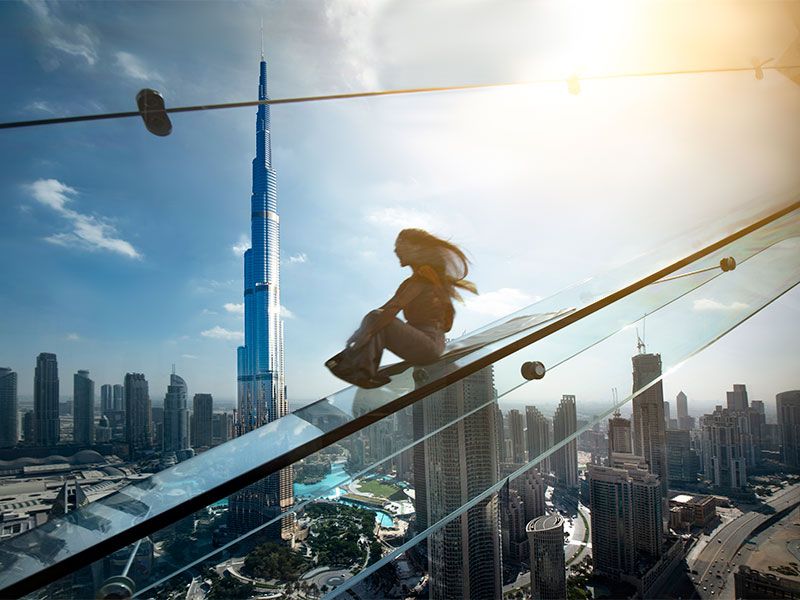 The Sky Views Observatory Deck is taking the internet by storm for all the right reasons. With its Glass slide & Sky Walk Dubai, this observatory is the perfect blend of views and adventure. This observation deck is located across the road from the Burj Khalifa and lets you take photos with the landmark in the background. If you've seen the pictures and reels on the experience here, you'd know why it makes it to the top Instagram-worthy spots in the city!
Price – AED85
Location – Address Sky View Emaar Square Area Downtown
Timings – 10am to 10pm
Also Read – Sky View Dubai
#2 Wings of Mexico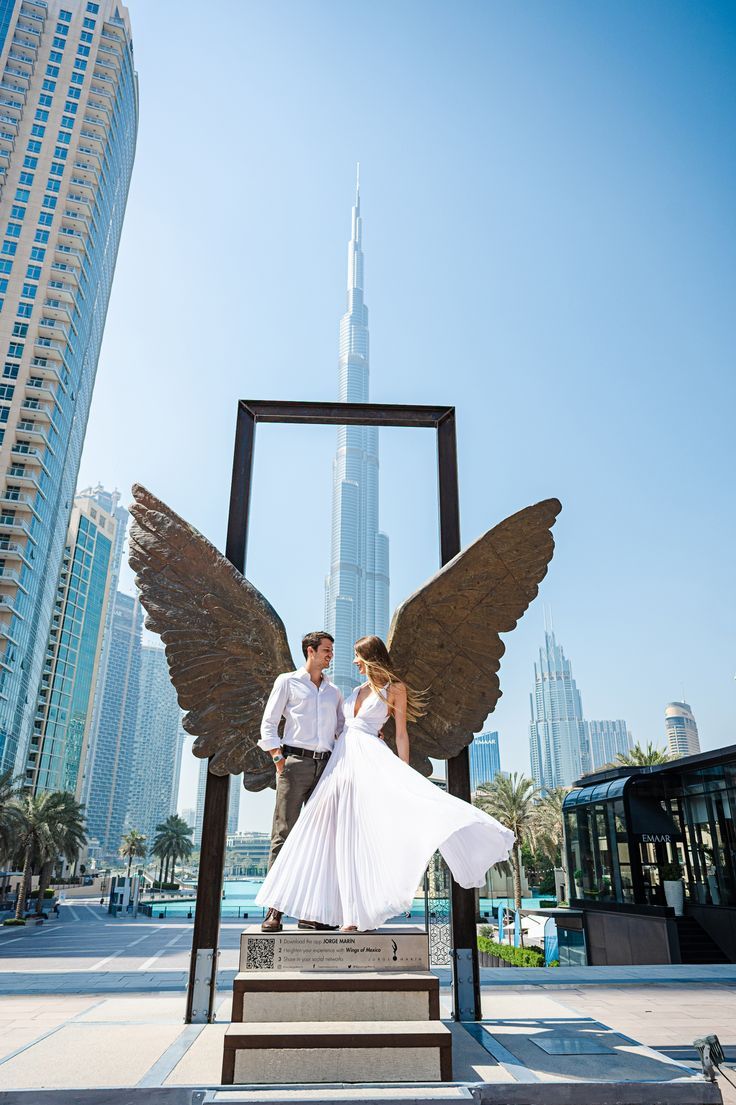 If you've been to Downtown Dubai and you don't have a picture in front of Wings of Mexico, have you really travelled to Dubai?
The Wings of Mexico statue is one of the coolest installations in Dubai, and it's definitely one of the best photo spots in Dubai as well. The wings are really photogenic, and if you combine them with the Burj Khalifa in the background, you get a perfect Instagram photo in return!
Price – Free
Location – Sheikh Mohammed bin Rashid Blvd, Downtown Dubai, Burj Residence Phase I & II
Timings – Open 24 hours
Also Read – Burj Park
#3 Iranian Mosque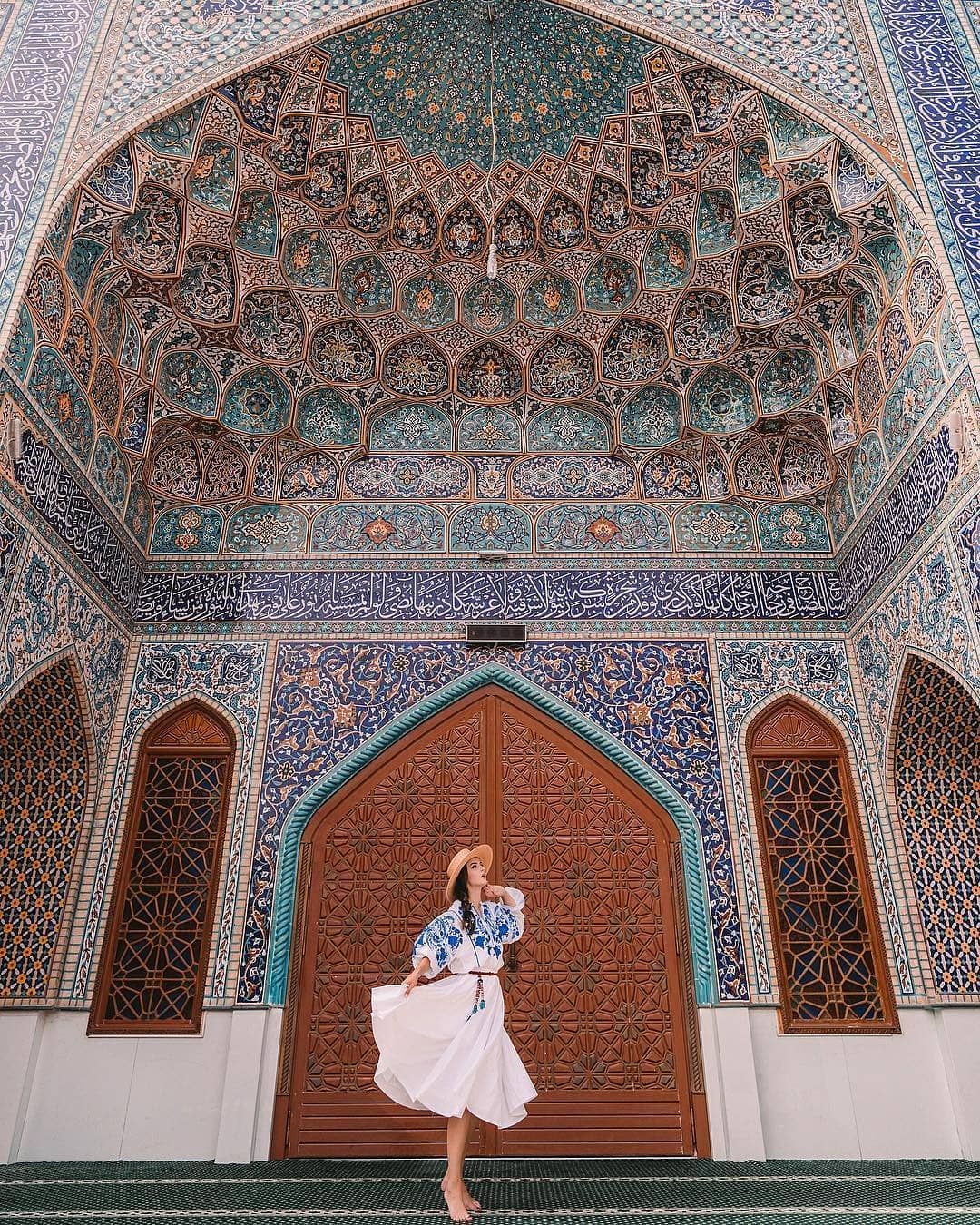 One of the lesser-known gems in Dubai but quickly gaining popularity among the travel community in the city - the Iranian Mosque is the UAE's only mosque with intricately designed Persian architecture. The mosque boasts a decorative façade with azure, blue-coloured faience tiles embellished with intricate floral motifs. At night, it is particularly beautiful against the backdrop of green neon lights. The mosque is a sight to behold, making it Instagram-worthy and how!
Note: Non-Muslims are not allowed into the building, but you can view the mosque from the outside.
Price – Free
Location – Bur Dubai
Timings – 8.30am to 10.30am | 4.30pm to 6.30pm
Also Read – Exploring Beautiful Mosques in Dubai
#4 The Lagoons, Dubai Creek Harbour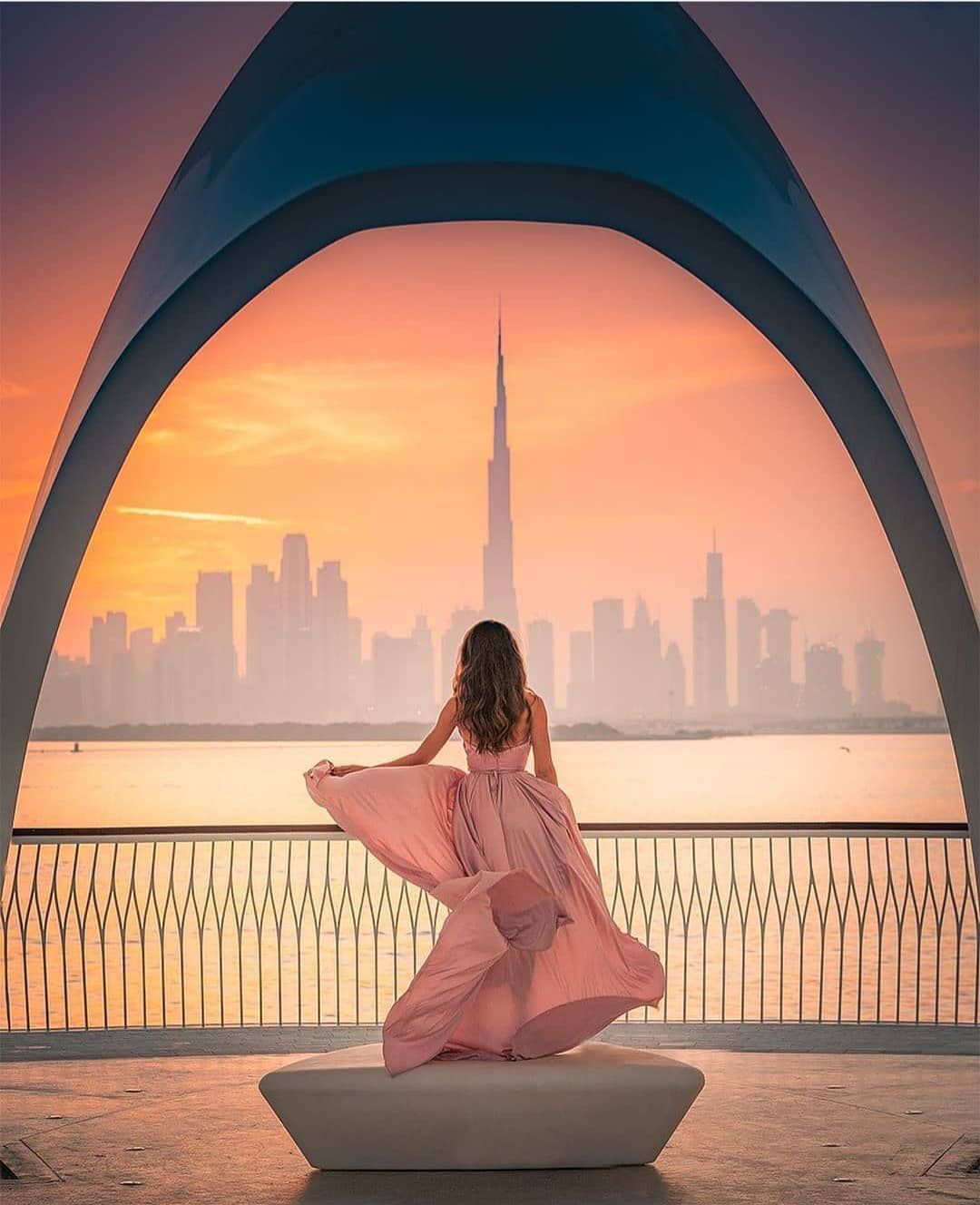 Located 10 minutes from Downtown Dubai, the iconic waterfront called The Lagoons is situated along the coast of Dubai Creek. This classic waterfront destination is a vibrant neighbourhood surrounded by green landscapes. An evening walk alongside the glittering creek and gorgeous sunset views is the perfect combination for tranquillity. Don't forget to click pictures with the flamingos!
Price – Free
Location – Dubai Creek
Timings – Open 24 hours
Also Read – Dubai Creek Harbour
#5 Palace Downtown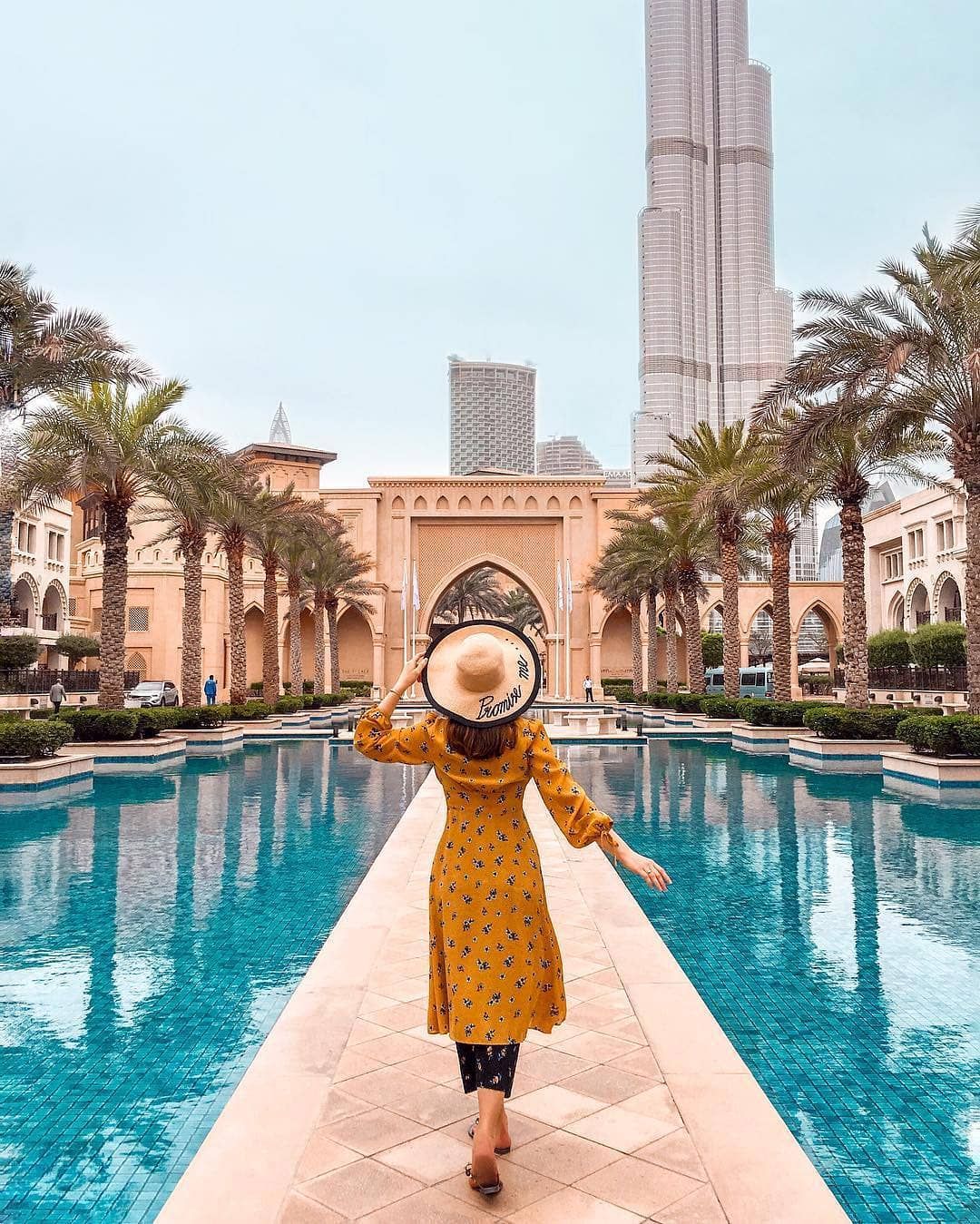 Palace Downtown is one of the most beautiful hotels in Dubai, and it offers an amazing view over the Burj Khalifa. The pond is lined with palm trees and offers incredible views of the Burj Khalifa that are hard to beat. One of the coolest features of the Palace Downtown Pond is a walkway that goes through the center and provides the perfect dramatic photo opportunity!
You can visit the pool area outside the hotel even if you are not a hotel guest, so if you're looking for the best Dubai photo spots, definitely check it out!
Price – Free
Location – Sheikh Mohammed bin Rashid Blvd, Downtown Dubai
Timings – 7am to 8pm
#6 Swing at CE LA VI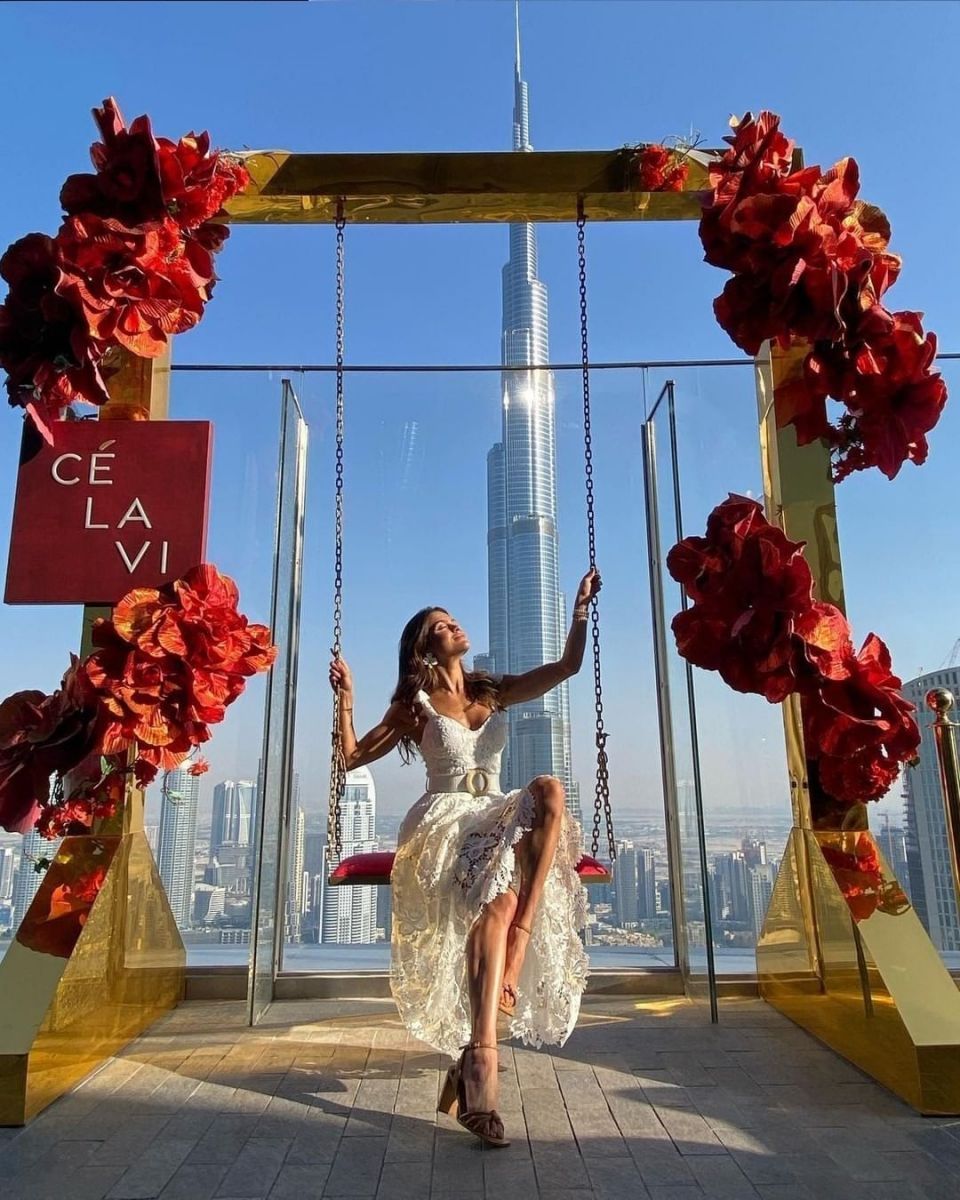 CE LA VI is an upscale rooftop restaurant that features a stunning flower-covered swing with views of the Burj Khalifa. This Dubai Instagram spot can be found on the 54th floor of the Address Skyview Hotel, a luxury hotel in the heart of downtown Dubai. The swing is a well-known place to take photos in Dubai, and it's easy to see why!
Location – Tower 2, Level 54, Address Sky View Hotel, Sheikh Mohammed bin Rashid Blvd
Timings – 12pm to 3am
Also Read – CE LA VI Dubai
#7 Dubai Souk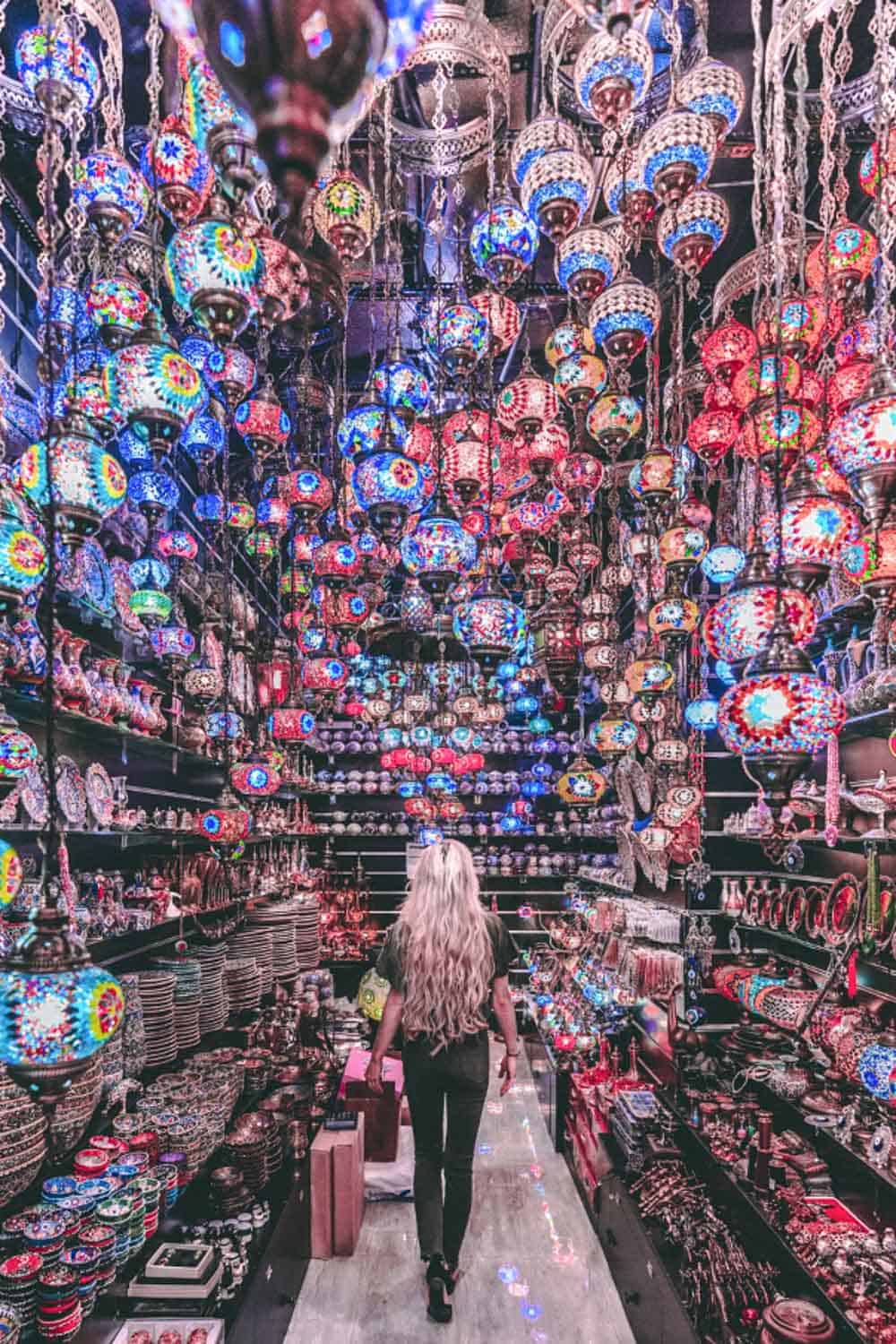 The souks in Dubai have carefully preserved the old-world charm of this city. Meandering through the quaint alleys transports you back to the pearl-diving days of Dubai. From spice souks to gold souks, and even a whole souk dedicated to perfumes, these traditional markets have many Instagram-worthy spots. Wandering through the lanes of these souks transports you to the past and gives one a fascinating slice of history well preserved and chockfull of culture and traditions.
Price – Free
Location – Deira & Bur Dubai
Timings – Open 24 hours
Also Read – Best Dubai Souks
#8 Bastakiya Quarter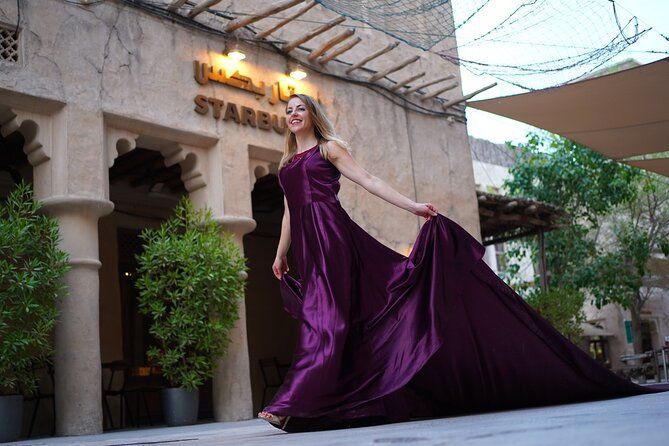 Completely different from the downtown area, this is where you will find low-rise heritage buildings in a traditional style that look back at Dubai's humble roots as a trading and fishing port. For a glimpse into Dubai's rich history and traditional charm, a visit to the Al Fahidi Historic District, also known as Bastakiya, is a must. This well-preserved, charming heritage district features narrow lanes, traditional wind towers, and beautiful courtyard houses. The contrasting blend of old-world charm and modern cityscape makes Al Bastakiya a photographer's delight.
PS: The Arabian Tea House at the Bastakiya Quarter is hands down the most Instagram-worthy cafe in all of Dubai!
Price – Free
Location – Al Fahidi
Timings – 7am to 8pm
Also Read – Old Dubai
#9 Al Seef Street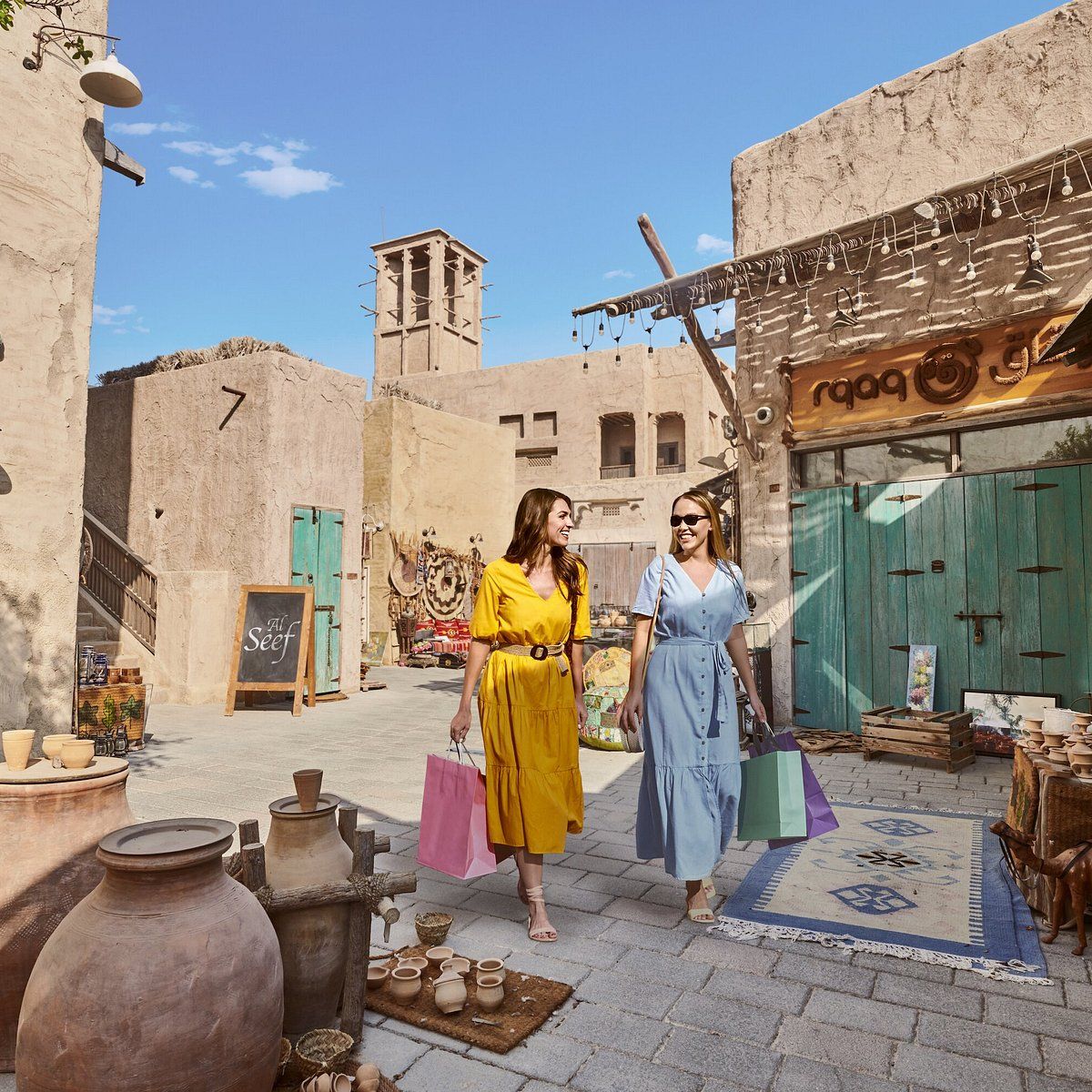 Al Seef Street is an extension of Al Bastakiya, as it runs from the heart of the historic core along the banks of Dubai Creek. You'll pass more photographic buildings and get to experience the happenings of the waterway. As strange as it might sound, the Al Seef Street Starbucks is one of the coolest Dubai photography spots. With its woody construction and thatched terrace, the building retains the old-world charm of the area, and you might even not realize it's an American chain at first!
Price – Free
Location – Al Seef Street, Al Hamriya
Timings – Open 24 hours
Also Read – Dubai's Old Town
#10 Al Awir Desert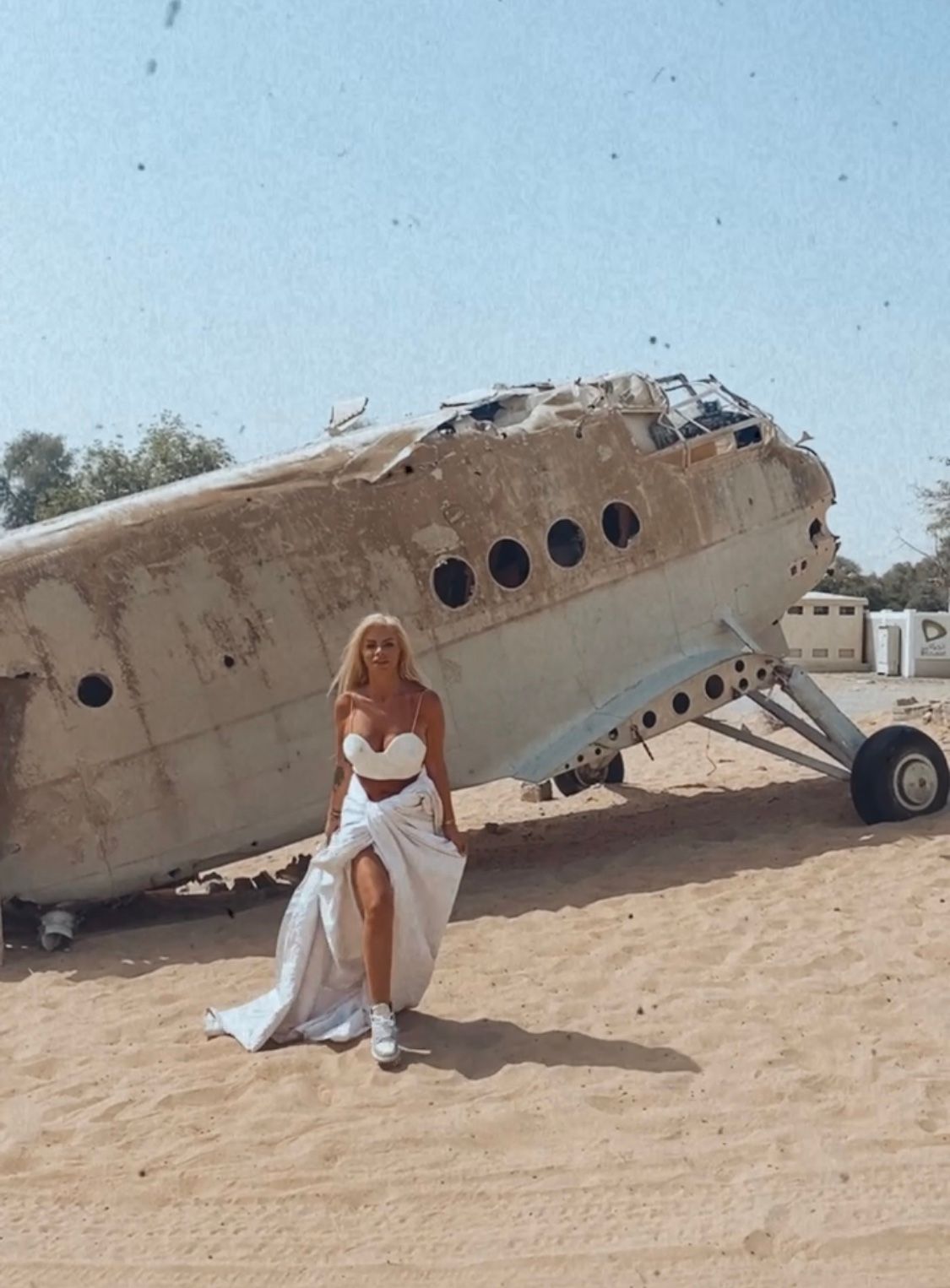 No one really knows the real story behind this mysterious plane wreck in the Al Aweer district of Dubai. Is it a real airplane crash? Has it been planted there for tourists? Or is it indeed a deserted film set? Whatever it may be, it makes for a great picture for your 'gram, so slap on some sunscreen and click away under the scorching heat!
Price – Free
Location – Al Aweer
Timings – Open 24 hours
#11 Madinat Jumeirah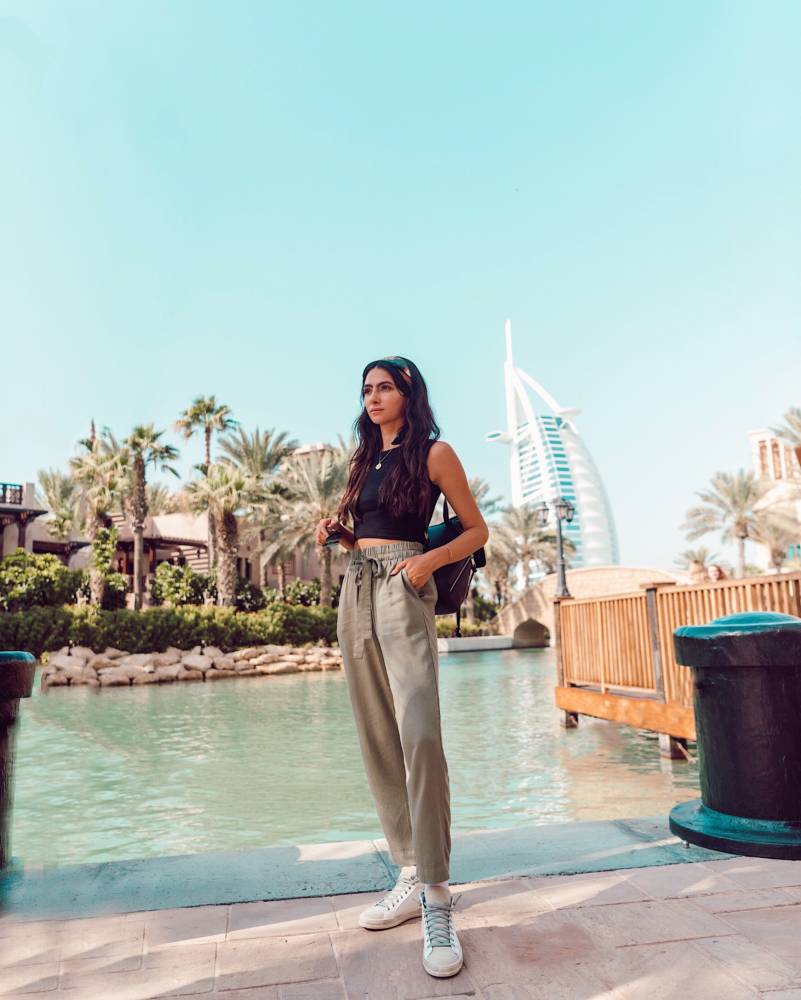 Madinat Jumeirah is a destination within a destination, boasting an array of ornate souqs, beachfront hotspots, palm-fringed waterways, and desert-coloured hotels. This contemporary interpretation of a traditional Arab village is even more enchanting at night, with the backdrop of the Burj Al Arab enhancing its beauty. Find any nook, and it'll make the cut to your Instagram feed.
Price – Free
Location – 6 King Salman Bin Abdulaziz Al Saud Street, Jumeirah
Timings – Open 24 hours
Also Read – Madinat Jumeirah
#12 Global Village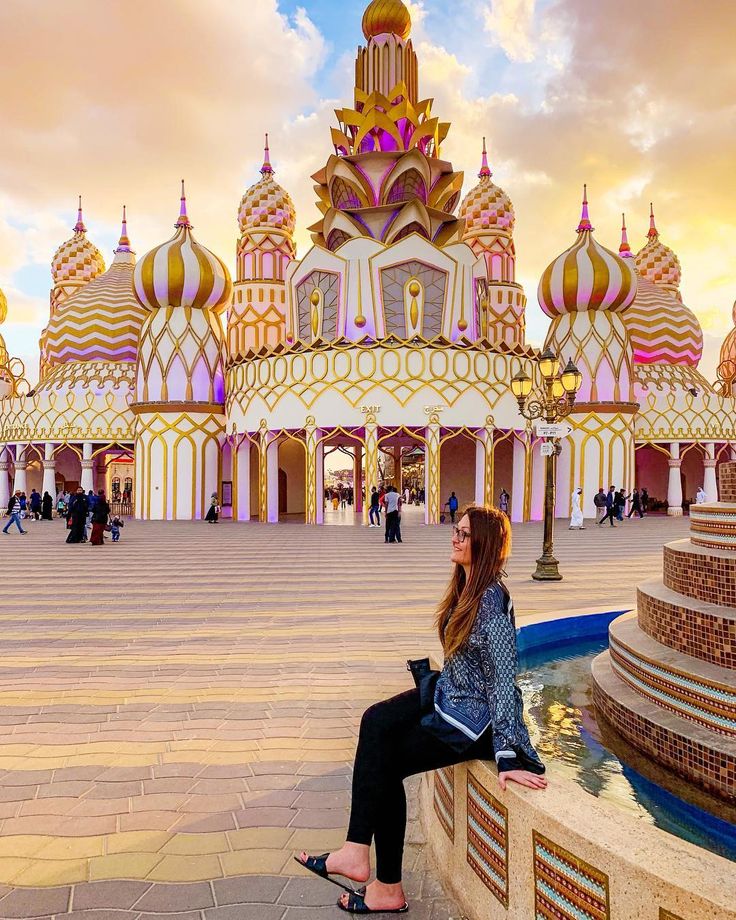 Global Village is exactly what it sounds like. It is an outright extravagant affair featuring food, attractions, shopping avenues, and much more. Self-described as the world's largest tourism and leisure destination, Global Village Dubai features 27 pavilions that represent more than 75 countries with different cultures. If you'd like pictures of Russia while in Dubai, you know where to head!
PS: The African and Turkish pavillion has Instagram-worthy spots.
Price – AED20
Location – Sheikh Mohammed Bin Zayed Road E 311 road, Dubai
Dates & Timings – 18 October 2023 to 28 April 2024 | 4am to 12am
Also Read – Global Village Dubai
#13 Alserkal Avenue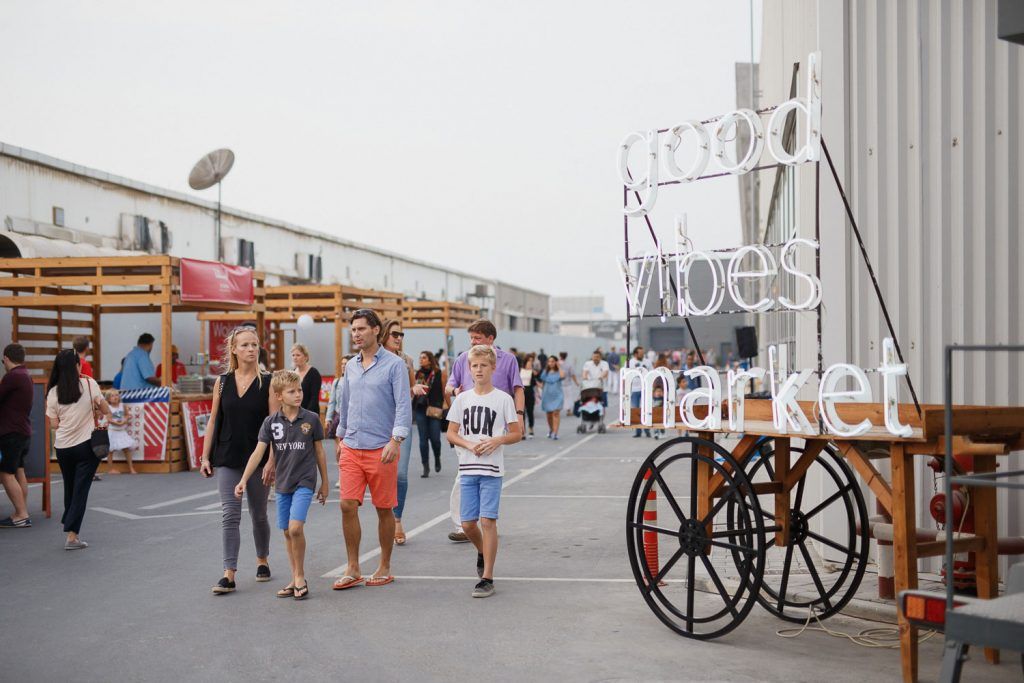 One for the culture vulture Insta fans, Alserkal Avenue, artistic area in Al Quoz is all over Dubai's arty community for good reason. Take your snaps when you enter this arty district as you can a good shot of the sign that reads 'when will you return'. You've likely seen this shot often, but you can't beat 'em so join them and get yourself down to this unique spot.
Price – Free
Location – 17th Street, Al Quoz
Timings – 10 am to 7 pm
#14 Burj Khalifa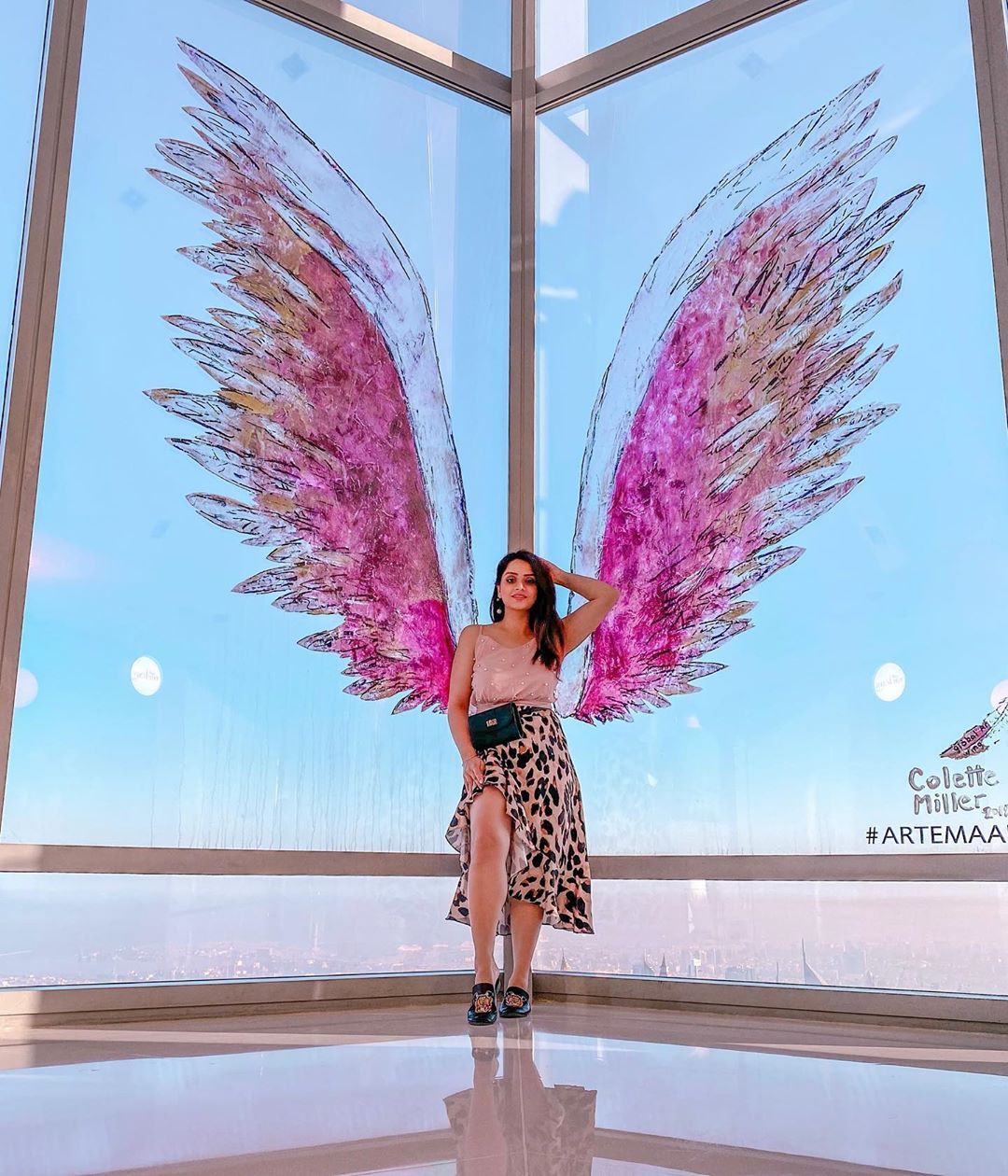 The tallest building in the world obviously makes it to the most instagrammable spots list in the city. While Burj Khalifa makes for an amazing backdrop, the views from up top are equally epic!
If you want to take some photos with the Dubai skyline in the background, don't miss out on the glass viewing platform on the 124th floor. The painted wings inside the building are one of the most famous instagrammable spots in Dubai so make sure to take a photo there as well!
Price – AED169
Location – Downtown Dubai
Timings – 8am to 12am
Also Read – Burj Khalifa
#15 Dubai Marina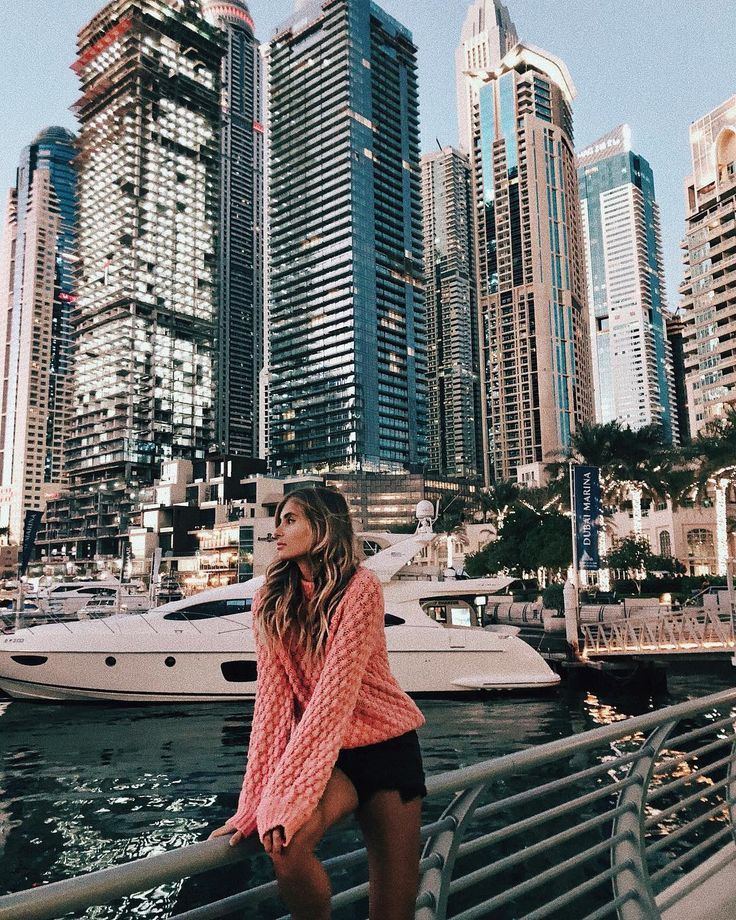 With its dazzling skyline and picturesque waterfront promenade, Dubai Marina is a photographer's dream come true. Capture the stunning architectural marvels reflected in the calm waters, take a sunset cruise, or explore the bustling marina boardwalk lined with trendy restaurants and cafes. Whether it's a long exposure shot of the illuminated skyscrapers or a candid photo on one of the marina's iconic bridges, Dubai Marina will elevate your Instagram game.
Price – Free
Location – Dubai Marina
Timings – Open 24 Hours
Also Read – Guide to Dubai Marina Walk
Also Read: