Overview

Few locations in the world successfully combine cultural heritage and cutting-edge architecture like Dubai does. There are many things to love about living in Dubai, which is renowned for its breathtaking attractions, opulent lifestyle, breathtaking architecture, and fantastic shopping areas. But this distinct location has more to offer beyond that. In a city filled with skyscrapers and record-breaking entertainment attractions, Dubai's beautiful mosques will captivate and awe you. The emirate of Dubai has a rich Islamic heritage, which is reflected in the numerous stunning mosques that dot the city.
1)      Jumeriah Mosque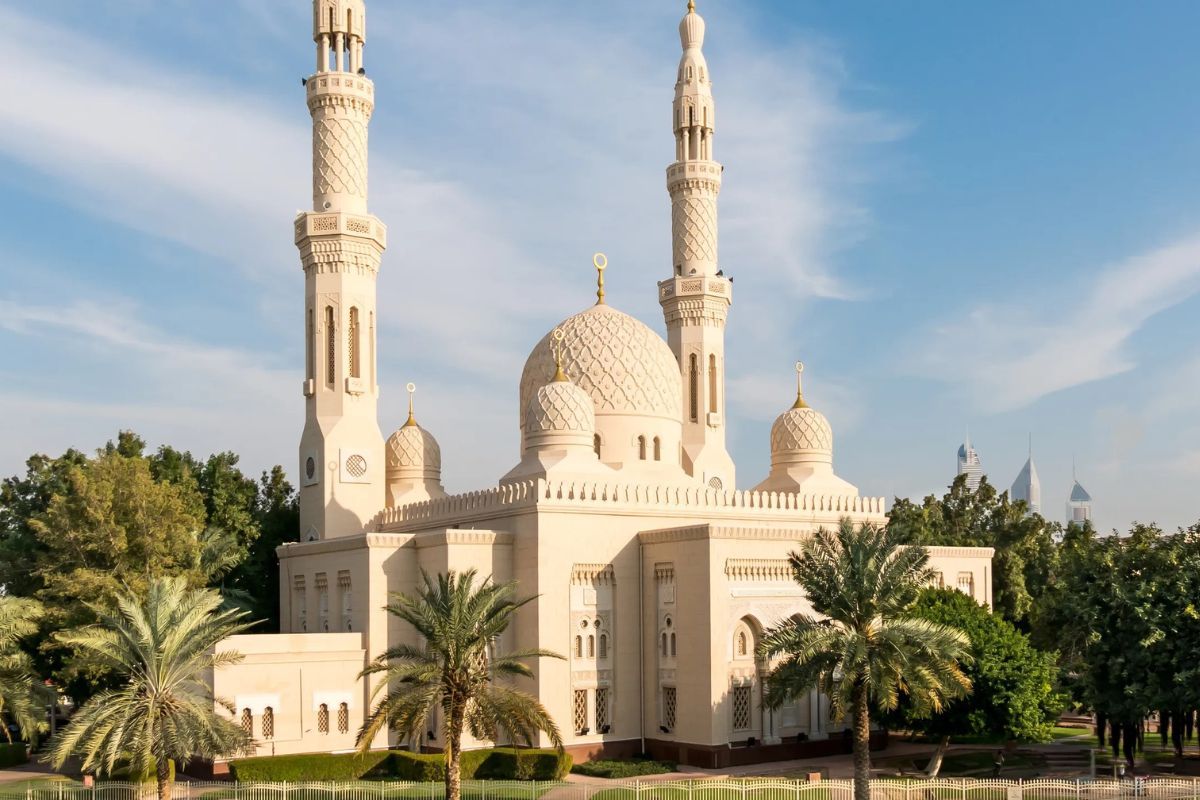 Jumeirah Mosque is considered the best mosque in Dubai. As one of Dubai's most iconic landmarks, it welcomes visitors of all faiths to admire the surroundings and learn about Islam and local culture.
The mosque was built entirely from white stone in the ancient Fatimid style, with towering twin minarets framing a large central dome, it is large enough to accommodate over 1,200 worshipers. The intricate craftsmanship and beauty are brought to light when it is lit up at dusk. The architectural style was influenced by Syria and Egypt, and the mosque serves as a poignant reminder of those countries' shared heritage and history.
Jumeirah Grand Mosque, which was inaugurated in 1979, was given as a gift by the late Sheikh Rashid bin Saeed Al Maktoum, the former ruler of Dubai and the father of the current ruler, HH Sheikh Mohammed bin Rashid Al Maktoum. Adopting an 'Open Doors, Open Minds' policy, local mosque representatives are on hand six days a week at 10 a.m. to conduct 75-minute guided tours. Visitors have the chance to learn more about the Emirati way of life and religion on these tours, which are led by the Sheikh Mohammed bin Rashid Al Maktoum Centre for Cultural Understanding (SMCCU). The mission of the SMCCU is to develop interactive programs that promote cultural awareness, understanding, and tolerance among various nationalities and cultures from around the world.
Know more about - Jumeirah Mosque a tourist Mosque in Dubai
2)      Bur Dubai Grand Masjid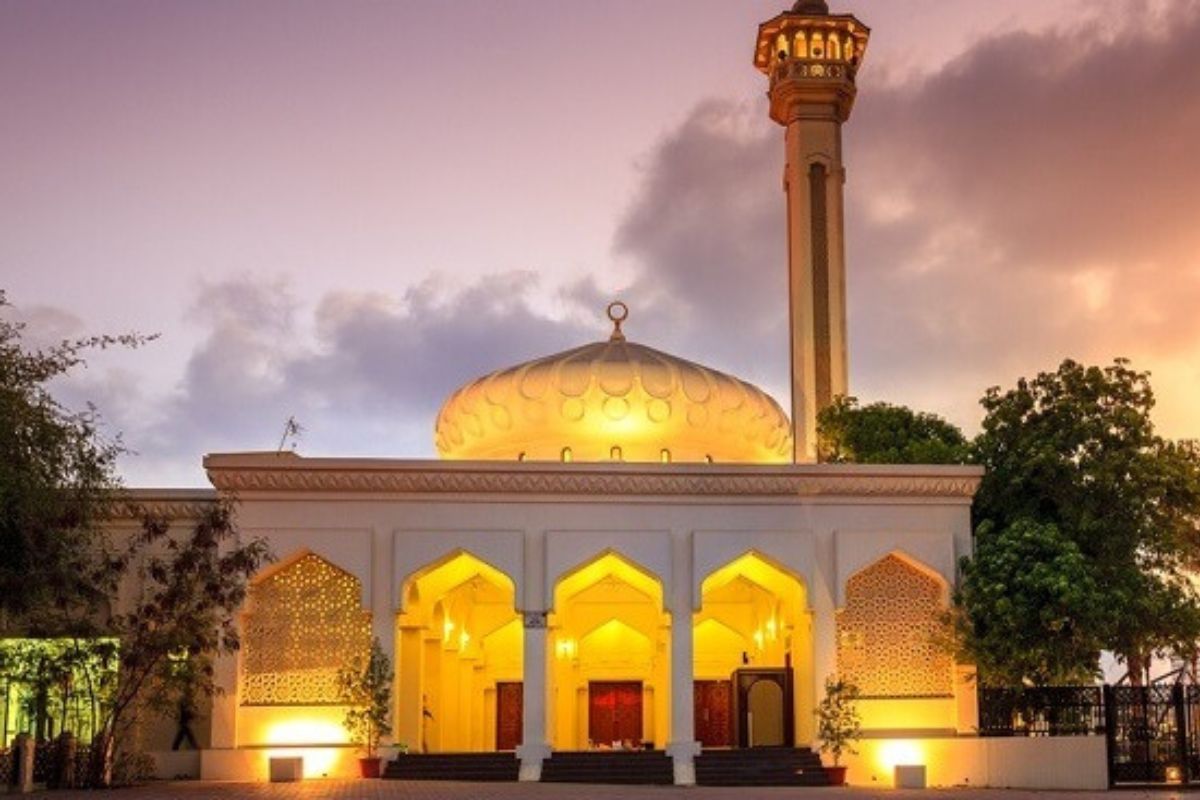 The Bur Dubai Grand Mosque is one of Dubai's most notable places of worship. This beautiful mosque in Dubai is one of the largest in the city and the most recognizable structure in the area. The mosque, which is located in the heritage district, can accommodate 1,200 worshippers. The sandy-grey walls are artless in general, but a large Quranic inscription is inlaid above the five columns of the entrance facade, which sit at the top of a short flight of six steps. The roof of the Grand Mosque is covered by 45 small and nine larger domes, as well as a tall minaret. The mosque's minaret is also the tallest in Dubai, standing at 70 meters (230ft).
The building has a long history, and it was once a school, or 'kuttab,' dedicated to the study of the Quran. The first students came in 1900 and memorized the Quran by heart. A new mosque was built in 1960, and it was rebuilt in 1998 to match the original architecture. Tourists can participate in the Mosque Experience, which aims to raise awareness of Islamic and Arabic culture. Tours are offered free of charge on Sunday, Tuesday, and Thursday mornings and are appropriate for anyone who has never visited a mosque before. The entire program includes a warm welcome, an ablution demonstration, a tour of a mosque, a prayer demonstration, an explanation of fundamental beliefs, and space for questions and refreshments.
3)      Al Salam Mosque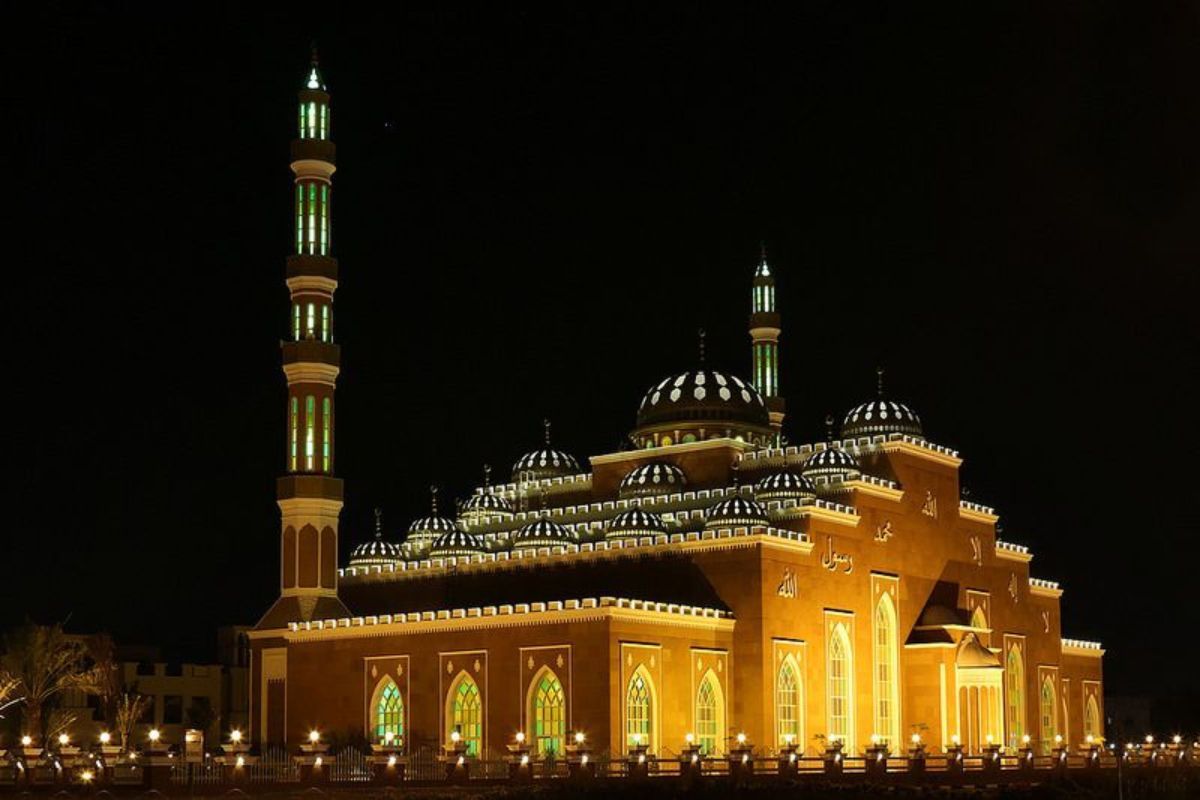 Al Salam Mosque, located in Al Barsha behind the Mall of the Emirates, is one of the most beautiful masjids in Dubai, a city rich in Islamic heritage and culture. It was built in 2014 and is a popular place of worship, with a capacity of 1,500 worshippers. The building is built to resemble a pyramid, and as you get closer you can find the shahada, the most important pillar of Islam, written along the entrance, which sets the structure apart from the crowd. Its stunning red architecture was influenced by old Turkish buildings, resulting in a mix of Ottoman and Emirati culture and design. White accents can also be found on the outside, as well as gold domes and balconies on the minarets. The mosque is especially gorgeous when the sun goes down, with green and gold lights. The mosque is a tranquil setting with beautiful lighting for some quiet time and religious reflection.
4)      Masjid Al Rahim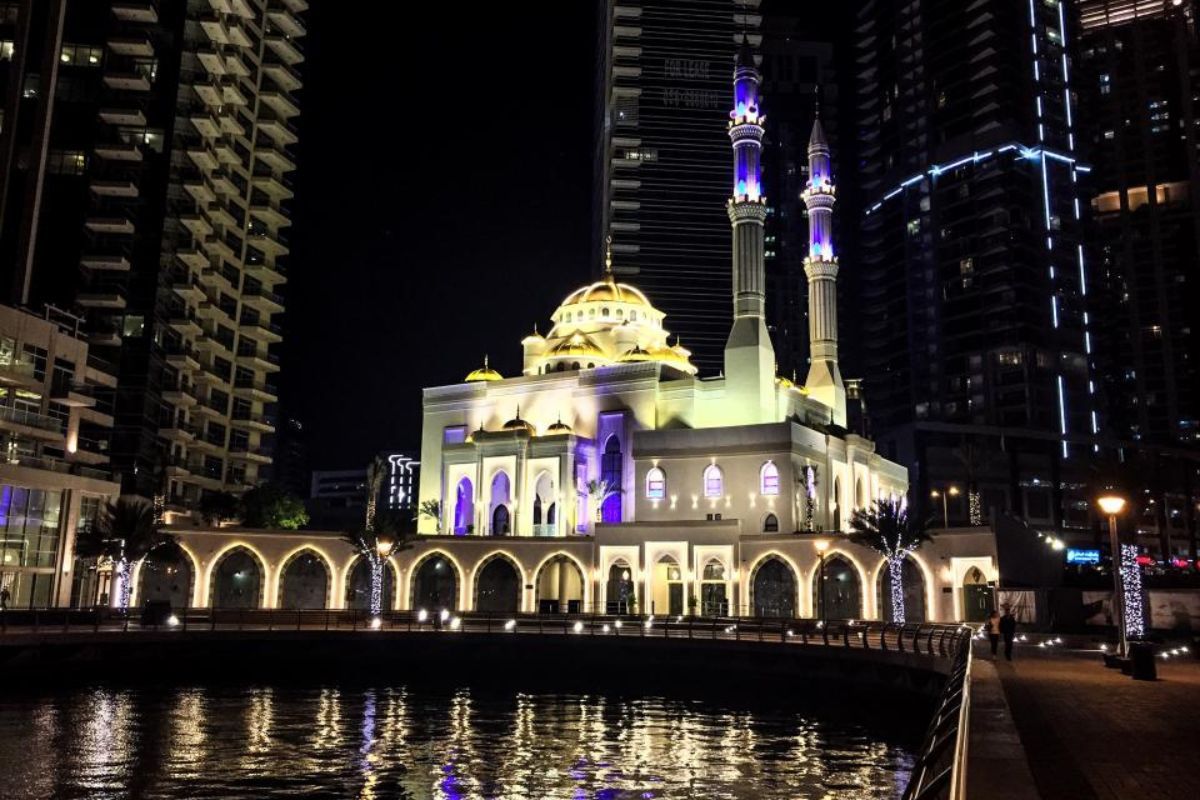 The Masjid Al Rahim is located on the banks of the Dubai Marina. This is Dubai Marina's only mosque, which opened in 2013.  It has a capacity of 2,000 people. In the evenings, it is known to light up in blue and white, blending in with the façade of the Dubai Marina and its towering apartment buildings. The basic concepts of Islamic architecture are reflected in this masjid in Dubai. The mosque has a minaret and is crowned with a single dome. Aside from the minaret, from which the imam issues prayer calls, the mosque has a ziyada, which is a patio surrounded by a double wall, and a waterfall on the facade facing the marina. The mosque also houses a library and a Quran school, both dedicated to teaching Islamic studies.
Read more about -  Guide to Dubai Marina Walk
5)      DIFC Grand Mosque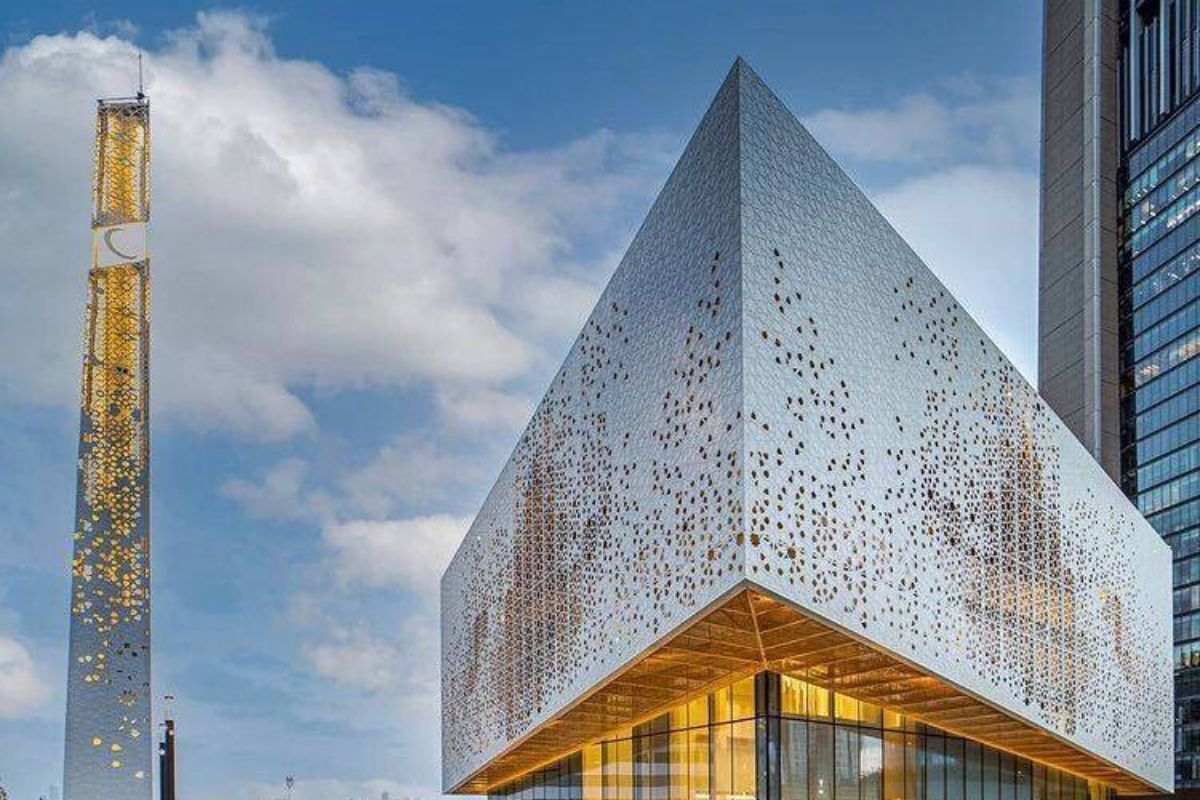 This contemporary mosque is a fusion of traditional Islamic architecture and contemporary design, and it is located at Gate Avenue in the Dubai International Financial Centre (DIFC). The mosque, which can accommodate 500 worshipers, pays homage to tradition with a hanging Mashrabiya, a perforated metal screen that filters light during the day and transforms the structure into an urban lantern at night. It combines modern and traditional design elements. It completes the row of buildings on Gate Avenue's promenade and has a gross floor area of 14,500 square feet. It is open 24 hours a day to serve all five daily prayer times, Friday prayers, and Ramadan prayers.
6)      Al Farooq Omar Bin Khattab Mosque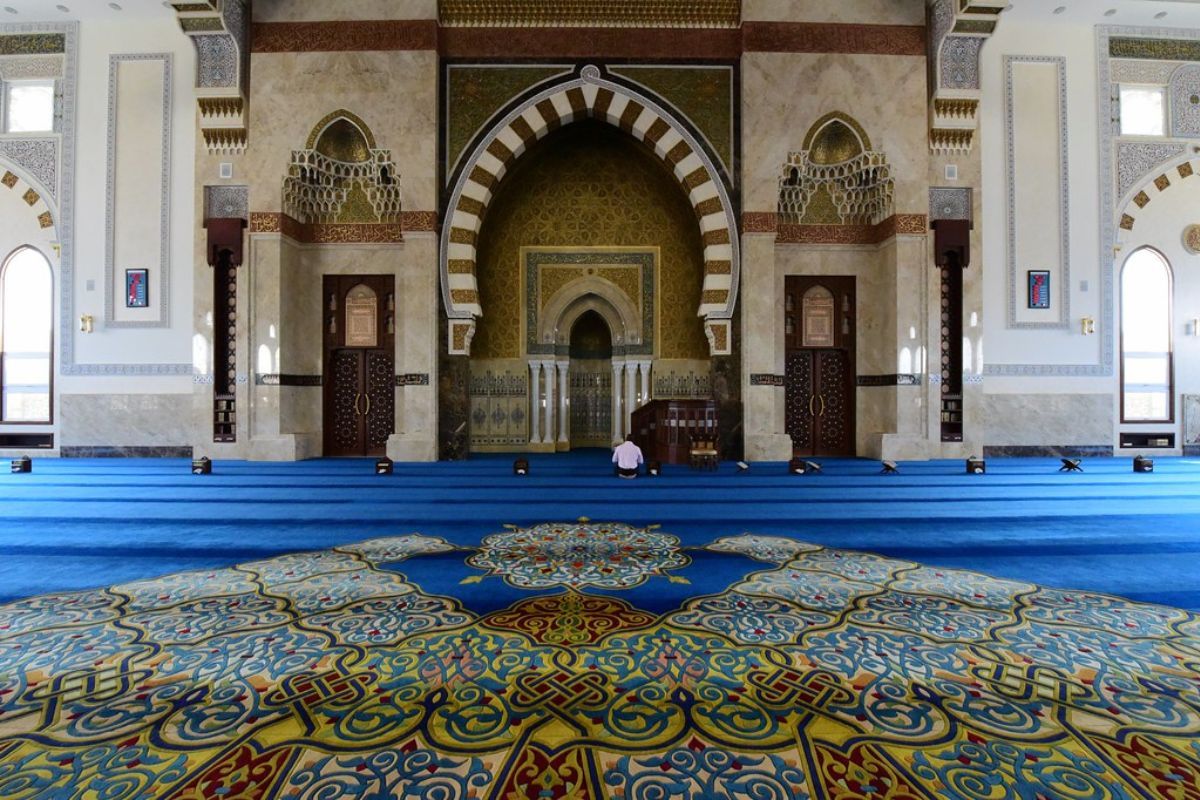 Al Farooq Omar bin Khattab Mosque, which was constructed in 1986, is yet another well-known mosque in Dubai. The building of this mosque was inspired by the Blue Mosque in Istanbul, Turkey. Consequently, the Al Farooq Omar bin Khattab Mosque is also referred to as the Blue Mosque. With some noticeable Turkish influences, including the blue-tiled floors, the 21 stained-glass windows, and the traditional Turkish fountain in its grounds, it has also set itself apart from other mosques in Dubai. The mosque is one of the biggest in the United Arab Emirates, covering 93,400 square feet and holding 2000 people at once.  Additionally, there are numerous examples of Andalusian influences, from the bright tiles at the entrance to the hand-sculpted inscriptions inside that were made by 60 Moroccan artists over the course of a year. The Al Farooq Omar Bin Al Khattab Mosque was among the first mosques to welcome non-Muslims. They regularly hold lectures, seminars, summer camps, and tours of mosques. It welcomes people from various racial and religious backgrounds and offers excellent, in-depth knowledge of Arabic history and culture. Additionally, the area is furnished with features that make it a religious center, including a lecture hall and a youth club. This lovely mosque is a center for peace and harmony, whether you want to learn about Islam, tour a place of worship, or just stop by for prayer.
7)      Khalifa Al Tajer Mosque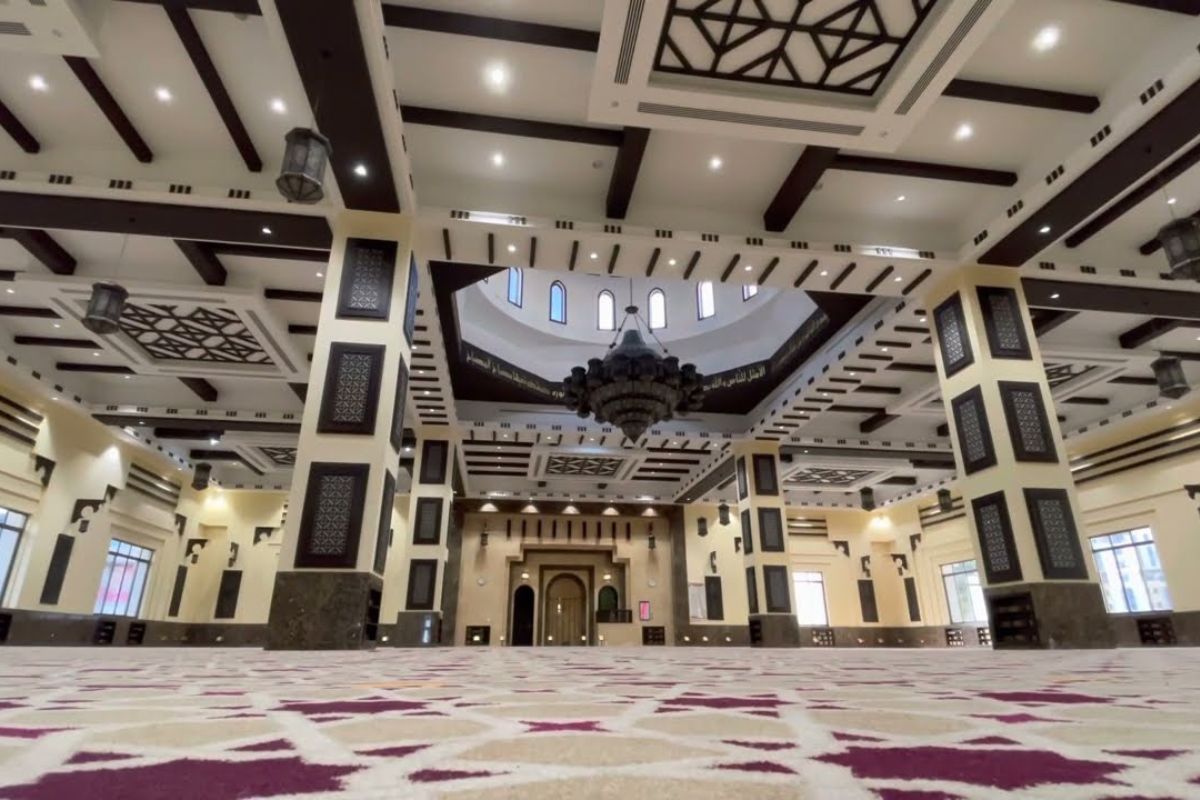 Khalifa Al Tajer is the UAE's most unique mosque given that it is the country's first eco-friendly mosque! It opened its doors to 3500 worshipers in 2014 and is situated in Dubai's Deira district. The mosque's eco-friendly design includes water-saving ablution stations, thermal insulation systems that use less energy, solar panels, energy-efficient lights and fixtures, and air conditioners that produce fewer greenhouse gases. The mosque is exquisitely decorated, but in comparison to other mosques of this size in Dubai, it might appear "simple." The mosque's straightforward Bedouin Emirati architecture significantly reduced cost and energy, so this is also for the mosque to continue being as environmentally friendly as possible.
8)      Mosque of Light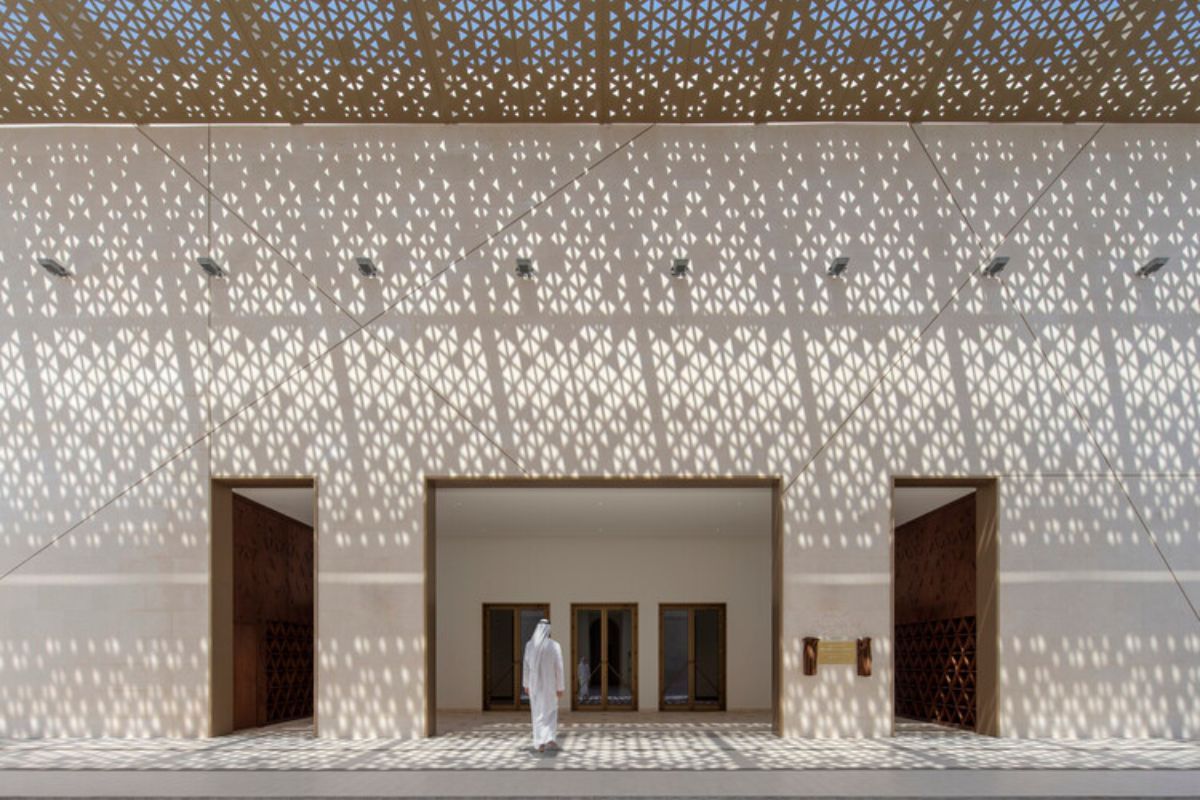 Another brilliant illustration of Middle Eastern creativity in the present day is the Gargash Mosque, also known as the Mosque of Light. While the mosque's exterior is a vision in white with a single rounded minaret and sleek understated dome, its geometric mashrabiya-inspired details act as miniature windows, presenting a play of light for worshippers inside. This mosque can accommodate more than 1,000 worshipers for prayers. Additionally, the stunning place of worship offers a tranquil haven from the generally hurried pace of life in the Al Quoz area. The mosque's use of sustainable construction methods is one of its standout features. The stones came from Oman, while the cladding and aluminum were purchased locally.
9)      Iranian Mosque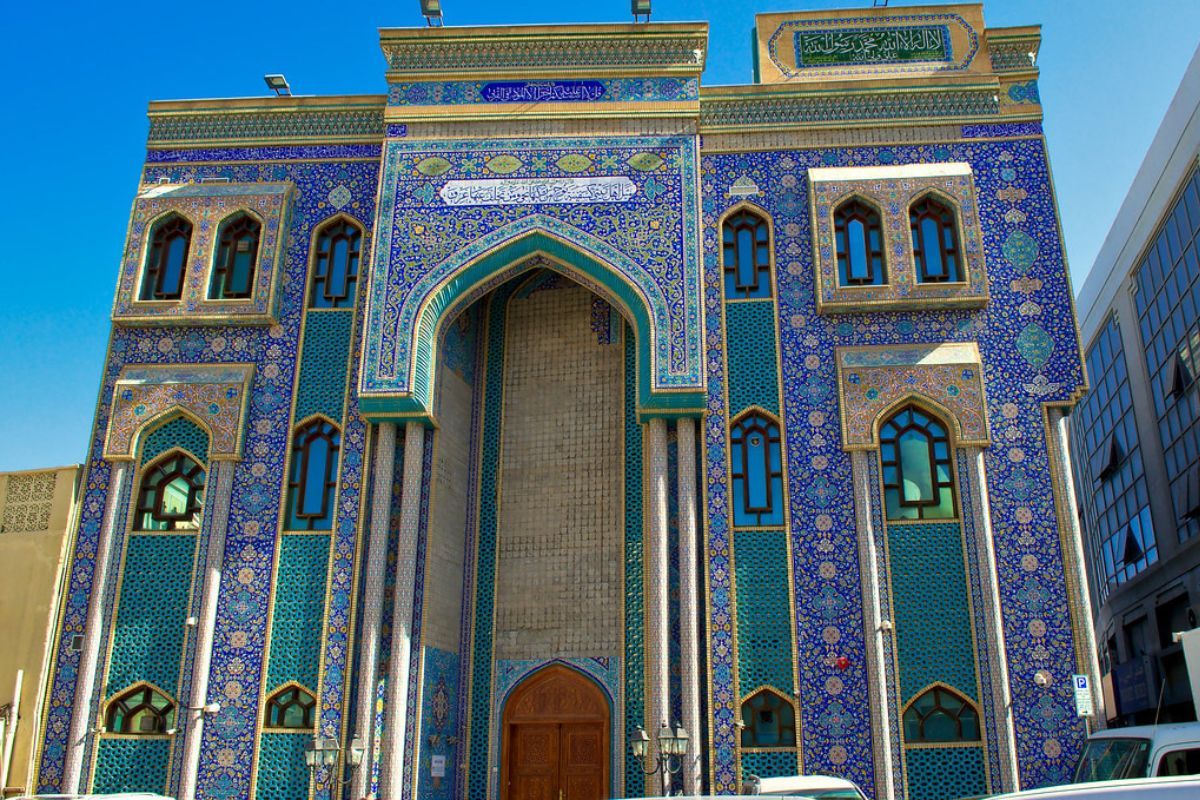 This mosque, the only Iranian mosque in the United Arab Emirates, is close to the Jumeirah Mosque and is impossible to miss. Its Persian influences are evident in the exterior's mosaic pattern, which stands out in all its vibrant glory with blue as the primary color. Additionally, it has a library with more than 14,000 books and offers weekly tours for non-Muslims through the Sheikh Mohammed Centre for Cultural Understanding.
This is one of the most well-known Shia mosques in Dubai, and it is situated on Al Wasl Road in Jumeirah. The architecture is influenced by Persian and quasi-Fatimid styles. Traditional blue tiles adorn the mosque's exterior and dome, and the interior also features these eye-catching blue tiles with green and gold accents and Arabic text written over them. The mosque has several rooms, including a sizable library with volumes in Arabic, Persian, Urdu, and English, among other subjects and languages.
ALSO READ: