Dubai is popular for its iconic landmarks and architecture. The city has inspired people to think out-of-the-box with its architectural marvels like the Museum of the Future, Dubai Frame, and Burj Khalifa. Deira Clock Tower is one such iconic landmark in Dubai that holds a significant position in the history books of the city.
Deira is a popular historic district in Dubai. It is one of the most crowded places in Dubai. The district is popular for its huge number of trades including souks, shopping centers, individual stores, restaurants, travels, hotels, and more. Deira souks like Gold Souk, Naif Souk, and Spice Souk are always buzzing with shoppers and tourists alike. This district was earlier the commercial center of Dubai. Deira is also home to the iconic landmark of Dubai, the Deira Clock Tower.
Deira Clock Tower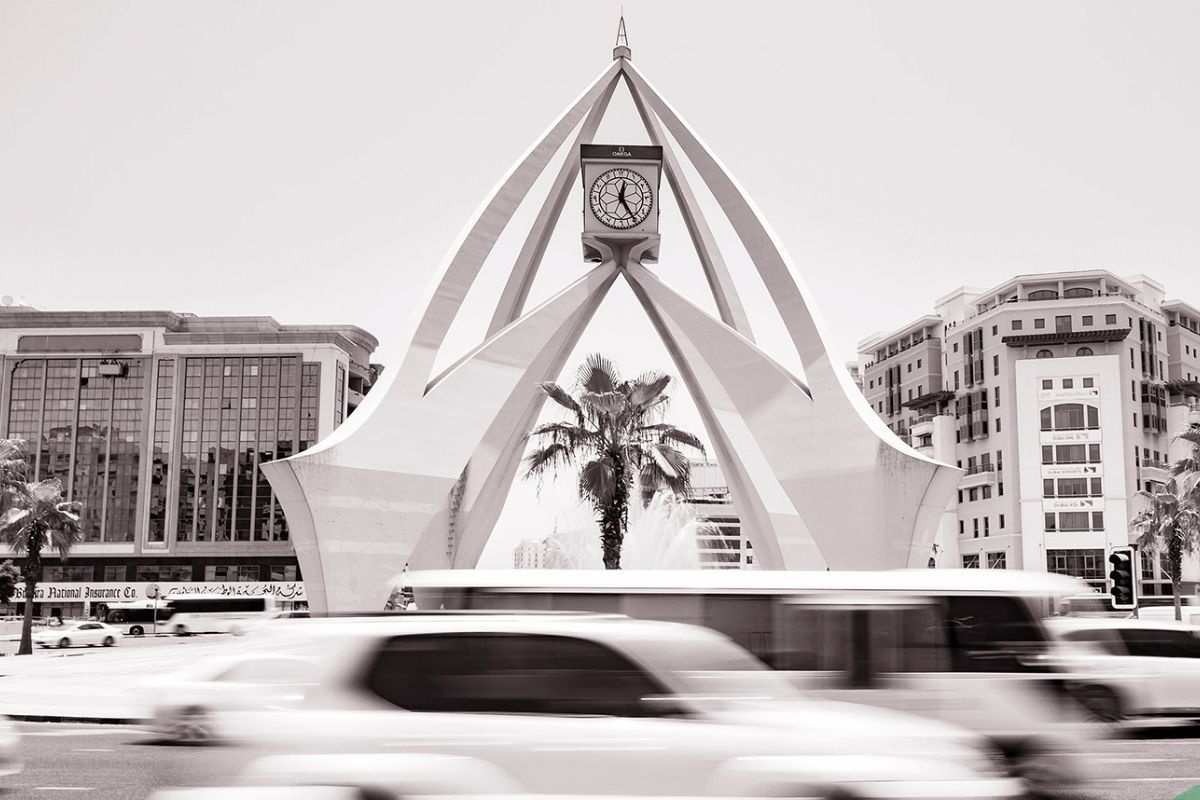 Deira Clock Tower is situated at the intersection of Al Maktoum Road and Umm Hurair Road in Deira. This iconic landmark is a symbol of Dubai's rich heritage and culture. It was made to celebrate the first oil export from UAE. Therefore, Deira Clock Tower symbolizes UAE's major turning point.
The clock tower structure was built in 1963 and has witnessed Dubai's modernization and development. The clock tower was reconstructed many times for various purposes, however, the original structure and shape have been preserved. The clock tower is situated near the first land crossing between Deira and Bur Dubai, in front of the Maktoum Bridge.
Deira Clock Tower was originally built with steel reinforcements but due to corrosion, it was replaced by concrete materials during the refurbishment in 1972. The clock face was replaced once with Omega models with GPS devices for extreme accuracy in showing time.
The architect behind this architectural marvel is Architect Ziki Homsi. It was commissioned by Sheikh Rashid Bin Saeed Al Maktoum, who was then the Ruler of Dubai. The tower stands tall with a height of about 25 meters incorporating traditional Arabic elements in the modern architectural style. The four clock faces have a diameter of about 5 meters. It is illuminated with neon lights which have made it convenient for commuters as a point of reference.
Deira is a vibrant district that offers a variety of attractions for you to indulge in. You can find many options for entertainment, dining, shopping, and more near Deira Clock Tower. Here are some of the things you can do near Deira Clock Tower.
Read more - A Guide to Deira area in Dubai
Entertainment
If you are a tourist or visitor in Dubai, Deira is a must-visit place not just for Deira Clock Tower but for the fun attractions near the clock tower. You can spend some quality time at any of these attractions near Deira Clock Tower.
Picnic at public parks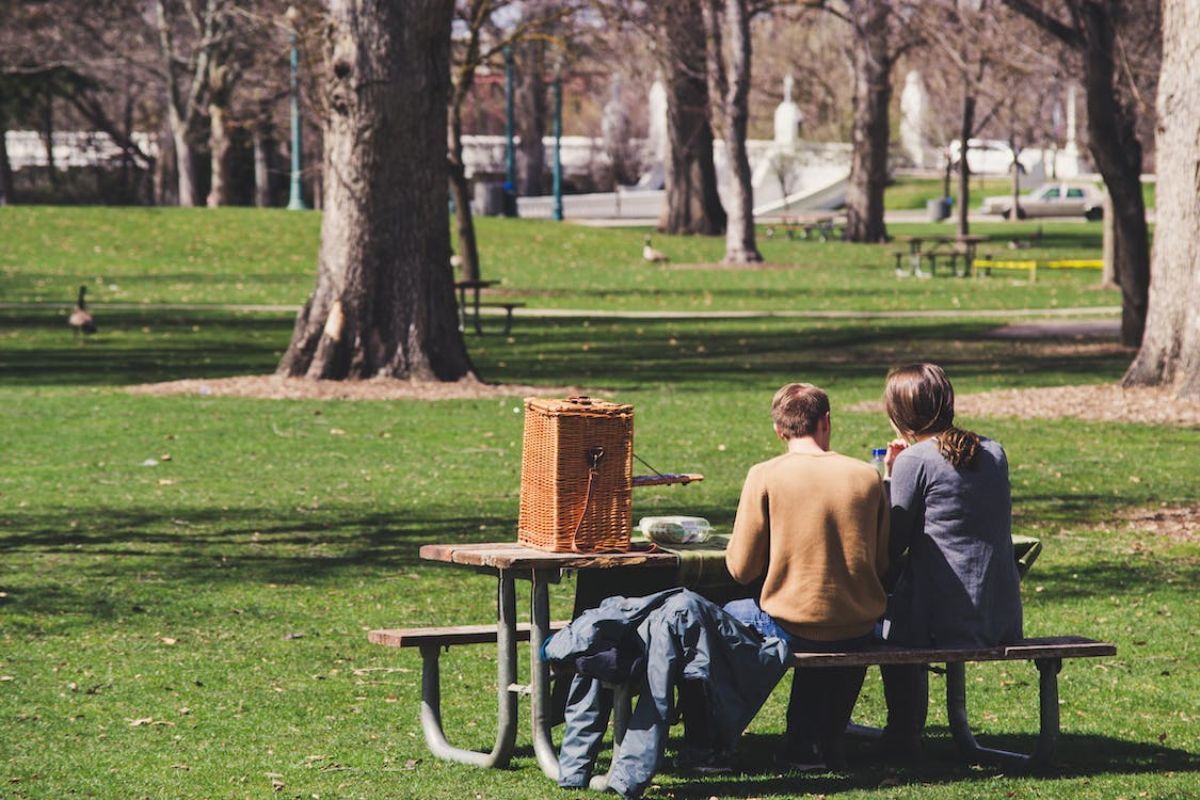 There are many public parks you can visit near Deira Clock Tower. Some of them are Creek Park Dubai, Al Mamzar Beach Park, and Zabeel Park. Dubai Creek Park and Zabeel Park are just 10 minutes away from Deira Clock Tower while Al Mamzar Beach Park is under 20 minutes drive. These parks are some of the best parks in the region. You can take your family out for a picnic at these parks. The parks in Dubai are greener, and cleaner, and offer many fun activities for you to indulge in during your time there. The public parks in Dubai also offer amenities like play areas, washrooms, barbeque areas, and refreshment stores.
Must read - Top Parks in Dubai you must visit
Buy a trip package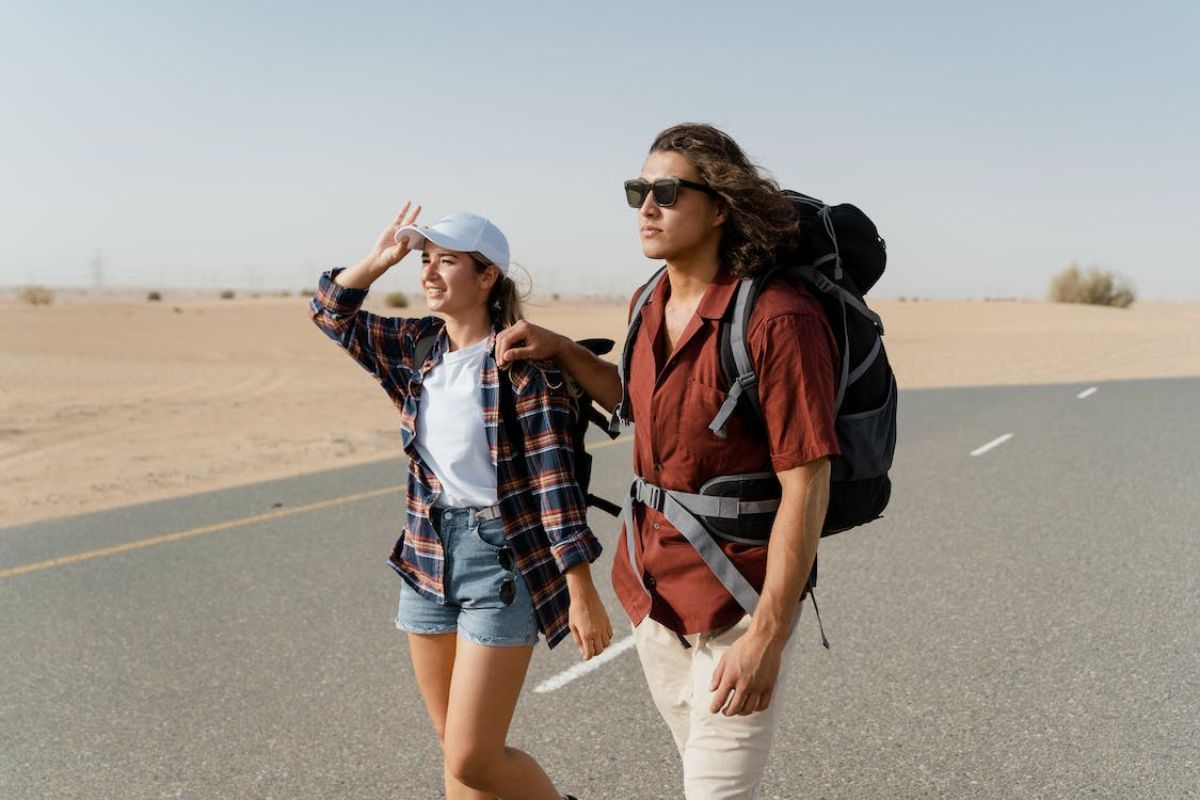 Many travel agencies have an office near Deira Clock Tower. You can visit any of them to buy a tour package suitable for you. These travel agencies provide one-day and two-day tour packages inside UAE. If you have enough time on hand, you can book yourself a luxury travel package to exotic locations outside UAE for reasonable prices. Some of the popular travel agencies near Deira Clock Tower are:
· Deira Travel and Tourist Agency
· Al Naboodah Travel LLC
· Arabian Flower Tourism
· Canbay Tourism
· Garnet Tourism
Enjoy a Dhow Cruise ride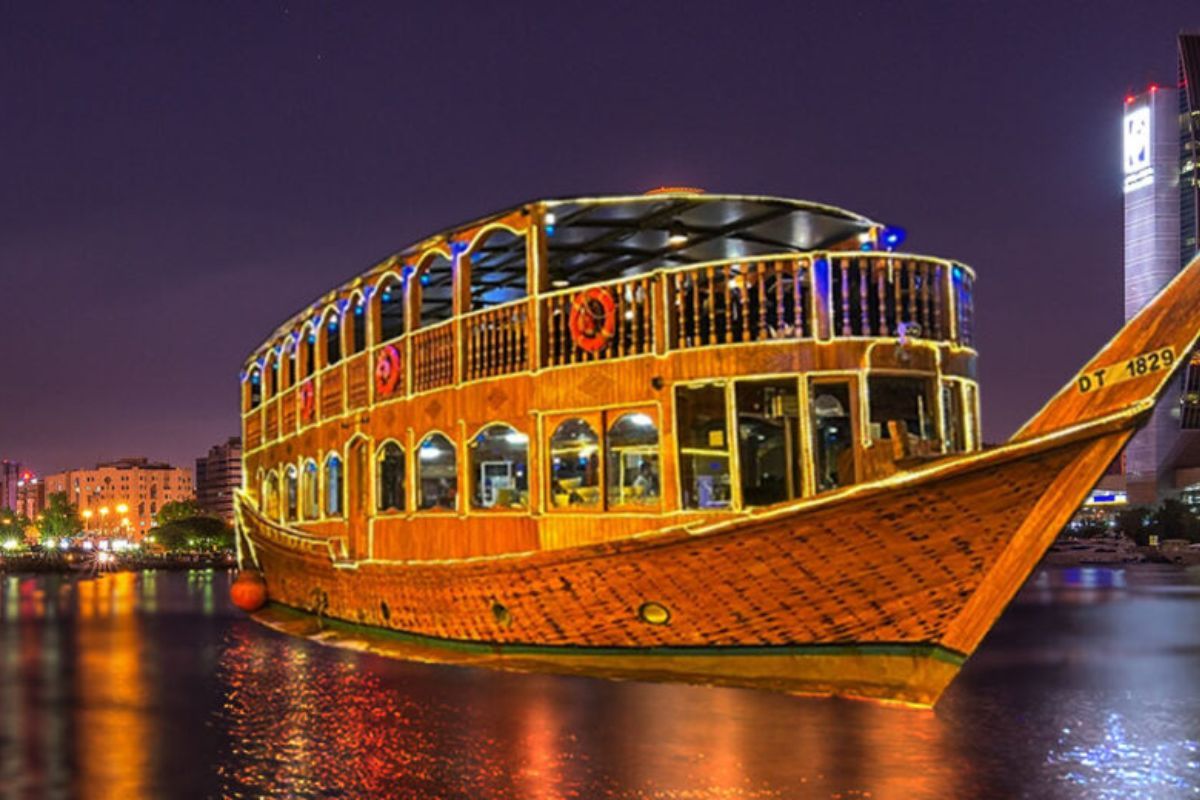 Dubai Creek passes right through Deira. There are many Dhow Cruise operators near Deira Clock Tower. You can go near Dubai Creek to book any Dhow Cruise ride depending on your budget and need. These Dhow Cruise rides offer a 2-hour long ride through Dubai Creek. You can witness the beauty of Dubai from a different perspective. The ride will offer views of traditional souqs, modern skyscrapers, and historic forts in Al Seef. Some of them include yummy barbeque dinners and other live performances during the ride. You can enjoy tanoura dancing, belly dancing, and live music on the dhow cruise. These dhow cruises are set up to give a traditional Arabic ambiance.
Also Read - Fun Activities to do in Dubai Creek Park
Take your kids to Dolphinarium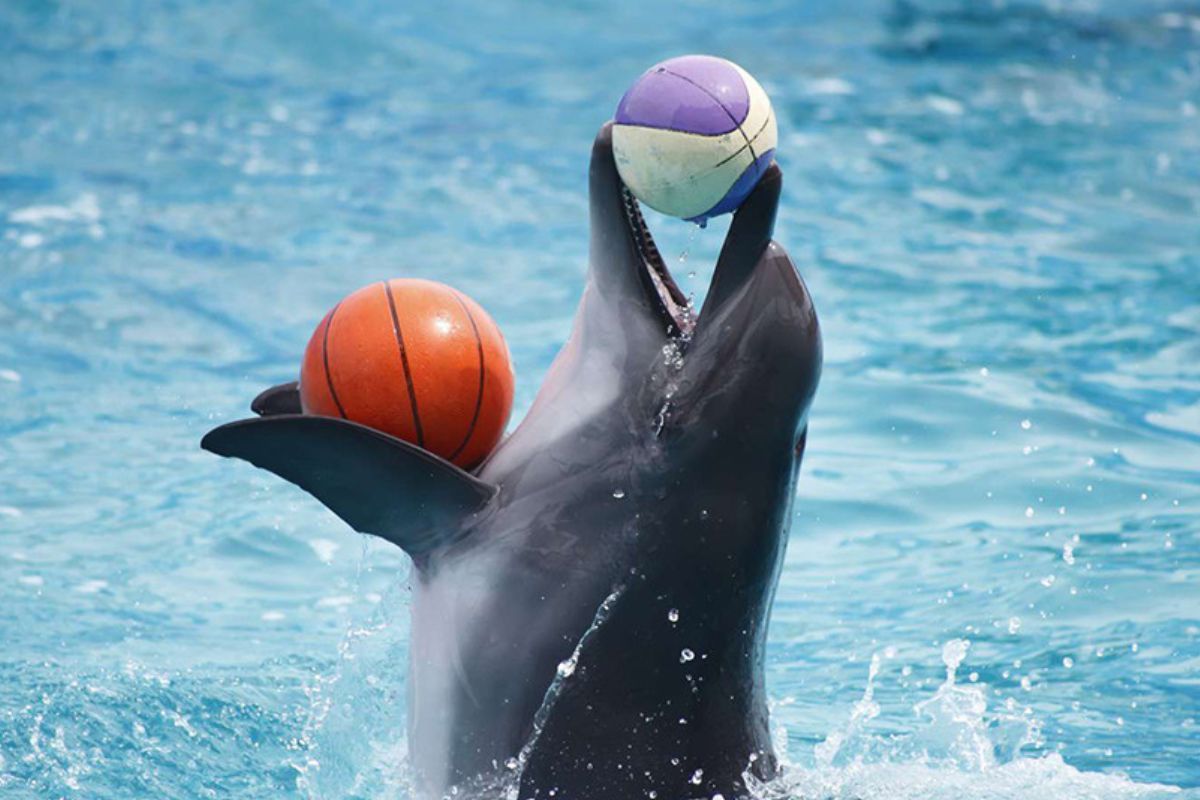 Dubai Dolphinarium is a popular kid-friendly attraction inside Dubai Creek Park. You can watch marine mammals like bottlenose dolphins, seals, and exotic birds at this place. These marine mammals are trained by experts to perform in front of you. The show features acrobatic displays, tricks, and stunts done by them. You can also engage in an interactive experience with them like swimming with the dolphins, playing with the seals, and taking photos with the animals. Dubai Dolphinarium also offers educational exhibits and presentations to teach you about these wonderful marine mammals. Visitors of all ages can visit this attraction. At the end of your time here, visit their souvenir shops to purchase keepsakes for the memorable moments you have spent at Dolphinarium.
Shopping
Deira is a major trading hub in Dubai. Therefore, you can see many stores in the region. From small-scale businesses to franchises, you are offered a wide variety of options to choose from. There are shopping centers, retail stores, and souks for you to explore shopping near Deira. Check out some of the best shopping experiences in the region.
Deira City Centre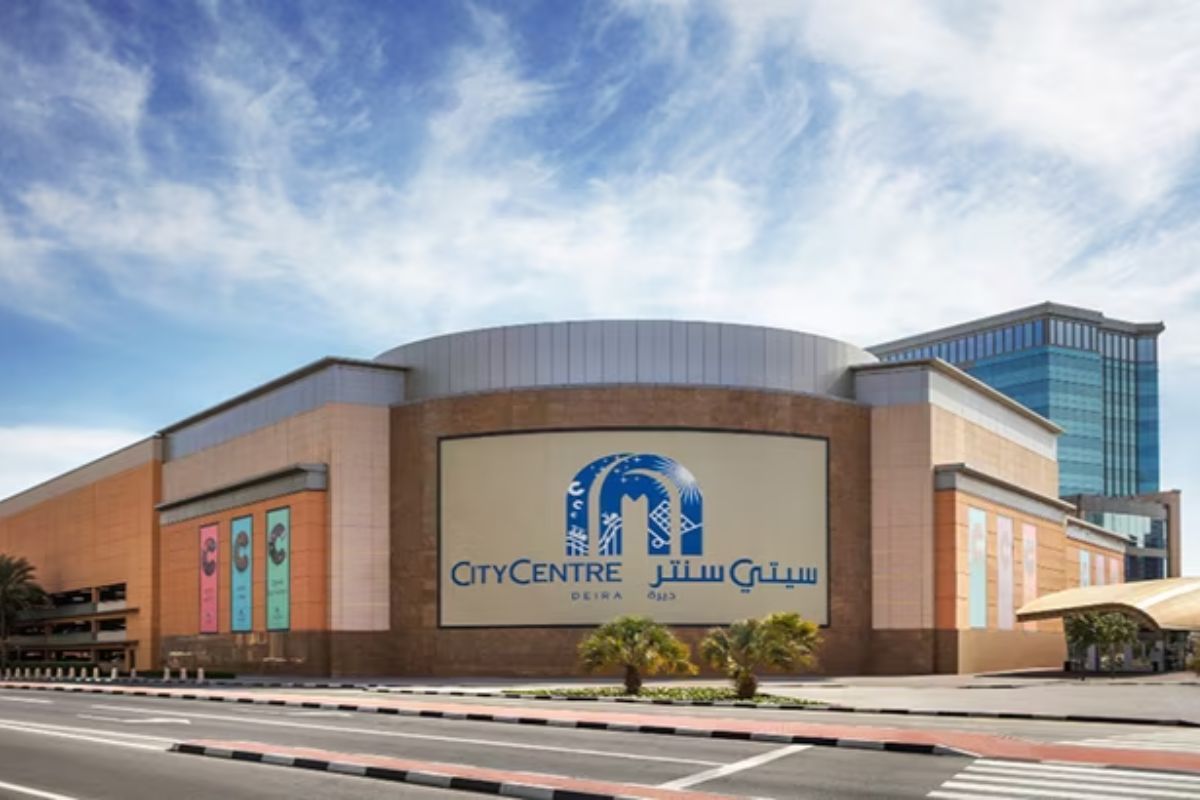 Deira City Centre is one of the liveliest shopping malls in Dubai. This mall is home to fashion stores, food chains, jewelry shops, and supermarkets. You can spend your time leisurely at City Centre Deira shopping, watching movies, and other fun activities. You will be able to find many options to choose from when it comes to clothing, accessories, athleisure, perfumes, footwear, and more. You can also enjoy tasty food at their food courts.
Naif Souk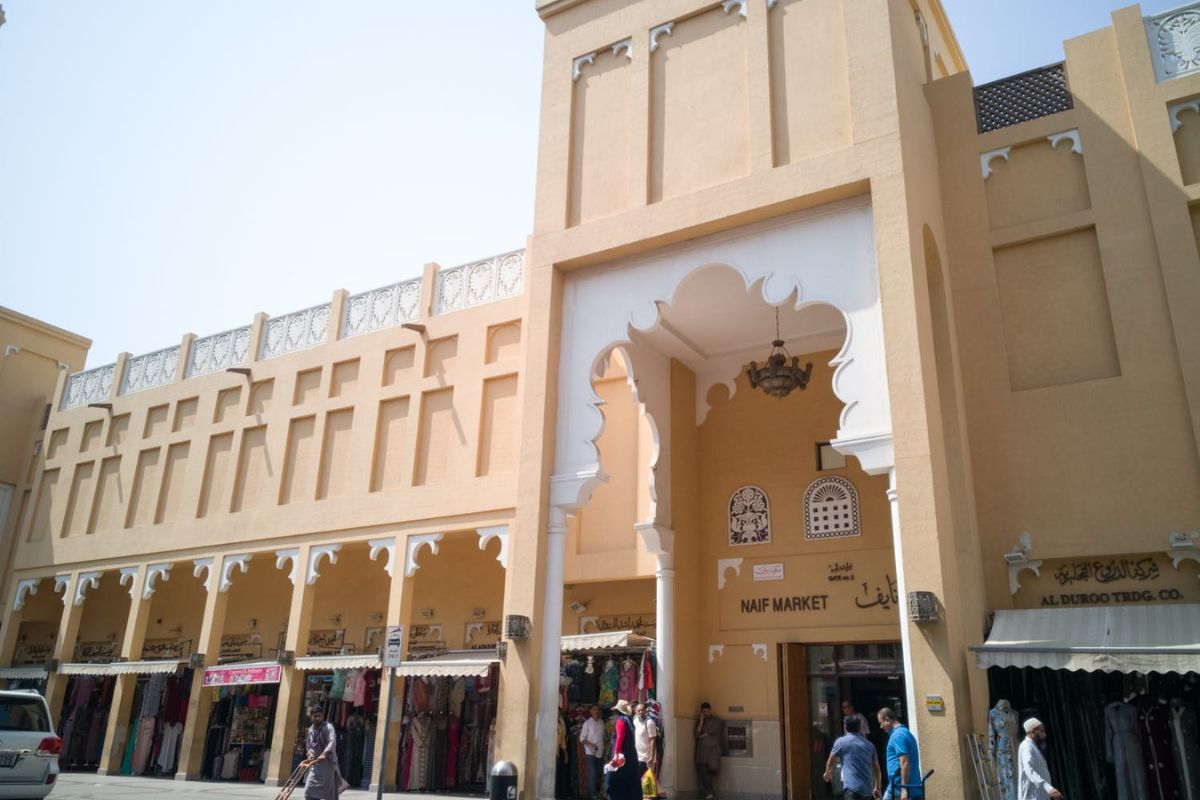 Naif Souk is a popular shopping destination among tourists and locals alike. If you are a fan of bargain shopping, this is the perfect spot to visit. You can buy the trendiest abayas for affordable prices. Naif Souk is also home to other shops that sell electronics, traditional clothing, souvenirs, textile and fabrics, leather goods, and perfumes. Naif Souk is not just for shoppers. If you are a tourist in Dubai and want to see what the traditional Arabic shopping experience is, you can head to this souk.
Some other popular stores near Deira Clock Tower where you can shop endlessly are:
· Al Bassam Centre
· Green House
· Day to Day
· Gifts for Less
· Reef Mall
Walk down the heritage lane
There are many heritage attractions near Deira Clock Tower. If you want to experience the traditional side of Dubai visit these spots to educate yourselves about the history of Dubai.
Dubai museum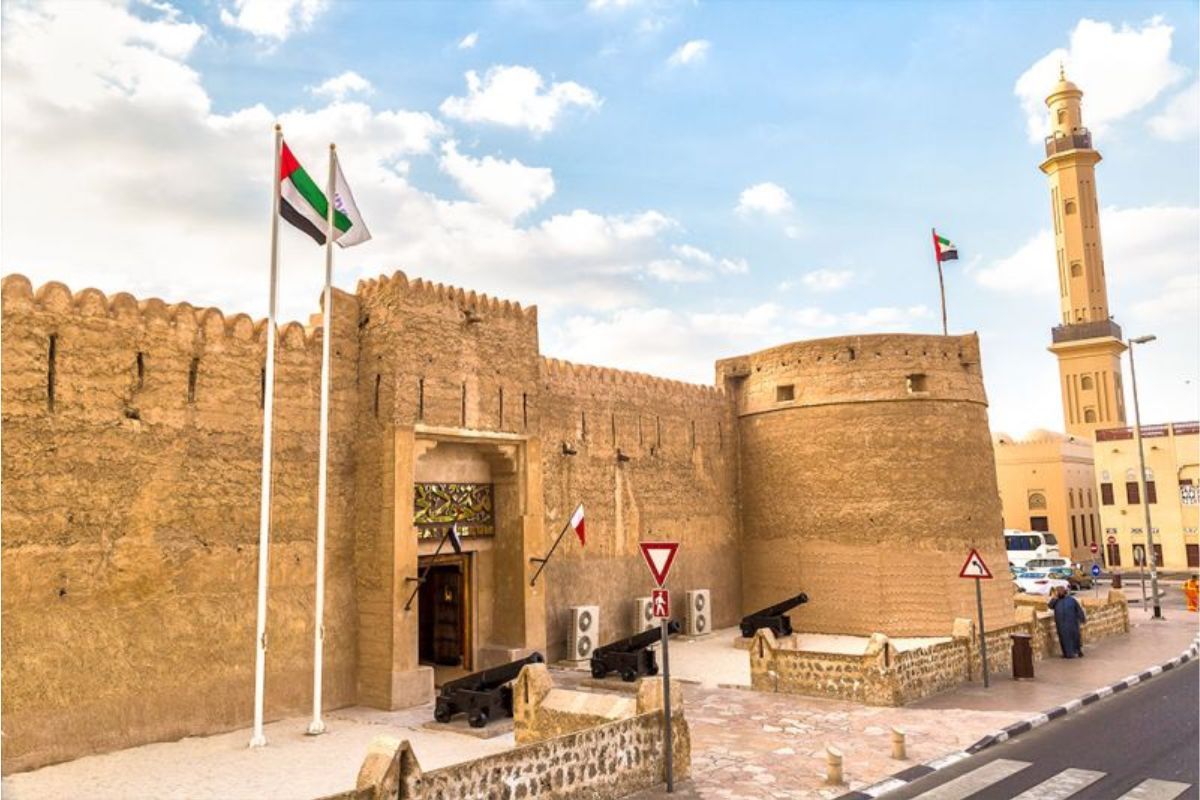 Dubai museum is located in Al Fahidi fort, which is one of the oldest buildings in Dubai. This popular tourist attraction showcases Dubai's rich history and heritage. You can see the real Dubai behind all these modern skyscrapers. The museum provides a proper insight into Emirati culture and traditions. At the Dubai museum, you can see life-size models of traditional shops, homes, and marketplaces. You can also find archaeological finds from the excavation in Dubai. There is an exhibition of the tools and weapons used by Ancient Arabs.
*The museum is temporarily closed*
Also Read - Best Musuems in Dubai you must visit
Visit the souks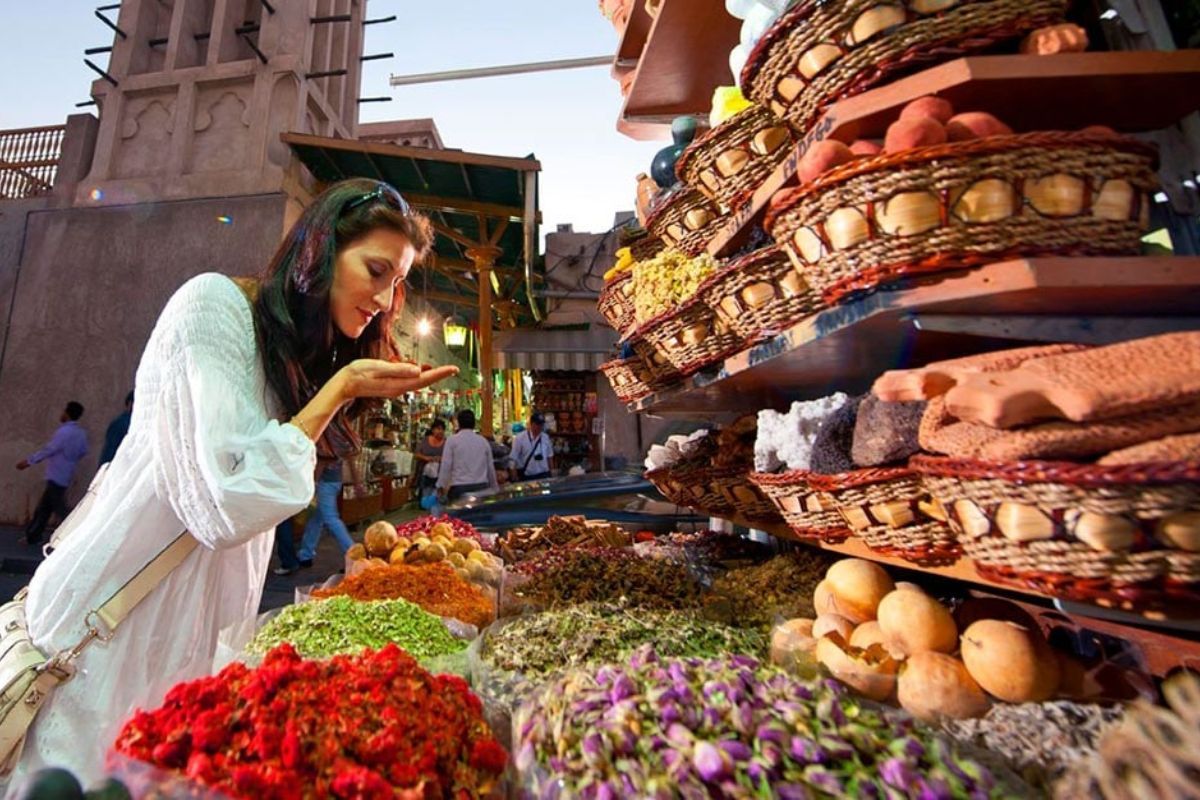 From Deira Clock Tower, it is easier to get to the two old souks in Dubai; Gold Souk and Spice Souk. These two popular traditional markets have been attracting tourists from all over the world to enjoy a traditional Arabic shopping experience in Dubai. At Gold Souk you can find small and big jewelry shops selling gold ornaments like necklaces, bracelets, earrings, and more. This souk is popular for its wide collection of ornaments. At Spice souk, you can buy Arabic spices and herbs for a reasonable price. You can also find exotic spices from around the world at this souk. You do not have to be a shopper at this souk, you can just walk through the lanes to enjoy a wholesome experience.
Also Read - A Guide to the Best Dubai Souks and Markets
Cross the creek in Abra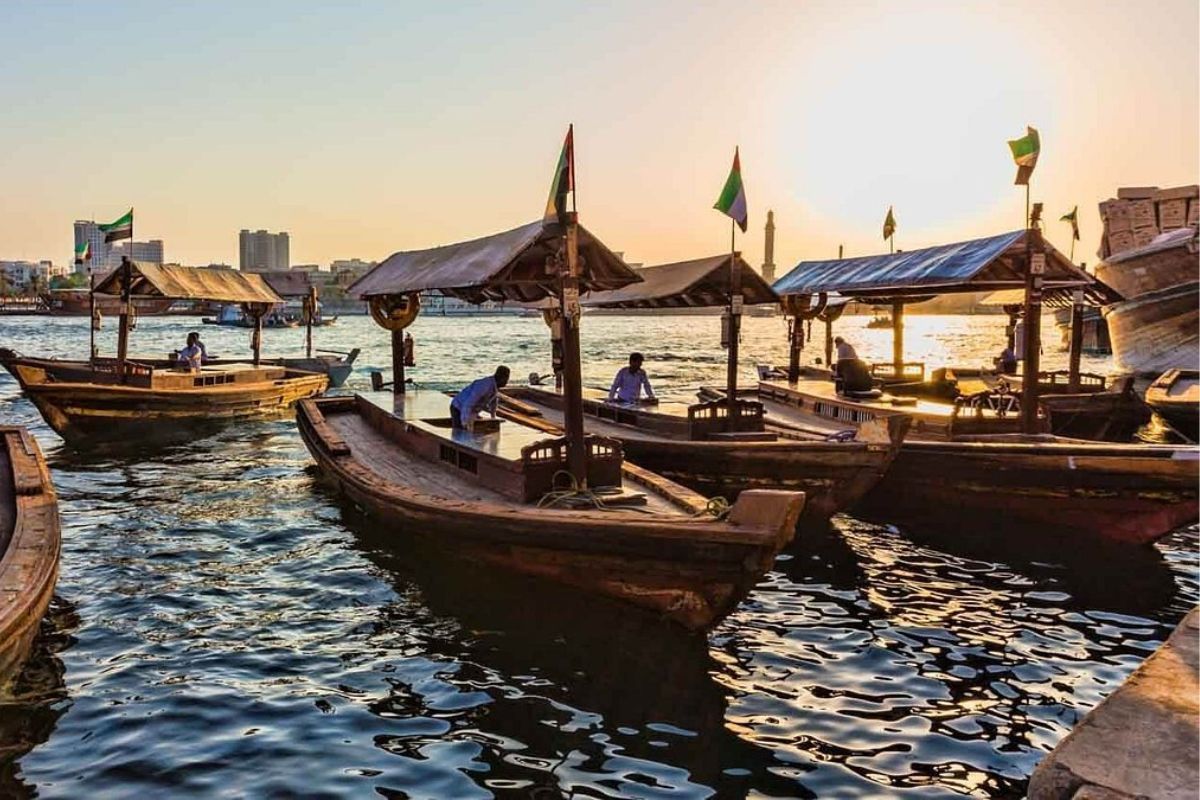 Abra ride is a must-visit attraction in Deira. You can cross Dubai Creek for just AED1. The ride offers you a skyline of Deira, a view of traditional forts, souks, and more. You can cross to the Bur Dubai region to visit the shops and museums. Abra ride is a great way to experience Emirati culture. The ride might take less than 7 minutes but will give you a memory of a lifetime.
Must Read - Top 10 places to visit in Dubai in under AED 100
Try authentic cuisines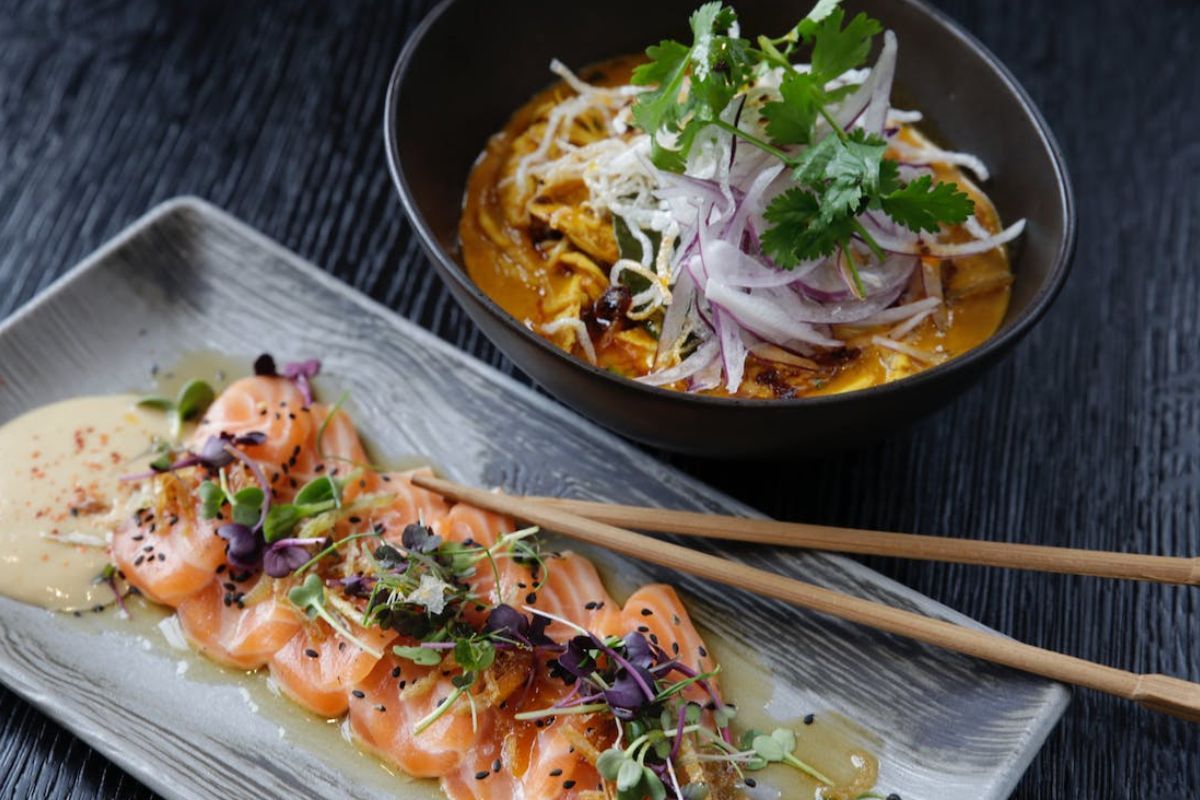 There are many restaurants near Deira Clock Tower. These restaurants offer different experiences from street vibes to fine dining. You can choose from the many cuisines offered by the top restaurants in the region. Thai, Japanese, Korean, Chinese, Arabic, Mediterranean, Italian, Pak, and Indian are some of the cuisine options you can find near Deira Clock Tower. You can also find street vendors serving from store windows. The region also has many fast food restaurant chains like KFC, Mc Donalds, and Pizza Hut.
Here are some of the popular restaurants near Deira Clock Tower:
· China Sea Retaurant
· Magma Café & Restaurant
· Shadju
· Najaf Restaurant
· Rayyan Mandi Restaurant
· Tayeb Kitchen
· Grill Street Restaurant
Stay at luxury hotels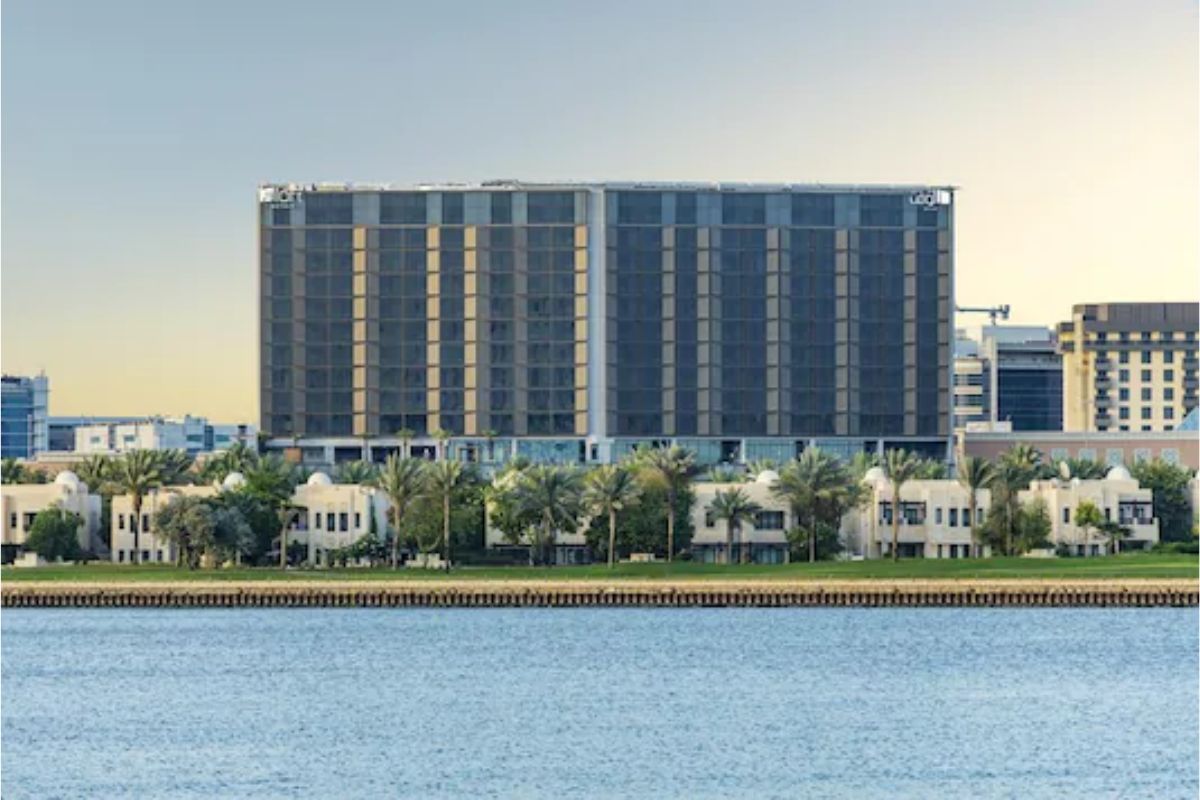 You can stay at some of the best luxury hotels in Dubai. Many hotels near Deira Clock Tower faces Dubai Creek. This stay will therefore entitle you to a beautiful view of Dubai Creek, Dubai skyline, and Dubai Festival City. If you are a tourist, it is best to stay at hotels near Deira Clock Tower as the location is closer to many popular landmarks in Dubai. Here are some of the top hotels you can stay at near Deira Clock Tower:
· Pullman Deira City Centre
· Copthorne Hotel Dubai
· Flora Creek Deluxe Hotel
· Marriott Executive Apartments
· Edge Creekside Hotel
· Aloft Dubai Creek
Also Read: